MBA Assignment Help
What is MBA (Masters of Business Administration)?
MBA is a degree that provides theoretical and practical training to graduates at university to help them in understanding the management of business operations and functions. MBA is among the most highly demanded and pursued degrees by graduates making it an important subject offered by many universities. The degree delivers exposure to help promote product and service manufacturing, marketing and sales. MBA degree holders with their experience in MBA assignment help review existing research and finding based on which they expand their research to identify new marketing facts and strategies that can be adopted by the business or industry.
What should you expect on an MBA assignment help?
Masters of business administration encompasses multiple disciplines of business, making MBA among the most versatile subjects with the widest variety of topics. MBA students need to cover a wide variety of marketing topics including Marketing Strategy Planning, Environmental Scanning, Market Research, Consumer Behaviour, Market Segmentation, and consumer Targeting, Brand Management, Retail Management, Product Management, Service Marketing, Marketing Communication, and Marketing Mix among more. Each assignment will come with a unique set of requirements as given below.
MBA Sample 1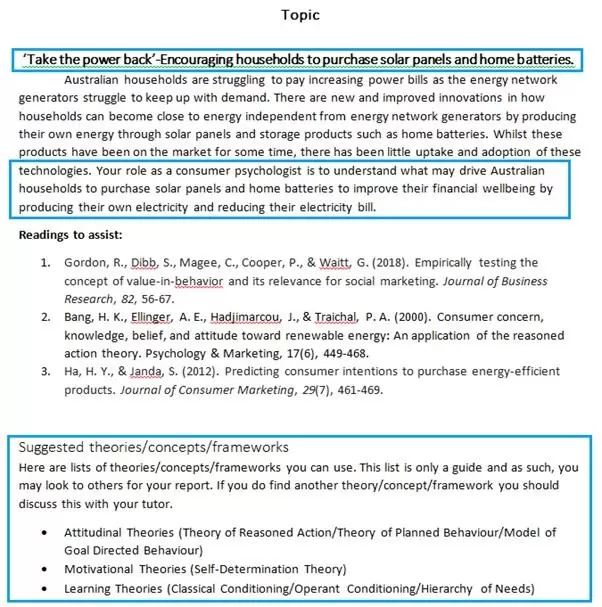 The above assignment requirement primarily focuses on identification of reasons that drive Australian households to purchase solar panels and solar batteries to produce their own electricity. This study was commissioned after observing solar panel and battery installation continue to remain low irrespective of the benefits the technology has towards the environment and towards reducing electrical energy costs. The MBA assignment help will focus on identifying the psychological factors influencing the purchase of solar panels and batteries among existing users. These factors can then be used to help develop strategic marketing campaigns which would improve communication and encourage more users to invest in the technology. In addition to identifying the psychological factors influencing consumer decisions, the assignment will require inclusion of existing theories, concepts and frameworks associated with the psychological factors to be identified. Identification and interlinking of theories, concepts and frameworks helps counter verify the relevance of the identified psychological factors. The objective of the assignment would be to analyze the existing market after which new marketing approaches would be developed to improve consumer interest and purchases of solar energy technologies. The requirement files clearly outline the importance of using theories/ concepts and frameworks associated with consumer purchase preferences and ways in which the influencing factors can be used to increase sales.
MBA Sample 2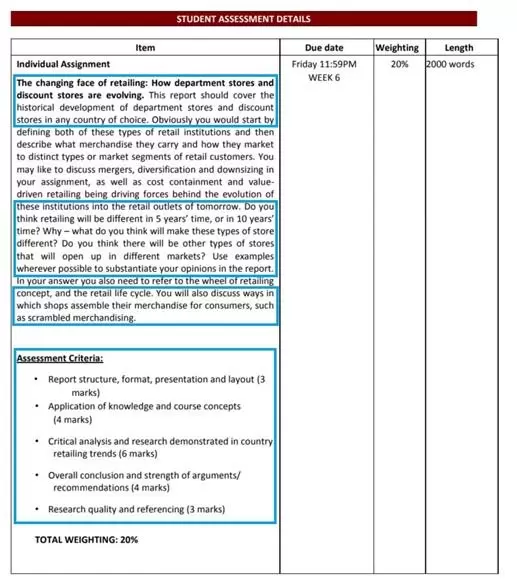 The above assignment must explore change management within the retail industry and outline evolution being experienced between departmental stores and discount stores. The requirement states the stores can be selected from any country but it is preferable to choose the student's current study nation. With the industries, sectors and countries finalized the assignments outline main topics need to be finalized. The instruction clearly mentions to cover the following points.
Outline the historical development of departmental and discount stores.
Describe the types of merchandise offered by the stores and the merchandising techniques they use
Discuss the marketing strategies
Outline cost containment strategies and value promotion
Identify Expected Differences in retailing in the next 5 to 10 years
What will cause the differences
What types of stores you expect to develop in future
These seven headings will form the backbone of the assignment based on which subheading will be created. This ensures an in-depth analysis of the assignment thus allowing for a well-developed research report that exhibits critical thinking and analysis to be prepared. The report contents require to be identified before report preparation begins for relevant research to be performed. It is also important to organize the identified points based on their relevancy and time of execution, which helps score higher formatting grades.
This assignment also has a clearly defined formatting rubric with grade allocated to different aspects such as report format, analysis, and application of concepts, critical research & reporting, clear conclusion, and references.
Where you can go wrong on MBA assignments
Next, the student requires reviewing the assignment rubric to determine the grading schedule and weightage.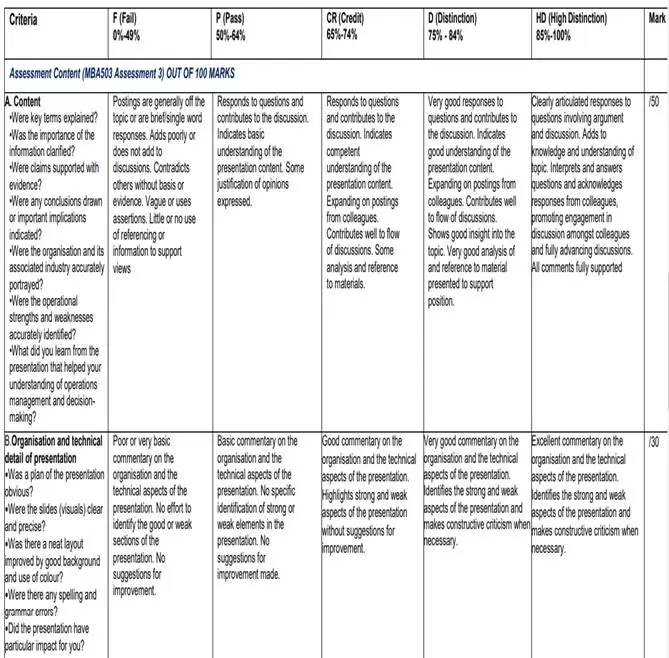 The above marking rubric clearly outlines the categories to be assessed on the assignment as well as points that would be evaluated and grades allocated for the section. As observed above the content sections would require for key terms to be explained, clarifications, supporting evidence among other points covered on the assignment. Grades are then allocated basses in these criteria and percentages are given. This section alone attracts 50 marks which is 50% of the grade thus requires close analysis. To score maximum grades the assignment must address each point as requested on the marking rubric, thus ensuring the student secures top grades.
Which is the best MBA assignment help service?
A top quality MBA assignment must be prepared by a qualified and experienced individual. Total assignment help has invested heavily towards hiring top quality MBA assignment help experts ensuring every assignment scores maximum grades. Each of total assignment helps MBA experts must undergo a rigorous selection process to ensure they are qualified and have the desired skills and knowledge to solve MBA assignments.
Common MBA Assignment Help Topics Prepared By Total Assignment Help Experts
We have subject matter experts who specialize in preparing individual assignments falling under different streams within MBA, ensuring students who place orders with us score maximum grades.
Some of the MBA assignment help topics we specialize in are listed below
| | | |
| --- | --- | --- |
| Brand Management | Retail Management | Product Management |
| Marketing Communication | Internal Marketing | Competitors Analysis |
| Online Marketing | E-Commerce | Case Studies |
| Key Elements of Marketing | Cost Convenience | Communication Behavioural Analysis |
| Reward Management | Project Management | 4 P's of Marketing and 5 C' of Marketing |
MBA Course: An MBA class is organized in such a way that the students may wind up outfitted for their managerial tasks or functions in the corporate chain of significance. This is an ingenious degree class that provides students the advantage to learn all the varied facets of the MBA course like marketing, business, financing, accounting etc.
Areas covered under MBA: If you are a student who wants to pursue their career in the field of management studies then you must complete your MBA programme. This program allows you to gain the necessary and relevant information about how business operations functions and strategies that can be utilized to enhance existing business operations.
Necessity to manage business funds: The management of business finances is another important area an MBA student must master. MBA students learn how to project fund requirement, distribution, usage and accounting in order to ensure the business operations remain within a projected budget.
Subject Matter Expertise: MBA Assignment Help experts outline how Accounting empowers MBA students to observe, break down sequentially and subsequently utilize the accounting data generated by a company domain and operations. Bookkeeping in MBA permits you to increase the thought, wisdom, and comprehension of financial accounting, cost accounting, and administrative bookkeeping.
Task Management: A MBA student must accentuate about the merchandise and its overall organizing. This involves managing the activity framework which helps build up an all-inclusive comprehension of the criteria of change management, quality management, innovation management, and job administration.
Administrative financial issues: Most MBA Assignment Help providers are of the opinion that MBA induces students to employ microeconomics examination to pick the strategies for a company or other administrative components. This topic offers the rudiments monetary facets hypotheses with the aim in order that the administrative chain of control enhances business choices to provide the corporate companies explicit goals.
Business Statistics: This topic involves the exploration of comprehending numerous controls, as an instance, financial report analysis, econometrics, assessing, and jobs, boosting research and so on.
Hierarchical Behaviour: As per the MBA Assignment Help experts, Hierarchical Behaviour is partitioned into three distinct classes: the person in relationships (miniaturized scale degree), work parties (meso-level) and the way institutions behave (full-time degree).
Management of Human Resources: MBA Candidates are taught various skills and tricks that facilitate them to be able to cater to the most important resource of any organization, which is manpower. The divisions of strengths of humans and components in associations rule different exercises which include representative enlistment, employee motivation, preparing and advancement, implementation evaluation and satisfying.
Management of finances: In this branch of MBA, the students are taught how to manage funds of an organization in the most optimal fashions that the primary objective of every organization, which is to earn a profit, is achieved. This notable capacity is fulfilled by the ideal management of the institution.
Business Ethics: This arrangement provides an arrangement of specialist morals and integrity which normally ascend in the company condition. It applies to all pieces of company and relate to the direction of associations and people.
Advertising Management: It's one of the vital data sources fostering the chance of gain. The pupils not only create the capability to disentangle the coming patterns of this current market, yet along with strategy and continue in like way. The pupils procure the skills to develop a new product, creating advertising and business in the global industry. As per the MBA Assignment Help experts, pupils actualize bookkeeping of branch situating and critical showcasing amid brand new thing development.
Corporate Social Responsibility (CSR): CSR agreements guarantee that the energetic support of this institution in societal good. It's a self-administrative system where the company displays ethical benchmarks and global standards. You can learn more about the above topics by obtaining MBA Assignment Help from TotalAssignmentHelp.com
Disciplines falling under MBA:
Marketing and promotional Research: This topic is an essential section of company technique. MBA aspirants wanting to complete their MBA with this subject can get the opportunity to learn the art and science of determining the process of differentiation of the marketplace demands, showcasing dimensions, and construction and buyer behavior. As per the MBA Assignment Help experts, another aspect that forms part of this subject is the gathering of social affair and interpretation of information about individuals and institutions.
Hierarchical Construction: This particular discipline imbibes students with the knowledge and techniques which help them to understand and apply the principles of errand allocation, coordination, and oversight in associations.
Project Management: Together with the pragmatic advice on this topic, the pupils take in knowledge of organizing, sorting out, controlling and utilizing resources optimally. The manager of these institutions is required to tackle any challenges that obstruct the fulfillment of the job objectives.
Business Law: Students are required to comprehend the basic rules, and guidelines set forth to ensure that the business organization is running within the purview of the law, to keep up a legitimate business. Every student pursuing management must have knowledge of Employee Law if he/she wants to harbor intentions of starting a business or working for an organization.
Our Particular Specialization
International Business: This topic envelops all company exchanges transpiring between entities belonging to 2 or more nation states. Cross Border trade requires special knowledge of legal formalities that precede them before writing any assignment related to it..
Entrepreneurship: MBA students work out how to commence a business beginning with no external assistance, create plans of action and acquire human and other essential experts. Lately, the MBA managers are increasingly putting accentuation about the pioneering gifts of their new employees as their innovative thinking and energy can develop the latest revenue generation avenues.
Leadership: A great leader is someone who can lead a group of individual and harnesses their individual talents and energies to accomplish a common goal. In the case of business, the common goal and objective is to grow and thrive in tough competitions. As per the MBA Assignment Help experts, students pursuing an MBA are required to learn the art of controlling the efforts of people and getting their objectives fulfilled.
The Management Information System (MIS): Management information systems function with the objective of information evaluation so that decisions regarding management can be reached upon, based on substantiated information and proof. Most prominent schools offering the MBA Course have MIS labs where number crunching is done and results are obtained so that students can learn how to use this data for decision making, so say our MBA Assignment Help experts.
Finance: This controller has picked up ubiquity one of the candidates lately. Worldwide cash related crisis is one of the reasons. Many companies adjust their jobs as signaled by the advancing fiscal occasions wide and far. Firms continue to respect the present-day approach of hiring MBA graduates in finance.
Corporate Social Responsibility: Following the escape, a development of challenges was thrown out contrary to the obvious voracity fostered in several ventures. The mixtures had come about due to enlarged disappointment with a lack of idea for CSR in the company. Consequently, the quote of corporate social responsibility is progressing step by step.
Marketing: It is imperative for MBA Students gaining an MBA assignment help to showcase their aptitude for marketing so that they can cater to the marketing requirements of the organization that they would end up working for. Within this quick-paced mechanical Earth, the growth of net, online internet-based life along with the collection of databases has increased which includes information about current and prospective customers.
Operations: All the functions that are carried out in an organization pertaining to production and creation of goods and services, their transport and distribution and the management of all these products and product-related functions are, as per the MBA Assignment Help Experts at Total Assignment Help fall under operations management. Studying facilitates students to understand the planning stages of production better.
Plan: The design of MBA applications incorporates the rudiments thoughts of a system such as the conveyance process. Thus, the students may select specializations within this particular subject. With the guidance of the topic, the students may choose a profession focusing on modernizing the management of present company structure in addition to new commercial paths.
Assorted Forms of Assignments in an MBA Assignment: MBA class is frequently overpopulated with duties. There are various sorts of assignments. A good deal of them is autonomous and individual ones. There happen to be a plethora of assignments in which you have to cooperate with your fellow students and the associated duties have to be shared. With no additional delay, let's begin with the several kinds of assignments which are introduced to MBA students.
Case Study: Case studies put students in scenarios where they are required to judge a situation and present their judgment. This helps them to understand the challenges and difficulties that business may present in real life. We're well-equipped to give you a hand with the most difficult case study Assignments throughout our MBA Assignment Help support.
Thesis: When the MBA program ends, MBA Students are required to present a research paper to an evaluation committee. The students are required to initially select a topic that would form the theme for their research and then they will incorporate the information into the research paper as per their findings. It's wise to advise your counselor for additional direction. Avail grade thesis writing together with our MBA Assignment Help service now!
Project Report: In MBA eligibility, the pupils will need to crack down and write about complex issues related to business. This task adds a practical side to the MBA program. Get advantage out of our MBA Assignment Help specialists for on-time delivery of superior Job report.
Book Review: MBA eligibility pupils are requested to peruse a novel and write a questionnaire on it. The pupils are advised to peruse a lot of novels and supply their decision about them.
Problems that pupils face in MBA Assignment Writing: If you're an individual pursuing an MBA program, it might be equally energizing and overpowering. You will find identifying sorts of MBA jobs, as an instance, full-time, very low care, official and separation learning. Whichever you select, your life turns to a harder one. There are lots of issues that students have to face while writing their assignments for which they require MBA Assignment Help.
Administration skills: It has been a long-standing debate whether leaders are born or are made. As per a statistic put forward by the NCSE, the number of people that obtain their Masters in Business Administration Degree every year, in the USA alone is over 150,000. Be as it may, the question stays unanswered with regard to what numbers of them are outfitted for turning into a real pioneer. The MBA students are therefore intensely expected to exhibit leadership skills.
A lot of subjects: The sheer volume of subjects and topics that are required to be covered in an MBA are enormous and can be really discouraging. Consequently, preparing MBA assignments for all of these subjects can be overwhelming. Thus students require MBA Assignment Help to help with their work.
Regularly changing Concepts: The company world is changing faster and is much more overpowering compared to any other time. Business entities are finding new ways to earn a profit and remain relevant. As a result, new ideas and concepts are developed and propagated every day, which eventually become part of the MBA course program. This can be quite complex and confusing for MBA Students and therefore, preparing an Assignment without MBA Assignment Help can be really difficult.
Change with the entire brand new universe: Various students go overseas to gain an MBA degree. Irrespective of the fact whether he has to go into a neighborhood school, the person in question is most likely going to encounter another state and another civilization in which the stakes are greater. The main reason is that pupils will need to have some additional social skills to complete their daily exercise. You've got another arrangement of people (cohorts, educators, vocation executives, and buddies' delegates) to speak with. You have to create energy for everyone and in addition to your own general action.
Why MBA Assignment Help from TotalAssignmenthelp.com is the best?
The discussion above can help you understand that the MBA is difficult. Apart from just the course work and classroom studies, there are a gigantic number of assignments, essays, dissertations, and projects that you have to prepare, but the above issues can stop you from doing so. However, there's a viable arrangement and alternatives for this also wherein TotalAssignmentHelp.com can help you get past these issues as we can provide you all sorts of assistance in your MBA such as MBA Assignment Help, Essay help Online, project help and so on.
Here is why you should choose TotalAssignmentHelp.com for your MBA Assignment Help.
Every prominent educational institute and university has a distinct style of referencing and styling their assignments. Conforming to these styles can be a real hassle for a novice. But the MBA Assignment Help experts at TotalAssignmentHelp.com have the enormous experience to ensure that your assignment is styled beautifully and conforms to the prescribed style format.
The experts at TotalAssignmentHelp.com have years of experience in all subjects and as such the assignments provided by them are high quality and the research is top notch and plagiarism free.
We are known for our timely delivery of articles. The MBA assignments that we provide are provided to you well before the deadline so that, in case you require any sort of changes, they can be amended in time and you can deliver the assignment quickly.
In comparison to most assignment providers, the MBA Assignment Help by TotalAssignmentHelp.com is fairly priced so that all students can avail of this service and benefit from the experience of our experts.
Frequently Asked Questions
Why seek MBA Assignment Help from TotalAssignmentHelp.com?
Seeking MBA Assignment Help from TotalAssignmentHelp.com will help you save time and money. MBA writers know that students pursuing management as an academic discipline have very tight schedules. During their studies, they are made to work almost double as compared to other fellows in other disciplines. Along with classroom activities, they are made to do outdoor activities like other students. Seeking MBA Assignment Help from TotalAssignmentHelp.com will provide students relief from writing work and focus on other activities. The assignments are delivered well before the actual deadline so that the students can have a look over them.
The MBA Assignment Help from TotalAssignmentHelp.com is very affordable, helping students from different economic backgrounds enjoy our services' benefits. Moreover, when you place an order with us, we ensure that you get the best expert to address your assignment requirements precisely and be on time. Hence, if you are looking for an assignment writing company which can save time and money, seek MBA Assignment Help from TotalAssignmentHelp.com.
Why should students look for MBA assignment help UK?
MBA is one of the most sought-after courses due to its scope and higher employability. It is considered one of the most lucrative jobs in the present scenario. The subject management is not about learning concepts and theories; instead, it is about understanding and gaining insight. The management students are expected to understand how to maximize the efficiency and effectiveness of any work assigned to them. Hence, it becomes vital for students to score good grades while pursuing the course. Our MBA assignment help UK, has been helping students to understand the methods and concepts related to different topics falling under the discipline.
Writing an MBA assignment is tedious, and many students lose interest in the actual task. They focus more on content and how to present it. TotalAssignmentHelp.com is the best choice for MBA students pursuing the discipline from recognized universities. The management writers of our company put in their years of experience while writing the assignment. Our MBA assignment help UK, has experienced a vast demand for assignment writing from students across the country. We have excellent writers and personnel to assist you with all your problems. We recommend you try us for once, and it is a guarantee that you will surely come back to us with many more assignments.
How many types of MBA assignment help online can I get from TotalAssignmentHelp.com?
There are different types of assignments which a student has to prepare while pursuing his academics. Students can take MBA assignment help online for the below types of assignments:
Case study: Practical experience and knowledge about actual problems is the focus of MBA assignments based on a case study. Case study-based MBA assignments provide you with an opportunity to deal with problems through research and analysis. TotalAssignmentHelp.com, with its MBA assignment help online, helps you to build your analytical capabilities.
MBA coursework: Academic coursework involves exams, quizzes, and essays. Some coursework may also require answering a set of questions. The time limit for coursework assignments is a challenge for many students.
MBA dissertation: Dissertations are an essential part of academics, and it helps you to earn a degree. Dissertation writing cannot be completed in a week; it may take a month or even a few months to complete the work. The most viable option for students is to seek MBA assignment help online if they want to pass the course.
MBA presentations: Assignments such as presentations helps to build the engaging skills of a student. Presentations should have vivid slides with less content and explanation on the speaker notes. But making a fantastic presentation can be challenging for students, so taking MBA assignment help online from TotalAssignmentHelp.com is the right choice.
How to write a good MBA assignment?
How to write a good MBA assignment is a question asked by many students writing assignments for the first time. Thoughts like where to start writing, will writing an outline help, etc., are some questions that hover in the students' minds. But once you start writing, the experience will help you overcome all these questions. Some tips on how to write a good MBA assignment can definitely save you from many anxieties. Let's get started with the tips:
Make a schedule: Making a schedule is a foremost thing to do while getting yourself ready to write an MBA assignment. The curriculum is way too hard, and there will not be much time where you can get proper rest. So, make a schedule for everything, including writing the different sections of the assignment.
Research: You should have detailed information about the assignment topic at your reach. Research is essential to write quality work, and vague information can confuse readers.
Structure: Presenting an assignment in a structured manner helps the reader to get the essence of what has been written. A smooth flow of information makes the content interesting to read.
Proofreading: The last part of how to write a good MBA assignment is proofreading the assignment to eliminate mistakes in sentence formation, punctuation, grammar, spelling, formatting, referencing, etc. The errors may seem very small, but an assignment having all these errors will surely get fewer grades.
How to do MBA assignments within the deadline?How to do MBA assignments within the deadline?
Writing an MBA assignment that can gain wonderful grades is a time-consuming task. Time management is a skill which is mostly required in students pursuing MBA as different assignments surround them. But the question, 'How to do MBA assignments within the deadline?' can be solved by following certain steps. The steps are discussed below:
Prioritize your assignment: Work on a task whose deadline is near, as this will help you finish the assignment on time. Use reminders in the form of sticky notes to remind you about the time in hand. Please respect the time set and do not switch it for doing other things.
Take adequate rest: You cannot compromise your health in assignment writing. You need to get enough rest and sleep to maintain your health to finish each assignment within the deadline.
No multitasking: Many of you can work on different assignments simultaneously, but we have seen that this compromises the quality of each assignment. You can write one cautious content at a time while working on more than one content can sway you back and forth and hamper your performance.
Take help from notes: The notes you have written during lectures can help you write assignments quickly. In addition, most of the assignments are based on concepts taught during the classes. So, getting help from it will save you time doing the research work.
Stay away from distractions: Do not keep your mobile phones or other devices around you when writing an urgent assignment. Instead, keep track of time by having a clock or a wristwatch.
Following the above steps will never lead you to think, 'How to do MBA assignments within the deadline?'
Why should TotalAssignmentHelp.com be recommended as the first choice for online MBA assignment help for students?
Choosing us as the online MBA assignment help for students has different benefits as listed below:
Soon after placing the order, the expert reads the instructions and raises queries for a quick resolution.
Usage of appropriate formatting and structure as per the university standards
Usage of correct referencing style
Resolution to each query as and when raised by the student
Timely delivery of each MBA assignment
Maintaining uniqueness in the quality
Affordable rates and revision at no charges
You can keep your worries at bay if you choose us as your MBA assignment helper. At TotalAssignmentHelp.com, MBA assignment help for students is quality oriented and cheaply priced. The client satisfaction rate with us is more than 90 per cent, and hence we are pioneers in online assignment assistance. Students are not supposed to go through the tedious process of order placement; instead, placing an order with TotalAssignmentHelp.com is easy and simple. Taking help from us will make you achieve higher grades in all subjects. The assignments are well-researched and professionally written and meet the professors' expectations. Our MBA assignment help for students also provides additional support by supplying notes and pdfs of references used in the assignment.
Can you extend your MBA assignment help for me?
TotalAssignmentHelp.com extends all types of MBA assignment help for students. Students often have concerns like, 'Can I ask for online MBA assignment help for me?' The first concern of each student before approaching any online academic writing service is whether it is trustworthy or not. Coming to TotalAssignmentHelp.com for assignment assistance is the best option that a student in need of help can choose today. We are reliable and trustworthy assignment providers having different teams of writers for different subjects. The team consist of MBA writers who are scholars, practitioners, tutors, counsellors, etc. Along with MBA assignment help, students can ask for help in other disciplines like accounting, human resources, finance, marketing, IT, nursing, English, statistics, and many more. We have dedicated MBA subject matter experts who can write assignments on multiple topics simultaneously. They can even write assignments on strategic management and other management-related topics. If you are facing problems related to writing, editing or drafting the content of the MBA assignment, you can seek our editing and proofreading services. Are you still thinking, 'How will TotalAssignmentHelp.com do my MBA assignment help for me?' Don't put yourself under pressure if you are choosing us as your assignment helper.