Woolworths Performance Measurement System Assignment Report
Question
Task:Short-term success (e.g., increased profit) may not be a valid indication of an organisation's long-term success for various reasons. For example, managers may have cut down the necessary expenditure (e.g., employee training, innovation) to boost up the profit figure but that can compromise the organization's long-term viability. In that sense, organisations should identify their critical performance areas for their long-term success and use a diverse set of performance measures to guide managers' decisions and actions, rather than merely focusing on short-term performance.
The aim of the group assignment is for you to apply the skills and knowledge to design a performance measurement system for a real-world organisation. While the choice of the organisation is up to you, this semester your team will need to design a performance measurement system to help your case organisation manage its
Long-term performance: You will be assessed on how well your team's final report:
Communicates your design for a performance measurement system in a 1-page infographic
Explains what your performance measurement system design is and how the measures work together as a system
Justifies how and why your system will deliver long-term performance for your organisation
Informs the reader how and why your design changed over time.
Throughout the semester you will progress through a design process, by gathering background material, developing a draft design, which you will then develop, evaluate, refine and finalise. To help your team organise this we have structured your activities through a mandatory submission timeline and dedicated in-class activities.
Answer
Executive Summary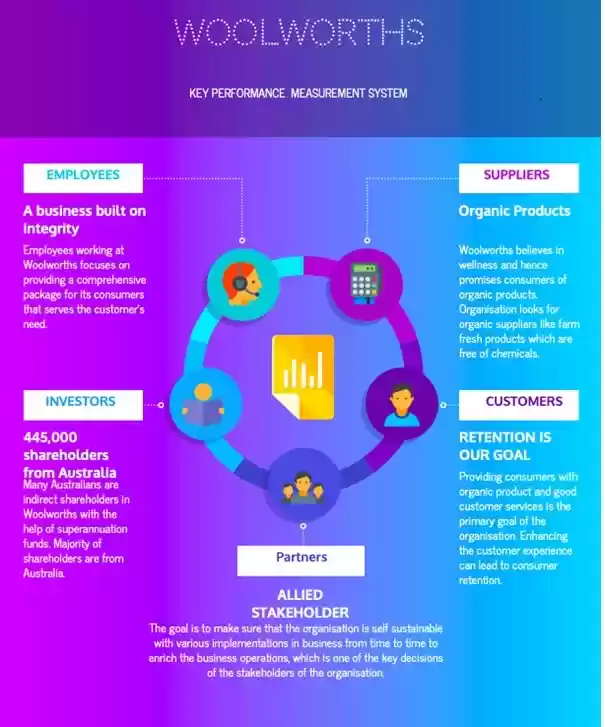 1. Introduction
Performance Measurement System Assignment assesses management and measurement of performance of the employees and also plays a significant role in handling decision making process. The system provides ability to gauge the efficiency of the employees and also helps to determine the workforce and the overall productivity of an organisation. The study encompasses of an overview of Woolworths, Australia and describes about the comparison of its past and present working procedures. The information integrated on this Performance Measurement System Assignment is also supported with management accounting theories and ability of team towards iterative and reflective process. In addition to this, communication and teamwork skills in response to customer service, employee relation and suppliers.
2. Discussion
2.1 Describing the design of the performance measurement system and involved components
This Performance Measurement System Assignment highly focuses on employee development, it involves corrective actions, coaching and termination. Meanwhile, management of an organisation must focus on certain components that are indulged within the system. Under laid are significant insights of performance management system:
Performance Planning: Performance planning is inclusive of setting goals for the employees and guide workforce as per the planning towards the pathway of success. This respective component let the employees fabricate their objectives that can lead them as well as the company towards establishing a better performance management system. This can be underpinned as a formal process that assists employee and the employer in creating a development plan.
In association to Woolworths, management takes initiatives to create executive succession planning, that supports promotion and guiding the employees for combating the challenges that are faced by them. The concerned organisation facilitates a work-oriented culture. For instance, it can be evidenced that Woolworths is much more focused towards attracting and retaining their employees, this motivates the employees and they work towards enhancing the overall productivity and sustain strong competitive advantage for the company. Remuneration Policy of Woolworths is aligned with strategic and financial business objectives, this majorly contribute towards sustained improvements, short and long term performance measurement (pc.gov.au, 2019)
Ongoing performance communication: After the former component, comes the fluent communication process that is required to be maintained as communication plays a significant role in information dissemination. In relation to Woolworths, they believe in building a strong relationship with their customers. The company is also inclined towards paying attention to their employees and suppliers as well. With the assistance of their Voice of Customer Program, across their other outlets and its team members, they make sure of collecting feedback from the customer through proper communication. Through effective communication process, the company focuses on personalised, connected and convenient shopping experience to their customers. The under laid figure (Figure 1) clearly depicts the six different priorities that Woolworths believe (Woolworthsgroup.com.au, 2019).
Figure 1: Strategies and Objectives of Woolworths through Communication
(Source: Woolworthsgroup.com.au, 2019)
Data gathering, observation and documentation: It is very much necessary to have a proper knowledge of the marketing condition and gather relevant data and information through which it becomes easier for the company to operate itself within the country. In relevance to Woolworths, it is a trusted business partner to various local manufacturers and dealers. With unwavering dedication, the concerned company has built its business on integrity and created a mission to serve millions of customers across Australia and New Zealand. The company has observed the essentialities that are required to fetch people with goodness of life through their customised products and services (Woolworthsgroup.com.au, 2019).
Performance Appraisal Meetings: Appraisal and reward systems play an important role towards motivating and retaining employees. The major concern of Woolworths outlined on this Performance Measurement System Assignment is how it executes its performance measurement system in such a way so that the employees remain at their ease. For instilling a sense of job satisfaction within the employees, the company initiates Remuneration Policies and Plans. Woolworths target having mixed and variable remuneration system for their employees. A hypothetical calculation technique has been showcased in appendices (appendix 1) in order to acquire an ideology of the calculation of remuneration (Pc.gov.au, 2019)
Performance diagnosis and coaching: It is necessary to provide intense support to the employees of an organisation as they are the baseline of the company. Here, Woolworths pay core attention for supervision of the performances of the employees and taking the initiatives to guide and direct them. Woolworths relies on 115,000 employees of their different outlets. The company is also concerned for the careers of their employees by providing them training sessions and chances for scholarship (Woolworthsgroup.com.au, 2019).
Figure 2: Components of Performance Measurement System
(Source: Created by Author)
2.2 Realistic assumption regarding the organization past and present performance
Woolworths began in 1924, 5th December, when Bargain Basement opened for business operation in Sydney's Imperial Arcade. In 1927, second outlet of Woolworths opened that created a chain for the company. The depression year started when Woolworth was offered a bargain price premises on Queen Street, Brisbane. This created a havoc but the continuity of operations of the company remain intact. In 1929, first store in New Zealand was opened, and by 1930 The company has 16 outlets across New South Wales, Queensland and Western Australia. The company started to grow from the year 1937, when it decided for radio advertising. Then they launch Staff Assurance Scheme. With further growth of the company, the company established first warehouse above the Oxford Sydney Store in 1929. By 1948, Woolworth has its own warehouses in Brisbane, Victoria, Tasmania and South Australia. By 1959, the company was successful in opening 300th store in Wentworthville, New South Wales. In 1960, Woolworth became first nationwide retailer in Australia. With the commencement of year 2000s, Woolworths started to gain Australian Leisure and Hospitality Acquisition, Foodland New Zealand and DSE joint venture in India (Woolworthsgroup.com.au, 2019) (appendix 2).
In present years, Woolworths has been a trusted business partner among other retailers. It operates itself with over 30,000 stores and 201,000 employees who are always ready to serve 29 million customers across different outlets per week. The company is also inclined towards securing the career of the employees by providing them scholarships and training sessions. Presently, the company has created a strong foundation by the contribution of the commitment of employees towards hardwork and dedication. Woolworth has also given the priority to its customers and has build a relation of trust. This has made the company gain a strong position in the market of New Zealand and Australia (woolworthsgroup, 2019). The profit maximisation curve has also increased with great pace with passage of years. For the revenue graph of Woolworths, refer to appendix 3.
2.3 Justification of the Design
Woolworths is Australia's largest retail organisation with more than 3,000 stores and 201,000 employees who are always ready to serve their million of customers. This respective organisation is the most trusted retailer among with suppliers and retailers. The value and quality of the product is the foremost concern of the company. The growth plan of the company is based on key areas like extending leadership, maximising its value, nurturing talent that can help in business growth. As per statistical tools, it can be evidenced that in the year 2018, the revenue of the company was around A$56.726 billion. There are approximately 1000 stores in NSW with 115,000 number of employees that assists Woolworths to head towards progression in the Australian market.
At Woolworths, sustainability, is also a great concern as the company is much cautious towards its planet and people. The people of Woolworths understand the necessity to be responsible towards the environment and its customers and make efforts to create a better future. By 2020, Strategy Commitments will take certain initiatives towards facilitating a circular economy.
As per their Sustainability Report, 2018, their group has been buckling down and have gained noteworthy ground towards accomplishing, or surprisingly better surpassing, their 2020 sustainability responsibilities (Woolworthsgroup.com.au, 2019). They are focused on being a reason driven association and progressively they have assessed the majority of their choices through this perspective. They likewise accomplished the Gold Tier Employer status in Australian Workplace Equality Index for LGBTI incorporation, expelling single-utilize plastic packs from all our Australian stores, and checked on their capable sourcing system. All of these are reflection of their long term collaboration with their network suppliers and stakeholders towards a long term goal. Woolworths Group is a signatory to the United Nations Global Compact (UNGC). UNGC signatories display a lot of fundamental beliefs in the regions of human rights, work principles, nature and anti corruption. In this Performance Measurement System Assignment, they also additionally shared their actions against the UNGC guiding principle.
A short glance at the report's performance when it comes to their supermarkets commitment, also divulges details on how they plan to provide an impact in long term to the environment and the people they can't survive without. There is mention of refugee employment programs, next generation supermarkets, stakeholder engagement programs, reduction in pricing, sustainable packing and so on. The half-yearly company results reports retrieved from their official page also reflects their long term performance stances and the effects. Another reference to their 2018 Annual reports show that their major target for growth in NSW has specifically been evolving their endeavour drinks business, presenting the customers with a voice through their VOC (Voice of Customer) scheme, and reach out to their suppliers through a VOS (Voice of Suppliers) scheme. They want to present customers not only in NSW, but every region they serve with a well connected, personalised as well as convenient shopping experiences. Most importantly, their approach has also been towards altering the Australian and New Zealand's food itself. This they plan to achieve by transforming their portfolio itself to unlock more value. They plan to cater to their plans and make them each successful by offering to the customers, in NSW and every region else with simpler stores that pack more value in the simplicity, so that it is more convenient and better for their customers.
All of these stances have affected their group financial performance as reported in the annual report of Woolworths in 2018. Their sales increased by 3.4% from 2017 to USD 56.7 billion and would definitely also reflect upon their performance measurement systems with positive results. These are all clear indicatives of how Woolworths long term growth strategies in place have actually transformed into a reality with the efforts put in.
2.4. Management Accounting Theory
Agency Theory: The major question that arises on this Performance Measurement System Assignment, is what important role incentive and compensation plays to the employees. It is the principle that is used to evaluate and solve the critical issues in relationships that arises between the business unit and their respective agents. However, the relationship is based in between the principals, agents, shareholders and company executive. It is the broader term that evaluates the relationships between the parties that represent each other in a day to day transactions (Shogren et al., 2017). The principal of the theory deputy to the decision making authorities of the company and agents. The company Woolworth is the supermarket that has more than 1000 shops in the Australia. Thus, to increase the overall value of the firm the owner of the company is required to design a compensation plan that will trigger the agent to perform in the most effective manner that will maximize the profit by increasing the overall productivity. However, the company Woolworth requires a proper coordination relationship with its agent on the basis of the agency theory that will reduces the cost of the organization and save the interest of the company.
The agency theory is compiled with several obligations that is required to take into consideration by the shareholders of firm. There are three kind of expenses that are mentioned in the respective theory: Audit cost is one of the activity of the monitor managerial for the expenditures (Pepper and Gore, 2015). However, in the Woolworths it has been observed that auditing plays a crucial role in solving the issues that are commonly adopted by many organization. Thus, for rectifying the issues related to agency the respected company has appointed three auditors that analyze and evaluate overall operations of the company to all the located stores in Australia. Secondly, the cost of the structuring is instance in this theory that undergoes with the procedures related to appointing outside members to the reengineering chart and board of directors in the firm. The reason of adopting this theory by the company Woolworths, as the chart that is designed by the organization are very effective as it helps to allocate the respected job in the most efficient manner and enables to solve further relations problems. Thirdly its has the opportunity cost that are organized by the owner of the Woolworth by introducing the voting for certain issues. However, this leads to limit the capability of the management system of the company (French, 2015). Thus, many mechanism has been introduced to the business that will help to minimize all the respected cost as well as solve the overall agency problem (Wow2016cr.qreports.com.au, 2019).
Expectancy Theory: Expectancy theory or the theory of the motivation is the determines the actions and behaviour of the individual in several ways. However, this theory leads to focus motivational factors that evaluates the desirability of outcome. The core of this theory is a cognitive process of how the employees of the company adopts various motivational elements. This theory is also based on the mental process of the individual related to the choosing or choice. There are many strength that are enjoy by the company Woolworth where the expectations of the theory are boost by the incentives and rewards. The company sets a proper goal applying this theory as all the components are properly evaluated that helps to enhance the overall performance of the business unit (Flake et al., 2015). It has been observed that when the management are applying the theory it assembles the effective work in order to accomplish the business goal. This theory also fills the gap that is required to increase the employability skills within the organization by providing the adequate training and rewarding the employees of the company. However, it has been seen that the employees of the respected organization are motivated with such concern of the the company and tries to improve their ability of work for the sake of the business. Moreover, this theory ensures that the employees of the co0mpany are happily and willingly takes the active participants to the different projects that are established.
If the employees are not interested in taking participation sto the projects there is simply no means to carry up with the theory by the business. Moreover, it has been already analyse the different kinds of components that are used (Chen et al., 2016). Thus, the leaders are required to examine the real values of the employees as rewards. However, it has been observed in the company that the employees lack the understanding which is not atall motivating for the benefits of the company. In order to overcome from this issue on Performance Measurement System Assignment, the concerned company caters to organise for training sessions and scholarship for settling their career.
2.5 Accounting for Designing Process
Team's ability to engage in a reflective, iterative design process
Today 198,000 representatives in 2,700 areas serve more than 28 million clients every week. In the meantime, Woolworths was tested by perplexing, manual, maturing (HR) forms that undermined its capacity to support development. The organization started a HR change program to help accomplish its vision of incredible individuals conveying superior in the best work environment. The objective was to take out complex paper-based procedures with the goal that HR could more readily bolster the organization's four essential center regions: ability, initiative, authoritative viability and representative acknowledgment and prizes. All together for their business to remain ahead and meet client desires, we executed a start to finish human capital administration framework, SAP SuccessFactors, to help accomplish their kin technique. They expected to improve how they functioned in their association, pulled in, created and held their ability, built up their pioneers and discovered better approaches to remunerate and perceive our workers for the commitment they make. Strikingly, Woolworths didn't position this change as only a change venture. It was centered around engaging supervisors to be responsible for the improvement of their kin, giving workers the capacity to possess and deal with their vocations, and increment two route correspondence over the business. They worked trusting that in the event that they custom fitted their change program to enable representatives and supervisors to perceive what will be great about it, they'll be more than willing to embrace that specific change, and it obviously enabled them to connect properly in the association's plan forms effectively.
Communication and teamwork skills
Woolworths Food Group has as of late sketched out its three-year procedure to win the trust of its clients, and increment a lot of their sustenance spend through lower costs and improving all parts of their shopping background as a component of their methodology towards more prominent client correspondence as a major aspect of administrations (Anon, 2019). Woolworths Food Group Managing Director, Brad Banducci, said that they were setting the client toward the beginning of all that they intend to do. This technique will result in lower costs, all the more convincing offers, and more prominent advancement. They unmistakably recognize that while lower costs were fundamental, the genuine battleground is the general client experience (Cameron, 2019). In this way, they needed to give better comfort, prevalent freshness and an all the more engaging extent, while focussing on advancement. This they intended to do by bettering their provider system and accomplice the board.
The changes are not only extrinsic, Woolworths knows that the key to unlocking their targets is not just customers, they invest towards between employee engagement programs as progress towards better inter communication and team skills within the organization. According to their Corporate Responsibility Report on 2016, they referenced in it that as a firm, Woolworths needed every one of their representatives to feel esteemed and regarded at work, paying little heed to their sex, age, ethnicity, convictions, incapacity, sexual direction or sex personality (Wow2016cr.qreports.com.au. 2019). In 2015/16 they kept exploring their techniques and objectives to guarantee they bolstered a culture of assorted variety and consideration. Australia is experiencing critical statistic change, and their clients are progressively saying that a basic piece of an extraordinary shopping background is receiving phenomenal client services from individuals who mirror their networks. They state that they are attempting to pull in and hold diverse workforce with a positive client center by giving a sheltered, even handed and drawing in workplace. In FY16, women held 39% of the board positions in Woolworths, with the greater part in Operations. Expanding female portrayal at all dimensions of the executives and over all capacities is significant as it will improve Woolworths' gender distribution at work and gain favourability (Woolworthsgroup.com.au, 2019).
Woolworths is additionally centered around attending to gender pay gap issues. They have built up an assorted variety and incorporation methodology and compensation standards to drive improvement around there. Real activities inside this technique was propelled in November 2016, including a gender pay gap survey. Woolworths is focused on making ample employment openings for Indigenous people as well. This dedication is laid out in their Reconciliation Action Plan. They keep on moving in the direction of shutting the gap among Indigenous and non-Indigenous Australians through their procedure. All these vital advances have successfully expanded the representatives' responsibility towards the association and at the same time towards all their associated partners. The activities cultivate great between group correspondence with common regard, adaptability and group collaboration inside the firm for generally advancement.
Conclusion
From the above study, it can be concluded that performance measurement system plays a significant role in helping the managers and leaders to evaluate the performance of the employees. The major concern of the study is to highlight the overview of Woolworths, the chosen organization. It has majorly been taken into consideration about various components and its implementation within the concerned organization. This might be helpful for the company to carry its operations on a better note. Additionally, it has also been stated a brief comparison of past and present working pattern of the organization. Furthermore, justification of long and short term performance of the company has also been shaded light upon. The findings of the study are also supported with different management accounting theories. Along with this, contribution of teamwork and fluency in communication also plays a great role in the performance measurement system. Customer service, relationship with employees and partnership with suppliers and investors are all important points discussed on this Performance Measurement System Assignment. Performance Measurement System assignments are being prepared by our management assignment help online experts from top universities which let us to provide you a reliable assignment help online service.
References
Pc.gov.au. (2019). [online] Available at: https://www.pc.gov.au/inquiries/completed/executive-remuneration/submissions/sub091-part2.pdf [Accessed 18 May 2019].
Woolworthsgroup.com.au. (2019). Strategy and objectives - Woolworths Group. [online] Available at: https://www.woolworthsgroup.com.au/page/about-us/our-approach/strategy-and-objectives/ [Accessed 18 May 2019].
Woolworthsgroup.com.au. (2019). About Us - Woolworths Group. [online] Available at: https://www.woolworthsgroup.com.au/page/about-us/ [Accessed 18 May 2019].
Woolworthsgroup.com.au. (2019). [online] Available at: https://www.woolworthsgroup.com.au/icms_docs/195396_annual-report-2018.pdf [Accessed 18 May 2019].
Wow2016cr.qreports.com.au. (2019). People: encouraging diversity - Woolworths 2016 Responsibility Report. [online] Available at: https://wow2016cr.qreports.com.au/home/group-review/people-encouraging-diversity-details.html [Accessed 18 May 2019].
Cameron, N. (2019). Woolworths details 3-year strategy to become customer centric. [online] Cmo.com.au. Available at: https://www.cmo.com.au/article/574302/woolworths-details-3-year-strategy-become-customer-centric/ [Accessed 18 May 2019].
Cameron, N. (2019). Woolworths details 3-year strategy to become customer centric. [online] Cmo.com.au. Available at: https://www.cmo.com.au/article/574302/woolworths-details-3-year-strategy-become-customer-centric/ [Accessed 18 May 2019].
tafensw.edu. (2019). [online] Available at: https://www.tafensw.edu.au/enterprise/case-studies/woolworths [Accessed 18 May 2019]. (tafensw.edu, 2019)
woolworthsgroup. (2019). [online] Available at: https://www.woolworthsgroup.com.au/content/Document/Woolworths [Accessed 18 May 2019].
Woolworthsgroup.com.au. (2019). Woolworths Supermarkets - Woolworths Group. [online] Available at: https://www.woolworthsgroup.com.au/page/about-us/our-brands/supermarkets/Woolworths [Accessed 18 May 2019].
Woolworthsgroup.com.au. (2019). The Woolworths Story - Woolworths Group. [online] Available at: https://www.woolworthsgroup.com.au/page/about-us/The_Woolworths_Story/How_We_Were_Founded [Accessed 18 May 2019].