Woolworth's Human Resource Management Strategy Improvement
Question
Discuss about the Strategic Human Resource Management of Woolworths.
Answer
Introduction
Woolworth's human resource management is an important topic linked to the brands growth. This makes it important for businesses to put in place HRD departments to monitor and manage the staff's operations and ensure they are happy and productive at all times. Woolworths may be the amount the largest retail outlets in Australia but to retain its market position and meet consider expectations, Woolworth's human resource must meet market expectations. In order to explore and understand the role of human resource towards a business, the definition of human resource management needs to be understood after which other aspects of HRD can be explored to determine the precise role played by human resource management towards any business operations.
Defining of HRM
HRM refers to human resource management and it involved the management of a company or organization human capital. The main role of Human Resource Managers is to maintain discipline, manage compensation and benefits, offer training and development, and improve employee relations, and recruitment and staff selection. Each of these roles plays a huge role in the effective management of human resource as it ensures the organization hires the rights personnel. It is therefore important for Woolworths to also have a department which evaluates and follows strict guidelines in order for Woolworths to hire the right person which will increase employee retention rates and reduce turnover rates which are more costly for the company. Proficiency and efficiency of productivity are also directly influenced by having staff who serve longer for the organization. Maintaining relations which ensure employees long term services will reduce overall business costs as well as improve effeminacy which will deliver positive benefits to the consumer.
Company Background
Woolworths was established by Percy Christmas, Cecil Scott Waine, Stanley Chatterton, Ernest Williams, and George Creed in 1924 and the company has since grown to be the largest retail store in Australia. Woolworths maintains its focus on catering to the retain consumers and offer all household consumer products. The brands retain its headquarters at Bella Vista, New South Wales, Australia but now hoping to expand its operation to the international market. To successful expand to the international market, it is essential for the brand to streamline Woolworth's human resource policies to ensure the business acquires and retains the best staff which will greatly influence the business expansion as they can assign reliable staff management roles and transfer the staff to new branches knowing the branches will be managed effectively. Woolworths has not distributed acres Australia and looking to expand its operation to the international market for which top quality HRM policies and staff are needed to ensure smooth brand expansion to the domestic and international market.
The Human Resource Department
In order for Woolworths to set up effective policies that address human capital needs, it's important to have a department dedicated to managing the Woolworth's human resource. Woolworths has a well-developed human resource department which is responsible for managing multiple roles and they are also responsibility planning all aspects related to human resource to ensure the business staffing needs are addressed(Armstrong and Taylor 2014).
Strategic HR Management
The first responsibility of the HR manager is to perform a Woolworth's human resource evolution of the organization's current HR policies and guidelines. This will help determine precise approaches currently being followed by organizations like Woolworths. The data will then need to be evaluated using static management tools to help determine the Pros and cons linked to the existing HRM policies and guidelines based on which modifications can be developed to help the business design better policies. There are three types of strategic management tools that Woolworths utilizes to ensure maximum strategy success namely strategy development, strategy planning, and strategy control tools. Each helps manage a different aspect of the business strategy thus maximizing the strategies success rate. Every proposed strategy must address the following question.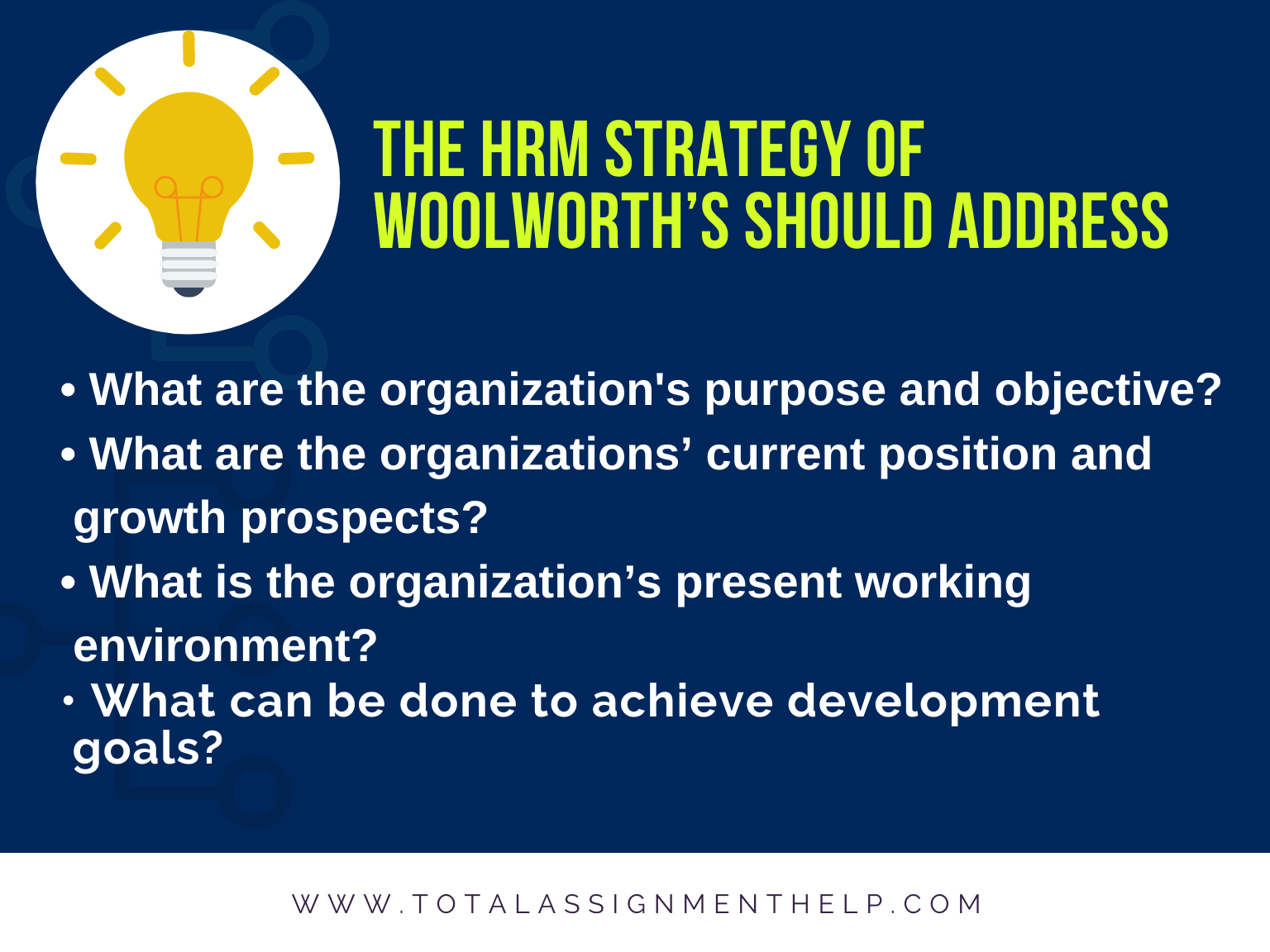 What are the organization's purpose and objective,
What is the organization current position and growth prospects,
What are the organizations present working environment
What can be done to achieve development goals
Each of these questions must be answered in order for effective business strategies to be designed and ensure the organization's HR strategies attract and retain skilled human resource.
Human Resource Department Roles and Functions
In order to a department to maintain its focus on achieving set goals, it is essential for the business to define clear roles and functions. This does not apply to only the Woolworth's human resource department and applies to each department as well as the individual's staff member. It's important to define each department and individual's staff members KYC's which will place them responsible for monitoring and be responsible as well as answerable for their position. It is therefore imperative to outline each individual's staff members and departments KYC's in order to ensure accountability for the roles and functions pertaining to the positions. There are four roles pertaining to every job role and Department namely Planning, Organizing, Directing and Controlling. It is mandatory that these roles and functions are all always followed to ensure maximum business performance.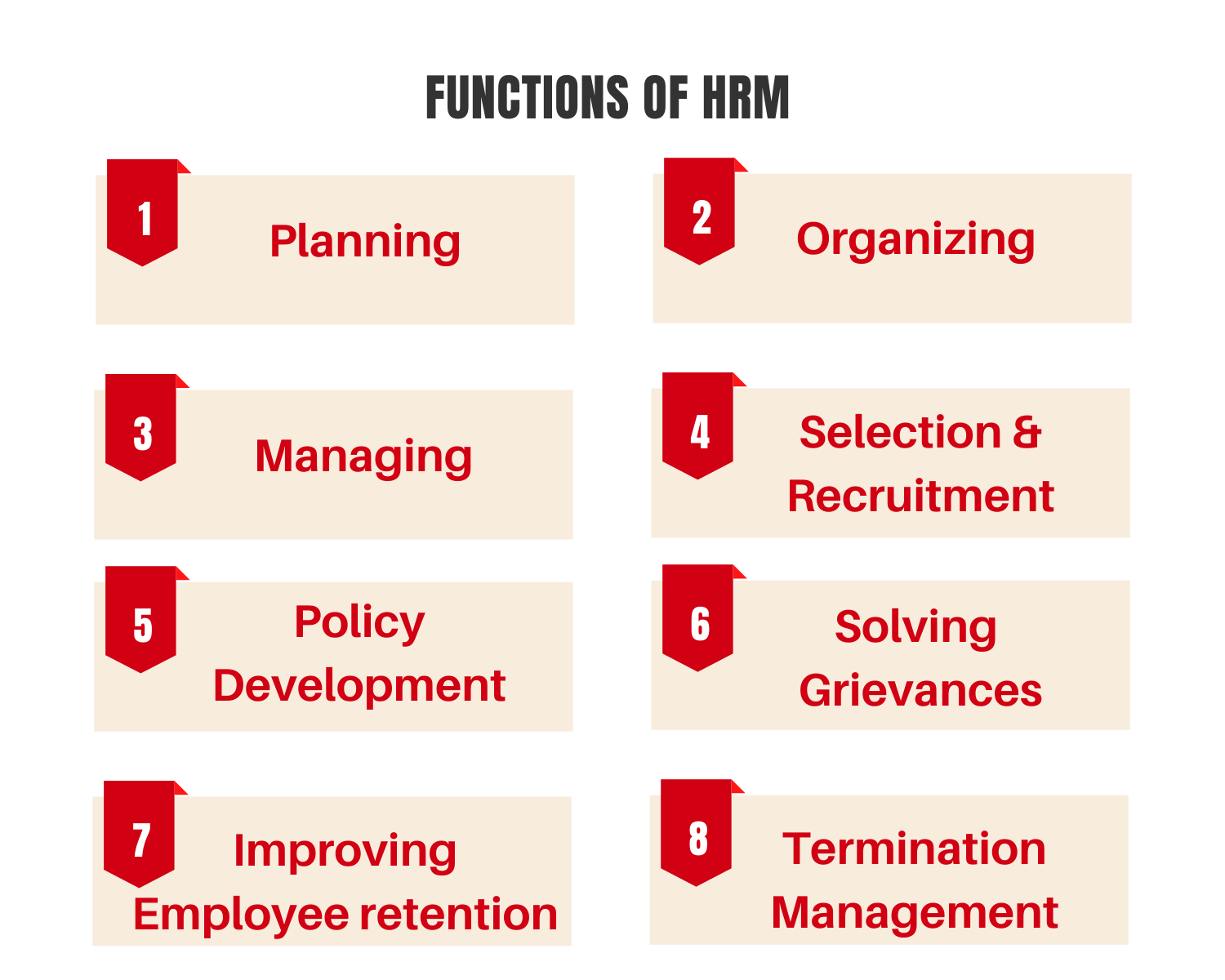 Planning: Strategy development begins with strategy identification and planning. Planning is imperative for any strategies success as it helps outline the intention and strategies of the project to be used to achieve the objectives. These strategies require being organized and synchronized according to the businesses current operation and intended objective. This allows for the strategy developer to determine each step to be followed during the projects thus helping outline precise approaches the individuals of business needs to take in order to achieve the identified goals. Planning requires to be manually done but strategy planning tools also used to help outline steps the project needs to follow and the duration they will take thus ensuring the business achieves its intended goal.
Organizing: Using SWOT and PESTLE analysis tools, the department managers and staff will be able to identify different aspects of a project which need to be addressed. It is essential for the maximum number of aspects to be identified after which they will require to be organized based on their priority and time they need to be implemented. Strategy organization is best performed using strategic management tools like Gantt Charts which will help outline specific timelines based on which project stages require to be completed. This is important as it will determine specific timelines based on which the project stages require to be completed thus setting a specific deadline with which stakeholders need to follow.it also help organize tasks as per their priority thus allowing the task to be completed as per their priority.
Directing: Directing also refers to management and organization of the tasks, staff, and operation and this requirement for the staff to be allocated tasks as per their skill and knowledge and schedules set. It's important to have the organization's staff distributed following hierarchal classification thus distributing staff as per their ranking and roles. Each department requires having a manager, team lead, assignment team leads, Subject Matter Experts, senior associates, and associates. Each would be assigned specific job roles and be held responsible for ensuring the targets have been achieved. Failing to have an effective managerial role will result in the department failing to develop the desired level of direction and accountability thus resulting in staff chaos and lack of accountability while handling operations and tasks. In order to direct staff as well as the department effectively, it is essential to make sure staff issued their ranking and job roles thus ensuring each person is accountable for their work performed.
Controlling: Woolworths also needs to have a control system in place which outlines the regulations, policies, and processes to be followed by all staff. The control mechanism also outlines the process which the organizations make decisions, leaving the final decision with the higher management. Similar to hierarchal Directing, but also limit decision making (Hendry 2012). Decision making roles require to be distributed to each staff member based on their roles thus allowing each to make the decision to a certain limit after which the issues will require to be shared with a higher ranked official that has the authority to make a decision or share the requires higher. Final control will fall with the Managing Directed and CEO's who will be responsible for making the final decision pertaining to certain higher level choices.
Staff selection, recruitment, and retention
Staffing is by far the most commonly known role of the HR department but the HR department is also responsible for several other tasks including, developing recruitment advertisements, staff selection, recruitment, policy development, staff grievance management, delivering good working environments and facilities, maximizing staff retention, attendance, paycheck authorization as well as following staff termination procedures. The roles of the Woolworth's human resource department are commonly underestimated by the public but the HR department produces and processes followed by large organizations like Woolworths are well organized and address most staffing needs. The staffing needs for an organization, continue increasing thus the HR department also continues growing and expanding its operations. It is essential for businesses to develop clear procedures to be followed for each of these processes which will ensure each HR responsibility is addressed effectively.
Developing recruitment advertisements
Staff selection
Policy development
Staff grievance management
Delivering good working environments and facilities
Maximizing staff retention
Attendance
Paycheck authorization
Staff termination procedures
Recruitment and selection: Staff recruitment involves the development of effective recruitment advertisements which would be published in newspapers and the internet to help spread the requirement and need for staff by a company. The recruitment advertisement needs to be carefully drawn to ensure a clear message is communicated to the public thus helping attract only staff members with specific skills (Derous and De Fruyt 2016). The advertisement requires outlining the number of staff needed, the position, roles and responsibilities, and minimum qualifications. This will help filter the applicants, helping focus only relevant applications for the positions. Failing to set specific criteria while preparing advertisement will result in inviting a large number of unqualified applicants resulting in time as well as resources wastage (Derous and De Fruyt 2016).
Policy development and improved employee retention: Another very important point Woolworth's monitors is their HR and staffing policies. With an increasing demand for skilled staff across the globe, it has become imperative for organizations to deliver competitive human resource policies to retain their market position. Working environments, staff expectation, facilities as well as rewards and performance benefits all need to be addressed. It's important to develop a policy for each of the human resource and staffing needs thus ensuring staff has access to top quality facilities which will help keep staff comfortable while working as well as allow the organization to retain its staff for longer periods of time. Retaining staff for longer periods of time reduced business costs related to hiring, staff training as well as increases business efficiency (Hendry 2012). This makes it very important for businesses to maximize employee retention which automatically increases the businesses efficiency thus enhancing profitability. This is best achieved by developing identifying staff needs based on which the HR department can develop effective policies to address each stakeholders needs.
Resignation and Termination procedures: Each new staff member will know regarding the probation period allocated to a newly recruited staff member, this is the period when the staff member is under surveillance and analysis before finalization and performant hiring. It is also important to understand that both the employer and employee must be able to issue a notice period before resigning or terminating the staff member. There are clearly defined guidelines linked to the resignation and termination procedures by each organization as well as by the labor department. Notice periods must be issued by either the employer or the employee stating the time they expect them leaving the job. In a situation where there is not resignation notice or termination notice offered, the violating party will be liable to compensate the other party with full and final compensation for the amount mentioned on the policy or agreement. Having an effective resignation or termination provider in place will ensure both the employer and employee are protected from a sudden low of staff or employment thus giving the HR department adequate time to interview and hire suitable candidates to fill the position. It is also important for the staff as it gives them adequate time to apply for new jobs, thus improving one's ability to secure a new job and continue earning as well as practicing their profession.
Performance Management: Employee performance is directly influenced by their attitude and views towards the work making it important to measure work performance and report on each staff member's goal achievements. To measure performance the HR team must outline each staff members KYC's based on which targets can be set. It is imperative to set above average targets which will place pressure on the staff to achieve those targets. Extremely high Targets must not be set as these may not be available by all staff which may lead to further complications at a later stage. With the targets set, the HR team needs to collect the data based on which measurements can be done to determine a staff member's performance. This information can then be used to prepare statistics based on which each staff members performance can be measured (Woolworths 2016). With the adoption of digital technology, it has become considerably easy to measure staff performance, based on which accurate performance reports can be developed.
Conclusion
This report has primarily focused on the role of the Human Resource Department and managers towards effective business operations. The primary company used on this report has been Woolworths which is Australia's largest retailer but the strategies and approaches can be used by any organization towards improving its productivity, production, and performance. Human resource and capital remains as being the amount the most important resources in businesses and requires careful management to maximize business operations and success. Woolworth's human resource managers must also adopt policies to ensure smooth business operation but at the same time, it's also important to consider adopting and using modern technologies to help further improve the businesses operations and success rates. Woolworth's human resource assignments are being prepared by our HR assignment help experts from top universities which let us to provide you a reliable assignment help online service.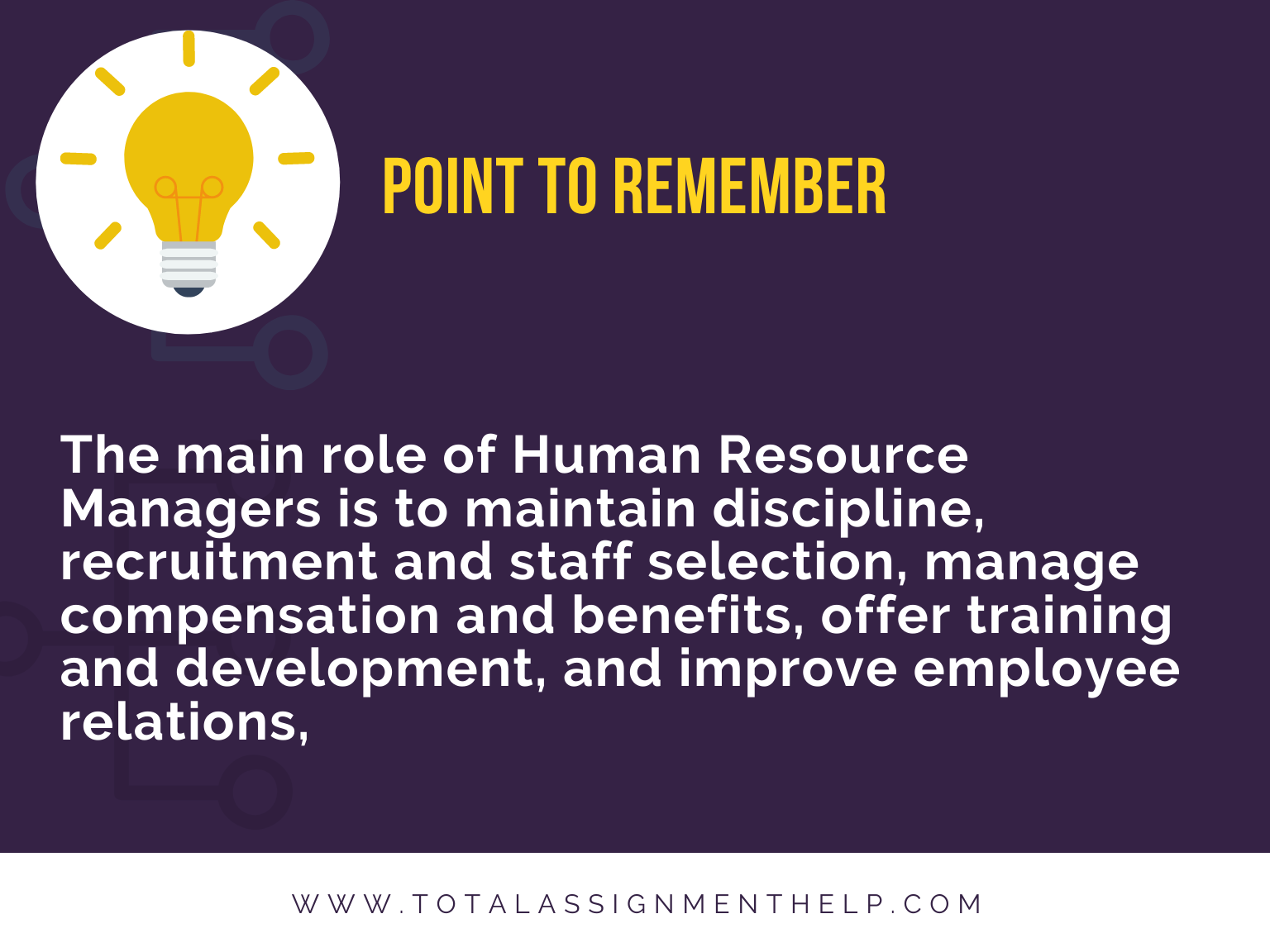 Reference List
Armstrong, M. and Taylor, S., 2014. Armstrong's handbook of human resource management practice. Kogan Page Publishers.
De Waal, A., 2013. Strategic Performance Management: A managerial and behavioral approach. Palgrave Macmillan.
Derous, E. and De Fruyt, F., 2016. Developments in Recruitment and Selection Research. International Journal of Selection and Assessment,24(1), pp.1-3.
Hendry, C., 2012. Human resource management. Routledge.
Manning, N., Watkins, J. and Degnarain, N., 2012. Does the public sector HRM system strengthen staff performance?.
Mathis, R.L., Jackson, J.H., Valentine, S.R. and Meglich, P., 2016. Human resource management. Nelson Education.
Newton, C., Becker, K. and Bell, S., 2014. Learning and development opportunities as a tool for the retention of volunteers: a motivational perspective. Human Resource Management Journal, 24(4), pp.514-530.
Purce, J., 2014. The impact of corporate strategy on human resource management. New Perspectives on Human Resource Management (Routledge Revivals), 67.
Shields, J., Brown, M., Kaine, S., Dolle-Samuel, C., North-Samardzic, A., McLean, P., Johns, R., Robinson, J., O'Leary, P. and Plimmer, G., 2015. Managing Employee Performance & Reward: Concepts, Practices, Strategies. Cambridge University Press.
Woolworths Supermarket - Buy Groceries Online 2016, Woolworths Online. viewed 26 September 2016, .