Analysis on Walt Disney corporate strategy
Question
Task: Identify a company that has undertaken some major changes in its operations (for example, a major restructuring or takeover). Evaluate the nature of these changes and how effectively the organisation has responded or is responding to these changes in the short and long term. Determine what important lessons can be learned from this experience. Students will have to demonstrate in-depth knowledge and practical applications of the business models covered during the course. Please note: This assessment must be in an essay format and approximately 2,500 words in length. Must include graphs and table.
Instructions:
Either we can choose one company or merging with an another company. The essay must be three parts:
1.Introduction of company background of both companies if we choose two companies.
2.Acquisition of one company by an another company which includes(nature of cost, purchase, how long it took to acquire ) write also about the who like to merge first proposal to another company.
3.Benefits and disadvantages of purchase
4.Lessons learned and recommendations(what the company should have done)
5.conclusion
6.References and doesn't include in 2500
Answer
Introduction
The Walt Disney corporate strategyis one of the biggest conglomerate companies in mass media and entertainment sector. It is founded in 1923 and has headquartered in California, America. It has a diversified business which includes- theme parks, film studio, live action movie production and television. Bob Igerwas the CEO of the company since October 2005 till March 2020. The first major step taken by Bob after he became CEO was the merger of two big companies Pixar and Disney and after that there were many acquisitions observed which includes- Marvel, Lucasfilm, BAMTech and the most important acquisition noticed in the history of media industry was the acquisition of 21st Century Fox. Under Bob Iger'ssupervision, with a stint of 15 years, Disney's net incomehas increased to more than 400%.It can be seen from net income in 2005 was $2.5 billion which was increased to $12.6 billion in 2019. Similarly, share price have gone up to $140 per share in 2019 from $25 per share in 2005(CNBC, 2019). Disney has variety of business segments which includes- Studio Entertainment, Media Networks, Theme Parks, Digital subscription streaming services.The Walt Disney corporate strategyis providing worldwide services through its various segments of units and having more than 200000 employees.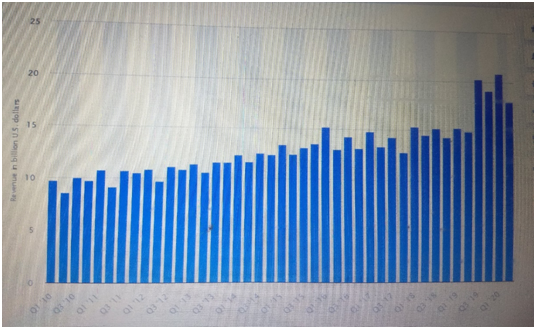 Whereas, 21st Century Fox is the successor of News Corporationwhich is founded in 1980 in Adelaide, Australia. News Corporation got split in 2013 into two companies, one is related to media and the other is related to publishing. Where the publishing unit is retained in the name of new News corporationand the old news corporation changed its name to 21st Century Fox had its headquarters in New York City, America. 21st century Fox consists of media and broadcasting sector which includes- Fox music, Fox News radio, Studios (television, entertainment), TV, Production and Distribution company, Broadcasting company, Cable TV channels, Internet and digital media and other assets (video game, theme park).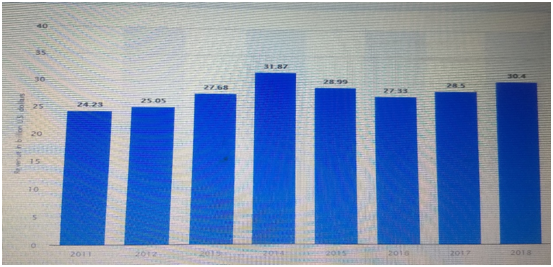 Revenue generated by 21st Century Fox
Post-split of News Corporation, 21st Century Fox which is mainly handling media and broadcasting business were facing many challenges in the competitive market. There was increase in revenue from 2013 to 2017 from $ 27.68 billion to $28.5 billion but the increase was not significant (Statista, 2019). Due to subsequent change in media industry and the deal offered by Disney, 21st Century Fox took decision to sell the company to Disney in the year 2019.
Major change in operation due to restructuring
Merger and Acquisition are the methods used by business in order to expand its business market and its operations. In this process, two or more companies combined to develop new business with larger market share. Benefits observedby this method are- growth of business, competitive advantage, synergy benefits, increase in market share, profit, productivity and performance. This process involves huge cost, so it is important to evaluate all the benefits and disadvantages, or limitations attached to the deal.
Acquisition of 21st Century Fox by The Walt Disney corporate strategyis considered as one of the biggest and complicated acquisition in the history of media industry. Fox was considered as one the powerful company in media conglomerate in the world. The Walt Disney corporate strategyacquire 21st Century Fox in March 2019 which included 20th Century Fox films and studios.The Walt Disney corporate strategytook over 21st Century Fox in $71.3 billion and became the world's biggest company in media and entertainment. Post- acquisition Disney now owns many big franchises like X-Men, Avatar, Ice Age animation studio, National Geographic and the streaming services Hulu and Star(The Guardian. 2019). Disney has many competitors in the market, one of them is Comcast which is one of the biggest companies in media and entertainment specially in telecommunication which is present in all over the world. Acquisition cost Disney to pay $18 billion more because of Comcast which is another big company in media and entertainment because it was also included in the bidding because of which Disney was required to provide better deal to acquire Fox.
Another difficulty faced by Disney was antitrust concerns. It can be defined as anti- competitive practices, where businesses in order to reduce competition in the market and to earn more profit and greater market position. It can be achieved by various methods in which one of them is absorption.
Acquisition of Fox gives Disney a platform to grow and develop its new unit of online streaming of video, for this purpose it has created Disney+ to showcase various movies, TV series, News and other media and entertainment content which Disney has acquired in various prior acquisitions of Pixar, Marvel, Lucasfilm, BAMTech.Disney has not only received films, franchises, studios but also got 30% stake of Fox in Hulu which is the American subscription video on demand service which has 30.4 million subscribers and not far behind Netflix. Further, it has obtained Fox searchlight pictures which is specialized in creating horror content, for it they have received 4 Oscars since 2009. Disney after acquisition will also get Fox 2000 studios, 70% stake in National Geographic and FX cable stations(Joo, 2020). Therefore, Walt Disney corporate strategywith the acquisition of 21st Century Fox has entered another level of same business structure with great scope of operations and huge market share.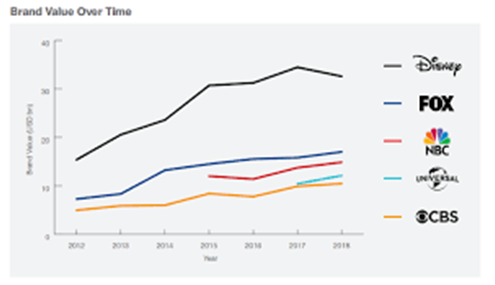 Reason for restructuring
Disney lost Sky to comcast which is the biggest acquisition in 96 year of company's history. However, Disney is not focused on cable channels like ESPN because of steady growth rate but is now focusing on online video streaming business that is direct to customer business like Netflix. Netflix is one of the leading companies in video streaming. The reason of establishing Disney+ is increase in the demand of online streaming videos. There are already various distributors in the market at present which includes- Apple Tv Plus, Amazon prime, Hulu, Netflix, HBO Max and others. Purchase of 21st Century Fox, has made Disney more powerful in the media business that assists in to stay in the top position.It has further developed a new platform of Disney+ which can portray its varieties of contents which is received through various acquisitions.
The main reason of acquisition outlined in this study of Walt Disney corporate strategy is the collection of content and talent. Fox being one of the leading media and entertainment business consists of various franchises and content that helps to meet demand of consumers with the view to expand its direct to consumer offerings. Therefore, Combination of both Disney and Fox will create dynamic and transformative era as media industry is changing progressively and therefore demand and innovation required in the competitive environment for stability and growth of the organization.
Advantage to the organization or Potential Synergies
After acquiring 21st Century Fox by Disney,it was observed that there is a rise in the revenue. Acquisition is adopted by Disney to achieve specific business goals which can be seen from starting Disney+ unit and increase in revenue from various segment of business. It gives Disney strength to compete with big competitors like Netflix, Apple Tv, Amazon Prime and others. Because of collection of various content and technology after acquiring Fox, it leads to a great advantage to compete with other big giants in video streaming business. The advantage of acquiring Pixar, Lucas, Marvel and Fox enable Disney to provide variety of contents to its users which has created great competitive advantage and created a platform where Netflix is not far behind. Further there is an advantage of acquiring 30% of stake in Hulu which was present in Fox corporate structure.Hulu is another advantage received from acquiring Fox.Walt Disney corporate strategyis now successfully ruling inGlobal theme park, which is another potential synergy observed.To compete with Netflix and Amazon, Disney will need content and technology, which is obtained through its various acquisitions(KOCHNEV, 2016). Whereas, Disney is giving Fox shareholders some shares as well, through which Murdoch family will receive 25% of stake in Disney. This deal brings an advantage for 21St Century Fox as value derived from the combination of both will provide greater benefits as compared to the 21stcentury alone, which can be seen from the rise in revenue where Fox after splitting with News Corporation company was not deriving the same profit.Moreover, benefit of 21st Century Fox can be observed, withthe price of shares which have increased to more than 30% after the report that Fox is open for sale.
| | |
| --- | --- |
| Disney before acquiring 21st Century Fox | Disney after acquiring 21st Century Fox |
| Total Assets- $95.79bn | Total Assets- $193984 millions |
| Consumer Products- $9bn | Consumer Products- $9bn |
| Media Networks- $32.5bn | Media Networks- $24827 millions |
| Parks and Resorts- $29.5 bn | Parks and Resorts- $26225 millions |
| Studios- $16.3bn | Studios- $11127 millions |
Source: bbc.com(2019)
Effectiveness of AcquisitionandBenefits of Restructuring
The study on Walt Disney corporate strategysignifies that acquisition is a method of acquiring small company by one big company. In which one company sells its assets to some existing company to form one big company. To achieve expected benefits from mergers and acquisitions, company must evaluate effectiveness of the deal after applying due diligence in the process. Fox is one of the leading media conglomerates, as a result company must develop strategies to successfully implement the procedure of acquisition.Acquisition of Fox by Walt Disney corporate strategywill help increase in market share, lack of competition, increase in content, technology, productivity and profits. To achieve goals and objectives it is important to execute restructuring in a cost-effective method after applying all the possible advantages and disadvantages.Disney post acquisition laid off 4000 people. Acquiring company must evaluate financing options available to buy the respective company. Disney has paid $71 billion to Fox in the acquisition process.
Effectiveness can measure by way of determining opportunities in acquisition. It is necessary to evaluate growth and expansion of business post- acquisition(Sinha, and Kaushik,2010). Disney identified the advantages or benefits attached with the Fox. 21st Century Fox was the successor of News Corporation and had all the experience of News Corporation of 40 years. Fox consists of various studios, production line, TV and films franchises which will bring lot of benefits to Disney if combined with.The main motive of Walt Disney corporate strategyis to attain competitive advantage. Disney is already the leading media and entertainment group but after acquisition it has attained a great position in the media market in which it itself covers one third part of the industry in the size of the company. To measure the effectiveness of the acquisition it is important to evaluate the current position of the acquired company. In the acquisition of Fox by Disney, Fox was already a leading group in the market and was a conglomerate company.Further it is important to evaluate the market, if there is any potential company that is equivalent to the company acquiring with. Fox was the best possible option available with Disney and was considered enough to form one big company. It is a benefit to Disney in creating a great market share as both the companies Fox and Disney are in the same business, hence it will not create problem in integration of businesses and it will lead to increase in the potential users/ clients.
Therefore, effectiveness of acquisition based on the Walt Disney corporate strategy can be seen from-
Revenue- $15303 million in quarter 1, 2019 and $15351 million in Q1, 2018
Profit- First quarter of 2019- $1.44 billion, 51% decline from previous years
EPS- $1.87 per share, $2.91 per share a year ago (The Walt Disney company, 2019)

The effect obtained was not as per the expected results. There was a downfall observed in the initial period post acquisition.But considering the value of Fox in the market and the business model it is evident that The Walt Disney corporate strategywill attain profitability and growth in the market share.
Recommendations
Merger and Acquisition is the most complex business strategy, to execute it effectively it is necessary to analyze and evaluate the result. Determination of the value of the target company is the most important factor to analyze.Post- acquisition settlement is done through either cash or stock or both. Normally, acquiring company settles the selling company by providing its shares of new company. It is necessary to evaluate the potential synergies in order to execute the strategy of acquisition efficiently(?íhová, 2018).There are various challenges and issues observed in implementing this Walt Disney corporate strategy. Therefore, it is necessary to give attention to following-
Firstly, to identify the potential companies. It is important to evaluate if there is any other company same as the target company but with more potential synergies(Turamariand Hyderabad, 2017).
Acquisition should be done with cost effective measures and managing finance to acquire the company.
Value must be identified with due diligence, before finalization of value of the target company.
Proper negotiations should be done, after evaluating market conditions and requirements.
Potential synergies must be determined properly. It must be taken into consideration that combination of both the companies are giving more consideration as compared to individual results.
Post- acquisition, it is important to take cost measures to reduce the avoidable and unnecessary costs. Such as Disney laid off 4000 employees after acquiring Fox to apply cost reduction.
Appropriate use of technologies of target company and maintaining relations with the employees of the target company to achieve high performance and productivity from the employees of the acquired company (Chuzhykov, 2018).
Identify the reasons of decline in the revenue post- acquisition and take corrective actions as required.
Conclusion
In the report it was highlighted that, merger and acquisition is the most complex Walt Disney corporate strategy that involves examination of the market condition both internal and external market to evaluate the current position of business and the future growth perspective of the organization. The main motive of adopting this Walt Disney corporate strategy is the wealth maximization and rapid increase in market share which can only be possible with the process of merger or acquisition. In this report, acquisition of 21st Century Fox company by The Walt Disney is discussed where it has been identified that it is one of the biggest and complex acquisition in the media and entertainment industry. Both the companies are conglomerate where they both include various segments and units in the company.The Walt Disney is the leading company in media and broadcasting and after acquiring 21st century fox it has became the major part of the industry. Whereas 21st Century fox is the successor of News Corporation company which is one of the leading companies and had its existence since last 40 years. Fox includesvarious studios, films, franchises which can under The Walt Disney after takeover. It has resulted in achieving competitive advantage for Disney, as it leads to increase in content, technology and innovation which ensures profitability and growth for the organization.
The motive of the acquisition is to gain great market share and to earn competitive advantage by targeting potential clients. It was observed that people are now demanding online platform of video streaming, in which Netflix and Amazon Prime are already having a great market share. To compete with these big giants, it was necessary to obtain major and variety of contents. Fox is already in the business since long and had a great market share, which resulted in the acquisition of the company by The Walt Disney. The Walt Disney is not receiving the expected result in the initial year after acquisition, but it is expected that Disney will achieve the potential market growth and success after acquiring 21st Century Fox. ?
Reference
bbc.com.2019. The Disney- Fox giant in four charts. [Online].Walt Disney corporate strategyAssessed from.https://www.bbc.com/news/business-47671266
Chuzhykov, A.N.D.R.I.I., 2018. Dynamics of the media corporation development in the conditions of globalization. International Economic Policy, (1), pp.126-141.
CNBC.2019. 14 years, 4 Acquisitions, 1 Bob Iger: How Disney's CEO revitalized an iconic American brand. [Online].Assessed from.https://www.cnbc.com/2019/08/06/bob-iger-forever-changed-disney-with-4-key-acquisitions.html
Joo, J.S., 2020. Disney's Acquisition of Fox and the Changing Media Environment in the US. Journal of Convergence for Information Technology, 10(1), pp.28-34.
KOCHNEV, M., 2016. Companies 'mergers and acquisitions in example of The Walt Disney Company and Pixar (Doctoral dissertation, Masaryk University, Faculty of Economics and Administration).
?íhová, Z., 2018.Integration of information systems in mergers and acquisition of companies. work, 77(76), p.75.
Sinha.N,Kaushik.K.P,Chaudhary.T.(2010). Measuring post- merger and acquisition performance.Interantional Journal of economics and Finance.Vol2(4).190-200.
Statista.2019. Revenue generated by 21st Century fox in the fiscal years 2011 to 2018. [Online].Assessed from. https://www.statista.com/statistics/262513/21st-century-foxs-annual-revenue/#:~:text=Mass%20media%20corporation%2021st%20Century,dollars%20in%20the%20previous%20year.
The Guardian. 2019. Disney seals $71 bn for 21st Century Fox as it prepares to take on Netflix. [Online].Assessed from.https://www.theguardian.com/film/2019/mar/20/disney-seals-71bn-deal-for-21st-century-fox-as-it-prepares-to-take-on-netflix
The Walt Disney company. 2019. Fiscal Year 2019 Annual Financial Report. Assessed from.https://thewaltdisneycompany.com/app/uploads/2020/01/2019-Annual-Report.pdf Turamari.R and Hyderabad.R.L.(2017). Measurement of long term Post-merger performance and method of payment.Walt Disney corporate strategyJournal of management in practice.Vol2(1) 1-16.