Technology Development Essay On Global Brain Formation And Cognitive Intelligence In The Contemporary World
Question
Task: Prepare a technology development essay critically discussing about the concepts of global brain formation and cognitive intelligence in the contemporary world.
Answer
Introduction
The present technology development essay sheds light on the role of technology in the contemporary world. The rise of scientific developments has certainly made the life of humans easier and more comfortable than ever. The current century is witnessing several changes in the spheres of digital and technological developments that are catering to the daily needs of the people. This particular essay, as chosen from assignment option A, is going to identify with the aspects of ways the technological developments are helping in creation of knowledge. The technology development essay aims to build scholarly and critical discussion on the concepts of global brain formation and cognitive intelligence in the contemporary world. It will delve deeper into scholarly views of technological determinism and eventually frame all implications these elements, theories and facets have on the society of the twenty-first century. Nearing the end, the technology development essay will draft a conclusion that will summarize the overall understanding and observations of the research that is conducted to draft the essay.
Discussion
Understanding technological developments in knowledge creation
Technology, as stated by Hancock (2017), is one of the driving forces of change in the current world society. It is the technology that has given birth to several arenas and opportunities for people to develop their knowledge in multiple disciplines and fields of work. Toby Nwazor (2017), contributor and CEO at Millionaire Writers Agency, narrates that technology has provided a wide pool of information to the humans. It is through Google that one can learn and know about anything and everything from anywhere in the world. The rise of technological developments, gadgets and resources, has made the world a mutually exclusive place to sustain for everyone.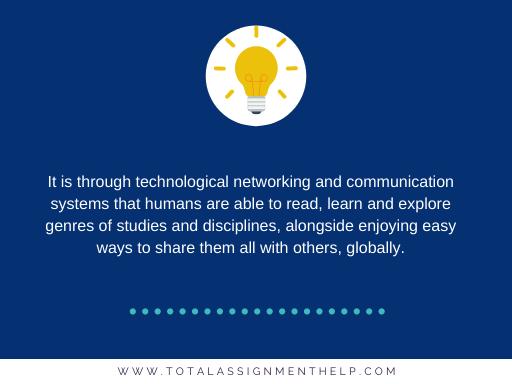 The study utilized to prepare this technology development essay mentions that the knowledge creation is observed to be happening with technological gadgets and understanding the dependency of humans on technology on a everyday basis. It is through technological networking and communication systems that humans are able to read, learn and explore genres of studies and disciplines, alongside enjoying easy ways to share them all with others, globally. Writer Nikita Duggal (2019), states in her article that technology creates knowledge through its different mediums and arenas; these involve the development and extensive use of artificial intelligence in the current world. The writer also states that machine learning is a new way to make the machines do and perform tasks like humans through intelligent programming. This can be observed as a creation of robots that are going to replace human brains in workplace soon. It can be noted that edge computing, virtual reality, internet of things (IoT) are changing the ways people perceive life ("Introduction to Development of Knowledge Creation Design Technology | NTT Technical Review", 2019). Technology is certainly a feature and an element that is transforming the entire world and educating people through various operations.
Collective Intelligence and humans
Thomas Malone, the MIT Sloan School of Management Professor (2017), explained the concept of collective intelligence as the collective work or acts from groups of individuals that is highly intellect and intelligent in nature ("What Is Collective Intelligence And Why Should You Use It?", 2017). It is believed that collective intelligence is a major way that organizations can develop themselves and pave ways to create more knowledge by the amalgamation of technology, machines and human brains. In simpler terms, it can be elucidated that collective intelligence is going to help the humans achieve their objectives and desired results at work and in life, by incorporating humans and computers together.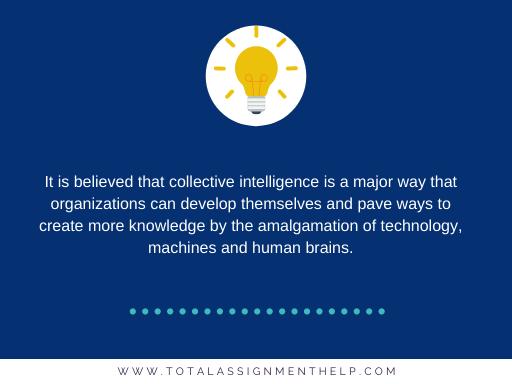 Careful observations from this technology development essay will reflect that facts that technology is deeply connected to creation of such fronts of knowledge and operations. In developing a clear understanding on ways technology is creation knowledge, it is essential to look at the idea of collective intelligence that combines technology with humans in a way that is desirable and productive (Hancock, 2017). In recent years, the rise of artificial intelligence has fostered the growth and rise of collective intelligence that helped in developing productivity, creativity and coordination at workplaces. These facers have invariably helped the managers and employees to earn better outcomes, have stability at workplace, in terms of finances, and work culture.
Scholarly views on technological determinism
American economist and social scientist Thorstein Veblen (1857–1929, first proposed the theory of technological determinism by explaining that a society's technology is a determining factor in developing the cultural values and the social structures. It is believed that technological determinism is a reductionist theory that reflects human's relationship with technology in a society. In order to develop a critical understanding on the knowledge creation through technological developments, looking at this reductionist theory is interesting as it narrates technology as the driving and most powerful force to bring changes to the society that vicariously changes people's thoughts and practices in perceiving life. Marshall McLuhan once viewed medium as the message that demonstrates that the medium that is used to communicate has a significant influence on the minds of the receiver of messages ("Technological Determinism", 2019). The medium is driven and controlled by technology and that connects man with the medium, and with technology that inspires and influences the society as a whole.
The idea of global brain in modern century
Marios Kyriazis (2015), articulates the concept that human brains are transforming into global brains with the rise and extensive use of technology and internet. As inspired from futurological studies and vision infused with theories and principles of neuroscience, the concept of global brain is related to the interconnectedness and relationship of all humans and technological artefacts on a global level. This simply means that humans all across the world are going to be connected through technology and that will create global brain that has all planetary information through modern mediums of communication (Waele & Waele, 2016).
Global brain is dependent on large scale networking systems and the augmentation of the functioning of human brains on a global level (Kyriazis, 2015). It can be noted that in order to build modern societies and businesses, the impact of global brain is apparently observed to be catering all needs and requirements of people all across the world. In creation of knowledge and building modern human cultures, global brain is not only a concept but is seen as a theory on practice that is fostered by major organizations like Google in making the knowledge of all humans stay interconnected and related in a strong network on this planet.
What are the potential implications for individuals and society discussed in the context of this technology development essay?
Technology, as observed through the research scholar's views and opinions is certainly changing the society in many ways (Society, 2018). The rise of the global brain as a connectedness of humans and computers all across the world is certainly having major implications on the society alongside the technology that is driving the knowledge creation.
The life of people has been changing with every single technological development that is taking place in the current society. The overall dynamics of communication mediums are transforming every single minute with the use of internet (Chee Tan, 2015). The potential implication of these on the humans and society could be the rise of a new type of living beings that no ore control technology, rather is controlled by them. Careful observations will note that humans are already becoming highly dependent on technologies and cannot possible live without them in the current world. This is simply the beginning of the change and the inception point of futurism meeting humanism where technology is amalgamated into the practices of humankind that become impossible to neglect (Grillner et al., 2016).
The investigation carried on to prepare this technology development essay signifies that new frontiers of businesses, news mediums of communication, faster speed of knowledge transfer, new horizons to reach planetary bodies in the galaxy are all on their way with the development and rise of global brain and technological development that enhances educating humankind through scientific resources and gadgets (Sheridan, 2018). However, a constant research and observation from modern day scholars and scientists is required to estimate the changes and develop a clear understanding on the future implications.
Conclusion
This particular technology development essay has driven inspiration and information from secondary sources of information that helped in developing a vivid understanding on the rise of technology and ways they affect the society. It is observed through the technology development essay that the rise of technology is making humans dependent on the machines and gadgets. The development of global brain and the idea that all making will be interconnected through communication and technology is something that is going to shape the human civilization in a different way. On a whole, this technology development essay has been highly educational and much enriching to look within the frontiers of modern day developments.
Reference List
Chee Tan, S. (2015). Technology development essay Technology and Knowledge Creation - IEEE Conference Publication. Retrieved 11 November 2019, from https://ieeexplore.ieee.org/document/7265246
Duggal, N. (2019). Top 8 Technology Trends for 2020. Retrieved 11 November 2019, from https://www.simplilearn.com/top-technology-trends-and-jobs-article
Grillner, S., Ip, N., Koch, C., Koroshetz, W., Okano, H., Polachek, M., ... & Sejnowski, T. J. (2016). Worldwide initiatives to advance brain research.
Hancock, P. A. (2017). Mind, machine and morality: Toward a philosophy of human-technology symbiosis. CRC Press.
Introduction to Development of Knowledge Creation Design Technology | NTT Technical Review. (2019). Retrieved 11 November 2019, from https://www.ntt-review.jp/archive/ntttechnical.php?contents=ntr200807sf1.html
Kyriazis, M. (2015). Systems neuroscience in focus: from the human brain to the global brain?. Retrieved 11 November 2019, from https://www.frontiersin.org/articles/10.3389/fnsys.2015.00007/full
Nwazor, T. (2017). How Technology Is Turning Knowledge-Sharing Into a Global Currency. Retrieved 11 November 2019, from https://www.entrepreneur.com/article/303629
Sheridan, T. B. (2018). 21 Speculations on Future Relations Between Humans and Automation. Automation and human performance: Theory and applications, 272.
Society, S. (2018). Study Technology's Effect on Society. Retrieved 11 November 2019, from https://onlinedegrees.nku.edu/articles/sociology/technologys-effect-on-society.aspx
Technological Determinism. (2019). Retrieved 11 November 2019, from https://www.communicationtheory.org/technological-determinism/
Waele, R., & Waele, V. (2016). Technology development essay The Global Brain. Retrieved 11 November 2019, from https://www.techvshuman.com/2016/09/09/the-global-brain/
What Is Collective Intelligence And Why Should You Use It?. (2017). Retrieved 11 November 2019, from https://www.getsmarter.com/blog/career-advice/collective-intelligence/