System Thinking Assignment: Solving Managerial Issues Of Amazon Using Rich Picture & CATWOE Model
Question
Task: Write a system thinking assignment discussing about the managerial issues encounter by Amazon and propose some solutions by usingRich Picture and CATWOE model to overcome the issues.
Answer
Introduction
The purpose of this report onsystem thinking assignment is to understand the perspective of the manager regarding systematically run a business and developing a possible solution by using "Rich Picture" and "CATWOE" model. To fulfil the objective of this report, Amazon has taken into consideration. In this context, it can be said that we are now living in a dynamic world, which comprised of adaptive systems. It should be necessary for a business manager to gather a holistic view of the business to understand the exact needs and requirements of key stakeholders and their impact on a business. In this report, different issues related to the decision, made by a manger for the respective organization has to be analyzedelaborately and then develop some solutions by using Rich Picture and CATWOE model.
Discussion
Rich Picture:
By using the Rich Picture model, it can be said that, in the present time, Amazon is going through several internal problems (Óskarsdóttir & Oddsson, 2017). For example, workplace issues, environmental issues and diversity-related issues are the most common problem that the organization is now facing. Unethical business strategy and environment-related problem are some complex issues associated with the decision made at managerial level within Amazon. Workplace challenges are another problem related to the business-related decision made by the manager. Lack of organizational sustainability-related issues is another important issue that caused the Stakeholders of Amazon restricted from imposing interest on the corporate business approach and performance efficacy (Konchakova& Höche, 2019). Through using Rich Picture, the core internal problems of the respective organization can be identified properly.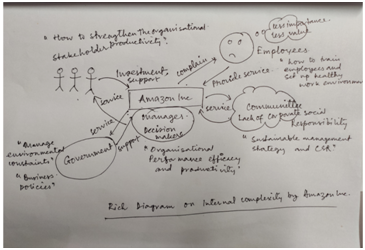 (Source: author)
CATWOE Analysis:
CATWOE is an acronym that stands for the customer, actor, transformation process, worldwide view, owners and the environmental constraints. Like Rich Picture, CATWOE is considered as a soft system methodology process. Customer: Amazon.com, Inc., is an America based multinational technology company which offers e-commerce cloud computing system, artificial intelligence and digital streaming to its service users (Varambally, 2020). By analysing the internal business-related issues with the context of Amazon, it can be said that the organization has a lack of any sustainability-related plan or management program. Workplace related issues are other predominant challenges, prevalent within the workplace environment of Amazon. As a result, the organization, in the majority of the time, might fail to offer required services and products to the customers on demand and on time. This, in turn, can affect the overall business performance as well as the customer base of the company in a negative way (Lopeset al., 2017). Actor: the stakeholders are considered as the most crucial factor of any business, irrespective of its size and scope. Amazon is regarded as one of the accessible and globally recognized e-commerce business that caters to services across the world (Konchakova& Höche, 2019). Employees, strategic partners, consumers, community, directors and even the mangers, who are related with the business are considered to be the most important actor, on whom, the success of Amazon depends to a large extent.By analysing the internal environment of Amazon, in-depth, it can be said that Amazon, in recent time is paying less importance on the needs and necessary requirements of the workers, which in turn is creating an unhealthy work environment within workplace scenario of Amazon(Zohuri& Moghaddam, 2017).Apart from that, the organization has no proper Corporate Social Responsibilities, which can also hamper the performance being delivered by Amazon at the global level. Lack of sustainability management strategy, CSR approach, and well-defined operational strategy, Amazon is also failing to win the heart of its stakeholders, as the stakeholders can not fond any benefits from the organization.
Transformation: by taking the original business vision or mission of Amazon into consideration, it can be said that innovation is one of the core idea related to the transformation of the system. Though, according to the internal scenario Amazon, no such innovation has applied within the current working environment of the company, by using which Amazon can reach to the pick of success by fulfilling the urgent necessity of stakeholders (Myers, 2018).
World view: from the perspective of the bigger picture, the company in recent time has failed to win the heart of its stakeholders as well as to fulfil the demand of its global consumers on time. The lack of proper CSR approach, lack of any appropriate sustainability management strategy, lack of coordination between employees and employers- hierarchy and subordination and above all, lack of well-defined operational strategy are now restricting Amazon to reach to its peak of success (Castelli et al., 2017). And as a consequence, other e-commerce businesses like Flipkart are getting the scope to strengthen their position at an online platform to a considerable extent. Owner:by taking all the business-related issues, that the company, Amazon is now facing. At the same time, operating a business at a global platform, it can be said that, the organization has the necessity of a stable and well-defined solution process. This responsibility majorly lies in organizational
management. A manager in any business plays the most crucial role in terms of making developing specific solution by considering holistic understanding. Here, by taking the context of current issues being faced by Amazon into consideration, it can be said that organizational managers and leaders should accompany the significant responsibility.
Environmental constraints: according to the climate count, Amazon is currently standing at the bottom that in turn, is now creating a negative impression within the mind of its stakeholders.Unethical operational approach, environmental challenges being experienced by Amazon are considered as highly impactful for the company, while it comes to focus upon the relationship between Amazon and its stakeholders (Varambally, 2020). In fact, by analysing the internal structure of Amazon, it can be seen that the world's biggest e-commerce company has resisted the pressure for more than years from the side of stakeholders and investors to disclose more information regarding the environmental impact of the organization.
Solution regarding the potential issues:
By analysing all the problems, or complex problems, being faced by Amazon into consideration, some following solutions can be recommended: Firstly: the organization has an urgent necessity of well-defined organizational strategies and systematic approach, by using which productivity and organizational performance can be accelerated. Secondly: the organization needs proper leadership approach along with the communicational approach, so that proper liaison can be maintained between hierarchy and subordinate. The organizational hierarchy has also the necessity to prioritize the needs and necessity of workforces by developing a well-communicated and healthy work environment.
Thirdly: the organization has to set up proper corporate social responsibilities and sustainability management strategy by taking the environmental constraints into consideration. The organizational management has also the necessity to develop business plan by taking the climatic concern and social concern into consideration (Lopes et al., 2017).It should be important for Amazon to implement the concept of "net zero" carbon into business plan. It should be important for the managerial personnel of organization to implement innovation in production process, so that organization can offer services to the global consumers on time.
Conclusion
To conclude this report, it can be said that, Amazon is one of the globally recognized e-commerce business, whose major duty is to offer services and products to its customers across the globe. In this report, different internal issues have been discussed with the context of respective organization, which are mostly related with the managerial decision. By using Rich Picture and CATWOE tool- two soft system methodological approach, the basic internal scenario or current internal complexity of the organization has been discussed in elaborate way. Apart from that, several solutions regarding the managerial issues have also been included in this report.
References

Bell, S., Berg, T., & Morse, S. (2019). Towards an understanding of rich picture interpretation. Systemic Practice and Action Research, 32(6), 601-614.
Castelli, M., Manzoni, L., Vanneschi, L., & Popovi?, A. (2017). An expert system for extracting knowledge from customers' reviews: The case of Amazon. com, Inc. Expert Systems with Applications, 84, 117-126.
Checkland, P., & Poulter, J. (2020). Soft Systems Methodology. In Systems Approaches to Making Change: A Practical Guide (pp. 201-253). Springer, London.
Konchakova, N., & Höche, D. (2019). A GUIDE TO FIND THE RIGHT BUSINESS MODEL FOR MATERIALS MODELLING SOFTWARE.
Lopes, C. M., Scavarda, A., Hofmeister, L. F., Thomé, A. M. T., & Vaccaro, G. L. R. (2017). An analysis of the interplay between organizational sustainability, knowledge management, and open innovation. System thinking assignmentJournal of Cleaner Production, 142, 476-488.
Myers, A. (2018). Amazon Doesn't Have an Antitrust Problem: An Antitrust Analysis of Amazon's Business Practices. Hous. J. Int'l L., 41, 387.
Óskarsdóttir, H. G., & Oddsson, G. V. (2017). A Soft Systems Approach to Knowledge Worker Productivity—Analysis of the Problem Situation. Economies, 5(3), 28.
Varambally, K. V. M. (2020). "Sustainability and Amazon"–A Case Study on Amazon Company. Our Heritage, 68(1), 12094-12100.
Zohuri, B., & Moghaddam, M. (2017). Defining Threats and Critical Points for Decision-Making. In Business Resilience System (BRS): Driven Through Boolean, Fuzzy Logics and Cloud Computation (pp. 299-345). Springer, Cham.