Strategic Management Assignment: Impact On Sustainability Of Mandela University
Question
Task:
Strategic Management Assignment Task:
You are a consultant assisting your faculty with their strategic planning. Complete the following reports for the faculty:
Identify six major opportunities and six major threats and compile an EFE matrix for the faculty. Your submission must include a one-and-a-half-page report, motivating the inclusion of each factor, along with sources consulted, as well as a clear justification of the factors that the faculty should place more or less emphasis on.
Complete a CPM with six factors for the faculty and two faculties from competing universities you consider the closest rivals. Your submission must include a report, motivating the inclusion of each factor, as well as a clear justification of the factors that the faculty should place more or less emphasis on.
Develop a nine-cell SWOT matrix for the faculty, with each cell clearly labelled. Information gleaned from the IFE matrix developed in assignment one must be incorporated into the SWOT matrix. The proper notation must be used when generating alternative strategies. Two strategies must be included in each of the four strategy cells.
Develop a SPACE matrix for Woolworths, a South African retailer. Your submission must include a report justifying the values selected, along with sources consulted. In addition, you need to elaborate on the strategic implications of the directional vector in terms of strategies that could benefit Woolworths.
Answer
1. Introduction
The concept of strategic management explored in the segments of strategic management assignment is characterised as the mechanism by which the organization's priorities are identified, strategic formulation and strategy are established, and resources are allocated for the execution of plans. Strategic management is viewed by the chief executive officer of the company, and also the executive staff, as the highest levels of managerial practice. The general direction of the whole company is generally strategic management. According to Durand (2006), strategic management is defined as an array of steps and decisions leading to the development and execution of approaches aimed at achieving the organization's objectives. This is a constant phase that typically includes attempting to align the business beneficially with the evolving climate. In the sustainability of the company, strategic management is highly necessary. This paper reflects on numerous facets of strategic management and its effect on the University's sustainability. In the article, the significance of strategic management of Mandela University is discussed. The study of plans typically aims at offering a vision of the variables that will affect organization's future and current success. It helps to control the internal forces and limit the strategic option. The influence of the Mandela in decision-making on the plan is generally influenced by the faculty members. Faculty member's assumptions and values are an integral part of the University's ethos. This needs to be understood and it helps to understand that the company has a policy.
Strategic management is an integral aspect of any institutions, and University's need to focus on their respective plans to thrive in a competitive environment. Strategic management consists of strategies for producing better performance. David FR explains strategic management/planning. The paper seeks to study and consider the marketing techniques adopted by Mandela University relative to other companies such as Durban University. A detailed review of faculty management is included for scholarly research papers, analysis, theory, and case studies.
2. EFE Matrix
This specific section outlines the EFE matrix for the Mandela University that outlines the major internal aspects. It is considered as a strategic tool that helps to identify six major opportunities and six major potential threats that is illustrated on the above outlining the Mandela University can face:
| | | | |
| --- | --- | --- | --- |
| KEY STRENGHT FACTORS | WEIGHTAGE | RATING | SCORE |
| Recognised and accredited | 0.1 | 2 | 0.5 |
| Well promoted Lecturers | 0.04 | 4 | 0.18 |
| Globally acknowledged | 0.06 | 3 | 0.15 |
| Diversified workforce | 0.05 | 4 | 0.08 |
| Well resourced faculty | 0.07 | 3 | 0.1 |
| Online learning | 0.9 | 4 | 0.08 |
| Key Weaknesses |   |   |   |
| Outsourced lecturers | 0.1 | 1 | 0.1 |
| Relying on online classes and internet resources | 0.15 | 2 | 0.3 |
| Non-transparent communication | 0.02 | 2 | 0.04 |
| incompetant adminn staff | 0.03 | 2 | 0.06 |
| Inappropriate mentorship | 0.15 | 2 | 0.3 |
| Lack of advanced technological infrustructure | 0.02 | 1 | 0.02 |
Strengths:
Strengths is refereed as the aspect the Mandela University currently has that works as advantages as well. These strengths help to strengthen the faculty members and boosting the university's current work processes:
It is recognised and accredited by the Authority body of South Africa.
The lecturers for business studies and other streams are well promoted and have high reputation.
The University is recognised and acknowledged in the global front
The faculty members of the University are well resourced and deliver appropriate support for the students as well.
The University maintains a diversified workforce in the faculty members that delivers high quality teaching and guiding for the students.
Online learning is also provided by the university. The university has focus on emphasizing more on learning independently to develop better skillset.
Weaknesses:
Weaknesses are referred to the current backlogs and gaps that university currently has and that are need to be overcome on current scenario:
The Major part of the university lecturers' is outsourced and they have lacking the necessary commitments which are needed to achieve the desired goal of Mandela University.
The university are mostly relied on online classes and most of the resources are extracted from internet resources.
The communication is not very much transparent and clear.
The administrative staffs are not very skilled and lacked competence.
The university is failing to deliver the appropriate mentorship for the students.
The university needs costly and advanced technological infrastructure that it is currently lacking.
7 The external Factor Evaluation report
PESTEL:
Political/Legal: Any nation in South African needs compliance with the Code on Education Standards. For these purposes, the universitie3s are tend to provide high quality education with best technological support. The ANC and DA parties offered various solutions to overcome educational issues and focuses on the providing high quality education. Various policies also introduced to overcome educational inequalities (Magnusson 2010)
Economic: In South Africa, the global downturn has led to a decline in disposable income, which has reduced their buying power. Even after the pandemic outbreak various universities havwe been shut down and online teaching system emerges. However the economic down turn also leads to poor quality education systems and the cross-border student enrolment has been reduced exponentially (Redo and Redo 2014).
Social: People at all demographic levels appreciate the universities to provide services with high quality education. The high quality education system has yet to be set up in African counties. Also high level of educational inequalities has been observed as well. Based on such aspects society must adapt the modern vies of education system to maintain a higher literacy rate (Sallies, Owen and Fisher 2015). Over the years, The government has implemented a range educational programs and projects to deal with the developments in the socio-cultural climat.
Technological: Educational system in South Africa has needed to be ungraded with advanced technological infrastructures. The Durban Universities already harness digitalised system with the application of AI. Such are very important for modern education. However, Mandela has not ungraded its digital systems as per the Durban university and needs technological changes as well.
Environmental: Universities also need to adapt environmental friendly practices which are very important. Using high-tech gadgets that are environmental friendly are very important. Also the must focus on reducing the paper usage which can a best approach to save the trees by adopting digitalised paper submission (Bloch and Nick, 2014).
Porter's 5 forces:
Rivalry among competitors: The number of companies operating in this sector has grown dramatically, with market wars between the main players, big and small, beginning to emerge. Even though Mandela is one of the largest and most successful universities, it is also heavily rivaled within its sector, which reduces its market share and requires the company to constantly establish competitive and productive strategies to separate itself from rivals (Matchbook and Gout 2015).
Bargaining power of suppliers: Although Mandela holding most of the student strengths, many domestic South African universities have an incredibly small number of projects, but the vast number of fours: local and foreign would moderate the negotiation strength of suppliers. The bigger suppliers are, the better they are (Matchbook and Gout 2015).
Bargaining power of buyers: Like that of the case study shows, social expectations are shifting; in which people want a healthier life. With the rising numbers of competitive firms in this sector, high quality, and reliable goods, consumers are offered more competition and more options (Matchbook and Gout 2015). Since Mandela students are mainly private customers, these strong customers are thus pressuring companies to reduce their fees and also establish market struggles among them i.e. Durban University. This has improved the preference of the customer by matching prices electronically or physically with different education sectors.
The threat of new entrants: As stated in the case, the Education industry are still on developing stage. In this respect, Mandela's challenge to new entrants is mild due to different factors. With future established and dominant players along with Venda as well as Durban University in South Africa, it will be tough for new entrants to start up a university and identify improvements since a lot of expenditure would be required and willing to contend with existing rivals with amazing policies and high end educational infrastructure offerings.
The threat of substitute products and services: In today's competitive climate, all the characteristics of the education environment must be concentrated: whether that be in terms of nutritious food or food costs (Pollard et al., 2014). Consumers/buyers presently believe that it is popular in universities, delivering 'value for money' (Nancy and Romania 2012). In this sector, the challenge of alternatives is strong and continues to rise quickly. Mandela has face high competition as they compete actively and indirectly.
Strategic group map and Competitor analysis: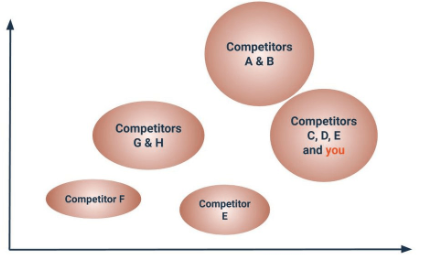 South African education markets are facing dynamic shifts, mostly because new competitors are entering the market, and student and their families preferences are evolving continuously. The education industry, especially the various management and science papers category, has an interesting time, with many lecturers constantly shifting their approach to improving their competitive position in the entire market. Rapid growth in competitive practices and changing student's behaviour create industry pressures that increase investment issues despite creating growth opportunities in various segments (Fernery et al., 2016). In addition to domestic competitors, there are major obstacles for emerging players in the global retail sector. With pricing driven tactics and expanded sales networks spanning both physical and online outlets, the advent of foreign players has created a modern educational system with high end technological infrastructure in retail and has contributed to major difficulties at established department and universities like Mandela, Durban, etc. (Nepal, Meekness and James 2014). Because of the deflating offerings, Universities are under reduced margins across the world and are forced to implement different steps to cut costs. A research analysis finds that global uncertainties, rapid developments in technical environments, increasing utility rates, and stagnating wage growth have placed pressure on the public's confidence and have raised habits to choose the universities with high end technological infrastructures to give concern to domestic Universities of Africa. In the education sector, intensified rivalry can be witnessed due to the arrival of overseas players, forced to forfeit their respective market shares of global attackers by established Universities such as Oxford, Edinburgh Napier, California University, Coloumbia University, etc.
Opportunities & threats:
In the South African education market, Mandela is open to several opportunities because of the evolving phase of the competitive landscape while there are significant risks. The continued advancement of technology allows the group to concentrate on its Online teaching by expanding the reach of social media and marketing online following the demands of improved services and student comfort. Mandela still can follow unique and improvement of advertising tactics to win its clients back in the middle of a heavy rivalry and stringent offerings amongst domestic and foreign dealers (Jibe and Gengatharen 2018). Also, the education sector is one of the emerging markets of the world, considering the restricted forecasted growth over the forecast period, because of the growing disposable population wealth, technical convergence, increased demand for high quality education and services. In consequence, in the coming years, Universities will see considerable growth and expansion. Taking the risks into account, the increasingly competitive situation is of the greatest concern to traditional universities, who are pressured to give up their students to both domestic and foreign players. The downplaying wars with this market players and the service quality fight with Durban and Venda University have adopted to take a series of cost-cutting steps to keep it competitive, losing most of Mandela's spending margins. Universities like Mandela have a difficult time extending their operations especially as the education sector in South African is not increasing at the required rate mainly due to the increasing property price and slow wage growth (Devin and Richards 2018). Beneficial providers like Venda are increasingly expanding on the South African educational industry to the detriment of big universities. Moreover, the arrival of online teaching, has created an major shifts in the education industry and has triggered big challenges especially for traditional teaching system that are followed by various African Universities.
Mandela University, first founded in 2005, is now a renowned university in both the South African market. It has gained a substantial share of the market share, dominating the industry alongside Durban University, by enrolling thousands of students around the country and acquisitions and complex partnerships with various renowned educational institutions. Mandela faces strong competitive service offerings, both directly and indirectly (Hattersley, Bronwyn and Burch 2013); one of the key factors which severely weaken it; only price cuts as well as low pricing will provide a competitive edge for the industry. Mandela had no alternative but to substantially lower its costs to preserve its competitive edge, thereby stopping it from differing in other ways (Garg 2013).
8 CPM Report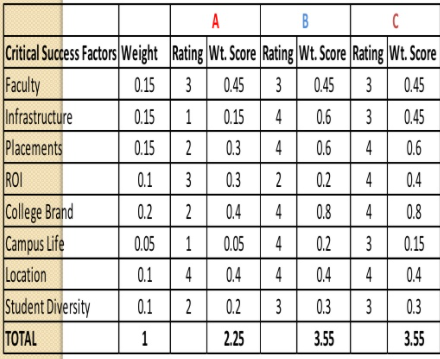 A Competitive Profile Matrix (CPM) is an analytical instrument that provides the requisite competitive leverage relevant information on key success factors and is the basis for a strategy of an organization. This paper understands the underlying principles and usability of CPM in the formulation of policy. The study concludes that, while CPM aids decision-makers in some strategic formulations, its selective selection, and evaluation of crucial performance variables and the lack of rigorous measurement in terms of assigning weights and ranking do not represent a clear visual image of competitive circumstance. This study of competitors has been carried out to help understand the competitive dynamics of South African education industry as far as policies are concerned and what makes them different. This South African education market has been a contest for Mandela and Durban University for several years and experienced major competition regarding technological infrastructure. Durban the major rival, as it sells the same primary items. Mandela is alarmed that large AI system implied by Durban University, including University of Venda a recent potential challenger, are both not that far back to take the market, with their profits and rapidly (The Observer 2014). Moreover, the Mandela faces direct competitors: Durban and Venda which are familiar comfort learning system operating mostly in South African are also inescapable as they have a big effect, as are their large range of services by offering the same or similar services.
9 SWOT
 

Strength

1.    University faculty is well promoted.

2.    Seasoned Lecturers

3.    Global recognition

4.    The faculty programs are current global demand based.

5.    Promotes independent learning

6.    The faculty is well resourced.

7.    The university has diversified faculty.

8.    Online learning is provided.

 

Weakness

1.   Major part of the university lecturers' is outsourced and they have lacking the necessary commitments

2.    The university are mostly relied on online classes and most of the resources are extracted from internet resources

3.    The communication is not very much transparent and clear.

4.    The administrative staffs are not very skilled and lacked competence.

5.    The university is failing to deliver the appropriate mentorship for the students.

6.    The university needs costly and advanced technological infrastructure that it is currently lacking

7.    Students are not given an opportunity to evaluate the courses

8.    Modules are rushed during block weeks

Opportunity

Various universities are adopting AI based systems to provide better technological infrastructure that helps to deliver high quality education.

Concentrating on experience:  with respect to working in the university offices self-checking, customised programs, individual learning, online classes focused on artificial intelligence presents great opportunities.

SO

Mandela must advertise the same kind of fee structure for different income groups.

Develop proper strategic framework in order to imply proper change management in University management.

Modules should be properly planned. The University must develop a proper module planning beforehand in order to maintgain sustainability.

 

 

WO:

High quality infrastructure must be developed to provide high quality online classes.

Mandela must begin with the rich class and should ensure that they will stock themselves with quality lecturers.

 

 

Threat

Threats are the environmental variables that can adversely influence growth. Certain risks include:

Competition: Mandela's main rivals are Durban University. Furthermore, other University like University of Venda have now joined the education industry and are now facing grave risks.

 

 

ST

Mandela needs to be mindful of making sure the staffs are properly educated.

The university should keep moving to the lowest demand markets by ensuring the value of their globally acknowledged name.

 

WT

Low cost fee structure with advanced technological infrastructure will help to make the best university in African market and helps to maintain a upper hand on competitor.

Must develop clear, transparent and concise communication between administration and staff by developing proper hierarchical structure and appropriate leadership.

 

 

 

 
10 SPACE Matrix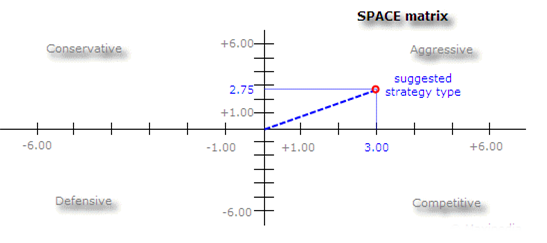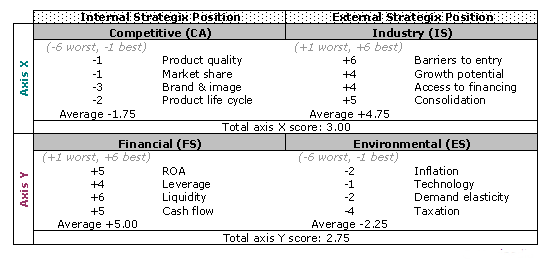 11 SPACE Matrix report
This specific matrix of SPACE advises Woolworths to follow a policy of aggressive strategic planning. Woolworths while operating in the retail industry is highly competitive and fast-growing on the market. It must use its internal capabilities to establish a plan for consumer penetration and market growth. This includes the production of products, integration of other businesses, competition acquisition, etc.
Now, how do we obtain the potential effects in the SPACE matrix? To assess the competitive role of the enterprise in the market, the SPACE matrix analysis is carried out in two internal and two external strategic dimensions. Four analytical fields are focused on the SPACE matrix.
The internal strategic dimension includes several SPACE matrix variables. These considerations evaluate a competitive role within the organisation. The causes of financial strength also come from either the accounting of firms. For example, such SPACE matrix considerations can include return, leverages, turnover, cash flow, liquidity, working capital as well as other factors. Concrete factors such as business breakthrough speed, industry niche position, commitment to the consumer, product efficiency, market share, product life cycle, and many others include competitive edge factors.
It is only rational to evaluate and analyse Woolworth's approach that we can infer that they have an outstanding strategy, and overall much consideration has been given to developing the company in many respects. But in their business, both internal and external forces will and should shake things up. It will be easy, first and foremost with their internal powers, to make adjustments inside this workplace as they monitor their environments entirely. The loyalty card scheme known as the W-rewards can be modified. It is a very useful scheme for the public, which helps consumers to receive up to 20 percent discount on a certain amount of products by collecting W-rewards. The W incentive adds up and in exchange, they will use it to buy Woolworth's products for their reward points in the future. In the first hour and one half of a Woolworth's deal, W-reward cardholders are also given a special privilege to get first-class preference. The explanation for this move is that this method will create minor changes, which can favour the company tremendously as it will improve its customer ties and expand its client base for the long run. The upside is that Woolworths don't even have to borrow money to make the improvements so that they can gain in exchange from the entire overhaul of their loyalty card scheme. Another potential to change will be their food packaging on certain items and assorted food suppliers. As we understand, Woolworths is a bit higher in food prices specifically for the lower revenue category than for Shoprite. Why should it shift, it is because these quick changes will broaden the target market since they not only appeal to the middle as well as higher-income classes, but also the poor households.
The retailer's market transactions often rely on the procurement by manufacturers and distributors of goods and items and distribution directly to end clients in smaller amounts (Pantano and Timmermans 2014). Therefore, retailers like Woolworths must coordinate with farmers and clients to satisfy diverse criteria from different backgrounds, including buyers, businesses, technology, and prices. A major distributor, like Woolworths, would also use and enforce an information management framework to control not just the transfer of information and manage its physical stores systematically in different geographical regions (Laudon and Laudon 2016). There are several applications, electronics, databases, and separate components in the specific framework. Woolworths's first and foremost capability is to recruit and retain highly skilled staff at work to enhance organisational performance and foster competition (Bailey et al. 2015). Secondly, the retailer's determination to produce fresh food and encourage healthier lives in another significant region, making South African's leading retail organisation. Third, in the competitive retail market of the world, its ability to offer value to its consumers and increase the profitability of the company. Also, Woolworths retains the individuality of business strategy and promotes the aims of creating a world-class supply network, unique identity, and marketing approach alongside creativity and incorporation retention. In its battle against rivals, Woolworths has been given a wide variety of recommendations throughout this study. The numerous players have to remain vigilant and creative in the increasingly competitive retail industry to distinguish themselves and achieve competitive advantages. Woolworths will help to accomplish its goal of strengthening its processes and practises by making the recommendations made from the TOWS report. The business should provide clients that contribute to more economies of scale, consumer satisfaction, and value in the long term additional and viable resources. However, investment and determination are necessary to retain this privileged law, contributing to expanded market share and enhanced financial results. Via the implementation of the alternatives suggested, Woolworth will improve its market reputation and extend its current narrow difference with its rivals.
12 Summary
In this report various matrix is applied to evaluate the faculty and staffs of Mandela University and CPM model is also developed to address the competitive positioning. Also a space matrix is also developed for Woolworth South Africa to follow a policy of aggressive strategic planning. To assess the competitive role of the enterprise in the market, the SPACE matrix analysis is carried out in two internal and two external strategic dimensions.
13 Conclusion
In conclusion, it can be discussed that, there are various changes needed in the University of Mandela and such changes must be adopted in order to maintain competitive edge in the market.
14 Recommendation
For the University faculty the following recommendations are given.
Given the exponential increase of technology in the new market climate, it is recommended that Mandela University adopt the latest information management system for faculty in the offices because it can provide valuable daily knowledge effectively. The information system in specific should be flexibly applied to respond to changing market markets while recognizing the needs and expectations of different students and teachers (Piotrowicz and Cuthbertson 2014). To accomplish multiple corporate goals it is crucial to match the information structures with the University's strategic framework.
With respect to the analysis done for Woolworths following are the appropriate recommendations.
To make efficient information sharing between the managers, the preferred organisation is urged to connect the special information systems with all of the other stores. Woolworths should make highly-informed choices through the execution of customer research of specific programs when improvements in consumer purchasing habits prevail in the retail climate in South Africa.
15 Reference
7 - Eleven. 2016. "7 - Eleven Convenience Stores." Accessed March 9. http://www.7eleven.com.au/about-us.
ABC Premium News. 2014. ''Grocers urged to sell freaky fruit, ugly vegetables at discount prices in campaign to cut food waste''. http://search.proquest.com.dbgw.lis.curtin.edu.au/docview/1633943233/B76B132C025646C9PQ/1?accountid=10382.
Ahmeti, Faruk. 2015. "GOING GLOBAL: GLOBAL MARKETING, SOCIAL AND CULTURAL ENVIRONMENTS IN TRANSITIONAL ECONOMIES." European Scientific Journal 11 (4). http://search.proquest.com.dbgw.lis.curtin.edu.au/docview/1661320392?accountid=10382.Aldi. 2016. "Proudly South African Made." Accessed March 9, https://www.aldi.com.au/en/about-aldi/.
South African Government. 2016. ''Working together to reduce food waste in South African''. Department of the Environment and Energy. https://www.environment.gov.au/protection/national-waste-policy/food-waste.
Berry, Petrina. 2016.Woolies leaks more market share. News Accessed October 2, http://www.news.com.au/finance/business/breaking-news/woolies-price-investment-eats-into-growth/news-story/a12fa54fe1bf9ef13634cf3671666d7b.
Bloch, Harry and Nick Wills-Johnson. 2011. "Appraising the ACCC's Caltex-Mobil Decision: An Alternative Measure of Competition Based on Networks." Agenda : A Journal of Policy Analysis and Reform 18 (3): 5-18. http://search.proquest.com.dbgw.lis.curtin.edu.au/docview/912481703?accountid=10382.
Boopathi, Marx and Nikolaj Sujen. 2012. ''Game theory in Oligopoly''. International Journal of Advanced Studies in Computers, Science and Engineering 1(2):1-6. http://search.proquest.com.dbgw.lis.curtin.edu.au/docview/1372335265/56E48CD849E1458BPQ/5?accountid=10382
Bonney, Laurie, Rob Clark, Ray Collins and Andrew Fearne. 2007. ''From serendipity to sustainable competitive advantage: insights from Houston's Farm and their journey ofco-innovation''. Supply Chain Management 12(6): 395-399. http://search.proquest.com.dbgw.lis.curtin.edu.au/docview/216866395/EFED506F65994932PQ/6?accountid=10382
Butler, Bella. 2016.''Lecture 5 : Business-Level Strategies''.PowerPoint lecture notes. https://lms.curtin.edu.au/webapps/blackboard/content/listContent.jsp?course_id=_76563_1&content_id=_4154760_1.
Canadean Company Report. 2014, ''Woolworths Limited: Retail-Company Profile, SWOT &Financial Report''. Strategic management assignment Canadean Company Report. http://search.proquest.com.dbgw.lis.curtin.edu.au/docview/1553109720/2138F9A8B0D541F8PQ/1?accountid=10382.
Chailan, Claude and Francis Ille. 2015. "Branding from Emerging Countries: How to Compete Internationally?" Critical Perspectives on International Business11 (1): 54-71. http://search.proquest.com.dbgw.lis.curtin.edu.au/docview/1654878096?accountid=10 382.
Chang, Ching-Hsun. 2015. "Proactive and Reactive Corporate Social Responsibility: Antecedent and Consequence." Management Decision 53 (2): 451. http://search.proquest.com.dbgw.lis.curtin.edu.au/docview/1661566234?accountid=10382.
Chaudhri, Vivek and Danny Samson. 2000. "Coles Myer's Chairman Stanley Wallis on South African's International Competitiveness and Reform." The Academy of ManagementExecutive 14 (3): 15-18. http://search.proquest.com.dbgw.lis.curtin.edu.au/docview/210532796?accountid=10382.
Chung, Frank. 2016. Moody's rings Aldi alarm bell for Coles, Woolies. News.com.au. Accessed September 28, http://www.news.com.au/finance/business/retail/moodys-rings-aldi-alarm-bell-for-coles-woolies/newsstory/5fa28b85abb45c9e06b89b1c9f502fea.
Clemons, Rachel. 2015. ''Supermarket-brand groceries' country of origin labelling''. Choice.https://www.choice.com.au/shopping/packaging-labelling-and-advertising/labelling/articles/supermarket-country-of-origin-labelling.
Cotsco. 2016. "About Us". Accessed March 9,http://www.costco.com.au/About/History.shtml.
Coles. 2016. "Coles Supermarkets." Accessed March 9. https://www.coles.com.au/about-coles.
Dobrowksy, P. H., D. Mannel, M. De Kwaadsteniet, H. Prozesky, W. Khan, and T. E. Cloete.2014. "Quality Assessment and Primary Uses of Harvested Rainwater in Kleinmond, South Africa." Water S. A. 40 (3): 401-406. http://search.proquest.com.dbgw.lis.curtin.edu.au/docview/1535963571?accountid=10382.
Dung, Vu Anh. 2012. "BRAND AND PRODUCT DIVESTITURE: A LITERATURE REVIEW AND FUTURE RESEARCH RECOMMENDATIONS." Management & Marketing 7 (1): 107-130. http://search.proquest.com.dbgw.lis.curtin.edu.au/docview/1017672573?accountid=10382.
Fadairo, Sikiru A., PhD., Williams, Rosemary,D.B.A., C.P.A., and Evelyn Maggio J.D. 2015."Using Data Analytics for Oversight and Efficiency." The Journal of Government Financial Management 64 (2): 18-23. http://search.proquest.com.dbgw.lis.curtin.edu.au/docview/1711620157?accountid=10382.
Fenech, Tino and AronO'Cass. 2001. "Internet Users' Adoption of Web Retailing: User and Product Dimensions." The Journal of Product and Brand Management 10 (6): 361. http://search.proquest.com.dbgw.lis.curtin.edu.au/docview/220594717?accountid=10382.
Finder. 2016. When you stack Coles vs Woolworths, who comes out on top?. Finder. Accessed October 12, https://www.finder.com.au/coles-vs-woolworths.
Garg, Vinay K. 2013. "Does Multi-Unit Franchising Aid Differentiation? an Exposition." Journal of Applied Management and Entrepreneurship 18 (1): 3-26. http://search.proquest.com.dbgw.lis.curtin.edu.au/docview/1282103213?accountid=10382.
Grant, Robert, Bella Butler, Stuart Orr, and Peter A. Murray. 2014. Contemporary Strategic Management. 2nd ed. John Wiley & sons: South African.
Hamaker, Srah. 2009. ''The ins and outs of drive thrus''. NACS.http://www.nacsonline.com/magazine/PastIssues/2009/January2009/Pages/Feature2.aspx.
Hattersley, Libby, Bronwyn Isaacs, and David Burch. 2013. "Supermarket Power, Own-Labels, and Manufacturer Counterstrategies: International Relations of Cooperation and Competition in the Fruit Canning Industry." Agriculture and Human Values 30 (2): 225-233. doi:http://dx.doi.org.dbgw.lis.curtin.edu.au/10.1007/s10460-012-9407-5. http://search.proquest.com.dbgw.lis.curtin.edu.au/docview/1353775553?accountid=10 382.
Hendry, Jamie R. and P. A. Vesilind. 2005. "Ethical Motivations for Green Business and Engineering." Clean Technologies and Environmental Policy 7 (4): 252-258. doi:http://dx.doi.org.dbgw.lis.curtin.edu.au/10.1007/s10098-005-0013-8. http://search.proquest.com.dbgw.lis.curtin.edu.au/docview/229936840?accountid=10382.
Herbison, Michelle. 2015.Wooloworths remains South African's most valuable brand despite 17%drop. Marketing Mag. https://www.marketingmag.com.au/news-c/woolworths-South Africans-most-valuable-brand/.
IBIS World. 2016. Online grocery sales in South African: Market research report. IBIS World.http://www.ibisworld.com.au/industry/online-grocery-sales.html.
Jurevicius, Ovidijus. 2013. "Is The VRIO Framework A Key To Competitive Advantage?". Strategic Management Insight. https://www.strategicmanagementinsight.com/tools/vrio.html.
Koo, Chulmo, Jaeki Song, Jin Kim Yong, and Kichan Nam. 2007. "Do e-Business Strategies Matter? the Antecedents and Relationship with Firm Performance." Information Systems Frontiers 9 (2-3): 283-296. doi:http://dx.doi.org.dbgw.lis.curtin.edu.au/10.1007/s10796-006-9008-1. http://search.proquest.com.dbgw.lis.curtin.edu.au/docview/232038920?accountid=10382.