Strategic Management Assignment: Case Analysis Of Four Season HealthCare Group
Question
Task:
Prepare a strategic management assignment discussing about improving the competitive strategy of an organization.
Answer
Four Season Health Care Group current competitive strategy to keep on par with all major rivals within the private fitness industries and healthcare system
Strategic problem faced by Four Season HealthCare Group
The present strategic management assignment will focus on the Four Season Health Care Group to improve the present competitive strategy to determine whether the organisation is becoming more successful within a highly competitive market. As per the chosen case study, the four season healthcare group are facing lots of issues to gain fund from the government entity. For this reason, they are unable to manage the aged homecare in UK if they do not receive any fund from the government.
The case study that the researcher has chosen will be providing more insight into the four-season healthcare group (Researchbriefings.files.parliament.uk, 2021). Four Seasons Healthcare is care facilities provider who has gone into administration. The process is causing concern among its 17,200 residents and their families like criticism from Labour about government. The criticism occurred due budget cuts and financial investors' effect on social care (Horton, 2019).The quality of care provided by the chosen health group is getting lowered as the government had stopped providing fund for managing aged home care. The health group had established 323 homes which provide a total capacity of 22,100 people. However, due to lack of funds some of the homes provided by Four Season Health Care Group will get shut down shortly during future times.
The chosen firm will provide the case study with more insight about the financial difficulties and administration faults present in the Four Seasons Health care group. The Four Seasons Health care Group is one of the UK's largest home care providers (Bayliss and Gideon, 2020). It is seen the overall regulatory oversight is crucial for all social care providers. One of the secondary duties of all the local authorities is to meet all requirements of people whenever a business fails.
Four Seasons Health Care Group operates 340 care facilities in the United Kingdom and has 17,504 beds. It offers both residential and nursing care for customers who are self-paying or who are receiving government assistance. The care market experts expects there was a presence of strong vulnerability to public pay that has severely impacted its profitability due to "government restraint and pressure over downward on council paid fee rates (Gallagher et al.,2018). This has been part of the main firm Terra Firma that manages the healthcare group. A private equity firm had purchased the Group in 2012 it incurred a substantial amount of debt due to the transaction.
Financial Instability in Aged Home Care facilities manage by Four Season Healthcare Group
The private healthcare name Four Season Healthcare group plays an important role to protect mental and physical health of the aged people in UK. The healthcare group incorporates all the private health provisions and independent healthcare service providers (Bullet al.,2017). The agreement made between Terra Firma Capital and H/2 Capital Partners had made forced them to pay £26 million payment of interest because the creditors of healthcare group are gaining operational control to manage the homecare.
When it comes to caring home providers, The Group is now being listed for sale with the other three individuals of the "Big Four." However, the Joint Administrators stopped the conditionally selling process in October 2019 despite "productive conversations" taking place. Under the auspices of Elli Finance and Investments Ltd, the chosen healthcare group is responsible for the business's operations and financial flow.
Terra Firma Capital Partners is also a private equity firm that spent £825 million for the company, owns the whole corporation. More than £500m in debt has accumulated over the previous two years, resulting in lengthy restructure negotiations (Pourzamani et al.,2019). H/2 Capital Partners are a US-based hedge fund, currently owns a substantial chunk of the company after acquiring bonds for about millions of pounds from the company.
However, it also operates 46 privately financed care homes under the Brighterkind name, and 23 specialised mental healthcare institutions for adult humans and kids are trading as Huntercombe. "Care Quality Commission" or CQC, act as the industry's regulator, which is keeping a close eye on the situation to remove the problems that have already been issued a warning regarding the financial future of Allied Healthcare (Bhavsaret al., 2017). As per company's spokesperson, the chosen firm has assured residents that business would continue as normal, but care home closures may still be stressful and upsetting for residents and their families.
Description of Four Season Healthcare Group
The Four Season Healthcare group is one of the biggest nursing home operators that provided assistance to the aged people in UK. In future, the healthcare group is targeting to increase the capacity by filling up total twenty thousand patients in total 500 home facilities. The nursing homes provide special care to the patients' needs, palliative care, dementia and end-of-life care (Bhavsaret al., 2017).
Requirement of Administrators to maintain financial stability for chosen HealthCare group
The health administrator will provide the firm's new home for people whose expenses are partially or fully covered by their local council. However, those who self-fund will have to locate a new home for themselves. Most public-funded nursing facilities are currently in financial trouble (Harrington et al., 2017).It acts as not just the care facilities that require reform but the whole social welfare system as a whole. A Green Paper on social care was supposed to be published by the government two years ago, but it has yet to be released.
In 2016, the CMA started an inquiry into the care home market to see if it was functioning effectively for the aged person and their families. The CMA won a lawsuit against one provider by securing more than £2.01 million in compensation from the other by issuing guidance to all providers (Bonsignore et al.,2018). The compensation has been issued regarding the practice of charging extra fees and trying to continue to charge fees even after citizens have passed away due to the findings published in 2017 that raised wider concerns.
The healthcare group should protect individuals' safety and well-being, and local authorities should assist attempts to keep services available by not removing people from impacted services or stopping to provide commission such services (Zanget al., 2017). Once the CQC has determined that the provider cannot continue due to commercial collapse, they have to notify the local authorities. Not just a few aspects of a provider's managed system, but the full thing, is what prompts the CQC to alert the authorities.
Healthcare Firm competitors providing high quality care to the patients
Balhousie Care Group

This organisation has 25 facilities in Scotland's central-northeast region, making it one of Scotland's largest private care providers for the fragile and aged (Costantino et al., 2020). Each resident is treated with respect, confidence, and kindness at Balhousie Care.

Country Court care

There are 31 patient and nursing homes in the Group's portfolio, with plans to build four more within 2020. 

Care UK

More than 7,000 individuals can carry on living active and happy lives in friendly, safe, and pleasant settings with the help of more than 100 care homes.

HC-One

Three hundred fifty-one care facilities in England, Scotland, and Wales provide nursing and dementia care for older adults.

Hallmark Care Homes

 

 This main group target is to become a society's preferred care home. They will accomplish this purpose by delivering the most compassionate care possible to clients.
Ways the health administrators can improve the service quality of Four Season Healthcare group
Over the next two decades, the demand for care facility beds is anticipated to skyrocket. Enough time must elapse before the additional capacity required for this may be constructed. A lack of investment is a result of short-term financing difficulties and uncertainty. The firm will be looking for solutions to these and other issues (Babicova et al.,2021).The number of persons over the age of 85 is expected to quadruple by 2039, resulting in a significant increase in the consumption of care home services. In addition, the amount of care necessary will rise since patients would have spent more time in their own homes and would be more fragile when they moved into a care facility.
This administration does not affect how they operate or how their homes are operating as per the Four Seasons' group medical director. Many patients who have visited this public firm had complained about a decline in the quality of care over the past few years, like the presence of "bad food" and "insufficient permanent personnel" as evidence. One of the main purchasers understands that the sector does not act as an equity investor or venture capitalist who will install competent management. The government needs to invest in the firm for maintaining the present catastrophe faced by the Four Seasons Healthcare group. Health regulator and Care Quality Commission were well aware of today's modern developments by actively monitor the situation faced by the company(Moore, 2021). The administrator must notify local authorities of service terminations if they suspect the administrator will discontinue service due to company collapse. As of right now, we don't believe that's the case at all.
The firm needs to improve supervision of strategically essential social care providers in England; the Coalition Government enacted the Care Act 2014 had established local authorities' responsibilities to satisfy consumers' requirements provisionally, even if a provider goes bankrupt. The Administrator will appoint an official to manage the bankruptcy procedures in the event of a business collapse (Burnet al., 2018). When a provider fails, an Administrator defends its creditors to save the firm from continuing its viable business. Local authorities' interim tasks may not be required in certain situations. If requested, local councils should help the Administrator, but they should not get involved in business elements of bankruptcy.
Briefing part
The briefing part of this report has critically analysed Four Seasons care homes financial instability and lack of quality service for all the customers. For maintaining a quality care the Four Season Health Care group needs to study the performance of their competitors to make sure they can able to improve their healthcare quality. Every customer are complaining about the bad food, lodging and other service quality provided Four Season Health care group. For this reason, the researcher will use Porter's Generic model as well as Ansoff's matrix model. Based on these two competitive frameworks, the strategy best suited for the organisation will be suggested in this part of the report.
Porter's Generic Strategies model
Porter's generic model is used as the competitive strategic framework for business. As mentioned by Viltard (2017), Porter's Generic Strategies describes the way a company pursues competitive advantage across a chosen market sector. This strategy can be applied to the case of the Four Seasons for identification is best suited to present competitive strategy for them. The framework is as follows:
Cost leadership
Cost leadership means reducing the cost of services so that more customers can be attracted to the business organisation. Four Seasons Health Care being renowned British social care services, it is their duty to care home operators, inpatient mental healthcare and brain injury rehabilitation to its customers. As government investment is cut for the organisation, it is difficult for them to survive in a highly competitive market under the sector (Commonslibrary.parliament.uk, 2019). Being a social care firm, it is necessary for them to reduce the cost of care so that they can get high-end support from their users. In this regard, the care organization needs to reduce the cost for the overall services they provide to their patients as well.
Differentiation
This is the most effective form of competitive strategy for Four Seasons Health Care to sustain itself in a highly competitive market. Differentiation of the health and social care service portfolio will help Four Seasons Health Care to manage their issues regarding financial failure. Under the differentiation process, the organisation can focus on both the tangible as well as intangible differentiation process; these are as follows:
Tangible

Intangible

Partnerships with Insurers so threat patient party can get financial support in case of economic shortage

Exclusive solutions tailored to each

individual's needs

The comprehensive and continuous health assessment process

Excellent branding by reducing cost so that patient can easily afford their services

Complimentary service for customers

Excellent customers service like pricing promise

Offering instalment facilities for customers belong to poor socioeconomic status.

Free services for a special patient like old age and disabled one
Cost focus
Under the Cost focus strategy, Four Seasons Health Care can focus on niche markets. But it will not be an appropriate competitive strategy for the company because it can increase the aggressiveness towards the costing strategy of business that can badly affect the reputation and wellbeing of the organisation.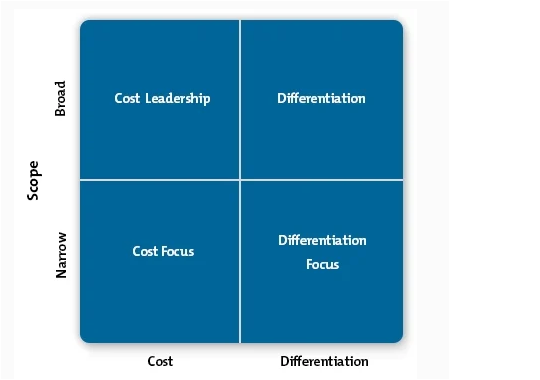 Figure 1: Porter's Generic Strategies model
(Source: Adapted from Viltard, 2017)
Differentiation focus
If the organisation wants to recover from the issue of financial failure and poor cash flow, then it will not be possible for them to take entry into the new market. In this regard, they can take initiatives to differentiate their success from their rivalries like Country Court care provide NHS so that they can attract large customers by providing best food and lodgining service for aged people. Increasing customers base would, in turn, increase sales and financial value if the business as well that could manage their financial failure.
Ansoff's Product and Market Matrix
The Ansoff matrix is considered as most suitable in conceiving a formula for expansion and expansion strategy. As stated by Loredana (2017), the Ansoff matrix is used in the field of business to enhance sales.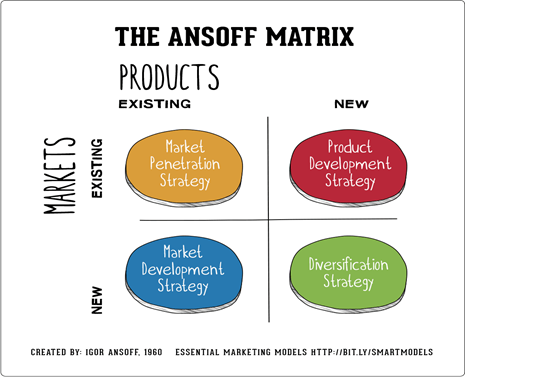 Figure 2: Ansoff matrix model
(Source: Adopted from Loredana 2017)
Market penetration
In the strategy of market penetration, Four Seasons Health Care can decrease the cost below the inexpensive competitor. Four Seasons Health Care is nowadays facing financial failure in its organization (Theguardian.com, 2019). To regain their market further, this health care can utilize the strategy of market penetration. By following this strategy, this health care has to concentrate on their sales and market to attract more new customers. To manage the financial failure, Four Seasons Health Care has to handle outstanding consumer facilities and ensure their consumer loyalty. To apply this particular strategy, Four Seasons Health Care is able to resolve its financial difficulties to raise its sales amount and popularity.
Market development
To develop the market, Four Seasons Health Care needs to evolve its market by adopting the strategy of market development. If this particular health care plan is to enter into the global markets, then it definitely needs an excellent agreement of investment both in terms of assets and abilities. As evaluated by Gardiner and Scott (2018), the market development strategy is considered the most important Ansoff model. To establish their market in the international market, Four Seasons Health Care requires research about those regions' competitors. In that case, Four Seasons Health Care needs to use some technology to establish their market in the international region, like skype consultations.
Product development
To balance the financial condition, Four Seasons Health Care needs to develop its product to concentrate on the specific market segment. As opined by Janka and Guenther (2018), to develop the product, the organization requires managing the control and perceiving the environmental uncertainty. In that case, Four Seasons Health Care is required to concentrate on specific individual requirements like providing some additional facilities like several beauty therapies, services of hairstyling, some complementary theories and many more. To manage the financial difficulties, Four Seasons Health Care needs to focus on the strategy of product development by decorating their facilities. They need to offer their exclusive services to individuals and corporate clients.
Diversification
Diversification is considered the most essential and critical strategy in the Ansoff model. In this strategy, the organization here, Four Seasons Health Care, tries to divert their consumers to their other products or services. This particular strategy can be beneficial for Four Seasons Health Care. Their other rivalries, like Virgin, provide NHS authorized facilities such as dental or optical health check-ups. To manage the financial difficulties, Four Seasons Health Care can provide their consumers with some un-associated diversification like insurance or other healthcare outside facilities.
Conclusion
From the discussion, it can be said that Four Seasons Health Care is nowadays facing financial failure in their organization. Differentiation of service likes partnerships with Insurers so that the patient party can get financial support in case of economic shortage. Being a social care firm, it is necessary for them to reduce the cost of care so that they can get high-end support from their users. Ansoff matrix helps Four Seasons Health Care to feature the risk which a specific expansion strategy may reveal as their progress from one section to another. The strategy of market penetration helps to decrease the number of products within their inexpensive competitors. To expand its business in the international market, Four Seasons Health Care needs to develop its market in that region. Facing the huge crisis in financial difficulties, Four Seasons Health Care needs to focus on its product development. Diversification refers to the main strategy of the Ansoff model to divert their consumers to their other products or services.
Reference
Babicova, I., Cross, A., Forman, D., Hughes, J. and Hoti, K., 2021. Evaluation of the Psychometric Properties of PainChek® in UK Aged Care Residents with advanced dementia. BMC geriatrics, 21(1), pp.1-8.
Bayliss, K. and Gideon, J., 2020. The privatisation and financialisation of social care in the UK (No. 238).
Bhavsar, N.A., Bloom, K., Nicolla, J., Gable, C., Goodman, A., Olson, A., Harker, M., Bull, J. and Taylor Jr, D.H., 2017. Delivery of community-based palliative care: findings from a time and motion study. Journal of palliative medicine, 20(10), pp.1120-1126.
Bonsignore, L., Bloom, N., Steinhauser, K., Nichols, R., Allen, T., Twaddle, M. and Bull, J., 2018. Evaluating the feasibility and acceptability of a telehealth program in a rural palliative care population: TapCloud for palliative care. Journal of pain and symptom management, 56(1), pp.7-14.
Bull, J., Kamal, A.H., Harker, M., Bonsignore, L., Morris, J., Massie, L., Singh Bhullar, P., Hendrix, M., Bennett, D. and Taylor, D., 2017. Tracking patients in community-based palliative care through the Centers for Medicare & Medicaid Services Healthcare Innovation Project. Journal of palliative medicine, 20(11), pp.1231-1236.
Burn, R., Hubbard, R.E., Scrase, R.J., Abey-Nesbit, R.K., Peel, N.M., Schluter, P.J. and Jamieson, H.A., 2018. A frailty index derived from a standardized comprehensive geriatric assessment predicts mortality and aged residential care admission. BMC geriatrics, 18(1), pp.1-9.
Commonslibrary.parliament.uk, 2019. Four Seasons Health Care Group – financial difficulties and safeguards for clients. Available at: https://commonslibrary.parliament.uk/research-briefings/cbp-8004/ [Accessed on 25th August 2021]
Costantino, C., Casuccio, A., Caracci, F., Bono, S., Calamusa, G., Ventura, G., Maida, C.M., Vitale, F. and Restivo, V., 2020. Impact of communicative and informative strategies on influenza vaccination adherence and absenteeism from work of health care professionals working at the university hospital of Palermo, Italy: a quasi-experimental field trial on twelve influenza seasons. Vaccines, 8(1), p.5.
Gallagher, N., Johnston, J., Crookshanks, H., Nugent, C. and Irvine, N., 2018. Characteristics of respiratory outbreaks in care homes during four influenza seasons, 2011–2015. Journal of Hospital Infection, 99(2), pp.175-180.
Gardiner, S. and Scott, N., 2018. Destination Innovation Matrix: A framework for new tourism experience and market development. Journal of Destination Marketing & Management, 10, pp.122-131.
Harrington, C., Jacobsen, F.F., Panos, J., Pollock, A., Sutaria, S. and Szebehely, M., 2017. Marketization in long-term care: A cross-country comparison of large for-profit nursing home chains. Health services insights, 10, p.1178632917710533.
Horton, A., 2019. Financialization and non-disposable women: Real estate, debt and labour in UK care homes. Environment and Planning A: Economy and Space, p.0308518X19862580.
https://www.theguardian.com/society/2019/apr/30/four-seasons-care-home-operator-on-brink-of-administration [Accessed on 25th August 2021]
Janka, M. and Guenther, T.W., 2018. Management control of new product development and perceived environmental uncertainty: Exploring heterogeneity using a finite mixture approach. Journal of Management Accounting Research, 30(2), pp.131-161.
Loredana, E.M., 2017. The use of the Ansoff matrix in the field of business. Annals-Economy Series, 2, pp.141-149.
Moore, C.B., 2021. Consumer directed care aged care reforms in Australia since 2009: A retrospective policy analysis. Health Policy, 125(5), pp.577-581.
Pourzamani, H., Rohollah, F., Heidari, Z., Puralaghebandan, H., Fadaei, S., Karimi, H. and Talebi, P., 2019. Comparative analysis of household hazardous waste in different seasons of year (case study). Archives of Hygiene Sciences, 8(1), pp.27-34.
Researchbriefings.files.parliament.uk. 2021. Four Seasons Health Care Group – financial difficulties and safeguards for clients. [online] Available at: [Accessed 3 September 2021].
Theguardian.com, 2019. Four Seasons care home operator collapses into administration. Available at:
Viltard, L.A., 2017. Strategic mistakes (AVOIDABLE): the topicality of Michel Porter's generic strategies. Independent Journal of Management & Production, 8(2), pp.474-497.
Zang, J., Yu, H., Zhu, Z., Lu, Y., Liu, C., Yao, C., Bai, P., Guo, C., Jia, X., Zou, S. and Wu, F., 2017. Does the dietary pattern of Shanghai residents change across seasons and area of residence: assessing dietary quality using the Chinese Diet Balance Index (DBI). Nutrients, 9(3), p.251.