Social Media Management of Manchester United
Question
Task: This assignment tests your ability to research and writing an academic report in an essay format that analyses how a brand of your choice is developing their social media presence and strategy and how does its social media management works. For this you can choose any brand which has a multi-platform presence. You will use the knowledge acquired in the previous coursework to observe, follow and analyse how a brand of your choice is managing their digital footprint, and how they are interacting with the public.
Answer
Overview:
In this current business scenario, social media management has become an effective medium to connect with the targeted people for the individuals and market for the business houses. The business houses across make it a point to have an account on the leading social networking sites and ensure its continuous activities to be noticed by its patron. This particular report would take relevance tothesocial media management of the renowned football team, Manchester United (Man Utd). The team has its effective presence in the leading social media sites YouTube, Facebook, Twitter, Instagram, and Pinterest.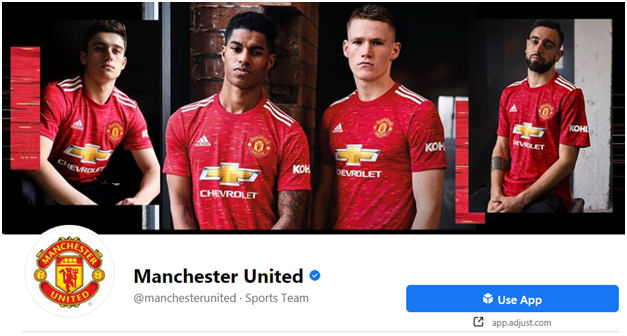 Social Media Strategy of Man Utd:
Man Utd is an Old Trafford, Manchester based professional British football team. The club has to its credit record number of 21 FA Community Shields, 20 League titles, 12 FA Cups, and 5 League Cups among others(Ir.manutd, 2020). Through its social media account, the club strives to strengthen its sponsorship and business relationship with leading brands.Big multinationals like Chevrolet, DHL, Gulf Oil, HCL, Kohler, Tag Heuer, Adidas, and Apollo among others are its global partners. So the football club is very active in exploiting social networking sites as the interest of the market is gradually shifting towards it. The club has realised the potentiality of social media and anticipates being the primary mode of interaction with its fan and followers. The phenomenon could be supported by the fact that Man Utd has over 150 million connections on its various social sites(Kawaf & Istanbulluoglu, 2019). Facebook leads in the league with 73.3 million followers, closely followed by Instagram having 36.3 million followers, Twitter over 22.6 million followers, and 3.17 million subscribers at YouTube.
Facebook platform used by Man Utd –
The Facebook page of Man Utdwith over 73.3 million followers globally carves out a niche for itself amongst its competitors like Liverpool, Arsenal, and others. The 'Red Devil' as the club is known popularly shares about 10-15 posts daily and each of the posts gets around 500 shares and comments within minutes of posting(Mazza & Palermo, 2018). In this way, Man Utd succeeds in engaging its fans and supporters and influence them with its contents, and marketing tactics. The Facebook posts of Man Utdare unique in its approach centring the game of football which is oxygen to its supporters. The social media pages are updated frequently to keep the fans updated on the latest happening in its game front. For instance, the recent post of Man Utdshows its intent to have the title of UEFA Europe League by defeating FC Copenhagen(Facebook, 2020).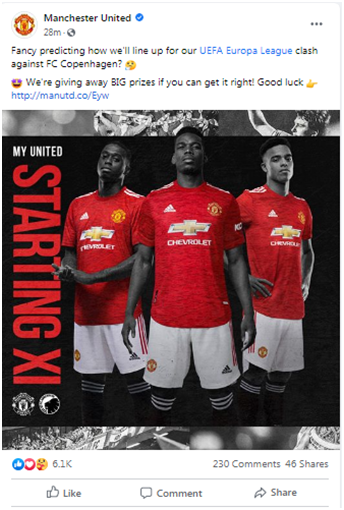 Figure 1: Latest post of Man Utd
Source: (Facebook, 2020)
Instagram platform used by Man Utd –
Man Utd has around 36.3 million followers and 15,600 posts at the Facebook affiliate, Instagramaccount(Instagram, 2020). The Instagram posts of the club show the visuals of the players practicing in the turf implying with its characteristics of image and video display.The videos posted by Man Utd on the site are short and characterised with HD quality, clear image arouses the interest of the supporters leading to an extravagant number of viewership. The updated contents are very relevant, for instance, the post of upcoming match with the Copenhagen team creates excitement among the fans(Stephen, 2016). In the era of digital media, the supporters prefer to have updates of their favourite team through their social accounts and thus the arrangement like the post on the upcoming Copenhagen match. Such video and images is helpful to the club in growing its followers and strengthening its brand image.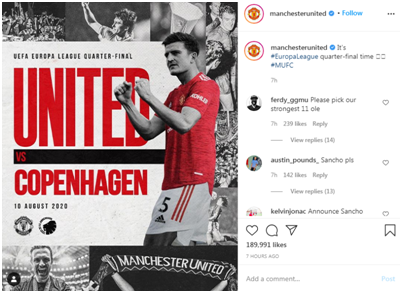 Figure 2: Latest Instagram post of Man Utd
Source: (Instagram, 2020)
Twitter platform used by Man Utd –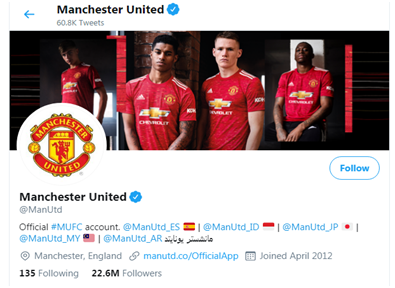 Figure 3: Twitter handle of Man Utd
Source: (Twitter, 2020)
Man Utd has a massive follower of 22.6 million and uses its characteristic hashtagsfor its key players like Lee Grant, Eric Bailly, Harry Maguire, Phil Jones, and others(Twitter, 2020). So the followers at Twitter with the help of the hashtags connect with their favourite footballer and exchange tweets strengthening their bondage. Man Utd through its Tweeter platform strives to connect with the non-English speaking supporters as well. It is the benefit of Twitter to avail its facility through 10 different languages like Chinese, Arabic, French, Persian, Korean, Russian, and others. The phenomenon is effective in reaching out to a bigger audience and establish the branding amongst the non-English bandwagon as well(Tuten & Solomon, 2017). The club on average tweets 10 times daily and through the proper usage of hashtags creates sorts of conversation which are mostly professional in nature. Twitter is a creative social site paving effective scope for microblogging to express thoughts of the club and its upcoming plans to the delight of its supporters.
YouTube platform used by Man Utd –
YouTube is known for its videos and Man Utd to keep in touch with its followers regularly posts videos of its practice sessions, match highlights, and locker room events. It is helpful to get a thorough understanding of the tactics of the players and the club culture prevalent in the current scenario(Ir.manutd, 2020). So the die-hard supporters of Man Utd gets an opportunity to stay with its favourite team on the digital media continuously. It is effective for the club also to give the sports fodder to its targeted mass and have a strong branding by pushing sales of its merchandises like T-shirts, Jersey, football gear and others.
Summary:
The social media activities of Man Utd is very unique taking relevance of the various social platforms like Facebook, Instagram, Twitter, and YouTube. These social networking sites have massive followers of the club enabling them to get updated information of its latest happenings like upcoming matches or practice session videos. The phenomenon is effective in strengthening the brand Man Utdamong the masses and football lovers and get a unique position in the market by creating a pool of supporters to encase its business proposition.
REFERENCES
Facebook, 2020. Manchester United. [Online]
Available at: https://www.facebook.com/manchesterunited [Accessed 10 August 2020].
Instagram, 2020. manchesterunited. [Online]
Available at: https://www.instagram.com/manchesterunited/ [Accessed 10 August 2020].
Ir.manutd, 2020. Business Strategy. [Online] Available at: https://ir.manutd.com/company-information/business-strategy.aspx
Kawaf, F. & Istanbulluoglu, D., 2019. Online fashion shopping paradox: The role of customer reviews and facebook marketing. Social media managementJournal of Retailing and Consumer Services, Volume 48, pp. 144-153. Mazza, B. & Palermo, A., 2018. Social media content for business and user engagement on Facebook. ESSACHESS-Journal for Communication Studies, 11(1), pp. 49-73.
Stephen, A., 2016. The role of digital and social media marketing in consumer behavior. Current Opinion in Psychology, 10(2), pp. 17-21.
Tuten, T. & Solomon, M., 2017. Social media marketing. New York: Sage. Twitter, 2020. Manchester United (@ManUtd) on Twitter. [Online] Available at: https://twitter.com/ManUtd [Accessed 10 August 2020].