Samsung Business Model Assignment Analyzing The Potential Growth
Question
Task: You are required to write a 2000-word report for a novel business proposal you have developed. The business proposal must build upon your value proposition developed in assessment 1 for the existing business or organisation selected in assessment 1. You must use appropriate headings to structure the body of the report.
Your report must demonstrate:
Logical and persuasive articulation of: business model description; value proposition development; business operations development; supply chain development; competitive advantage; financial value capture and strategic fit (this includes elements 5 to 10 in the disciplined entrepreneurship canvas by Aulet (2017, p. xviii) and elements 3 to 9 in the business model canvas by Osterwalder and Pigneur (2010, pp. 16-41)).
Logical and persuasive argumentation in regard to how assumptions and uncertainties related to: customer desirability; technical feasibility; and financial viability have been addressed to date and how they will be addressed in the future as described in a phased development plan.
Logical and persuasive argumentation for the selection of the innovation tools and techniques used to support the report findings and recommendations. These must be beyond the tools and techniques used in assessment 1. Minimum eight (8) additional tools and techniques must be selected from the unit textbooks and online materials.
Logical and persuasive application of the selected innovation tools and techniques used to support the report findings and recommendations. These must be different to the tools and techniques used in assessment 1. Minimum eight (8) additional tools and techniques must be applied from the unit textbooks and materials. Illustrations of the tool usage details can be included in the appendix.
Candid and critical self-analysis about assessment 2 tasks including: a reflection on the development of personal innovation capabilities and practices; identification of own personal strengths and weaknesses; supported with examples of own behaviour.
Clear flow of thought throughout the report with: a convincing executive summary; clear and succinct purpose described in the introduction; relevant structure and content within the body of the report; and a clear and succinct conclusion.
Critical review skills and integration of relevant academic and professional literature. A minimum of ten (10) academic and professional references must be used.
Appropriate in-text referencing and reference list. Adherence to CQUniversity APA reference style.
Clarity of expression, grammar and spelling. Appropriate report format with good use of bullet points, illustrations and figures. Within ±10% of the word limit for report, excluding references and appendices: 2000 words.
Answer
Executive summary
As per the researchers, it has been evident in the study of Samsung business model assignment that innovation driven products are the most suitable entity for any product based organization. It provides the organization with a supportive framework which is evident in promoting customer base and market penetration factor for the selected organization. This report examines the available business model at Samsung along with its various supportive aspects. It defines certain segments which are evident in promoting the overall process and facilitating the growth potential for the company. The report also suggests a new business model based on innovation and value proposition to enhance the operability of this organization in the related sector. The suggested business model defines artificial intelligence usage across the supply chain management system and customer service segments for enhancing a better operability factor for the company.
1. Introduction
The role of Innovation and value proposition examined in the following study of Samsung business model assignment are two significantly important aspects in a business development process. These provide an organizational framework with support in order to counter the developing competitive advantages and enhance operations accordingly. These factors are the basic building blocks for the entire process of business and thus are used to define better results for an organizational structure. Practices based on innovation insight and expertise are liable to produce better values in a system thus impacting the growth potential and signifying the operational dimensions for the process. 
The Samsung business model assignment is based on providing guidance for business development process at Samsung. It provides sufficient information on the possibilities to enhance innovative ways for business conduction. This analysis is very important for the company as it will evaluate its present operations and recommend changes to initiate a better business approach. The innovation based business models and tools depicted under this report can initiate a more profitable and justified mode of business conduction at Samsung.
2. Business model description used in the case of Samsung business model assignment
Samsung being a major brand across the globe requires a stable and controlled form of business model. Thus it uses vertical integration and product volume form of business model. The vertical model of business is directed towards availability of significant control on the different stages of product creation and services. Features such as retail, supply chain and distribution are owned by the company itself for a better control of its products and services. This model is evident in reducing the operational costs and improving efficiency across the available channels of product management (Ebel, Bretschneider & Leimeister, 2016). The company is benefited by its availability of backward and forward integration facilities which are directed from the usage of vertical integration model. In addition to this, the product volume signifies availability of all range of products in different sections to ensure larger customer base and integrated operations. The availability of large volume or products is another major reason defined in Samsung business model assignment for the widespread market coverage by Samsung. It provides the company with an ability to deal with larger audiences and thus improve its profitability index. However, practicing better control over such a large segment of product range is a crucial process but with efficient and supportive supply chain management and production setups the company is able to make advantageous conclusions from them.
3. Value proposition development
Name of the company:

Samsung

 



The services offered by the company explored in the case of Samsung business model assignment:

Samsung is an electronics products manufacturing company. It provides products such as home appliances, mobile phones and entertainment devices across the globe.

 

Changes that are offered:

Use of innovation across its supply chain management process and customer service sections. Inclusion of factors such as artificial intelligence is largely suggested.

B2B customers:

Providing technologically advanced products to businesses across the world

B2C customers:

Development and supply of products to individual customers based on their requirements and feasibility (Cortimiglia, Ghezzi & Frank, 2016).

Resources required:

Better retail network

Enhanced innovative technologies for products

Resources required:

Artificial intelligence based customer support systems

Required capabilities:

Efficient leadership, strong research and development structure and innovative operational environment.

Value preposition:

We are an electronics goods manufacturing company with an innovational guideline to provide our customers which the best technologically advanced high quality products under this segment.
4. Business operations development
Innovation across product development and efficient supply chain management are some of the key factors related to business operations development process at Samsung. The company examined in the Samsung business model assignment has been evident in justifying the business needs in terms of quality control, purchase quantity, product storage, evaluation and control of logistics. The company is based on some basic operational aspects that provide it with sufficient support in terms of quality, costing, flexibility, customer satisfaction and delivery of products (Reymen et al. 2017). A controlled and coordinated way of operation has improved the overall business management strategies across the channels. The long term operability factor that is associated with a committed customer service is also availed by the company in an efficient manner. In addition to this, the production process associated with Samsung is also supportive in terms of enhancing its business value by improving product quality through innovation.
5. Supply chain development
The study of Samsung business model assignment illustrates that the supply chain management process at Samsung is a major reason for its operational excellence and enhanced customer satisfaction. As described in the above sections, the company controls majority of its supply chains as it operate on vertical integration model of business. However, the supportive partnerships across its business in terms of collection of raw materials and distribution of finished goods are another major supportive fragment to its growing performance (Berends et al. 2016). According to the research carried out for the Samsung business model assignment, efficiency in supply chain is one of the major reasons for its satisfactory customer base. The company includes a variety of monitoring and tracking objectives to facilitate a time oriented and cost effective supply chain management system across its global business scenarios. The study of Samsung business model assignment states that the information driven planning and inventory control features at Samsung provides it a much wider perspective of control across the available supply chain management systems (Breuer et al. 2018).
6. Financial value capture
The availability of controlled supply chain and operations for services mentioned in the study of Samsung business model assignment, the company maintains a significantly higher financial control across its business. It provides the organization with an ability to limit costs and provide better services to its customers. This results in attracting a larger volume of customers from different sections of the market, thus contributing to the sales and economic growth. In addition to this, the company maintains major advocacy in terms of innovation and creativity for product development process (Spiegel et al. 2016). This provides the organization with an additional support in terms of attracting better sales over its customers thus improving the financial position of this organization. Improved financial position at Samsung is an outcome of controlled operations and defied ways of value generation integrated across its related business model.
7. Competitive advantage
The Samsung business model assignment elucidates that the usage of innovative and value based operational design in production provides the company with better products for its customers which eventually drives it above all of its available competitors. Since, it is a technology based organization, constant monitoring and evaluation of the market and recent trends is also an additional factor which is evident in promoting its competitive attitude for the related industry. Major control on the available supply chain system at this organization is another important factor which is related to enhance its competitive advantages. Innovation driven insights are also evident in promoting the basic values of product management through creating demands across the markets (Kans & Ingwald, 2016). The company explored in the report of Samsung business model assignment develops innovation based products, which enhances the operational dimensions and are relatively functional to produce a much intensive form of design system for managing its available customer bases. Innovation also provides competitive advantages for Samsung in its operational sector. The overall feasibility index which is associated with innovation driven approach examined in the case of Samsung business model assignment is ideal to manage the growing technological demands across its products and thus improving the customer satisfaction levels (Roome & Louche, 2016).
8. Strategic fit
Strategies which are evident in providing a major support to the organization with its developing customer base are to be included across the system for a better strategic fit. The company outlined in the study of Samsung business model assignment needs to frame policies and regulations across its operational design to initiate better and strategic approaches for customer integration. This will help in guiding the process of development along with strategic financial support for the organization in the coming future (Wirtz et al. 2016). A comprehensive study for better understanding of the available needs and requirements of the related market can be major strategic approach for the company.
9. Identification and assessment of assumptions and uncertainties
It has been noted in the study of Samsung business model assignment that the assumptions and uncertainties are an important factor for the organization as it affects the overall operability index of any mew model implementation process. The company must assess each of the available uncertainties in terms of customer satisfaction, value proposition and supply chain management under the new model and develop approaches to counter them in their initial stages (Foss & Saebi, 2017). Initiatives for reducing risks associated with technical feasibility, customer desirability, innovation based production and financial viabilities must be undertaken. Since the company has been operating on a different business model and has been evident in promoting the feasibilities across the defined sections of supply chain management and product development, the research of Samsung business model assignment indicates that the implementation of new model can be full of uncertainties (Carayannis, Sindakis & Walter, 2015). A value based assessment of these uncertainties through constructive assumption can be considered for future advantages.
10. How phased development plan is helpful to address uncertainties obtained in the case of Samsung business model assignment?
Identification and addressing of uncertainties must be followed by efficient feedback collection process. These feedbacks can be used to guide further operations and attain a more suitable product and service development process for the available customers. Assessment of customer and employee feedbacks can be followed by value addition in the overall process guided by the suggestions across feedbacks (Cabrera et al. 2016). This will help the company to operate in a more consumer and employee friendly manner thus improving the overall productivity across the businesses. Different modes of feedback collection can be used including surveys and customer interviews. These will enhance the operability factor for all of the new model and will also increase the effectiveness across its operational dimensions (Joyce & Paquin, 2016).
11. Selection of innovation tools and techniques
In order to assess the innovation factor across the suggested business model, the company must utilize 8 different tools assessed in this report of Samsung business model assignment. These tools will be incorporating to the overall production process along with each of the related factors and initiate a better operability across the implementation of this model. There are significant amount of information developed for each of the tools to be used and these justify a flawless analysis of the entire process at Samsung. These tools will guide the organization in order to attain a more strength oriented development process through the newly developed model (Yashkova et al. 2016). As an impact the usability index for each of the defined sectors will be analyzed effectively and a more detailed form of innovation driven model can be produced. Since, the company operates in electronics and digital products sectors, a detailed analysis for each of the defined perceptions must be assessed to include innovation thoroughly and operatively.
12. Candid and critical self-analysis on the case of Samsung business model assignment
The process of including new business model for Samsung will be a major success for the organization according to my views. It will help the organization in gaining a more operational and strategic perception to the available markets. Since, customer orientation and support are important factor included across the provided business model it will help in establishing a more ideal form of operational design for the entire process (Planing, 2015). The overall usability process which is integrated under this section is largely supportive for the financial strength of the organization. It will initiate a better design for controlling costs and improving the supply chain management aspects for the organization. The overall development process which is included under this Samsung business model assignment is liable to produce effective results in longer run of business and enhance the operational design related to the organization.
13. Conclusion and recommendations
Conclusion
In order to conclude the above study of Samsung business model assignment, it can be said that this report explains some of the key operational segments for Samsung and defines the available business model in its available operational design. Different dimensions of operation based on product development, customer services and supply chain management are assessed to facilitate a better design for understanding the benefits. Implications of applying a new business model and also assessed across, this report taking into account the needs and requirements of this organization. This report can be evident in promoting a desired form of excellence across the system and determine a better approach for facilitating progress all across the organization. Different modes of design based assumptions are assessed and examined to integrate evident promotions to customer oriented and sustainable means for business development for the company. 
Recommendations
Following are some of the most influential recommendations provided for the case scenario of Samsung business model assignment for the company:
Improvement in operations through inclusion of diverse strategies in the business model
Adaptability to the latest trends and demands from its available customer base
Increased usage of innovation and technologically advanced features across its supply chain management system.
Inclusion of efforts for customer services through artificial intelligence
14. References
Berends, H., Smits, A., Reymen, I., & Podoynitsyna, K. (2016). Learning while (re) configuring: Business model innovation processes in established firms. Samsung Business model assignment. Strategic Organization, 14(3), 181-219.
Breuer, H., Fichter, K., Lüdeke-Freund, F., & Tiemann, I. (2018). Sustainability-oriented business model development: Principles, criteria, and tools. International Journal of Entrepreneurial Venturing, 10(2), 256-286.
Cabrera, A., Abad, M., Jaramillo, D., Gómez, J., & Verdum, J. C. (2016). Definition and implementation of the Enterprise Business Layer through a Business Reference Model, using the architecture development method ADM-TOGAF. Samsung Business model assignment In Trends and Applications in Software Engineering (pp. 111-121). Springer, Cham.
Carayannis, E. G., Sindakis, S., & Walter, C. (2015). Business model innovation as lever of organizational sustainability. The Journal of Technology Transfer, 40(1), 85-104.
Cortimiglia, M. N., Ghezzi, A., & Frank, A. G. (2016). Business model innovation and strategy making nexus: evidence from a cross?industry mixed?methods study. R&D Management, 46(3), 414-432.
Ebel, P., Bretschneider, U., & Leimeister, J. M. (2016). Leveraging virtual business model innovation: a framework for designing business model development tools. Information Systems Journal, 26(5), 519-550.
Foss, N. J., & Saebi, T. (2017). Fifteen years of research on business model innovation: how far have we come, and where should we go?. Journal of Management, 43(1), 200-227.
Joyce, A., & Paquin, R. L. (2016). The triple layered business model canvas: A tool to design more sustainable business models. Journal of Cleaner Production, 135, 1474-1486.
Kans, M., & Ingwald, A. (2016). Business model development towards service management 4.0. Samsung Business model assignment Procedia CIRP, 47, 489-494.
Planing, P. (2015). Business model innovation in a circular economy reasons for non-acceptance of circular business models. Open journal of business model innovation, 1(11).
Reymen, I., Berends, H., Oudehand, R., & Stultiëns, R. (2017). Samsung Business model assignment Decision making for business model development: a process study of effectuation and causation in new technology?based ventures. R&D Management, 47(4), 595-606.
Roome, N., & Louche, C. (2016). Journeying toward business models for sustainability: A conceptual model found inside the black box of organisational transformation. Organization & Environment, 29(1), 11-35.
Spiegel, O., Abbassi, P., Zylka, M. P., Schlagwein, D., Fischbach, K., & Schoder, D. (2016). Business model development, founders' social capital and the success of early stage internet start?ups: a mixed?method study. Information Systems Journal, 26(5), 421-449.
Wirtz, B. W., Pistoia, A., Ullrich, S., & Göttel, V. (2016). Business models: Origin, development and future research perspectives. Long range planning, 49(1), 36-54.
Yashkova, E. V., Sineva, N. L., Shkunova, A. A., Bystrova, N. V., Smirnova, Z. V., & Kolosova, T. V. (2016). Development of Innovative Business Model of Modern Manager's Qualities. Samsung Business model assignment International Journal of Environmental and Science Education, 11(11), 4650-4659.
15. Appendices
Appendix 1
SWOT analysis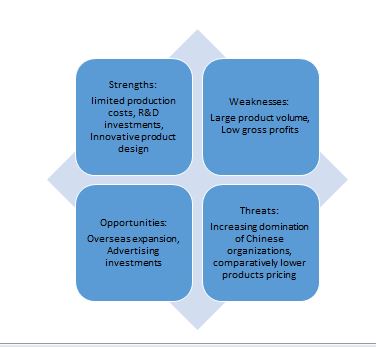 Appendix 2
Porter's five forces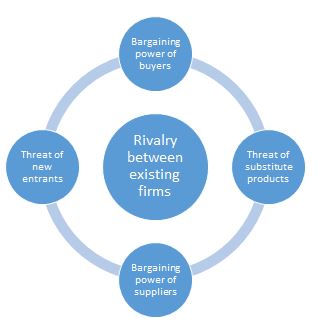 Appendix 3
Core capabilities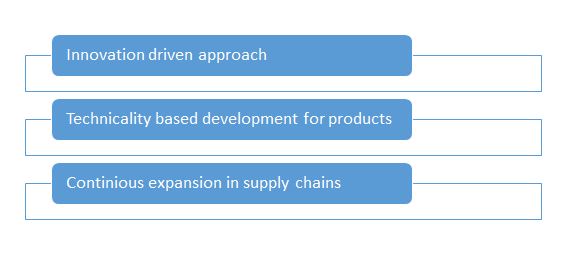 Appendix 4
Value proposition canvas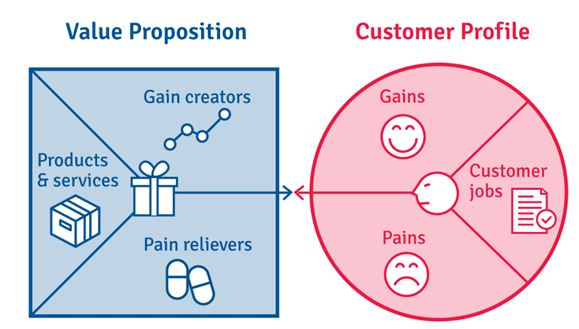 Appendix 5
Brainstorming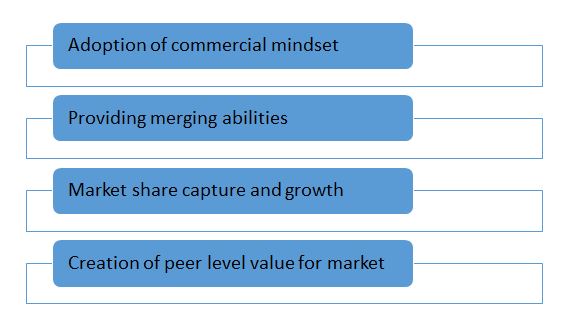 Appendix 6
Business environment map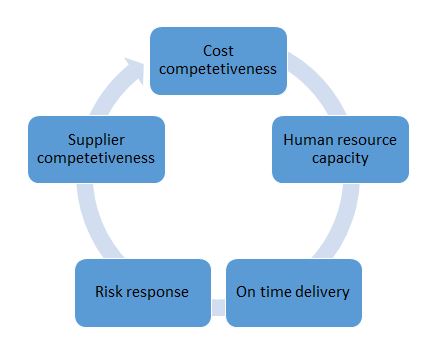 Appendix 7
Business model canvas
Key Partners

· Supply chain management companies

· Business customers

Key Activities

· Manufacturing of products

· Sales and service of products

Value Proposition

· Availability of innovative products

· Real time customer support system

Customer Relationships

· Customer support systems

Customer Segments

· Customers using electronics

· Young generation customers

Key Resources

· Artificial intelligence

· Strong research and development system

Channels

· Social media

· Website promotion

· Video advertising

 

Cost Structure

· Product sales

· Investments

Revenue Streams

· Retail outlets for products

· Online sale through different ecommerce platforms
Appendix 8
Customer journey