Retail Management Assignment: Futuristic Changes In United Kingdom's Retail Industry
Question
Individual Assignment
The changing face of retailing: How department stores and discount stores are evolving. This report should cover the historical development of department stores and discount stores in any country of choice. Obviously you would start by defining both of these types of retail institutions and then describe what merchandise they carry and how they market to distinct types or market segments of retail customers. You may like to discuss mergers, diversification and downsizing in your assignment, as well as cost containment and value-driven retailing being driving forces behind the evolution of these institutions into the retail outlets of tomorrow. Do you think retailing will be different in 5 years' time, or in 10 years' time? Why— what do you think will make these types of store different? Do you think there will be other types of stores that will open up in different markets? Use examples wherever possible to substantiate your opinions in the report. In your answer you also need to refer to the wheel of retailing concept, and the retail life cycle. You will also discuss ways in which shops assemble their merchandise for consumers, such as scrambled merchandising.
Answer
Executive summary
This study focuses on elaborating the development of retail companies. A brief history of retail companies has been discussed and new changes and modifications that are taking place have been outlined considering the United Kingdom's retail industry. Value-based costing and cost containment have been briefly explained and along with that, efforts have been put to explain the importance of merchandising in retail companies. This assignment provides a brief knowledge of the futuristic changes that are going to take place. One can gain knowledge about how the retail organisations are going to devise strategies to cope with the changes, satisfy the constantly changing consumer demand and achieve the best business outcomes.
Introduction
The retail industry in the United Kingdom is the largest private sector employer, with a large number of brick and mortar retail outlets in the United Kingdom. Currently, according to several reports, the retail industry of the UK has generated nearly £358 billion dollars in revenue. There have been many changes recorded in the industry and in upcoming years, some more significant ones are expected to be witnessed. This study includes information about the history and development of the retail industry in the recent past. Many facts and data have been discussed about the different areas of the retail industry. A major focus has been given to outlining the significant changes that are expected to take place in the industry.
Main Analysis
1. Historical development of departmental stores and discount stores
Harding, Howell & Co in London is reportedly the first official departmental store in London, which opened in 1796 (Jones and Tadajewski, 2016). Department stores very soon observed a huge growth in their customer base, as they became an everyday place to visit throughout the country. The same trend was observed in other countries as well. In the US, the first department store that was ever established was Arnold Constable in New York in 1825. Initially, women were considered as prime customers for a departmental store. However, since the initial days of the establishment of departmental stores, the fundamental idea of the store has changed drastically. Today departmental stores contain everything to offer something to everyone. A departmental store is considered as one of the major pillars of the retail sector along with shopping malls, independent stores and more. Departmental stores sell a broad range of products and goods. All products are well organised in departmental stores into different categories to assist customers to find products easily. It is also easy for store managers to use the available space more defectively.
Departmental stores vary a lot depending upon the target customers of the store, products that it intends to sell and many more criteria. However, generally departmental stores include products ranging from shoes, menswear, handbags, womenswear, childrenswear, technology, grocery, electronic and electrical appliances, home appliances, beauty products, computer accessories, toy, gifts and more. Generally, department stores offer a high range of branded products, but some have also begun to offer their own products. Different departmental store brands have initiated their own chain of stores at separate locations around the United Kingdom and the country as well (Lee and Kim, 2017). Major departmental stores in the United Kingdom include Harrods and Liberty in London is unique and stand-alone stores. Purpose of a good department store is to satisfy customers and cater to all their needs so that they do not find the need to go anywhere else. Departmental stores were created with the aim to offer everything under one roof. As time passed, managers also equipped stores with one or more restaurants and toilets in order to encourage customer to spend more time in the store. Later the concept of delivery at doorstep began being included as an additional feature of departmental stores.
The design is an essential characteristic of department stores because it can influence several other factors associated with the customer decision-making process (Ziliani and Ieva, 2015). Many brands have their iconic department stores build in well-known heritage buildings, for example, Selfridges. For instance, many departmental stores boast innovative interior design from Liberty's ship-timber building to Harrods' exceptional Egyptian Escalator.
Discount stores can be understood as department stores that offer goods at a reasonable price in comparison to other retail stores. The major advantage of Discount stores is that they are able to reduce their prices because of their excellent distribution channels. Some of the largest discount stores have chain stores, which include Wal-Mart, Target and K-Mart. Discount stores can also be categorized as big-box stores, as they grown radically to include everyday products, in cases also including large grocery sections.
2. How retail companies market to distinct types of target segments of retail customers
Cost containment can be understood as a business practice that involves maintaining cost levels of various business activities in order to stop unnecessary expenditure or deliberately aiming to cut expenses to advance profit levels without incurring any long-term damage to the business. This concept has immensely assisted retailers to enhance their capabilities while increasing investments in necessary areas (Bogomolova et al., 2015). Many retail companies use this strategy specifically to hold down its initial strategies due to severe competition from discounters. This assists managers to manage franchise operations, high land costs, volatility of the economy, and aim to amplify productivity. Value-based retailing is a term that is used when prices of products and service are based on the value of the product as viewed from the consumer's standpoint. These way managers are able to identify the perceived value of products, which helps in determining customer's motivation to purchase products. These way managers are a better position to gauge the maximum price that they can charge for a specific product.
Merging is a common strategy that many retail companies use to facilitate their capabilities as well as improve their core competencies. Many retail companies are known to have merged with smaller companies, the basic purpose of this strategy is to add more value to the products and thereby, attract more customers.
3. Will there be any changes in the next 5 years or 10 years, if yes, why?
In the upcoming future, retail industries are expected to experience a radical change in their scope and size. In earlier days, retail industry was all about physical stores, but with the passage of time the retail industries are considered to play different roles, they are seen as brick and mortar, online market store and voice-based research (Monios, 2015). The basic motivating factors are the same for the consumer as they were earlier. The fundamental demand of customers is to look for quality products at reasonable prices. However, with immense technological development, there have been changes or modifications in consumer buying behaviour. Many analysts predict that those retail stores that will allow customers to customise products will enhance their chance of becoming successful (Yin, 2017). There has been an immense increase in the expectations and demands of consumers. Therefore, giving customers this freedom to build and personalise products will not just help them satisfy their needs but also make the whole process of shopping a lot more exciting.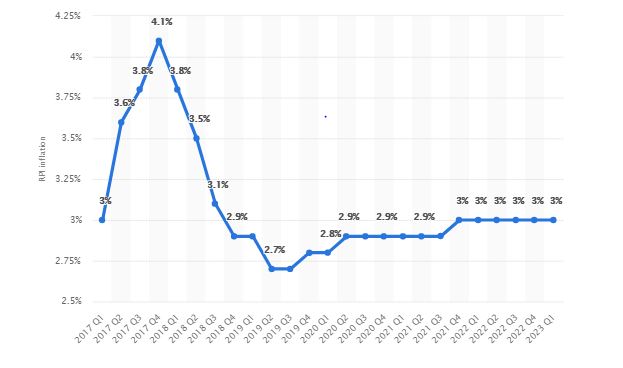 Figure 1: Predicted retail price index inflation in the United Kingdom
(Source: statista.com, 2018)
This above figure shows the predicted Retail Price Index (RPI) inflation in the United Kingdom. The figure provides statistics from the FY17 to the FY23. As per the current analysis, these inflation rates are expected to rise in every quarter throughout 2017 to reach a value of 4.1 per cent in the fourth quarter of 2017. After the peak in the Retail Price Index, it is expected to witness considerable decrease before rising another time in FY19, which is then expected to rise continuously until the first quarter of 2023.
Other changes that are expected to be witnessed are increased use of robots to deal with customers. As per the reports, many big players in the retail industry report that robots will play a major role in supporting retail operations. For instance, large corporations such as Amazon are increasingly investing for the inclusion of robots. As per the recent reports, robots are expected to be present online as well, in the form of chatbots. There will be an increased focus on using social media sites such as Facebook and other messenger apps. This expected to bring changes in the way retailers to interact with customers. Increased use of augmented reality and virtual reality will become more prominent. These technologies although present, in recent days, are expected to become more sophisticated. The traditional concept of containing all products under one roof will face extinction, as retailers will adopt a variety of store formats to cater to the different needs of customers. Many analysts predict that customers will very soon observe this trend, while few retailers may execute formats that are more creative (Nagle and Müller, 2017).
Wheel of retailing: This can be understood as a hypothesis regarding the pattern that is commonly observed in retail development. As new retailers, enter the market they use low margin, low status and low price tactics to improve their facilities and grow their market share (Worrall and Newman, 2015). The wheel of retailing is also known as a retail wheel, which describes how new retailer start with reasonable prices and passage of time gradually increase their prices as they become established.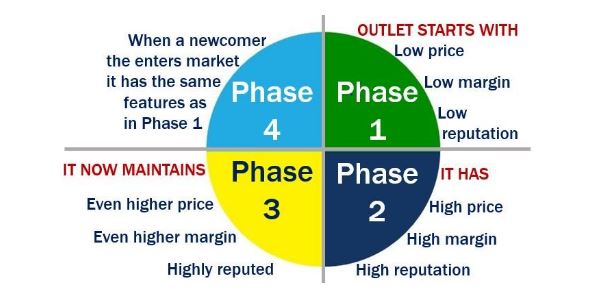 Figure 2: Wheel of Retailing
(Source: Worrall and Newman, 2015)
The retail life cycle : This is a theoretical concept that explains the changes in retailing outlets through time. Many analysts claim that retailers witness S-shaped development through their economic life. This is an essential concept as it helps to identify the business in terms of life cycle stages, which is crucial for avoiding issues and continuing high customer flow. This concept can be applied in the context of new technology changes that are expected to revolutionise the industry very soon. This cycle includes four phases, which are introduction stage, growth phase, maturity phase and decline (Brancoli et al., 2017). During the introduction stage, store managers incorporate an innovation in the business. Store managers can also use this stage to revive their falling business and begin their journey once again from the initial point. The growth stage involves a slight increase in their profits and number of customers. The major step is to constantly innovate and keep introducing new products and services. Maturity stage is an advanced stage in comparison to the growth phase, in which business witness higher increase in their profits and established a name in the market. The last stage shows a decline in profits and decline in a number of customers visiting the departmental store, majorly when companies fail to innovate and introduce fresh ideas (Yu, 2017). As new entrants entire the market, they experience the same phase or stage.
4. Ways in which shops assemble their merchandise for customers, such as scrambled merchandising
In the retail industry, merchandise is a classification that is used to categorize the entire industry by the type of products and services offered this often includes automotive parts, shoes, and jewellery and grocery items. Store managers view merchandising as both an activity and a strategy to boost the sale of products and services. The primary purpose of merchandising is to stimulate awareness or otherwise entice customers to buy more products. This includes promotional deals and discounting methods. Retail merchandising helps store managers to pull the attention of customers towards specific products and services. This includes actions and tactics to improve the design of the store, select specific merchandise to cater to the needs of target audience, and executing the physical and digital marketing to sell products to consumers (Judd et al., 2015). Promotional merchandising refers to practices such as striking promotional displays featuring familiar celebrities. Retail companies often also use licensing agreements to establish a link between retailers and entertainment companies, thereby attracting a younger population.
Scrambled merchandising can be understood as a situation in which retail companies offer their customers a mix of distinct products that do not comprise of goods, which was initially the focus of the company. The basic concept behind the scrambled merchandising is to follow a scattered product management approach. However, it is often observed to have a negative impact on customers, as this practice may result in confusion among consumers, as they may not understand the sort of products the retailer wishes to offer.
Conclusion
The above study has supremely assisted to understand the history of departmental stores and discount stores. This has greatly added to the knowledge about the retail industry and provided an opportunity to realise the number of changes that have occurred in recent past. Wheel of retailing is a concept that shows how new retail companies try to build their footprint and later as they mature, managers increase the prices of goods. The retail life cycle is an S-shaped graph that contains four stages. New changes that are expected to change the landscape of the retail industry and few trends predicted to be experienced in the future are discussed in-depth.
Reference list
Bogomolova, S., Dunn, S., Trinh, G., Taylor, J. and Volpe, R.J., 2015. Price promotion landscape in the US and UK: Depicting retail practice to inform future research agenda. Journal of Retailing and Consumer Services, 25, pp.1-11.
Brancoli, P., Rousta, K. and Bolton, K., 2017. Life cycle assessment of supermarket food waste. Resources, Conservation and Recycling, 118, pp.39-46.
Jones, D.B. and Tadajewski, M., 2016. The study of British retail history: progress and agenda. In The Routledge Companion to Marketing History (pp. 179-196). Routledge.
Judd, L.L., Varzandeh, J. and Vaught, B.C., 2015. Product Strategies and the Perceived Competitive Situation: Do They Affect Retailer Profitability?. In Proceedings of the 1989 Academy of Marketing Science (AMS) Annual Conference(pp. 483-487). Springer, Cham.
Lee, G.H. and Kim, S.C., 2017. The Growth Strategy of Retail Companies: Focusing on New Stores Expansion of E-mart. ?????? (IJIDB), 8(1), pp.15-22.
Monios, J., 2015. Integrating intermodal transport with logistics: a case study of the UK retail sector. Transportation Planning and Technology, 38(3), pp.347-374.
Nagle, T.T. and Müller, G., 2017. The strategy and tactics of pricing: A guide to growing more profitably. Routledge.
statista.com (2018). UK RPI inflation 2017-2023 | Forecast. [online] Statista. Available at: https://www.statista.com/statistics/374890/retail-price-index-rpi-forecast-united-kingdom-uk/ [Accessed 24 Aug. 2018].
Worrall, S. and Newman, A., 2015. Wheel of Retailing. Wiley Encyclopedia of Management, pp.1-1.
Yin, Y., 2017. Design for Future: Retail Frontiers.
Yu, T.Y., 2017. The Evolutionary Profile of the Composite Retail Industry: Perspectives of Industry Life Cycle and Business Ecosystem.
Ziliani, C. and Ieva, M., 2015. Retail shopper marketing: the future of promotional flyers. International Journal of Retail & Distribution Management, 43(6), pp.488-502.