Research Proposal Assignment: Implementation of SDG 9 in Wesfarmers
Question
Task: Write a detailed research proposal assignment on the topic "The implementation of SDG 9: Industry, Innovation and Infrastructure within Wesfarmers".
Answer
Introduction to Research Proposal Assignment
Wesfarmers is known as one of the largest companies mainly associated with the agricultural industry and based in west Australia. In 1914 this company had started its business venture as a farmer's cooperative (Aristi Capetillo, 2020).Wesfarmers has grew its business throughout their history and they also got involved with many other businesses such as they handle supplies of general merchandise, appeals, energy production, fertilizer and chemical production, improvement of indoor as well as outdoor living, etc. With SDG 9 in place, this company in course of its development has implemented many sustainable development goals, such as they have eliminated poverty and hunger by giving job opportunities for many, they maintained good working environment for the good health and safety for their employees and workers, they made contributed in production of affordable clean energy, other than that they also focused in the improvement of the industry, included advance technology and innovation, they also gave importance in to creation of strong infrastructure, etc.
Aim
The research aims to investigate the importance of SDG 9: Industry, Innovation, and Infrastructure within MNCs in regards of Wesfarmers in this context.
Objective of the project
To investigate the strategic aspects of SDG 9 presently being implemented by Wesfarmers for sustainable development.
To assess the long-term impact of the SDG 9 industry-based operations on Wesfarmers.
To identify the strategic solutions to be accomplished by Wesfarmers on implementing SDG 9 broadly within the business operations.
Literature review
One of the key factors that Wesfarmers is been giving importance for creation of a healthy working environment from the initial phase of their business (Hunt & Eburn, 2018). The healthy working environment was expected to provide proper nourishment to their employees as well as workers that can help them to achieve their full potential of working. Wesfarmers strongly believe in the scientific way of growth as they invest heavily in hiring experienced supervisors, consultants, employee support team, human resource managers for making for making their employees more capable of tackling issues and completing their jobs with more competency (May et al., 2019). The management team of Wesfarmers regularly run diagnostics for finding issues and they run regular monitoring on the allover performance of the company that includes financial, employee, workers, suppliers, marketing, and advertising performances.
Wesfarmers always gave importance to the diversity management as it helped them a lot in tackling issues regarding the risks of diversity. They have successful eliminated the risks regarding discriminatory thoughts in the working environment. The SDG 9 diversity management aspect has resulted in significant improvement as it made employees safer around the working environment, increased in beneficial collaboration, built strong communication and coordination among various functional bodies, functional as well as nonfunctional resources of the organization (Sacks et al., 2020). With the implementation of SDG 9, the management team of Wesfarmers also helped in achieving competency forthe organization as they organized the resources well, they implemented strong leadership in different levels of the organization, increased the coordination and communication among the various functional bodies etc. Positive contribution of the managers has contributed in making a strong infrastructure of the organization.
Wesfarmers always aims to give importance to our environment as they invest heavily in the department research and development to find the needs of the environment and significance of them.Organization implementing SDG 9 has always contributed in providing and developing creative and innovative ideas of clean energy production. Wesfarmers hasrecently introduced Coregas and that will be the country's first refueling chain for heavy vehicles that will be serving hydrogen fuel cells (Schauer et al., 2020). Calculated results can show that hydrogen fuel cell can reduce the carbon footprints or carbon biproduct production by 40 percent. However, hydrogen cell as alternative fuel is costly but fortunately Wesfarmershas always beenprivileged with involvement of so many investors and stakeholders. Other then the alternative fuel this company kept their steady rate of innovative ideas with the help of research and development. Recently they also shifted into production of biodegradable packaging as it was some of the positive outcomes of their research regarding the chemicals.
In the field of chemical and fertilizer productionbusinessWesfarmers are aiming to thrive as it will contribute a lot for the agricultural industry as well as pharmaceutical industries of Australia. The CSBP Fertilizers are the producers, importers and distributers offertilizers that are mainly nitrogen, phosphate and potassium based. This company also provides proper soil analysis and consults with the farmers for achieving better results in the agricultural sector of west Australia.With proper analysis on the progress of Wesfarmers it can be said that they are achieving their industrial goals in a steady rate by making strategic investments to various sectors of businesses (Thaker, 2019).
On the grounds of SDG 9, Wesfarmers is and always been known for their contribution for the common people as initially it had started its business as a farmer's cooperative and grown along with efficient infrastructure, and innovation. This company has provided a lot of job opportunities for not only the west Australian farmers and workers but workers form many other regions of Australia (Thomas et al., 2019). They have successfully produced many vacancies when people were needy, and they still possessapproximately 220,000 of employees and workers. This company provide good educational nourishment for the employees for not only working for Wesfarmers but for their personal growth too.Wesfarmers has invested a lot for promoting activities of small businesses around Australia, as they appreciate innovative and creative ideas. They invested a lot for establishing startups of the locals.
SDG 9 helps a company toset clear goals from the beginning of their business as they still aim to achieve maximum customer satisfaction through their products. They work on the customer relationship management to gain trust and they also find opportunities via researching the need of their customers. As per records Wesfarmers has approximately 484,000 stakeholders and that is definitely a positive impact of their customer relationship management.
Methodology
In this particular section techniques and methodologies for conduction of this project will be discussed.
Research philosophy
Research philosophy is nothing but the though process and thinking of the researchers regarding the data collection, analysis and consideration of different aspects of the research topic. Research philosophies are divided in main sub-categories and they are such as positivism, interpretivism and pragmatism. For this particular project interpretivism research philosophy is chosen as it is expected to help in proper interpretation of data that is collected for the project and will also help in the thought process creation for having deep understanding of the research topic.
Research approach
Research approach deals with the possible way of condition of any project and it is divided in three sub categories deductive, inductive and abductive. For this project inductive approach is been chosen as it is expected to provide helpin close observation and explanation of the data gathered for the project.
Research design
Research design is the plan for a particular project that is going to be executed for conduction of the project work (Thomas et al., 2019). Research designs can be divided in three sub categories and they are such as explanatory, exploratory etc. In this project exploratory design is been chosen as it is expected to provide detailed analysis about the issue of the project.
Research strategy
Research strategy decides the efficient way of data collection for a research work. Research strategy can be derived in two sub division and they are such as quantitative and qualitative. Here in this project work quantitative research strategy is been chosen as it will provide deep understanding of the topic through pre-published journals, articles and news paper reports.
Data collection
Data collection is one of the main aspects of conduction of research work (Christofi, et al., 2021). Data collection can be divided in two sub-categories and they are such as primary and secondary data collection. Here in this project secondary data collection will be given importance. Secondary will not include any original source of data but pre-published records that are mostly available in journals, news reports etc.
?
Timeline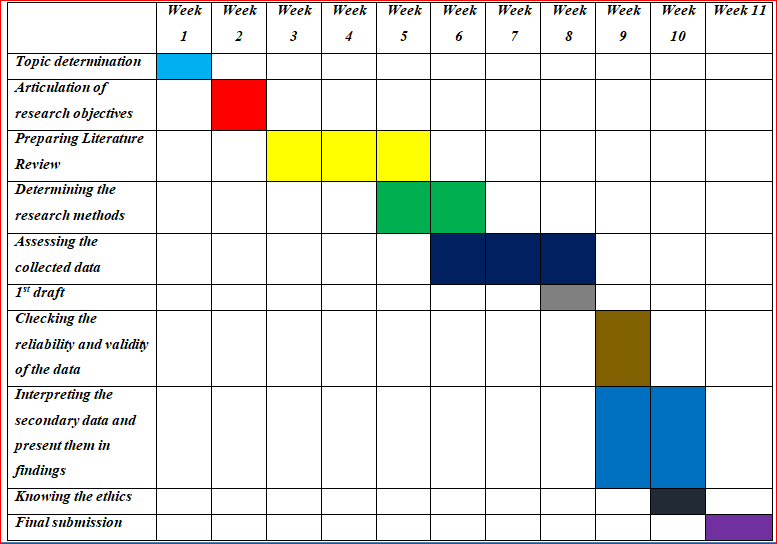 Reference
Aristi Capetillo, A. (2021). Sustainability-Driven Innovation and Financial Performance: How does it pay to be green?. Lup.lub.lu.se. Retrieved 20 April 2021, from https://lup.lub.lu.se/student-papers/search/publication/9020971.
Christofi, M., ?adjielias, E., Hughes, M., & Plakoyiannaki, E. (2021). Advancing Research Methodologies in Management Scholarship. British Journal Of Management. https://doi.org/10.1111/1467-8551.12499
Hunt, S., & Eburn, M. (2018). How Can Business Share Responsibility for Disaster Resilience?. Australian Journal Of Public Administration, 77(3), 482-491. https://doi.org/10.1111/1467-8500.12320
May, P., Tong, S., Steer, A., Currie, B., Andrews, R., Carapetis, J., & Bowen, A. (2019). Treatment, prevention and public health management of impetigo, scabies, crusted scabies and fungal skin infections in endemic populations: a systematic review. Tropical Medicine & International Health, 24(3), 280-293. https://doi.org/10.1111/tmi.13198
Sacks, G., Robinson, E., Cameron, A., Vanderlee, L., Vandevijvere, S., & Swinburn, B. (2020). Benchmarking the Nutrition-Related Policies and Commitments of Major Food Companies in Australia, 2018. International Journal Of Environmental Research And Public Health, 17(17), 6118. https://doi.org/10.3390/ijerph17176118.
Schauer, A., Campbell, A., Arthur, I., Blyth, C., & Bowen, A. (2019). Spotting sporotrichosis skin infection: The first Australian paediatric case series. Journal Of Paediatrics And Child Health, 56(3), 408-410. https://doi.org/10.1111/jpc.14639 Thaker, J. (2019). Corporate communication about climate science. Journal Of Communication Management, 24(3), 245-264. https://doi.org/10.1108/jcom-06-2019-0092
Thomas, L., Bowen, A., Ly, M., Connors, C., Andrews, R., & Tong, S. (2019). Burden of skin disease in two remote primary healthcare centres in northern and central Australia. Internal Medicine Journal, 49(3), 396-399. https://doi.org/10.1111/imj.14222