Public Transport Essay: Appraising New Transport Technologies
Question
Task:
Public Transport: What are the current deficiencies of public transport provisioning for a local government or metropolitan area of your choice, and what transport policy reforms would you recommend that would improve the quality and quantity of public transport services, and increase the modal share of public transport to 30% of all trips over the next 10 years?
Answer
Introduction
The proportion of Australians has been facing several ongoing difficulties in accessing transport facilities, referred to as transport disadvantage. Australians comparatively has higher levels of car ownership, leading to financial stress and other costs related to other purchase as well. Transport issues in urban areas have resulted in intersection factors that are inclusive of poor public transport infrastructure. This can resulted in organising for transport policies and legislations to ensure mitigation of such issues. This public transport essay effectively shades light on the role of a new transport technology for facilitating improvised urban mobility and other government interventions within a selected area of the country. Furthermore, it has also been considered about certain policies that have been regulated for managing public transport in recent year and future aspects.
Discussion
Review the role of a new transport technology or technologies in terms of facilitating improved urban mobility in metropolitan area
A brief overview of the transport-related problems in regional and urban areas
It has been observed that remote and rural areas of Australia have poor public transport services. Australians who have their own means of transport are also facing certain issues like financial stress, maintenance cost, initial cost of purchase, cost associated to fuel and insurance. These afore-mentioned factors also contribute towards transportation issues. However, as per the Australian Bureau of Statistics, it has also been evidenced that Australians who are in the bottom income quintile (9.9%) are much more likely to experience transport difficulties as compared to the top bottom quintile (1.3%). As analysed by Dowling and Kent (2015), specific sub-groups of Australia like families with young children, people suffering from disabilities or indigenous Australians are also trapped by certain transportation issues; this mainly matters for the people belonging to fringe areas or remote places. In the outer-urban areas of Australia, an issue of poor public transport facility has been a great concern towards their daily courses. As per certain statistical tools, it has also been found that Australians living in remote or rural places are deprived from getting appropriate transport services or one-third of the people get proper access to the cars. Additionally, lack of accessibility, proper communication, costs associated to maintenance, services, fuel or insurance are majorly responsible for transport difficulties (Aifs.gov.au, 2019).
However, it is necessary to understand the core relation and intersection between transport and its disadvantages. Transport difficulties are consistent that restrict Australians that helps in understanding the accessibility factors affecting people. People of Australia are socially and non-socially affected and accordingly the nature of the transport difficulty differs. In case of socially disadvantaged people, inability to transport, costs of maintenance and traffic congestion are certain major issues faced by low-income families (Ricciardi et al., 2015). As per the 2006 General Social Survey report, it has been observed that 84% of the Australians think that access to public transport is quite easier. On the other hand, 12% of people feel that getting access to transport is difficult. 4% of Australians find public transport to be very rare to get. In urban areas of Australia, social structural changes is the major factor that makes transport disadvantage in the place very prevalent (Aifs.gov.au, 2019)
Concept of improved urban mobility and the role of transport technologies in the same
With the increasing social and economic growth in Australian cities, the patronage of public transport has significantly risen and has led to certain transportation issues and disadvantages, especially in urban areas of the city. It has also been found that government is taking certain interventions and adopting strategies to mitigate the afore-mentioned issues. It is necessary to ensure about proper public transport infrastructure, services, focus on network infrastructure and pre-defined planning (Xia et al., 2015). However, in places like Sydney, Melbourne, Adelaide, Perth and Brisbane have proper and reliable public transport resources. Melbourne has trams and Sydney has light-rail line. Taxis also operate in major cities of Australia along with pool facilities in the cab, through mobile responsive applications. Australians are found to have lowly thinking in regards to the public transport. As per the Department of Infrastructure, Transport, Cities and Regional Development, it is necessary to have safe, sustainable and efficient transportation system for the continuity of Australian prosperity.
As mentioned in this public transport essay Australian government is struggling for contributing towards the well-being of the people through supporting different transport system (Black, 2018). The aforementioned department is inclined towards assisting the government in preparing a framework and handle the network of public transport through various regional network offices. There are different Australian Transport Infrastructure Programs that is administered by the department. The National Transport Commission (NTC), it was established with the motive of handling and administering the ongoing transport facilities to develop and monitor the uniform consistency that is related to road, intermodal and rail transport (Infrastructure.gov.au, 2019). Australia has now Office of Future Transport Technologies that was announced by the Deputy Minister and Minister for Infrastructure, Transport and Regional Development, this has been developed to support the cohesion with government and other local agencies. It has been claimed by Christensen that Australia has already been a recognised leader within mobility in some areas. There are certain big projects like AIMES testbed in Melbourne and Cubic Transportation Systems NextCity platform in Sydney, used to create a global and innovative government approach (Imovecrc.com, 2019).
Description of the new transport technology that provides urban mobility in the area of choice
Policies like Urban Policy in Australia has remarkably changed the generation of urban transport strategies and thus, it has also been found that almost 43 transport strategies have been adopted for five different largest cities within the country involving Melbourne, Sydney, Brisbane, Perth and Adelaide. In accordance to Yen et al., (2018), this has been adopted due to the public survey conducted and by examining the Dolowitz-Marsh framework; seeking policy transfer was also involved. Such transport policies have prominently changed the transport concept and there was a strong evolution of Australian transport policy in five distinct places. Master Planning, Aspirational Planning and Policy Incrementalism have been different normative forms for supporting the issues of public transport within the concerned country. However, there are several technologies used for enhancing the public transport infrastructure. Australian standards for light and heavy-duty emissions are especially modelled on European regulations that were designed under Australian Design Rules (ADRs). Furthermore, Air Quality Standards was created in the year 1998 and thus, it entirely focused on the six different primary pollutants like CO, O3, SO2, and lead, NO2, PM10, and PM2.5 (Delbosc, 2017).
The Australian Heavy-duty: Emissions is currently focused on the emission control for the vehicles and is designed as per the rule of 80/03. Furthermore, Australian: Fuels: Diesel and Gasoline standard is responsible for determination of the fuel that is consumed by the vehicles of urban and regional areas within Australia. In the year 2005, Composite Urban Emissions Drive Cycle (CUEDC) has been developed for light duty petrol vehicles and this respective cycle was a test cycle for the vehicles and to be a representative to check on the "real world" Australian urban driving including different segments like freeway, congestion, arterial and residential (Transportpolicy.net, 2019). Along with this, there are certain technological regulations that are useful for understanding the necessity to check the emission power of the vehicles; this includes Road Transport Legislation and Regulation, Maritime Legislation and Regulation and Rail Transport Legislation and Regulation (Dessaix and Engel, 2018).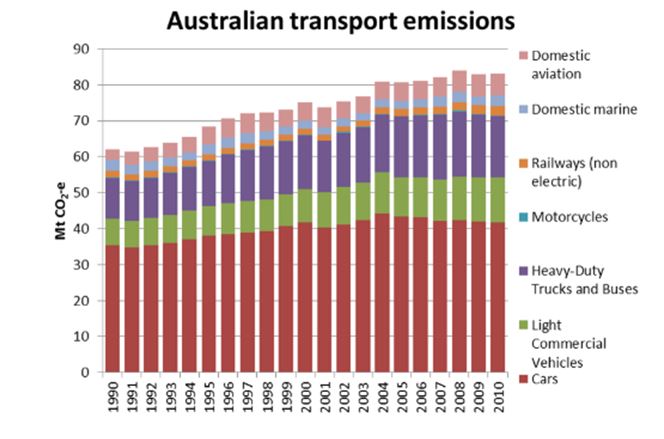 Figure 1: Australian Transport Emission
(Source: Transportpolicy.net, 2019)
What policy options would you recommend to manage and regulate the introduction of transport technology/technologies over the next 10 years?
The necessary transport technologies that needs to be introduced in the scenario within the next 10 years
Apart from the concern of recent years for the emission, it is also necessary for the government of the respective country to adopt certain interventions as well, that can contribute towards the better future aspects for the country. There is certain technological upgradation that includes different legislations and regulations that also ensures about the emission procedure of the vehicles. For instance, considering the Road Transport Legislation, this provides information in regards to the vehicle standards and different regulations that leads to the achievement of the governmental interventions (Stanley and Mactaggart, 2017). Under the RTL, there are certain other regulations as well, Australian Road Rules ensures about regular upgradation of the rules and other legislations. This can also be assertive for the Australians in maintaining the standard of the public transport standard. It is necessary for each of the state to adopt the concerned rules and regulations for future developments. The regulation is accepted with certain and minor exceptions in order to bring in consistency within the state and the country. Furthermore, the National Transport Commission, is also responsible for determining the maintenance of the Australian Road Rules and also ensure that the rules and regulation on regular basis. Other enforcement authorities are involved in the concerned process and this is exclusive of the public consultation.
Apart from the abovementioned regulation, there are other regulations as well, this includes the Heavy Vehicle Regulation, this is mainly focused on the coverage of all the heavy vehicles that commences from Queensland, New South Wales, Victories and Tasmania and thus, is over 4.5 tonnes. This respective law is inclined towards maintaining the standard of the vehicle, mass dimensions, fatigue management and loadings. There is an Intelligent Access Program, where the heavy vehicles and on-road enforcement (Brown et al., 2017). The ACT is responsible for complying with the rules and regulations that are responsible and thus, can be effectively used in the future after updations. Furthermore, on the basis of the law, there are certain recommendations that are provided by the authorities for future development. For future development, Transport and Infrastructure Council, would agree towards the improvement and safety strategies and also adopt OSOM access and let it be a national priority. This process can also be effective for analysing the safety and productive access within the country (Infrastructure.gov.au, 2019)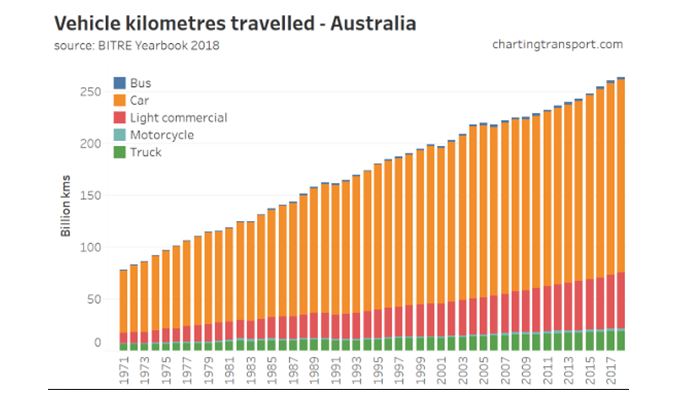 Figure 2: Vehicles kilometres travelled-Australia
(Source: Infrastructure.gov.au, 2019)
The institutional and political context in which policy is made
It has been observed that Australia has been facing certain social structural changes. Majority of the transportation issues have been arisen for people of outer-urban areas and some of the people might also face issues regarding the transportation access. There are certain rules, regulations and legislations that help to enhance the political condition of the public transport services. Transport Safety Investigation Act 2003, states about the power of best practices in the context of aviation and marine modes of transport and the principles of this act can also be applied to rails. As observed by Ma et al., (2016), the major function is to independently investigate the accidents that take place due to transportation issues. Safety data, records and analysis is also done for fostering safety and awareness for commercial and regulatory purposes. Additionally, Transport Safety Investigation (Voluntary and Confidential Reporting Scheme) Regulation 2012, includes the emergency services organisation that includes police force, services, fire services, ambulance services and other associated services. Other regulations like Civil Aviation Regulations 1988, enforcement policies like Failure of a Responsible Person to Report under Sections 18 and 19 of the Transport Safety Investigation Act 2003 and Failure to respond to a safety recommendation. These policies are made under government interventions and Australian Transport Safety Bureau ensures about the administration of the concerned regulations and the acts that are used for regulating the transport operations. There is a documentation procedure as well that covers the following aspects:
Conduction of independent transport safety investigation by the ATSB
Reporting about safety measures and making safety statements for the people of the country and also stating appropriate recommendations for future aspects
Publication of the investigated results, safety and protection from hazards
There has been upgradation in the regulation that supports safety investigation and also makes transitional arrangements under other legislation (Atsb.gov.au, 2019).
Relevant policy options for managing and regulating the newly introduced transport technologies
In association with the developed economies as discussed in this public transport essay, there has been a decline in transport investments and improved technology that has resulted in stimulated growth of the economy. The current potential for transport policies is useful for boosting the sustainable and inclusive growth of the company. This also is useful for infrastructure investment in urban and rural areas. The inadequate regulations within the transport industry and issues of rising social cost have been a major concern for the people (Osborne and Grant-Smith, 2017). There are various regulations and emerging technologies have altered the ways through which businesses and government interventions rapidly create and modify certain regulations. This can also be useful for letting business flourish. Technologies like SWEEPING, Artificial Intelligence (AI), Internet of Things are certain new ways through which the field of transportation can be enhanced. Regulations like Adaptive regulation, Regulatory sandboxes, Outcome-based regulation, Collaborative regulation and Risk-weighted regulation also plays a major role for further enhancement of the future industry of transportation.
Investments in transportation can be large and transformative in their nature and thus, this can lead to certain unnatural advancements making it head towards structural changes. However, it has been observed that Australia lags behind when it comes to technology and digital skills. As per survey reports, it has been found that Australia is also behind in terms of structural amendments and economical flaws (Sun et al., 2017). This has impacted future performance and living standard of the people and their issues regarding transportation system has also risen to a certain extent. Additionally, there are certain policies that are developed with the intention of reducing risk through unsafe transportation system for the people within the country. It is necessary for the government of the country to introduce regulations and legislation for lessening the emission factor from the vehicles. Nevertheless, the changing and fluctuating weather conditions of Australia have potentially impacted the infrastructure and have caused damage to it. Apart from this, there are several shortfalls that have caused loss and reduction in the revenue as well (Scott et al., 2016).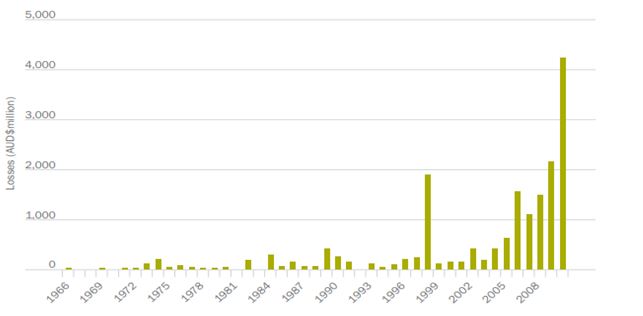 Figure 3: Annual aggregate losses in transport system
(Source: Scott et al., 2016)
The political, economic, environmental, social and financial objectives to which transport policy is directed
Political: Australia can be considered as a political stable country where government can implement its rules and regulations for handling the regulations that are associated with the advancement of the infrastructure of public transport. This also allows the government of the country to handle its transportation operations in collaboration with other countries as well. This can also let Australia to gain economic support from other countries as well (Jain et al., 2018). This country however, shares a close relation with United States and thus, the country is able to criticise over various issues that are associated to the transportation issues.
Economic: Australia is considered the 13th largest economy in the world. The economic trends and global condition has led to a vast opportunity for the development of the transportation sector of the company. Due to the economic stability, the export and import facilities have also been a major opportunity for the country. The regulatory trends of the country and technological trends and innovations have been the major factor responsible for development of the transport facility (Hossain and Johnson, 2018).
Environmental: It has been observed in this public transport essay that transitions of Australian economy have been a broader industry base and thus, there is a less dependency on the resources sector. The level of public transport infrastructure has contributed towards fastening the fiscal environment and thus, this directly affects the employment rate. The country has planned for private motor vehicle travel through which travelling aspects for the people of urban and rural areas can become easier. The under laid graphical representation shows the percentage of costs of public transport through user's payments. The above mentioned factor is also useful for understanding that the economic condition of the country is also useful for making the government interventions stronger and this can also contribute towards providing a proper direction to the regulations and policies associated to transportation infrastructure (Infrastructure.gov.au, 2019)
Social: Australia is one of the most prospering and significant countries in terms of wealthiness, health and appropriate lifestyle. The country comparatively has small range of population, which is of 22.9 million; this supports multiculturalism and multiracialism, people from different countries, people migrate, and this has been a politically sensitive factor for the country. This has made to attract many people; this has majorly being a significant factor for the development of transportation sector. However, it is necessary for the government to ensure about the appropriate transportation services for the people. The facility must be equal for the people of rural and urban areas (Stevenson et al., 2016).
Financial: It is mandatory for the lawful bodies and authorities of the country to ensure that goals for transportation infrastructure is pre-defined and also ensure about meeting the economic, social and environmental aspects for the transportation system.It has been observed in this public transport essay that Better the transportation system, the better the condition of the economy, this can also be effective for understanding the productivity, economic capabilities or global competitiveness (Infrastructure.gov.au, 2019).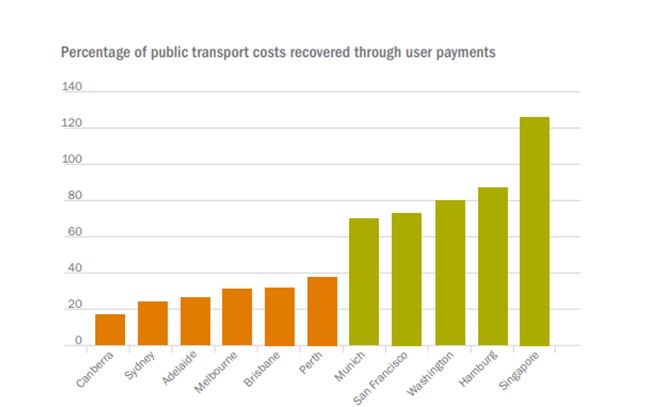 Figure 4: Percentage of Public Transport costs recovered through users payments
(Source: Infrastructure.gov.au, 2019)
Conclusion
From the above public transport essay, it can be concluded that it is necessary for the Australian government to ensure that there are certain appropriate strategies that can help to handle the operations of public transport. Additionally, it has also been stated that the Australian Transport Safety Bureau (ATSB) is an independent statutory agency that is entirely concentrated in developing and facilitating the policies that are made by the policy makers and service providers. However, the public transport essay also highlights the regulations and legislations that are effective towards handling public transportation services. It has also been considered about the certain acts and enforcement policies that are administered by the Australian Transport Safety Bureau. Furthermore, future aspect of legislation on public transportation has also been determined. public transport essays are being prepared by our experts from top universities which let us to provide you a reliable essay writing help service.
References
Atsb.gov.au. 2019. Legislation and regulations. Available at: http://www.atsb.gov.au/about_atsb/legislation/ [Accessed 10 Jun. 2019].
Black, J., 2018. Urban transport planning: Theory and practice. Routledge.
Brown, V., Moodie, M., Herrera, A.M., Veerman, J.L. and Carter, R., 2017. Active transport and obesity prevention–A transportation sector obesity impact scoping review and assessment for Melbourne, Australia. Preventive medicine, 96, pp.49-66.
Child Family Community Australia. 2019. The relationship between transport and disadvantage in Australia. Available at: https://aifs.gov.au/cfca/publications/relationship-between-transport-and-disadvantage-austr [Accessed 10 Jun. 2019].
Delbosc, A., 2017. Delay or forgo? A closer look at youth driver licensing trends in the United States and Australia. Transportation, 44(5), pp.919-926.
Dessaix, A. and Engel, A., 2018. Community Insights to Inform the Policy Positioning of Junk Food Marketing Reform in NSW, Australia.
Dowling, R. and Kent, J., 2015. Practice and public–private partnerships in sustainable transport governance: The case of car sharing in Sydney, Australia. Transport Policy, 40, pp.58-64.
Hossain, A. and Johnson, L., 2018, December. Relationship between income and commuter use of public transport in Australia. In Australasian Transport Research Forum (ATRF), 40th, 2018, Darwin, Northern Territory, Australia.
Infrastructure, Regional Development and Cities. 2019. Road transport legislation. [online] Available at: https://www.infrastructure.gov.au/roads/legislation/ [Accessed 10 Jun. 2019].
Infrastructure.gov.au 2019. Transport. Available at: https://www.infrastructure.gov.au/transport/ [Accessed 10 Jun. 2019].
Infrastructure.gov.au. 2019. Legislation & Regulation. Available at: https://www.infrastructure.gov.au/transport/australia/legislation/index.aspx [Accessed 10 Jun. 2019].
Jain, T., Rose, G. and Johnson, M., 2018, December. Unpacking impacts of car sharing: Insights from a qualitative research study in Melbourne, Australia. In Australasian Transport Research Forum (ATRF), 40th, 2018, Darwin, Northern Territory, Australia.
King, J. (2019). Australia now has an Office of Future Transport Technologies. iMOVE | transport R&D takes on traffic congestion. Available at: https://imovecrc.com/news-articles/intelligent-transport-systems/australian-government-office-of-future-transport-technologies/ [Accessed 10 Jun. 2019].
Ma, L., Kent, J. and Mulley, C., 2016. Transport Disadvantage, Social Exclusion and Subjective Wellbeing: The Role of Built Environment–Evidence from Sydney, Australia.
Osborne, N. and Grant-Smith, D., 2017. Constructing the cycling citizen: A critical analysis of policy imagery in Brisbane, Australia. Journal of transport geography, 64, pp.44-53.
Ricciardi, A.M., Xia, J.C. and Currie, G., 2015. Exploring public transport equity between separate disadvantaged cohorts: a case study in Perth, Australia. Journal of transport geography, 43, pp.111-122.
Scott, N., Hart, A., Wilson, J., Livingston, M., Moore, D. and Dietze, P., 2016. The effects of extended public transport operating hours and venue lockout policies on drinking-related harms in Melbourne, Australia: Results from SimDrink, an agent-based simulation model. International Journal of Drug Policy, 32, pp.44-49.
Stanley, H. and Mactaggart, R., 2017, November. The context of airport governance in Australia: a national case study comparison. In Australasian Transport Research Forum (ATRF), 39th, 2017, Auckland, New Zealand.
Stevenson, M., Thompson, J., de Sá, T.H., Ewing, R., Mohan, D., McClure, R., Roberts, I., Tiwari, G., Giles-Corti, B., Sun, X. and Wallace, M., 2016. Land use, transport, and population health: estimating the health benefits of compact cities. The lancet, 388(10062), pp.2925-2935.
Sun, Y., Olaru, D., Smith, B., Greaves, S. and Collins, A., 2017. Road to autonomous vehicles in Australia: an exploratory literature review. Road & Transport Research: A Journal of Australian and New Zealand Research and Practice, 26(1), p.34.
Xia, T., Nitschke, M., Zhang, Y., Shah, P., Crabb, S. and Hansen, A., 2015. Traffic-related air pollution and health co-benefits of alternative transport in Adelaide, South Australia. Environment international, 74, pp.281-290.