Project Management Assignment: Risk Management Assessment for Tilt Renewables
Question
Task: This project management assignment is made up of two parts: Part A: Students are asked to imagine they have been engaged by a Renewable Energy (utilities) company to develop a report on key aspects of project risk management and how they might be used in proposed future projects in order to manage and limit risk. The report should begin with a short executive summary and conclude with several, short general recommendations. The content you include in the report should link the project management principles detailed below with the practices of the renewable energy company you have been allocated.
The topics on which students need to make recommendations in their report include:
i) Project selection – How should the company you select determine what projects to undertake and what ones to avoid? What tools, measures, and practices are available to project analysts in this industry?
ii) Cost management – What is the role of project cost management for your chosen company? Why is it important? What strategies or approaches should the company you have chosen adopt in order to effectively manage project costs?
iii) Financing – What financing measures or options are generally available to assist companies like the one you have chosen to fund proposed new projects? The report should include reference to any implications associated with different funding types or models.
iv) Implementation and winding up – Are there any particular issues associated with commencing a project that your company must consider? Why are they important? Who do they impact or affect? What happens when the project finishes? How are projects wound up? Do they just end or are there resource or infrastructure considerations? Are there environmental issues associated with the end of a project?
PART B: Consider the following three sources and answer the following questions directly. You do not need to write a lot for each question and for some you will need to use excel calculations. Submit you excel spreadsheet together with your report in the separate submission inbox on the assessment table.
Source 1: Tilt Renewables Snowtown North Solar Energy Farm https://www.tiltrenewables.com/assets-and-projects/Snowtown-North-Solar-Energy-Farm/ Source 2: Tilt Renewables (TLT.NZ) Yahoo Finance https://au.finance.yahoo.com/quote/TLT.NZ/ Source 3: Tilt Renewables Financials https://au.finance.yahoo.com/quote/TLT.NZ/financials?p=TLT.NZ
You have been employed as a project manager by Tilt Renewables and asked to evaluate a solar farm project at Snowtown run by Tilt Energy.
You have been asked to evaluate whether Tilt Renewables should undertake the Snowtown North Solar Energy Farm based on the above sources. Assume this project has not yet been approved.
• Assume this is a twenty-five-year project.
• Consult source 1 for the estimated initial outlay/investment today (year 0)
• The investment will be depreciated on a straight-line basis over twenty-five years to 0 book value. It is estimated that the solar farm can be sold at the end of year 25 for $10 million.
• The solar farm will sell $15,000,000 worth of electricity each year into the grid from year 1-25
• Operating expenses for 25 years are $5.50 per solar panel per year.
• The tax rate is 30%. All cash flows are annual and are received at the end of the year. The discount rate is 10%
a) Based on the above information calculate the FCFs of the project.
b) Calculate the NPV for the solar farm. Should Tilt Renewables undertake this project?
c) Does the NPV take into account the CO2 emission reductions that the project will lead to? Should it take this into account? Why or why not?
d) What is the debt to equity ratio in 2019 of Tilt Renewables according to source 3? How does this compare to other utility companies?
Answer
Part A: Report
Executive summary
The given project management assignment is based on holding an analyzes on the key aspects of project risk management processes and the ways in which a proposed renewable energy generation project by Tilt Renewables would be managed and established in order to reduce the occurrence of risk or any other challenges. The report identifies four basic project management principles such as project selection, cost management, financing, and implementation and winding up activities that are to be taken into account by Tilt Renewables.
Project selection
The company Tilt Renewables should determine the factors such as economy, geography, and ecology in order to identify the renewable energy generation projects that can be taken up in Australia and New Zealand. The project will incur high capital costing and reduces the usage of fossil fuels to generate renewable energy projects successfully. Tilt Renewable must hold accountability to different resources, models, and techniques that will be effective in analysing the projects, which can be taken into account as a part of the renewable energy generation projects. The company must avoid projects, which will incur high costing, and usages of fossil fuels are increased to obtain heat energy and generate electricity. Tilt Renewable make use of a system thinking approach, whichis effective in holding analysis of the wide range of complexity of renewable energy systems calls based on the scientific determinations and developments. It allows in maintaining take stage project opportunities and holds a long-term off take of the output to be obtained. For instance, the company had selected the Dundonnel Wind arm project by holding accountability to system thinking approach (Annual Report 2019, 2020). It leads to collective management and development of system dynamics, which will be defined in the form of methodology and further, allow in holding proper visualization, learn, as well as manage in communication the complex process present in the opting renewable energy generation plants(Tayebi-Khoramiet al., 2019). The given approach to identifying an important plan will be effective in considering the decision processes, planning, construction, as well as operational capacity to develop the new project. Another model that can be used is the MCDA-IP approach that will be effective in holding analysis of ten major steps or activities. These are based on on-site addressing, zoning obtaining, environmental expertise development, existing transmission line generation, securing access to land, measuring the renewable resource, developing scenarios to access capitals, green energy policy in the location where the plant is to be formed and the reliable purchase power or the market(DADDA and OUHBI, 2015). The application of MCDA-IP will be allowing the presence of integrating the life cycle approach in understanding the prospects developing the project and would propose the basic steps needed to design the project successfully.
Cost management
The role of cost management practice in the development of any project is effective in holding an estimation of the project cost, the budgeting and control cost is determined. In Tilt Renewables, the presence of the project cost management process plays the role of defining the objectives of the cost budget that is to be developed and followed in order to avoid the existence of any cost overruns. It is important in keeping away the presence of overestimation of the costs or the underestimation of costs that might incur in the renewable energy generation projects undertaken by the company. The development of the project cost management process in Tilt Renewables is important, as it will allow in developing control on the project-specific cost and the overall business costs. It will be effective for the company to maintain predefined records of the expenses of the business and further helps in taking up auctions for the new projects, which will ensure that the resources and the business operations are effective in managing chalked objectives as well as goals of the company(Tetianaet al.,2018). The approaches, which are taken, into account to hold effective and productive development of cost management are inventory management process, time management techniques, updating the estimated budget through developing successful market analysing and controlling the headcount which will allow in managing the payrolls of the employees working in the new energy regeneration project.
Financing
To assist companies such as Tilt Renewables with getting along with financing measures ensuring the funding for new projects are taken into account, there is the presence of various financial approaches in Australia and New Zealand.The sources of funding are based on the approaches such as:
Government funds: The government funding is provided in the form of programs that allows in proper management of funding strategies in alliance with government body along with any other non-profit or public organisation. The funding amount majorly reaches up to $50 million for more than six years projects.
Grants: The Australian Government encourages the development of renewable energy projects by the provision of grants that ranges from $2,500 to $12,500. These grants are mainly developed for solar panels development, store batteries, solar water systems and many others.
Debts: Debts funds are obtained in the form of fixed interest based security generating funding conducted using corporate bonds, treasury bills, commercial paper and other instruments in the market. For instance, companies such as CEFC provide $127 million debt finance for energy storage projects in Victoria. Shareholders' funding:It refers to the amount of equity obtained in a company that belongs to the personal shareholders of the organisation. The amounts are based on the liabilities present in the company.
The funding options, which are available for the Tilt Renewable, are stated as follows:
Government funding:The government funding option involves different types of programs that have been developed in the form of Advancing Renewables Program, Regional Australia Microgrid Pilot Program, Innovation Fund, and Industrial Energy Transformation Studies Program. The funding measures are mostly based on the ARENA project established by the Australian government which willTilt Renewables to work on established renewable energy generation projectswith technical as well as financial support (ARENA, 2021).
Grants:The Australian government also helps and encourages Renewable energy development companies by providing funds in the form of grants by the federal government under the State government-funding scheme. Any businesses holding the eligibility of maintaining ABN and is an Australian Incorporated agency will be provided with grants of $100,000 to $50 million. Tilt Renewables has successfully managed its investors who are present to support the company financially in the form of shareholders of the company(Grants Assist, 2021). The two most prominent shareholders of the company are Infratil Limited and Mercury NZ Limited.
Implementation and winding up
The issue of project resource utilization along with the cost feasibility lies in the commencing of project. The issue of direct and indirect costs as required in the resource utilization with respect to the labour, capital and the land elements of the production are needed to be monitored in the development phase.
The resource utilization issue is very important due to the direct impact on the company's financial and operational position of the project duration to be successful with the milestones as created in the planning stage.
The lack of adequate resources in the implementation stage while commencing the project makes the full operation comes into halt with non-finished tasks delaying the project objectives being met. The infrastructure required for undertaking the project will have uncertainty within the infrastructure, and it will involve dynamic and complex processes along with elevated risks (Onalaja, et al. 2018).
The projects are wound up with the help of liquidation proceedings as per the Victorian Government law. The meetings with shareholders through expert judgement are carried out and with the help of project charter, the closing stage of the project are monitored through the internal audit team based on the resource utilization rate and the financial considerations.
There are environmental issues related to the effect of winding up stage of the project on the stakeholders like community and the labourers that worked on the project. Specific compensation to be provided for the project contract to the labour used and for the damages incurred are taken into account for the renewable energy projects .
Recommendation
Solar energy is a renewable source of energy that has many benefits and Tilt Renewables can experience significant economic and ecological advantages. The company might face technical, financial, or regulatory barriers, however, implementing sustainable technology will profit the company by drastically reducing the energy bills, operating costs, and generate more profits (Alsharifet al. 2020). The company can expect at least 44% more efficient than the current system. This will further help the organisation as renewable energy provides benefits like reduced pollution, and the company will not have to compete for fossil fuel-based energy resources. The prices will be transparent and the tariffs will be regulated by the government. This will ensure the company has a support mechanism for sustainable development and encourages industry-led initiatives that will benefit the company in the future.
Conclusion
Tilt Renewables must account for certain factors like economy, geographic areas, and ecology in order to invest in the project. The project is ambitious and profitable in the long run only if it generates profits for the company in the long run. This will require them to design good cost management and budget to undertake the project.
Part B
a) Estimation of the FCFs of the project
FCFs of the Solar Project
FCFs of the Solar Project

Particulars

Amount ( in $ )

Amount ( in $ )

Revenue acquired from selling electricity

15,000,000.00

Less: Operating expenses

Cost of each solar panel

5.50

Solar panels production

180,000.00

Total estimated operating expenses

990,000.00

Earnings before depreciation, interest and taxes

14,010,000.00

Less: Depreciation ( working note 1)

3,600,000.00

Earnings before interest and taxes

10,410,000.00

Less: Taxes @ 30%

3,123,000.00

Net earnings after taxes

7,287,000.00

Add: Depreciation

3,600,000.00

FCFs of the project in each year

10,887,000.00
Table 1: FCFs of the project
(Source: Self-created)
Working Note 1: Depreciation per annum

Initial investment

100,000,000.00

Salvage value

10,000,000.00

Yearly depreciation

3,600,000.00
Table 2: Working note
(Source: Self-created)
b) Estimation of the NPV from the solar farm and determining the project's acceptability
From the below highlighted table (Table 3) it is evident that the project has a negative NPV of $255,305.34. This means that the firm will lose value through investing in this particular project. Based on the NPV estimation it can be stated that Tilt Energy should not undertake the project.
NPV of the solar project
NPV of the solar project

Years

FCFs

Discounting

factor @ 10%

PV of the FCFs

1

10,887,000.00

0.91

9,897,272.73

2

10,887,000.00

0.83

8,997,520.66

3

10,887,000.00

0.75

8,179,564.24

4

10,887,000.00

0.68

7,435,967.49

5

10,887,000.00

0.62

6,759,970.44

6

10,887,000.00

0.56

6,145,427.68

7

10,887,000.00

0.51

5,586,752.43

8

10,887,000.00

0.47

5,078,865.85

9

10,887,000.00

0.42

4,617,150.77

10

10,887,000.00

0.39

4,197,409.79

11

10,887,000.00

0.35

3,815,827.08

12

10,887,000.00

0.32

3,468,933.71

13

10,887,000.00

0.29

3,153,576.10

14

10,887,000.00

0.26

2,866,887.37

15

10,887,000.00

0.24

2,606,261.24

16

10,887,000.00

0.22

2,369,328.40

17

10,887,000.00

0.20

2,153,934.91

18

10,887,000.00

0.18

1,958,122.65

19

10,887,000.00

0.16

1,780,111.50

20

10,887,000.00

0.15

1,618,283.18

21

10,887,000.00

0.14

1,471,166.53

22

10,887,000.00

0.12

1,337,424.11

23

10,887,000.00

0.11

1,215,840.10

24

10,887,000.00

0.10

1,105,309.19

25

20,887,000.00

0.09

1,927,786.51

PV of the considered solar project over 25 years

99,744,694.66

Less: Initial cash outlay

100,000,000.00

NPV of the solar project over the period

-255,305.34
Table 3: Project's NPV
(Source: Self-created)
c) Consideration of CO2 emission reductions in the project
From the provided project source, it can be identified that the firm has mentioned that CO2 production can be minimised by at least 85,000 tonnes, which is equivalent to removal of 20,000 cars from the road. However, this can be identified as a qualitative measure and not a financial one. However, NPV only considers the financial benefits that can be derived from a project. Thus, NPV does not take into account the CO2 emission reductions in the estimation process.
However, it should be taken into account as it contributes to achieve the long-term sustainability over the period of time.
d) Evaluation of debt to equity ratio and comparison with peer companies
Calculation Debt to Equity ratio

Ratio

Tilt Renewables

( Amount in thousands )

Infratil Limited

( Amount in thousands )

Mercury NZ Limited

( Amount in thousands )

Turstpower

( Amount in thousands )

D/E ratio

915525 / 684949

3987500 / 1647100

2947000 / 3537000

965530 / 1224403

Total liabilities or debt / Total shareholders' equity

1.34

2.42

0.83

0.79
Table 4: Comparison of D/E
(Source: Self-created)
Based on the estimations provided in above table (Table 4) it can be observed that the D/E ratio of Tilt (1.34 times) is higher than Mercury NZ (0.83 times) and Trustpower (0.79 times). On the other hand, Tilt has a lower D/E ratio compared to Infratil. The industry average can be identified at 1.34 times as well. Hence it can be stated that the firm, Tilt Energy should focus on maintaining or reducing this level as higher debt consideration from this point will enhance the overall financial leverage in the long-term.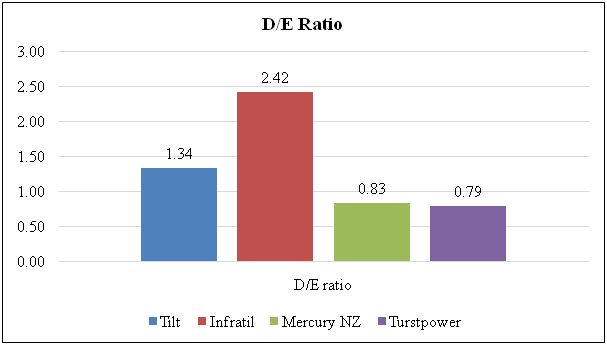 Figure 1: D/E comparison of the firms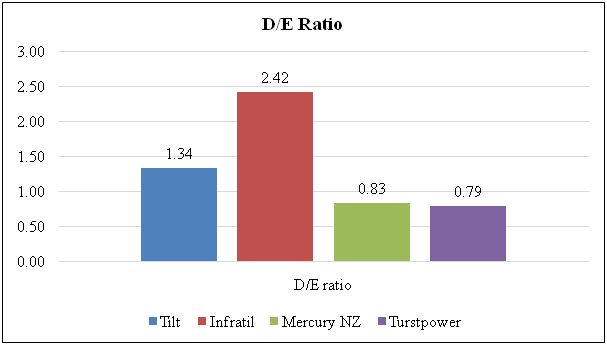 (Source: Self-created)
References
Alsharif, M.H., Yahya, K. and Geem, Z.W., 2020. Strategic market growth and policy recommendations for sustainable solar energy deployment in South Korea. Journal of Electrical Engineering & Technology, 15(2), pp.803-815.
Annual Report 2019, 2020. Investor Information | Tilt Renewables. [online] Tilt Renewables. Available at: [Accessed 15 June 2021].
ARENA., 2021. Funding Opportunities. Retrieved 9 June 2021, from https://arena.gov.au/funding/ DADDA, A., and OUHBI, B., 2015. Selection of renewable energy project using Multicriteria Method. American Journal of Engineering research, 4(10), 30-33.
Grants Assist., 2021. Renewable Energy - Grants Assist. Retrieved 9 June 2021, from https://australiangrants.org/renewable-energy-grants/#:~:text=The%20Australian%20government%20also%20encourages,of%20solar%20water%20systems%2C%20etc.
Onalaja, A., Cheung, W.M. and Samwinga, V., 2018. Identifying Infrastructure project uncertainties during project initiation using system thinking. In Creative Construction Conference 2018 (pp. 537-543). Budapest University of Technology and Economics.
Tayebi-Khorami, M., Edraki, M., Corder, G., and Golev, A., 2019. Re-thinking mining waste through an integrative approach led by circular economy aspirations. Minerals, 9(5), 286.
Tetiana, H., Karpenko, L. M., Olesia, F. V., Yu, S. I., and Svetlana, D., 2018. Innovative methods of performance evaluation of energy efficiency projects. Academy of Strategic Management Journal, 17(2), 1-11.