Portfolio Assignment: Case Scenario of BT Group
Question
Task: You are to create a personal, reflective portfolio of written work and supporting evidence that demonstrates meaningful engagement with the process of finding and securing a graduatelevel placement role. You must use a recognised model of reflection to shape the reflective writing sections. It is acceptable to write in the first person.
Detail:
Introduction – briefly outline the Portfolio's contents and structure and 'set the scene' for the reader.
Section 1 - identify up to two placement goals and then fully justify your choice(s), analysing
and synthesising the range of sources of information that have guided your decision-making. Then, reflect on your choice of placement goals, incorporating the following areas as a minimum:
a) the type of role(s) you are seeking and why;
b) your preferred sector/industry and why, and
c) what part of the UK you wish to work in, and why.
In the Appendix, include evidence of the activities you have completed which support or underpin your choice(s) of placement goal. Evidence might include (but is not restricted to): completion of the CV-builder and Prospects Career Planner; completion of the Skills Selfassessment; a Personal SWOT; attendance at the FBL Placement Fair and/or Employability Fair or other employer liaison activities.
Section 2 – with your identified skills / knowledge in mind, critically evaluate your own engagement in the range of personal and professional development activities available to you to help you reach your goal(s). Then, reflect on how the feedback / outcomes of these activities influenced your subsequent performance in trying to achieve your placement goal(s).
In the Appendix, include evidence of the personal and professional development activities you have completed, and the feedback received over time. Evidence might include (but is not restricted to): proof of development of your online presence; evidence of attending mock or real interviews; communication with organisations or prospective employers; applications you have made; volunteering activities; completion of the Changemaker Life Hack; practicing psychometric tests or other activities you have done to fill identified skills-gaps, plus the associated feedback.
Section 3 – critically reflect on, analyse and evaluate how your own decision-making processes and skills have changed over recent weeks in relation to seeking a placement role in the UK.
Answer
Introduction
This Portfolio development explored in the portfolio assignment will include description on the professional goals, reflection on the placement goals for the identified role as Marketing Manager and Business Operations Manager in the Telecommunication Sector. The company has been selected as BT Group. The selected working place will be in the United Kingdom. The overall structure of this portfolio assignmentwill outline professional goals and justification along with specific information on the role, industry and part of the country that have been outlined as most suitable for staring work. On the other hand, own engagement in the identified personal and professional development activities will also be demonstrated with the example of activities adopted to minimize the weaknesses identified in this course. Development of CV as a part of personal development activity will also be outlined in this section of portfolio assignment. Additionally, this portfolio based on the selected roles and industry standards will also investigate and account the evaluation of the personal decision-making processes and capabilities in seeking placement role in the UK. This section of portfolio assignment will include screenshots of weekly reflective journals for better understanding of the decision-making journey in due course.
Section 1
Application of CPC model in placement goal decision-making
The CPC model outlined in the portfolio assignment has five steps that help individual to assess individual strengths and developing learning outcome that outline career path and opportunities. The career development model (assessment, exploration, preparation, implementation and decision-making) has helped me to identify strengths of my educational background and with this educational background how I will be able to apply in different career paths (Lent and Brown, 2020). After that, I have been learning to identify main placement goals, skills and practicing the interview skills. In the next stage, I have strengthened my job search skills and then at the decision-making stage; I have come with the main placement goals that are connected with my selected working sector and roles in the BT Group. The placement goals are mention below within this portfolio assignment;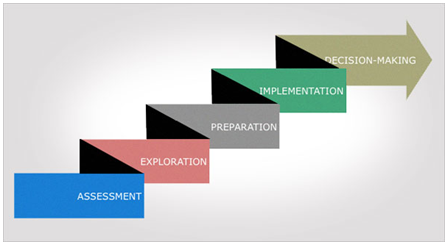 Figure 1: CPC model of career planning
(Source: Lent and Brown, 2020)
Identify up to two placement goals and justification
The two placement goals are listed below within this ;
As marketing manager in BT Group of mine is connected with learning and developing skills in web analytics and creative ideas for better advertisement projects
As a Business Operations Manager in BT Group is that I would like to develop my monitoring, building processes and negotiation skills in the company for managing works for achieving business needs
Justification on placement goals
In Telecommunication companies, the role of a marketing manager demands expertise in developing marketing campaigns, building strategic partnerships with main industry players, monitoring marketing budget and other operations (Rashidiradet al., 2017). As a business operations manager, it is necessary to track business performances, evaluating performance KPIs, building goals around different department are required (Nushtel.com, 2020). Therefore, observation, development of processes and effective negotiation among different operations and management of the department in the company are the priorities here (Hachichaet al., 2016).
Reflect on the choice of placement goals
a) What type of roles you are searching and why?
The roles as a marketing manager and business operation manager, I am seeking are listed below within the portfolio assignment;
Developing strategies for effective performance and promotion of company services
Tracking consumer satisfaction and sales forecasting and planning to make sure effective profit and sales of the service line
As a business operations manager; my goal is to manage long and short-term plans and budgets, and grow abilities for measuring CPR, construction for communication and others
Justification: As identified in the above context of portfolio assignment the roles and responsibilities of a marketing manager and a business operations manager differ from industry to industry (vomBrockeet al., 2016). Managing overall business processes and promotional, sales operations; these skills are the basic areas that every telecommunication companies want in marketing and business operations manager nowadays (Girchenkoet al., 2017).
b) What is the preferred sector and justification?
I prefer to work in the telecommunication industry in the UK. As per the industry outlook, UK's telecommunication industry still manages to be one of the leading in Europe. With the advent of 5G technologies and communications; this industry is trying to map and develop their potential for better operations management and needs effective expertise and skilled people in their industry in future years (Clòet al., 2020). On the personal level, as I have achieved educational degrees in marketing and business management field, implementing by knowledge and practical experiences in the fast-developing telecommunication industry would also help grow my employment abilities and career path in future (Maralet al., 2020).
c) In which part of the country you are interested to work and why?
My preferred working location in the UK is London. It could be said in the portfolio assignment that London is the place in which major leading organizations are situated with an effective communication and transportation facilities as well as the capital's corporate technology base is something to behold (Hanna and Lyons, 2017). Therefore, career development opportunities are high in the capital compared to other states and locations around the UK. On the other hand, BT Group headquarter is also situated in the capital, which is also a chance to start work in the main branch effectively.
Section 2
Judgementallyassess your involvement in the choice of personal and professional development actionsaccessible to you to aid you attain the goal(s)
The skills that I felt need to develop are listed below;
Effective communication and teamwork
Strong customer and service knowledge
The capability of multitasking
Skills in technologies and web analytics
Skills to the strategic management of sales analytics, finance and business processes
For personal development SWOT analysis and EDIT personal development framework have been applied. Results and analysis of these activities are listed below within this portfolio assignment;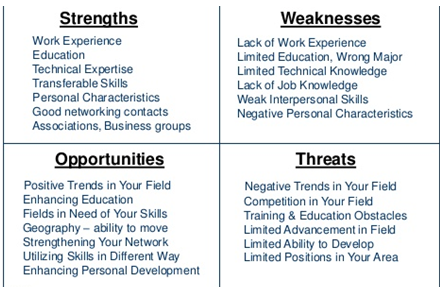 Figure 2: Personal SWOT analysis
(Source: Created by the Learner)
Through SWOT analysis performed in this portfolio assignment; it has been underlined that technological knowledge, good working communications, effective operation transferable skills are present in me. On the other hand, I am lacking specific work experience in the industry with weak interpersonal skills and limited practical education on business operations management. It could be said that these weaknesses are increasing temporary challenges in training, position and competition at workplaces (Cimatti, 2016). It could also be stated that this personal development activity has helped in identifying that exercising on the skills, and good networking skills will help in limiting the challenges in training and help in developing the technical skills that marketing manager and business operations manager need in the telecommunication sector.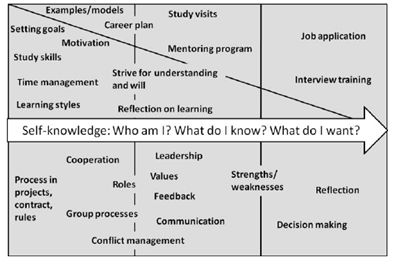 Figure 3: EDIT personal development framework
(Source: Created by the learner)
From the above personal developmental activity mentioned in this portfolio assignment, I have understood that taking education in respect to marketing, technology and business administration would be effective for future career direction and individual development in the telecommunication sector. On the other hand, it has been seen that in the initial phase, setting goals, study styles, time management have jointly motivated in developing group processes, co-operation skills and conflict resolution (Cumberland et al., 2016). Additionally, later interview training has also leveraged decision-making skills in me, which are necessary for the professional goals that I have identified earlier.
Development of CV as a personal developmental activity
Recording individual development could assist in a better understanding of the current skills and personal deficits that needs to be corrected. Keeping or developing a CV is useful for personal skill identification and this is considered as one of the professional documents that could be presented to the employers. In developing the CV, I have accounted that technical and business administration skills that are specifically needed to be developed for better placement and for achieving my proposed job in the company (Phillips et al., 2019).
Professional CPD application
(Model is listed in the Appendix)
While understanding the importance of CPD for continuous professional development, I have understood that there are different levels through which I could ensure better professional development. Apart from the in-service training, I have identified from the analysis on portfolio assignmentthat experimental learning, networking, supervision qualities, self-directed practices; such as attending workshops and reflective practices for networking skill development are necessary at this level (Phillips et al., 2019). On the other hand, as per future professional skill development goal; I have identified that transferrable capability enhancement through engagement in strategic projects and departmental works in the company is necessary (Phillips et al., 2019). These activities alongside will help in increasing communication, team working and building strategic decisions as a business operations manager and as a marketing manager.
Provide reflection on how the responses/consequences of these actions impacted your following performance in trying to attain your placement goal(s) Application of Gibb reflective model would be effective in pointing out how assessment influenced in subsequent performance in trying to attain the placement goals.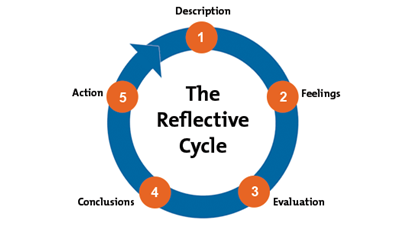 Figure 4: Gibbs reflective cycle analysis and application
(Source: Pullman, 2018)
I would like to mention in this portfolio assignment that I have been able to point out what I need to do for strengthening the skills that I already have and how I should align them with the professional requirement in the telecommunication sector and operations (Pullman, 2018). On the positive side, opportunities for starting a career on the telecommunication sector is on-line as I have basic skills; however, attending to interview training, workshops for technical skills training, business administration knowledge would take some time investment (Pullman, 2018). On reflection, I have realized the fact that personal skill analysis and professional objective setting as per the core needs of telecommunication sector works should be done first. This has impacted on my subsequent performance by slowing down the progress somehow for identifying the specific needs and skills that are lacking (Pullman, 2018). Though, motivation and confidence level in me have developed effectively.
Section 3
Effectively reflect on, examine and assess how your decision-making procedures and skills have altered over current weeks aboutlooking for a placement role in the UK The assessment of weekly journals attached in the appendix of portfolio assignmentand has been based on the decision-making process and placement goals. The reflective journals have included week 2 and week 3 reports and, in this section of portfolio assignment,assessment of the decision-making process will be done through steps such as reporting, responding, relating and reasoning stages.
Detail weekly report and journal report are attached in the Appendix C
Assessment of second week's reflective journal and decision-making assessment

| | |
| --- | --- |
| Reporting | The decisions applied with regards to the placement goals are connected towards the skills I need to develop as a marketing manager and the core responsibilities such as business process, negotiation skill developed. I have decided to attend workshops and training courses for developing these skills in future. |
| Responding | The decision-making has been impacted after application of personal and professional development models. It has been identified in this portfolio assignment that I have several areas and skills as per my placement goals that need to be developed for better career opportunities and credibility. |
| Relating | The changes since the start of the module compared to now could be stated as the decisions regarding personal skills development. The lack in team working and negotiation skills that have been identified have a great influence on the decision making on how I should achieve them and incorporate them for professional placement goals. |
| Reasoning | I have initially started to find and secure a placement through popular online platforms as per my placement goals and work preferences in a specific industry. Currently, after realizing the skills that need to be developed, I have changed the course with expert guidance and finding placements that have professional skill development and training facilities. |
Table 1: Week 2 reflective journal
(Source: Created by the Learner)
Assessment of third week'sreflective journal and decision-making assessment
| | |
| --- | --- |
| Reporting | The decisions applied with regards to the placement goals in this week are focused on developing the on-job skills that a marketing manager and business operations manager needs. One of the priorities herein portfolio assignment is to understand the working process and skill needed in the BT Group. |
| Responding | The decisions have been largely impacted by the professional development activities that I have gone through. These activities have pointed out the professional skills that I need to develop for working in a leading telecommunication organization successfully. |
| Relating | Compared to now, the changes in the decision-making courses have been related to securing a placement with enough professional growth. I have acknowledged the fact mentioned in the portfolio assignment that achieving only working experience in this fast-developing sector is not enough. |
| Reasoning | I have changed the course of finding and securing a placement by moving from student to entering in strategic career fields related to the placement goals. This change in decision-making will help identify various potentials and help in minimizing the weaknesses that I have. |
Table 2: Week 3 reflective journal
(Source: Created by the Learner)
References
Cimatti, B., 2016. Definition, development, assessment of soft skills and their role for the quality of organizations and enterprises. Portfolio assignmentInternational Journal for quality research, 10(1).
Clò, S., Florio, M. and Rentocchini, F., 2020. Firm ownership, quality of government and innovation: Evidence from patenting in the telecommunication industry. Research Policy, 49(5), p.103960.
Cumberland, D.M., Herd, A., Alagaraja, M. and Kerrick, S.A., 2016. Assessment and development of global leadership competencies in the workplace: A review of literature. Advances in Developing Human Resources, 18(3), pp.301-317.
Girchenko, T., Ovsiannikova, Y. and Girchenko, L., 2017.CRM system as a keystone of successful business activity. Knowledge-Economy Society: Management in the Face of Contemporary Challenges and Dilemmas, pp.251-261.
Hachicha, M., Fahad, M., Moalla, N. and Ouzrout, Y., 2016. Performance assessment architecture for collaborative business processes in BPM-SOA-based environment. Data & Knowledge Engineering, 105, pp.73-89.
Hanna, S. and Lyons, K., 2017. 'London calling': The experiences of international social work recruits working in London. British Journal of Social Work, 47(3), pp.719-736.
Lent, R.W. and Brown, S.D., 2020. Career decision making, fast and slow: Toward an integrative model of intervention for sustainable career choice. Portfolio assignmentJournal of Vocational Behavior, p.103448.
Maral, G., Bousquet, M. and Sun, Z., 2020. Satellite communications systems: systems, techniques and technology. John Wiley & Sons.
Nushtel.com. 2020. JOB DESCRIPTION |Telecom Operations Manager. [online] Available at: [Accessed 6 July 2020].
Phillips, J., Fjortoft, N., Nagel-Edwards, K. and Quiñones-Boex, A.C., 2019.Designing a Professional Development Course Sequence to Address Standard 4 Elements Using a CPD Framework. INNOVATIONS in pharmacy, 10(2), pp.19-19.
Pullman, E., 2018. Applying the Framework as a reflective tool: A teacher learner perspective. College & Research Libraries News, 79(8), p.416.
Rashidirad, M., Salimian, H., Soltani, E. and Fazeli, Z., 2017. Competitive strategy, dynamic capability, and value creation: Some empirical evidence from UK telecommunications firms. Strategic Change, 26(4), pp.333-342.
vomBrocke, J., Zelt, S. and Schmiedel, T., 2016. On the role of context in business process management. Portfolio assignmentInternational Journal of Information Management, 36(3), pp.486-495.
Appendix C
Reflecting journal report