Organisational Performance Assignment: Functioning & Cultural Initiatives of Fisher &Paykel Healthcare
Question
Task: Organisational Performance Assignment PART A: You need to select an Australian Publicly listed company/organisation from one of the following industries: Tourism, Media and Entertainment, Healthcare, Mining, Agriculture and Manufacturing. Then, you are required to develop a report framework using a mindmap or similar tool to assist you in preparing your individual report.
Part B: By looking at the organisation/company's website, business articles and Annual Reports, you will be able to see whether it is possible to access enough information about its organisational practices to address the following:
1. Identify how your selected organisation/company is seeking to improve the performance of its workforce? Using at least two (2) performances related initiatives discuss the ways that the organisation/company might measure the success of the initiatives?
2. Identify the key components of the "corporate culture" of your selected organisation/company and using at least two (2) culture-based initiatives discuss how they are trying to improve its culture and how they might measure the success of the initiatives?
Answer
ORGANISATIONAL PERFORMANCE ASSIGNMENT
PART A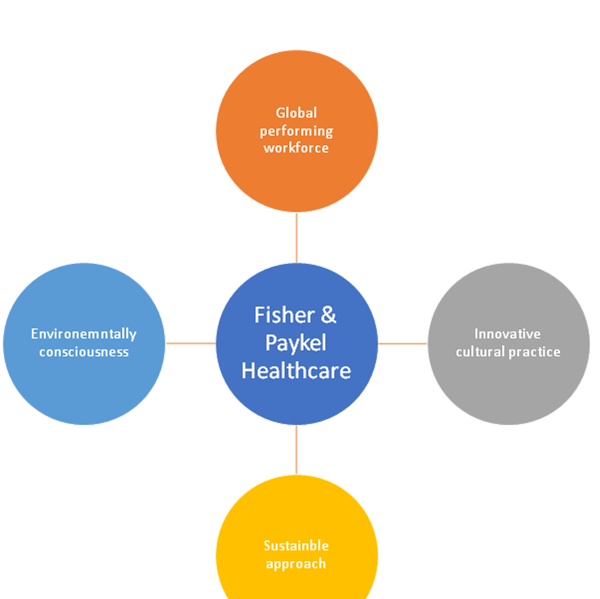 PART B
INTRODUCTION
An organization's culture impacts performance-related initiatives directly. In the current scope of discussion, Fisher &Paykel Healthcare has been selected to analyze its performance-related initiatives as well as culture-based initiatives. The company had been established in New Zealand in the year 1969 and the vision of the company had its basis in the natural humidification process. The organization is focused on designing innovative products for varied respiratory-related care, acute care, and treating obstructive sleep apnea. The country with its headquarters in New Zealand sells its products and systems across 120 countries globally. Dr. Matt Spence started the company visualizing the need for mechanical breathing machines for patients suffering from dry and infected tracheas. Their first respiratory humidifier was sold in 1970 and was then marketed internationally. It started expanding its operations in the international market with annual sales grown to NZ$29 million (Fisher &Paykel Healthcare, 2020c). The company is listed on the New Zealand as well as Australian stock exchanges.
PERFORMANCE RELATED INITIATIVES
Fisher &Paykel Healthcare is a separate company in the Fisher &Paykel Industries. The company offers varied medical products such as invasive ventilation, surgery as well as treatment of sleep apnea, and nasal high flow therapy. Its products have expanded to include the needs of children as well as infants in their product portfolio. The company has expanded globally in the last 10 years and doubling its annual operating revenues. They have also effectively patented varied respiratory products as well as therapies that are used worldwide affecting patients' lives worldwide. The organization is tremendously focused on innovation and collaboration as being the focus of their performance-related initiative. Its workforce is seeking to enhance the performance of the company by including a diversity of employees and adopting sustainability norms. Being a leading healthcare company in New Zealand, it focuses on enhancing outcomes as well as care for clinicians, patients as well as communities globally. To enhance outcomes, they feel it is crucial to have the best people and the best environment where ideas can thrive. Being a global company, it increases performance by creating a diversity of thinking as being the foundation of their culture. This has enabled to foster an ambiance of continuous questioning as well as continuous improvement to build innovative with high performing teams. This diverse culture is enabling the employees within the organization to reach their fullest potential. With such diversity, equal employment opportunities are being provided to its workforce with different values, skills, ethnicity, backgrounds, and experiences. It enables the organization to make sure that capable individuals are not excluded from relevant positions, according to which an individual is qualified or possesses skills, practices, and attitudes. Such performance-related initiatives are removing barriers that hinder the performance of the workforce as per their full potential. The company has over 4000 people working in around 120 countries globally. It measures its success by measuring the full performance potential of its workforce (Fisher &Paykel Healthcare, 2020b). The inclusive work environment makes the environment competitive and also encourages working catering to organizational goals with effectiveness. Diversity has increased the performance of the employees at the organization as depicted by its innovative efforts. It measures the performance of the company by way of performance indicator of the company as compared against other companies in the same industry. It is directly reflected in its increased revenues and profitability of the company.
Another crucial performance-related initiative used by the organization is in the accommodation of sustainability efforts. Sustainability efforts by the workforce enable undertaking real contribution, along with continual improvement with innovative thinking at the workplace. Employees at the company can work in a world-class environment with each employee being respected and valued. Sustainability efforts include employees being paid fairly based on performance, size, and complexity of the roles that they perform. Fair pay includes the total remuneration package inclusive of annual remuneration consisting of base pay with benefits along with variable remuneration that might be discretionary (Saxena, 2014). The annual package is reviewed on an annual basis. Thus, by motivating performance-connected pay, employees are motivated to provide more effort to increase their pays. The company supports the United Nation's Declaration on Human Rights also the International Labour Organisation on Fundamental Principles and Rights at Work, such as non-discrimination, collective bargaining, freedom of association, and freedom from forced or child labor. Withholding all these practices enabling business continuity and adopting approaches to risk management. Sustainability has allowed the business to respond and recover from the possible threats facing the business. This provides the outcome of including mitigating strategies into business units for continuous improvement and establishing confidence in recovery capabilities. The senior management as well as the Board develops as well as maintains a dynamic continuity management process to enhance the performance of its workforce (Fisher &Paykel Healthcare, 2020a). The measure of such performance is directly reflected in its capabilities to abide by environmental initiatives and the adoption of other sustainability practices.
CULTURE RELATED INITIATIVES
The culture of the company has a crucial role in determining its success. The corporate culture at the organization is focused upon the values of the company, which include life, relationships, internationalism, commitment, and originality. It is crucial to discuss relationships as being an important component by caring for customers, patients, suppliers, shareholders, the environment, and with one another (Fisher &Paykel Healthcare, 2020d).The organisation has adhocracy focused culture with dynamic as well as entrepreneurial approach. Such as approach is focussed on risk-taking, innovation and "doing things first". Such an approach initiates on getting the job done focussing on competition and building a stable organization. The organization fosters a culture with people being treated fairly concerning ensuring inclusivity at the workplace. The aim of the organization is focussed on the promotion of awareness with the importance of diversity as well as inclusivity, who strives towards the goals of the organization. Also, this initiative is aiming at improving the culture by reviewing the system, practices as well as policies towards an inclusive approach. The organization has built an environment that supports an inclusive approach in the workplace (Taylor et al., 2018). This approach is integrated and measured by establishing measurable objectives as well as reporting on its progress. The organization to measure the success of its progress is undertaking both qualitative as well as quantitative measures for evaluating the diversity performance in varied areas of the business focusing on continuous improvisation. Performances related metrics are disclosed in the annual reports of the company revealing attainment of gender diversity as according to its policy as well as progress towards attainment of those objectives. There will be an annual review of this policy designated to the Human Resource Committee for attaining success related to it(Kim, and McLean, 2014).
Another crucial element of its corporate culture is a commitment, whereby the organization values people, whoare self-motivated and have desires towards making a real contribution to the organization. This ensures market-oriented culture at the organisation with focus on achievement, competition and getting work completed within deadline. The organization undertakes tremendous steps to ensure the commitment of its varied teams in meeting the goals and objectives of the organization. Through the motivation of employees and staff, the organization directs employees towards the attainment of goals. The organization encourages innovation and original thinking for the creation of better products, practices as well as processes. In global practice, the organization adopts thinking and behavior amongst team members so that final commitment can be achieved. Measurement of this aspect is undertaken through the KPI scores that determine the attainment of the varied objectives.
CONCLUSION
In conclusion, the company adopts varied performance-related initiatives as well as culture-related aspects for enhancing business performance. The company is innovative as well as collaborating with their culture to bring about the latest technological healthcare products to the market. The company is continuously visualizing to make progress on its product pipeline. They are also aiming at being sustainable as well as maintaining profitability through their product pipeline with global reach, in terms of changing clinical practice and enhancing product safety. The company has expanded internationally and its valued culture, as well as performance-related initiatives, are determining the success of the company. With their relentless focus on sustainability and commitment, they have built a unique approach in their company, making them a leading one in healthcare. Human resources at the organization empower their global workforce for brining business strategy as well as a value into patient life, communities as well as to clinicians.
REFERENCE LIST
Fisher &Paykel Healthcare. 2020a. Caring for our People.
Sustainability. Accessed from [https://www.fphcare.com/in/our-company/sustainability/caring-for-our-people/]
Fisher &Paykel Healthcare.2020b. Diversity Policy.Fisher &Paykel Healthcare. Accessed from [https://resources.fphcare.com/resources/corporate/media/resources/documents/investor/corporate-governance/fph-diversity-policy.pdf]
Fisher &Paykel Healthcare.2020c.
Improving care and outcomes for more than five decades.Our history – Fisher &Paykel Healthcare. Accessed from [https://www.fphcare.com/in/our-company/about-us/company-history/]
Fisher &Paykel Healthcare.2020d. Our Culture.Careers. Accessed from [https://www.fphcare.com/in/our-company/careers/our-culture/]
Kim, S. and McLean, G.N., 2014.The impact of national culture on informal learning in the workplace. Adult Education Quarterly, 64(1), pp.39-59.
Saxena, A., 2014. Workforce diversity: A key to improve productivity. Procedia Economics and Finance, 11(1), pp.76-85.
Taylor, W.C., Suminski, R.R., Das, B.M., Paxton, R.J. and Craig, D.W., 2018. Organizational culture and implications for workplace interventions to reduce sitting time among office-based workers: a systematic review. Frontiers in public health, 6, p.263.