Operations Management Assignment: Case Analysis of Amazon
Question
Task
Select a company and prepare a report on operations management assignment presenting a brief introduction of your selected organization, 4Vs analysis and main performance objectives of your company.
Answer
1. Background
The current operations management assignment selects Amazon which is the world's biggest company operating in the e-commerce sector for numerous years. This multinational technology organization is based in Seattle, Washington. The company initiated the selling of books through an online platform in the year 1994. At this time, Jeff Bezos proposed an idea of succeeding in an online platform that was to become big and grow fast. Today, the organization sells almost everything starting from books, groceries, clothes to delivering container houses. It can be now referred to as a one-stop store and also offers several ambitions for the future days. Amazon was incorporated first by the famous Jeff Bezos during the month of July in the year 2005. At that time, Jeff was a fund executive of Wall Street. In the beginning, Amazon was called Cadabra. This name did not last long as Bezo's lawyer said that the name was too obscure as it meant magic and people mispronounced it as "Cadaver". More names such as Bookmall.com, Browse.com, Awake.com, and Relentless.com came up. After going through a wide range of words, Jeff selected the final word Amazon. In 1994, on the 1st day of November, Amazon.com was successfully registered. Amazon.com was established with the provision of offering online deliveries directly to the purchaser's address no matter which places the customer resides (Murninghan, 2018).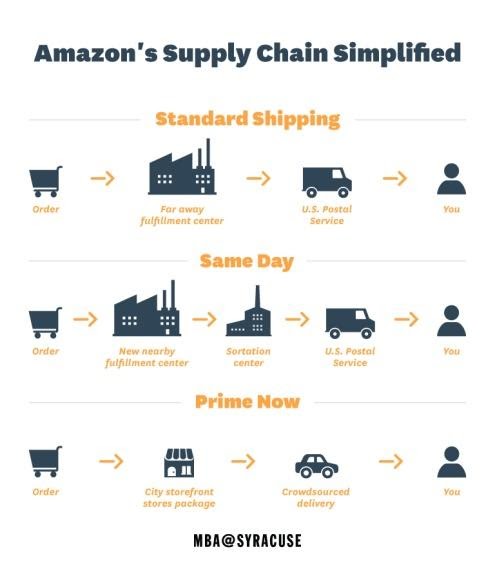 Fig1. Supply Chain Diagram
(Source: Piya et al., 2020)
2.4 VS Analysis
Every organization operates almost in a similar manner but they differ from each other concerning the four (4) V's associated with operational management. The four V's are known as Variety, Visibility, Volume, and Variation (Merigó and Yang, 2017).
Volume: - Volume refers to the quantity of a particular product needed to meet the needs. When the staffs of the company engage in performing more than one task or in other words, performs multitask, then the low volume of operation will be a bit less repetitive. On the other hand, high volume changes into a repeatable process that will be automated or standardized. As a result, a higher volume will be able to satisfy a greater demand level as the production process increases as a reason for the automated act. For instance, Amazon needs to increase the number of materials and items in each sector to meet the demands of their customer.
Variety: - Variety means the organization's capability to produce a variety of products and different types of services and offer them to their customer. This V deals with diversity. The increasing varieties make the company flexible to generate services and/or goods to fulfill the requirements and demands of the consumer. Volume and Variety are interrelated to each other. If the variety of the company increases, there will be a low volume of services or products. In the case of Amazon, It offers a variety of products starting from books, clothing to electronic devices, household utensils, and occasional gifts, and so on. Thus, the company's operation will be different from the company which focuses only on any one item such as Pepperfry.com which sells the only furniture (Um et al., 2017).
Variation: - This refers to the alteration of demand levels of customers over a particular period because of some external factors. Although, many factors are difficult to be predicted.
For instance, if an unpredictable natural calamity like a hurricane or tsunami hits a country, the customer's rate of demand for foodstuff, clothing, etc will rise abruptly.
Visibility: - Visibility refers to the amount of a firm's process that the customer can successfully experience. The industries of service provide increased visibility level. On the other hand, the industry dealing with manufacturing shows less visibility to its consumers. It can also happen that a company possessing a combination of both./p>
In the case of Amazon, possess a track and hence capable of tracing software. It provides the customer with a tracking id which enables them to have high visibility of where their orders are at different points of time (Somapa et al., 2018).
3. Main Performance Objectives
Being the largest retailer company in the US, Amazon is a definite commander in the category of e-commerce trade. The main focus of the business strategy of Amazon is the satisfaction of the customers. People have the opportunity to search and order anything they wish for through online mode.
The most enticing sides of the business strategy of this company are its low prices, a wide range of selection, and most importantly absolute convenience of the customer. Due to these powerful advantages and sides of the world audience, this company steadily grows as a world-class e-commerce giant. Hence, the countries for which the company today is at such a high position such as Canada, UK, France, Germany China, Japan, and Italy, the organization have created a separate website for them (Schleicher et al., 2017).
The main performance objectives of Amazon are as follows:
Satisfying the present customer and at the same time attract fresh customers. The customers have been segmented into three parts, namely, enterprises, sellers, and consumers. The company's strategic advantages for the consumer are price, convenience, and selection (Rubera and Kirca, 2017).
The rising of market shares as well as revenue growth by diversification and improvement of services provided by Amazon. Establishing other promotional and marketing services, for instance, agreements using co-branded credit cards and online advertising are included in the company's objective. Another objective is to develop the Services of Amazon web. This involves access to the infrastructure of technology which the developers can utilize to make the different types of organizations and businesses virtually possible. Recent Amazon sales consist of 55.4% which are processed in North America in addition to 44.6% sales processed by the international market.
Other performance objectives of Amazon incorporate are- launching recent innovations and development of new acquisitions, establishing the multinational markets as well as developing and improvement of relations with the companies in a partner (Papa, 2018).
The main performance objective of Amazon is to liberate their staff to have the best choice or decision on behalf of their consumers. Amazon also utilizes steady feedback through its tool of "Anytime Feedback Tool", an internal platform for workers for submitting their feedback about their colleagues.
4. Key Operations Management Issues
The two key operations management issues within the company of Amazon discussed here are Key issues in Supply chain management and key issues in unreasonably increased standards and expectation and multiplying unhealthy competition amid the co-workers or improvement.
Key Issues in Supply Chain Management
In supply chain management, Amazon had become an evolving architect by the application of bold, technological, and extensive innovations in the business category. Due to this company's extraordinary management of supply chain, Amazon has been successful in gaining a profit of $100 billion during the last twenty years (Nair and Reed?Tsochas, 2019). This company had come up with steady efforts in supplying the orders and products to the consumers in the quickest time possible and thus creating a huge pressure on the parallel competitors. During the starting period of the firm, workers engaged themselves in providing services by working tirelessly for weeks and months in order to meet the set deadlines. This pressure on the staff was created because at that time the company was understaffed. But with the launching of Amazon prime services, the company offered a starting two-day supply post the program of launch. This acted as a game-changer in restoring the success story of Amazon in the most illustrative way. Amazon has acquired an important stage among the purchasers because this firm possesses complete networking of production houses, up-to-date IT services, management of multifaceted inventory, and effectual transportation services. Amazon's brilliant strategy of redistributing inventory management to providers of third-party service as well as insourcing logistics so far, another clever move taken by Amazon.
According to the records, it has been made sure that Amazon has been able to generate a high percentage of profit in the sales of North America and has shown a down curve regarding the graph of international sales. There existed an unbelievable comparison in the North American and worldwide sales. For Amazon, the global sales are lower than the sales of North America. One of the main factors behind the failure of Amazon's sales in international business is the imprudent emphasis put on the context of topography. The core system of the supply chain adopted for the development of the company of Amazon tries to include the geographical areas which are closer. An increased need for a reformed infrastructure is important for the extension of worldwide access and inclusion of a greater number of areas of multinational proximity. The aforesaid services depend mainly on the distributors hence it makes it difficult to move beyond areas of local delivery. Amazon focuses on the restricted boundary of opportunities and the mentality of land grab. These are some disincentive in pointing out the organization's claustrophobia (Jain and Sharma, 2017).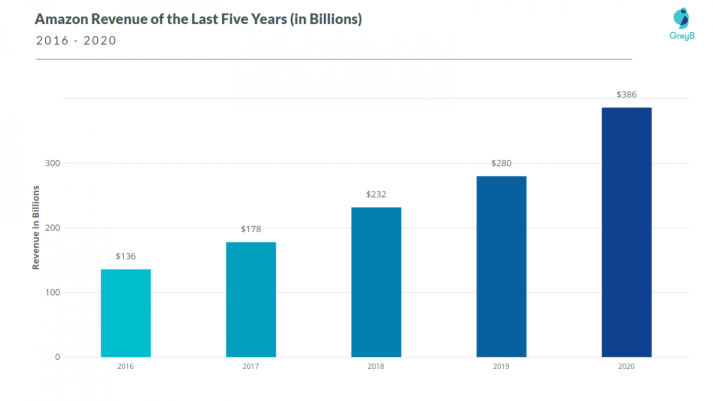 Fig 2. Amazon Revenue over last five years
(Source: Moore and Tambini, 2018)
Unreasonably increased expectations and standards along with Multiplication of unhealthy competition amid co-workers (Improvement)
As per the reports, it is seen that the organization boasts a particular standard that is deliberately and unnecessarily high. Though the organization came up with the intention of evolving top-tier talent, the unreasonable expectations and the pressure on workers to meet those unreachable expectations caused notable distress in the company. Bo Olson, head of book marketing for a period of almost 2 years said that the image of Amazon that lasts in his mind is of watching staffs and workers crying at their workplace in distress. Many people have confronted this same image of a man walking out from a conference room guarding his face. Some people who are in favor of this high expectation of Amazon try to defend the general view and says that the workers simply not fit for the company as they are unable to meet the targets and demands of the organization. They further go on to add that The Company focuses on achieving something big, groundbreaking, and innovative things that are not so easy to achieve. So, according to them, the company's expectations should be maintained at a high level. Another person named Liz Pearce who had two years of experience with Amazon said that the pressure on workers to supply far exceeds any different metric. He had seen people getting practically combust.
At Amazon, there is one rule which says that a person can work hard, long or smart but does not have the opportunity to choose among the works. Amazon's culture is all about maintaining transparency among the workers. Every worker has the information about the worker who is a greater achiever and also those workers who are unable to do so. Staff is looked forward to providing overtime services which may extend to evening hours. Late-night emails are often followed by a message wanting an immediate response. According to the records, the employees during the official meetings are encouraged to rip apart the ideas of their co-workers in front of the public. Moreover, the "Anytime Feedback Tools ", a tool that allows the staff to drop their comments explaining the praise or complaints regarding their co-workers directly to their senior head or boss, is more often utilized for sabotaging each other. The company has a ranking system. In this system, the worker who ranks the lowest among the other workers is fired. Due to this, there exists high competition among the workers to give their best and outdo their co-workers in order to avoid the lowest rank. Many staff has said that this "Anytime Feedback Tool" is used in another way for scheming. The workers through this tool were able to reveal secrets associated with colleagues, which were utilized to down an employee or praise another employee at the same moment. During annual eliminations, the company fired the losers or they had to quit by themselves and on the other hand, the winners continued to stay in the company with flying colors due to their excellence in performing their part of the job. One old human resource of Amazon told that this is a clear example of "purposeful Darwinism" that turns the workplace into an unhealthy atmosphere and a place of utter distress. (Rodrigues, 2020)
5. Recommendations
If Amazon Company wishes to improve its customer experience and fulfill higher-order supply to their customers, the Company can follow the following recommendations to continue with its leading position in e-commerce trade:
Make a better listing- The very first and immediate change that the company needs to execute is improving its listings. It is the initial step of contact a purchaser has with the company and similarly it is the first opportunity the company has to create a good impression on the customer's mind. The list should include the following:
Product Information- the Company needs to evaluate the product. For instance, if the company is selling second-hand products, then it should first check whether it is in a good condition or not.
Description- It says that every detail that elaborately describes a product is necessary. The details may include the product's dimensions, features, way of operating the product, caring measures, potential risk, and so on.
Images- Images of the product from different angles or RAW format and images related to real-life conditions will be suitable.
Video- It would be even better if the product is added along with a video picturising its uses.
Keeping a proper and balanced inventory - The Company should avoid the possibility of running out of goods. For this, the company needs to have software based on inventory management in order to keep a clear and proper idea about the connection between the inventory of Amazon and the center of fulfillment inventory. It is important for the company to ensure that it has an uninterrupted flow of cash so that when needed it can replenish its inventory.
Making the brand noticeable and preferred- It is important to get the customers to know who the Company is or what they are actually for. For instance, hearing the name of Apple, people gets a clear vision of sleek and easy to operate tablets, computers, and phones. One has to relate the name of the company to the items it serves.
Maintaining high selling rate- The organization's selling rate could be maintained at a high level by determining the types of experience customers are having while they are purchasing from there. The main motive is to keep the customer happy which can be done either by opting for fulfillment or creating a more developed effort to deliver goods in a faster or in a more efficient way to the customer.
Receive lots of amazing reviews- A poor review can affect an organization's reputation badly. While a good review can be one of the factors in determining the rate of sale. In order to receive great reviews, the company needs to put some extra efforts such as mentioning the customer's name in the email of shipping confirmation or the company may attach a typed or hand-written note along with their parcel which thanks to the customer for choosing them and the ways they can come back to them in case of any queries (Tsagkias et al., 2021).

6. References
Jain, D. and Sharma, Y., 2017. Adoption of next generation robotics: A case study on Amazon. Perspect. Case Res. J, 3, pp.9-23.

Merigó, J.M. and Yang, J.B., 2017. A bibliometric analysis of operations research and management science. Omega, 73, pp.37-48.

Moore, M. and Tambini, D. eds., 2018. Digital dominance: the power of Google, Amazon, Facebook, and Apple. Oxford University Press.

Murninghan, M., 2018. Equity Culture and Decent Work: The Case of Amazon (2017). New England Journal of Public Policy, 30(1), p.11.

Nair, A. and Reed?Tsochas, F., 2019. Revisiting the complex adaptive systems paradigm: Leading perspectives for researching operations and supply chain management issues.

Papa, A., Dezi, L., Gregori, G.L., Mueller, J. and Miglietta, N., 2018. Improving innovation performance through knowledge acquisition: the moderating role of employee retention and human resource management practices. Journal of Knowledge Management.

Piya, S., Shamsuzzoha, A. and Khadem, M., 2020. An approach for analysing supply chain complexity drivers through interpretive structural modelling. International Journal of Logistics Research and Applications, 23(4), pp.311-336.

Rodrigues, M.M.M.L.A., 2020. Competitive advantage in the age of digital platforms: the case of Amazon. com (Doctoral dissertation).

Rubera, G. and Kirca, A.H., 2017. You gotta serve somebody: the effects of firm innovation on customer satisfaction and firm value. Journal of the Academy of Marketing Science, 45(5), pp.741-761.

Schleicher, J., Peres, C.A., Amano, T., Llactayo, W. and Leader-Williams, N., 2017. Conservation performance of different conservation governance regimes in the Peruvian Amazon. Scientific reports, 7(1), pp.1-10.

Somapa, S., Cools, M. and Dullaert, W., 2018. Characterizing supply chain visibility–a literature review. The International Journal of Logistics Management.

Tsagkias, M., King, T.H., Kallumadi, S., Murdock, V. and de Rijke, M., 2021, February. Challenges and research opportunities in ecommerce search and recommendations. In ACM SIGIR Forum (Vol. 54, No. 1, pp. 1-23). New York, NY, USA: ACM.

Um, J., Lyons, A., Lam, H.K., Cheng, T.C.E. and Dominguez-Pery, C., 2017. Product variety management and supply chain performance: A capability perspective on their relationships and competitiveness implications. International Journal of Production Economics, 187, pp.15-26.