Nursing Essay on Application of Best Evidence-Based Nursing Practice
Question
Task: Case Study Scenario:
It is 0800 hours and you are working in a Paediatric Unit in a large metropolitan hospital. You are caring for Shaun Cross, a 15 -year-old male, who has Type I Diabetes. Shaun has been admitted for an exploratory arthroscope on his right knee, from an injury incurred whilst playing soccer. Shaun has fasted from 0600 hours and continues to fast (Nil by Mouth) in preparation for the surgery which is booked for 1000hours. Shaun last administered insulin to himself at 2000 hours the previous evening.
Medical history: Nil known allergies. Shaun was diagnosed with Type I Diabetes six (6) months ago. Shaun's diabetes has been well controlled with Lantus 50 units BD (mane and nocte). His last HbA1c three (3) weeks ago was 6.4% / 48mmmol.
Social History: Shaun lives with his family of four, Mother Leanne, Father Paul, and sister Kelsey. Shaun is currently completing year 10 at secondary school and enjoys playing Basketball and Soccer.
The following data was assessed when Shaun was admitted to the ward:
Subjective data:
Verbal pain rating 0/10
Alert and talkative
Objective data:
Blood pressure: 115/60 mm Hg
Heart rate: 62 beats per minute
Respiratory rate: 16/minute
Temperature 36.2 tympanic
SaO2: 100% Room air
Random BGL 5.2mmol
Weight: 61Kg
Shaun returns to the ward following his procedure at 1130 hours. He complains of severe nausea and is unable to tolerate any diet or oral fluids.
You are required to submit a fully referenced academic nursing essay demonstrating your knowledge and application of best evidence-based nursing practice in relation to the above case scenario.
Answer
Introduction
The nursing essay critically analyses the case of Shaun Cross (15 years, male) who had an injury in his right knee while playing soccer and was hospitalized for an arthroscope. Shaun has diagnosed with Type 1 Diabetes six months ago and taken insulin on the previous evening (20:00 hours). He is suffering from type 1 Diabetes (under Lantus 50 units BD medication)but under medication his Random BGL 5.2mmol and last HbA1c is 6.4% / 48mmmol. Based on the assessed data, his pain score is very less and he is having low blood pressure. He has started fasting till 06:00 hours and continues for the preparation for surgery at 10:00 hours. After the fundamental medical checkups, he has raised complain of nausea and cannot tolerate oral fluids or any diets.
Pre-operative care
Pre-operative care plays a vital role in arthroscopy which includesfrequent adjustment of insulin regimen to control the glycemic level of the patient. As asserted by Kostkovaet al.(2018), high BG levels must be monitored stringently to control hyperglycemic state as it may result in pathophysiologic changes and develop cellular damage or immune dysfunction. Apart from that, Shaun ismust be under NBM (Nil By Mouth) with a 'lower dose of the intermediate- or long-acting insulin' to minimize serious complications like DKA(Diabetic ketoacidosis). The long-acting Insulin can reach the bloodstream fast, is effective for 24 hours, and helps to control BG levels between meals. Before surgery, hemoglobin A1c should be below 6.5%/48 mm mol for assuring better surgical outcomes. For both Diabetic and Non-diabetic patient's hemoglobin A1c more than 9%/48 mm mol may result in CHD or myocardial injury. Therefore, preoperative hemoglobin A1c (HbA1c) (6.4%/48 mm mol was examined three weeks ago) must be monitored as its level can act as a marker of imperfect preoperative BG control. Moreover, to maintain the administration of CHO and insulin, caregivers have provided Medical nutrition therapy (MNT) along with Multiple-Dose Insulin (MDI) injections to Shaun Cross. Pre-operative Insulin therapy (insulin analogs as diabetes-related prevention) can also support achieving the desired glycemic level of the patient undergoing arthroscopy(Bayram et al. 2019). While administrating prandial insulin dosage to Shaun Cross, it must be matched with carbohydrate intake, premeal BG along with anticipated physical activitiess for glycaemic management.
Patient with Type 1 Diabetes requires surgery may create a challenge for clinicians to prevent complications. As asserted by Erbaset al.(2020), primarily glucose metabolism can be orchestrated by the interaction of insulin besides other counter-regulatory hormones (such as growth hormone, glucagon, epinephrine, or cortisol) and the impact of insulin administration can restore glucose uptake in tissues or muscles. Shaun Cross is not recommended to use CGM (Continuous Glucose Monitor) as his BG level is manageable(don't need to track throughout day and night)but is suggested to check his BG level four times a day.
As of now, the level of fasting blood sugar of the patient is lesser than 100 mg/dL (5.6 mmol/L), which is considered normal after continuing medications. Being a Type 1 Diabetes patient, Shaun Cross is suggested early surgery with glucose tablets or 'intravenous dextrose solutions' (intravenous infusion). In his case, a surgical procedure can result in metabolic perturbations as well as alter glucose homeostasis which is one of the risk factors for developing postoperative sepsis or impaired wound healing. As the patient is having a history of Type 1 Diabetes at an early age along with high HbA1c levels, hence his preoperative care must include basal and prandial insulin for reducing risks of hypoglycemia (Erbaset al., 2020). As regional anesthesia can block neuraxial or peripheral nerves during knee arthroscopy, hence caregivers must deal with this case carefully to avoid incidents of clotting abnormalities too (as instructed by Guet al.,2020). Caregivers must maintain specific operating conditions that include distinctive BG management protocols. Controlled blood sugar (with proper food, exercises, and medications) may help Shaun Cross to get him back to normal life and reduce chances of health complications in the future (Roche et al., 2017).
Assessment, prevention, and management of post-operativehypoglycaemia
For managing nausea and vomiting, Shaun should not skip a meal, must follow medication properly, stay hydrated, increase protein intake along with a well-maintained diet plan as well. Diabetes may slow down digestion and that situation might develop gastroparesis (having symptoms of vomiting and nausea).To avoid such Postoperative nausea and vomiting (PONV)caregivers have advised Shaun to take 5 to 6 meals per day instead of 2 to 3 large ones as an empty stomach can increase nausea. As commented by Erbaset al.(2020), major surgery can result from metabolic change and insulin resistance which often develop hypoglycemia for T1D patients. Doctors have suggested Shaun to take food at the right time to avoid post-operative constipation. Moreover, protein is necessary to heal the body and repair damaged tissues.
As the patient is having a history of T1D, after arthroscopy blood glucose must be monitored 5 times daily. Doctors have provided a diabetic diet after the surgery to keep blood sugar in control. Food that contains fiber, probiotics, and Vitamin C can boost up the immune system and improve digestion. It is evidenced that after surgery, oral Carbohydrate loading can assure the well-being of the patient and reduces the occurrence of thrust, mouth dryness along with tiredness. Caregivers areallowing fluiddiet onlyas Shaun is suffering from T1D and experiencing frequent urination and sweating. Moreover, fluid therapy (rapid water replacement) may support in electrolyte deficitandprevent dehydration, UTIs, as well as kidney dysfunction. As surgery and anesthesia can lead to neuroendocrine stress (with insulin resistance) henceforth, short-acting insulin (10% dextrose with 40 mmol/L potassium chloride) medication is recommended for maintaining correct elevations of BG level and preventing DKA.
As commented by Foster et al. (2019), low glucose level may trigger the secretion of adrenaline which results in signs of hypoglycemia like thumping heart, sweating or anxiety. In case of a continuous drop of the blood sugar level, brain cells do not receive enough glucose and hence it may lead to confused thinking, slurred speech, or blurred vision. Besides, if BG level stays low for so long then it can result in
seizures, coma as well as very rarely expiry. As opined by Goldenberget al.(2019), dietary therapy is essential for improving symptoms of T1D patients with hypoglycemia after arthroscopy. Frequent carbohydrate eating habit is preferred mainly at night with medication management like using diazoxide, or long-acting somatostatin analogs. As asserted by Roche et al. (2017), the aim of post-operative hypoglycemia management is for normalizing blood glucose count without dropping it excessively. Hypoglycemia may be a frightening incident too for the patient's family and healthcare professionals as rapidly life-threatening symptoms can develop. Evidence-based guidelines and hospital-wide engagement can support Shaun to manage post-operative hypoglycemia complications.
Education for sick day management
During sick days, Shaun ought to take a diabetes pill or insulin as usual and check the blood sugar level in four hours. Shaun should not stop insulin administration completely and if vomiting happens (a symptom of insulin deficiency) then the insulin dose must be increased (an additional 5% to 10% of TDD) with the consultation of the practitioner. Moreover, if blood sugar measurement shows 4.0 –16.0 mmol/L and > 0.6 mmol/L blood ketone then Shaun must take a 10% supplement of fast or rapid-acting insulin with the usual baseline dosage. As opined by Kennedyet al. (2018), T1D patients must maintain a sick day management kit and sick day action plan to control glycemic level and Blood ketones.
Shaun needs to drink plenty of fluids (having extra glucose, or soda, or electrolyte) and beverages with sugar to prevent dehydration and maintain CHO levels in the body. Moreover, his liquid diet (in sick days) must contain 15 gms of carbohydrates like half up of cola, juice, or popsicle. Food must have at least 15 gms of CHO per serving and alternatives may include half-cup sherbet or ice cream too. As commented by Farrell et al. (2019), keeping out hydration, and periodic check-up is vital in acute illness to avoid asymptomatic hypoglycemia.The warning sign of hypoglycemia may include a feeling of confusion, nausea, nervousness or anxiety, sweating, rapid heartbeat, headache, unconsciousness, or weight loss. In this situation patient needs a glucose tablet or sugar lumps and if the manifestation persists then immediate medical supervision.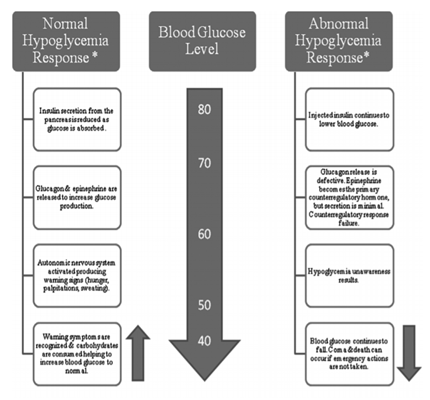 Figure 1: Hypoglycemia and responses
(Source: Guet al. 2020)
Education for exercise
The caregiver has instructed Shaun Cross's parents to check his blood glucose level before and after a long journey, physical exercises, or high-risk activities as well. As opined by Kennedyet al. (2018), for teenagers with T1D, glucoregulatory response over moderate-intensity exercises is weakened as they do not release physiological quantity of endogenous insulin. Arousing counter-regulatory hormones can increase the BG level of the patient and that may lead to hypoglycemia, hence Shaun may pick out correcting blood glucose by an insulin bolus dose after exercises.
Apart from that, Shaun must aim to do at least 150 minutes of vigorous-intensity or moderate exercises (like jogging, cycling, dancing, swimming, or playing sports) per week for controlling BG level. As asserted by Aronsonet al.(2019), carbohydrate consumption and insulin adaptation are intertwined in terms of the management of glycemia during physical exercises. Lenient to moderate-intensity physical exercises may develop risks of hypoglycemia whereas intense exercise can support Shaun to get the inverse effect.
In the case of TID ("juvenile-onset" of Diabetes) wider usage of CGM can provide accurate assessment in comparison with self-monitoredor symptom recognition blood glucose which may lead to greater perception into oftenness of hypoglycemia. As commented by Kennedyet al. (2018), hypoglycemia cannot be recognized if it happens during midnight or if the patient does not get hypoglycemic awareness. In addition, for first-aid hypoglycemia management, caregivers have suggested Shaun's parents to give him any sugary drink like orange juice, lemonade, or at least one glass of water with 2 teaspoons of sugar immediately. If he becomes unconscious then they must place him lying down to check airways, breathing, and pulse as well and contact his professional straightaway.
Conclusion
The managing glycemic levels for Type 1 Diabetes patients is vital before and whilst knee arthroscopy. Moreover, after the surgery, Nurses Shaun Cross must emphasize three aspects includes proper quantity, timing as well as type of CHO intake to control circulating exogenous insulin levels.Hypoglycemia can result serious experience among T1D patients and yet the situation is frequently unrecognized, underreported, and under screened (Rocheet al. 2017). During sick days, T1D patients are at risk of higher BG levels (or ketones) which may develop DKA and is a life-threatening condition. If vomiting happens in sickdays, then premealinsulin dosemust be reduced as well asif BG level become more than 10-15 mmol/l (180-270 mg/dl) then also insulin dose need to be modified after consulting doctor. Aoart from that to minimise chances of diabetic ketoacidosis (DKA) adolescence with T1D must maintainSickdayAction Plan.Therefore, the patient needs immediate medical attention if they are feeling drowsy, mental confusion along with stomach pain, shortness of breath, or excessive dehydration on sick days. Physical exercise can assure well-established health benefits for the patient suffering from Type 1 Diabetes (develop bone health and improve cardiovascular fitness).
References
Aronson, R., Brown, R. E., Li, A., & Riddell, M. C. (2019). Optimal insulin correction factor in post–high-intensity exercise hyperglycemia in adults with type 1 diabetes: The FIT study. Diabetes care, 42(1), 10-16. https://care.diabetesjournals.org/content/42/1/10?utm_source=TrendMD&utm_medium=cpc&utm_campaign=Diabetes_Care_TrendMD_0
Bayram, J. M., Lawson, G. M., & Hamilton, D. F. (2019). The impact of a preoperative information leaflet on expectation management, satisfaction and patient outcomes in patients undergoing knee arthroscopy. The Knee, 26(5), 1026-1031.https://www.sciencedirect.com/science/article/pii/S0968016019301279
Erbas, I. M., Abaci, A., Anik, A., Simsek, E., Tuhan, H. U., Kocyigit, C., ... & Catli, G. (2020). Comparison of the effectiveness of simple carbohydrates on hypoglycemic episodes in children and adolescents with type 1 diabetes mellitus: A randomized study in a diabetes camp. Pediatric Diabetes, 21(7), 1249-1255. https://onlinelibrary.wiley.com/doi/abs/10.1111/pedi.13077
Farrell, K., Brunero, S., Holmes-Walker, D. J., Griffiths, R., & Salamonson, Y. (2019). Self-management of sick days in young people with type 1 diabetes enhanced by phone support: A qualitative study. Contemporary nurse, 55(2-3),171-184. https://www.tandfonline.com/doi/abs/10.1080/10376178.2019.1640620
Foster, N. C., Beck, R. W., Miller, K. M., Clements, M. A., Rickels, M. R., DiMeglio, L. A., ... & T1D Exchange Clinic Network. (2019). State of type 1 diabetes management and outcomes from the T1D exchange in 2016–2018. Nursing essayDiabetes technology & therapeutics, 21(2), 66-72. https://www.liebertpub.com/doi/abs/10.1089/dia.2018.0384
Goldenberg, R. M., Gilbert, J. D., Hramiak, I. M., Woo, V. C., & Zinman, B. (2019). Sodium?glucose co?transporter inhibitors, their role in type 1 diabetes treatment and a risk mitigation strategy for preventing diabetic ketoacidosis:The STOP DKA protocol. Diabetes, Obesity and Metabolism, 21(10), 2192-2202. https://dom-pubs.onlinelibrary.wiley.com/doi/abs/10.1111/dom.13811
Gu, A., Malahias, M. A., Cohen, J. S., Richardson, S. S., Stake, S., Blevins, J. L., & Sculco, P. K. (2020). Prior knee arthroscopy is associated with increased risk of revision after total knee arthroplasty. The Journal of arthroplasty, 35(1), 100-104. https://www.sciencedirect.com/science/article/pii/S088354031930806X
Kennedy, A., Narendran, P., Andrews, R. C., Daley, A., & Greenfield, S. M. (2018). Attitudes and barriers to exercise in adults with a recent diagnosis of type 1 diabetes:A
qualitative study of participants in the Exercise for Type 1 Diabetes (EXTOD) study. BMJ open, 8(1), e017813. https://bmjopen.bmj.com/content/8/1/e017813.abstract
Kostkova, M., Durdik, P., Ciljakova, M., Vojtkova, J., Sujanska, A., Pozorciakova, K., ... & Banovcin, P. (2018). Short-term metabolic control and sleep in children and adolescents with type 1 diabetes mellitus. Journal of Diabetes and its Complications, 32(6), 580-585.https://www.sciencedirect.com/science/article/pii/S1056872717308632
Roche, M. W., yee Law, T., Triplet, J. J., Hubbard, Z. S., Kurowicki, J., & Rosas, S. (2017). Effect of hypoglycemia on the incidence of revision in total knee arthroplasty. The Journal of arthroplasty, 32(2), 499-502. https://www.sciencedirect.com/science/article/pii/S0883540316303709