Marketing Strategy Assignment: Business Analysis of Tesco
Question
Task: Write a marketing strategy assignment showcasing the analysis of the past and the present marketing strategy of Tesco.
Answer
Executive Summary:
The research on marketing strategy assignmentsignifies that understanding and construing the customer's needs and focusing on their comfort and the perception of marketing is crucial for the companies to sustain in the competitive market pool (Jain, Aagja and Bagdare, 2017, pp. 642-662). However, it is difficult for the company to satisfy every customer in the market, and thus needs market segmentation (Camilleri, 2017, pp. 69-83) and must develop unique market strategies accordingly. This report will be discussing on the marketing strategies that Tesco could use for the future perpetuation of its products and services. The report also encompasses the vision and action to be taken to make Tesco futureproof by comprehending the future customers and anticipating their needs.
Introduction:
Tesco is a British multinational grocery store and general merchandise retailer positioning itself as the 9th largest company with respect to its revenues. First established in 1919, Tesco has managed to expand its chains to different parts of the world with 4,673 shops to meet differently cultured customers and employ around 420,000 people around the globe (Bedford, 2022). Tesco is well-known for its exceptional customer services such as food delivery, Tesco personal finance, customer loyalty card, Tesco Baby Club, and many more. However, recently the predicaments caused by pandemic obliterated the sales surge in Tesco supermarkets worldwide. Yet with a food delivery system, Tesco managed to obtain a 27% share of Britain's grocery market (Davey, 2021). The market rivalries of Tesco are – Sainsbury, Asda, and Morrisons. Sainsbury, with sales rates surging yet, couldn't manage to gain anything from the process. It is reported that Sainsbury's profit rates have plummeted 39% (Reuters and Davey, 2021), while Tesco reported only 20% (Reuters and Sandle, 2021). And Asda settled to cut down its employees to compensate the losses (Young et al., 2017, pp. 1-15), and Morrisons have to close down 23 convenience stores after a loss of £792m (Simpson, 2015). Further, the report will be discussing on constructive market alliances and novelty in the shopping experience.
Proposed vision:
Tesco is in dire need of rising its revenue and sales rate. This could be achieved by improvising customer experience (CX) in shopping and by constructing an effective alliance with foreign companies. Incorporating novelty in the CX will be conducive to outperforming the competitorsfor instance Augmented Reality (AR) could be used to analyse the product much effectively to purchase it on Tesco's online site (Saprikis, Avlogiaris, and Katarachia, 2021, pp. 491-512) and obliterating checkouts in Tesco stores as this will curtail the tension of standing in a queue (Johnston, 2018). The two key areas in proposing a vision are – Brand purpose and Brand essence.
I. Brand Purpose:
The reason that explains the purpose of the brand beyond just to obtain some financial gain is defined as Brand Purpose (Hsu, 2017, pp. 373-394). It is very crucial for companies such as Tesco since the exceptional customer experience is a vital factor determining the company's endurance in the market.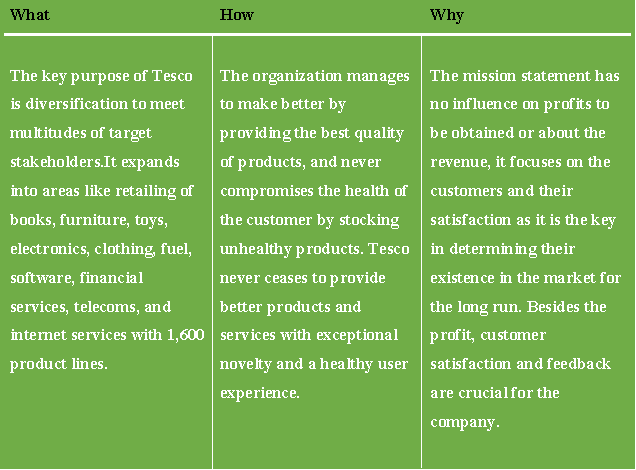 II. Brand Essence:
Brand essence is the critical manifestation of a company's core values and their fundamental nature of the quality, in succinct it could be defined as the soul of the brand (Isoraite, 2018). It helps in improvising the marketing practices and strategies and maintaining consistency (Pahwa, 2021).
However, with the changing times, Tesco would use the help of alliances it will form to meet the growing needs of customers from other parts of the world. For instance, Tesco in India is not much of a success so in such cases, it would be prudent to ally with either a succeeded retail chain or potential retail business firms. And along with that, improving the CX of prevailing stores and platforms to bolster the endurance of the company further with the help of high-end technologies such as AR or IoT to customize and improvise the customer experience in Tesco's online platform.
Process:
This is the part where the strategies provided will be explicitly described and analyzed with two key factors – sustainability and digital transformation. The strategies provided also considerthe customer as the co-creator and talent management in formulating a high-end online platform and forming alliances. Considering the customers as the partner or co-creator will be helpful to design a web portal or mobile application for Tesco with technologies and services that would effectively meet their needs. For instance, incorporating AR in online platforms will enhance the user experience and would placate the behavior psychology of consumers (Yang et al., 2019). Tesco is a company employing a wide cultured workforce, being so understanding the behavior and opinions of the employees from different cultures (who themselves are customers too) will help Tesco develop alliances with companies that are succeeding. For instance, getting to know from the employees about their neighborhood's preferred place for shopping would help in narrowing down the target to form a partnership.
I. Sustainability:
Sustainability is defined as meeting the needs of the consumers at present by not jeopardizing the needs of the consumers in the future, which would eventually help in persevering the brand in the market (Moore et al., 2017, p. 110). Curtly to put, it assesses whether the company could endure (Breuer, 2018, pp. 256-286). First of all, the formation of alliances. As globalizing the products are hugely becoming successful and welcoming,future consumers would be expecting more to provide them with products that are manufactured outside their countries. Constructing a propitious partnership with companies succeeding will curtail the competitors present in the market (Elali, 2021). As in the aforementioned example of Tesco in India, the company could find its light of hope for endurance if the company effectively formulated some initiatives in grouping with retail chains such as V-mart or Reliance. This would strengthen the foundation of Tesco in India. Similarly, this could be followed in different countries around the world. This way Tesco could manage in sustaining for long period in the market in different sectors. In the period between 2014 and 2021, there was a 36% plunge in the number of stores opened globally (Bedford, 2022). Tesco's globalization strategy has been destructive as with the arrival of the pandemic, so Tesco turned down thousands of shops in a single year. Globalization could also be strenuous with high demands of budget and a slow rise in revenue. This might affect the revenue rates of the company, however, this would be prevailing only for short period. If the company manages to attain profitable alliances then the gains would be starting to show up. Since opening Tesco shops in different places has proven to be ineffective as per the data mentioned above, it would be viable for the company to engender business alliance with top markets of the location to mitigate the economic pain and cement the chances of sustainability.
II. Digital transformation:
The pandemic has transfigured the marketing methodologies dramatically in the past few years. Consumerbehavioris now accustomed to sophisticated purchasing done through their electronic devices. Tesco, fortunately,has already developed a successful online platform for its customers to shop. However, the digital transformation growth is proliferating in many business firms and is at the level unanticipated before. Incorporating artificial intelligence (AI), or any other high-end technologies into their online platform has become unexacting. This would be conducive to gathering direct feedback from the customers and could be used in developing or recreatingprocesses. The future purchasing approach is paved down by the digital transformation of present times. It is conspicuous that the consumers visiting the physical retail stores will taper off with products bought easily in their electrical appliances from home (Babenko et al., 2019, p. 04016). The prevailing online platform of Tesco has been outdated with Amazon and other sophisticated companies choosing products through AR, or personalizing the home page with the help of AIand so. Thus, Tesco has to develop a rigid and appealing online platform for its customers. The major drawback is, this would curtail the number of customers visiting the physical Tesco stores. So, further stores would have to be turned down, nevertheless, it is reasonable to be your rivalry than to be outperformed by others. Also, digital transformation saves lots of money for the company in real estate, electricity bills and so. This could help Tesco in focusing more on reducing the cost of products sold further and could help gain customers' loyalty and credibility.
Prompts:
This part of the assignment will be discussed elaborately on the prompts that would trigger the target audience to prefer Tesco over other companies. For which we are going to discuss two strategies – gamification and nudges.
I. Sustainability: Prompt
The prompt would be effective if Tesco manages to place its brand name next to the successful company in that area to engender mindful nudges with its customers. The best example could be the Disney+ Hotstar streaming platform, when Disney bought Hotstar it manages to flash its name alongside to remind the users of Hotstar that the contents of Disney would also be available to them. This mindful nudge will remind the existence of Tesco to the community as long as the brand partnered with is succeeding in the community. And gamification is another useful element in improving the chances of sustaining the alliances. For instance, informing the customers whoevercollectsthe letters of the word T-E-S-C-O and tangles them together would be provided with exclusive offers and prices. Tesco could imprint its letters in the products offered by the partnered brand would help improve the profit of the partnered brand and help Tesco in gaining credibility of the customers.
II. Digital transformation: Prompt
Tesco could provide the users of its online platform with prizes and offers mentioning only the customers using the payment through Tesco banking. For instance, if the customer uses Tesco banking to pay for their purchase then Tesco would provide a 10 to 20% discount on their purchase. This way it would prompt emotional nudges among the customers. Similarly, conducting mini-game series and informing whoever wins the games will get coupon codes or offers and discounts for their purchases in the Tesco online platform will help more customers to involve and assist in developing the brand.
Conclusion:
It could be concluded that these strategies would be conducive to developing and constructing Tesco for its future consumers. Tesco needs to expand its bounds by partnering with the prospered company and not by developing a stand-alone shop of Tesco. And next, it is crucial for Tesco to burgeon its expertise in the online platforms of Tesco. With sufficient nudges and gamification techniques provided in the report, Tesco's struggle for the future market would be mitigated and their revenues would alongside be skyrocketed.
Reference:
Babenko, V., Kulczyk, Z., Perevosova, I., Syniavska, O. and Davydova, O., 2019. Factors of the development of international e-commerce under the conditions of globalization. In SHS Web of Conferences (Vol. 65, p. 04016). EDP Sciences.
Bedford, E., 2022. Tesco's number of stores worldwide 2008-2021. Statista, 14 January, viewed on 21 January 2022.
https://www.statista.com/statistics/238667/tesco-plc-number-of-outlets-worldwide/
Breuer, H., Fichter, K., Lüdeke-Freund, F. and Tiemann, I., 2018. Sustainability-oriented business model development: Principles, criteria, and tools. International Journal of Entrepreneurial Venturing, 10(2), pp.256-286.
Camilleri, M.A., 2018. Market segmentation, targeting, and positioning. In Travel marketing, tourism economics and the airline product (pp. 69-83). Springer, Cham.
Davey, J., 2021. Tesco's UK sales growth slows as pandemic restrictions ease. Reuters, 18 June, viewed on 21 January 2022. https://www.reuters.com/world/uk/tescos-uk-sales-growth-slows-latest-quarter-2021-06-18/
Elali, W., 2021. The importance of strategic agility to business survival during the corona crisis and beyond. International Journal of Business Ethics and Governance, pp.1-8.
Hsu, C.K.J., 2017. Selling products by selling brand purpose. Journal of Brand Strategy, 5(4), pp.373-394.
Išorait, M., 2018. Brand image development. Ecoforum Journal, 7(1).
Jain, R., Aagja, J. and Bagdare, S., 2017. Customer experience–a review and research agenda. Journal of Service Theory and Practice.
Johnston, C., 2018. Amazon opens a supermarket with no checkouts. Marketing strategy assignmentBusiness Reporter, BBC News. https://squidapp.co/squinglish/17/17.pdf
Moore, J.E., Mascarenhas, A., Bain, J. and Straus, S.E., 2017. Developing a comprehensive definition of sustainability. Implementation Science, 12(1), pp.1-8.
Pahwa, A., 2021. Brand Essence: Meaning, Importance, & Examples. Feedough, 15 July, viewed on 21 January 2022.
Reuters and Davey, J., 2021. Britain's Sainsbury's expects profit bounce after 39% fall. Reuters, 28 April, viewed on 21 January 2022.
https://www.reuters.com/world/uk/sainsburys-profit-down-39-covid-costs-outweigh-sales-rise-2021-04-28/
Reuters and Sandle, P., 2021. Tesco sales surge but COVID costs wipe out a fifth of pretax profit. Reuters, 14 April, viewed on 21 January 2022. https://www.reuters.com/world/uk/tesco-reports-2-bln-pounds-profit-after-exceptionally-strong-sales-2021-04-14/
Saprikis, V., Avlogiaris, G. and Katarachia, A., 2021. Determinants of the Intention to Adopt Mobile Augmented Reality Apps in Shopping Malls among University Students. Journal of Theoretical and Applied Electronic Commerce Research, 16(3), pp.491-512.
Simpson, E., 2015. Morrisons announces its worst annual loss in eight years. BBC News, 12 March, viewed on 21 January 2022.
https://www.bbc.com/news/av/business-31850696
Young, C.W., Russell, S.V., Robinson, C.A. and Chintakayala, P.K., 2018. Sustainable retailing–influencing consumer behaviour on food waste. Business Strategy and the Environment, 27(1), pp.1-15.