Marketing Plan Assignment: Discussion On Automated Air Conditioning
Question
Task:
Develop a report on marketing plan assignment exploring the marketing plan for automated air conditioning system.
Answer
Executive Summary
The automated air conditioning system examined in this marketing plan assignment is an innovative and cost-effective product that largely supports sustainable development programs and generic needs of conventional family life. As climate change, carbon footprints and resources shortage have been affecting modernized contemporary society, installation of the product will be beneficial to save adequate money and efforts. The need for cost-effective and more energy-efficient homes is becoming a major trend that allows the company to focus on programmable thermostats and automatic interfaces to deliver high-quality performance. However, effective implementation of 4ps marketing mix can be an effective initiative to promote and position products.
Introduction
The Automated Air Conditioning system is an innovative product for conventional family life segment selected from Roy Morgan segment as it allows controlling room temperature without human interventions while using a programmable thermostat. Growth of consumer electronics market, increasing demands from households, changing lifestyle and rising disposal income have influenced the company to select conventional family life segment as a potential audience. The study also considers standardized mechanisms, environmental factors and consumer purchasing behaviors to create comprehensive marketing strategies while reflecting on product differentiation and positioning initiatives.
Analysis of the Segment's Profile
The automated air conditioning system is designed to target conventional family life who significantly value sustainability, energy-efficiency and cost-effectiveness to improve living accommodations and comfortability. As fluctuating inflation rates, climate conditions and fossil fuel consumption adequately influence consumer's purchasing behaviours, installation of the automated air conditioning system will facilitate minimizing costs and engagements while considering disruptive innovations and cutting-edge technologies. In contrast to a modernized society, various distinct elements including cultural, technological, personal and psychological factors adequately influence consumer's purchasing behaviours. Moreover, the constant urge of techno-centric visionaries, extensive application of eco-friendly credentials, and influence of social class also assist customers in buying decisions (Drasch et al. 2020). Psychological factors on the conventional family life segment extensively focus on individuals' mindset and understanding which creates rigid beliefs and attributes. Financial security alongside sustainability-consciousness and collaborative efforts are becoming major properties of an individual's willingness to purchase new products.
Micro Environmental Factors
Suppliers
Supplier relations play a fundamental role to effectively emphasize on cost and product leadership initiatives, and adequate facilities to amplify collective efforts to reduce costs and interpretation issues. In contrast, the selection of potential suppliers based on competencies and distribution channels can be effective to generate greater value and sales while reducing overhead costs, disruptions and uncertainties. Integrated relationship-driven supplier management strategies will facilitate the maximization of productivity and efficiency to ensure greater customer satisfaction attributes.
Marketing Intermediates
Marketing intermediates are designed and implemented to increase sales and revenue streams while engaging targeted audiences with customer-focused approaches and e-commerce solutions. Various distinct technological intermediates including Hervey Norman, Officeworks are effective in engaging a wide range of customers. Such intermediates allow developing tremendous value and sales for targeted conventional family life by incorporating ethical standards, ISO standards and sustainability.
Competitor Analysis
The Australian air conditioning market is projected to grow significantly as rising infrastructure development, growing demands for residential and commercial space and adequate investment by global MNCs and FDI inflows have fueled growth and competitiveness. Various technology conglomerates including Samsung, LG and Huawei are the biggest competitors of the product that produces automated air conditioning systems with high-end specifications and upgraded combustion technologies. Moreover, globally distributed business networks, dealership networks and streamlined GVC and GSC have been facilitating competitors. Although, the company has introduced cutting-edge combustion technologies, value-added solutions and aggressive pricing policies to reshape the industry.
Customers
Targeting distinct segments of the customers is significantly important to amplify organisational commitment and reputation by providing value-added services and accommodations. As the need for cost-effective HVAC systems is becoming more prominent, the company requires to implement customer-focused campaigns, customer services and sponsorship initiatives to enhance reputation and retention attributes.
Macro Environmental Factors
Economic
Automated Air Conditioning system is levelled as an essential accessory that upholds greater public interest and enthusiasm to incorporate a consistent and reliable air-cooling system. As average household incomes, national GDP and financial prosperity of middle-class families are becoming more prominent, the selection of a dedicated HVAC system will be beneficial for long runs (Simmons et al., 2018). Moreover, government regulations, volatile climate conditions and increasing the price of energy will influence an individual's choice regarding buying a centralized HVAC system.
Technological
various disruptive innovations including artificial intelligence, IoT and robotics can suppress the popularity and accountability of the product. Moreover, lack of upgrading facilities, ease-to-use interfaces and software integrations can affect a company's capacity and attractiveness. The company can focus on modularity and automation equipment to strengthen core competencies and adaptability of new technologies within the product for improving product lifecycle and usability.
Cultural
The conventional family life is largely influenced by techno-capitalism perspectives and innovation, and sustainable development programs and environmentally-friendly credentials are becoming a major part of the society to protect the environment and resources. Automated Air Conditioning system uses automated control technology, smart heating system and electronic engineering principles to reduce electricity usage and maintenance costs. Moreover, connectivity capabilities, flexible operating systems and combustion chambers have assisted to remain competitive and relevant to conventional family life.
Threats and opportunities
The new types of ductless and ducted air conditioning solutions are mainly designed for commercial, residential and other applications among the users. The duct and ductless Air Conditioning products are designed as per requirement, less installation cost, convenience along with energy efficiency and others. The new types of Air Conditioner are suitable for commercial residential and even large gatherings with the latest inverter technology that gives noiseless air conditioning presentation.
The enhanced energy consumption and needs of electricity in most of the regions has given tremendous impact on the current energy infrastructure. With the growth in population there is also an increase in energy consumption by the users (Chattopadhyay, & Chakraborty, 2019). This fundamental scenario has limited the growth of use of air conditioners and this possesses a serious threat in marketing the Air Conditioners to grow. Government and different regulatory bodies have precisely instructed the Air Conditioner manufacturers to incorporate higher Energy Efficient Ratio (EER). The violation of this law could eventually lead contingent destruction of equipment and this could also be challenging for the market growth of Air conditioners.
Marketing Objectives: First 2 years
Achieve sales of 100k units of the automated air conditioning system.
Increase market share up to 10% within 2 years timeframe.
Issues
Despite being an innovative product, pricing policies and maintenance criteria are the prime issues that the product can face. The company needs to invest in R&D pipelines, leading-edge technologies and high-tech configurations to generate greater value, brand perception and ISO standards.
Marketing Strategy using 4 Ps of Marketing Mix
To ensure greater customer satisfaction and product positioning approach, the company can implement 4Ps marketing mix as a proactive marketing policy to increase product differentiation and integration strategies. The automated air conditioning system is explicitly targeted at conventional family life and determined to uphold smart solutions for HVAC systems.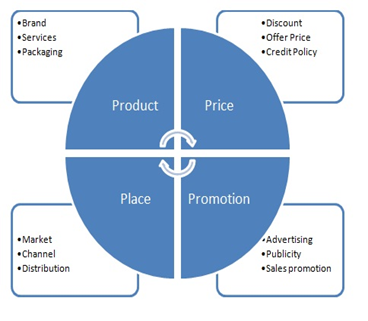 Figure 1: 4Ps Marketing Mix
(Source: HR & Aithal, 2020).
Product Strategy
The automated air conditioning system is designed and developed to provide energy-efficient and streamlined heating systems to control room temperature and humidity. The product also provides greater accessibility through electronic control technology, and differentiate the product based on amenities, energy consumption and aesthetic looks. Moreover, integrated maintenance services, user manuals, automatic software up-gradation and warranty values can easily overlook competition and availability.
Price Strategy
In contrast to the available automated air conditioning systems, the company needs to implement a premium pricing structure which is suitable and affordable for conventional families to incorporate the system. Moreover, the company can implement multichannel strategies and distributorship networks to control price (HR & Aithal, 2020). The price will be high due to its extensive services and accommodations.
Promotional Strategy
For greater promotional programs, the company can consider print advertisements and social media platforms to increase product visibility and traffic. The company also can consider celebrity endorsement policies, sponsorships initiatives and campaigns to promote products ( Išorait?, 2016). Digital marketing strategies including SEO services, seasonal discounts and special promotions to enhance sales and revenue streams.
Placement Strategy
The company can incorporate diversified distribution channels including in-store sales, e-commerce solutions and retail chains to increase sales transactions. Availability of dual distribution channels will facilitate to gain a higher audience through diversified channels while considering targeted audience and loyalty programs.
Response to Segment's Needs
Conventional family life is largely influenced by techno-capitalism perspectives and value-added services as it allows saving adequate money and efforts to improve home conditions. The automated air conditioning system is significant to reduce complexity and disruptions and allows reducing CFC emissions. The product is also effective to mitigate sustainable development programs and effective in meeting the generic needs of consumers.
The AC system uses automated control technology and ultracomplex customized design-build configurations to improve user experience and cost-effectivity which is beneficial for long-term perspectives (Wang et al. 2019). It assists to cut down energy consumption and maintenance issues and allows developing convenient interfaces to manage home appliances.
In contrast to macroeconomics and micro environmental factors, the company can experience significant difficulties due to supply chain disruptions and competitiveness. Moreover, lack of appropriate marketing initiatives, streamlined R&D pipelines and leading-edge technologies can affect a company's confidence and capacity to serve value-added services (Anthony et al., 2016).
Conclusion
The automated Air Conditioning system is an effective and efficient product that can improve smart home initiation and sustainability. To gain higher audience and revenue, the company needs to focus on long-term relationships, supplier management and marketing campaigns to promote and position products effectively. The company needs to consider standardize filtration systems and combustion chambers to maintain product lifecycle and productivity. The company also needs to focus on financial stability, design-build configurations and conventional family needs while considering regulatory compliances and cutting-edge combustion technologies.
References
Anthony, S. D., Gilbert, C. G., & Johnson, M. W. (2017). Dual Transformation: How to Reposition Today's Business While Creating the Future. Harvard Business Review Press. Retrieved on 28 September 2020 from http://dln.jaipuria.ac.in:8080/jspui/bitstream/123456789/7050/1/Dual%20Transformation%20How%20to %20Reposition%20Today%E2%80%99s%20Business%20While%20Creating%20the%20Future%20by% 20Scott%20D.%20Anthony%2C%20Clark%20G.%20Gilbert%2C%20Mark%20W.%20Johnson.pdf
Chattopadhyay, A., & Chakraborty, S. (2019). Market size growth survival in multi-generation technology environment: A predictive review of the Indian air-conditioner and refrigerator industry. Asian Journal of Empirical Research, 9(5), 132-146. Retrieved on 30 September 2020 from http://www.aessweb.com/html/4601
Drasch, B. J., Fridgen, G., & Häfner, L. (2020). Demand response through automated air conditioning in commercial buildings—a data-driven approach. Business Research, 1-35. Retrieved on 28 September 2020 from https://link.springer.com/article/10.1007/s40685-020-00122-0
HR, G., & Aithal, P. S. (2020). Establishing True Lifestyle Brand in India: An Integrated Marketing Mix Framework. International Journal of Management, Technology, and Social Sciences (IJMTS), (June 2020), 5(1), 261-284. Retrieved on 28 September 2020 from https://www.researchgate.net/profile/Ganesha_Hr/publication/342329090_Establishing_True_Lifestyle_ Brand_in_India_An_Integrated_Marketing_Mix_Framework/links/5f478621458515a88b726a53/ Establishing-True-Lifestyle-Brand-in-India-An-Integrated-Marketing-Mix-Framework.pdf
Išorait?, M. (2016). Marketing mix theoretical aspects. International journal of research granthaalayah, 4(6), 25-37. Retrieved on 28 September 2020 from http://www.academia.edu/download/46909964/04_IJRG16_C06_07.pdf
Simmons, B. A., Wilson, K. A., Marcos-Martinez, R., Bryan, B. A., Holland, O., & Law, E. A. (2018). Effectiveness of regulatory policy in curbing deforestation in a biodiversity hotspot. Environmental Research Letters, 13(12), 124003. Retrieved on 27 September 2020 from https://iopscience.iop.org/article/10.1088/1748-9326/aae7f9/pdf
Wang, H., Amini, M. R., Song, Z., Sun, J., & Kolmanovsky, I. (2019, October). Combined Energy and Comfort Optimization of Air Conditioning System in Connected and Automated Vehicles. In Dynamic Systems and Control Conference (Vol. 59148, p. V001T08A001). American Society of Mechanical Engineers. Retrieved on 28 September 2020 from https://arxiv.org/pdf/1909.12448