Marketing Management Assignment: A New Product Launch By Unilever
Question
Task:
Select a business organization which is planning to launch a new product or service. Your selected business organization must be agreed with your lecturer. Assume the role of Marketing Manager for your selected stated business organization. You are required to complete the following marketing management assignment which has been requested by the newly-appointed Managing Director
Present a critical assessment of the organization's current internal organizational environment and its external market environment and the potential impacts on your chosen organization's future marketing strategies.
Critically examine Market Segmentation, Targeting and Positioning Analysis for the product or services launched by the organization and formulate the strategic marketing plan for the new product/service.
In the light of the above findings and employing as appropriate, state and justify Marketing Performance targets for each of the next 3 years for sales volume, sales value and organizational profit contribution.
Based on the targets that you have set for your organization. Undertake a Marketing Mix analysis (either 4 or 7 Ps) to develop and critically discuss an action plan to deliver these performance targets over the next 3 years.
Within the action plan (as mentioned in 4), include a brand building strategy. Justify your choices of plans and strategies
Answer
Executive Summary
The following marketing management assignment entails a detailed overview of the British company Unilever and the launch of their new product, non-dairy ice cream. The environments, in which the business operates, both internal and external, have been studied. SWOT analysis and Ansoff Matrix are used for these purposes. It also contains details regarding the product mix and the performance it wishes to achieve. The report ends with a justification of the strategies undertaken to ensure the success of the business's new product.
1.0 Introduction
Unilever plc is a multinational company dealing with consumer goods and is based out of London in the United Kingdom. The company has a diverse range of products available for manufacture and selling. Their product lines span over items like energy drinks, candies, food items, baby food, frozen goods, juices, beauty products, soft drinks, ice-creams, bottled water, and even toothpaste to name a few (Unilever global, 2018). The company has a turnover of greater than 50 billion and is regarded as the largest manufacturer of body soap in the world.
The current product in question is a new addition to the company's dairy-free range of ice-creams under its Magnum brand. They plan to introduce this new flavour, i.e. Sea Salt Caramel soon.
Environmental Analysis
Assessment of the External Environment
Political

       Political Stability of most countries

Growing free trade relations

Economic

       The high growth rate in developing countries

       Economic Stability od developed countries

Social

       Rising Health Consciousness

       Rising Environmental Awareness

Technological

       Rising business automation

       Declining Cost of Transport

Legal

       Stronger international patent laws

       Strengthening Consumer Rights Laws

Environmental

       Rising interest in business environmentalism

       Improving sustainability measures
Assessment of the Internal Environment
Strengths

  Established Global Presence

       Broad product lines with great depth.

Weaknesses

       Highly Competitive Business Environment

       Substitutability of products

Opportunities

       Optimize the global consumer base.

       CSR initiatives to improve brand image.

Threats

       Current Global Economic Crisis

       The entry of new players from the Asian regions.
Critical Evaluation
In the case of the external environment analysis, the following points can be noted.
Political: The Company operated across a wide range of countries, and most of them are politically stable. This eases business functions and boosts performance (Bessière et al., 2019).
Economic: The Company operates in two forms of countries, developed and developing. IN the case of the former, economic Stability is prevalent, and the company can enjoy a significant market share. On the other hand, in developing countries, even if the market share is presently low, the growth rate of expansion policies is tremendous (Bessière et al., 2019). Both these boost business performance.
Social: There is a palpable shift in global consumer behaviour from regular products to those which focus on environmental conservation and wellness of health (Pant and Ramachandran, 2017).
Technological: The operating costs of businesses are going down globally due to the advancements in the field of automation and robotic (Goryakin et al., 2015).
Environmental: There is a growing thought amongst consumers to align themselves with businesses that promote environmental conservation and green practices. Since the brand already operates on this forte, they can tap into this demand (Rao-Nicholson, Khan, and Marinova, 2018).
In the case of the SWOT Analysis
The business is quite strong along these lines. They have an established presence in almost all countries of repute like America, Germany, India, Britain, Ireland, etc. (Zhang and Fan, 2020). The FMCG sector in which Unilever operates is a highly competitive global battlefield that is dominated by several big players (Nwagwu, 2020). The business should focus on optimizing its global consumer base to promote co-creation and brand loyalty to derive the maximum value possible. The current economic crisis brought on by the coronavirus is a very real threat to the drivers of the business. Its effect has touched all industries and countries, and the business needs to optimize itself accordingly to make it out (Carvalho, 2020).
Influence on External Environmental Factors towards the Future Marketing Activities
| | |
| --- | --- |
| Political |  The business should take care not to be politically incorrect during its marketing and ad campaigns. |
| Economic | Different products and their benefits are to be highlighted based on whether the targeted region is a developed economy or a developing one. |
| Social | Health and Wellbeing centric ads should be promoted more. |
| Technological | Their quality management via automation can be highlighted in future marketing activities. |
| Environmental | Their CSR initiatives and sustainable measures introduced into the business should be the star of the ad campaigns. |
| Legal | They should promote a vision of a global village where goods and services can flow from one country to the next with ease. |
Influence on Internal Environmental Factors towards the Future Marketing Activities
| | |
| --- | --- |
| Strengths | Their diverse product lines require individual and unique ad campaigns designed to target specific market segments. |
| Weaknesses | In a highly competitive environment, they should take measures to develop quirky and creative ads that set them apart from the competition. |
| Opportunities | To properly optimize their global consumer base, the business needs to improve their customer engagement. |
| Threats | With the advent of new players from the Asian sector, the marketing activities of Unilever must be designed to showcase their strengths and salient features. |
2.1 Proposed Segmentation Plan
There is a definitive demand in the market for non-dairy items. People who prefer these types of products come from all ages, geography, and income demographics (Bali and Singh, 2015). This means that the key point where the segments are split is that of the consumer's rationale and customer psyche (Bali and Singh, 2015).
By splitting the prospective consumer base along the psychographic lines, the business can better decide just whom to cater their products for. In the case of psychographic demarcations, the best-suited segments for this non-dairy form of ice-cream are vegans, lactose-intolerant individuals, and other health-conscious individuals who wish to cut out dairy (foodbusinessnews, 2019). The choice to adopt veganism rests completely upon an individual, and hence they are willing to pay more for their preferred product (foodbusinessnews, 2019). This has created a generous amount of demand in the market that the company can penetrate by proper segmentation. Subsequently, the company will also move towards converting lactose intolerant individuals who stay away from dairy into loyal consumers (foodbusinessnews, 2019).
2.2 Proposed Target Market
The target market for Unilever is not restricted by any geographical boundaries. This is because of their dedicated global supply chain and international presence. Their target market also isn't restricted by age groups (Taylor-West et al., 2018). The key point of their target market is that they are 'conscious customers'. This means that the company is targeting individuals and groups who are sustainability inclined and prefer products that represent the same. The company has undertaken its share of research and has found out that over 53% of individuals in a random survey sample size prefer sustainable products (Chan, 2019). Their marketing and advertisement campaigns have evolved into a more detailed view of the positive impact of the product on society rather than the product itself. By a combination of correct segmentation and targeting strategies, the company can easily win over customers from all strata on a global scale.
2.3 Proposed Positioning Strategy
The company has always promoted sustainability, quality, and utility in its positioning strategies. Going forward, the company has decided to go for a positioning strategy with the concept of 'vitality' at the centre (Unilever global, 2020.). This means that the company has identified the shift in global trend from traditional lifestyles to an alternative healthy lifestyle. The top management of the company has claimed that the positioning strategy with Vitality will include a renewed focus on how all their product lines can be made more sustainable and healthy for their consumers. The brand Unilever anywhere in the globe, the first thought they should have is that this company makes healthy products of high quality (Ren et al., 2020).
3.1 Identification of the Strategy Direction
The strategic direction that the company should look towards as per the Ansoff Matrix is Market Development and Diversification Strategies. This means that the company is looking to introduce its current product portfolio in new markets (Hallam, Thomas, and Beach, 2018). The company is also opting for a diversification strategy, which means that they are developing new products for new markets as well. For e.g. Neem and Turmeric based toothpaste for India, Bangladesh, Sri Lanka, etc. By employing a mix of these two strategies, the company already has a significantly widespread product range. In the future, their drive for innovation, quality, and sustainability is sure to give rise to some exciting items. Hence the strategic direction can be proposed to be Product Diversification (Fan et al., 2015).
Product Diversification

New Products

New Markets

High Growth Potential

New Customer Base
3.2 Proposed Performance Targets for Next 3 Years
Proposed performance targets for the next three years of the business can be
 

Year 1

Year 2

Year 3

Sales Volume

 

100,000 units

120,000 units

144,000 units

Sales Value

 

10 million £

12 million £

15 million £

Organizational Profit

1.2 million £

1.44 million £

1.72 million £
Specific: The targets are specific. Based on organizational strategies and present global scenarios, the targets have been set to represent fixed quantitative amounts (Ren et al., 2020).
Measurable: The goals are measurable as growth in sales volume has been taken as 20%. This means that calculations can be done easily with the real data whenever available to see if the business performance targets are being met (Ren et al., 2020).
Attainable: The goals are quite attainable for a company like Unilever. A 20% growth rate in new markets is a prudent estimate for small companies, so one with the financial resources and operational expertise of Unilever should not have any problem in attaining the mentioned targets (Ren et al., 2020).
Realistic: For a company with the resources and expertise of Unilever, these are quite realistic goals. There is a very low chance of the product failing in the market as the company does its fair share of market research before the development of a new product (Ren et al., 2020).
Timely: The goals are timely in the sense that they relate to specific operating cycles of the business (Ren et al., 2020). This means that each financial year can be taken as one unit and the business processes remain ongoing throughout the given period.
4.1 Product Decisions
The characteristics of the product can be classified as follows.
It is a non-dairy form of icecream that is targeted towards vegans, lactose intolerant individuals, and others (Fan et al., 2015).
The product is to be launched under the banner of Magnum. This is their premium range of icecream, which uses high-quality Belgium chocolate.
The flavour is an offbeat variation of what is normally available in shops. It is a caramel and sea salt variety (Fan et al., 2015). This makes it a niche and interesting flavour that is guaranteed to entice customers.

Figure 1 Non Dairy Ice cream
Source: (Godairy, 2020)
4.1.2 Critical Discussion on Action Plan
Action Plan
1. Sales Volume:
Since the product is a new and innovative variation of what is existing in the market, there is a high chance that it will become popular in the market and increase the units sold (Bocken et al., 2016).
Units sold per geographical location will give feedback on market demand.
2. Sales Amount:
Since the product is only available in the form of a big family size tub with a comparatively higher price, the sales volume in units will reflect directly into high sales amounts.
Higher sales through the years signify consistent buying behavior (Bocken et al., 2016).
3. Profits :
The profits of the business will be quite lucrative because this is not a new product that they are developing.
The company already has a preexisting production and supply chain for both dairy and non-dairy ice cream (Bocken et al., 2016). This means the company already enjoys cost-efficiency and economies of scale, which will drive up the profits.
4.2 Pricing Decisions
4.2.1 Pricing Strategy
The proposed pricing strategy for the product can be a value-based pricing strategy. Under this strategy, the business fixes the price of the goods based on the value they are giving to their consumers. Since this is a premium brand that offers offbeat ingredients to a niche set of customers, the pricing will be kept on the higher side (Tao et al., 2017). It should be noted, however, that the business will not charge significantly more than what they charge for their dairy-based varieties as this may provoke customers about price discrimination (Tao et al., 2017).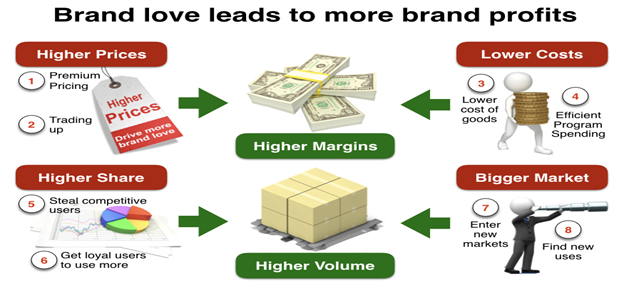 Brand price
Source: (Robertson 2019).
4.2.2 Critical Discussion on Action Plan
1. Sales Volume:
Keeping the price of the non-dairy variant similar or close to the dairy variants will ensure that the products are being sold regularly and in high quantities.
Low prices for a premium product will result in high sales.
2. Sales amount:
Since the magnum brand is priced at the premium level, the sales amount will reflect it.
The sales amount will rise since it's a premium-priced good.
3. Profits:
The premium pricing and the low costs will ensure stable profitability for the business.
Profits will be rising through the years as business achieves more efficiency.
4.3 Place Decisions
4.3.1 Place Strategy
The company will decide to use their entire supply chain to distribute the commodity globally. If they do not, it would be the improper utilization of company resources. The psychographic segment which the business is targeting is prevalent all across the globe so the company should rise and meet the demand.

Place strategy
Source: Author
4.3.2 Critical Discussion on Action Plan
1.Sales Quantity:
Ensuring global distribution will ensure that the number of products sold will increase dramatically.
Optimizing distribution channels will ensure that the product reaches the customer on time.
2. Sales Amount:
The product characteristics and the price levels will provide enough sales revenue globally for the company.
Sales amount trends will provide input on global market demand.
3. Profits
The profitability of the business will also rise dramatically with global sales revenue.
Profitability may vary across geographical areas due to exchange rates.
4.4 Promotion Decisions
4.4.1 Promotional Mix

The promotional strategy of the company will be centered on proper advertisement activities.
The company should focus on highlighting g their sustainability and green initiatives. Along with the superior features of the product and its high quality.
4.3.2 Critical Discussion on Action Plan
1. Sales Quantity
The units sold will be directly dependent on the success of the advertisement campaigns undertaken by the company. Brand awareness is necessary to boost sales.
There should be a general buzz about the product post-launch. The more people are excited and curious about the product, the more they will be enticed to buy it.
2. Sales Amount
There will be a proper reflection of the positive effect of advertisement campaigns upon the sales amount. Seasonal trends can also be established from this data.
Significant sales will also be achieved when the customers buy the products. An increase in subsequent years can be attributed to customers turning loyal to the brand.
3. Profits
The business profitability will not be hampered by the expenses made on advertising because this will directly translate to a greater amount of sales both in units and in revenue.
A cost-benefit analysis will always give a positive result as more sales to make the profits stable and rising.
5.1 Proposed Brand Building Plan
1. Determine the target audience:
The company has decided to target the psychographic segment in relation to healthy and alternative minded individuals.
The target audiences can be from any age or geographical segment (Beer and Loeprick, 2017).
2. Define Brand Mission.
The values that the company wish to convey to their customers is that of health, Vitality, and sustainability. They should clearly communicate this to the necessary people (Beer and Loeprick, 2017).
The advertisement strategy that the company will choose to adopt should also convey the same message. This will create organic goodwill in the market.
3. Research the Competition:
The competitors in the same non-dairy industry should be researched and analyzed to understand pricing, flavours, and ad strategies (Beer and Loeprick, 2017).
Other companies in the FMCG sector should be analyzed to understand distribution channels, supply chains, procurement costs, etc.
4. Create Value Propositions:
Unilever should focus on creating a unique environment in the mind of its consumers. The company has already the image of a sustainable and green company that deals in a superior quality of products. They should utilize this.
Their product is already focused on a healthy lifestyle. The value proposed should be Vitality so that consumers identify the product with concepts like veganism. Providing happiness to those who cannot enjoy dairy is also a unique feature to be highlighted (Beer and Loeprick, 2017).
5. Determine Brand guidelines:
The company should decide upon specific guidelines on which agendas to support as a brand. While they choose to support environmental conservation, they may remain silent on political issues.
Guidelines regarding flavours and packaging should also be set up. This is to ensure that the brand gets enough time to properly cement themselves in the mind of the consumers.
The brand will be developed by following the above steps. This will ensure that the company forms a robust brand that holds a special place in the consumer psyche.
5.2 Justification for the achievement of the action plan
5.2.1 Achievement of the performance targets
The performance targets will prove successful across all verticals. Primarily, the forecasts haven't been made that steep. This prudent approach towards going into business will ensure that the company can properly realign themselves in case of a below expectations performance. This is, however, not expected as the business will prove successful across all dimensions (Agostini et al., 2015). In the case of sales quantity, a globalized supply chain to reach consumers in time will help the sales quantity improve. The sales amount will generally be rising along with the sales quantity. The product is priced at a premium level, and thus the sales amount will reflect a healthy stream of revenue (Agostini et al., 2015). This will increase through the years because customers will turn into loyal followers of the brand due to their salient features and superior quality. The profits of the business can be attributed to their well-managed supply chain and distribution network. This ensures that the logistics and manufacturing costs are kept at a minimum and profits are boosted. Through the years as the business gets more proficient, the profits also increase (Homburg, Schwemmle and Kuehnl, 2015).
5.2.2 Achievement of the marketing mix
The marketing mix is bound to be successful in creating a perfect setting for the product. The product itself is a very thoughtful and elegant product. It is a non-dairy caramel and sea salt flavoured icecream which has bits of white chocolate in it (Moon, Park and Kim, 2016). Ice-cream already has mass appeal, for those whom it was not an option, e.g. vegans, lactose intolerants etc. this is an enticing and new offering in the market. The price of the commodity has also been kept quite low. This indicates that more customers will be enticed to buy the product (Moon, Park and Kim, 2016). Since the company already exists globally, there are very good reasons for them to make the provide available worldwide. There has already been established that the demand for a non-dairy healthier alternative is being felt worldwide. More and more people are choosing to shift to an alternative lifestyle (Veiga and Weyl, 2016).
CONCLUSION
In conclusion, it can be stated that the product of the company Unilever will be successful in the market. By mobilizing all the available resources, they possess the company can penetrate the global market beautifully. Overall there are very few reasons the product may fail upon launch. Great success is anticipated.
REFERENCES
Agostini, L., Caviggioli, F., Filippini, R. and Nosella, A. (2015). Does patenting influence SME sales performance? A quantity and quality analysis of patents in Northern Italy. European Journal of Innovation Management, 18(2), pp.238–257.
Bali, A. and Singh, S.N. (2015). A Review on the Strategies and Techniques of Image Segmentation. 2015 Fifth International Conference on Advanced Computing & Communication Technologies.
Beer, S. and Loeprick, J. (2014). Profit shifting: drivers of transfer (mis)pricing and the potential of countermeasures. International Tax and Public Finance, [online] 22(3), pp.426–451. Available at: https://link.springer.com/article/10.1007%2Fs10797-014-9323-2.
Bessière, D., Charnley, F., Tiwari, A. and Moreno, M.A. (2019). A vision of re-distributed manufacturing for the UK's consumer goods industry. Production Planning & Control, [online] 30(7), pp.555–567. Available at: http://eprints.whiterose.ac.uk/148547/3/PPC_SpecialIssueRdM_Final_Review_Finalwithcorrections.pdf.
Bocken, N.M.P., de Pauw, I., Bakker, C. and van der Grinten, B. (2016). Product design and business model strategies for a circular economy. Journal of Industrial and Production Engineering, [online] 33(5), pp.308–320. Available at: https://www.tandfonline.com/doi/pdf/10.1080/21681015.2016.1172124.
Carvalho, A.M.A. (2020). The proposed acquisition of Danone by Unilever. repositorio.ucp.pt. [online] Available at: http://hdl.handle.net/10400.14/31319 [Accessed 9 Dec. 2020].
Chan, R.Y.K. (2019). Social responsibility and foreign market targeting. Socially Responsible International Business, pp.262–283.
Fan, S., Lau, R.Y.K. and Zhao, J.L. (2015). Demystifying Big Data Analytics for Business Intelligence Through the Lens of Marketing Mix. Big Data Research, 2(1), pp.28–32.
Godairy, 2020. Magnum Non-Dairy Ice Cream Bars Review & Info (Vegan Too!) [online]. Go Dairy Free. Available from: https://www.godairyfree.org/product-reviews/magnum-non-dairy-ice-cream-bars [Accessed 11 Dec 2020].
Goryakin, Y., Lobstein, T., James, W.P.T. and Suhrcke, M. (2015). The impact of economic, political and social globalization on overweight and obesity in the 56 low and middle income countries. Social Science & Medicine, 133, pp.67–76.
Hallam, G., Thomas, A. and Beach, B. (2018). Creating a Connected Future Through Information and Digital Literacy: Strategic Directions at The University of Queensland Library. Journal of the Australian Library and Information Association, 67(1), pp.42–54.
Homburg, C., Schwemmle, M. and Kuehnl, C. (2015). New Product Design: Concept, Measurement, and Consequences. Journal of Marketing, 79(3), pp.41–56.
Hu, M., Li, X. and Shi, M. (2015). Product and Pricing Decisions in Crowdfunding. Marketing Science, 34(3), pp.331–345.
Moon, H., Park, J. and Kim, S. (2014). The Importance of an Innovative Product Design on Customer Behavior: Development and Validation of a Scale. Journal of Product Innovation Management, 32(2), pp.224–232.
Nwagwu, U. (2020). A SWOT analysis on the use of blockchain in supply chains. [online] soar.wichita.edu. Available at: https://soar.wichita.edu/handle/10057/18846 [Accessed 9 Dec. 2020].
Pant, A. and Ramachandran, J. (2017). Navigating identity duality in multinational subsidiaries: A paradox lens on identity claims at Hindustan Unilever 1959–2015. Journal of International Business Studies, 48(6), pp.664–692.
Rao-Nicholson, R., Khan, Z. and Marinova, S. (2018). Balancing social and political strategies in emerging markets: Evidence from India. Business Ethics: A European Review, 28(1), pp.56–70.
Reference list
Ren, L., Li, J., Li, S., Li, C. and Daily, G.C. (2020). Does China's major Payment for Ecosystem Services program meet the "gold criteria"? Targeting strategies of different decision-makers. Journal of Cleaner Production, 275, p.122667.
Robertson, G., 2019. How to use a pricing strategy to help your brand win [online]. Beloved Brands. Available from: https://beloved-brands.com/2019/06/03/pricing/ [Accessed 11 Dec 2020].
Tao, F., Cheng, J., Qi, Q., Zhang, M., Zhang, H. and Sui, F. (2017). Digital twin-driven product design, manufacturing and service with big data. The International Journal of Advanced Manufacturing Technology, [online] 94(9–12), pp.3563–3576. Available at: https://link.springer.com/article/10.1007%2Fs00170-017-0233-1.
Taylor-West, P., Saker, J. and Champion, D. (2018). Market segmentation strategies for complex automotive products. Journal of Strategic Marketing, pp.1–18.
Unilever global company website. (2018). All brands. [online] Available at: https://www.unilever.com/brands/.
Unilever global company website. (n.d.). Why work for Unilever. [online] Available at: https://www.unilever.com/careers/why-work-for-unilever/.
Veiga, A. and Weyl, E.G. (2016). Product Design in Selection Markets *. The Quarterly Journal of Economics, 131(2), pp.1007–1056.
www.foodbusinessnews.net. (2019). New on the shelves. [online] Available at: https://www.foodbusinessnews.net/media/photos/4136-new-on-the-shelves [Accessed 9 Dec. 2020].
Zhang, L. and Fan, Z. (2020). Analysis of Unilever's Branding and Marketing Strategy in China. Proceedings of the 2020 International Conference on Management, Economy and Law (ICMEL 2020).
Zhu, Z., Zhou, Y., Seto, K.C., Stokes, E.C., Deng, C., Pickett, S.T.A. and Taubenböck, H. (2019). Understanding an urbanizing planet: Strategic directions for remote sensing. Remote Sensing of Environment, 228, pp.164–182.