Marketing Management Assignment: Challenges affective business operations after ownership Change
Question
Your first article analysis is due to be submitted online to Moodle by Friday of Week 4 (11:00pm AEST); and articles will be discussed in Week 5 tutorials.
To help you get started on this piece of work, here are some points for further consideration:
1. Your aim in this assessment is to analyse 2 separate marketing articles in around 600 words for each analysis. You need to write in a professional manner even for short pieces of work. However, there will be little (if any) need for tables, etc., and there is no need to write an executive summary for your article analysis.
The appropriate layout for each of your article analyses would be:
Title page including student name, number, campus, tutor, and article title.
Introduction (1 paragraph to introduce the article itself)
Marketing issues (including a definition of the concept under discussion)
Stakeholders, benefits or challenges
Recommendations
Reference List
Appendix – article to be attached.
2. The most recent edition of the AMA Marketing News: November/December 2018 articles are published slightly before the specified date range in the unit profile. This is fine to use articles out of the November/December 2018 AMA marketing news. Your focus should be on examining the most recent information available to marketing and business (to look at the cutting edge information coming through). Also, you can examine the Marketing Week website as this does have reports (under the "Latest" tab) that fit within the date range – eg "Video viewing, progammatic ad spend, Black Friday fatigue: 5 killer stats to start your week" Marketing Week Reporters 19 Nov 2018 3:06 pm. There are some interesting articles in the "consumer behaviour trends" and "marketing trends" sections (see for example: https://www.marketingweek.com/channels/marketing-trends/ ).
Answer
Article 1: Marketers from Sainsbury's, Direct Line, Debenhams and more share their predictions for 2019
Introduction: This article is based on the upcoming marketing issues that present business world is going to face. In this article, marketers look into the future and predict the new strategies that are going to drive the industry in 2019. Experienced marketers from Sainsbury's, Direct Line, Debenhams, and many others have shared their prediction in this article.
Marketing issues: Marketing management is based on seven Ps of marketing mix model. In this article Mark Evans, marketing director at Direct Line Group stated that future environment is going to face trends of long-term marketing (marketingweek.com, 2018). This is a big issue that is going to happen in near future. It will be quite difficult for marketers who follow the trends of short-term performance to cope up with this situation. According to 7Ps structure, this issue is based on "Product". Another issue mentioned by Mark Evans is focusing on personal purpose based services. Today brand purpose has become an over phrase, which is lacking genuine productivity.
Stakeholders, benefits or challenges: Stakeholder may be a person, a community or an organisational head that are directly or indirectly attached with the company. Whenever a company makes any change in their marketing strategies, it affects the stakeholders of that company directly.
According to the issues in this article, the relevant stakeholders are customers, head of the organisations and employees.
In case of long-term performance reduces the workload of employees. It is beneficial for them up to some extent. Personal purpose based productivity will be beneficial for customers (Midgley, Nicholson & Brennan, 2017).
For head of the organisation, as opined by Sugiyarti (2017), long-term work may reduce working speed and personal purposes based productivity will increase the profit.
Recommendations: According to these issues, companies are going to face a huge change in future business environment. Companies should change their management strategies, which will make their employees easy to cope up in long-term business performance procedure. Companies have to acquire new production policies to make their production customer friendly (as influenced by Diouf & Boiral, 2017).
Article 2: Trends for 2019: Brands stop talking about being customer-centric by Lucy Tresseras
Introduction: This article is showing present marketing issues. The focus of this article is to aware present marketing strategies that can be a threat in near future. Therefore, this article will help the companies to plan their future strategies to resolve this problem.
Marketing issues : According to this article, the biggest issue in present marketing situation is the customer-centric business strategies (Tresseras, 2018). For most of the businesses, customers are the core of their organisation. Hence companies tend to follow customer referencing. Therefore, they focus to produce and advertise customer-centric products. Current research says around 42.4% marketers draw their marketing plan based on customers preference. According to the 7Ps of marketing mix model, it is based on product. That means strategies to increase productivity. This rapidly grown policy may not be as beneficial for long time (Jensen, 2017). Therefore, companies should think beyond customer centered productivity.
Stakeholders, benefits or challenges: Stakeholders are a group of people who are related to an organisation and get affected from the strategies of that company. According to this article, the personnel who are affected by this issue are customers, Chief Customer Officers (CCO) and the business heads. It is obvious that the customer-centered productivity always beneficial for customers (as influenced by Cortez & Johnston, 2017). Therefore, to manage this strategy a huge number of CCO are being recruited per year in a different company. Statistics says hiring of CCO in UK companies is rising from 14 to 90 from 2014 to 2017. Therefore they are in benefit. This process increase profit up to a certain time, therefore, companies are benefited.
Recommendations: Customer-centered business may be fruitful for an organisation up to some extent but for a long-term profit, company should think beyond customer preference. They may set their policy to build up business which enables collaboration of all other factors (as influenced by Chernev, 2018).
References
Books
Chernev, A., 2018. Strategic marketing management. Toronto, Ontario .Cerebellum Press.
Journals
Cortez, R. M., & Johnston, W. J. (2017). The future of B2B marketing theory: A historical and prospective analysis. Industrial Marketing Management, 66, 90-102.
Diouf, D., & Boiral, O. (2017). The quality of sustainability reports and impression management: A stakeholder perspective. Accounting, Auditing & Accountability Journal, 30(3), 643-667.
Jensen, M. C. (2017). Value maximisation, stakeholder theory and the corporate objective function. In Unfolding stakeholder thinking (pp. 65-84). Routledge.
Midgley, G., Nicholson, J. D., & Brennan, R. (2017). Dealing with challenges to methodological pluralism: The paradigm problem, psychological resistance and cultural barriers. Industrial Marketing Management, 62, 150-159.
Sugiyarti, G. (2017). Experiential Marketing Creative Antecedence for Success of Brand Loyalty (A Study on the Users of Perfume for Body in Indonesia). International Review of Management and Marketing, 7(1), 529-536.
News paper articles
marketingweek.com (2018, 20th December). Marketers from Sainsbury's, Direct Line, Debenhams and more share their predictions for 2019. Marketing Week. Retrieved on: 13th December 2018 from: https://www.marketingweek.com/2018/12/20/marketers-sainsburys-debenhams-kodak-predictions-for-2019/
Tresseras, L, (2018, 12 December). Trends for 2019: Brands stop talking about being customer-centric. Marketing Week. Retrieved on: 14th December 2018 from: https://www.marketingweek.com/2018/12/12/marketing-trends-2019-customer-centric/
Appendices
Appendix 1: Article 1 Stakeholders
| | | | |
| --- | --- | --- | --- |
| Stakeholder | Stake | Positive Impacts | Negative Impacts |
| Employees | Work on the strategies | Reducing workload | Sometimes lost focus |
| Customers | Get services | get quality service | Time consuming |
| Head of the company | Get outcomes of the strategy | Profit | Needs more time |
Appendix 2: Article 2 Stakeholders
| | | | |
| --- | --- | --- | --- |
| Stakeholder | Stake | Positive Impacts | Negative Impacts |
| CCO | Work on the strategies | More work opportunities | Long term effectiveness |
| Customers | Get services | Get preferable product | Product do not collaborate all the aspects |
| Head of the company | Get outcomes of the strategy | Certain Profit | Strategy may fail in future |
Appendix 3: Article 1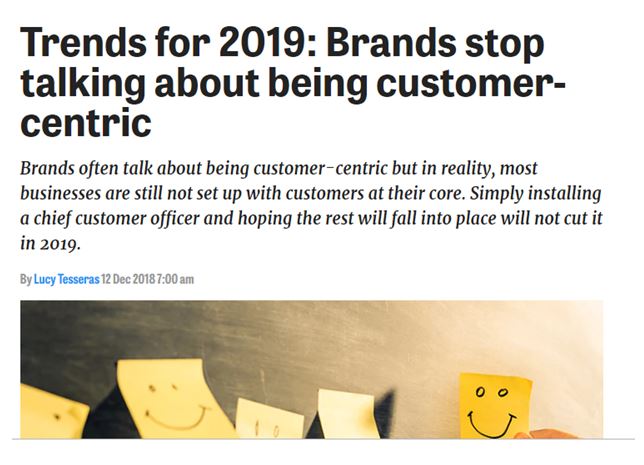 Appendix 4: Article 2