Marketing Audit Assignment: Analysis On Micro & Macro Environment Of Marks & Spencer
Question
Task: The Assessment Task
The purpose of this marketing audit assignmentis to produce a marketing audit that would support a marketing plan. The audit should be produced for a company (or business unit) of your choice in one sector from; mobile network providers, fashion clothing, automotive or charity and should focus on the UK only.
You should conduct independent research using quality secondary sources, fully referenced, to provide the evidence to support your analysis e.g. Mintel, MarketLine Advantage, ABI Global, newspapers, journals, company websites etc.
This Marketing Audit is limited in scope and should contain the following areas:
(A full Audit, based on Kotler's format, can be seen under Assessment Information)
• Macro analysis (PEEST)
• Micro analysis (market, customers and competitors)
• Internal analysis (strategy, functions, productivity)
• One-page TOWS matrix and key strategic challenges summary
• Appendices (supporting information/model analysis, not included in the word count – two sides maximum for each appendix)
Appendix 1: Company Overview to include; name, type, size, key competitors, customers, products/services, specific area of focus for your audit – company or business unit and country.
Appendix 2: supporting Macro model/framework application
Appendix 3: supporting Micro model/framework application
Appendix 4: supporting Internal model/framework application
Answer
Introduction
As discussed in the current marketing audit assignment, the current business environment tends to face intense competition due to change in economies and initiation of globalization. Furthermore, various aspects of internal and external environment also have an impact on the core operation of the firm. Thus, organizational leaders are constantly focused on gaining competitive advantage. This can be done by analyzing the needs of user and analyzing the micro and macro environment (Moroni, Arruda and Araujo, 2015). The main aim of this report is to focus on analysing the micro and macro environment of an UK based organization. The organization that has been selected for the report is Marks & Spencer. It operates in the fashion and clothing industry and is known globally for its well-developed strategies and high-quality products.
Macro Analysis (PEEST)
Corporate leaders tend to focus on analyzing various factors of macro-environment because it can help them identify potential opportunities and threats that further can impact the core activities of the organization. To analyze the impact of external environmental factors on the core operation of Marks & Spencer, (M&S) PEEST model has been utilized.
Political
Marks & Spencer have it headquarter in UK and therefore it gets the benefits of European Commission Trade agreement. This decrease the sourcing costs and further have an impact on the profitability of the firm. Furthermore, taxes and political stability also has an impact on the operation of Marks & Spencer. With the increase in tax the price of products also increases.
Economic
If the inflation rate of UK is taken into consideration then it can be seen that various rates have been fluctuation since 1986 and it is predicted that rates will fluctuate in the coming years. 2.19% is the inflation rate of current years (Statista, 2022). Therefore, fluctuation in rate of inflation can lead to sales and price fluctuations of products of Marks & Spencer.
Environment
In the Mintel report, it has been found that almost 66% of British consumers think that companies across the world should focus on the constant change in climate and they should focus on reducing emission of greenhouse gases in the environment (Mintel Team, 2021). Therefore, it can be said that the demand for sustainability practices among large number of UK customers have an impact on the core operation of Marks & Spencer.
Social
UK is considered as one of the largest economies among other European countries. The standard of living as well as the social welfare is also high as compared to other countries. It is also identified as one of the 10th best country where entrepreneurs can establish their business effectively and profitably (MarketLine, 2014). Therefore, it can be said that the societal condition of UK can bring major benefits to the sales and other operation of M&S.
Technological
Technology is currently in the booming phase. In UK Internet of Things (IoT) are constantly adopted by companies. It is helping them to store data securely and IoT is also helping corporate leaders across the world to focus on effective utilization of data (Government office for Science, 2014). Therefore, evolving technology and change in technology can have an impact on the process of operations of M&S.
Micro Analysis
Market
M&S operates in the businesses of food, clothing, home accessories and bank and services both in the UK and internationally. It is one of the leading retail groups in the UK with around 1509 stores and more than 100 websites in the global market (M&S, 2022a). According to March 2019 reports, the good segment of the brand accounted for the largest share of sales revenue as the balance has always been favour of food during the past five years. It has emerged as one of the most popular supermarkets amongst the UK consumers in the year 2018 (Smith, 2022a). However, the clothing and home revenue of the brand has decreased over the years by 10% since 2009. M&S has faced reduced sales in both UK and internationally because of the pandemic outbreak. Despite this, there was a 9.7 million average weekly visits in its UK stores in 2021 (Smith, 2022b).
Customers
M&S has gained popularity amongst the customers over the years as compared to other UK brands because of catering to both their food and clothing needs. It acts as a department and supermarket store for the UK customers, thereby providing them with the opportunity of purchasing their required products. While it holds the first place in the UK amongst its leading home improvement and departmental retailers, it has the second place in the food sector (Smith, 2022c). Despite having considerable customer support and favour, it still lacks a large market share in the UK market.
Competitors
Some of the top competitors of M&S in the UK market include Macy's, Tesco, Asda, Aldi UK, Morrison's and other brands offering similar products and services. With the outbreak of the pandemic, the brand has experienced catastrophic events because of various missteps undertaken by it for a long time. These include becoming unfashionable and failing to compete with Zara or Primark, poor presence of online clothing, lack of availability of food online, various buying errors and age-old stores built in the past (The Guardian, 2020). In addition, the presence of global top competitors further intensifies the competitive rivalry in the UK market.
Internal Analysis
Strategy
M&S has been reforming its strategy for dealing with its years of problems surrounding poor performance and criticism about fashion products. In 2016, the brand focused on undertaking a multichannel approach for being a more connected retailer for its customers (Rigby, 2017). This has helped the company in gaining more customers and reviving its sales than previous years. The central focus of this strategy has been understanding and engaging more closely with the customers. It has also shifted its emphasis on online activity with changing customer behaviour. The changing landscape from the pandemic has encouraged M&S to reshape its store estate and further build a venture with the online supermarket Ocado (Holton, 2021). The brand has further added various footwear brands and third-party clothing to its website for enhancing traffic and attracting various customers. In addition, fewer promotions, smaller summer sale and focused ranges have been the new strategies of M&S.
Functions
M&S puts quality at the heart of its products including sourcing and manufacturing. The brand works in close partnership with suppliers for introducing new ways of doing things such as reducing emissions, improving workers' lives, cutting waste, prioritizing animal welfare and sourcing in a responsible manner. Furthermore, the brand encourages customers to look deeply into the brand's products for understanding the high-quality standard that it maintains in all product lines (M&S, 2022b). It also focuses on sustainable consumption and production in each of its operations and services for addressing pressing issues like climate change and food waste.
Productivity
M&S ensures to include sustainability in its productivity practices for addressing various environmental and social issues. Apart from catering to the increasing and changing demands of the customers, its productivity strategies are undertaken for utilizing employee potential and motivating them to enhance their efficiency in the organization. In this regard, different strategies are implemented for boosting employee morale and taking care of their needs and concerns (M&S, 2022c). It further ensures that employees possess the first-hand knowledge of business operations and managers address issues related to the workplace. In addition, their productivity is increased so that they can contribute towards brand's commercial success.
TOWS Matrix
Threats
M&S operates in various parts of the world but its core operation is based in UK. The production costs of UK are high and therefore it can have an impact on the profit generation of the firm. Intense competition in the fashion clothing industry can also be marked as a threat (Rodrigo, 2012). Finally, it has been mentioned earlier, that UK attracts business persons because it gives major opportunities. Thus, new entrants in the fashion clothing are increasing and are directly throwing major threats on the core operations of M&S.
Opportunities
The standard of living is high and personal disposable income of consumers are also high therefore, it can give major business opportunities to the management team of M&S.
Weaknesses
The fashion image is old and classical. It has not adopted the current method of digital advertising and this can be marked as another major weakness of M&S. This can also lead to decrease in market share.
Strengths
There are several strengths of M&S that makes the firm highly demanding in the global fashion and clothing industry. The organization is known for providing high quality products that are highly reliable and durable. It has large market share in the fashion retail industry and have successfully gained competitive advantage with its product offerings. The relationship of the firm with its suppliers are also strong that further has enhanced the reputation of the firm.
Key strategic challenges
M&S does not appeal to one single generation. Thus, it is difficult to find out the target customers of the firm. It also has not adopted digital marketing strategies like other competitors in the fashion industry. The company has become iconic with its strategies but it lacks strategies that can help the company become and strive in the global market. Finally, meeting the evolving needs of the customers are also marked as one important strategic challenge that the organization is facing.
Conclusion
The main aim of this report was to consider an organization and analyze various macro and micro environmental factors that have an impact on the activities of the firm. The organization that has been selected for the report is Marks & Spencer. The organization operates in the fashion clothing industry and has it headquartered in UK. The report concludes that societal conditions, technological changes, personal disposable income and environmental laws of various countries have an impact on the core operation of M&S. Moreover, the report also concludes that the organization is well-known for its high-quality products but the firm is constantly facing intense competition in the fashion industry.
Reference List
Government office for Science, 2014.The Internet of Things: making the most of the Second Digital Revolution.[pdf]. Available at (Accessed 07 February 2022).
Holton, K., 2021. M&S springs rare profit upgrade as new strategy delivers.Marketing audit assignment[online] Reuters.Available at: (Accessed 7 February 2022)
M&S, 2022a.Welcome To M&S. [online] Available at: (Accessed 7 February 2022)
M&S, 2022b.Our Products. [online] Available at: (Accessed 7 February 2022)
M&S, 2022c.Our People. [online] Available at: (Accessed 7 February 2022)
MarketLine, 2014.Country Profile Series United Kingdom In-depth PESTLE insights.[online]. Available at (Accessed 07 February 2022).
Mintel Team, 2021. 63% OF BRITS AGREE COP26 IS A GREAT OPPORTUNITY FOR ALL NATIONS TO COMMIT TO REDUCING THE IMPACT OF CLIMATE CHANGE. [online]. Available at (Accessed 07 February 2022).
Moroni, I., Arruda, A. and Araujo, K., 2015. The design and technological innovation: how to understand the growth of startups companies in competitive business environment. Procedia Manufacturing, 3, pp.2199-2204. Rigby, C., 2017. Marks & Spencer: reaching core customers. [online] Internet Retailing.Available at: (Accessed 7 February 2022) Rodrigo, 2012.Strategic Analysis of Marks & Spencer (M&S).[online]. Available at (Accessed 07 February 2022).
Smith, P., 2022a. Number of Marks & Spencer stores 2010-2021, by region. [online] Statista.Available at: (Accessed 7 February 2022) Smith, P., 2022b. Marks & Spencer: average weekly footfall in the United Kingdom (UK) 2009-2021. [online] Statista.Available at: (Accessed 7 February 2022)
Smith, P., 2022c. Marks and Spencer - Statistics & Facts.[online] Statista.Available at: (Accessed 7 February 2022) Statista, 2022.United Kingdom: Inflation rate from 1986 to 2026. [online]. Available at (Accessed 07 February 2022). The Guardian, 2020.Five reasons Marks & Spencer is struggling against its competitors. [online] Available at: (Accessed 7 February 2022)
Appendix 1 Company Overview
| | |
| --- | --- |
| Name | Marks & Spencer (M&S) |
| Type | Fashion Clothing |
| Size | 1037 stores in UK |
| Key competitors | Adidas, Primark and many more |
| Products/services | Clothes, Handbags and accessories, Footwear |
| Focused country for Audit | United Kingdom |
Appendix 2 Macro model
| | |
| --- | --- |
| Political | Tax, Fiscal and monetary policy |
| Economic | Inflation rate, Interest rate, personal disposable income. |
| Environmental | Global climate changes |
| Social | Demography, population analytics |
| Technology | Technological awareness. |
Appendix 3: MICRO Model: Porter's Five Forces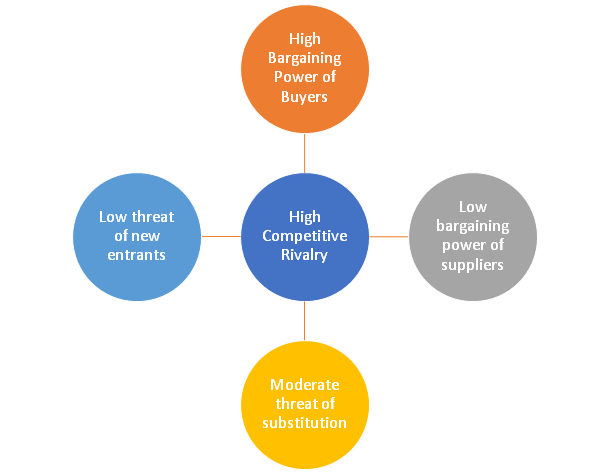 It is evident from the above diagram that Porter's five forces model has been used for analysing the competitive intensity in the UK market where M&S operates. The large number of buyers provide them with the opportunity of demanding lower prices, while suppliers do not have adequate power for charging high prices from M&S. Besides, while there still exists a moderate substitution threat and low entrants, the competitive rivalry is high.
Appendix 4: Internal Analysis
| | | | | |
| --- | --- | --- | --- | --- |
|   | Valuable | Rare | Inimitable | Organized |
| People | |   | | |
| Stores | |   |   | |
| Brand popularity | | | | |
| Product lines | |   |   |   |
| Technology | | |   | |
| Customers | |   | | |
| Relationships with suppliers | | | | |
| Trademarks and patents | | | | |