Marketing Assignment: Introduction of Mexican Mezcal in French Market
Question
Task
The marketing assignment is detailed as follows: Taking the role of an international marketing consultant, commissioned by a company (marketing an organisation's productor service of your choice), prepare a detailed report for the organisation's marketing director with a recommendation for the company's next international market (of your choice). Alternatively your choice of destination market may be selected on the basis that international market entry has previously been affected but with little or no success.
As this may be the first time your company will be targeting and entering a culturally very different country, your report must include the following:
A Cross-Cultural Analysis: selecting a cross-cultural analysis technique of your choice from those discussed in coursework 1, demonstrate your understanding of the social and cultural differences between the two culturally different countries you have chosen.
Social and Cultural Factors and the Marketing Mix: examine and explain how the social and cultural factors of your target country could influence consumer behaviour towards your product or service, together with an evaluation of the strategic implications this may have on the marketing mix.
Market Entry Strategies: conduct an evaluation of the various international market entry strategy options available to the company, and present a justified recommendation to the company for the market entry strategy that the company should adopt.
Answer
Introduction to the concept of marketing assignment
The launch of a new product is one of the hardest challenges for managers today. Entering a developing or new market is related to potentially great risk, due to the country's political turmoil, economic turbulence and market fluctuations (Andreasson, 2020). Companies find it challenging, firstly, to determine and then choose the right option to reach a new market. In order to understand this, internationalisation is a very complicated concept which requires multiple viewpoints (Yayla et al., 2018). The fast adoption of new technologies is crucial for a competitive edge through high inflation rates, increased technical advancements, growing mass communication, rapid population shifts and maturing markets. Likewise, the increased removal rates accelerate the need for new goods to be efficiently manufactured in order to ensure immediate launch during the product life cycle (Glowik, 2020). New product development is tied to the incorporation of the new product approach into the organization's business strategy.
Mezcal is a Mexican based alcoholic drink made from Blue Agave or Tequila Agave plant (Hill, 2019). It was originated from the 1500s and spreads throughout Mexico and is shipped to Spain. Most of Mezcal is made in Oaxaca in South Mexico, and continues as a truly crafted beverage with a popular quote: "For all ill, Mezcal and for all good as well" (Hill, 2019). Mezcal is currently shipped mostly to the U.S. and Japan with increasing export rates. A variety of cross-cultural analytical approaches were used to determine if the introduction of Mexican Mezcal in the French market is acceptable and to recognise the inconveniences and obstacles.
1. Cross Cultural Analysis
1.1 Cross-Cultural Analysis
A selected cross-cultural approach has been evaluated for comparing the strengths and limitations of two nations (Host- France and Origin- Mexico) in the following.
1.2 Geert Hofstede's Cultural Dimensions
The Dutch social psychologist, Gerard Hendrik (Geert) Hofstede has developed one of the most renowned models of intercultural disparities, "The Dimensions of National Culture" (Andrijauskien? and Dum?iuvien?, 2017). Geert Hofstede and IBM employees have measured the scores in the years 1967-1978 for a high number of nations in four dimensions: Power Distance, Individualism vs. Collectivism, Masculinity vs. Femininity and Uncertainty Avoidance. He later defined the fifth and sixth dimensions with Bond in 1988, Long-term vs. Short-term Orientation and Indulgence vs. Restraint (de Mooij, 2017). These dimensions are provided today as reference criteria for numerous national cultures. The paradigm stimulated positive as well as negative responses.
1.3 Dimensional Comparison between Mexican and French Culture
The Figure 1 below illustrates the scores that France and Mexico's culture has got in the Cultural Dimensions of Hofstede.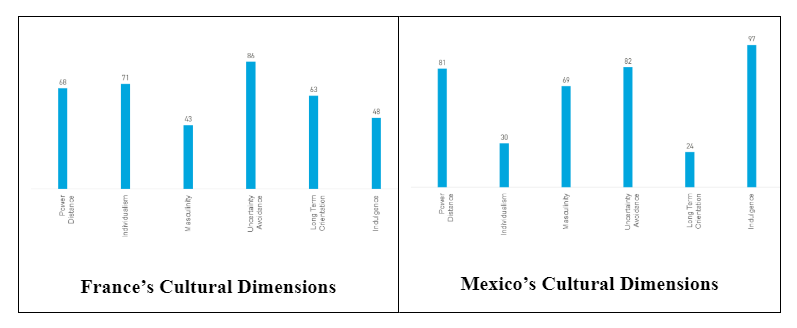 Figure 1: Hofstede's Cultural Dimensional Scores of France and Mexico
(Source: Hofstede Insight, 2020; Hofstede Insight, 2020)
Table 1below has provided an in-depth analysis of each cultural dimension for France and Mexico, presented in Figure 1.
Dimensions

France

Mexico

Power Distance

It accepts a modest level of inequality

Power centralised in corporations, government and also geographic segments (Bandera

et al

., 2018)

Power distance score is sufficiently high (68%)

Children are brought up to rely on their parents emotionally

This dependency is passed on to supervisors

French firms usually have one to two tiers of management

Mexico has a hierarchical culture model

People assume that everybody has a position and that no further justification is needed (Diaz

et al

., 2016).

Inherent disparities are represented in organisations

Centralisation of power widespread

Subordinates consider a benevolent autocratic boss to order

Individualism Vs. Collectivism

The French culture of a high individualism score is very uncommon (71%), While having a strong power distance culture

France has an individualistic culture

Parents mentally make their children independent of their communities.

The French like to focus on the impersonal central administration, a power-centre that cannot invade their private lives too quickly (Braud

et al

., 2017).

They seek good leadership in crisis times.

Mexico has a culture of collectivism.

Loyalty is crucial and transcends any other laws and regulations of civilization

Society fosters good bonds in which both share responsibility for their fellow citizens.

Offense induces embarrassment and face loss

The ties between employer and employee are considered morally

Decisions on recruitment and promotion take into account the community of the employee (Thom, 2019)

Masculinity Vs. Femininity

France is a bit feminine society

There are 35-hour work week,  5-week vacation in a year and it focuses on living quality

The top class represents women, while the working people represents men

In the spite of the strong power distance, senior managers gain less than expected (Bandera

et al

., 2018)

High society married couples can wander with a lover without adverse impacts.

There is a male culture in Mexico.

People live to work in Mexico

Managers ought to be decisive and optimistic

The focus is on equity, competitiveness and productivity and through combating, disputes are overcome (Saenz, McGregor and Nguyen, 2017).

Uncertainty Avoidance

There's no space for surprises in France. Proper  planning and structuring are important

They like to obtain all the relevant details before meetings and discussions

Great for designing complex structures and innovations in a secure environment (Braud

et al

., 2017)

Emotional safety is also important

Laws, rules and regulations are strongly required to organize life

In order to prevent uncertainty, Mexico has also a high preference.

It holds strong beliefs and action standards, and is prejudiced of unconventional conduct and concepts. Regulations are an emotional necessity (even if the regulations are worthless) (Braud

et al

., 2017)

People are keen to work hard to get involved

Accuracy and timeliness are the standard

Innovation can be avoided

Security is an essential motivating factor

Long-term Vs. Short Term Orientation

France is a Realistic society

People think the reality is strongly dependent on circumstance, background and time (Bandera

et al

., 2018)

Capacity to quickly change customs

High saving and spending tendency 

Tendency to achieve success and persistence

Culture in Mexico is normative.

People are extremely concerned with the absolute reality

They show tremendous regard for customs, a comparatively limited desire to preserve for the future and a great emphasis on rapid results (Diaz

et al

., 2016).

Indulgence Vs. Restraint

France culture has similar level of indulgence and restraint

French people are less relaxed and enjoying life that usual

In happiness indexes, France gets quite poor score (Braud

et al

., 2017)

There is a strong momentum towards indulgence in Mexican society.

People are ready to understand their instincts and urge to have fun and enjoy life (Thom, 2019).

Their outlook is good and they seem to be confident.

Moreover, they prioritise free time, behave as they implore and spend the money as they like.
Table 1: Cultural Comparison between France and Mexico
2. Social and Cultural Factors and the Marketing Mix
2.1Cultural Framework
Perception of a nation's cultural landscape lets brand managers change their marketing campaigns if they take into account the 8 aspects of culture (Saad and Abbas, 2020). These eight components are outlined in Figure 2 and consist of: Religion, Values and Attitudes, Education, Social Organisations, Law and Politics, Material Cultural, Aesthetics and Language (Terpstra and Sarathy, 2000). They emphasise the profound effect that brand management philosophy and prospects can have on the consideration of these components.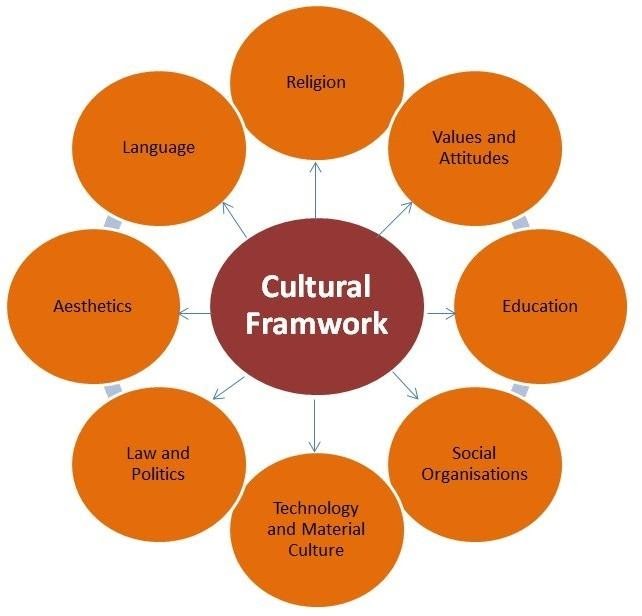 Figure 2: Sarathy's Cultural Framework
(Source: Terpstra and Sarathy, 2000)
2.2 The Cultural Framework Applied to France
Table 2 offered a detail synopsis of Sarathy's eight elements of cultural Framework and applied the cultural context developed for France.
Cultural Framework

France

Religion

Total Freedom of Religion

Most French are Christian (60%)

Catholics 50%, Protestants 8%, Non-believers 20%, Atheist 13% and Muslim 6%

Solid determination to uphold a completely secular civil workplace

Values and Attitudes

French society is as a whole of family

Hierarchy is important, bureaucracy respected

Clear hierarchy, divisionalisation. And rules and regulations guide behaviour

Live busy urban lives which do not always lend themselves to a healthy lifestyle

Consumption of considerable quantities of alcohol, 37% at least once a week

Education

High educational attainment, becoming more and more educated

Social Organisations

Man and female economic participation is equal

45.9% of French workers

Important: is either money or intellectual capital

House ownership: 40

th

out of 47, prefer to rent

Technology and Material Culture

Leader in nuclear technology exports leader

Leader is high speed transport

Law and Politics

Republic culture is found in France

The constitution establishes governing rules and regulations

President drives the nation's governance

Two chambers or houses comprise the Parliament of France

Aesthetics

Red colour stands for Passionate Love, Blood, Virile and Lust

Yellow colour stands for Joy and Summer

Blue colour stands for Water, Trust and Reliability

Gold colour stands for Decoration, Luxury and Light

Language

The French language is the only official language of France
Table 2: Cultural Framework of France
(Source: Coulangeon, 2017; Hennekam et al., 2018;Danaj, Lazányi and Bilan, 2018)
2.3 The Marketing Mix
The Figure 3 below demonstrated marketing mix potentials of Mezcal in the French market, comparing its strategies in the origin country and using the other alcoholic drinks of the host country for attaining a precise price contrast.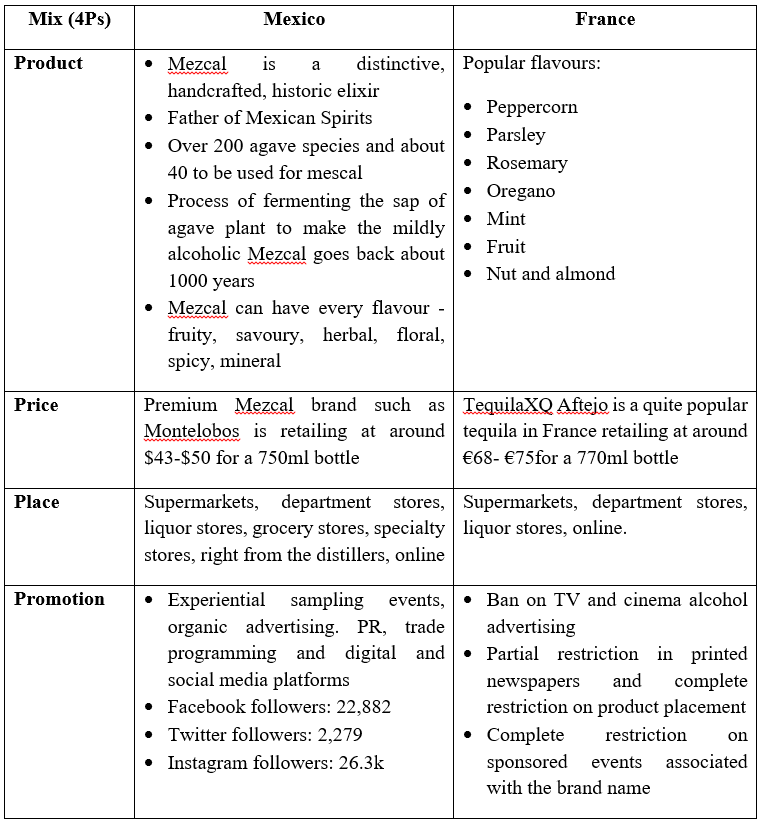 Table 3: Marketing Mix Comparison between France and Mexico
(Source: Asimov, 2020; Carruthers, 2020)
2.3.1 Recommendations for entering France
Introducing new flavour of "Nut and Grapefruit", unavailable in French beverages.
Introducing a standard 750ml Bottle with low pricing in France, just for €35-40.
Introducing new distribution methods in France, like Specialty stores and avail the drink in grocery stores.
Considering the restrictions, introducing online platform promotions to inform the French customers.
2.4 Implications on the Marketing Mix
2.4.1 Cross Cultural Analysis and the Cultural Framework
As per the marketing analysis carried out, the French market should deliver entirely fresh and enticing flavours. Mezcal with tastes of nut and grapefruit will be quite an extraordinary and delightful mix for the French, taking their flavour tastes into account. Mezcal's nut and grapefruit construct an excessively sophisticated atmosphere of intense and soothing aromas on the other hand. According to specifications, the container sizes should be kept from 200ml (minimum) to 750ml (maximum).
Mezcal is very potent alcoholic liquor, which is famous in Mexico's 69-scored masculine culture on the index of Hofstede. Comparatively, France has got only 43 score pointing out its more feminine culture, which can be a challenge for Mezcal. Moreover, French do not like uncertainties. So, in terms of avoiding surprise, the marketing efforts of Montelobos Mezcal should lead targeted French customers to a new flavour and familiarise them with its characteristics before launch.
2.4.2 Product Standardisation vs. adaptation
The key objective of a global strategy is to handle the major differences which exist across domestic borders. The standardisation of marketing systems cannot be associated with global marketing.
Standardization helps to concentrate on common categories, have economies of scale and support them more consistently (Breiet al., 2011). Standardization helps the organisation to retain a standardised image and identity worldwide. It removes confusion between purchasers who regularly fly. This helps the business to establish a single publicity strategy for multiple markets. This leads to considerable advertising savings including illustrative content, media and manufacturing costs for advertising. Considering the economies of scale, cultural and socio-economic disparities between countries tend to obstruct the policy of standardising the economy, which often calls for changes and for added costs to support the decision to standardise (Afriyie, Du and Appiah, 2018).
Adaptation of the goods in order to adapt to the external markets the components (brand, architecture, label, product line and quality) to the variations in climate, customer behaviour, user requirements and competition (Breiet al., 2011). Adaptation thus requires the use of specific business techniques whereby the company adapts the marketing mix to and setting. It requires customising techniques based on a variety of criteria for various areas. The use of marketing techniques with no standard components also refers to adaptation. National identities, vocabulary, tastes and desires are still to be noted. Adaptation proponents think that economies are subject to shifting macroeconomic factors such as environment, language, ethnicity, occupations, education, topography, preferences, legal and political challenges, as well as socio-economic problems (Afriyie, Du and Appiah, 2018).
3. Market Entry Strategy
3.1 Introduction and MES Characteristics
In line with control levels, cost levels, and risk levels and Involvement levels, foreign market entry strategies can be defined. The four primary forms of entry into the international market are: exports, licences, joint ventures and independent ventures (Holtbrügge and Berning, 2018). All of the above business entry strategies lead to significant investments and because it is impossible for businesses to adjust their options on entry modes without lack of resources and time. For related purposes, selection of entry strategy is a key to every enterprise's strategic choice. The new market penetration approach paradigm of Dunning has three main determinants: ownership gain, location benefit and internationalisation advantage (Onyusheva, 2020).
There are two main methods of exporting: exports directly by agent, dealer or administration; and exports overseas by subsidiary or indirectly, exports management, piggyback and countertrade (Dinu, 2018). Only through licencing, joint partnership, contract manufacture, ownership or manufacturing zone is the potential for international output. The most dangerous decision in the case of Montelobos would be indirect exports and direct export or international modes of production should be examined. The alternate methods of market entry are discussed in Table 3 below and the relevant costs, risk and involvement level of each form of entry has been illustrated.
| | | | | | |
| --- | --- | --- | --- | --- | --- |
| Foreign Market Entry Strategy | Description | Risk level | Control level | Involvement Level | Cost Level |
| Direct Exporting through Agents | Control Sell directly to importer contracted to act on behalf company | Low | Low | Low | Low |
| Direct Export through Distributors | Buying, stockpiling, selling and distributing the product | Low | Low | Low | Medium |
| Direct Exporting through Online Marketing | Online communication with prospect clients or business customers | Low | High | Low | Low |
| Joint Venture | two or more entitiescombine by agreement of obtaining shared ownership, shared returns and risks, as well as shared governance | Medium | Medium | High | Medium |
| Licensing | Owner company obtains a granted permission of the host country's government to make business (with or without time-period noted) | Low | Medium | Low | Low |
| Strategic Alliance | Agreement between 2 or more parties to obtain a set of agreed upon objectives needed while remaining independent organisations | Medium | Medium | High | Medium |
| Contract Manufacture | Form of outsourcing | Low | Low | High | Low |
Table 3: Various Foreign Market Entry Strategy
(Source: Vassileva and Nikolov, 2016; Dinu, 2018; Onyusheva, 2020)
3.2 Selection of the Market Entry Strategy
The PESTLE and SWOT tool has been considered here to identify the internal and external market environment of France, in order to boost the decision of selecting a proper foreign market entry strategy for Montelobos Mezcal.
3.2.1 SWOT Analysis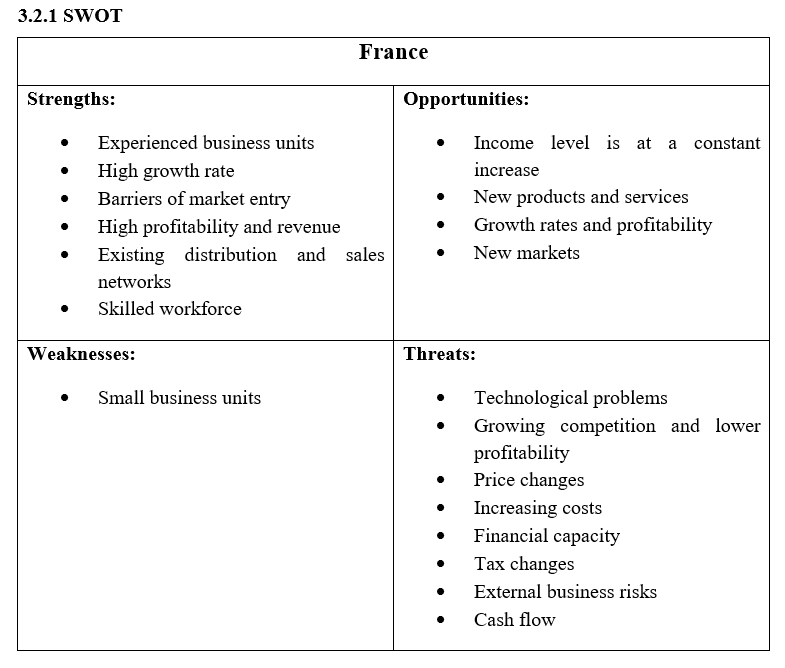 Table 4: SWOT Analysis of French Beverage Market
(Source: Gressieret al., 2017)
3.2.2 PESTEL Analysis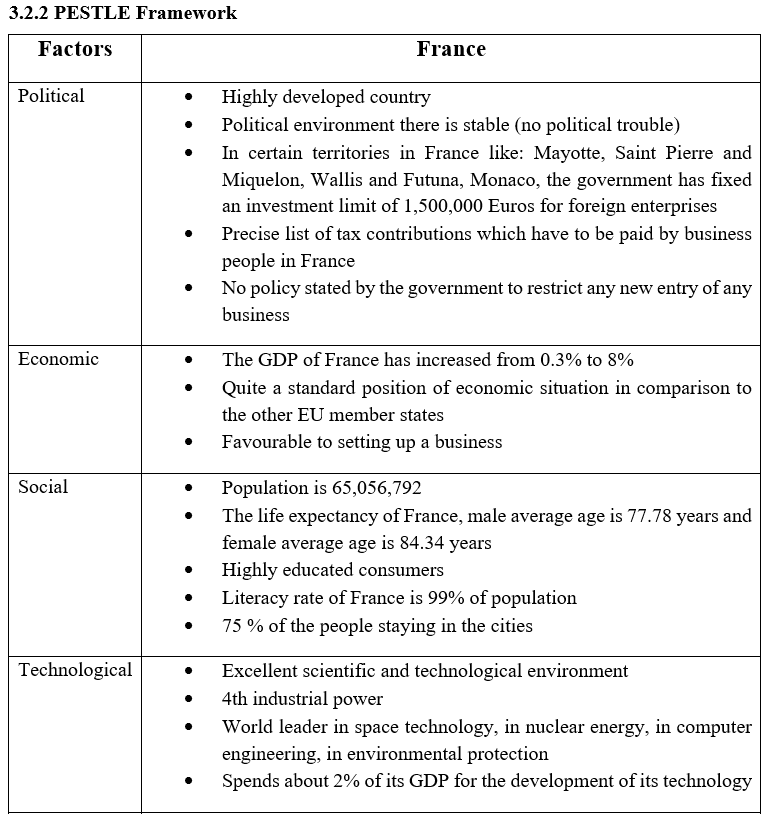 Figure 5: PESTLE Analysis of French Beverage Market
(Source: David, 2018)
3.2.3 Selected Market Entry Strategy
To reach the French market, a mixture of market entry strategies for Mexican Montelobos Mezcal was preferred, taking into account all the above aspects.
Direct exporting method through distributors would be used to access the French market, specifically because of the limitations and prohibitions on alcoholic products on the French market. In order to sell Montelobos Mezcal in France, thus, better awareness and deeper knowledge of the laws and local market control would play an important role. In comparison, strong internet/direct marketing would be used in order to maximise online access to consumers at any time needed. This will eliminate any distance challenge, and presenting discounts on the basis of its past and interests is an ideal way to tailor (Vassileva and Nikolov, 2016). It would also promote improved and closer ties with consumers via e-mail follow-up and other online communications.
3.2.4 Product Strategy
A precise product strategy leads to highly satisfied customers and higher benefit levels. For companies, the selection of the right commodity to market is important as the corporation determines the goods it offers (Daryousef, 2019). The products offered by the company must be in sync with the customer's expectations and needs. Therefore, it is important to obtain a thorough understanding of customers' patterns, desires and needs while finding the best goods for sale.
The Montelobos Mezcal will follow both innovative product design and modes of communication. In terms of the costs and uncertainties, analysts argue that it often makes sense to take the risk if the demand is sufficiently large, as is true in this situation. In addition, considering the French demand, it is important that anything exotic, such as the grapefruit and nut flavour, be given a real innovation. This beverage competes having a freshly crafted bottle, which can be seen in the following segment, alongside thousands of other alcoholic drinks.
While introducing Mezcal to French market, the bottle will be newly designed providing the below new specifications:
The bottle cap will be added with a French Flag logo (vertically), which indicates three principles of French Revolution (Blue for liberty, White for Equality and Red for Fraternity).
The wolf in the centre will be redesigned with French tricolours of flag. It should make the product more acceptable and attractive to French customers.
"Ecrou et Pamplemousse" will be written on the bottle at the flavour section, appreciating and prioritising the French language. It is a French version of "Nut and Grapefruit"
The Bottle will be 750ml of standard.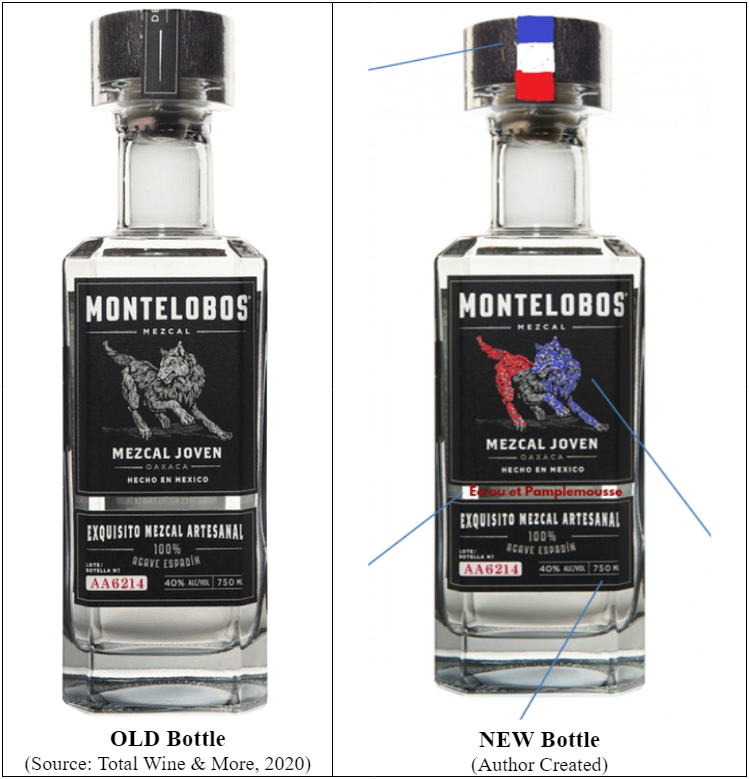 Figure 6: Old vs. New Packaging of Mezcal
3.2.5 Communication Strategy
In France, as mentioned in the previous chapter the regulations inspect alcoholic beverage ads extensively in most contact media and, in view of all limitations to TV, film, sponsored activities and partial prohibitions in print journals (Perelló-Sobrepere, 2020). The only global way to meet the prospective consumers is to advertise advertising (online marketing). In today's globalised world, focusing on social media and web marketing contributes to growing amounts of sales and content to consumers by generating engaging conversations and dynamic goods on their product forums, different websites, Facebook and the Twitter sites (Dolan et al., 2017). For preparing the steps and strategies to respond to evolving demands and needs of consumers, or even the forthcoming product launch, the aspects relevant to CRM are critical.
3.2.6 Summary of Market Entry Strategy
Companies are free to choose a variety of market entry methods to reach new markets, taking into account potential risks, controls, constraints and costs (Holtbrügge and Berning, 2018). Together with a professional dealer of the local market and its legislation as a consultant of the brand, Montelobos Mezcal will use a direct exporting strategy. On the other hand, internet marketing will pursue another major direct export strategy for evaluating and examining market reaction and demand.
Conclusion and Recommendations
In order to launch a product that would satisfy the expectations and needs of consumers in that market, profound awareness of the consumer market is of utmost importance. A variety or mixture of approaches simplifies analysis and provides a more holistic vision of the competition than a stereotypical single angle. In the nation where the market is based, the laws and regulations can have an important impact on the medium to use for market penetration strategies. It would be advisable to use a direct exporting approach through a distributor and on-line marketing as regards the French market through looking at all the variables. The French customers and their character must embrace food packaging.
References
Afriyie, S., Du, J. and Appiah, K., 2018. The Effects Of The Marketing Elements On Organizational Performance Influenced By Marketing Program Of Adaptation And Standardization. International Journal of Research in Humanities, Arts and Literature, 6(5), pp. 31-46.
Andreasson, F., 2020. Which Door Leads to Product Success in the Hotel Market? An Investigation of the Product Launch and Market Segmentation of a New Product Development. Lund University.
Andrijauskien?, M. and Dum?iuvien?, D., 2017, October. Hofstede's cultural dimensions and national innovation level. In DIEM: Dubrovnik International Economic Meeting (Vol. 3, No. 1, pp. 189-205). Sveu?ilište u Dubrovniku.
Asimov, A., 2020. With Mezcal, Smoke Is Only Part of the Story. The New York Times. [Online] Available at: https://www.nytimes.com/2020/01/23/dining/drinks/mezcal-review.html. [Accessed on 24.12.20].
Bandera, C., Eminet, A., Passerini, K. and Pon, K., 2018. Using mind maps to distinguish cultural norms between French and United States entrepreneurship students. Journal of Small Business Management, 56(sup1), pp.177-196.
Braud, V., Frederick, T., Harvey, N., Leong, C. and Lane, S., 2017. FRANCE, JAPAN, MEXICO, & THE USA: CULTURAL DIFFERENCES & STRATEGIC PLANNING. Copyright 2017 by Institute for Global Business Research, Nashville, TN, USA, p.126.
Brei, V.A., d'Avila, L., Camargo, L.F. and Engels, J., 2011. The influence of adaptation and standardization of the marketing mix on performance: A meta-analysis. BAR-Brazilian Administration Review, 8(3), pp.266-287.
Carruthers, N., 2020. How acquisitions could affect the mezcal category. The Spirits Business. [Online] Available at: https://www.thespiritsbusiness.com/2020/05/how-acquisitions-could-affect-the-mezcal-category/. [Accessed on 24.12.20].
Coulangeon, P., 2017. Cultural openness as an emerging form of cultural capital in contemporary France. Cultural Sociology, 11(2), pp.145-164.
Danaj, A., Lazányi, K. and Bilan, Y., 2018. Perceptions and implications of immigration in France-economic, social, political and cultural perspectives. Economics & Sociology, 11(3), pp.226-247.
Daryousef, M., 2019. Exploring the Strategies Project Managers Need for Business Transformation and Sustainability for New Product Development (Doctoral dissertation, Colorado Technical University).
David, J., 2018. PESTEL analysis of France. Global Business Issues. How and What. [Online] Available at: https://howandwhat.net/pestel-analysis-france-france-pestel-analysis/. [Accessed on 25.12.20].
de Mooij, M., 2017. Comparing dimensions of national culture for secondary analysis of consumer behavior data of different countries. International Marketing Review, 34(3), pp. 444-456.
Diaz, C., Nelson, R., Morin, J., Denn, A., Tien, H. and Steinberg, H., 2016. CUSTOMER SERVICE & HOFSTEDE'S CULTURAL DIMENSIONS IN CHINA, IRELAND MEXICO, & THE USA. In Allied Academies International Conference. Academy for Studies in International Business. Proceedings (Vol. 16, No. 1, p. 5). Jordan Whitney Enterprises, Inc.
Dinu, A.M., 2018. International market entry strategies. Academic Journal of Economic Studies, 4(2), pp.20-25.
Dolan, R., Conduit, J., Fahy, J. and Goodman, S., 2017. Social media: communication strategies, engagement and future research directions. International Journal of Wine Business Research.
Glowik, M., 2020. Market Entry Strategies: Internationalization Theories, Concepts and Cases. Walter de Gruyter GmbH & Co KG.
Gressier, M., Privet, L., Mathias, K.C., Vlassopoulos, A., Vieux, F. and Masset, G., 2017. Modeled dietary impact of industry-wide food and beverage reformulations in the United States and France. The American Journal of Clinical Nutrition, 106(1), pp.225-232.
Hennekam, S., Peterson, J., Tahssain-Gay, L. and Dumazert, J.P., 2018. Managing religious diversity in secular organizations in France. Employee Relations, 40(5), pp. 746-761.
Hill, A., 2019. What Is Mezcal, and How Is It Different from Tequila? Healthline. [Online] Available at: https://www.healthline.com/nutrition/mezcal-vs-tequila. [Accessed on 24.12.20].
Hofstede Insight, 2020. WHAT ABOUT FRANCE? [Online] Available at: https://www.hofstede-insights.com/country/france/. [Accessed on 24.12.20].
Hofstede Insight, 2020. WHAT ABOUT MEXICO? [Online] Available at: https://www.hofstede-insights.com/country/mexico/. [Accessed on 24.12.20].
Holtbrügge, D. and Berning, S.C., 2018. Market entry strategies and performance of Chinese firms in Germany: The moderating effect of home government support. Management International Review, 58(1), pp.147-170.
Onyusheva, I.V., 2020. Exploring Foreign Market Entry Strategies as a Way of International Business Expansion. ??????? ???????????? «?????», (1), pp.9-14.
Perelló-Sobrepere, M., 2020, May. CROSS-CULTURAL MARKETING IN THE 21ST CENTURY: WHY ANY FUTURE SCOPE NEEDS TO LOOK AT INFORMATION AND COMMUNICATION TECHNOLOGIES. In GLOBAL (Vol. 4, p. 51).
Saad, G.B. and Abbas, M., 2020. Effects Of Cultural Space On International Business Interactions. International Transaction Journal of Engineering, Management, & Applied Sciences & Technologies, 11(13).
Saenz, M.G., McGregor, T. and Nguyen, M., 2017. A Cross-Cultural Examination Of The United States, Argentina, And Mexico Using Hofstede's Dimensions And The World Values Survey. Marketing assignment Humanities and Social Sciences Review, 7(2), pp.227–236.
Terpstra, V. and Sarathy, R., 2000. International Marketing, 8th Edition, Dryden Press.
Thom, E.R., 2019. Exploring Small Business Management in Mexico and the United States using Hofstede's Dimensions.Portland State University. Paper 719. [Online] Available at: https://doi.org/10.15760/honors.736. [Accessed on 24.12.20].
Total Wine & More, 2020. MONTELOBOS MEZCAL JOVEN. [Online] Available at:https://www.totalwine.com/spirits/mezcal/montelobos-mezcal-joven/p/134814750. [Accessed on 24.12.20].
Vassileva, B. and Nikolov, M., 2016. Market entry strategies to emerging markets: A conceptual model of turnkey project development. Serbian Journal of Management, 11(2), pp.291-310.
Yayla, S., Yeniyurt, S., Uslay, C. and Cavusgil, E., 2018. The role of market orientation, relational capital, and internationalization speed in foreign market exit and re-entry decisions under turbulent conditions. International Business Review, 27(6), pp.1105-1115.