Marketing Assignment: International Expansion of Revolut in Kenya
Question
Task: Marketing Assignment Task: Rivolut bank, an e-money institution based in the UK is considering expanding to KENYA, a country in the eastern part of Africa.
Conduct a business environment audit relevant to international expansion to KENYA. Conduct a PESTLE analysis on KENYA, describe and evaluate those aspect of the environment (Political,legal, economic, social cultural, technological, and environmental) in the potential global market that are relevant to and, have implications for, developing a marketing strategy.
The purpose of this evaluation is to identify potential market opportunities for the introduction of new product/Service.
You are required to develop or select REVOLUT bank product/Service with the UK which is considered has potentials for expansion in KENYA based on PESTLE.
Develop a global marketing strategy to KENYA for REVOLUT bank product/service. This should include (although not exclusively)
Justify the opportunity in KENYA for the product/service developed
Provide an overview of the competitive landscape for the offering developed in KENYA Develop and design an outline international marketing strategy, discuss the product and modifications (if any) to allow entry and market establishment, pricing decisions, effective promotional efforts to establish awareness and establish market presence, distribution choices and brand/name along with suggesting the key challenges to global expansion for the SME in this market
Ensure that the PESTLE and International marketing strategy are linked to justify your decision and choices
Answer
1. Introduction
1.1 Background of the Company considered in the marketing assignment
Revolut was launched in UK in the year 2015 for offering services like money transfer and exchange to customers (Revolut, 2021a). It enables them to enhance their financial health, gaining more control and connecting with people seamlessly across the world through its personal and business accounts. Revolut is building the first truly global financial superapp in the world. The brand now makes more than 100 million transactions per month as customers use around dozens of innovative products (Revolut, 2021a). It has around 15 million personal customers and 500k business customers across 35 countries and supporting more than 30 in-app currencies.
1.2 Purpose of Report
The aim of the report is to analyse the external business environment of Revolut before entering the foreign market of Kenya with its financial superappand devise suitable international marketing strategies based on that.
1.3 Structure
In the first section, a brief overview of Revolut brand has been provided. The second section has analysed the external business environment of the company by conducting a PESTLE analysis of the Kenya market. The third section has provided business opportunities for Revolut app, an overview of competitive landscape and global marketing strategies. Besides, the challenges that the brand would face along with suitable recommendations are presented in the later section.
2. Business Environment Audit
2.1 PESTLE Analysis of Kenya
2.1.1 Political
In the year 2002, the economy of Kenya got liberalized. The Kenyan government is currently seeking for inflows of investment to develop the economy of the country. The government of Kenya has also removed trade restrictions, which was established prior to develop and promote Africanization. Furthermore, the Kenyan Government has also established laws related employment, workers' compensation, trade unions and many more. These acts initiated by the government of Kenya have an impact on the operation of Revolut Bank in the Kenyan market.
Investments play a major role in the operation of Revolut Bank. In the above section, it can be found that Kenyan Government is encouraging investments and it has also removed several trade restrictions. This can have a major impact on the expansion of Revolut bank in the Kenyan region. Employees are considered one of the major assets of an organization. There is no exception in case of Revolut Bank. There are two employment acts that have been implemented by the government of Kenya (Kenya Gazette Supplement, 2021). These two acts are Employment Act and Principal Act. These acts will have a major impact on the operation of Revolut Bank while expanding their operation in the Kenyan Region.
2.1.2 Economic
As mentioned earlier, the liberalized system of trade is considered to be the current and most prominent economic aspect of Kenya. Kenyan government is also focusing on implementing relevant policies to improve the economic condition of the country (Mathuki, et al., 2019). Despite, such relevant steps the economic market condition of Kenya is not good. The GDP of this country fluctuates and the rate of inflation of this country fluctuates because of major political instability within the country. For example, in the year 2002, the GDP of Kenya decreased by 0.547%, later in the year 2007, the GDP increased by 6.851%. Again in the year, 2008, the GDP decreased by 0.232% (The World Bank, 2021). Thus, it can be said that fluctuating GDP and other economic measures can have an impact on the business operations within the country.
Financial institutions are highly dependent upon the economic conditions of the country. A financial institution can perform better in a country with stable economic conditions. The above analysis suggests that the economic condition of Kenya is not in a good position even though the government has imposed several policies and laws to improve the economic conditions. Major fluctuations in the GDP of the country can affect the operation of Revolut Bank in a significant way. Thus, it is the primary responsibility of the organizational leaders of this bank to develop suitable strategies. Such strategies can help the bank to gain monetary success or can optimize revenue in the Kenyan market.
2.1.3 Social
Society plays a major role in directing business operations within the country. Cultural aspects, ethnicity, demography are considered to be important aspects that have an impact on the business operations. In the year 2019, it has been found that the participation rate of labour force in Kenya is above 75%, which is considered more than other developing countries like India and Brazil. This country has also witnessed a growing population over several years. Few major problems in the Kenyan society include child employment that has increased from 5% in 2000 to almost 35% in 2008 (Data commons, 2021). Furthermore, corruption and male dominated society also has an impact on organizations that focuses on starting their operation in Kenya.
Financial institutions like Bank tend to operate in a secured environment. In the recent years, banking fraud, transaction related issues are major concerns for the leaders in the banking industry. In the above part, it has been mentioned that the rate of corruption and fraud in Kenya is very high and it is considered one of the major area of concern for the government and the common citizens of Kenya. Corruption and fraud in the Kenyan market can have a negative impact on every operation of Revolut Bank. It can also strategically hamper the goodwill and reputation of the bank significantly.
2.1.4 Technological
The country is currently focusing on integration of advanced technology in the education and the financial sector. The government and other corporate houses are currently focusing on promoting the importance of personal computers and other tech devices in the lives of the Kenyan people. Research centres and other IT firms are also increasing in Kenya to develop the country technologically. The report from World Bank reveals that the ICT sector of Kenya has witnessed a growth of about 23% in the last decade. The technological sector has also contributed to the GDP by 8% (International Trade Administration, 2020). Thus, it can also have an impact on the operation of Revolut bank.
The above result concludes that Kenyan government is currently focusing on development of technological factors and implementation of technology in the core business operations of several organizations. Revolut Bank is known to have implemented an application and the major objective behind launching this application is to help the customers handle and manage their money in a systematic way (Revolut, 2021c). Thus, it can be said that technological aspects are important part of this bank. However, Kenyan government is also empowering corporate houses to integrate technology. Thus, it can be concluded that technological advancement in the Kenyan market can have a significant positive impact on the operation of Revolut Bank.
2.1.5. Legal
The constitution of Kenya has a set of statutory regulation as well as common law. The corporate income tax rate for the foreign corporate companies is 37.5%. There are several other corporate taxes for the employees working in corporate firms based in Kenya (Santander, 2020).The Kenyan government has also established a set of law that are related to intellectual property. Thus, it is the responsibility of the corporate houses to follow the rules and regulations before starting any operations in Kenya.
Kenya is considered one of the former colonies of the British. Thus, the legislative system of this country has been formulated based on that. The legislative framework in this country has been formulated in such a way that the process of doing business has become easier. Furthermore, financial institutions like Revolut Bank aim for a fair marketplace. It will help in protecting the consumers and their assets. This will help the bank to optimize their performance and productivity. The modernised legal rules of Kenya provide a fair marketplace (Oxford Business Group, 2021). Thus, it can be said that the liberalized and modernised laws of Kenya will have a positive impact on the operational activity of Kenya.
2.1.6 Environmental
In the current scenario, it can be seen that business operations have negative impact on environment, which is leading to environmental degradation. This is the major reason the Kenyan government is focused on conserving the natural environment. This is the reason the government has focused on imposing laws that are related to sustainability. The governing bodies of Kenya direct corporate houses so that the organizational leaders are able to undertake sustainable actions to protect the environment. Apart from that, corporate houses are also undertaking CSR strategies. The objective of these CSR strategies is to contribute to the society in a significant way.
The Kenyan government has strictly imposed environmental laws on corporate houses. It will have an impact on the core operation of Revolut Bank. Thus, it is the responsibility of the organizational leaders to design strategies in such a way so that the bank can seek opportunities from the environmental laws. Besides, it can combat the threats that the environment is constantly facing. The growth as well as the development of the business of Revolut Bank will also be affected by the environmental laws of theKenyan government.
3. Global Marketing Strategy
3.1 Opportunity for Product/Service Developed
As mentioned earlier, financial app is the product that will be offered by Revolut Bank to the people of Kenya. Kenyan government currently is focusing on advancement of technology. Thus, this application can be upgraded by the organization to provide seamless customer experience to the people of Kenya. Moreover, corruption and theft is considered to be a large institutional problem of Kenya (Akech, 2011). People are in need for secured monetary transactions. The digital application will provide encrypted monetary transactions to the Kenyan people. This feature of the application can provide several opportunities for the product.
In addition to this, between January 2020 and January 2021, the mobile penetration in Kenya grew significantly. The penetration rate increase by 109% and 52 million people in Kenya currently have mobile connections and 21.75 million people of Kenya are currently using Internet (Gilbert, 2021). Thus, the users of technology are high and growing in the Kenyan market. Therefore, the digital application provided by Revolut Bank can grab this opportunity and increase the percentage of users of this mobile application. This will further lead to profit optimization of the bank and it will help the bank to expand in the Kenyan market.
3.2 Overview of Competitive Landscape
Digital banking in Kenya has been growing rapidly in the recent years. African countries including Kenya and Nigeria are at the forefront of becoming the global hub of FinTech innovation in the coming years (Chitavi, Cohenand Hagist, 2021). These countries have been using inexpensive and accessible technology for mobilizing customers and encouraging them to switch to digital payments and banking. This has created intensive competition in the markets because of existing banks and financial institutions trying to capture the shares. Mobile money usage has been experiencing a steady growth with the increase in monthly volume of person-to-person transactions (Genga, 2021). This has motivated the biggest bank by assets in Kenya, KCB Plc to form digital payment partnerships for expanding its revenue streams. This bank has the highest market share of 14% in the Kenyan banking industry, followed by Equity Bank and NCBA with 10.2% and 10.1% share respectively (Faria, 2021a). Furthermore, nine commercial banks in the country are considered large institutions consisting of over 5% market share. This indicates the intense competition existing between these banks in Kenya that Revolutwould face after entering the market.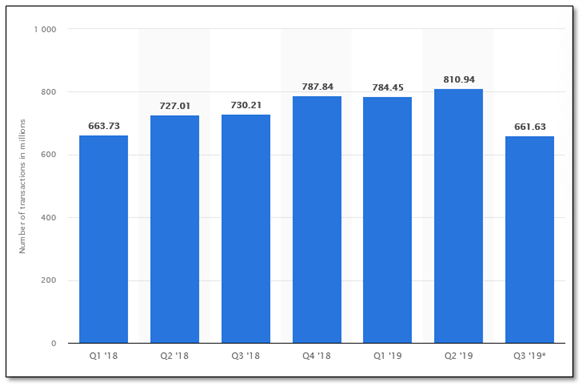 Fig :Mobile money transactions in Kenya 2018-2019
(Source: O'Dea, 2021)
The graph clearly represents the solid growth in mobile money transfer market. Around 661.63 million transactions were recorded in the third quarter of 2019, which decreased from 730 million in the same quarter of the previous year (O'Dea, 2021). Despite this decrease, large number of transactions still took place through mobiles. Besides, Kenya has experienced a 12.5% growth in registered mobile money accounts from 59.2 million in 2020 to 66.6 million in 2021 (Faria, 2021b). This number has already crossed the population of the country that is estimated to be 50 million as of 2020. Thus, there is immense scope for Revolut to capture this market by entering the country.
3.3 International Marketing Strategy
3.3.1 Product and Modifications
This is the first key element of the marketing mix strategy involving the physical product or service that is being offered to the customer in exchange for pay (Išorait?, 2016). The product of Revolut that will be offered in the Kenyan market is the financial mobile app for getting attention of target customers, to be used and satisfying their needs and wants. The target market of this financial app will include only individual because it provides opportunities to users in managing all money-related things through one app. Kenya has a high mobile penetration rate and the highest internet penetration amongst the African countries as of December 2020 (Johnson, 2021). Around 73% of individuals above 15 years age possess a mobile money account as Kenya is considered as the birthplace of it with the launch of M-Pesa (Gilbert, 2021). Thus, the financial app of Revolut will be suitable for these individuals' customers. The various functions and features provided to them will include making and receiving payments and settling bills, enjoying early salary, getting control over personal finance with budgeting tools, linking credit or debit cards, availing discounts and cash backs, managing subscriptions, opening bank accounts, international transfers, investing in stocks, insurance and controlling card security (Revolut, 2021b).
3.3.2 Pricing Decisions
This is another important element of the marketing mix increasing the profits and market share of a company. Price does not only directly affects the sales and profitability but also quickly adapts to the environmental changes (Khan, 2014). It helps in satisfying the customers and makes them loyal towards the brand. Revolut will have to set suitable prices of its financial app for the Kenyan customers as they use this for understanding the value of the product. In this regard, a competitive pricing strategy will be suitable for the company in the competitive Kenyan market (Kienzler and Kowalkowski, 2017). There exists large number of banks undertaking FinTech in their products and services and encouraging customers to switch to digital payment modes. Here, Revolut will rely on the competing product prices that these banks and financial institutions offer for setting its prices. Primarily, it will compare product prices of different competitors in the market by directly monitoring them and analyse their price responses to market changes (Vidrova, Krizanova and Gajanova, 2019). Based on such analysis, Revolut can set its product prices at a slightly higher level than the competitors can as it is a foreign brand. Besides, this higher price will be charged for the wide variety of services and products that customers will get from the financial app that other competitors are not offering to them.
3.3.3 Effective Promotional Efforts
These activities are undertaken for increasing customer awareness about the products and services of the company for resulting in higher revenues and increased brand loyalty. Promotion is the marketing mix tool for disseminating relevant information about the brand and its products or services, encouraging and persuading customers to buy and influencing their decision-making process (Thabit and Raewf, 2018). Revolut will mainly focus on various internet and digital marketing strategies for reaching the Kenyan customers. This will not only enable the brand to reach a large number of customers in the market but also do so at minimal rates. The facilitation of online social behaviour and constant interaction with customers over web-based platforms is one of the most significant reasons of undertaking digital marketing and social media advertising for promoting itself (Tiago and Veríssimo, 2014). These strategies will enable Revolut to share information, encourage customers to share their knowledge, interact with the brand and engage with it. Furthermore, the internet advertising revenue in Kenya is expected to reach US $73 million by 2023, thus, making it the most beneficial promotional channel (Statista, 2021). Besides, Revolut will use social media platforms of Facebook, Twitter and Instagram for reaching the Kenyan customers that have the highest market shares (Stat Counter, 2021).
3.3.4 Distribution Choices
This indicates the process and methods through which products or services are provided to the customers. Distribution is an important element in the marketing mix strategy enabling customers and users to identify and purchase the products from manufacturers or retailers (Londhe, 2014). Thus, it includes all the decisions or actions associated with the movement of goods from the producer to the customer. Revolut can undertake various distribution strategies for reaching the Kenyan customers. In this regard, direct distribution strategy will be most suitable as it will offer the financial superapp for the customers (Dent and White, 2018). Here, app can be provided through Google play store and Apple store for making them available to the smart phone users in the Kenyan market. From such stores, users will able to download the app in their mobiles, create their personal accounts and start using it. This strategy is ideal for the brand as the channel length is very less and it is engaged in modern retail.
3.4 Key Challenges to Global Expansion
There exist various challenges in the Kenyan market that Revolut might have to face while doing business in it. It has a low-skilled labour force with low physical and human capital that makes it difficult to start any modern production process (Export.gov, 2016). The lack of skilled and educated labour pool might make it difficult for the foreign company to reach the customers and make them understand about the financial app product. Furthermore, unfavourable policies like tariffs and non-tariffs on exports, institutional constraints and poor economic management are some obstacles that Revolut might have to face while entering the country (Kiriti-Nganga, 2020).
Low-income levels, low human capital and small scale industrial enterprises result in low levels of technological level in the market, which is another challenging factor for diffusion of Revolut's technological app in Kenya. There is high level of unequal income in the country with concentration of economic development in Nairobi and Mombasa (Kiriti-Nganga, 2020). Thus, the target market of Revolut might become limited to only these regions. Businesses in Kenya often face various challenges related to unemployment, corruption, insecurity, land titles, poverty and ethnic tensions. The UK firm is also expected to face them while doing business in the foreign market. High unemployment rate and poverty are major obstacles that might prevent individuals from purchasing smart phones and switch to digital banking (Kiriti-Nganga, 2020). This would make it difficult for Revolut to attract the customers in the market. Besides, there have been concerns associated with terrorism and crime in the country. This might encourage the Kenyan government to impose rules or regulations regarding use of smart phones and some apps (Kiriti-Nganga, 2020). Thus, Revolut would have to experience such obstacles and abide by them for operating in the country.
4. Recommendations
Revolut can undertake various strategies for entering the Kenyan market. In this regard, partnering with a local technology firm would be beneficial for the foreign company. Revolut can utilize the technical expertise, knowledge and skills of employees in this local firm for personalizing the features and functions of its financial app as per the tastes and preferences of the Kenyan customers. This is of utmost importance because of the social and cultural differences existing between the UK and Kenyan market. The similar features or strategies that Revolut has applied in its home market might not be suitable for the foreign market. Thus, by gathering detailed information about consumer appetite, financial positions, economic backgrounds, preferred payment modes, financial products and others to personalize them and offer to the foreign customers. Furthermore, partnership with a local firm is beneficial in better interacting and understanding the customers in this market and identifying the marketing channels for reaching them. The cultural differences in this context can also be better addressed with utilizing the knowledge of the local partner. Besides, this partnership should also be used for gaining information about competitors in the market, their offerings and products and methods of promotion and pricing. This information can be further utilized for setting prices of its products and services alongside affordability and income level of the customers. Moreover, this strategic alliance would help in sharing costs and risks with the local firm along with gaining a wider range of expertise. Revolut would also be able to better understand and comply with Kenyan rules and regulations of conducting business. The combined ownership and control would enable them to invest more capital and expand their business in the future.
5. Conclusion
The report has pointed out how Revolut UK can offer its financial superapp product by entering into the Kenyan market. In this regard, the PESTLE analysis has helped in pointing out different opportunities and threats for the company. Furthermore, opportunities of offering this app have also been identified in the Kenyan market. The competitive landscape has been analysed, which has further helped in formulating suitable marketing mix strategies for Revolut. Lastly, collaborating with a local firm would be beneficial for the foreign company to operate in Kenya.?
6. Reference list
Akech, M., 2011. Abuse of power and corruption in Kenya: will the new constitution enhance government accountability?. Indiana Journal of Global Legal Studies, 18(1), pp.341-394.
Chitavi, M., Cohen, L. and Hagist, S.C.N., 2021. Kenya Is Becoming a Global Hub of FinTech Innovation. [online] Harvard Business Review. Available at: (Accessed 23 June 2021)
Data commons, 2021. Kenya. [online]. Available at: (Accessed 23 June 2021).
Dent, J. and White, M., 2018. Sales and marketing channels: How to build and manage distribution strategy. Kogan Page Publishers.
Export.gov, 2016. Doing Business in Kenya. . Marketing assignment [online] Available at:
Faria, J., 2021a. Market share of major commercial banks in Kenya 2019. [online] Statista. Available at: (Accessed 23 June 2021) Faria, J., 2021b. Registered mobile money accounts in Kenya 2019-2021. [online] Statista. Available at: (Accessed 23 June 2021)
Genga, B., 2021. Kenya's Biggest Bank Bets on Digital Payments for Growth. [online] Bloomberg. Available at: (Accessed 23 June 2021) Gilbert, P., 2021. Kenya Internet usage lags mobile penetration. [online] Connecting Africa. Available at: (Accessed 24 June 2021)
International Trade Administration, 2020. Kenya - Country Commercial Guide. [online]. Available at: (Accessed 23 June 2021). Išorait?, M., 2016. Marketing mix theoretical aspects. International Journal of Research-Granthaalayah, 4(6), pp.25-37.
Johnson, J., 2021. Internet penetration in Africa, by country. [online] Statista. Available at: (Accessed 24 June 2021) Kenya Gazette Supplement, 2021. The Employment Amendment Act. [pdf]. Available at: (Accessed 23 June 2021).
Khan, M.T., 2014. The concept of'marketing mix'and its elements (a conceptual review paper). International journal of information, business and management, 6(2), p.95.
Kienzler, M. and Kowalkowski, C., 2017. Pricing strategy: A review of 22 years of marketing research. Journal of Business Research, 78, pp.101-110. Kiriti-Nganga, T., 2020. Kenya -Economic Diversification, Challenges and Opportunities. International Journal of Economics and Management Studies, 7(4), pp.173-181. Londhe, B.R., 2014. Marketing mix for next generation marketing. Procedia Economics and Finance, 11, pp.335-340.
Mathuki, P.M., Ogutu, M., Ndemo, B. and Pokhariyal, G., 2019. The Joint Effect Of Strategic Alliance, Regional Integration And Macro Environment On The Performance Of Kenyan Manufacturing Firms In The East African Community Market. DBA Africa Management Review, 9(3), Pp.111-127.
O'Dea, S., 2021. Mobile money transactions in Kenya 2018-2019. [online] Statista. Available at: (Accessed 23 June 2021) Oxford Business Group, 2021. Kenya's modernised legal system ensures a fair marketplace. [online]. Available at: (Accessed 23 June 2021).
Revolut, 2021a. About us. [online] Available at: (Accessed 23 June 2021) Revolut, 2021b. Home. [online] Available at: (Accessed 24 June 2021)
Revolut, 2021c. One app, all things money. [online]. Available at: (Accessed 23 June 2021). Santander, 2020. Kenya: Business Environment. [online]. Available at: (Accessed 23 June 2021).
Stat Counter, 2021. Social Media Stats Kenya May 2020 - May 2021. [online] Available at: Statista, 2021. Kenya internet advertising revenue 2013-2023. [online] Available at: Thabit, T. and Raewf, M., 2018. The evaluation of marketing mix elements: A case study. International Journal of Social Sciences & Educational Studies, 4(4).
The World Bank, 2021. GDP Growth rate annual % (Kenya). [online]. Available at: (Accessed 23 June 2021).
Tiago, M.T.P.M.B. and Veríssimo, J.M.C., 2014. Digital marketing and social media: Why bother?. Business horizons, 57(6), pp.703-708.
Vidrova, Z., Krizanova, A. and Gajanova, L., 2019. Advantages, Limits And Issues Of Using The Competitive Pricing Strategy. Economic and Social Development: Book of Proceedings, pp.339-348.