Marketing Assignment: Internal & External Analysis of BMW
Question
Task: Marketing Assignment Task
Choosing an organisation you are familiar with, you will deliver a report considering the assessment requirements of:
1) Define the role of marketing to support the achievement of organisational objectives in general and for your chosen organisation;
2) Discuss the factors in an organisation's marketing environment, which impact on the marketing of a product or service and developing a SWOT and PESTLE for your chosen organisation;
3) Deliver an understanding of how to market a product or service (Marketing Mix) and highlight how your chosen organisation has completed this;
4) A Personal reflection on your practice of sales and negotiation skills that you completed in taught sessions and the key points you will take away and use in the future and an outline of your chosen company's strategies in this area
Answer
Introduction
As per the research on marketing assignment it is stated that the Marketing Department plays a vital role in endorsing the business and operation of an association. It assists as the appearance of the company by organizing and creating all resources on behalf of the business. Through marketing the concerned firm has become able to analyse and collect customer's insights for steering and developing the innovative strategies, campaigns and concepts that have kept the brand image at the forefront of the premium automotive market. Thus marketing plays an effective role to reach organisational objectives. The concerned study will encompass internal and external analysis of the company by incorporating SWOT, PESTLE and Marketing Mix. Based on the identified issues a wide range of recommendations will be provided.
PESTEL and SWOT analysis
Briefly elaborate environmental scanning and its importance Environmental scanning refers to define several external factors that could externally and internally impact the company's business. It has much importance in understanding the external and internal influence of the business.
Role of PESTLE and SWOT and discuss
PESTLE helps to identify political, environmental, social, economic, legal, technological factors that may positively or negatively impact any firm. SWOT plays an important role to recognise internal strengths, weaknesses, threats and opportunities greatly. Introduce the Company
BMW is commonly recognised as a famous German multinational corporation that is involved in producing motorcycles and luxury vehicles. The company operates in the automotive industry. The company has developed its business functions by relying on its corporate strategy of individual mobility and by contributing in sustainable development (Corporate Strategy, 2021). Political Factors Political instability might create a business threat for BMW. There are several political factors that influence the business of BMW to some great extent such as political corruption, new regulations and policies (Political instability - Impact of the First World War - WJEC - GCSE History Revision - WJEC - BBC Bitesize, 2021). Moreover political instability often influences the company in more than two ways by decreasing buying tendencies of the customers and changing their purchasing patterns.
| | |
| --- | --- |
| Political Factors | Political instability might create a business threat for BMW. There are several political factors that influence the business of BMW to some great extent such as political corruption, new regulations and policies (Political instability - Impact of the First World War - WJEC - GCSE History Revision - WJEC - BBC Bitesize, 2021). Moreover political instability often influences the company in more than two ways by decreasing buying tendencies of the customers and changing their purchasing patterns. |
| Economic Factors | Economic factors can be a business threat for BMW companies. Global economic fluctuations are creating massive problems for the organization by affecting profits, values and organisational performance(Flor, 2021). The company has speculated profits and losses. Tariffs often influence the increasing prices of the vehicle parts. |
| Social Factors | Cultural differences of countries are considered as influencing factors for BMW groups (Guide, Germany and for?, 2021). Knowing diverse culture and different buying decisions BMW needs proper research and development. |
| Technological Factors | Technological advancement often plays a great role in influencing business growth (Germany, a world leader in technology, engineering and innovation - Shaping Europe's digital future - European Commission, 2021). Being a reputed concern BMW would derive business opportunities through implementation of technologies and leisure operations such as Bluetooth, Wifi in vehicles. |
| Legal Factors | Several legal factors might create business constraints for BMW group (Legal Environment 2021). The company abides by several copyright laws upon technological use and other options. |
| Environmental Factors | There are several environmental factors that are such as carbon emission and fuel usage by cars that might create business constraints for the organization (Group, 2021). It could make it necessary to attach several laws such as carbon emission law. |
Table 1: PESTLE
(Source: Created by Author)
Brief
Based on the above PESTLE analysis it has been identified that there are several external factors such as political, economic, social, technological and legal and environmental factors that might create business threat and opportunities for the organization. It has been identified that political instability in Germany would influence business growth and development. After World War One the Democratic country has been divided into two dimensions and it has resulted in a political conflict and imbalance in the business context. Major economic fluctuations have been observed after post reunification in Germany that might impact the business context of BMW. Several cultural stereotypes are being found in the context of Germany. To align these changing cultural factors and differences might slow down the business growth. Being a world leader in technology a vast emergence of technologies can be found. By aligning this technological growth BMW company would be able to enhance its market success to some great extent through different technological implementations. Similarly increasing environmental laws for carbon emissions and other Environmental Protection Act might restrict the organization from operating its business smoothly. Legal attributes such as several copyrights, workplace acts and others can be problematic and restrictions for running business in the competitive business context of Germany.
Strengths

?       Valuable automotive brand in the World

?       Diverse revenue stream

?       Successful Partnership in China

?       Strategies to meet future challenges and trends

Weaknesses

?       Poor brand portfolio

?       Low differentiation in products

?       Increasing debt

Opportunities

?       Increasing fuel price

?       Increasing demand for autonomous vehicles

Threats

?       Increasing competition within the market

?       Increasing governmental regulations may restrict the business

?       The automotive market of United State is slowing down
Table 2: SWOT
(Source: Created by Author)
SWOT
From SWOT analysis it is found that there are several strengths, weaknesses, threats and opportunities in the organisational context of BMW. Being a German brand the company has become able to attain reputed brand image among its competitors. From the statistics of 2020, the global revenue of the company has found 99 billion euros. Similarly successful partnerships in China and effective strategies for dealing with future challenges are the most important strengths of this business unit.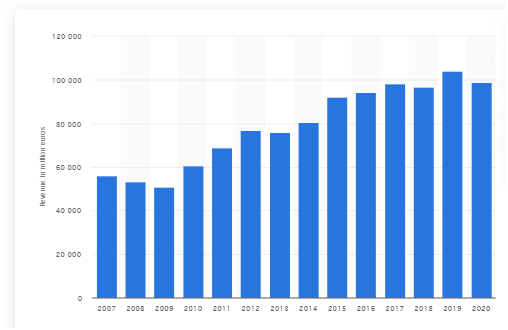 Figure 1: Global revenue of BMW Group
(Source: BMW Group - global revenue 2020 | Statista, 2021)
On the other hand, Gr?dinaruet al. (2020) has stated that the company is not free from weaknesses. Poor brand portfolio, lack of product differentiation and increasing debt are the major weak points. BayerischeMotorenWerke had accountabilities of €76.1billion due in 12 months and liabilities of €85.9 billion due or beyond that (Yahoo is now a part of Verizon Media, 2021). However there are several business opportunities that can be helpful for the company as well. Increasing fuel price and increasing demand for autonomous vehicles often attract buyers to make their purchase (Markets, 2021). A wide range of threats can be identified in the case of BMW such as increasing governmental regulations and slowing down in the US automotive industry would restrict the business growth in future (France-Presse, 2021).
Discussion and Analysis of Marketing Mix
7Ps of marketing mix consists of seven factors such as price, place, promotion, product, people and physical evidence. For enhancing business growth determine strategies for product, place, price, promotion, people and physical evidence.
Price
The brand image and position of the company has led this firm to adopt a product line pricing strategy that charges different prices for different models of the vehicles. However the company operates in different countries and based on individual purchasing capacity of the customers the price of the products is being determined. To ensure customers about the premium quality of the car models BMW has taken initiative to set a diverse price range of its different models as per the quality and suitability of the products.
Product
The wide range of quality products and brand differentiation under this category helps the company to attract maximum customers. The company has decided to bring differentiation in its products by dividing it categorically such as Rolls Royace, BMW and MINI. While operating in global business it has been identified by the company that people often look for premium quality products even at higher price with proper technological advances and features. Therefore the wide product range of the company has become helpful to grow its market among those who are fascinated with buying premium quality products.
Place
BMW Group has almost 6,000 deals and sales representatives in almost 150 countries internationally. Moreover, the worldwide distribution network of BMW currently comprises 1,550 MINI, 3,310 BMW and almost 140 Rolls-Royce dealerships. In China the company has opened almost 60 BMW dealerships in the year of 2015. The agency and dealership network for BMW consists of almost 950 locations. In Germany, China and USA there are the largest automobile markets for BMW Group and these countries accommodate the biggest number of dealership offices and representatives.
Promotion
Promotion plays an effective role to enhance business growth and development. BMW has initiated the target of market segmentation of the premium market through optimization of the proper fit amid the purchasing behaviour of different customers and also the marketing mix in order to boost sales to the customers segment. In order to excel in business growth and marketing promotional activities the company has adopted an online marketing platform that would help the organization to reach maximum customers. An effective PR team has helped the organization to reach maximum customer base through brand promotion.
Physical Evidence
Physical Evidence is the element that allows the customers to create decisions on making their purchasing decisions from the establishment. Moreover, showroom ambiance and dealers of BMW are actually designed to be classy, cool and luxurious in appearance. BMW actually refers to different elements that are combined to create a suitable atmosphere for different customers. The physical evidence of the company draws the attention of the customers first then they evaluate the service and the product after reviewing the physical evidence. For instance, the BMW log that is created to attract customers to buy premium vary with extraordinary features. If this brand entity is being implemented and maintained properly then the company will receive maximum customer support. Services are one of the important factors in marketing for retaining the trust of consumers. It largely depends on tangible comfort that is provided to the consumer.
People
Employees and their behavioural attributes towards the customers are important as the employees play an important role for bringing dynamics of a business working environment. Clients often take the behaviour of staff with utmost consideration. They observe how the organization's employees are representing the business and the products. It reflects the way the business owner operates the entire business unit. The motive behind creating an image in the mind of consumers about a company that it is useful and reliable is to attract them. By recruiting suitable workforce and giving training to them appropriately in the company can be essential if the company wants to achieve competitive advantage.
Sales and Negotiation skills applied by your chosen company
Skills learnt in Sales and Negotiation Session
There are several skills that have been learnt by me during the Sales and negotiation session such as speaking capacities, steering clear of different ranges, different writing terms along with verbal communication. I have come to that in order to bring business innovation the first and foremost thing is to have good communication skills. With the help of problem solving method and report building method an organizational manager could easily deal with any problems. Moreover, through the sales session I have come to attain the knowledge of staying top among different brands and increasing adaptability. I have come to learn that with the help of customers' collaboration and emotional intelligence I could easily get any formal solution to any certain incident.
How BMW has adopted the sales and negotiation skills for marketing services and products and for evaluating performance
Being a reputed company BMW has also adopted certain skills such as decision making, problem solving, customer's collaboration and motivational skills in order to attain maximum customers through effective services. By motivating the employees a well-structured working environment can be maintained. For marketing products effective communication is necessary among the staff that has been adopted and used by the organisation greatly. For evaluating business processes it is necessary to have sound decision making possibilities in order to deal with several problems that often take place within the business context. BMW has adopted negotiation and sales skills for marketing services and the company products in order to evaluate performance. The marketing agency of the organisation has taken initiatives to increase product aisles up to 70% through motivation, customer engagement, problem solving skills and decision making possibilities.
Conclusion and Recommendation
It can be concluded that an employee who actually works hard to help customers actually troubleshoot a picture in the minds of consumers about how a company is effective and useful. The commercial performance of a customer is recognised as the production of the ways by which the consumer makes a choice regarding the business of any goods. However through brand advertisement it has been identified that BMW has become able to reach global population irrespective of their age, sex, cultural background and region. Moreover while operating in different countries; BMW has collaborated with different brand promotional agencies to acquire their services.
A set of recommendations can be uttered here to support the organisation in marketing its product and services
New Market Development
The first and foremost pricing strategy that can be adopted is new market development. In order to maximize profit BMW should look into new markets in order to expand its business to some great extent.
Setting Cost Leadership Pricing Strategy
It is common that while operating in developing countries people often have low affordability to buy products from any reputed brand. Considering this cost leadership strategy should be taken to improve market profits by increasing sales.
Reference List
BBC Bitesize. 2021. Political instability - Impact of the First World War - WJEC - GCSE History Revision - WJEC - BBC Bitesize. [online]
Available at: [Accessed 26 March 2021].
Bmwgroup.com. 2021.Corporate Strategy. [online] Available at: [Accessed 26 March 2021].
Finance.yahoo.com. 2021. Yahoo is now a part of Verizon Media. [online] Available at: [Accessed 26 March 2021].
Flor, M., 2021. Post Reunification Economic Fluctuations in Germany: A Real Business Cycle Interpretation. [online] Ideas.repec.org. Available at: [Accessed 26 March 2021].
France-Presse, 2021. Auto Manufacturing Slowdown Pushes US Industrial Production Down. [online] IndustryWeek. Available at: [Accessed 26 March 2021].
Gr?dinaru, C., Toma, S.G. and Zainea, L.N., 2020. Japanese versus German Supremacy in the Global Automotive Sector.Ovidius University Annals, Series Economic Sciences, 20(1). Group, G., 2021.Environment & Climate Change Law 2021 | Germany | ICLG. [online] International Comparative Legal Guides International Business Reports. Available at: [Accessed 26 March 2021].
Guide, E., Germany, M. and for?, P., 2021. 6 big cultural differences for expats in Germany | ottonova. [online] ottonova AG. Marketing assignmentAvailable at: [Accessed 26 March 2021].
Legal Environment 2021. [online] Available at: [Accessed 26 March 2021].
Markets, R., 2021. Global Autonomous Vehicles Market (2020 to 2024) - Featuring Alphabet, BMW & Daimler Among Others. [online] GlobeNewswire News Room. Available at: [Accessed 26 March 2021].