Marketing assignment evaluating the macro and micro environmental factors affecting White Stuff
Question
Task: You are required to analyse the current market conditions, target market, marketing mix and then formulate recommendations for the chosen organization (product) in your marketing assignment.
Answer
Company Background
White Stuff is a London-based fashion and lifestyle brand founded in 1985. The company provides women's clothing, men's clothing and kids clothing, accessories, gifts and homeware across a network of shops and online stores. It ensures the presence of originality, creativity and individuality in its products (White Stuff, 2022a). The company further includes unique details, unexpected colour combos and beautiful prints in its products. The purpose of the marketing assignmentis to analyse current market conditions, target market, marketing mix and environmental assessment to provide specific recommendations to White Stuff in the UK market. Here, the clothing product category of the company has been selected along with the UK market.
Situation Analysis in the marketing assignment
Macro-Environmental Factors
Political- UK is an influential nation with a major role to play in the international market. It has significant political stability with government encouraging new businesses(Market Line, 2014). However, the Brexit movement has caused uncertainty over these past years, which might make it challenging for White Stuff. Economic- The diverse economy of UK provides businesses with various opportunities to grow and flourish(Market Line, 2014). Inflation and unemployment rates have increased as per the marketing assignmentin the last two years with the pandemic outbreak. Despite this, various government initiatives are helping companies like White Stuff to continue their businesses.
Socio-cultural-UK mainly consists of individuals belonging to high-income group because of higher per capita and disposable income(Market Line, 2014). As per the marketing assignment it is because of reduced inflation and unemployment rates in recent years. This can help White Stuff to charge premium prices for their sustainable and high-quality products.
Technological- UK is a technologically advanced country with high internet and ICT penetration(Market Line, 2014). White Stuff as per the marketing assignmentis expected to use these technological and digital tools in their business processes and operations for enhancing customer shopping experience at both physical and online stores.
Environmental- Rapid industrialization has increased environmental issues in UK over the years. As per the findings of the marketing assignment this makes it essential for White Stuff to focus on recycling, reducing carbon footprint and plastic waste and using eco-friendly and sustainable practices(Market Line, 2014). Legal-There are various legislations related to minimum wages, discrimination and treatment of employees (Market Line, 2014). White Stuffconsidered in the marketing assignmentshould ensure to treat their employees with respect and equality, ensure basic minimum pay and reduce discrimination in the workplace.
Micro-Environmental Factors
Competitors-White Stuff faces competition from various fashion and clothing brands operating in the regional and foreign markets. These include Clarks, Levi's, Nike, Adidas, Dr Martens, TK Maxx, Primark, H&M, PacSun and others (Smith, 2022). Despite their popularity, some of these brands have experienced reduced sales because of the pandemic. Suppliers- White Stuff considered in the marketing assignmentensures to source its materials responsibly from suppliers maintaining sustainability. These suppliers are required to abide by the high standards of ethical sourcing of raw materials and manufacturing of clothing products (White Stuff, 2022b). Thus, the company only uses recycled fibres, responsibly sourced wool, linen and viscose materials from suppliers.
Distributors- White Stuff distribute its clothing products from both physical stores and online to its customers. The brick-and-mortar stores are present in various locations across the UK market selling directly to people. Online platform also enables these customers to order products from its website and get them delivered. Thus, it deals with customers without any intermediaries.
Customers- The company considered in themarketing assignmenttargets customers belonging in the young and young adult groups in the UK market. They generally prefer unique, original and creative products that are sold by the company (White Stuff, 2022a).
Public and Company- White Stuff shows care and concern for the general public by giving back to the society. It donates to local charities across the UK, supports families and home schooling and undertakes various other initiatives (White Stuff, 2022c). In addition, the company considered in the marketing assignmenthas been performing efficiently both financially and operationally.
SWOT Analysis in the marketing assignment
SWOT analysis of White Stuff is conducted in the marketing assignment for evaluating the business environment. It has helped in displaying strengths and weaknesses of the company present in its internal environment along with opportunities and threats existing in the external environment (Benzaghta, et al., 2021).
Strengths- White Stuff has positive brand image in the market because of its ethical stance and sustainable operations. It has gained strong brand loyalty from customers by focusing on originality, creativity and uniqueness in products. The company offers products both online and offline across various locations in the UK market.
Weaknesses- White Stuff has no presence in markets outside its domestic country. It also has limited online coverage and inadequate marketing activities for brand awareness. Its rival firms offer similar clothing products to customers in the market.
Opportunities- The rapid growth in advanced technologies, digitalization and Internet penetration can help the firm to enhance its online presence and strengthen its e-commerce business. It can also develop its own app for enabling customers to order products from it.
Threats- Inadequate social media presence can reduce its brand visibility amongst young customers. Lack of proper marketing activities can also affect its brand awareness and provide advantages to competitors in the market.
Segmentation, Target Market & Positioning in the marketing assignment
Clothing product- Segmentation as per the marketing assignmentrefers to the process of dividing the entire market into different approachable groups based on demographic, geographic, psychographic and behavioural variables (Brotspies& Weinstein, 2019). White Stuff reaches out to customers belonging in the age group of 5 to 50 years as it offers clothing products for men, women and kids. These customers generally belong in the upper-income group as its products fall in high price range because of using sustainable practices for sourcing, manufacturing and distribution. Furthermore, the firm targets customers across various locations of the UK market. It includes individuals purchasing products from both physical and online stores. In addition, these customers are also categorized based on their tastes and preferences of buying unique, original and creative clothing items.
Positioning Statement in the marketing assignment- White Stuff positions itself as a fashion and lifestyle brand focusing on colour and prints, being unique, making a difference and attention to details. It is all about originality, creativity and helping customers in retaining their individual (White Stuff, 2022a). The brand further places itself in the womenswear, menswear and kids wear market by maintaining its presence in both online and offline stores. It promotes itself as turning a brand into lifestyle for attracting customers.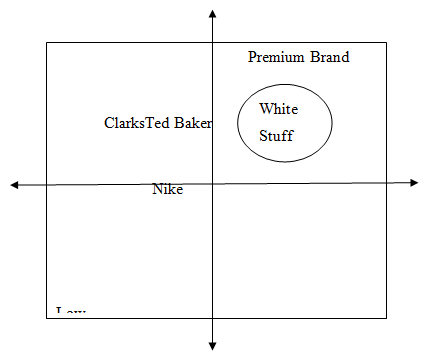 Fig: Positioning Map of White Stuff
From the above figure of positioning map in the marketing assignment, it is evident that White Stuff is placed in the middle position of the UK market offering its clothing products at slightly higher prices as compared to other competitors. This is because of its sustainable sourcing and other green practices, unique and creative designs and originality ensured in the fashion and lifestyle products. Thus, it positions itself in the premium brand category providing high-quality products at slightly increased prices.
Marketing Mix Strategy
Product- White Stuff sells various fashion and clothing products to its customers, including women's, men's and kids' clothing, home decor, accessories and gifts. Here, the marketing assignmenthas focused on the fashion and clothing product category of the brand. These clothing items are manufactured by using lower impact materials and processes (White Stuff, 2022a). The brand considered in the marketing assignmentensures to maintain originality, creativity and uniqueness in all its fashion items for enabling customers to embrace their individuality. The little attention to details while making the clothes along with using sustainable processes for producing them enhances their quality. The firm also caters to the tastes and preferences of its target customers for providing them clothing options for all seasons. It manufactures the clothes using sustainable sourcing, linen and organic materials. In the future, White Stuff can focus on selling more of these sustainable products for addressing the changing needs and demands of the customers (Mukendi, et al., 2020). Here, it can carry out extensive market research for analysing latest trends and consumer behaviour for attracting them to the brand.
Price- White Stuff mainly operates in multiple locations of the UK market. It targets customers belonging in the higher income group, which makes it easier to charge premium prices for its high-quality apparel products. However, the company considered in the marketing assignmentuses a competitive pricing strategy in this regard for facing the intense competition from various rivals present in the market (Kienzler&Kowalkowski, 2017). Here, White Stuff uses the prices charged by competitors as references and accordingly, sets its product prices higher than them. Furthermore, it uses sustainable sourcing, lower impact materials and other environment-friendly processes for manufacturing its products (White Stuff, 2022b). This provides it the opportunity of charging higher prices from customers than its rival firms. It is because of the consumers' positive perceptions about the high-quality and sustainable clothing products being sold by the firm. White Stuff has strong customer base, brand loyalty and improved brand popularity in the UK market for its ethical and sustainable practices. This provides the firm with the opportunity of using a premium pricing strategy in the coming future (Hill, 2013). Thus, customers can be encouraged to pay more for the perceived high value they obtain from the products.
Place- White Stuff currently uses direct distribution strategy for offering its products and services to the target customers in the UK market. Here, the company directly sells and sends its clothing products to the consumers in the target market without the presence of any intermediaries in the value chain (Rambocas, et al., 2015). This strategy in the marketing assignmentis undertaken through both online and offline stores. White Stuff has its physical stores across many locations in UK where customers visit the retail shops for buying products. On the other hand, the firm also provides the option of ordering from its website and delivering the products to the customers. However, this online platform distribution is limited as the company depends largely on its physical stores (Mittal, 2013). Besides, White Stuff also does not have any dedicated app for online shopping option of the customers. Nevertheless, its rival firms have significant e-commerce websites and apps for online shopping. This makes it essential for White Stuff to improve its e-commerce website and further launch a shopping app for its customers in the future.
Promotion-White Stuff has social media presence in various platforms like Facebook, Instagram, Twitter and Pinterest. It has around 20.88k Twitter followers, which has increased over the years. The firm's average likes, retweets and tweets per day are relatively less (Craft, 2022). This shows in the marketing assignmentthat it does not use these social platforms adequately for promoting its products or engaging with the target customers. The website traffic of White Stuff can also be improved by using various blogs, content and other strategies. Furthermore, it undertakes very few effective promotional strategies apart from its discounts or offers for attracting the customers and enhancing its brand awareness. However, recently, White Stuff has changed its brand logo of teal-and-white wordmark to a pared-back handwriting style one to present a sleeker design layout (Fish, 2021). This change has been beneficial in displaying the presence of modernized products under the brand. The new logo, content colour ways and campaign photography have been carrying out the brand's visual transition for better promotion of its products.
Physical Evidence- White Stuff ensures to provide great shopping experience to the customers in its physical stores. For this purpose, it creates unique store designs and layouts, which are helpful for customers to shop easily. For example, it opened up a new flagship store in Bluewater shopping mall. It created a retro interior in this flagship store for providing a domestic feel to the customers (Ryan, 2014). White Stuff provides a different look and feel at each of its physical stores. In the flagship store, the firm formed a Georgian-style entrance consisting of columns and pediment along with large windows on either of its sides. These columns in the marketing assignmentare further surrounded by reclaimed bricks for providing a knocked-through look to the store. Besides, it also uses Victorian tile arrangement as a welcome mat for the customers (Ryan, 2014). Along with this, floral carpet is placed on the middle portion of the staircase held by gold stair-rods. Thus, this shows that the firm focuses extensively on providing a domestic yet premium look to its stores for attracting customers.
Process- White Stuff uses both offline and online platforms for delivering products to the customers. The presence of brick-and-mortar stores enables the brand in directly selling its products to the target customers while providing them with enhanced shopping experience. On the other hand, the website enables these customers to order products online and get them delivered to their homes. Furthermore, the processes of the firm also includeusing responsibly sourced wool for manufacturing the garments to ensure sustainability in its operations (White Stuff, 2022b). It also uses linen, recycled fibres and viscose materials to generate lower impact on the environment. While the firm considered in the marketing assignmentdoes not make any sustainable fashion and clothing products, it constantly tries to manufacture clothes that can be wore season after season to reduce environmental damage (White Stuff, 2022b). It also focuses on giving back to the society by undertaking various initiatives and donating to charities in the UK.
People- The people of White Stuff consist of customers, employees, suppliers, partners and local communities. The firm ensures to provide high-quality and sustainable clothing products to its target customers by enhancing their value obtained from such purchases. It ensures to treat everyone fairly who are involved in the entire supply chain. There are around 60,000 people working in around 135 factories across Asia and Europe for manufacturing the firm's products (White Stuff, 2022d). White Stuff considered in the marketing assignmentmakes sure that these workers are properly paid, treated fairly and safe by enhancing visibility in the entire supply chain. These include people working in its head office, distribution centres and shops. It involves all individuals growing or making the raw materials along with factory workers across various locations in its integrated value chain. In addition, White Stuff further ensures suppliers are sourcing raw materials in a sustainable and responsible manner by providing highest standards of ethical compliance.
Recommendations
White Stuff has been using various sustainable practices and strategies for manufacturing and distributing its products to the target customers. This has improved the quality of its products, thereby providing the opportunity of charging higher prices from the customers. The firm should implement a premium pricing strategy for charging higher prices than its competitors based on the perceived value of the customers. Furthermore, it should improve its marketing and promotional strategies by introducing digital and social media marketing, omnichanneldistribution and others. These would help in enhancing its digital and online presence over various platforms, thereby increasing website traffic and attracting numerous customers. White Stuff should also develop an app for selling its fashion and lifestyle products to the customers through e-commerce platform. This would enable the customers in ordering products through the app and getting them delivered at their doorsteps. In this regard, various payment options should also be introduced in the app. Moreover, White Stuff as per the marketing assignmentshould focus more on enhancing its online shopping through both website and its app. In addition, it should use these social media platforms for increasing its brand awareness amongst target customers.
References
Benzaghta, M. A., Elwalda, A., Mousa, M. M., Erkan, I., & Rahman, M. (2021). SWOT analysis applications: An integrative literature review in marketing assignment. Journal of Global Business Insights, 6(1), 55-73.https://digitalcommons.usf.edu/cgi/viewcontent.cgi article=1148&context=globe
Brotspies, H., & Weinstein, A. (2019). Rethinking business segmentation: a conceptual model and strategic insights. Journal of strategic marketing, 27(2), 164-176.https://doi.org/10.1080/0965254X.2017.1384750 Craft. (2022). White Stuff. https://craft.co/white-stuff
Fish, I. (2021). White Stuff has 'quietly' rebranded, says CEO. https://www.drapersonline.com/news/white-stuffs-quiet-new-rebrand
Hill, P. (2013). Pricing for profit: How to develop a powerful pricing strategy for your marketing assignment. Kogan Page Publishers.
Kienzler, M., &Kowalkowski, C. (2017). Pricing strategy: A review of 22 years of marketing research. Journal of Business Research, 78, 101-110.https://doi.org/10.1016/j.jbusres.2017.05.005
Market Line. (2014). United Kingdom: In-depth PESTLE insights. https://www.marketline.com/wp-content/uploads/United-Kingdom-Country-Analysis.pdf
Mittal, A. (2013). E-commerce: It's Impact on consumer Behavior. Global Journal of Management and Business Studies, 3(2), 131-138.
Mukendi, A., Davies, I., Glozer, S., & McDonagh, P. (2020). Sustainable fashion: current and future research directions. European Journal of Marketing, 54(11), 2873-2909. https://doi.org/10.1108/EJM-02-2019-0132
Rambocas, M., Meneses, R., Monteiro, C., & Brito, P. Q. (2015). Direct or indirect channel structures. Evaluating the impact of channel governance structure on export performance. International Business Review, 24(1), 124-132.https://doi.org/10.1016/j.ibusrev.2014.07.002
Ryan, J. (2014). In marketing assignment: White Stuff opens retro flagship in Bluewater. https://www.retail-week.com/fashion/in-pictures-white-stuff-opens-retro-flagship-in-bluewater/5066558.article authent=1 Smith, P. (2022). Most popular fashion and clothing brands Great Britain 2022. https://www.statista.com/statistics/966784/most-popular-fashion-clothing-brands-uk-united-kingdom/
White Stuff. (2022a). Our Story. https://www.whitestuff.com/other-stuff/about-us/
White Stuff. (2022b). Thinking About Sustainability. https://www.whitestuff.com/other-stuff/sustainability/
White Stuff. (2022c). Giving Something Back. https://www.whitestuff.com/other-stuff/charity/
White Stuff. (2022d). Treating People Right. https://www.whitestuff.com/other-stuff/people/