Marketing Assignment: The Brand Comparison of Kellogg's Coco pops & Weetabix
Question
Task: Marketing Assignment Task: You need to carry out in-depth research into the brand's target market (who they are, their likes/dislikes, their levels of personal disposable income etc.) using market research databases – e.g. Mintel reports, WARC and TGI. You then need to look at the brands themselves, their brand values and competitive positioning in the market before going on to discuss their application of the 4Ps – product, price, place and promotion. The key to getting a good mark on this is to prepare a comparative analysis. Do not describe the brands in isolation – always look at the two together and explain why they do things differently.
This marketing assignment should be based on secondary and observational research only. You are not required to carry out any form of primary research. You need to research the following:
1. Target Market: You need to develop a detailed target market profile for each brand using data sources such as Mintel, the companies' own websites and other secondary sources. You need to think about age, gender, personal disposable income, social class, level of education, family life cycle, lifestyles, other brands they like, TV programmes they watch, hobbies etc.
2. Product /Brand: Using Levitt's model of a brand, try to analyse your two selected brands (their shape, packaging, colour scheme etc.). How different are they at the functional and emotional level? What are the brand values that the companies are trying to portray? In addition, have a look at Aaker's brand personality framework to see which personality type(s) each brand follows.
3. Price: You need to carry out some on-line and in-store research to establish a market price for each of the brands and any competing products. Display all this competitive pricing research in a table and draw conclusions about which pricing strategy they are adopting.
4. Place (Distribution): You need to look at channel management. Which stores stock this product? Is it a mass market product where the company has maximized distribution outlets, or is it a luxury brand where distribution is deliberately limited? Explain your answer. If possible, take photos of the product in store/on-line. What does this tell you about brand values?
5. Promotion: You need to research their past methods of communication (e.g. cinema, TV, outdoor, print, social media, mobile, own website etc.). Which communication methods do they use to build their respective brands? – And how do they do this? How are they positioning themselves in the minds of target audiences?
Answer
Executive Summary
Here in this marketing assignment, Kellogg's Choco Pops and Weetabix have been analyzed based on the Target Market which helped in recognizing the beneficial market as per the profitability and also helped in focusing the market to enhance the product for satisfying the need of targeted market. Bote Kellogg's and Weetabix are the leading breakfast cereal brand in UK and utilized proper market strategy to grab the attention towards their products. Here in this assignment the Levitt's Model for both brands have been done to identify the various layers of the products which are core benefit, actual product, expected product, and augmented product. Including that, marketing mix has been done for both brands to understand their strategies for their products, price, place, and promotion.
Introduction
In this assignment, the brand comparison of Kellogg's Coco pops and Weetabix has been done on the basis of their target market and 4Ps of the marketing mix. Both Kellogg's Coco pops and Weetabix is the cereal brands of the UK that give a commitment to great health and quality benefits. A detailed target market profile has been provided for the two selected brands by using their data sources for understanding their insights demographically. It helped to identify that Kellogg's and Weetabix have dominated the UK breakfast cereals market where coco pops have gained around 42% market share and Weetabix have a market share of around 15% (tesco.com, 2021). The 4 Ps of Marketing mix helped in getting ideas about the product, price, place, and promotion for both selected brands. The assignment has been done for the two selected brands on the basis of secondary and observational research which helped in developing a detailed analysis for these two brands.
Target market Analysis
The target market has been considered as the targeted consumer which is being categorized by their age, gender, income, location, family life cycle, and lifestyle to which the company sells their products. Given below is the detailed target market analysis of Kellogg's coco pops and Weetabix: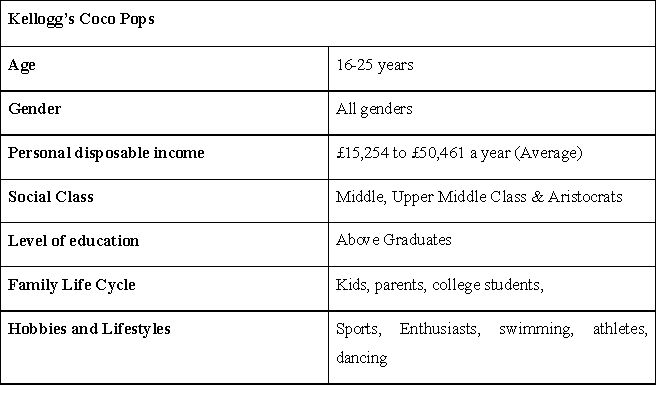 Kellogg's has been considered as one of the leading breakfast cereals companies and they have very specific target audiences for each of their products. As per the market analysis on the basis of demographic factors, it has been observed that the targeted market of Kellogg's Coco Pops is from the young age group of age within 16-25 years. In addition to this their target market are also the mothers who used to take care of their child's health and preferred to provide healthy breakfast. They mainly target customers who used to believe in making a pleasant twist within their breakfast and simultaneously maintaining quality and healthy diet for living healthily.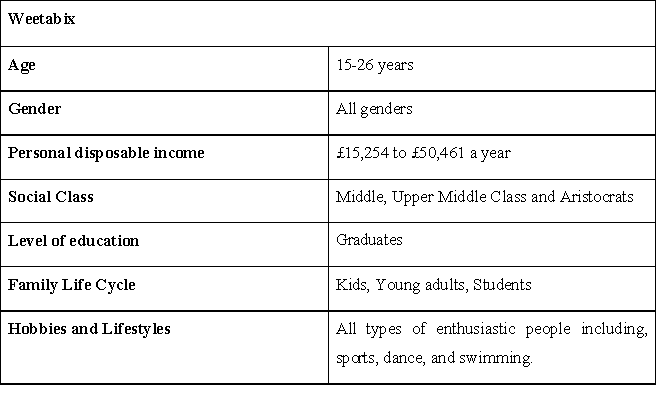 In contrast, Weetabix's target market is based on specific market segmentation such as demographic segmentation, and behavioral segmentation. These segmentations helped in identifying that Weetabix usually targets kids and young adults including the students and based on a healthy lifestyle and balanced diet (bakeryandsnacks, 2021). Hence it is the reason behind choosing kids, young adults, as the target market. It has been seen that with the help of these segmentations Weetabix targets their customers who are mainly enthusiasts who mainly concentrate on consuming healthy diets.
4Ps of Marketing Mix
Product
Kellogg's Coco Pops- Levitt's Model
CoreBenefit: Kellogg's Coco Pops usually provide an appetizing breakfast for the kids which is highly nutritious and also delicious for the consumers.
ActualProduct:While talking about the product packaging of Kellogg's Coco Pops, it has an energetic yellow color with an illustration of a cute monkey with a bowl full of coco pop holding in his hand (tesco.com, 2021). Expected Product: The consumers expected a good quantity of Kellogg's Coco Pops and alsoto be enrich with more chocolate in taste.
Augmented Product: The content of sugar in the Kellogg's Coco Pops as a part of the ingredient must be lower in percentage.The touch of vibrant and cute illustration makes the consumers attracted towards the brand and including the health benefits within the blue circle offered by Kellogg's shows its transparency towards their product quality and health benefits.
Weetabix Levitt's Model
Core Benefits:Weetabix are associated with their delightful and tasty breakfast that gives amazing flavors which attracts consumers of all age groups and also provides high nutritional values to the consumers.
Actual Product:The packaging of Weetabix has been redesigned for creating consistency among all varieties and has a decent combination of light-yellow colors of fresh cereals and the product pictures which show its freshness (weetabix, 2021).
Expected Product: The consumers expected from the Weetabix about the touch of authenticity with variant in flavors of breakfast cereal products.
Augmented Product: Weetabix has protein for the purpose of growth because of having wheat and pea protein. The clean and modern appearance of the product packaging with a decent brand logo including the light-yellow color helped to attract the attention of the consumers towards the products.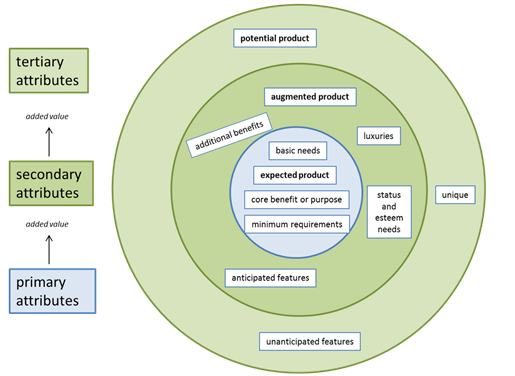 Figure 1: The Levitt's Ring Model
(Source: Silci.org, 2021)
Price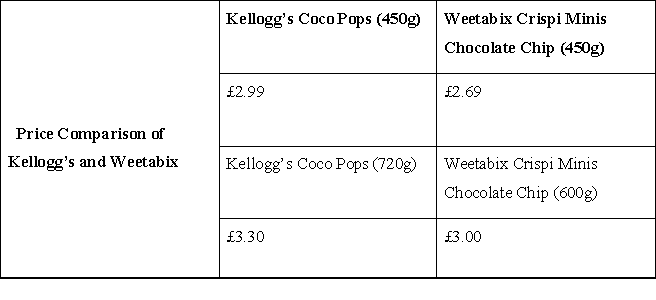 (Source: tesco.com, 2021)
The pricing strategies of the brands usually ensured their products are being sold at an accurate price to accurate consumers and also offer their consumers quality and value. According to the price analysis that has been used by both companies are based on their products and usually apply competition-based price strategy. The implementation of a competition-based pricing strategy helped both the brands to focus on their objectives for maintaining their price flexibility for competing with other competitors in the breakfast cereals market. Including that, for maintaining the price competitive brands generally provide discounts and offers, and here Weetabix gave 600gms Crispi Mini Chocolate Chips in £3.00 whereasKellogg's gives extra grams 120 grams only at £3.30 (tesco.com, 2021). This kind of pricing strategy implemented by the brand helped in gaining the attention of more consumers towards their brand. On the other hand, according to (tesco.com, 2021) Weetabix maintained the cost-based pricing strategy for their 450 gms and as a result, their price for 450 gms product is cheaper than Kellog's Choco Pops. In this way, by implementing various pricing strategies they try to become competitive in their breakfast cereal market of the UK.
Place
When a company performs any decisions regarding the place, it means they are attempting to decide where they are trying to sell their product so that to gain more consumer base. Determining a place for selling the process has been considered an essential strategy that helped in examining the channel administration of the brand. It mainly includes the number of channels through which the brand tried to sell its products and also the type of store which could sell the products to the consumers (Boisen et al. 2018). It has been found that both of the brands Kellogg's Choco Chips and Weetabix generally follow the way of distributing the products to retailers in various online and physical stores for selling their products. Along with that, they utilize the retailers as a mediator for selling their products to their targeted customer base. As both of the brands provide healthy products and target the breakfast cereal market of the UK as a result, almost all the e-commerce platforms and physical stores have great demand for these products within the UK market. Kellog's utilized the strategy of direct sales recently which helped them for direct selling of the product. Whereas on the other hand, Weetabix has launched its wholesale strategy many years ago for increasing its sales to grab the attention of a huge customer base within the UK market.
Promotion
Promotion involves advertising, promotional strategy, and public reactions which helps a brand to achieve a specific position within the consumer's mind. The promotional channels helped a brand for promoting its products in front of its target market and reveal its offers, discounts, and characteristics of products (Thabit and Raewf, 2018). Kellogg's coco pops generally do great marketing strategies for reaching their customers with the help of various multiple channels such as TV advertisements, social media channels like Facebook, Instagram, Twitter, and also Youtube. Kellogg's Choco Pops use several attractive health-related slogans which help the brand to target the parents to understand their brand value. Their advertisement campaigns mainly focus on the nutritional benefits of the product by showcasing their vibrant yellow color of cereals with a cute monkey illustration on the package helps in showing their transparency towards health benefits (mbaskool.com, 2021). In contrast, Weetabix has applied various promotional strategies by using several marketing channels where it set up various product-related campaigns on television, and in social media channels like Facebook and Youtube. They focused on their marketing strategies where they presented the health benefits of Weetabix breakfast cereals after consuming them, which become an advantage for them to grab the attention of consumers (campaignlive.co.uk, 2021). They launched their campaigns in multiple sales channels and they increased their investment in advertising for grabbing more consumers of all ages especially the parents of small adults, college-going students, and sports enthusiasts.
Conclusion
It has been concluded from the above in-depth research of Kellog's Choco Pops and Weetabix that Kellogg's has dominated more in the UK breakfast cereals market. Kellogg's has targeted the UK market efficiently and also applied the 4Ps strategies effectively as a result it has been considered as the top breakfast cereal brand and the Weetabix is in the second position for targeting the UK market. Kellogg's has understood the power of 4Ps of marketing in respect of Weetabix as a result they have grabbed the attention of their customer base with their attractive punch slogans related to their products maintaining the transparency of their health benefits within the packaging. They have understood the emotions of the market hence they become more capable of grabbing the attention of kids. On the other hand, due to having a clean and minimal look of Weetabix they were incapable to attracts kids but they have attracted a larger group of sports enthusiasts and students which helped to become second largest breakfast cereal brand in the UK.
Reference
bakeryandsnacks, (2021) Weetabix targets busy UK consumers, Available at: https://www.bakeryandsnacks.com/Article/2013/01/14/Weetabix-targets-busy-UK-consumers-with-new-breakfast-biscuit Boisen, M., Terlouw, K., Groote, P. and Couwenberg, O., 2018. Reframing place promotion, place marketing, and place branding-moving beyond conceptual confusion. Cities, 80, pp.4-11. Available at: https://www.sciencedirect.com/science/article/pii/S0264275117301373
Campaignlive.co.uk (2021), Weetabix advertising, marketing campaigns and videos, Available at: https://www.campaignlive.co.uk/the-work/advertiser/weetabix/8092 Mbaskool.com, (2021), Kellogg's Marketing Strategy & Marketing Mix (4Ps),marketing assignmentAvailable at:https://www.mbaskool.com/marketing-mix/products/16876-kelloggs.html
Silci.org, (2021), The Levitt Ring Model,Available at:https://silci.org/the-levitt-ring-model-1984-1980-a-conceptual-framework-for-understanding-the-attributes-of-low-carbon-innovations/
Tesco, (2021) Weetabix Minis Chocolate, Available at:https://www.tesco.com/groceries/en-GB/products/285391687
Thabit, T. and Raewf, M., (2018). The evaluation of marketing mix elements: A case study. International Journal of Social Sciences & Educational Studies, 4(4). Available at:https://papers.ssrn.com/sol3/papers.cfmabstract_id=3173274
Weetabix, (2021), Weetabix Crispy Minis Chocolate chips,Available at:https://weetabixea.com/our-products/minis/weetabix-minis-chocolate/