Marketing Assignment Analyzing Target Market of Weetabix & Kellogg's
Question
Task: You need to carry out in-depth research into the brand's target market (who they are, their likes/dislikes, their levels of personal disposable income etc.) using market research databases – e.g. Mintel reports, WARC and TGI. You then need to look at the brands themselves, their brand values and competitive positioning in the market before going on to discuss their application of the 4Ps – product, price, place and promotion. The key to getting a good mark on this is to prepare a comparative analysis. Do not describe the brands in isolation – always look at the two together and explain why they do things differently.
This marketing assignment should be based on secondary and observational research only. You are not required to carry out any form of primary research. You need to research the following:
1. Target Market: You need to develop a detailed target market profile for each brand using data sources such as Mintel, the companies' own websites and other secondary sources. You need to think about age, gender, personal disposable income, social class, level of education, family life cycle, lifestyles, other brands they like, TV programmes they watch, hobbies etc.
2. Product /Brand: Using Levitt's model of a brand, try to analyse your two selected brands (their shape, packaging, colour scheme etc.). How different are they at the functional and emotional level? What are the brand values that the companies are trying to portray? In addition, have a look at Aaker's brand personality framework to see which personality type(s) each brand follows.
3. Price: You need to carry out some on-line and in-store research to establish a market price for each of the brands and any competing products. Display all this competitive pricing research in a table and draw conclusions about which pricing strategy they are adopting.
4. Place (Distribution): You need to look at channel management. Which stores stock this product? Is it a mass market product where the company has maximized distribution outlets, or is it a luxury brand where distribution is deliberately limited? Explain your answer. If possible, take photos of the product in store/on-line. What does this tell you about brand values?
5. Promotion: You need to research their past methods of communication (e.g. cinema, TV, outdoor, print, social media, mobile, own website etc.). Which communication methods do they use to build their respective brands? – And how do they do this? How are they positioning themselves in the minds of target audiences?
Answer
Introduction
Weetabix is a cereal brand of UK with trusted quality and health benefits and has a market share of 7% of the total cereal sales in the country. In 2019, about 1.15 million users consumed Weetabix minis and Weetabix chocolate and Weetabix Oatibix ranked second and third. The brand experienced a rising trend in sales that totaled $440.4 million in 2020 with a $22.2 million increase compared to previous year (Statista,2021). In comparison, Kellogg's dominate the UK breakfast market including its coco pops product with a 42% market share in the ready to eat cereals. In 2019 about 5.4 million people used Kellogg's product in UK. The sales trend of the brand jumped by 4.5% to $3.5 billion in third quarter of 2020 (Statista 2021a). The aim of the report is to analyze the target market of both the brands and the marketing mix strategies used by them to target the potential customers.
Target Market
Target marketing helps in identifying the most profitable market segments and decide to focus on few segments of the market to develop their products and services to satisfy the targeted customers(Camilleri 2018).
Weetabix target market is based on certain segmentation factors such as demographic, behavioral and psychological segmentation. Based on demographic segmentation strategy it is seen that Weetabix target kids and young adults and students. Further, based on behavioral segmentation it is seen that the brand targets the customers that has the behavior of living a healthy lifestyle and balanced diet. This is the reason that young adults, kids and students are the best target market with such behaviors (Weetabix 2021). Lastly, based on psychological segmentation it is seen that Weetabix target customers that are sports and multition enthusiasts that focus at consuming healthy foods and consume multi-gain product sold by the brand.
In contrast, Kellogg Coco Pops is yet another product that segment the market based on demographic and psychographic factors. Based on demographic segmentation it is seen that the brand target customers of young age group from 16-25 years. Moreover, the target customers of this brands are also mothers who have the behavior of taking care of their children and give them a healthy and amusement breakfast. The food-breakfast cereals majorly target customers that believes in bringing a fun twist in their breakfast along with maintaining a good and health diet process (kelloggcompany 2021). This means that the target customers of the brands have the behavior of living healthy along with having fun.
Product
Levitt's Model of Weetabix

 

Core benefit

Delicious and health breakfast that offers mouth watering flavors and nutritious benefits to the customers.

Basic product

The Weetabix packaging was redesigned to create "uniformity" across all its ranges. The packaging has a lighter appearance, lozenge-shaped logo and a clean modern look that shows wheat field and blue sky. The design resembles the fresh wheat cereal it offers. The lower bottom has a box with four ticks that draw attention to the features of the product such as low fat, low sugar, high fiber and wholegrain ingredients.

The basic products brand portfolio includesWeetos, Ready Brek, Oatibix and others.

Expected product

The expected benefits from Weetabix products is that the cereal is healthy with high in fiberand nutrition. The customers expect that the product offers dashes of originality and sprinklings of mouth-watering flavors.

Augmented product

Weetabix has considered protein as the growth platform and conducted a biggest rise in product development occurring from pea protein and wheat protein.

Potential product

Plans to introduce healthy drinks in future in their product portfolio.
Table- Levitt Model Weetabix
Source- Weetabix 2021
Levitt's Model of Kellogg's Coco Pops

 

Core benefit

Offer tasty breakfast treats to kids which is high in nutrition and delicious for the customers.

Basic product

Kellogg have a sweet monkey picture holding the chocolate pop bowl in his hand. The packaging has a vibrant yellow color that is attractive to the customers with a clear brand name that is stated boldly. There is a big blue circle that state the health benefits offered by the coco pops. The picture of the monkey on the package attracts kids.

The features of Kellogg's coco pops are great chocolatey taste with no artificial sweeteners and nutritional benefits. The nutritional features of the product are rice, sugar, chocolate, fat reduced cocoa powder, salt, barley, malt flavoring, calcium carbonate and various vitamins.

Expected product

The customers expect the product to be high in chocolate taste and dark brown in color. The product is expected to contain a good quantity of pops that is filling for breakfast.

Augmented product

Improved its sugar content in its product with 30% less sugar.

Potential product

The brand is ready to launch its white-chocolate variant of the coco pops to give the brand a different taste
Table- Levitt Model Kellogg's
Source- kelloggs 2021
Thus, from the Levitt's model analysis it is seen that both brands are different at both functional and emotional level. Kellogg's coco pops have the function of offering psychological and physical benefit to the kids by adding essential nutrients in their breakfast. The brand connects with the customers by caring for kids like their mother. In contrast, Weetabix brand has the function of contributing to the physical and lifestyle benefit of the users by helping the maintain a normal brain function. The brand portrays the emotion of helping families through a busy day. Weetabix is trying to portray a brand value of £1.2 billion, whereas, Kellogg's coco pops portray a brand value of £1 billion (Campaignlive 2021). In relation to Aaker brand personality model it is seen that Kellogg's coco pops display a brand personality of excitement with its humility and simplicity thathelp evoke a sense of excitement and nostalgia among customers about their childhood. In contrast, Weetabix portrays a brand personality of sincerity with its high-quality cereals that drives trust.
Price
| | | |
| --- | --- | --- |
|   | Products Kellogg's coco pops (720g) | Snickers Bars Snacksize 9*35.5gm |
| Price | £3.30 (£0.46/100g) | £2.00 (£0.63/100g) |
Table- Prices of kellogg's coco pops
Source- Tesco 2021
| | | |
| --- | --- | --- |
|   | Product Weetabix cereal 24 pack | 20 Kellogg's cornflakes Individual portion packs |
| Price | £8.79 | £9.99 |
Table- Prices of Weetabix
Source- tesco 2021a
Pricing strategies of the brands ensures that their products are sold at right price to the customers and offers them high value for their products (Sammut?Bonnici and Channon 2015). From the analysis of the prices used by Kellogg's for its products such as coco pops and cornflakes it is seen that the company implements competition-based pricing strategy (Sammut?Bonnici and Channon 2015). this means that the brand aims at keeping its prices flexible to compete with other players in the market. For keeping its prices more competitive the brand focus at giving offers and discount vouchers from time to time through partnering with e-commerce brands such as Tesco. This help them keep their product price more competitive and affordable. In comparison to this, Weetabix maintains a cost-based pricing strategy where it focusses at setting up their prices based on the cost of the products (Shin et al. 2012). For example, the price of original product of Weetabix is cheaper than the organic products it has introduced. This has helped them to become competitive in the market.
Place
Place or distribution strategy helps in looking into the channel management of the brand such as the kind of stores sells the product of the brand and the number of channels through which the brand sells its products to the customers. There are different channels through which brands sell their products (Song et al. 2021). Both Kellogg's and Weetabix focus at channeling its products through retailers both in-store and online. They use retailers as intermediaries to sell their products such as wholesalers, supermarkets, high street stores and ecommerce. The stores that stocks the product of Kellogg's and Weetabix are supermarkets, convenience stores and mini stores. These are mass market products that focus at maximizing the distribution channels so that they are widely purchased and consumed by people. As a mass market product, both the brands sell their products also through online channels such as e-commerce where it can target mass customers because these products are consumer goods and consumed by customers daily. Weetabix has launched its wholesale strategy in 2017 to sell their products to maximum customers by offering volume sales(tesco 2021). However, Kellogg's has recently used direct sales strategy where it has opened their own cereal cade in UK through which it also sells their own products directly to the customers. this can also be seen from the picture below of Kellogg's cereal café in Manchester.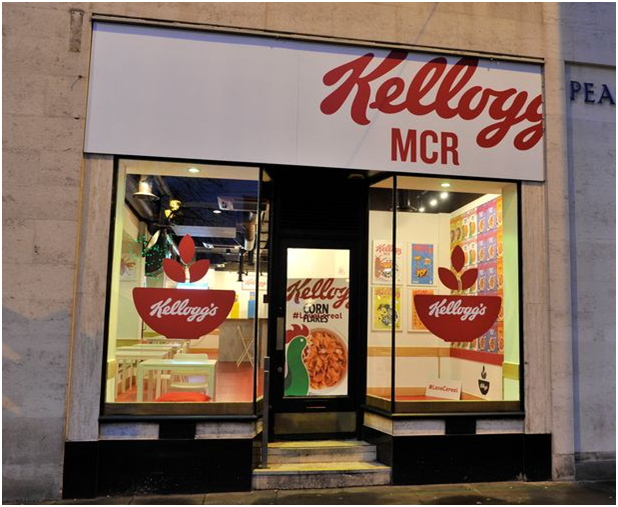 The below pictures clearly show the in-store and online presence of products of both in brands in different varieties. This shows that both Kellogg's and Weetabix have high brand values where it is demanded by large number of customers.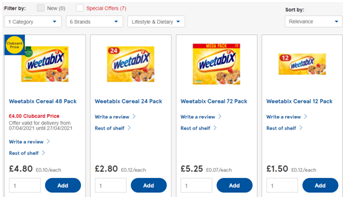 Figure- Weetabix online sale
Source- Tesco 2021a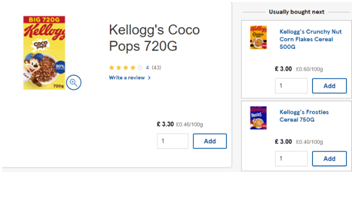 Figure- Kellogg's online sale
Source- Tesco 2021

Promotion
Promotional channels help the brands to position themselves effectively in the mind of the consumers and become competitive. Weetabix has successfully implemented its multi-channel marketing strategy where it continues to unveil its campaign in multiple channels such as national TV and social media such as Facebook and YouTube. The new award-winning "have you had your Weetabix' campaign" of Weetabix where it dramatized the advantage that consumers can get after consuming their cereals has reached more than 60 million people (Weetabix 2021a). It launched the campaigns at multiple channels to create a multiple touch pointand at different times of the day. Weetabix has also increased its advertising spend to £11million and has positioned themselves as a health brand in the minds of the target audiences such as the kids and health conscious people (Camilleri 2018).
In contract, the Kellogg's coco pops use extensive marketing strategies to reach its customers through multiple channels such as TV ad, press, outdoor advertising such as banner ads and social media. Some of the slogans that the brand used for advertising its products are "Just like a chocolate milkshake, only crunchy!", "Epic chocolatey fun for everyone", "New White Choc Coco Pops Magically Delicious!" and others. most of the advertising campaigns of Kellogg's coco pops aims at targeting mothers that can give health and tasty foods to their family members even if they are busy (Campaignlive 2021). The advertising campaigns of the brand focus on the coco pops monkey character rather than just focusing on nutritional benefits (Camilleri 2018). This shows that the brand position its products as a family product that can benefit the entire family.
Conclusion and Recommendations
Therefore, it can be stated that Kellogg's Coco Pops has better market targeting and 4Ps strategies and this is the reason they are able to capture more market share in UK compared to Weetabix. Kellogg's have better applied 4Ps strategieswith its attractive design and features and target emotions of the customers, while Weetabix has a lighter appearance that does not attract the kids much. The 4Ps strategies of the brand has helped the brands to become competitive over time and capture effective market share in the industry.
Thus, following recommendations are followed for each brand to improve their 4Ps:
Weetabix is recommended to take up extensive marketing strategies capture more market share in UK such as outdoor advertisements like Kellogg's.
Kellogg's is recommended to bring better innovation in the industry to help fight rising competition.
References
Camilleri, M.A., 2018. Market segmentation, targeting and positioning. In Travel marketing, tourism economics and the airline product (pp. 69-83). Springer, Cham.
Campaignlive, 2021. Kellogg axes Coco Pops cereal brand extensions. [online] Campaignlive.co.uk. Available at: [Accessed 25 April 2021].
kelloggcompany, 2021. Success Starts Here. [online] https://www.kelloggcompany.com/. Available at: [Accessed 25 April 2021].
kelloggs, 2021. Coco Pops. [online] https://www.kelloggs.co.uk/. Available at: [Accessed 25 April 2021]. Sammut?Bonnici, T. and Channon, D.F., 2015. Pricing strategy. Wiley Encyclopedia of Management, pp.1-3.
Shin, J., Sudhir, K. and Yoon, D.H., 2012. When to "fire" customers: Customer cost-based pricing. Management Science, 58(5), pp.932-947.
Song, B., Li, M.Z. and Zhuang, W., 2021. Dynamic channel control and pricing of a single perishable product on multiple distribution channels. European Journal of Operational Research, 288(2), pp.539-551.
Statista, 2021. Leading breakfast cereal brands of Weetabix in GB 2013-2019, by number of users. [online] statista. Available at: < https://www.statista.com/statistics/301918/leading-weetabix-breakfast-cereals-in-the-uk/> [Accessed 25 April 2021].
Statista, 2021a. Leading breakfast cereal brands of Kellogg's in GB 2019, by number of users. [online] statista. Available at: < https://www.statista.com/statistics/301915/leading-breakfast-cereal-brands-in-the-uk/> [Accessed 25 April 2021].
Tesco, 2021a. weetabix. [online] tesco. Available at: [Accessed 25 April 2021].
Tesco. 2021. Kellogg's Coco Pops 720G. [online] Available at: [Accessed 25 April 2021].
Weetabix, 2021. Home - Weetabix Cereals. [online] Weetabix Cereals. Available at: [Accessed 25 April 2021].
Weetabix, 2021. Weetabix Corporate | Weetabix To reach 60 million with new Multi-Channel Marketing Push. [online] Weetabix Corporate. Available at: [Accessed 25 April 2021].