Management Information Systems Assignment: Potential And Statistical Analysis Of Lend Lease
Question
Task: The purpose of this assignment is to evaluate your ability to develop a comprehensive implementation proposal for an information system that uses a systems approach. The proposal should be targeted at a potential 'sponsor' organisation that will need to be convinced of the appropriateness and effectiveness of the proposed new system.
Choose an information system (e.g., ERP systems, CRM systems, SCM Systems, Management Information Systems, Decision Support Systems, Executive Information Systems, Enterprise Portals, Data Warehouse & Data Mining Applications, Enterprise Collaboration Systems, Knowledge Management Systems), and so on, that you have studied in this unit. Alternatively, you may wish to combine features of several systems. Please note for the purpose of this assignment, mobile apps or other e-business and digital enterprise applications should not be used as the chosen information system.
Your assignment should describe the steps of the Systems Development Life Cycle (SDLC) discussed in Topic 4 of the subject. The proposed system must address an identifiable problem/opportunity that exists in the sponsor organisation and relate to particular aspects of the organisation's overall strategic directions. It is important that you select the features of your system carefully and justify your selection. Do not just use (be critical of the use of) the standard features of a commercially available software package. For the purposes of this assignment, try to keep the system that you are proposing to a manageable size.
Your proposed system could help the 'sponsor' by:
improving an existing manual information system
introducing a new information system
creating a new business opportunity
improving organisational productivity.
The sponsor could be:
top management of your company
an investor
a financial institution which will lend you money
a client who has engaged you as a consultant.
But a sponsor is not the same as the financial sponsor.
Answer
Cover Letter
To the sponsor 'Commonwealth Bank of Australia'
Date
Address
Respected Sir/Madam,
Our organization has come up with a plan for using Management Information Systems (MIS) for enhancing business performance. We are also planning to implement the Internet of Things (IoT) along with the MIS which is expected to boost our business capital. Our organization has grown rapidly and hence it has become very difficult for the managers to keep a track about the details. This problem will be solved with MIS. MIS is a system that helps to work in process and moreover facilitates in producing information that would help an organization to develop. It will help to summarize the data and reduce complexity. The managers will have better control, connection and coordination with the help of (IoT) implementation in MIS. To develop the quality of our business as noted herein management information systems assignment it is very necessary to implement such software. The various benefits and importance of both the software are discussed vividly. Apart from the benefits, SWOT and PESTLE analysis has been discussed within this management information systems assignment along with the implementation of MIS in organization.
We will be very grateful if you would kindly grant this proposal. Your contribution will help our organization to establish more firmly. Thanking you in advance.
Yours Sincerely,
Name
Address
Executive Summary
The concerned study developed within this management information systems assignment mainly outlines the concepts about the organizational benefits of management information system. Since globalization and technological revolution, the IT industry has created technological advancements that provide enormous flexibility and accountability for any organization to control productivity, competitiveness and profitability. The management information system is an inevitable property of modernized business ventures as it includes a significant amount of benefits to incorporate fundamental growth within an organizational context.
The management information systems assignment intends to discuss market potential and statistical analysis of Lend lease, an Australia based Construction Company through SWOT and Pestle analysis. The collective success of MIS as a computer-based information system (CBIS) lies on its wide range of usage and contribution in the decision-making process.
The (IoT) implemented in MIS will financially benefit the organization. (IoT) will help to check the algorithms of the company which was manual and hence more complex before. Studies have shown that companies working with (IoT) and MIS have better business control and a lot of new business opportunities. Customer feedback will improve considerably. The tools will help to improve productivity and work will be conducted in a safer environment. It helps tracking customer behavior and real-time monitoring of data which will benefit the company. Non performing areas can be identified before time, sales and manufacturing will increase, complexity will be reduced, efficiency will enhance, decision-making will be easier and many more advantages.
MIS helps the organization to develop financially and most importantly it helps to increase the profit margin. In this way, the organization can develop financial stability. The SWOT analysis and PESTLE analysis has been done that shows the current capability of MIS of Lendlease and the importance of availability of flawless MIS. This would help to reduce labor cost and increase productivity. Construction industry is increasing and it is determined to put in practice all the technological advancements and artificial intelligence (AI) so that it can enhance functional capabilities and erode competitive limitations that exist within a project. MIS has been extremely popular worldwide and that has been discussed so that the market trends can be understood, which relates the strategic usage of MIS. Detailed discussion about atomization of MIS and opportunities related to that is under strict scrutiny within this management information systems assignment.
1.0 Introduction
This management information systems assignment mainly highlights the concepts about how the management information system can benefit the organization. MIS system is considered to be a backbone as it helps in managing storing data, decision-making, analysis of data and many more. It produces clear reports at every level about the operation of the management of the company. Hence organizations get benefited as it helps to track the flaws and rectify in limited time. MIS gathers information from online systems examines the data and sends reports for decision-making. It is a collection of procedures, hardware, and collection of several systems that function together for the sake of the organization (Hu, 2016). This s management information systems assignment tudy has selected Sydney based Lendlease, a multinational construction and infrastructure company to exaggerate optimum needs of management and functionalities of information system within its embedded systems. It eases out the managing work. This helps the company financially and also in building a reputation in the market. Customer satisfaction increases and also several projects can be handled without any risk. Every upcoming business organization worldwide has implemented such systems for their better performance. It will raise the profit margin for any organization. In this management information systems assignment, the Commonwealth Bank of Australia will be benefited as the development of MIS within any organization will increase the financial stability of the company which in turn will benefit the bank.
2.0 Discussion of Internal and External Environments
Various internal and external factors illustrated in the case scenario of management information systems assignment that have direct impacts on the Lendlease's collective objectives and operational movements are required to analyze effectively to ensure productive growth in MIS information systems. Requirement analysis is a fundamental analysis process that allows evaluating the scope and specificity of the project (Bello and Thomas, 2018). Efficient analysis of micro-environmental factors of Lendlease can help to meet requirement elicitation criteria and also effective to reduce ambiguity and limitations of the information system.
2.1 SWOT Analysis for Internal Environments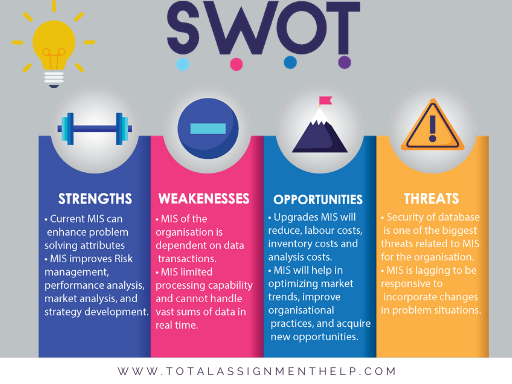 Strengths
One of the strengths mentioned herein management information systems assignment is that the current MIS of Lendlease is capable to increase problem-solving attributes of the organization.

MIS improves various distinct sections of construction businesses of Lendlease such as decision-making process, project and risk management, performance analysis, market analysis and Strategy development programs.

Weaknesses
MIS of Lendlease highly depends on data transactions. If data acquisition is not correct, the results will be manipulative.

MIS has limited processing abilities to analyze massive database of Lendlease within a real-time frame.

Opportunities
Availability of flawless MIS is inevitable to reduce labor costs, inventory cost and analysis cost. Upgraded MIS can be efficient to organize theLendlease's database (Sari and Priantinah, 2019).

MIS provides a variety of services to improve business accommodations and activities including inventory, services, performance management and utilization of data.

MIS is inevitable to optimize market trends and organizational practices to acquire new opportunities for growth.

Threats
Security of the current MIS Lendlease is a big threat for organizations to keep data safe and secure illustrated herein management information systems assignment.

Flexibility and responsiveness of the MIS system are still lagging to incorporate change management within any problematic situations.
Table 1: SWOT Analysis of MIS
2.2 Pestle Analysis for External Environments in regards with the case of management information systems assignment
Political Factors
The management information systems assignment analyses the adequate government contribution to the development of automated system management.

Policies for recruitment of global high-tech facilities within organizational services.

Economic Factors
Cash flow issues for developers and limitations in a wide range of usages.

High demand and affordable price structure allow ensuring profitability.

Development in manufacturing firms due to high revenue gain.

Social Factors
Human capital development is a fundamental aspect of MIS.

The training aimed and high-end sales have influenced the sector.

The IT industry has created professional division in labor and employee management.

Environmental Factors
Embedded IT systems are capable to reduce climate change issues and create integrity within sustainable development programs.

MIS upholds several opportunities to fight against carbon emission.

Technological Factors
High market demands and technological advances have influenced the IT sector to come up with new technological advancements.

Foreign governments are reluctant to transfer technologies (Bello and Thomas, 2018).

Legal Factors
Protection through IP rights and high-security concerns.

MIS has created massive Employment opportunities and accommodations for socioeconomic developments.
Table 2: Pestle Analysis for External Environments
2.3 Market Trends and Strategic Usage of MIS
Construction industry is booming and determined to implement technological advancements and artificial intelligence (AI) to enhance functional capabilities and diminish competitive limitations within construction project. Combination of sophisticated information system and management changes can be an effective alternative to confine new market trends within the construction industry.
2.3.1 Market Trends
Lend lease has adequately incorporated various market advantages due to its sophisticated systems and strategic policies. However, the company is lacking to mitigate system challenges regarding the collection and implementation of information system. Various new market trends such as data collection automation, information analysis automation and cross functional integration are trending on international context to develop potential MIS to sustain higher accuracy and accountability within construction industry (Jovanovic, 2018). Addition of IoT is inevitable to optimize information from internet platforms and use them automatically to gain information analysis. These market trends as considered in this section of management information systems assignment along with artificial intelligence (AI), 3D printing, Virtual Reality (VR), building information modeling (BIM) is significantly important to identify and respond to emerging market trends and business opportunities faster than potential competitors.
2.3.2 Best Practices of MIS Worldwide
The research performed on the case of management information systems assignment illustrates that MIS have gain strength significant market interest worldwide that influenced several developing companies to conduct automation testing and commissioning within IS. Worldwide popularity and recognition have facilitated developers to aid new features in MIS to proactively interpret market signals within construction industry of Lend lease. Various potential competitors to Lend Lease such as Hines Securities Inc., Lincoln Property, Lowe Enterprises Inc along with 91.6% of Fortune 1000 companies are increasing budget allocations and investments into big data and AI capabilities (Nascimento et al. 2018). Globalization of businesses, enormous market demands and advancement of technological goods has influenced stakeholders to concentrate on up-gradation of MIS to ensure productivity and profitability.
3.0 Identification of the Problem and Opportunity for IS/IT
The prime issue that has been identified within this management information systems assignment includes the fact that users need to provide instructions and manually input data in order to ensure that the MIS system operates in an effective manner. This problem also provides a significant opportunity for automatizing the MIS data collection process. The implementation of IoTs can help to ensure that the MIS can automatically collect data from various online sources such as websites or datasets. This can help to decrease manual provision of data and resources, thus saving time and increasing efficiency of the MIS software.
3.1 Mission: Cause of selection with justification
The main advantage of selecting the MIS system explored in this part of management information systems assignment is to increase the efficiency of the organization. It provides managing reports on every level of progress (Daniel, Laksmono & Nugrahadi, 2018). The owners of the business organization need information about the overall performance of the company and its responsibilities. MIS helps to provide vivid details and key data about a specific department and overall company. MIS provides accurate, complete and relevant information in time which is very helpful for decision making. Errors are rectified as cross and self-checking features are built-in MIS (Geng & He, 2016). It helps to highlight if any specific data is missing and hence provides a complete analysis of the situation based on which organization managers can make their decisions. Another advantage of MIS is that it contains past data records about sales, customer service, and production which help in strategic planning of the budget. Information about expenses, investments and revenue is also stored. Future market plans and trends can also be planned with the help of MIS based on past sales and market demands records. Sophisticated tools are built-in MIS which help an organization to access relationships and determine accurate future trends. Future market scenarios can be analyzed as MIS provides various possibilities of decision for such a situation. Suggestions about company strategy are provided by the MIS system with the help of records.
The aspect of decision-making mentioned herein management information systems assignment is improved with up-to-date information about marketing, raw materials, finances, manufacturing and many more. The main purpose of MIS outlined in the case scenario of management information systems assignment is it helps to send records and feedback to the managers about their performance. Such feedback is very essential for managers to determine their progress and also rectify and improve their weak actions. Company heads can monitor the performance of the company relatively (Nascimento et al. 2018). At the primary level, it helps in operation, management and in the transaction process. Short term planning, target setting are done in the second management level. At the top level, it helps to set the goals and planning purposes (Tewamba et al. 2019). Hence, the readings developed within this management information systems assignment signifies that MIS helps in data management, provides better plans, business trends and many more impossible tasks that would be impossible to produce in such limited time by humans. As the workforce is reduced, the company will not have to pay to its employees who add to the financial benefit. The communication channel of the entire organization gets improved as MIS builds a better connectivity system in all levels of the organization. Throughout the world business organization implementing MIS have seen considerable growth in the business and customer relationships.
3.2 Purpose: Discussion and Needs of MIS Implementation
MIS helps the organization to have proper control over the data and information about the company. People can access the results and information more easily. It reduces the complexity of the management system. For any business organization, proper planning of market strategies is very crucial MIS provides a perfect solution for this problem. It helps the company heads understanding the complicated business environment and also vivid analysis of its competitors (Sousa et al. 2016). It helps in boosting up the speed of finance, marketing, production, and various other departments. Customers' relations are better coordinated with the help of MIS. According to the previous account of information, MIS helps an organization from future loss. Profit and loss margins are very easily calculated with the MIS system. As per the study carries on management information systems assignment, proper decisions can be taken within time as MIS always provides information relating to the performance of the company. Data storage in the MIS helps to gain knowledge about any past event or data which helps in execution planning. Proper MIS installation can help the company heads to track the ongoing about the whole company (Bayani, Leiton, K & Loaiza, 2017). A broader perspective can be established which will help to gain information about which steps can enable improvement. MIS also helps to collect data from the market and organize it properly for better productivity.
3.3 What are the effects of MIS discuss within the management information systems assignment on Business Organizations?
According to the SDLC by (Iqbal & Idrees, 2017), first and most important part of selection system is necessary for the development and develop a proper project. Secondly, creating diagrams, analysis of resources and collect the requirements for the business and thirdly, the design of system models and IT infrastructure. Development of the programs, data and IT infrastructure as planned and designed is the fourth step. The fifth stage is for proper system testing and writing a vivid description of the test conditions. The next step is for implementation, user documents, training for the system users and implementation method is introduced. The last and final stage is maintenance. The perfect environment should be maintained to support if any system change is required, the system should be checked and a help desk should be built to support users of the system. These above steps provided within this management information systems assignment are very beneficial and if properly followed will act as a catalyst for the organization. In any business organization, MIS facilitates the immediate and easy implementation of the latest trends in business (Müller et al. 2016). There is no need for implementation expensive software and hardware and the MIS system has all required collection of tools that are needed. Also, a lot of labor cost is saved as MIS can give accurate details than any human beings. Hence it is a cost-effective method.
MIS produces results inaccurate time without failure which helps the company to rectify risks and save the company's reputation. Customer relationship management gets improved and is a very important domain as happy customers suggest good marketing and sales reputation. It helps the company to stand out among its competitors. As per the basis of previous data MIS helps to compare business performance (Tiwary et al. 2018). The setting of a specific goal is very important for any organization MIS solves this problem with current data analysis. As the market demands and trends are always dynamic, there is always a risk or uncertainty whether or not the business will survive. Also, all these factors are sometimes very complicated for decision-making.
4.0 Justification for the chosen system within this management information systems assignment: IoT-based MIS
Internet of things (IoT) has become an inevitable property of modernizing commercial information systems such as MIS system as it facilitates organizations to operate the system more efficiently and accurately. IoT refers to a systematic empirical framework that consists of interrelated computing devices, mechanical and digital machines with embedded unique identifiers (UIDs) to transfer database within a network without any human interactions (Huh, Cho & Kim, 2017). Usage of IoT within the embedded MIS system within an organization can be an integral asset to process database and analyze acquired information. It is also efficient to deliver enhanced customer services, improve internal and external environments and ensures effective decision-making abilities. IoT has become an effective initiative of a networking system that connects people, system and other applications to collect share and analyze massive database along with security and data protection policies. IoT also supports supervisory control and data acquisition (SCADA) software applications to control functions and gather a database within a real-time frame. IoT has automated facilities that can allow the organization to mitigate data acquisition challenges and to reduce human interferences. As per the readings used to prepare this management information systems assignment, it is efficient to reduce time and cost along with improving customer experience. Embedded IoT within MIS system is also capable of monitoring business processes, enhancing employee productivity and incorporating user-friendly business models to increase revenue and the likelihood of adequate decision-making process.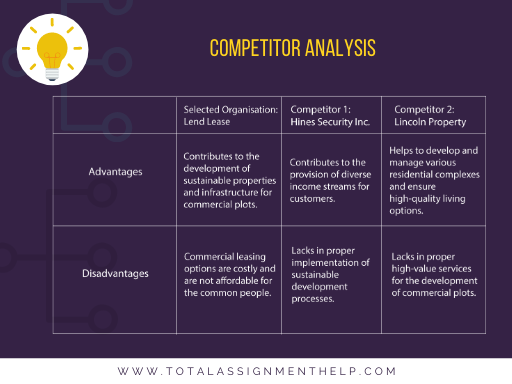 | | | | |
| --- | --- | --- | --- |
|   | Selected Organization: Lend Lease | Competitor 1: Hines Security Inc. | Competitor 2: Lincoln Property |
| Advantages | Contributes to the development of sustainable properties and infrastructure for commercial plots. | Contributes to the provision of diverse income streams for customers. | Helps to develop and manage various residential complexes and ensure high-quality living options. |
| Disadvantages | Commercial leasing options are costly and are not affordable for the common people. | Lacks in proper implementation of sustainable development processes. | Lacks in proper high-value services for the development of commercial plots. |
4.1 Vision: Addition of IoT in MIS
It can be stated herein management information systems assignment that multiple tasks can be done at the same time with efficiency hence it is time-saving. The organization will be able to meet all the deadlines and manage several projects at the same time without failure. It will perform timely training for the labors of the company which will improve their productivity, get knowledge about the latest technology benefits and usage. The company expenditure will be saved as the software will provide multitasking facilities. It is an energy-efficient process as analysis of data and reports are produced in a very short time. Accurate and timely production can produce a lot of profit. Downtime costs include loss of product in the production time, improper resources and many more MIS along with IoT will reduce such costs (Sindhu, Aasha & Sivakumari, 2016). It will help to rapidly develop skills and build applications for data for more optimized operation. Managers will be able to handle business more effectively than ever before. They will always be informed about the problems at every level and risk associated with it, which will help them in making more informed decisions.
MIS along with IoT implementation helps to improve the profit margin, management, the setting of goals and many more that it has become a must need for every organization.
5.0 System Analysis and System Design of MIS
The study developed within the management information systems assignment depicts that the concept of system analysis plays a fundamental role in MIS development as it allows the margin of various other systems within the MIS project. Collective outcomes of the systems are responsible for incorporating accomplishments. Development of MIS highly depends on the usage of various tools and disruptive methods of system analysis such as Grid Charts, Stimulation, SystemFlowchart, Decision Tree and Decision Tables to obtain desirable outcomes for customized and public services. The prime objectives of system analysis include enormous flexibility qualities, the increment of inter comparability and unity of subsystems (Lin et al. 2016). It is designed to understand business objectives, goals and decision-making process with system-specific end products.
System analysis examined in this part of management information systems assignment confines a systematic empirical framework that comprises various subsystems to achieve accuracy and accessibility in data-driven and focused tasks. It creates synchronized algorithms to incorporate maximum results from available resources. System analysis of MIS also allows upgrading activities of Current MIS by introducing new software and digital devices such as IoT. It uses data entities and internet networks and organizational attributes to confine appreciate coverage on an available database. System analysis provides a complete guide for the developer to focus on stepwise creation of platforms to enforce discipline without any failure.
It is observed within this management information systems assignment that system analysis of MIS starts with system design which allows evaluating data sources to meet organizational needs of information and also displays appreciate reports of the project. System design uses outcomes of system analysis as its input to interpret the system needs in architectural, logical and physical designs to ensure effective information implementation process. It uses internet platforms to enhance the accuracy and range of database sources within organizational performance analysis name decision-making process. Various design steps of MIS including input process and procedure designs to provide high accuracy in screen data visualization process. IoT along with other specifications can be enlisted within MIS system design to improve service range and creation of information objectives.
An adequate model of MIS with cloud database allows manipulating the database to meet the current requirements of the company. It is capable to make whole procedures within an automated system to increase information processing abilities and data management process (Nascimentoet al. 2018). Various tools of system analysis as mentioned in the context of management information systems assignment allow developing a relationship between several factors, influences to construct mathematical Charts and diagrams to present a logical flow of operations and available information in the selected domain.
6.0 Development, Testing and Implementation of MIS
6.1 Development of MIS
System development life cycle of any organizational MIS system includes five distinct steps such as planning, analysis, design, implementation and maintenance to produce high-quality information systems to organizational needs within adequate budget and time. SDLC uses various development methodologies such as Waterfall model, prototyping model and agile development to ensure effective information system development.
6.2 Waterfall Model
Waterfall model examined in this section of management information systems assignment incorporates a sequential design model that allows one to focus on one step to accomplish specific design development. It also helps to aid specifications within the system. This model includes complete SDLC of MIS to meet the objectives of Requirement analysis. It follows a waterfall structure to place an order for system development. The prime objectives are planning, time scheduling, budgeting and implementation of the whole system. Waterfall model provides ideal solutions to the organizations when requirements are clear and concise.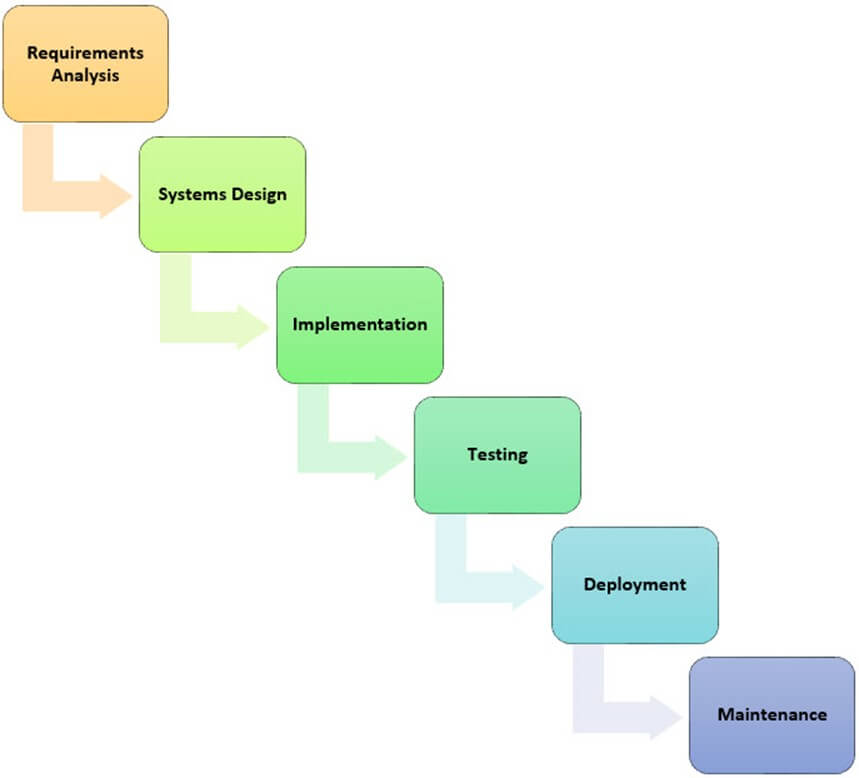 Figure 1: Waterfall Model of MIS Development
(Source: Nascimento et al. 2018)
6.3 Testing of MIS
MIS is a conglomerate of several systems that works synergistically to share common objectives to achieve specific results. The system refers to a systematic empirical framework of software test that allows evaluating the system's compliance with the consideration of specific requirements. MIS is to undergo a series of tests such as unit testing, integration tests, System testing and acceptance testing before the direct implementation of the information system within an organizational context (Laudon and Laudon, 2016). Various units of MIS mentioned in the management information systems assignment are required to produce and test separately before assembling in the computerized embedded systems. Black box method can be used to test the essence and capabilities of the system within the independent testing system.
6.4 Implementation of MIS
Implementation of MIS is complicated and collaborative which takes technical and managerial skills to adapt to the newly renovated system. Implementation activities of MIS include several important steps such as implementation plan, procurement of selected hardware and software, creation of database, training facilities and transition to the new system. Implementation of MIS can be categorized into three different types such as fresh implementation, replacement implementation and modified implementation (DeLone & McLean, 2016). Each step of the process mentioned within this management information systems assignment demands the interference of Client and IS departments to develop systematic and accurate physical infrastructure of the information system. Implementation plan of MIS comprises various organizational activities such as communication plan, contingency plan, schedule activities and critical thinking to evaluate effectively. Selection of hardware and software can be provided as per company's requirements and operational environment of the organization.
7.0 Post Implementation Activities
The management information system explored in this report of management information systems assignment is an effective computer-based information system (CBIS) that allows incorporating the general information needs of the organization. MIS consists of three integral aspects such as management, information and system. New designed MIS can be installed within the core system of the organization to improve the quality of information content and time management system. It can be embedded within the system to incorporate logical solutions of several organizational challenges. MIS has a high ability to control several business operations including strategic planning, management control and operational control (Janicki, Fischetti & Burns, 2016). MIS encompasses various distinct parts of operations such as finance, marketing, human resources department and manufacturing along with information resources to enhance both conceptual and physical information system.
8.0 Project Management, Change Management and Risk Management of MIS
8.1 MIS in Project Management
MIS as an important segment of CBIS plays a fundamental role in project management as Project management information system is designed to facilitate project managers with adequate data visualization and to collect, analyze and distribute information through electronic and digital means. MIS is immensely helpful for project managers to create planning, control project steps and maintain data fluidity within various processes. It helps to improve communication between subordinates and management (Laudon and Laudon, 2016). PMIS is an inevitable tool to compare the baseline with actual outcomes of the project phases. As discussed in this management information systems assignment, it is also efficient to enroll in an effective decision-making process while managing financial values, labor charges and cost per unit (CPU) accomplishments. PMIS provides complete control over various important business aspects such as project budgeting, plan scheduling and task distribution process.
8.2 MIS in Change Management
Implementation of information system has a significant role in change management as it has several impacts on various important areas of business within an organizational context which confines organizational structure, centralization of authority and business relationships. However, change management is an integral property of modernized commercial sectors as it allows in incorporating newly renovated strategies and systems to reduce risks, costs and transaction time. Change management includes several changes in traditional aspects of the business to introduce new programs to meet organizational goals (Andrade and Doolin, 2016). Change management of MIS demands three important processes such as preparation of changes, management of changes and reinforcement of changes. Change management follows a systematic empirical framework to mitigate affiliated risks and to confine adequate improvement in the modified system.
8.3 MIS in Risk Management
The concept of Risk management information system (RMIS) examined herein management information systems assignment is a potential risk assessment tool that uses a computer-based information system to enlist project associated risks and essential solutions. It helps to improve decision-making abilities while considering risk registers and information about risk magnitudes. RMIS is designed to reduce redundant data and prevent data errors within the project which significantly enhances reliability and protection of credentials (Gupta, 2017). It has also an inevitable role to control legal and financial monitoring services and increases compliance by saving adequate time, cost and budget. Introduction of IoT in RMIS amplifies profit margins and availability of contingency plans by reducing waste and labor cost.
9.0 Conclusion
Implementation of MIS is inevitable to address various product issues including quality, cost and delivery schedule. It is also necessary to use in the decision-making process to improvise newly designed innovative strategies into physical applications. Information System includes humans, technology and management together to record, store and analyze the database to produce analytical frameworks for the betterment of the organization. MIS has gained significant attention from stakeholders due to its wide range of services and maintaining internal and external factors. This systematic empirical framework described the essence and beneficiary components of MIS as an effective initiative to address organizational hazardous activities. This management information systems assignment has approached the Commonwealth Bank of Australia as a potential sponsor to accommodate future growth of the project. This management information systems assignment has developed a significant framework of an information system that completely explained the scope of improvement and Implementation of IoT based MIS within an organizational context.
10.0 References
Andrade, A.D. & Doolin, B., 2016. Information and communication technology and the social inclusion of refugees. Management information systems assignment Mis Quarterly, vol. 40, no. 2, pp.405-416.
Bayani, M., Leiton, K., & Loaiza, M. 2017. Internet of things (IoT) advantages on E-learning in the smart cities. International Journal of Development Research, vol. 7, no. 12, pp.17747-17753.
Bello, S.A. & Thomas, O.A., 2018.The relationship between Management Information System (MIS) and university management in Southwest Nigeria. Journal of Educational Foundations, vol. 8, no. 1, pp. 47-53.
Daniel, D. R., Laksmono, I., & Nugrahadi, E. W. 2018. Applying E-Commerce in the Marketing Information System as a Tool to Increase Ludruk Art Income. Case Study at Irama Budaya Group, Surabaya, vol. 30, no. 6, pp.45-80
DeLone, W.H. & McLean, E.R., 2016. Information systems success measurement. Foundations and Trends® in Information Systems, vol. 2 no. 1, pp.1-116.
Geng, J. & He, Z., (2016).Innovation and development strategy of logistics service based on internet of things and rfid automatic technology. Management information systems assignment International Journal of Future Generation Communication and Networking, vol. 9, no. 12, pp.251-262.
Gupta, A.K., 2017. Response spectrum method in seismic analysis and design of structures Abingdon: Routledge.
Hu, Y., 2016. Design and Implementation of Recruitment Management System Based on Analysis of Advantages and Disadvantages of PHP Three-Tier. Romanian Review Precision Mechanics, Optics & Mechatronics, vol. 40, no. 9, pp.71-76.
Huh, S., Cho, S. & Kim, S., 2017, February. Managing IoT devices using blockchain platform. In 2017 19th international conference on advanced communication technology (ICACT), vol. 1, no. 1, pp. 464-467.
Iqbal, S.Z. & Idrees, M., (2017). Z-SDLC Model A New Model For Software Development Life Cycle (SDLC). Management information systems assignment International Journal of Engineering and Advanced Research Technology (IJEART), vol. 3, no. 2, pp.89-90.
Janicki, T.N., Fischetti, D. & Burns, A.T., 2016. Incorporating real world projects and emerging technologies into one MIS capstone course. Management information systems assignment Information Systems Education Journal, vol. 5, no. 24, pp. 4-6.
Jovanovic, F. 2018. The construction of the canonical history of financial economics. Available at SSRN 3294557. History of Political Economy, vol. 40, no. 2, pp. 216-225.
Laudon, K.C. & Laudon, J.P., 2016. Management information system London: Pearson Education.
Lin, C., Wu, W., Huang, H. & Chuang, H., 2016, January. Corporations Development Stage and Relationship MIS and TQM in the E-Business Era. In International Conference on Education, Management, Computer and Society, Atlantis Press, vol. 1, no. 1, pp. 23-31.
Müller, O., Junglas, I., Debortoli, S. & vomBrocke, J., (2016).Using text analytics to derive customer service management benefits from unstructured data. MIS Quarterly Executive, vol. 15, no. 4, pp.243-258.
Nascimento, A.M., da Cunha, M.A.V.C., de Souza Meirelles, F., Scornavacca, E. & de Melo, V.V., (2018).A Literature Analysis of Research on Artificial Intelligence in Management Information System (MIS). Management information systems assignment In AMCIS, vol. 1, no. 1, pp.101-119
Sari, E.N. & Priantinah, D., 2019. Managerial Decision Making With The Role Of Management Information Systems (MIS): What The Literature Says. Petra International Journal of Business Studies, vol. 2, no.1, pp.53-58.
Sindhu, K.S., Aasha, M. & Sivakumari, S., 2016. A Study on Technologies User for implementation of Internet of Things. World Scientific News, vol. 41, no. 1, p.112-115.
Sousa, C.S., Junior, J.M.V., Oliveira, R.F.P., dos Santos Oliveira, S. & de Queiroz Albuquerque, A.C.R., 2016. The Relevance Of Management Information System (Mis) For Decision-Making In Management Strategic Framework Of Enterprises. Journal of Engineering and Technology for Industry Applications, vol. 2, no. 6, pp.56-110
Tewamba, H. N., Kamdjoug, J. R. K., Bitjoka, G. B., Wamba, S. F., & Bahanag, N. N. M. 2019. Effects of Information Security Management Systems on Firm Performance. American Journal of Operations Management and Information Systems, vol. 4, no.3, pp.99-108.
Tiwary, A., Mahato, M., Chidar, A., Chandrol, M. K., Shrivastava, M., & Tripathi, M. 2018. Internet of Things (IoT): Research, architectures and applications. management information systems assignment International Journal on Future Revolution in Computer Science & Communication Engineering, vol. 4, no. 3, pp.23-27.
11.0 Appendices
Appendix 1: SWOT Analysis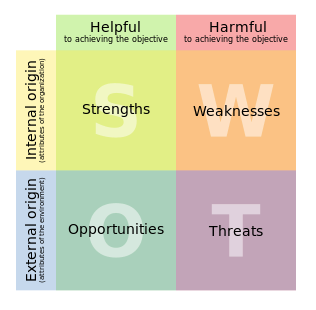 Appendix 2: PESTLE Analysis