How L'Oreal Strategic Management Help Improves Workforce Performance?
Question
Task: By looking at the organisation's/company's website and Annual Reports, you will be able to see whether it is possible to access enough information about its Human Resource (HR) practices to address the following:
1. How is your selected organisation/company trying to improve the performance of its workforce?
• Include at least one performance related initiative and one way in which its success could be measured
2. How is your selected organisation/company trying to improve its culture?
• Include at least one culture-based initiative and identify the type of culture prevalent within the organisation/company
3. How is your organisation trying to improve their rates of employee engagement?
• Include at least one employment-based initiative and the likelihood of success?
The group-work in-class component will provide you with an opportunity to assess your choice of organisation/company and its Human Resource practices. Students studying online will be provided with additional information.
Answer
Introduction
In this study of L'Oreal strategic management, a description is given about the methods and strategies used by L'Oreal for the improvement of workforce performance, employee engagement and culture environment. Being a leader it is necessary to manage the organization and employees successfully. Employees are assets of the organization so it is essential to motivate them for long term retention in business. L'Oreal is a French company and its headquarters is situated in Clichy having a registered office in Paris. This is the world-famous cosmetics company developed functions in the area of skincare, hair colour, sun protection, perfume, makeup. On 17th March 2006, L'Oreal purchased the company The Body Shop for 562 million pounds. The subsidiaries of the Loreal are Garnier, Maybelline, Lancome, NYX cosmetics and Matrix essentials. The position of the company is very strong all over the world and achieved a high range of profitability in the last years.

Performance Related Initiatives taken by L'Oreal strategic management
The success of the L'Oreal company depends on how the staff and employees performing their assigned tasks. The performance of the workforce includes planning, controlling, monitoring, feedback, documenting, coaching, training and development and continuous performance appraisal and review. The company is trying to enhance workforce performance by motivating them with rewards and appraisal.
Worldwide growth: L'Oreal Company achieved its best year of revenue in last years from 2011 to 2018. The company followed an effective L'Oreal strategic management and the operating margin of the company made a good record, confirming the capability of L'Oreal's business model to give better performance and made significant value (Bailey, et. al., 2017). The company is considered the first cosmetics group all over the world in 150 countries along with 505 patents registered in 2018 and 86,000 employees in the organization. This growth shows that the performance of the employees is much appreciated and it's growing very fast.
Source: (Loreal.Com, 2018)
Statistics: The performance of the company and its business model enables the construction of long term profitable growth and success. The sales of the company are €26.9billion in 2018 and the growth percentage is 7.1%, the profit of the company is €4.92 billion as operating profit with 8.5%increase in dividend per share (Bailey, et. al., 2017).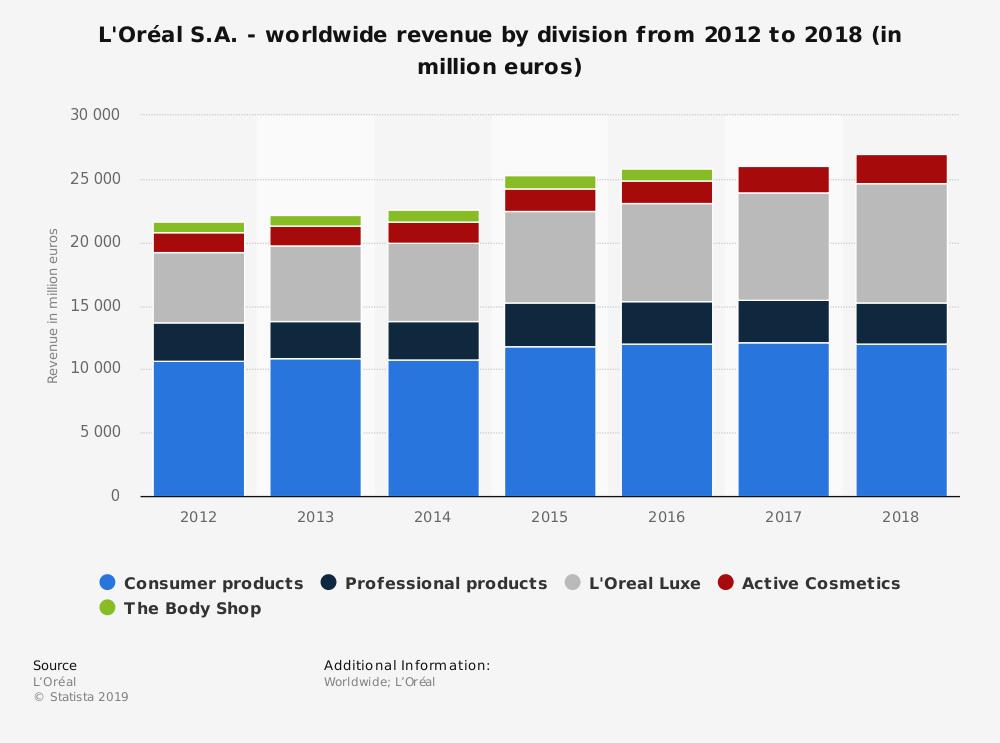 Source: (Statista, 2018)
Focus on skincare products: L'Oreal is the world's biggest manufacturer in cosmetics, has branched increasingly into plants depend on products in current years, at a time when purchasers are becoming more focused on the chemical mixture and are looking for natural alternatives. By implementing successful L'Oreal strategic management approach, the company produces several products for the skincare and it's world-famous such as L'Oreal Paris Collagen Moisture Filler, Revivalist 1.5% pure Hyaluronic Acid Serum, intensive anti-aging day cream moisturizer, Hydra nutrition night balm, youth Code Dark spot correcting and illuminating skincare serum (Albrecht, et. al., 2015).
Strategies of L'Oreal for workforce performance: L'Oreal adopted certain strategies to improve the performance of the workforce by defining and communicating the objectives of company and performance aims. L'Oreal performance management software system is one that offers old and modern benefits and employee-friendly techniques. Frame continuous meetings to discuss results and outcomes with employees and consider their suggestions in taking the decision.
Increase productivity: When employees of the company are happy, then productivity will enhance, and that is a real requirement for the growth of L'Oreal. It can be increased by making a priority list of short and long term objectives as per company operations (Amanchukwu, Stanley & Ololube, 2015, pp 6-14). Delegate the tasks and responsibilities to employees according to their skill and expertise. Adopt best tools and techniques for better functioning in minimum time so provide good results. L'Oreal generally adopts these measures to increase productivity by this company can become world of beauty.
Performance Related Initiatives taken under L'Oreal strategic management approach:
The community and Organizational Preparedness Project: This initiative is established to determine and measure the factors of making greater organisation and communities. The ultimate focus is given on preparedness for best skin care products demanded by community, this initiative will also examine all casual problems and challenges faced by employees and its impact of L'Oreal
Communicate and define goals and performance objectives: This initiative is taken by company in order to boost L'Oreal strategic management to meet the performance expectations and objectives of L'Oreal. Sometimes owners are not clear about the aims and objectives, and confusion will arise when employees ask questions about something. So it is necessary that aims and goals are clear for employers and employees.
Culture Initiatives
The study of L'Oreal strategic management signifies that the culture of L'Oreal includes a wider variety of elements, like values, employee common belief, goals and high expectations. In the working environment of a company, employees are always motivated so they can collaborate, involve in business projects, by sharing their ideas and suggestions, everyone should be valued and heard. 
Bringing values of the company in life: This is an ethical principle of L'Oreal that at the hiring of new employees in the workplace brings the values. As per ethics, making clear objectives and values is difficult to part in creating the best company culture. A company is a group of people where everyone doing their work to get the objectives (Yahaya & Ebrahim, 2016).
Encourage and empower: Employees are an integral part of the L'Oreal; they are not just a man who is working for the organization. It is very essential to encourage and empower the team members to work more by motivating them with benefits, rewards, extra appraisal, gifts on occasion, etc. 
Strong relationship: It is said that in this L'Oreal strategic management assignment, with one vision and one goal, L'Oreal must strive hard to get every employee and team members together. A strong perfect relationship of a team creates good teamwork and employers can start by managing the business activities like team building.
Listen to employees and women empowerment: Opportunity of being heard is given to employees as well as women employees also. According to recent changes in Companies Act, all rights and authorities must be given to capable women employees also for the safety and protection of women labour in the organization (Yahaya & Ebrahim, 2016). For the growing business, collaboration is necessary so it is making sure that what employees are saying.
Culture Based Initiative:
A life/work balance initiative: Employees of the L'Oreal care about achieving a complete life/ work balance for the culture initiative. There are certain methods by which a company can support employees in making life/work balance are:
Lenient working hours: Allowing employees to do work when they are very productive instead of doing work in 9 to 5. Perform the functions up to expectations and available for requests and meetings.
Work from home: When it is possible, and then permits employees to work from home occasionally, for once a month or week.
What are the employment based initiatives taken under L'Oreal strategic management approach?
Enhancing employee engagement at the L'Oreal workplace is a complicated situation. Employers of the L'Oreal Company require ensuring that employees are dedicated to their jobs, and they come to office every day with enthusiastic and eager to start their activities.
Sustainable environment: When the working environment is not healthy, then it is difficult to work there for long period of time and it gets more tiresome. Employers of L'Oreal try to do whatever they can for making a sustainable healthy environment, that must be comfortable, pollution-free, plants and garden outside, that shows branding of the organization (McCaffery, 2018). With this sustainable environment approaches it is a fast manner to enhance employee involvement.
Monitoring employees: A perfect mentor or leader is a good asset of the company; he encourages the employees for more participation in business tasks. Motivation is a good technique for high employee engagement by giving them extra benefits, rewards, discounts, leaves, etc. support employees who are facing any problems in personal and professional life also. This will retain the skilled and qualified employees for a long period of time in the organization.
Increase honesty: Honesty is considered as best policy at the workplace for a successful business. Management of the company has to adopt a business environment in order to enhance L'Oreal strategic management where honest and respectful communication is greatly valued and employees are empowered to take ownership of their success and failures as well (Thorpe, 2016).
Encourage teamwork: Teamwork is a very important aspect for L'Oreal to focus on increasing the good ones. Collaboration not only arise a happy workplace, but it is also encouraged to educated people because it motivates a good relationship within the organization. in this method of teamwork, employees learn from their colleagues, bosses, and peers.
Employee engagement initiative of L'Oreal:
Fusion sessions: In the synthesis sessions, the employer of the organization discusses success and problems along with current market changes monthly. In the first 20 minutes of the session, the employer shares recent opportunities and discuss such future aims and expectations. The residual time is given to open discussion with employees on any topic of the organization and help them in any confusion or problems (Bolden, 2016).
Consumer panel: Listen to the voice of consumers connected to the organization and use products of L'Oreal. Make the voice of consumers a continuous presence by inviting a customer panel to be the part of meetings. Customers explain how the products of L'Oreal impacted their skin and health.
Conclusion
It is concluded from the above-discussed study of L'Oreal strategic management that L'Oreal is a high revenue making company and its position is also growing very fast. The company adopted the best strategies and methods for the improvement of workforce performance. As a good leader of the organization motivation is the best technique to boost the morale of employees to do their tasks with more excellence. Employers have responsibility to make good relationships and bonding with employees so they will remain in an organization for a long period of time and do their work with perfection. A sustainable healthy working environment is very much essential for the health and safety of employees. Provide employees perks, benefits, flexibility, participation in the decision-making process, leaves and opportunity of being heard plays a major role in employee initiatives. There were several methods to be adopted by the organization and follow them on a regular basis.
Reference List
Albrecht, S.L., Bakker, A.B., Gruman, J.A., Macey, W.H. & Saks, A.M., 2015. L'Oreal strategic management Employee engagement, human resource management practices and competitive advantage: An integrated approach. Journal of Organizational Effectiveness: People and Performance, Vol 2(1), pp.7-35.
Amanchukwu, R.N., Stanley, G.J. & Ololube, N.P., 2015. A review of leadership theories, principles and styles and their relevance to educational management. Management, 5(1), pp.6-14.
Bailey, C., Madden, A., Alfes, K. & Fletcher, L., 2017. The meaning, antecedents, and outcomes of employee engagement: A narrative synthesis. International Journal of Management Reviews, 19(1), pp.31-53.
Bolden, R., 2016. L'Oreal strategic management Leadership, management, and organizational development.In Gower handbook of leadership and management development (pp. 143-158).Routledge.
Loreal, 2018. Key Figures [Online] Loreal.com Available at https://www.loreal.com/group/our-activities/key-figures
McCaffery, P., 2018. The higher education manager's handbook: effective leadership and management in universities and colleges. Routledge.
Statista, 2018. L'Oréal S.A. - worldwide revenue by division from 2012 to 2018 (in million euros). [Online] Statista.com. Available at: https://www.statista.com/statistics/271772/loreal-sa-worldwide-revenue-by-division/
Thorpe, R., 2016. Gower handbook of leadership and management development.CRC Press.
Yahaya, R. & Ebrahim, F., 2016. Leadership styles and organizational commitment: literature review. L'Oreal strategic management Journal of Management Development, 35(2), pp.190-216.