Leadership Assignment: Self-Reflection On Accident Within The Workplace
Question
Task: Write a Reflection report on leadership assignment based on an activity/"critical incident" from your professional setting. For example you may focus any ONE of the following: your first week at work, a major issue that had happened that affected yourself and others in your organisation, a business trip, an incident that was a learning curve for you.
Answer
Introduction to the context of leadership assignment
In recent times, it has been widely recognized that leadership plays important role in improving employee morale while also enhancing the business performance in the long run. The businesses are becoming highly competitivethus, the companies are required to strengthen the backbone of the business performance that is the employee base. It is observed that leadership roles in businesses play a crucial role in incorporating practices like innovation, smooth operational processes, high employee turnover, improved job satisfaction, and others (Hackman & Johnson, 2013). Some leaders are intrinsically born with qualities while some develop leader traits through coaching, training, or self-reflection practices. Reflective cycles help in providing insights on self- skills and competencies thus preparing action plans to improve. This report will aim in discussing reflections on the accident within the workplace that impacted me and my colleagues which also helped in shaping organizational procedures.
Literature Review on Reflections
Self- Reflection is similar to that of looking into the mirror that helps in assessing self. The self-reflection analysis enables individuals in understanding strengths and weaknesses by recalling actions and feeling during an activity at any particular phase of life. In the academic environment, self-reflection is viewed as a great source for indulging the students in learning practices (Zeichner& Liston, 2013). It can be said that reflecting helps in developing skills while also reviewing effectiveness than just conducting routine ways without any improvement. In the initial days, the individuals might find it challenging in processing thoughts and experiences to understand in competencies, however, a set of questions can be used for aligning self-reflections (Moon, 2013). This includes
Strengths
Weaknesses
Skills and Problems
Achievements, Happiness & Solutions
In this view, Bindels et al, (2018)conducted a study on physicians for reflecting practices to support continuous performance improvement. A qualitative study was conducted on 13 Hospital-based physicians that belonged to various specialties and institutions. It was noticed that reflections were different with the patient and team domains.
Thus, the author contemplated that daily routines, honesty, and open dialogues for recalling reflections from professional practices are extremely important. In another study by Mann & Walsh (2013, p. 2), it was discussed that Reflective Practices especially in a professional environment are generally based on the general practices thus, the process is not critical, transparent while it cannot be used by the practitioners for continuous improvement. Thus, the author suggested that the reflections based on experiences must be rebalanced from written forms to majorly focusing on dialectic and spoken reflective practices (Knott &Scragg, 2016). In addition to this, reflection moments are referred to as consultation of map thus an individual can view themselves from higher levels, based on which corrective actions can be taken. Reflecting on the life experiences helps in learning while using the same in real-timescenarios, thus getting rid of negative thinking. The learning helps in continuous improvement for the long term while also enhancing decision-making (Hine &Lavery, 2014).
Reflections on personal experiences
In my workplace, I and colleagues had faced major accident that did not injure us physically but impacted mentally. I was in my initial days at my workplace when the fire broke on another floor of my office premises. Cake cutting ceremony was being conducted on the premises of which sparkle from the candle started burning the files and papers in the nearby cabinet. The cabinet comprised of spirits and alcoholic substances (in form of a first aid box) due to which fire spread in other floors as well. We had to be evacuated from the windows in an emergency by the firefighters. It was later recognized that the building lacked fire-resistantmaterials due to which two floors were largely impacted. One of the employees was severely injured while others sustained minor burns, however, all the staffs were alive. Thus, the reflection will be based on the experiences forenhancing skills and competencies in decision making.
Reflection through stages
Motive
The motives for reflecting on this experience are gaining insights on such incidents and dig out solutions for acting calmly and effectively for the safety of self as others. I selected this experience as it was the first of my encounter with life-threatening situations which still accompanies me and helps in undertaking critical thinking in undertaking any decisions. The motive is to reflect on impactful experiences of the past for fostering continuous improvement of self that will be beneficial for me, my team mates and professional environment as whole.
Emotions Linked to Behaviour
The emotions linked to the behaviour include anxiety, nervousness, and disappointment that often leads to a lack of decision making. In this view, the emotion that I went through was high anxiety, disappointments with uncertain speculation of the situation that might have occurred. In the fire incident, I was an apprentice, justgraduatedfrom college thus,havenever encountered a scary situation like this. I was very nervous and anxious as the majority of us in the room were new joiners. We were part of the induction program conducted through online modes thus present at the situation without our immediate supervisor. However, I was trained in school and college for escaping from such fire incidents. The front door was lockedand my focus was on the safe evacuation of all. I called my supervisor and made him understood the circumstances after which I directed him to break a window. After following the instructions, I received help from firefighters and all of us were safely evacuated. The emotions were traumatic as everyone cried, felt anxious, and helpless, we all panicked after the doors were automatically locked. I did not demonstrate calmness but my experiences in fire drills help me undertaking sound decisions for safe evacuation. I was in trauma after the whole incident occurred after which I was also sent for counselling sessions for a day or two.
Self- questioning and Self- Awareness
During the entire incident, I practiced self-questioning techniques for understanding the solution for safe evacuation. I asked myself questions like how will Ievocate myself from this situation and how can I evacuate everyone safely. This technique further helped in finding escape routes from the building. I was aware that I need to protect myself as well as my team members from the fire. I panicked initially as I saw my team members in panic and anxiety, out of all one of them fainted due to suffocation as air conditioning and other cooling systems were cut off. My focus was the solution that required me to think about different techniques that could be applied. In thisincident, my first reaction was calling my supervisor and informing him about the situation. My second reaction was to help members in calming down as I started breaking the window. Everyone wanted to escape from the window but I was aware that the person who fainted should be evacuated first and we did. In this view, self-awareness is very important as it helps in understanding ourselves as unique and separate individuals, thus all of my team members I recognized myself to be unique as I not only calmed myself but also thought of techniques that could safeguard the lives of all. I was not carried away by the panic created by others and kept the condition in control. During the drill, I recognized myself as a leader through which I was able to guide and help my teammates. Communication patterns were open, while I also encouraged participating or suggesting ideas for forming decisions.
Standing Back from Self
I assume that duty of care in the professional and personal environment includes the protection of other rights and interests thus no such action must be taken that harm others. In the circle of life, not all individuals pertain same qualities, skills and competencies, hence efforts should always be made for the protection of self-as well as others (Aga et al, 2016). In the fire incident within my workplace, I did not stand back, even if I was anxious and scared. The current situation enabled me to consider my teammate's safety thus helping me to create powerful motives. Small steps were taken like contacting the supervisor but it made us powerful as he guided us with solutions for keeping everyone safe. In this situation, I felt I considered myself below the safety of others as I knew the drill of safety evacuation so I thought about others first.
Frames of references
Learning through life experiences helps and guides in other circumstances thus, making each powerful (Pollack &Matous, 2019). In my school as well as during graduation we were enrolled in many safety programs that provided us insights about managing fire incidents. Moreover, it also helped in making emotionally competent for effective management of such types of emergency procedures with team building and efficient communications. In addition to this, we had participated in ice-breaking sessions thus, all the team members shared a good bond amongst each other which helped me mediating my role as a leader while also exercise excellent team communication skills. Social interaction was strengthened as I helped each of the members in calming down and guiding them through the entire incident. I can say that my previous experiences as well as established team bonds helped in collaborating with the team members.
Multiple View Points
During any event or activity, there are multiple viewpoints presented by colleagues, and others help in viewing the topic or subject from different perspectives. In this view, from the initial point of realization of fire break out, all members panicked and presented different views on the results that might occur. The cut-off of electrical appliances made all of us recognize the urgency of the situation. While working in a team, I realized brainstorming and constructive feedback on the suggestions can help in devising real-time and practicable solutions. Since the incident required quick thinking hence, not all viewpoints could be included in the safe evacuation plan. Some had a weak suggestion, some gave negative comments while a few of them, helped in devising a plan to escape the implications from fire break out. However, someteam member was co-operative in following while some still thought their viewpoints must be included. When conflicting viewpoints arise, each member should be given chance to explain their logic behind the suggestions (Miller et al, 2018).
Evaluation and Synthesis
Evaluating the incidents, activities, and events helps in devising more efficient or plans that could be applied in similar events of the future. In addition to this, recalling the incident, I now feel, the situation could have been managed more effectively with teamwork. In an emergency procedure like the incident I faced, it is very important to stay calm from the initial point and involve team members in devising effective and successful strategies. In the beginning, we panicked due to which one of the team members fainted because of suffocation. We realized it after I had consulted with the supervisor for the same. Thus, some skills need polishing which will further help in mediating leadership roles in all aspects of professional lives. I require team-building skills, EI competencies, self-awareness, and leadership skills this will help me in undertaking decision-making that will fulfil my as well as organizational objectives. In addition to this, I lack confidence in decision making which needs to be improved through training attaining skills in varied domains. I had experiences in the fire drill and could perform better than others but I could not as I myself was anxious and panicked due to which effective decisions were delayed. However, this incident has been eye- opener for me, my colleagues and team members while it has also impacted the organizational procedures for safety. The experience has given me confidence for facing any challenge with fearfulness and calmness,however, I would learn more skills and competencies to progress in varied walks of life.
Learning and Action Plan
The reflection on the fire incident has enlightened me that critical thinking is required in every decision making especially if it impacts the lives of the team members. I lack leadership skills that make me incompetent in making decisions or acting for welfare for all. During the drill, I did not realize that weak team bonding and my lack of influencing others. I had better knowledge than my team members in fire evacuation, but I had to put a lot of efforts for convincing them to follow my instructions. Thus, I understood that leadership skills are important for influencing team members for guiding all the team members to achieve team objectives. Also, social interactions are one of the factors that influences team bonds, I lack this skill as I am not capable of starting conversations with new individuals. I often wait for other person to start initial interaction, while also I am not very outgoing person that restricts to be part of social life at larger contexts. I also want to learn specific knowledge on fire safety and evacuation through which I can act in appropriate way in the future.The drill on fire safety evacuation will include
Considering who might be at safety
Eliminating or reducing the risk the fire, if possible
Learning about general fire precautions for dealing with any type of risks.
I would like include induction training and periodic refresher training on general fire awareness for all my colleagues
I would like to keep a check on the renewal and updating of Fire Safety Order 2005
I would like to read books on fire emergencies like

Klinoff, R. (2019). Introduction to fire protection and emergency services. Jones & Bartlett Learning.
Valcik, N. A., & Tracy, P. E. (2017). Case studies in disaster response and emergency management. Taylor & Francis.

I would like read articles and books on conflict resolution and management for improving team management skills

Wallensteen, P. (2018). Understanding conflict resolution. Sage.
Ramsbotham, O., Miall, H., & Woodhouse, T. (2011).
Contemporary conflict resolution. Polity.

I would also update my knowledge by participating in emergency drills and other programs organized in the community that would help me in improving my interpersonal skills
The Action Plan from the learnings is provided below.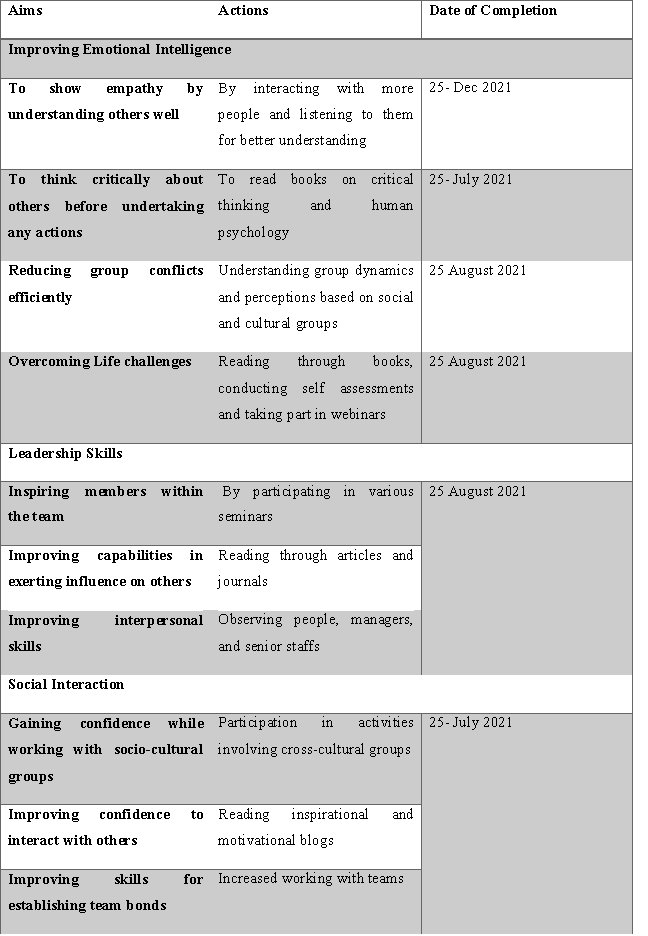 Conclusion
Leadership skills comprise of many components that include inspiring others, high EQ level, high social interaction, intrinsic motivation, and many others. It can be said that reflective practices often help us in understanding the lack of competencies and skills that might hamper self-performance. In the report, a reflective essay was written by including components of Gibbs Reflective Cycles after which it was realized that further improvement requires self-awareness, leadership skills, EQ, and social interactions. The reflection helped me in understanding that skills, competencies, self- awareness is important for coping with professional and personal life challenges.
Reference List
Aga, D.A., Noorderhaven, N. and Vallejo, B., 2016.
Transformational leadership and project success: The mediating role of team-building. International Journal of Project Management, 34(5), pp.806-818.
Bindels, E., Verberg, C., Scherpbier, A., Heeneman, S. and Lombarts, K., 2018. Reflection revisited: how physicians conceptualize and experience reflection in professional practice–a qualitative study. BMC medical education, 18(1), pp.1-10.
Hackman, M.Z. and Johnson, C.E., 2013. Leadership: A communication perspective. Waveland press.
Hine, G.S. and Lavery, S.D., 2014. Action research: Informing professional practice within schools. Issues in Educational Research, 24(2), pp.162-173.
Knott, C. and Scragg, T. eds., 2016. Reflective practice in social work.Learning Matters.
Mann, S. and Walsh, S., 2013. RP or 'RIP': A critical perspective on reflective practice. Applied Linguistics Review, 4(2), pp.291-315.
Miller, C.J., Kim, B., Silverman, A. and Bauer, M.S., 2018. A systematic review of team-building interventions in non-acute healthcare settings. BMC health services research, 18(1), pp.1-21.
Moon, J.A., 2013. Reflection in learning and professional development: Theory and practice.
Pollack, J. and Matous, P., 2019.Testing the impact of targeted team building on project team communication using social network analysis. International Journal of Project Management, 37(3), pp.473-484.
Zeichner, K.M. and Liston, D.P., 2013. Reflective teaching: An introduction. Routledge.
Appendix