Leadership Assignment On Effect Of Management Styles On Employee Performance
Question
Task: Write a report to analyse the effect that leadership has on employee as well as organisational performance.
Answer
1. Introduction
Leadership is one of the most important skills or is an ability explored in this Leadership assignment that allows and organisation or an individual to lead. It is evident that strong leadership can help in improving the outcome of an organisation. Leaders of an organisation have a number of responsibilities of enhancing employee performance, motivating, supporting and encouraging the employees in an effective manner so that employees are able to feel valued and work on improving their performance. Leaders play a vital role in developing vision for a firm and motivating the members to work towards the vision. If employees are satisfied and receive appropriate guidance then they are able to achieve the goal and objectives of a firm in an effortless manner. Therefore, it can be stated that effective leadership helps in increasing the financial performance of an organisation. It is analysed that there are many different styles of leadership that are adopted by the leaders or manager under certain circumstances in order to fulfil the needs and requirements of their employees in an efficient manner.
It is observed that different leadership style helps in supporting the employees and the organisation in a different manner under different circumstance; therefore, it is important to recognise the most suitable leadership style that helps in boosting employee performance under a particular situation. This research will explore the effect of different leadership styles on employee performance and the way it influences the revenue generation process of the business. Leaders are also responsible to ensure that the daily target of the firm is met, customer relations are well maintained and the workplace environment is positive as these factors are important for the growth and development of an organisation. This section will highlight the aims objectives, problem statement, and the significance of the study.
2. Problem statement
It is analysed in this Leadership assignment that employee performance includes executing certain defined duties, employee competencies, meeting deadlines and maintaining efficiency in completing their tasks (Oriarewo et al., 2018). In order to complete the tasks and resolve the issues encountered by them, employees need appropriate support and guidance. If an organisation is unable to provide its employees with adequate support and leadership then the firm fails to motivate them and due to reduced employee performance, the revenue generation of the firm is also influenced. In addition, unsatisfied employees will also result in reducing the brand image of the firm and the lack of productivity will reduce the value and competitive edge off the organisation.
It is evident that business organisations need strong and appropriate leadership styles in order to motivate and encourage their employees to perform better (Khuong & Hoang, 2015). It is analysed that many organisation such as Woolworths that is operating within the retail industry of Australia experience high competition and due to increasing competition they often experience lack of motivation, low productivity and are unable to meet the organisational objectives. This situation takes place as the organisation lacks appropriate leadership strategies and is unable to deliver the most suitable leadership style that is required for a situation. This problem is considered to affect the performance of the employees and the financial outcomes of the firm, therefore, this study has been undertaken in order to explore the most efficient leadership style that will help in stimulating employee performance.
3. Research aim and Objectives
Aim: The primary aim of this study of leadership assignment is to analyse the effect that leadership has on employee as well as organisational performance.
Objectives
To understand the significance of leadership in an organisation
To explore different leadership style that helps in boosting performance
To develop models that can indicate relationship between employee performance and different leadership style
4. Justification and potential research outcome
It is analysed in this Leadership assignment that leadership is an important factor that helps in boosting employee performance and also plays a vital role in influencing the internal business environment of an organisation (Dong et al., 2017). This report will help the management of Woolworths to gain detailed information regarding the significance of leadership and the need for different leadership style within their organisation. The management will be able to understand the issues and needs of their employees and based upon it they can change their leadership strategies in order to suit the needs of the firm. Adopting effective leadership will help the organisation in increasing employee and organisational performance in a positive manner. This research assists in evaluating the benefits of implementing different leadership style for different situations. The present leadership style at Woolworth will be analysed so that appropriate changes that can help in increasing the performance of the firm and also them to gain increased employee and consumer satisfaction can be suggested.
The expected outcome of this research:
This research will help in providing information regarding the significance of leadership and the way it influences employee performance
The different leadership styles will be highlighted and their significance for the organisational performance will be evaluated
The impact of implementing leadership style in the revenue of Woolworths will be analysed.
5. Conceptual Framework illustrated in Leadership assignment
5.1 Leadership: Leadership is considered as the process with the help of which an executive is able to guide, direct and influence the behaviour and work of other individuals in order to accomplish as target or goals in a specific situation (Holten & Brenner, 2015). Leadership is considered as the ability possessed by a manager that induces the subordinates to work with zeal and confidences. Leaders help in developing the vision and encourage the organisational employees to achieve the vision and work on improving their performance. Storey (2016), suggests that leadership is the ability to cope and deal with changes focusing on the big picture on the long run. The leaders need to take risks and concentrate on individual and their values so that appropriate support can be provided to them. It is analysed that with the advent in technology and changing business trends the business environment often becomes challenging for an organisation and in such situation, organisations are forced to adopt necessary changes which will help in sustaining the firm in the competitive environment. During organisational changes, the employees are confused and stressed. In such situation, leaders are required to communicate and interact with their employees making them feel valued and supporting them through the process so that they help in the change process and improve on their performance. Leaders motivate and encourage employees providing them with relevant feedback to improve their weaknesses (Vlacsekova & Mura, 2017). This help in enhancing employee performance and in turn organisational outcome is also enhanced. It is important to have strong leadership in an organisation and in order to achieve it at times organisations organise many leadership training programs that help in improving skills and knowledge. However, it is significant that the firm should understand the type of leadership style needed by them and work on it so that organisational performance can be boosted.
5.2 Leadership styles: There are a number of leadership styles ranging from democratic to participative to autocratic that helps in understanding the decision making powers of the leaders and their influence on the employees. It is observed in this Leadership assignment that the autocratic leadership style is considered as authoritarian leadership in which the leader has individual control on the decision-making the process. This leadership style provides business with a clear direction as decisions are made by the leaders and the decision-making process is also quicker. However, in this style of leadership managers might ignore or underestimate the values or efforts of their employees. This might reduce the self-esteem of the employees and impact their performance. However, this leadership style is beneficial if the organisation is experiencing any sudden problem or crisis that requires an immediate response. On the other hand, Khan et al. (2015), states that democratic leadership is the style in which individuals who are generally considered unequal by the hierarchal standards receive a shared power in the decision-making the process. In this leadership style, free flow of idea is accepted which helps in increasing engagement and interaction among the members of the firm. It is analysed in this Leadership assignment that firms such as Woolworths can make use of this leadership style and consider the entire team in their decision-making process for setting training programs or marketing initiative and budgets. This will help the employees feel connected to the firm and they will be more productive in their activities which will help in increasing the outcome of the firm.  Participative leadership style is the style in which all member of the firm is involved in the recognition of goals and development of strategies that can help in achieving the goals. Participative leadership style is dependent majorly on the leaders functioning as a facilitator. This style helps in developing new leaders that can be beneficial for the firm in the coming future (Lumbasi, K'Aol & Ouma, 2016). Therefore, different leadership style helps in promoting different types of employee behaviour and organisational performance selecting the most appropriate leadership style as per the needs of the organisation and the employee is necessary.
Hypothesis development
Hypothesis 1: There is no significant relationship in effective leadership style and improvement of employee performance
Hypothesis 2: the democratic leadership style helps in increasing employee performance
Hypothesis 3: Autocratic leadership style is more effective in improving employee and organisational performance
Hypothesis 4: the participative leadership style is beneficial for improvement of employee performance.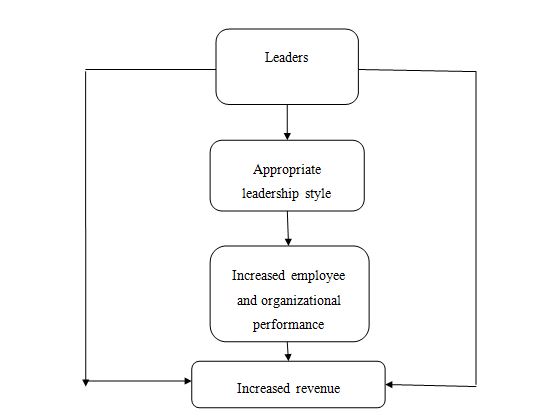 Figure 1: Conceptual framework
(Created by the learner)
6. Methodology
6.1 Literature synopsis: The literature used in this Leadership assignment will help in exploring the significance of leadership and the way leadership is contributing to the business. The role that the leaders play in motivating and supporting the employees will be enhanced. The different types of leadership and their impact on the employee and organisational performance will be highlighted in a detailed manner. It is evident that Woolworths is operating in a very competitive market sector and in order to sustain in the market and gain a competitive edge the firm will have to adopt strategies that can help them in improving their leadership management. The most appropriate leadership style that can help an organisation in a competitive environment will be analysed so that management can improve the financial outcome of the organisation. 
6.2 Research Philosophy: For this research, the researcher will be making use of positivism research philosophy. This approach considers the factual knowledge that is gathered with the help of observation which includes measurements that are considered trustworthy (Ryan, 2018). this approach will be used a data regarding the organisational performance of the employees as well as the firm as a result of different leadership styles will be gathered so this approach will help in statistical analysis. In order to gather information public record of Woolworths, revenue sheets of the firm, surveys existing about the employees will be gathered.
6.3 Research approach: There are two basic research approaches namely the deductive approach and inductive approach that helps in collecting research data. The deductive approach is used in order to test a specific theory while inductive approaches are used in order to develop new theories. For this research deductive approach will be used as this will help in developing and testing the research hypothesis (Gaur & Kumar, 2018). The hypothesis is developed in the literature review and with the help of this approach it is tested with logical reasoning that enhances the quality of the study. It is evident that in this study of Leadership assignment new theory development is not needed.
6.4 Research method: In order to collected data and achieve the objectives of this study the research will be implementing quantitative research methods as quantitative data is efficiently represented with the help of graphs and charts (Goertzen, 2017). It is evident that information concerning employee as well as organisational performance will be gathered so this approach can help in interpreting the data in an efficient manner.
6.5 Data collection method: For this research, the data will be collected with the help for secondary research methods as secondary data is more appropriate as compared to primary data. The secondary data is easily available and can be gathered with the help of public records, journals, articles, books, case study and their online sources (Johnston, 2017). As the information regarding employee performance and the impact of leadership style is required therefore, journals ad articles can be referred. In order to understand the leadership qualities at Woolworths the public records of the company or its online resources can be consulted.
6.6 Data Analysis: Quantitative analysis will be applied in this Leadership assignment in order to analyse the research data. It is evident that quantitative data are easily presented with the help of charts and graphs so interpreting of data become easy. In addition, descriptive analysis will be applied as it helps in providing detailed information about the research and its findings (Nassaji, 2015). The current problems and issues will be highlighted with the help of descriptive research method so the situation will be evaluated in a detailed manner.
6.7 Sample size: In this research the researcher will be making use of non-probability sampling technique. It is the technique in which the samples are collected in the process where all the individuals do not get equal chance of being selected. For this research around 12 journal articles will be consulted.
7. Organisation of research study
Chapter 1 – Introduction: In this chapter the research topic will be introduced, its significance and background will be discussed. The aims and objectives of the research along with the research questions will be highlighted. In addition, the way this research will b carried out will be discussed.
Chapter 2 – Critical literature review: In this chapter different opinions and views of authors will be compared and evaluated in order to shed light on the research topic. The arguments formulated in this section will provide detailed information regarding the concept of the research and help in developing appropriate hypothesis for the study. Different journals are consulted in this section for gathering the data.
Chapter 3 – Research Methodology: In this section of Leadership assignment the different tactics and approaches that will be used by the researcher in order to collect the research data will be discussed. The justification for the selected approaches will be provided.
Chapter 4 – Analysis and Discussion: In this section the primary findings of the research will be discussed this will help in understanding the research and developing appropriate outcome of the study.
Chapter 5 – Conclusions and Recommendations: In this chapter the final conclusion of the research will be discussed. If there are any recommendations that can help in improving the study further then it will also be mentioned.
8. Project Budget
| | |
| --- | --- |
| Project requirements | Budget |
| Collection of secondary data | $700 |
| Analysis of secondary data | $500 |
| Printing | $400 |
| Total | $1600 |
Table 1: Budget for the study
(Created by the learner)
9. Project plan
| | | | |
| --- | --- | --- | --- |
| Task Name | Start Date | End Date | Duration |
| Project Proposal | 21-10-19 | 28-10-19 | 6 days |
| Data collection | 29-10-19 | 09-10-11 | 10 days |
| Literature review report | 11-11-19 | 19-11-19 | 7 days |
| Financial Statement Analysis | 20-11-19          | 05-12-19 | 12 days |
| Data interpretation | 09-12-19 | 16-12-19 | 6 days |
| Write Report | 19-12-19 | 01-01-20 | 10 days |
| Submit | 02-01-20 | 02-01-20 | 1 day |
Table 2: Work duration
(Created by the learner)
Gantt Chart


Figure 1: Gantt Chart
(Source: Created by learner)

Reference List
Dong, Y., Bartol, K. M., Zhang, Z. X., & Li, C. (2017). Enhancing employee creativity via individual skill development and team knowledge sharing: Influences of dual?focused transformational leadership. Journal of Organizational Behavior, 38(3), 439-458.
Gaur, A., & Kumar, M. (2018). A systematic approach to conducting review studies: An assessment of content analysis in 25 years of IB research. Journal of World Business, 53(2), 280-289.
Goertzen, M. J. (2017). . Introduction to Quantitative Research and Data. Library Technology Reports, 53(4), 12-18.
Holten, A. L., & Brenner, S. O. (2015). Leadership style and the process of organizational change. Leadership & Organization Development Journal, 36(1), 2-16.
Johnston, M. P. (2017). Secondary data analysis: A method of which the time has come. Qualitative and quantitative methods in libraries, 3(3), 619-626.
Khan, M. S., Khan, I., Qureshi, Q. A., Ismail, H. M., Rauf, H., Latif, A., & Tahir, M. (2015). The styles of leadership: A critical review. Public Policy and Administration Research, 5(3), 87-92.
Khuong, M. N., & Hoang, D. T. (2015). Leadership assignment. The effects of leadership styles on employee motivation in auditing companies in Ho Chi Minh City, Vietnam. International Journal of Trade, Economics and Finance, 6(4), 210.
Lumbasi, G. W., K'Aol, G. O., & Ouma, C. A. (2016). The effect of participative leadership style on the performance of coya senior managers in kenya.
Nassaji, H. (2015). Qualitative and descriptive research: Data type versus data analysis.
Oriarewo, G. O., Ofobruku, S. A., Agbaezee, K., & Tor, Z. A. (2018). The Influence of emotional stability on employees' performance: A review. South Asian Journal of Social Studies and Economics, 1-8.
Ryan, G. (2018). Introduction to positivism, interpretivism and critical theory. Nurse researcher, 25(4), 41-49.
Storey, J. (2016). Changing theories of leadership and leadership development. In Leadership in Organizations (pp. 17-41). Routledge.
Vlacsekova, D., & Mura, L. (2017). Effect of motivational tools on employee satisfaction in small and medium enterprises. Oeconomia Copernicana, 8(1), 111-130.