Leadership Assignment: An Individual Reflection
Question
Task: To create TWO (2) individual reflections that apply the People, Culture and Contemporary Leadership theories and concepts that have been covered in the subject. Both reflections will be completed as inclass activities.
Assessment Description
An important part of undertaking postgraduate study, is that you actively reflect on what you've been learning and how you could apply it to assist your own professional development and/or future career. Reflection One will be conducted in-class in Week 6, and will be based on the Industry Guest Speaker the link between theory and practice), attendance at this class is a requirement in order to complete the assessment. Discussions, participation and self-analysis activities will be conducted in class. You will have 48 hours from the date of the class that they are enrolled in to complete their reflections which will be based on the in-class discussion to submit via Moodle
Reflection Two will be conducted in Week 12 and be a self-analysis of your leadership style and ways that you can develop your own leadership skills? You will be required to use the range of self-analysis and self-assessment tools to support your leadership development, that have been covered in the subject. Attendance at this class is a requirement in order to complete the assessment. Discussions, participation and self-analysis activities will be conducted in class. You will then be required to upload your final submission on Monday, Week 13 @11.55pm.
Answer
Introduction
In the present context of leadership assignment, we will discuss that leadership skill or quality can be defined as a technique of guiding, organizing, motivating, influencing, controlling and directing the human resource of the organization and all the activities involved in an organization in order to achieve the goals and objectives of the company efficiently and effectively.A good leader is a person who with his incredible strategic vision, dedication and optimism can motivates his team or group of people towards achieving a common organizational goal. Further, it is discussed in the leadership assignment thatunderstanding the market and its need and therefore planning and making strategies accordingly are the main attributes of a good leader. After developing strategies, it needs to be properly communicated to the team for better organization's performance is the main function of any leader (Fransen, et. al., 2017).
Self- analysis and self- assessment tools to support in leadership development
To become a good leader, it is important to assess certain reflective questions that help to understand the strengths, weaknesses and opportunities for growth. It involvesa process of self- awareness, carefulness, consecutive observations that ensure the self- analysis to support in leadership development.
Some questions and statement that needs to be assessed for self- analysis of leadership style are required to be answered within this leadership assignment. For this three test tools were used-Big Five PersonalityTest, Emotional Intelligence Test with Mind Tools andtest based onMyers Briggs theory.
As per big five personality, which is based on 5 major dimensions that is – Openness, Conscientiousness, Extraversion, Agreeableness and Neuroticism. In the test questions were asked, few of them werelisted in the below section of leadership assignment–
I get stressed out easily.
I feel comfortable around people
I have excellent ideas
I am quick to understand things
I do not talk a lot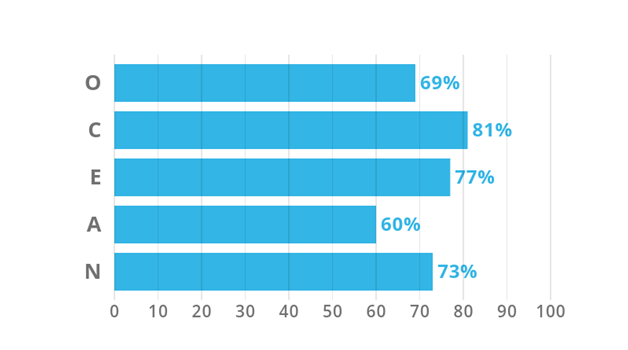 According to the test resultsof self- analysis and getting a positive remark from the questions above, it has laid a foundation of becoming a good leader.
As per mind tool considered in the context of leadership assignment, the result obtained was 58 which is above average and as per myers brigg my personality type was based on Extravert, Intuitive, Feeling and Judging (ENFJ) in which the result obtained were average where I have a slight feeling over thinking, I have marginal or no preference of judging over perceiving and more extraversion and intuitive over introversion and sensing.
One can enhance their performance and knowledge by identifying the critical issues in the leadership style which leads to overall individual growth. Therefore, for development or growth in leadership style it is important to evaluate the past and present performance as a leader to attain a potential leadership quality (Hunt, et. al., 2017).
Self- analysis of a leadership style
As per the test conducted within this leadership assignment, it was found that self- assessment or self- analysis tools are one of the methods, which are adopted to achieve leadership development.Leadership development is a very broad concept which involves various factors such as analyzing strengths, weaknesses and opportunities(O'Keefe, 2018).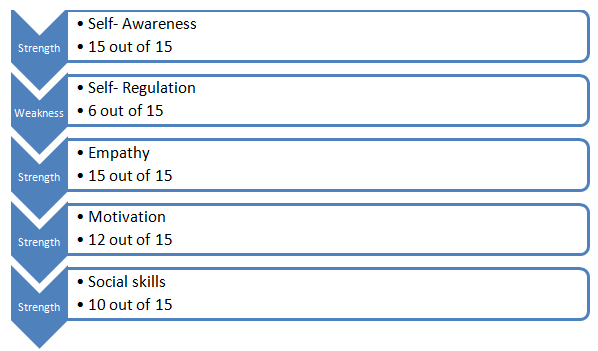 With the test results, it can be indicated that I possess strengths like-self-awareness where I observed score of 15 out of 15, developing motivation and commitment towards learning new skills and techniques that helps in driving business resultsin the organization, highly empathic and existence of social skills.
Some of the weaknesses observed in the context of leadership assignmentinclude lack of resilience towards team efforts which can be observed from self- regulation where I scored 6 out of 15. Further, I feellack of communication skills and often work in a hurry.
It is a process of evaluating and improvising. With the help of this test, I have observed great opportunity in developing leadership skills. Identified career aspirations, obtaining potential future goals, perceive various ways in which work can be done are another benefit from self- assessment. (Church.A.H, and Rotolo.C,2015) Hence, it is a process of evaluating the data and feedback to use it in a development process, growth as a leader and accepting any change if it is required to be taken.
Ways to develop leadership skills
There are three attributes that is required to develop leadership skill- simple, repeatable and consistency. It is important that the actions adopted by leader are simple so that there is no confusion in the mind of any team member which enable to lead a group of people in a friendly manner and can also help in increase of employee's productivity and performance. The actions so adopted must be repeatable as well so thateveryone can give their best towards the company which will help them in their personal growth as well as organizational goal. And the last is maintaining consistency, by creating a workplace of continues learning that ensures aligning the value of the company from the future growth potential of the business (Martikainen, 2018).
Herein leadership assignment, another factor to develop leadership skills is to maintain strategic human resource planning (SHRM). It is a bridge between human resource and organization's objectives and strategies. With the help of SHRM, the performance of business and its employees get improved and create healthy internal environment which makes successful organization in the competitive market.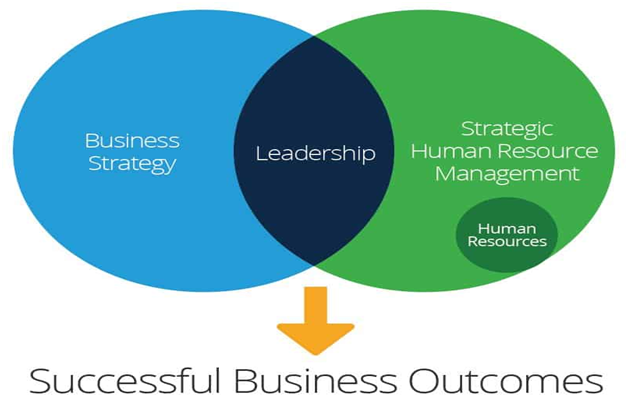 Therefore, it can be said in the leadership assignmentthat human resource is the biggest asset for any organization.
Example
When it comes for effective leadership, it is impossible to forget Elon Musk. Elon Musk has proved as one of the successful leaders in the world. He is the founder of SpaceX, Tesla Motors, SolarCity, PayPal, Zip2. He is famous for his incredible & strategic vision, dedication and optimism.
He believes that if work is not done in the present, the change you want will never happen in the future. He honestly believes in his ideas and motivates his team towards it. He discusses the strategy with his team and with the support of his team members,take decisive action immediately towards his ideas.This quality of a leader helps in making business sustainable in the long run by establishing good connections in the organization. It is an example of being a good leader and not a manager.
Further, it is mentioned in this segment of leadership assignment that in order to achieve organizational goals he has adopted strategic human resource management. Contribution of which can be seen through higher employee's commitment, increase in job satisfaction, higher productivity, increase in quality of service, higher profit, increase in market share and an ultimate growth of organization (Squires, & Milburn, 2018).
Three Theories
Competence & Creative Theory -
Good leader always encourage innovation and motivate his employees to step out of traditional way of thinking.Being a good leader, it is important to get things done effectively and efficiently.It is also very important for a leader to self- assess himself to develop his leadership skills (Murphy, 2016).
Contingency Theory -
The study developed in the leadership assignmentsignifies that there is a difference in a leader and a manager. Good leader is about striking the right balance between needs, context and behavior. If during the process, any change in the initiative is required then it can be disordered for the team that is why a good leader motivate his members to accept the change. Therefore, it is very important for leaders to have a proper communication with the team.
Social Learning Theory -
Having a good team leads to successful leader. Strategic human resource management(SHRM) is a process that helps in maintaining proper working environment.With proper SHRM team members become happy and energetic which leads to overall success of the organization. For making the most from the team, it is important to delegate the roles as per their behavior and all employees need to devote their efforts to one common vision (Olanrewaju, and Okorie, 2019).
Conclusion
From the overall discussion on leadership assignment, it stated that effective leadership plays a crucial role in complex working environment. For success of the organization and proper decision making it is important to organize, motivate and direct the employees to make their efforts towards organization goals & directions of the company. There should be a proper strategic planning that incorporates self- assessment and self-analysis to develop leadership skills that enable to achieve organizational goals and objectives. Good leader should have skills of guiding, organizing, motivating, influencing, controlling and directing the human resource of the organization. It is not important that a good leader is also a good manger. There is a difference in manager and a leader. A leader will always have a good communication with his team member because importance of effective business communication has been increased tremendously. Without proper communication it will become impossible to achieve organization objectives (Hien, Quynh, & Hung, 2018).
References
Church.A.H, and Rotolo.C. (2015). The role of individual in self- assessment for leadership development. Leadership assignmentSelf management and leadership development. [Book] 25-61.
Fransen, K., Vanbeselaere, N., De Cuyper, B., Broek, G. V., & Boen, F. (2017). WHEN IS A LEADER CONSIDERED A GOOD LEADER? PERCEIVED IMPACT ON TEAMMATES'CONFIDENCE AND SOCIAL ACCEPTANCE AS KEY INGREDIENTS. International Journal of Psychology Research, 12(1), 21-51.
Hien, D. T. T., Quynh, D. T. N., & Hung, C. N. V. (2018). Factors of Being a Good Leader: A Case of University of Finance-Marketing in Vietnam. 14th International conference. 117-119.
Hunt, M. A., Heilman, C. B., Shutran, M., & Wu, J. K. (2017). Commentary: an introduction to leadership self-assessment at the society of neurological surgeons post-graduate year 1 boot camp: observations and commentary. Neurosurgery, 80(3), E201-E204.
Martikainen, J. (2018). A GOOD LEADER BASED ON GRADUATING STUDENTS'DRAWINGS: A SOCIAL REPRESENTATIONS APPROACH. PEOPLE: International Journal of Social Sciences, 4(3).
Murphy, K. R., McManigle, J. E., Wildman-Tobriner, B. M., Jones, A. L., Dekker, T. J., Little, B. A., ... & Taylor, D. C. (2016). Design, implementation, and demographic differences of HEAL: a self-report health care leadership instrument. Journal of healthcare leadership, 8, 51.
O'Keefe, S. A. (2018). The Development and Initial Validation of a Self-Assessment for Global Leadership Competencies. 1-117.
Olanrewaju, O. I., & Okorie, V. N. (2019). Exploring the Qualities of a Good Leader Using Principal Component Analysis. Journal of Engineering, Project, and Production Management, 9(2), 142-150.
Squires, J., & Milburn, P. (2018). CEELO Leadership Professional Learning Community-Final Report. Leadership assignmentCenter on Enhancing Early Learning Outcomes.