ITIL Service Management Approach Implementation for Zurich
Question
Team work
Students are encouraged to work in teams to complete the assignment as teamwork is an important skill required by industry. You may choose to work alone.
USQ provides an online team building workshop that includes strategies to build a team and effective management of teamwork. Students are encouraged to study this workshop before attempting this group assignment. Access the workshop by clicking here. Further information and assistance on working in groups can be obtained from the Learning Centre.
If you opt to work as a team:
The same marks will be awarded to both students.
No team can exceed more than two students.
It is up to you to find a team-mate and this can usually be achieved in class or through a request on the Study Desk.
Only one team member should submit the assignment.
You must provide the student names and student numbers of both team members on the title page of the report.
Referencing Requirements
References are required and the Harvard AGPS standard of referencing must be used. This standard is detailed on USQ Library Site .
Ensure that your reports are fully referenced, including any reference to the text book. Your report should include in-text references and a List of References.
Do not repeat verbatim large slabs of information from other sources such as the text – you must put the ideas/information in your own words.
Report 2 Specification
Report 2 requires you to read the following case study, and then draw on the course materials and other academic resources (e.g. journal/ conference papers, books) to answer the following questions.
For the purpose of this assignment, assume the role of consultant(s) who have been hired by the case organisation (Zurich) to contribute to a review of ITIL service improvement at the organisation. You will prepare a report for the CIO of Zurich.
Allen, L 2016, IT service management leaps ahead at Zurich
https://pinkelephant.co.uk/about/case-studies/service-improvement-zurich/
Report: Case Study Report

Report Structure and Presentation: Your report should include a title page, letter of transmittal, executive summary, and Table of Contents. The presentation of the report should be professional, resulting in clarity of message and information
Note: Make sure to state the name(s) and student number(s) on the title page. If you are working on a team, name and student number of both students must appear in the title page. State the word count of the report (Introduction to Conclusions)
Report Introduction: Your report should include an introduction to the report. This introduction should provide an overview of the relevant case study.
Report sections
Section 1: The case study demonstrates that process maturity assessments reported Zurich's service improvements. Based on the examples in the case study, identify three ITIL processes where improvements can be verified. Discuss the selected ITIL processes and their Key Performance Indicators (KPIs) for successful implementation as identified in the case study.
Section 2: The Head of Service Management at the European Centre of Excellence states: "The first step in our [improvement] journey was to understand where we stood today." Which ITIL service lifecycle can undertake this requirement and how is this typically executed according to ITIL best practices? With references from the case study, give examples of how Zurich executed this service lifecycle.
Section 3: The case study argues that: "process improvement = service improvement". A strong evidence is provided for this position based on PinkElephant's consulting journey with Zurich. Identify one reference (case study, academic article, or industry report) that challenges this position, and present at least two key arguments to suggest that "process improvement ? service improvement", i.e. service improvement is more than just process improvement.
Report: Conclusions & Recommendations: Summarise the key lessons you learnt from this case study. Include recommendations for further service improvement at Zurich based on your review.
Report: Referencing and Appropriateness of Sources : References are required and the Harvard AGPS standard of referencing must be used. This standard is detailed on USQ Library Site .
You must use at least ten (10) academically sound sources other than the textbook in completing this report. Academic references include peer-reviewed journal/conference papers and books published by recognised publishers.
Report: Appendix 1 Journal: Prepare a journal that records your activities and progress related to completing this assignment. In date order, clearly list the following:
Date of research activity
Full description of activity / discussion (e.g. websites visited, other references accessed in library)
Time duration of the activity
If you are working in a team, clearly state the activities of each team member.
Submit this journal as Appendix 1 in the Report. Any references to web pages and other articles, such as white papers, that were used to complete this journal but did not feature in the List of References, should be listed at the end of the journal.
Answer
Letter of Transmittal
Date
To
Mrs.Luci Allen
Germany
Subject: ITIL Service Improvement Case Study Analysis
Respected Sir/Maam
This letter is written on behalf of this report where a case study based report is designed based on the current challenges and requirement of ITIL service lifecycle within the operation of Zurich.
The main purpose of this report is to identify the areas of improvement for ITIL service and discuss the KPI of required ITIL processes. Furthermore, this report also explores the best practices of ITIL approaches based on the current operation process of Zurich. With the analysis and concluding the information, best approach is proposed to improve service for Zurich.
Warm Regards
Your Name
Executive Summary
This study reflects the requirements for new ITIL service within the operation process of Zurich by analysing their current challenges. It is to be identified that currently the service of Zurich is slow down and their helpdesk service is also not efficient enough to handle customer request. Therefore, this study analyses and identify the area of improvements and also suggest the best approach of ITIL lifecycle that helps management of Zurich in integrating comprehensive plan to overcome the challenges. For further evaluation, one best approach of ITIL lifecycle is suggested with key arguments.
Introduction
A key performance indicator is considered as one of the measurable value, which can demonstrate the process of achieving the key business objectives. The enterprises utilize KPI for evaluating success at reaching targets. Hence, selection of right KPIs will depend on the industry as well as the part of business that are looking to gauge success on the basis of particular business objectives as well as goals. The selection of the vital business metrics would be helpful to follow the KPIS in instantaneous reporting tool. It is helpful to track the work done utilizing dashboard software. In addition, it provides insight of the whole organization into the present performance. KPI metrics is helpful to measure the process used for the business procedure. Each business includes particular metrics, which should be monitored. On the other hand, the marketing metrics includes tracking campaign as well as program statistics. In the present case study, the organization has formed CoE, which is located in Barcelona. There was two years of rapid development resulted in fragmented service management. In addition, plans for migrating a number of support procedure that includes helpdesk to the IT outsourcing partner. On the other hand, it was required to maintain the position of CoE. In this perspective, it is required to manage major outsourcing transaction in smooth process (Ciesielska, 2017).
However, it is important to evolve ITIL process rapidly to higher level of maturity. In order to achieve this, it is important to optimise performance of the procedure as well as boost IT service delivery performance. ITIL procedures within IT service management can ensure that IT services are given a focused and client-friendly as well as cost optimized way. With the help of ITIL process, the IT services can be clearly defined. On the other hand, success is measured. The ITIL processes can be grouped into the stages like service strategy, designing service, transition of service as well as continual service enhancement. The process needs to decide on a strategy-serving customer. However, starting from the evaluation of customers' requirements as well as market place along with the service strategy can process the services that the organization requires along with market size. It is also important to design the new IT services that can be helpful for the improvements to the existing ones (Ciesielska, 2017).
In the present system, the organization maintains position as a valued business enabler. In addition, it manages a major transition. Thus, service strategy, service design and service transition is the key performance indicator where ITIL processes get involved. In addition, the organization employs external expertise as crucial conde that describes that a true objective viewpoint of the process maturity will be helpful to meet the performance. ITIL experts as well as performances are the viewpoint of the process. On the other hand, through drawing on the insights of ITIL procedures need to work in reality as well as confirmation for following best practices in ITIL.
Report Sections: Case Study Analysis
Section 1: Identification and Explanation of ITIL Processes along with KPI
1.1 Identification of Three ITIL Processes where Improvements required for Zurich
IT Service Operations is a high need change centre for IT master communities since it is essential for business exercises and incorporates each day collaboration with customers, in this way direct influencing buyer dedication. An action investigate wander including three organizations explored current IT advantage errand activities and challenges and began endeavours to improve advantage undertaking at each organization (Coyne, 2015). The disclosures show that the genuine troubles consolidate responsive rather than proactive approach to manage IT assignments organization, estimation and reporting, plan of events, organization of customer feedback, and interfaces between IT advantage movement frames. Proposition are wanted to empower IT to profit bosses and speculative responsibilities are given.
Thousands of IT service provider organizations worldwide are upgrading their traditional customer reinforce frames in light of IT organization frameworks. The guideline reason behind the change is that IT customers are logically revolved around the purchase of organizations that assistance their business frames rather than detach programming things). The item as-an organization design of activity expects thought with respect to specific process locales that are either truant from or are not clearly detectable in the regular programming upkeep frames, for instance, event organization, issue organization and organization level organization (Parras-Alcántara et al., 2016). IT authority centres cannot dismiss IT Service Management (ITSM) frames since more IT customers expect affirmation of an effective organization come closer from suppliers. Powerlessness to execute ITSM may incite lost business openings and nonattendance of credibility among customers.
Organizations are involved with ITSM structures since they expect that execution of best practice ITSM shapes realize cost speculation stores, diminished occasions of scenes and extended buyer dedication. For example, Gartner's estimations exhibited that the general delayed consequences of moving from no determination of IT Service Management to full allocation can part an organization's Total Cost of ownership. To comprehend these preferences, organizations need to realize a proficient system change approach. Process change is presumably going to be joined by change security in light of the way that the ITSM shapes consolidate new thoughts that must be composed with existing business thoughts, new process parts ought to be described and sent, and staff must be set up to use new working systems and instrument limits. In this way, it is not shocking that various strategy execution wanders as for ITSM miss the mark (Böck et al., 2015). In spite of the way that the amount of process frameworks, rules and models for ITSM is creating and there is a sweeping arrangement of best practices for executing and upgrading organization shapes, IT organizations still face challenges in working up and improving ITSM. Most IT pro association organizations start their ITSM system change goes by modifying the IT Infrastructure Library (ITIL) structure.
Before ITIL use, the Company went up against various issues, e.g. the nonattendance of significant worth control, vague correspondence among people in IT division especially in helpdesk service, frequent errands, unclear change implementation and unidentified destinations from IT employees viewpoint. In like manner, enormous quantities of recognized IT hypotheses were building not in light of the Company's indispensable business targets, however fundamentally on imaginative proposals from different merchants. In different situations, the IT engineers, not the business methodology proprietors proposed interests to manufacture availability of IT establishment yet not remaining alarm in case there can be a landing to such interests in upcoming period, or if such endeavours are agreed with potential customers likewise any consistence to significant SLAs – Service Level Agreement responsibilities (Gazzard et al., 2016). However, the information framework and business strategies were not balanced, and furthermore, that the development system, not the organizational targets influence the information philosophy or its technique division.
1.2 Discussion on ITIL Processes along with KPI
After performing fundamental IT audit by consultant, it is analysed that especially in the areas of the IT or business course of action, one of the proposals in IT Service an area was to complete ITIL approach. After the management realized ITIL, they began a prompt assignment of assessing and upgrading nature of two organizations that Company is offering for internal customers. Such approach was sensible in light of the way that any interference, faults can leads to several issues to internal customers and was extraordinary exercise for moreover benefits. Immediately, they initiated with shapes from ITIL Service Support space. Moreover, the use technique itself was isolated into two different stages:
In the 1st phase, service work territory, Configuration Management and Incident Management frames were executed;
In the 2nd stage, they persist with ITIL execution with the Change Management, Problem Management, and Release Management. Prior to the ITIL execution, Company grabbed ISO 9001 confirmation that energizes them in illustrating sufficient business frames. Besides, for every method they portrayed tried and true gathering pioneer, who should wind up process boss after execution. Moreover, outsourcing associate helped them a significant measure with best work on, learning and contribution in their past ITIL wanders. Outsourcing accessory executed mechanical assemblies for business shapes mechanization effective decision was that use of instruments arrives after they developed the ITIL frames.
On indisputably the initial stage of the pilot, case study organization comprehended that they are required to make guideline plans for ITIL execution. Prohibitive data regarding IT, which organization has, is significantly introduced in IT division yet insufficiently filed, hard to grasp and trade to various specialists (Scarlett& Boyd, 2015). As showed by ITIL v2, every individuals drew in with ITIL utilization completed general direction and accomplished ITIL foundation Certificate. The IT Manager and his operator accomplish strange province of ITIL direction, ITIL Service Manager Certificate. In context of their knowledge and experience, it is in all probability that without fitting preparing, the ITIL execution studywould not be powerful.
KPIs for the Problem Management procedure are:
Number of major issues
Number of repetitive issues
Typical occasions for detecting the issues and recognizing fundamental driver of issues
Proportion of resolved issues that were unwound proficiently and responsively remembering the ultimate objective to get comes to fruition on account of ITIL utilization and to get upgrades on modified IT processes along with IT frames, for each and every one of them the organization is required to establish Key Performance Indicators.
In context to every strategy, Key Performance Indicators address a target that the organization requires to accomplish. These KPI's were: 1. For Service Desk and Incident Management: a. Typical time for comprehending scenes b. Level of total number of events which were understood on first level help c. Level of total number of events which had director influence on organizations d. Level of total number of events which were gotten by Service Desk. Once the organization possess the understanding what KPI's are relied upon to screen changes, for every methodology they gauge and compute the execution prior to ITIL utilization, so as to differentiate them and results after execution connection are shown for every system. All results rely upon data that were assembled within the time period of three months after the ITIL execution.
The case study in which the ITIL logic was adequately realized is a fiscal industry. A result in perspective of set of KPI's exhibited the right and quantifiable upgrades the organization achieved. On the other hand, late research ponders point by point that organization care and feeling of obligation with respect to perform IT survey is low. Such affinities are emphatically not too sudden, when extraordinary IT specialists and CIOs do appreciate the modern and advanced IT Audit and IT Governance thoughts and are fit for displaying its 'business regard' to the superior and corporate organization. Thus, without a doubt we blueprint and underline the outcomes and quick or roaming favourable circumstances from ITIL utilization:
Execution of ITIL upgraded its temperament organizations that Company provide for customers. Offering brilliant and tried and true IT organizations offers the Company likelihood so as to isolate in regards to the forceful markets, and furthermore to upgrade their arrangement of activity.
After each executed ITIL procedure, ordinary work methodologies are advanced. The individuals get strong endeavours or part in process. Learning base is being utilized and makes them clarify bundles of scenes on first level help and let ace free of essential and reiterating issues. For each realized system, there is KPIs that signifies the methodology execution estimations (Birgé et al., 2016). These gainful results realized better illustrative contentment and modified organization culture. Moreover, the division of IT within the organization ends up being all the more beyond any doubt about its capability to agree with the business, to acclimate to transform, regulate danger along with passing on surprising organizations.
The assistance from Management board is basic. Without bona fide help and obligation of strange state organization it is hard to adequately complete ITIL and other IT consistence wanders. Organization should be fused into every crucial decision and need to assist in making framework in which latest techniques can make, keep up and reliably gain ground.
Direction is a vital reason for ITIL execution. The ITIL establishment getting ready grasped by the larger part the staff encouraged correspondence issues by giving its individuals a run of the mill reference and vocabulary. The most proficient individuals for ITIL must offered with biggest measure of guideline remembering the true objective to manage their kinfolk and executed methods better.
Section 2: Explanation of ITIL Lifecycle best practices for Zurich
Krishnan and Ravindran(2017) stated that ITIL lifecycle offers widely accepted approach that allows CEO in managing their business and IT services smoothly. It is to be noticed that the operation speed of Zurich need to be fast in order to fulfill the needs of their customers. Also, the support process including help desk should speed up. The five stage of ITIL life cycle process will allows the management of Zurich in providing world class service to the customer including their IT help desk service. Implementation of ITIL service in the operation in Zurich's operation will allows their work in reducing unplanned resources that is resulting extra business cost for the company.
In this way, Zurich can handle their service outage in better way as well as identify root cause of challenges in business. Furthermore, ITIL service management approach enables the business as well as customers in adding value by providing attractive service. Ciesielska(2017) opined that ITIL service management approach also enables better investment and continuous improvement in business decision making process that is the best approach for decision support system of Zurich. Based on the analysis, it is identified that Service Design process of ITIL service lifecycle can take the requirement and execute the best practice for Zurich. This process of ITIL service lifecycle is the core part that allows business in taking action of designed business strategy and executes entire operation process in proper way (O'Connor, Raisinghani, Mora, Gomez, & Gelman, 2015).
As Zurich is the insurance service providers throughout the globe, service strategy is important for their continual improvement including helpdesk. Service strategy of ITIL lifecycle aligned the business objectives and strategies for the long-term vision of Zurich. O'Connoret al. (2015) cited that for continual improvement of any service providing company, business objective should aligned with the IT strategies of the company. It is because, IT strategies and objectives of business are the core element of the organization. To align IT strategies and business objectives, service strategy stage is the best for service management of ITIL lifecycle (O'Connor, Raisinghani, Mora, Gomez, & Gelman, 2015).
It will helps in designing the service for Zurich to help everyone that focus on their attention of the customers and user experience. It is the second stage of the ITIL lifecycle service approach. This stage turned into action of all the service strategy that designed in first stage. This stage of lifecycle allows management of Zurich in planning and designing their service and operation and implement for more productive and creative. In this way Zurich can provide best delights service to their customers. This is the key factor of attaining success for Zurich as a insurance service providing company in the world. By abiding the norms which are portrayed to work, the specialist companies will be more able to smoothly express benefits dependably to the agreed benefit levels, effectively and sufficiently (Ota& Oliveira, 2017). Bolster groups can reestablish benefit reducing the downtime, quicker, and disruption. Specialist co-ops are additionally fit for achieving their administration levels, authoritative, lawful consistence and administrative necessities.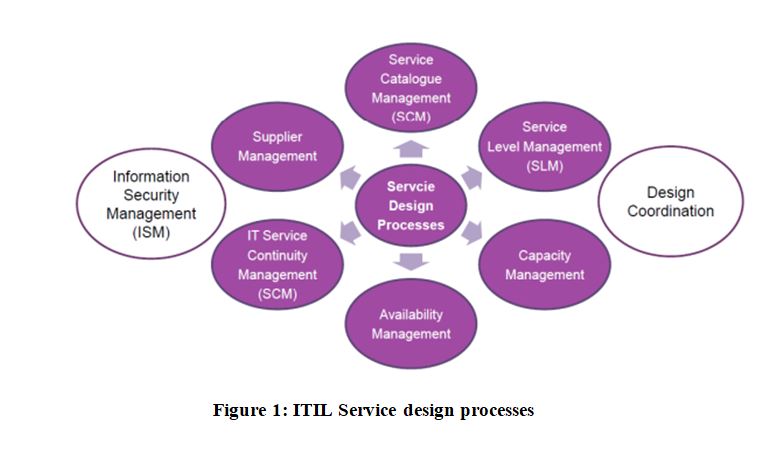 (Source: Wettinger et al. 20105, p.2241)
ITIL provides noteworthy open doors for rearrangements and institutionalization crosswise above swapping accomplices. The ITIL offers models and procedures to assist expertise co-ops to operate with their business, clients and providers to decide on proficient business choices on venture openings, administration of dangers, cost streamlining, and requirements for development (Martinet al. 2018). By implementing service design process of ITIL lifecycle approaches, associations can center on conveying an incentive to the client and drastically implement change for the business and IT. The dealing and characterizing with the administration portfolios and prospective clients helps in strengthening productive business change.
ITIL is a viable IT benefit administration structure. As per ITIL, the principle objective of administration configuration is to outline IT administrations to address business issues. The outline procedure ought to be lined up with the administering IT practices, procedures and strategies. In the end, to meet the business needs the administration configuration must satisfy the necessities for the administration quality, consumer loyalty and cost-adequacy. New or changed business necessities trigger the administration outline lifecycle stage and it closures to the composed administration arrangement as indicated by the business needs (Wada & Yoshida 2015). That administration arrangement with the administration configuration bundle is then exchanged to the administration progress lifecycle organize where the administration is assessed, tried and conveyed.
Change can be additionally expel the administration from the generation. At the point when these activities are finished the control is then given to the administration tasks lifecycle organize (Mora et al. 2015). The procedures considered essential to fruitful administration configuration are outline coordination, benefit index administration, benefit accessibility administration, level administration, IT, limit administration, benefit data security administration, congruity administration, and provider administration. The on-going administration and execution of the procedures is viewed as vital to the achievement of administration plan. Figure 8 outlines the procedures and their relations (Krishnan, &Ravindran, 2017).
Section 3:Process Improvements
Service improvement is more than just process improvement
For this part in order to prove that the service improvement is not merely equal to the process and is more important than that, we are considering the case study of University of Birmingham.
The university implemented the ITIL in order to address improve the following factors.
In order to efficiently manage major incidents
Easily implement change management for any kind of project or process change
Utilization of existing quality framework for improving the processes as well as services.
Introducing customer focused service culture through staff awareness.
Process improvement is part of the continuous service improvement cycle
Service improvement through the ITIL implementation must concentrates on enhancing the proficiency, improving the adequacy of the response and improving the cost of the services as well as the optimization IT service management processes.
One of the best way is to ensures that the opportunities are recognized all by the lifecycle of whole service. The main importance of Continual Service Improvement (CSI) is to perpetually accommodate and re-accommodate IT services to the changing needs of the users by recognizing and actualizing upgrades to IT benefits that help the underlying business.
Continuous improvement of the services
Implementation of CSI (Continuous improvement of the services) is possible in various ways, and the right way is reliant on precisely what the organization is trying to achieve for the time being. The extent of CSI address three essential territories of IT Service Management:
The Service Lifecycle
IT Service Management Processes
IT Services
For the, this contextual analysis incorporated certain restrictions. To begin with, in regards to inward data legitimacy, information was gathered utilizing subjective examine techniques (Hurteau et al., 2014). Quantitative strategies, for example, a user loyalty review on benefit work area could have given a wealthier view on the organization. Nonetheless, the subjective contextual investigation technique is appropriate to look into business process-related difficulties in authoritative setting.
For the university application of ITIL enhanced the quality and efficiency of IT services that it provides to its visitors and students. Offering great and dependable IT services gives the organization opportunities to enhance their actions model related to the services they provided to the student and other users of the IS.
After the implementation of the improved ITIL process, performance of the day-to-day operations were improved. Individuals in the sections gets specific tasks and their part in the process.
Knowledge base is used and helped the organization them to comprehend different issue and incidents on first level support from the process. For every implemented IS procedure there are Key Performance Indicators (KPI) which appears to be helpful in the procedure execution success measurements (Krishnan, &Ravindran, 2017).
These constructive outcomes brought about better representative fulfillment and changed culture of the organization. Additionally, IT division in the university turns out to be more certain about its capacity to adjust with the its functionalities, to accommodate changes, managing and monitoring of the risks and convey improved services.
The quality remarks for the services that are incorporated as criticism from occurrences that have been shut are incorporated into the month to monthly service report. Criticism is for the most part from the yearly University Survey and the National Students Survey. Central authorities compose reviews in order to regulate the number occurrence and the planning of reviews (Krishnan, &Ravindran, 2017).
There is a prerequisite from the new service programming to have the capacity to do catch up on an individual discharge or then for a brief timeframe – to enable survey and correlation with add to continuous improvement of the services.
The following are the main arguments that differentiate the processes from service improvements, the basic measurements at the base will be part measurements, for example, server accessibility, application accessibility, organize accessibility and so on. These part measurements at that point should be transformed into benefit measurements (Morris, &Gallacher, 2017).
The Key Performance Indicator (KPI) line is the place you recognize the KPIs for an administration for example, an enhancing the conclusion to-end benefit accessibility by 25%. The objectives or CSIs are your more elevated amount objectives, for example, enhancing IT Service Quality, Enhancing Customer Satisfaction and so forth. At that point, you can take your information and make an interpretation of it into how the enhanced administration bolster at least one of the four classifications of a Balanced Scorecard.
For some specific process:
The movement layer is around action measurements that are frequently volume in nature, for example, the quantity of RFCs submitted, number by need, number by change compose and so on (Queiroz et al. 2015). The KPI layer is the place you distinguish and measure achievement, for example, lessening the number of fizzled changes by half.
The objectives or CSIs are your more elevated amount objectives, for example, enhancing IT Service Quality, Enhancing Customer Satisfaction and so forth.
At that point, you can take your information and make an interpretation of it into how the enhanced administrations support at least one of the four classes of a Balanced Scorecard (Morris, &Gallacher, 2017).
Conclusions and Recommendations
Conclusion:Change management, problem management as well as availability management procedures are included in production as well as development environments of the organization. In evaluation of service, asset and configuration are the major procedures. It is also important to boost service delivery to the customer. PinkSCAN is one of the evaluation method that is helpful to select the benchmark process. One of its major ambitions considered in Service Management (ITSM) is developing a relationship in order to isolate storage facilities and work as a bound together assembling of helpful gatherings with a consideration on offering some motivation as organizations to the business (Bowers, & Morse, 2018). Common as well as consistent procedure over the relationship in light of ITIL best practices is accomplishing this in organizations, yet consistently the strategy estimation remains compartmentalized with every technique responsible for its own estimations. Process estimations are basic to display that a methodology is achieving its goals in a fruitful and powerful way, and best practice endorses that all systems be quantifiable. The accompanying stage is to join these strategy measures in a way that will empower a relationship to choose the prosperity and ampleness of their general ITSM process limit, support ITSM organization, and drive constant organization change. The best technique to accomplish this is through an ITSM Balanced scorecard. In this approach, every method has a course of action of estimations described. Delayed consequences of these estimations are joined to convey a general method score. Each subject has different exams that are inspected and the ordinary of those exams chooses your audit in that subject. Around the complete of term, the last grade from each subject is fused on the survey card and may be combined to yield an audit point ordinary. In this similitude, the subjects take after the strategies being evaluated, and the exams are the individual estimations inside the system (Bowers, & Morse, 2018).
Recommendations: Zurich should incorporate ITSM balanced scorecard within their operation because that can give a single rundown score sensible for official organization while empowering the ability to exhaust down to unobtrusive components used for utilitarian and process organization. While there can be no set tenets for the arranging of studies; the how question can be answered with estimations and estimations. As for timing of reviews, factors, resource openness, cost and unsettling influence factor ought to be considered. Various exercises begin with incredible desires to do typical reviews, yet this fall away rapidly. This is the reason the Process Owner must finish on assessments, social events and overviews. If the Process Manager feels that reviews are some of the time or repeatedly then the timetable should be changed to reflect that.
References
Birgé, H.E., Allen, C.R., Garmestani, A.S. & Pope, K.L., 2016. Adaptive management for ecosystem services. Journal of environmental management, Vol. 183, pp.343-352.
Böck, K., Muhar, S., Muhar, A. &Polt, R., 2015. The ecosystem services concept: gaps between science & practice in river l&scape management. GAIA-Ecological Perspectives for Science & Society, Vol. 24 No.1, pp.32-40.
Bowers, D. & Morse, D., 2018. Including IT service management in the Computing curriculum: a caricature approach.
Ciesielska, M., 2017. Implementation of ITIL Service Lifecycle in small and medium-sized enterprises of Polish ICT sector. Information Systems in Management, Vol. 6, No. 1.
Coyne, P.J., 2015. Method & system for the management of professional services project information. U.S. Patent 8,935,297.
Gazzard, R., McMorrow, J. &Aylen, J., 2016. Wildfire policy & management in Engl&: an evolving response from Fire & Rescue Services, forestry & cross-sector groups. Phil. Trans. R. Soc. B, 371(1696), p.20150341
Hurteau, M.D., Bradford, J.B., Fulé, P.Z., Taylor, A.H. & Martin, K.L., 2014. Climate change, fire management, & ecological services in the southwestern US. Forest Ecology & Management, 327, pp.280-289.
Krishnan, G. &Ravindran, V., 2017, June. IT service management automation and its impact to IT industry. In Computational Intelligence in Data Science (ICCIDS), 2017 International Conference on (pp. 1-4). IEEE.
Martin, M., Fraga, E., Cuní, G., Colldelram, C., Fernández-Carreiras, D., Salvat, D., GarcÃa López, G., Burgos, A. &Matilla, O., 2018. Streamlining Support and Development Activities Across the Distinct Support Groups of the ALBA Synchrotron with the Implementation of a New Service Management System
Morris, H. &Gallacher, L., 2017. Itil Intermediate Certification Companion Study Guide: Intermediate Itil Service Capability Exams. John Wiley & Sons.
O'Connor, R.V., Raisinghani, M., Mora, M., Gomez, J.M. &Gelman, O., 2015. An Extensive Review of IT Service Design in Seven International ITSM Processes Frameworks: Part II. International Journal of Information Technologies and Systems Approach, Vol. 8, No. 1, pp.69-90.
Ota, G.H.B.F. & Oliveira, S.R.B., 2017. A Harmonization with CMMI-SVC Practices for the Implementation of the ITIL Service Design Coordination Process. ICSEA 2017, p.20
Parras-Alcántara, L., Lozano-García, B., Keesstra, S., Cerdà, A. &Brevik, E.C., 2016. Long-term effects of soil management on ecosystem services & soil loss estimation in olive grove top soils. Science of the Total Environment, Vol. 571, pp.498-506.
Queiroz, C., Meacham, M., Richter, K., Norström, A.V., &ersson, E., Norberg, J. & Peterson, G., 2015. Mapping bundles of ecosystem services reveals distinct types of multifunctionality within a Swedish l&scape. Ambio, Vol. 44 No. 1, pp.89-101.
Scarlett, L. & Boyd, J., 2015. Ecosystem services & resource management: institutional issues, challenges, & opportunities in the public sector. Ecological Economics, Vol. 115, pp.3-10.
Wada, H. & Yoshida, T., 2015, January. Study on IT Service Management at a Polytechnic College. In Proceedings of the 58th Annual Meeting of the ISSS-2014 United States Vol. 1, No. 1.
18. Wettinger, J., Binz, T., Breitenbücher, U., Kopp, O. &Leymann, F., 2015. Streamlining cloud management automation by unifying the invocation of scripts & services based on TOSCA. In Cloud Technology: Concepts, Methodologies, Tools, & Applications (pp. 2240-2261). IGI Global.