Interpersonal Skills Assignments: Communication in Health & Social Care
Question
Task: Write a 1500 word reflective interpersonal skills assignment of your interpersonal skills taken from a 20 minute conversation with a service user/carer in practice. In this critical analysis you will need to:
Demonstrate theoretical knowledge underpinning the application of interpersonal communication skills with individuals, carers and/or families. Highlight the importance of communication in health and social care, considering the strengths and limitations of the approaches identified. Identify and discuss the skills that you demonstrated in your conversation, reflecting on engagement and collaboration, barriers/boundaries and any ethical issues. You should consider how self-awareness might impact on the application of active listening skills.
Identify any additional specific chosen interventions adopted in the discussion, evaluating their use and highlighting potential alternatives.
The analysis should particularly highlight your efforts to establish therapeutic rapport and demonstrate empathy and relationship-building skills within an overall conversational approach. You will also need to refer to frameworks that you have applied during the workshop sessions and maintain confidentiality at all times. Please use supporting references, using the Harvard system.
Answer
1.0 Introduction
The concept of interpersonal skills considered in the interpersonal skills assignmentare often referred to as soft skills, people skills, social skills, life skills, etc and such skills help to make relationships smoother both at home and at work. According to Assets.publishing.service.gov.uk, 2019,there is no exaggeration to say that people with strong interpersonal skills work well with other people including new teammates and groups, and provide effective communication with friends, family, or colleagues. According toCqc.org.uk, (2019), strong communication skills, with special regards to interpersonal skills, helps in building a successful career and private life too. As per Forondaet al. (2016),successful communication helps to better understand people and their situations. It is also a crucial tool in overcoming diversity, building trust and respect, and creating a safe room for people to share their ideas and solve problems.
During my brief interview with a career in Health and social practice, I gained informative knowledge that deepened my experience and acted as a valuable input to improve my interpersonal skills. My reflective account below provides an interpretive and theoretical approach in improving interpersonal communication keeping Gibbs reflective cycle as my primary framework.
2.0 Importance of communication in Health and social care
There is a strong positive influence between a healthcare member's effective communication and a patient's capacity to understand and follow through medical recommendations, adopt health behavior and manage chronic medical conditions. According to Assets.publishing.service.gov.uk, (2019), the ability to effectively explain, empathize and listen has a profound effect on the wellbeing of the patient and health outcome.
2.1 Strength of effective communication in health and social care
Most diagnostic decisions come from patients' interviews because it provides the patients with the opportunity to tell their story. It is a useful technique to check a patient's understanding by asking selectively processed information and asking them to summaries their symptoms in their own words. Effective communication provides empathetic understanding by placing oneself in their shoes. According to Hale et al. (2017),such open-minded inquiry results in diagnostic accuracy as it is through this acquired medical data that clinical decisions are made. Similarly using body language as an effective communication tool such as maintaining eye contact, nodding the head and occasional smile creates rapport with the patient by creating a comfortable environment for them to talk about underlying medical issues. According to Assets.publishing.service.gov.uk, 2019, active listening is the effective communication tool for building trust and commitment with the staff as well as the patients. According to Haley et al. (2017),active listening conveys respect for patients' knowledge and it works as a potential resource for creating and authenticating treatment plans for the viable future.
2.2 Limitations in effective Communication in health and social care
The health and social care industry include providers, insurance carriers, patients, third-party carriers, stakeholders along with other high levels of complexity. Health and social care providers handle hundreds of calls every day and in between such numbers critical service falls through the cracks such failing to monitor and prioritize patients' calls. Referring to Jack et al. (2021), ineffective communication between healthcare departments results in failing of collaborative work structure, duplicate work and reducing in overall quality of patient care. Outdated technology creates communication barriers as legacy instruments create proportional downtime while upgrading such hardware, the cost of infrastructure is relatively high and getting ROI for new investments gets relatively hard. Taking into account Assets.publishing.service.gov.uk (2020), while it is becoming increasingly evident that social and healthcare workers provide guidance over the phone, it gets difficult for patients to understand complicated terminology and instruction without visual representation. As a result patient care suffers through such ineffective communication.
3.0 Reflective account demonstrated in conversation with a carer using Gibbs reflective cycle
My conversation with a health and social care worker placed insightful information on the importance of communication in the practice. Since the patients come in all shapes and sizes and from different social and cultural backgrounds, it is important to take account of all relevant scenarios and to navigate each specific scenario carefully, professionally, and effectively. As per Laugheyet al. (2018), choosing the right time to formally "break the ice" cannot seem overwhelming as self-disclosure is not something that comes naturally to others, as well as some people may not see the relevance in talking to anyone else. Therefore to shift the conversation or to start one, starting with small and less emotionally charged talk such as asking their name or where they have come from puts the person in a comfortable position to open up. According to Assets.publishing.service.gov.uk (2019), states that being able to listen and talk to people and sensitively deliver bad news requires a good grip on interpersonal skills.
According toYounaset al. (2020), the conversation provided sets of barriers that resist effective interpersonal communication and as a result, the situation turns out to be quite devastating. For instance, physical barriers, such as people who are unable to see, hear or properly speak present ineffective interpersonal communication and results in difficult situations often followed by misunderstandings. Taking note from Leonard (2017), Emotional barriers such as people who are unwilling to accept or listen to what is being presented also present unpleasant situations where interpersonal communication makes no headway. As per Assets.publishing.service.gov.uk (2020), misinterpretations of facts and cultural misunderstandings hamper the progress of efficient interpersonal development. However through the art of sign language and using simpler words such barriers are effectively hurdled. Additionally, I found that people will always try to get their opinions first before listening to what others might have to say, therefore it is important to not be overwhelmed or excited in such situations but to listen proactively.
According to Seubertet al.(2017), listening without interfering with other people's opinions is powerful and I have found it conveys interest and respect to other people's points of view. Maintaining eye contact with frequent nods that states the level of attention encourages good remarks from the other person. Self awareness helps in fostering better active listening skills by understanding others' frame of reference. By listening deeply to what others have to say it creates a healthy communication pathway that is free of any assumptions and judgments. Being aware about other people's situations and backgrounds, we create a better understanding of ourselves that, in turn, empowers us in making changes in areas and taking responsibility for our actions. One of the important aspects that I found about interpersonal communication is fostering dignity and human worth through ethical practices such as truthfulness, fairness, respect, and integrity. According toCqc.org.uk, 2019, communication ethics intervene in the fact of what we believe to be right or wrong and help in thinking about the choices that we make daily. Interpersonal skills play an important role in how we relate with others and help in managing, reducing, and recognizing stress in yourself and others. Similarly, I found interpersonal skills to reduce and resolve conflicting scenarios as conflict can arise from poor communication and it can be solved by simply listening to both sides. Finding a win-win scenario for both parties, through active and proactive listening shows respect and builds block in creating strong relationships.
Interpersonal skills, which I have found through my conversation with a Health and social care professional, are a useful tool for effective negotiations, creating winning scenarios for the parties involved, that creates trust and lasting relationships. It works only if we are looking for an effective solution that works for all parties rather than looking to win at any cost. According to Cqc.org.uk, 2019,being able to persuade and influence others is another building block for strong relations that are achieved through interpersonal skills and effective communication. Furthermore, I have learned through the conversation with health and social care professionals that interpersonal skills play a huge role in providing the opportunity to work on intrapersonal skills to reflect upon our habits such as avoiding negative thinking and habits, being thankful for what we have, rewarding yourself for a job well done. As per Howicket al. (2018), sharing a positive attitude creates an infectious framework for others to share and creates a sense of encouragement, hopefulness, and an attitude towards success.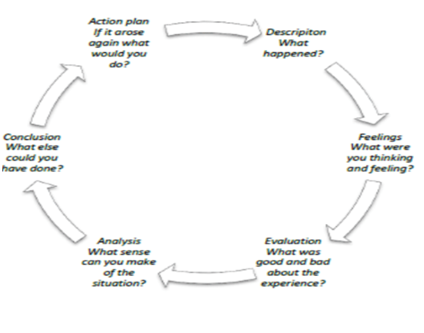 Figure 1: Gibbs reflective cycle
(Source: Sekarwinahyuet al., 2019)
I would like to "describe" my experience as enlightening as the conversation provided insightful information about interpersonal skills that can be utilized for better communication, conflict resolution, active listening, and overall life improvement. During the process of the conversation, my "feelings" were connected to the overall better for personal development and in making better relationships with people in the future. Using interpersonal skills, I can respect people better by listening to their views and avoid negative feedback with a positive attitude. Through careful "evaluation", I have found although there are barriers, such as Physical, language, and emotion, to interpersonal communication that can be rectified through carefully spoken words and using physical gestures where needed. Therefore if a situation arises that requires my interpersonal skills my "Action plan" for such a scenario would be active listening, maintaining body language, and respecting what others are saying taking account of the cultural and social background that surrounds them.
4.0 Additional interventions
One of the additional interventions that help in successful interpersonal skills is creating rapport with others by taking the first step in introducing oneself. It is; however, better to avoid approaching someone when they remain distracted such as involved in work or watching their favorite television program. Relating to Anderson et al. (2019),Breaking the Ice with others creates a sense of comfort and helps in effective interpersonal communication that can be done through small talks and avoiding emotionally heavy topics. According to Cqc.org.uk, (2019), it is also wise to take into consideration the time and place the conversation takes place because people tend to remain quite distracted in a noisy environment that raises the chances of mishearing important information. As per Ali and Watson (2018),it is rude to take calls or be active on the phone while talking to someone. Therefore, if a situation arises that requires you to take a call, it is important to let the others know at the beginning of the interaction and apologize in advance if it has to happen.
5.0 Conclusion
Since communication is important and central for every interaction, we must answer the questions the right way. This is why ethical communication must remain the top priority in creating relationships to make a positive contribution to society. Communication ethics remains relevant across all contexts and it applies to all channels of communication. By increasing the knowledge of interpersonal skills positively affects personal, civic, academic, and professional lives. Such as, students who effectively communicate their thoughts properly show better memory and show the possibility of getting better grades. Professionally, employees with good communication and listening skills are more likely to get promoted. In short, effective interpersonal skills help us in maintaining effective relationships in all communities. Interpersonal skills help maintain psychological and physical wellbeing by initiating, maintaining, and identifying crucial elements in people's lives and helping them to improve and self-reflect on our capacity and ability to make society better for the future.
Reference List
Ali, P.A. and Watson, R., 2018. Language barriers and their impact on provision of care to patients with limited English proficiency: Nurses' perspectives. Journal of Clinical Nursing, 27(5-6), pp.e1152-e1160.
Anderson, R.J., Bloch, S., Armstrong, M., Stone, P.C. and Low, J.T., 2019. Communication between healthcare professionals and relatives of patients approaching the end-of-life: a systematic review of qualitative evidence.
Palliative medicine, 33(8), pp.926-941.
Assets.publishing.service.gov.uk, 2019.Department of Health and Social Care Annual Report and Accounts 2018-19. [online] Assets.publishing.service.gov.uk.
Available at: [Accessed 19 February 2021].
Assets.publishing.service.gov.uk, 2020.Public Health England Annual Report and Accounts 2019/20. [online] Assets.publishing.service.gov.uk. Available at: [Accessed 19 February 2021].
Cqc.org.uk, 2019.Annual report and accounts 2018/19 | Care Quality Commission. [online] Cqc.org.uk. Available at: [Accessed 19 February 2021].
Foronda, C., MacWilliams, B. and McArthur, E., 2016. Interprofessional communication in healthcare: An integrative review. Interpersonal skills assignmentNurse education in practice, 19, pp.36-40.
Hale, Andrew J., Jason Freed, Daniel Ricotta, Grace Farris, and C. Christopher Smith. "Twelve tips for effective body language for medical educators." Medical teacher 39, no. 9 (2017): 914-919.
Haley, B., Heo, S., Wright, P., Barone, C., Rettiganti, M.R. and Anders, M., 2017.Relationships among active listening, self-awareness, empathy, and patient-centered care in associate and baccalaureate degree nursing students.NursingPlus Open, 3, pp.11-16.
Howick, J., Moscrop, A., Mebius, A., Fanshawe, T.R., Lewith, G., Bishop, F.L., Mistiaen, P., Roberts, N.W., Dieninyt?, E., Hu, X.Y. and Aveyard, P., 2018. Effects of empathic and positive communication in healthcare consultations: a systematic review and meta-analysis. Journal of the Royal Society of Medicine, 111(7), pp.240-252.
Jack, K., Ridley, C. and Turner, S., 2021.Effective communication with older people.Nursing older people, 33(1).
Laughey, W., SangvikGrandal, N. and M Finn, G., 2018. Medical communication: the views of simulated patients. Medical education, 52(6), pp.664-676.
Leonard, P., 2017. Exploring ways to manage healthcare professional—patient communication issues.Supportive Care in Cancer, 25(1), pp.7-9.
Seubert, Liza J., Kerry Whitelaw, LaetitiaHattingh, Margaret C. Watson, and Rhonda M. Clifford.
"Interventions to enhance effective communication during over-the-counter consultations in the community pharmacy setting: A systematic review." Research in Social and Administrative Pharmacy 14, no. 11 (2018): 979-988.
Younas, A., Rasheed, S.P., Sundus, A. and Inayat, S., 2020. Nurses' perspectives of self?awareness in nursing practice: A descriptive qualitative study. Nursing & health sciences, 22(2), pp.398-405.