International Marketing Assignment: Business Expansion Of Harrods British Departmental Store Into Saudi Arabia
Question
Task: The objective of this international marketing assignmentis to develop a marketing strategy for introducing a selected product to a foreign market. Any "British" product may be selected. The target "market" may be any foreign country or region. Select a product and market that are of interest to you, lend themselves to applied research, and fit each other. For example, The Body Shop to Egypt, Tesco to Japan, Admiral Sportswear to Italy, Weetabix to Canada, or Brand X Snow Shovels to Sweden, meet these criteria. Sophisticated industrial products to China or photocopier machines to Senegal do not (product too complex or market too small, relative lack of published information, etc.).
Students can select their own product-market combination. Nonetheless, they are expected to confirm their choice with the tutor no later than week 10 (exact date for topic selection is to be announced on the BREO shell). Topics that are not approved will run the risk of not being fit for this assessment.
This report requires a good understanding of the chosen product and market. In addition to academic sources, market and industry-based reports are key for this project. You have access to ample information online via The UoB library website (lrweb.beds.ac.uk) including but not limited to Marketline (industry reports), FAME, and WARC. You can also use online country (government) and industry reports relevant to your product-market choice.
Answer
Executive Summary
This report on international marketing assignment sheds light on developing an analysis about Harrods British Departmental Store and its business expansion to Saudi Arabia. Through proper internal and external market analysis, the company tries to develop a positive understanding about business development tactics in Saudi Arabia. Based on the internal and external analysis market segmentation is done and marketing mix has been conducted in order to develop a productive idea related to marketing style that Harrods British Departmental Store has to choose.
A. Introduction
International business expansion has been an important factor for the companies based on which they can develop better market stability to a proper extent. Market expansion has been one of the major strategies based on which the international business organisations have been targeting to spread their businesses in order to increase profit development. This report will be based on developing a constructive idea about "Harrods British Departmental Store's" international expansion into Saudi Arabia".
Product description
The company will be mainly selling fashion and accessories for both men women as well as children which includes clothes, bags, perfumes as well as other items in Saudi Arabia and depending upon these products the company aims to attain a productive business in the
Company background
Harrods British Departmental Storeis one of the most reputed departmental stores in the UK which is trying to develop its business in the international market focusing on Saudi Arabia. Harrods British Departmental Store has a £1.4 billion revenue rate last recorded in 2020 (Statista.com, 2021). It can be expected that the expansion of the organisation will be stable.
Problem statement
Covid-19 pandemic has been a significant problem in this context as the international borders have been partially closed and are fully opened for developing large scale business. Apart from that the financial degradation in the global business market also has been a significant factor. It is important for Harrods British Departmental Store to develop a proper understanding about the market based on which proper business expansion can occur.
B. Market Analysis
Rationale for choosing Saudi Arabia
Saudi Arabia has been one of the most significant places for business development as it is financially capable to afford the quality products that will be showcased by Harrods British Departmental Store. Apart from that, the per capita income of Saudi Arabia is US$10910.08 which marks the financial stability of the company (Worldbank.org, 2021).
Analysis of Chosen country
SWOT
Strength

Weakness

       Good business reputation

       High capital strength

       Good customer relationship

       Lack of employee satisfaction (Reuters.com, 2020)

       Improper work environment

Opportunity

Threat

       Social media marketing

       Search engine optimisation

       Increasing competition in the international market

       Negative reputation in the international market due to job cuts
Table 1: SWOT of Harrods British Departmental Store
(Source: Reuters.com, 2020)
From the above analysis it has been identified that the company has a stable business reputation in the international market and a high capital strength based on which market expansion can be an easy step for the organisation. However, the organisation removed 700 employees from its stores resulting in a panic-stricken environment within the organisational employees (Reuters.com, 2020). Based on this aspect, the workplace environment has been greatly degrading. On the contrary, the company can improve its business process based on social media marketing and SEO by promoting itself depending upon which it can improve its competition in the international market and eradicate a negative reputation for laying it's 700 employees.
PESTLE
Factors Description Impact
Factors

Description

Impact

Political

       Politically stable Islamic Monarchical Dictatorship

       20% corporate tax rate (Tradingeconomics.com, 2021)

Marginal

Economic

       GDP rate:  -3.363 (Data.worldbank.org, 2021)

       Per capita Income: US$10910.08 (Worldbank.org, 2021)

       Inflation rate: 3.44% (Statista.com, 2021)

 

Social

       Population:  35,633,646 (Worldometers.info, 2021)

       Regressive social structure

       Lack of women empowerment

 

Technological

       Technologically superior with good IT infrastructure

       Systematic usage of AI has been prominent in different organisations

Positive

Legal

       Maintaining the rules and regulations of the Ministry of Labours

       The company has to abide by the Parallel saudization program

Positive

Environmental

       The government of Saudi arabia has been targeting to decrease environmental population by 2030 (My.gov.sa, 2021).

Positive
Table 2: PESTLE Analysis of Saudi Arabia
(Source: My.gov.sa, 2021)
Analysis:
Depending upon the overall analysis it has been identified that Harrods British Departmental Store will be getting a strong political strength as the stability of royal political power is significant. On the contrary, the 20% corporate tax rate will create a problematic factor for the company as this will increase product costing for the customers (Tradingeconomics.com, 2021). Apart from that the economic stabilisation due to Covid-19 has been significant in the country as the GDP rate is very low due to the sudden advent of the Covid-19 and the decrease in international sales. However, the technological superiority of the country is productive and the government is also trying to work in decreasing environmental pollution (My.gov.sa, 2021). From this point of view Harrods British Departmental Store can engage in developing its business process in Saudi Arabia but the product costing of the organisation has to be reasonable due to the sudden decrease in the GDP rate and increase in the inflation rate. Along with that, the organisation needs to focus on maintaining the legal aspects by the government of Saudi Arabia as the legal system of the country is significantly strong and not abiding by the legal framework can create issues for the company.
Market condition
The market condition of Saudi Arabia is stable and highly competitive due to the presence of major retail organisations. Flamingo Galleria and other big departmental stores are already present in the country based on which the UK Company has to focus on developing itself by improving the better business strategy for taking a grasp in the foreign country market. As a power, the views of Ali and Anwar (2021) developing business strategy is necessary for attracting a better customer base and developing a better competitive advantage from the business competitors. It is beneficial for Harrods Departmental Store to focus on developing new business strategies based on which organisations can be able to attract more customers and drive better competitive advantage from the existing brands.
Buyer characteristics
Harrods Departmental Store focuses on attracting all sorts of buyers who will be capable enough of buying the company's products. The company will try to attract better buyer attraction through effective marketing strategies for developing better market reputation.
Objectives
To target the majority of customers in Saudi Arabia
To develop better business reputation
To improve sales development
To increase profit development
Limitations
Existing market competition is a massive issue for the organisation based on which Harrods Departmental Store is trying to develop its marketing tactics to attract more audiences and provide their quality products for developing a productive reputation in the country. The organisation needs proper time to introduce itself to the new country and develop better customer interests within the mass.
C. Mode of entry
Selection and rationale for mode of entry into Saudi Arabia (franchising advantages and disadvantages)
The company will be focusing on franchising to enter into the business market of Saudi Arabia. The organisation will be working on developing franchises in different parts of Saudi Arabia based on rental services through different external stores. As mentioned by Rosado-Serrano et al. (2018), franchising is one of the most inexpensive ways of developing business processes in a potential market. One of the main advantages of franchising is that it takes less investment to construct physical stores in order to continue business processes. On the contrary, proper training is necessary for the staff of the franchises in order to function to a proper extent else poor growth can be experienced from the franchisees.
D. Market Segmentation
Segmentation of the market of Saudi Arabia
The segmentation of the market of Saudi Arabia will be based on demographic and Geographic segmentation. The company can analyse their family income, age, sex, occupation for understanding their backgrounds for providing them proper products which are suited for them (Dolnicaret al. 2018). Apart from that, the company can also develop a proper understanding related to the geographical segmentation of the market of Saudi Arabia and select the places where it can develop its business process.
Target market selection
The target market of the company will be youth men and females mainly from the age of 20-35 coming from financially stable backgrounds as the company products are partially standard and costly from the local cheap brands. The company can engage in selecting Jeddah, Riyah, Dammam, Taif, Tabuk and other major cities where it can be able to attain a financially stable customer base.
E. Marketing Objectives, strategy and planning
Marketing objectives
The main objectives of marketing are based on increasing a positive brand reputation for competing with the major brands in Saudi Arabia. Apart from that, the company also wants to attract more audiences and showcase their products for increasing sales rates and ensure better organisational stability in Saudi Arabia.
Strategy and planning (Marketing mix)
Product
The company can focus on selling all the fashion and accessory products encompassing clothing, belts, perfume cosmetics and many other stuffs that are common in the departmental stores. The quality of the products will be top class as the company will focus only on famous and luxury brands.
Price
The price of the products can be higher than the cheap local quality products but the prices can be comparatively reasonable compared to the competitors of the Harrods Departmental Store (Blutet al. 2018). This can develop a proper market interest rate and will increase the customer development rate securing a positive business reputation in the potential market.
Promotion
The company can focus on social media marketing through Instagram and Facebook pages which can increase the reputation within the youth population as they largely spend time on the social media platforms. Apart from that, distributing pamphlets and leaflets is also a beneficial option which can increase the interest of the customers within Saudi Arabia.
Place
The company can focus on major cities of Saudi Arabia which are Jeddah, Riyah, Dammam, Taif, Tabuk and other major cities based on which the company can get a financially stable customer base. Focusing on the major cities will create a massive impact on the other cities based on which gradual demand can be seen from the small cities leading to stable business development in a long-time scale.
People
The company will mainly target the youth population from the age of 20 to 35 men and women. The company is targeting mainly the youth population as two third of the population of the country are youth (Gulfbusiness.com, 2020). Due to this reason choosing the youth population as the targeted customers will provide a better customer audience to the company.
Process
The organisation can be engaged in franchising at the initial stage and with the gradual development with time and increasing profit margins it can develop its own stores in different areas of the country. However, the initial idea of franchising can be beneficial in lowering the costs of setting up brick and mortar stores.
Physical Evidence
The franchising stores will be well decorated and will greet the customers positively. The salespersons can communicate with their customers to understand their demand and provide proper products that are demanded by them (Aiyeret al. 2018). This can be beneficial in improving better customer relationships and ensuring long term customer retention rate in order to ensure proper business success.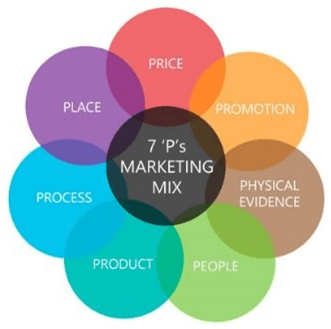 Figure 1: Marketing Mix
(Source: Thabit and Raewf, 2018)
F. Recommendations
Engage in social media marketing
Harrods Departmental Store will mainly focus on targeting Facebook and Instagram for showcasing their products as it will attract a better youth population. The organisation needs to focus on constantly updating its social media pages with their latest collections and offers in order to develop an interest within the potential customer base.
Focus on improving better customer relationship development
The organisation can engage in developing a customer portal where the customer relationship staff can communicate with their customers and understand their issues and provide them proper recommendation for solving their issues and gathering after sales experiences.
G. Conclusion
Thus, it can be concluded that the report has effectively engaged in analysing the market conditions of Saudi Arabia and understanding the best marketing practises for effective business success. It can be expected that an organisation based on social media marketing and focusing on customer relationship development will be able to improve its business process and attain a significant market value in Saudi Arabia.
Reference list
Aiyer, M., Panigrahi, J.K. and Das, B., (2018). Successful customer relationship management in business process integration and development of applications for project management. International Journal of Mechanical Engineering and Technology, 9(2), pp.637-643. Available at: https://www.academia.edu/download/57195985/IJMET_09_02_065.pdf [Accessed on: 15.12.2021] Ali, B.J. and Anwar, G., (2021). Business strategy: The influence of Strategic Competitiveness on competitive advantage. International Journal of Electrical, Electronics and Computers, 6(2). Available at: https://www.academia.edu/download/66725890/g_12_9_Business_strategy_The_influence.pdf [Accessed on: 15.12.2021]
Blut, M., Teller, C. and Floh, A., (2018). Testing retail marketing-mix effects on patronage: A meta-analysis. Journal of retailing, 94(2), pp.113-135. Available at: [Accessed on: 15.12.2021]
Data.worldbank.org. (2021). GDP growth (annual %). Available at: https://data.worldbank.org/indicator/NY.GDP.MKTP.KD.ZGlocations=SA [Accessed on: 15.12.2021]
Dolnicar, S., Grün, B. and Leisch, F., (2018). Market segmentation analysis: Understanding it, doing it, and making it useful (p. 324). Springer Nature. Available at: https://www.academia.edu/download/57195985/IJMET_09_02_065.pdf [Accessed on: 15.12.2021]
Gulfbusiness.com (2020). Saudi Arabia's Youth and the Kingdom's Future. (Online).Available at: https://gulfbusiness.com/two-thirds-of-saudi-arabias-population-is-under-the-age-of-35/ [Accessed on: 15.12.2021]
My.gov.sa. (2021). Environmental Protection in KSA. Available at: https://www.my.gov.sa/wps/portal/snp/aboutksa/environmentalProtection/!ut/p/z0/04_Sj9C Pykssy0xPLMnMz0vMAfIjo8zivQIsTAwdDQz9LSw8XQ0CnT0s3JxDfA0M_A30g1Pz9AuyHR UBPXGyKQ!!/#:~:text=Environmental%20protection%20is%20a%20primary,the%20percentage %20of%20environmental%20pollution. [Accessed on: 15.12.2021]
Practicallaw.thomsonreuters.com. (2021). Doing Business in Saudi Arabia: Overview. Available at: https://uk.practicallaw.thomsonreuters.com/0-520-4520transitionType=Default&contextData=(sc.Default)&firstPage=true [Accessed on: 15.12.2021]
Reuters.com. (2020). Luxury department store Harrods to cut nearly 700 jobs.Available at: https://www.reuters.com/article/uk-harrods-redundancies-idUKKBN24263N [Accessed on: 15.12.2021]
Rosado-Serrano, A., Paul, J. and Dikova, D., (2018). International franchising: A literature review and research agenda. International marketing assignmentJournal of Business Research, 85, pp.238-257. Available at: http://justinpaul.uprrp.edu/wp-content/uploads/2019/11/JBR-Published-Fare-APR-18-238-257.pdf [Accessed on: 15.12.2021]
Statista.com. (2021). Inflation rate in Saudi Arabia from 1986 to 2026.Available at: https://www.statista.com/statistics/ 268062/inflation-in-saudi-arabia/ [Accessed on: 15.12.2021]
Statista.com. (2021). Revenue of Harrods Limited in the United Kingdom (UK) from 2011/12 to 2019/20. Available at: https://www.statista.com/statistics/910770/harrods-limited-turnover/#:~:text=Harrods%20Limited%3A%20revenue%20UK%202012%2D2020&text=In%20the%20financial %20year%202019,pounds%20reported%20a%20year%20earlier. [Accessed on: 15.12.2021]
Thabit, T. and Raewf, M., (2018). The evaluation of marketing mix elements: A case study. International Journal of Social Sciences & Educational Studies, 4(4). pp.1-34 Available at: https://www.researchgate.net/profile/ThabitThabit/publication/324923406_The_Evaluation_of_Marketing_ Mix_Elements_A_Case_Study/links/5aeb827a458515f59981df6e/The-Evaluation-of-Marketing-Mix-Elements-A-Case-Study.pdf [Accessed on: 15.12.2021]
Tradingeconomics.com. (2021). Saudi Arabia Corporate Tax Rate. Available at: https://tradingeconomics.com/saudi-arabia/corporate-tax-rate [Accessed on: 15.12.2021]
Worldbank.org. (2021). GDP per capita (current US$) - Saudi Arabia. Available at: https://data.worldbank.org/indicator/NY.GDP.PCAP.CDlocations=SA [Accessed on: 15.12.2021]
Worldometers.info. (2021). Saudi Arabia Population (LIVE). Available at: https://www.worldometers.info/world-population/saudi-arabia-population/ [Accessed on: 15.12.2021]