International Business Environment Assignment: Business Evaluation Of Rolls Royce
Question
Task: International Business Environment Assignment Requirements:
You are approaching the end of your programme of study and wish to apply for an internship with a large organisation that works globally. You believe that this opportunity will give you greater insight into the actual operation of global business organisations, strengthen your CV and prepare you for the next stage in your career.
You decide to undertake some preparatory work and produce a reference file, in preparation for the applications.
Task 1.
Produce detailed notes for the file which:
• evaluate the business techniques used to analyse the international business environment,
• assess the impact of globalisation and international trade on national economies.

Task 2
The Professional Manager magazine has an advertisement for management internships in a multinational automotive company, which produces iconic vehicles and has an international reputation. You are keen to apply.
The letter which arrived from the company following your initial expression of interest in the internship was encouraging. It explained how the work of the organisation stems from a set of core values, which involve all staff working together with integrity and understanding, and striving to achieve excellence in everything that is done.
The letter also asked you to send your CV and submit a paper to the HR department which will be used in the shortlisting process. The paper must:
• analyse the micro and macro environment of a named international business organisation of your choice
• assess the benefits, opportunities and challenges of globalisation and international trade for a named organisation of your choice.
Task 3
Congratulations you have been successful in getting to the next stage of the selection process. The letter informs you that several candidates have been selected for interview and the theme of this stage in the process is 'International markets in which business operate'. You are required to:
• produce a discussion paper for a group exercise with other candidates which analyses the implications for businesses of the cultural and regulatory diversity in international markets
• prepare a presentation which is titled 'An assessment of the importance of corporate social responsibility and sustainability in supporting business success'.
You have also been informed there will be an interview with a small panel of managers and you want to be prepared. Produce detailed notes which:
• evaluate the potential conflicts between corporate strategy and ethical social and sustainable responsibilities.
Answer
Task 1
1.1 Evaluation of business techniques
Rolls Royce is considered one of the widely acclaimed British automobile manufacturers. The company examined in the sections of international business environment assignment has been widely known for its range of automotive engines, "marine propulsion system as well as power generating machines' '. Apart from that, the company has several ventures that allow it to produce luxury vehicles. The company's strategic operations are further backed up by the immense R&D investment that the company focuses on, accounting for more than 1.25 billion Euros (Rolls-royce.com 2021). This has allowed the company to focus on strategic business performances within the prospect of "civil aerospace, power systems, defence and IT Aero segments' ', accounting for accumulation of 1,972 million Eurosof underlying profit in 2019. The overall business techniques of the company are aligned with Rolls Royce's strategic model that involves objectives of creating a genuine business (Rolls-royce.com 2021). Apart from that, "sustainable power interventions' factors vitalising existing capabilities and reinvention of digital capabilities". The business techniques of the company mainly outline performance across three horizons. These are, namely, maintaining and defending core business values, nurturing emerging technologies, and creating genuine business opportunities.
Relevant techniques adopted by Rolls Royce are:
Greater R&D investments to incorporate "cutting edge technologies" based on Business Process Modelling (Rolls-royce.com 2021)
Operating dynamic technology management by Open Source software
Compelling customer propositions through digital media presence
Innovating transitions to "Net Zero goals" based on Triple Bottom Line method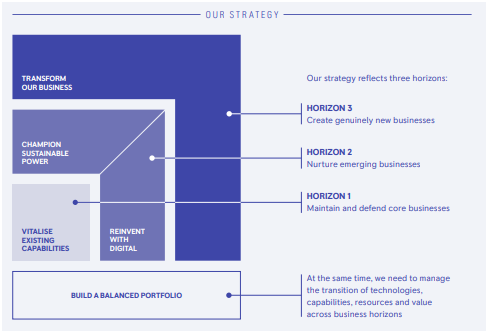 Figure: Rolls Royce business techniques
(Source: Rolls-royce.com, 2021)
| | | | |
| --- | --- | --- | --- |
| Technique | Strengths | Weaknesses | Impact on economies of globalisation |
| Greater R&D investments to incorporate "cutting edge technologies" based on Business Process Modelling | Growth of opportunities for adoption of the Research and Development sector accounting for investments of more than 2.3 trillion Euros accounting for 2.1% of global GDP. Apart from that, considering an investment of Rolls Royce on aero and automotive R&D at 83.1% in the UK, the company would optimise extensive benefits from integration of Business Processing Modelling tools (Rolls-royce.com 2021). The use of BPM would allow the company to invest more in neglected parts of operational aspects and an analysis of net revenue profits that could be optimised from such practices (Dwyer and Martin 2017). | Considering the multidimensional aspects of the automobile industry, the integration of BPM tools can be highly disadvantageous to provide an overall view of current change patterns. This would lead to a greater possibility of confusion. | Promotion of greater R&D economics would enable a company to revitalise its income model with greater financial gains. Apart from that, it would be essential for Rolls Royce to segment its processes of operational dynamics to be composite of vital processes such as "cloud computing, artificial intelligence and as well as distributed ledger technologies' ' for essentialities of inventory logistic management (Dwyer and Martin 2017). |
| Operating dynamic technology management by Open Source software | Greater opportunity for reduced costs and fostering innovation would allow Rolls Royce to functionalised its operating profits aligned with competitive organisational sufficiency. Considering the courses of the company's operations, the adoption of open-source software would be recognition of service networks and recognise virtual environments within its functions.  | Lack of resources and great cost for installation might be one of the major reasons for failure of Rolls Royce sustainable operations. Apart from that, "issues of incompatibility, liabilities as well as warranties' ' estimated with costs of installation might hinder on maintaining overhead charges and thereby increase product costs. | The free availability of factors such as "source codes' ' and distribution techniques would allow Rolls Royce to bring in integrated license management, scaling and consolidation of engineering process, and transparent business patterns. It would thereby allow the company to bring in greater scope for the company to bring in greater precision of resource elicitation.   |
| Compelling customer propositions through digital media presence | Global revenue generated from online selling of cars is at 56.8 billion Euros with the encouragement of the automobile industry to use more digital platforms for purchase operations. Availability of scope to research online has successfully created an opportunity for Roll Royce to focus on creating great digital presence to maximise overall sales margin | Maximum focus on online presence might deviate sales based on conventional retail outlets, thus causing more than 13% unemployment (Rolls-royce.com 2021). | Scope for digital media marketing research has amplified to the fullest, especially accounting for more than 83% of millennial customers. Apart from that, integrated machine learning automation within digital performance metrics of customer journeys from potential customers to loyal customers can also be measured with direct alignment to current market principles (Dwyer and Martin 2017). It further allows for Rolls Royce to measure positive culmination of electric customer mechanisms.  |
| Innovating transitions to "Net Zero goals" based on Triple Bottom Line method (Dwyer and Martin 2017) | Combining factors of "life cycle analysis (LCA)" and other variable tools to quantify environmental consequences would enable the company to become more reliable in terms of "corporate social responsibility" (Rolls-royce.com 2021). Apart from that, the association of TBL analysis would create governance of better financial audit methods concerning material waste analysis. | There are no such limitations of applying the TBL framework considering the company's sustainable aims and focusing on a far more associative role of vitalising the company's ability to associate overall corporate sustainability measures.   | Considering the ca of UK automotive supply chain, involvement of Triple Bottom Line principles would provide a scope of witnessing originality and value-added operations of automotive functions. It would further enable the firm to excel in enhanced fuel conservation technologies, redesigning car's architecture to provide for a more functional driving space and applying 3Rs of design-build process that would minimise carbon footprint.   |
Table 1: Business Techniques
(Source: Researcher)
1.2 Impact of globalisation and international trade on national economies
Rolls Royce is considered one of the most significant engineers to recover from Brexit impacts brought upon the UK. Currently, the company contributes more than 11% of its GDP. Especially concerning the aerospace segment, the company contributes more than 16.8 billion US dollars to the UK's economy with more than 64,000 direct jobs based on the supply chain of Rolls Royce UK. Apart from that, the association of Rolls Royce's tax generations can be aligned with the prospect of about 66% of "UK public spending" (Rolls-royce.com 2021). Thus, it can be quite inevitable that sales generated worldwide will enable the company to support the national economy at an accelerated pace. Apart from that, in 2019, the overall fiscal contribution of the company stood at 1.8 billion Euros with 117,400 employment capacities only in the aerospace industry. The contribution of Rolls Royce's globalised architecture and dynamic operational policies across various geographical borders has automated for greater opportunities of uplifting regional economies. This is not just limited to the UK. Additionally, the company's cutting-edge manufacturing" helps in development of a "wider consumer economy" with a "£845 million contribution to Welsh GDP" (Rolls-royce.com 2021). However, it has contributed to an economy of 1.2 billion Euros in the East Midlands (Dwyer and Martin 2017). The worldwide sales volume of the company has been approximately estimated to be around 3,890 units, with a CAGR increment of 3% since 2019 (Rolls-royce.com 2021).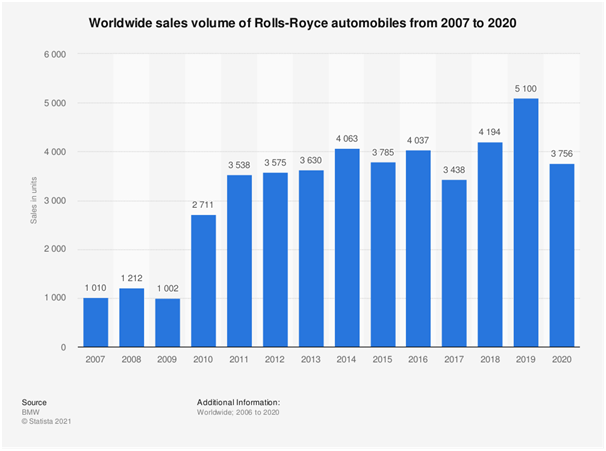 Figure 2: Worldwide sales of Rolls Royce cars and aircrafts
(Source: Statista.com)
1.3 Exploration of the organisational structures
The organisational structure of Rolls Royce is hierarchical and is composed of around 36,207 employees spread across around 50 countries at present. Detailed systems and operational procedures further manage the company's group alongside large manufacturing plants based in America, Singapore, and China (Dwyer and Martin 2017). Such a hierarchical structure aligned with highly decentralised operational schemes have allowed the company to focus on minute responsibility fulfilment criteria with a clear and comprehensive chain of command. Apart from that, the inclusion of traditional principles of corporate social responsibility and environmental sustainability has created a highly esteemed competitive position for the company. 1.4 Evaluation of the risks involved in operating in an international environment Considering the dynamic nature of the automobile market and the rapidity of transitions involved within such procedures of operational context. Rolls Royce might face a number of uncertainties in the prospect of product development, marketing and financing. Apart from that association of foreign exchange rates in spite of globalisation would require the company to focus much on multivariate nature of trade functions (Saura, Palos-Sanchez and Rodríguez Herráez 2020). Based on the risks matrix mentioned below, Rolls Royce's common risks patterns and impacts can be evaluated.
Risks

Severity

Impact

Risk rating

Mitigation

Product development risks:

Responding to the competitive nature of the market becomes optimally necessary with an amplified impact on R&D related costs that might cost around 2 million Euros at present. However, it might fail due to failures of the product development process

3

5

15

Creation of Product prototyping opportunities integrated by the use of artificial intelligence that would enable the company to test and launch predictions without scope of failures.

Strategic risks:

This might include increased competitive pressures from low economy cars such as a "Jaguar land Rover" (Dwyer and Martin 2017). This is also aligned with the risks of having export controls with an increased number of national and international jurisdictions as well as "national export control legislation. "  

3

5

15

A "sustained investment in technology, capability and infrastructure" along with inhibition of long-term consumer relationships. This would also require the company to focus on complaint export control mechanism driven by sustained investment in "export controls awareness training" (Saura, Palos-Sanchez and Rodríguez Herráez 2020)

Financial risks:

These are mainly relevant to the factors of fluctuations in foreign country "exchange rates" as well as commodity prices, "counterparty credit risks and regulatory taxations" (Dwyer and Martin 2017)

4

4

16

This can be mitigated based on " improved balance between original numbers of equipment and services revenue" alongside predictable solution-based analysis

Operational risks:

Complex "multiple inter-relationships" across a number of countries might lead to confusion of maintaining supply chain standards in terms of delivery commitment and circularity of supply chain for abiding by Net Zero aims (Saura, Palos-Sanchez and Rodríguez Herráez 2020)

2

5

10

Organisation of smaller and trustable suppliers' group with formulation of "Group's crisis management plan and framework" to become compliant to company-wide objectives. Formulation of "robust governance structure" alongside application of recommendations put forth by "Environmental Advisory Board ''.

 Program risks occur in case of lactations prevalent within international trending schemes or redefining impairments in value-added operations and technological litigations process.  

4

3

12

Amplified "coordination of the engineering function, and other partners as well as manufacturing operations and the external supply chain".
Table 2: Risk Action plan
(Source: Researcher)
Task 2
2.1 Micro and macro environment of business
Macro analysis
Political

Economical

Social

Technological

Legislative

Environmental

Political fluctuations caused by optimal changes into legislative dysfunctions can case impacts for the company post-Brexit

Changes in exchange rates have brought down currency value with increased cost of inventory.

Lowered rate of air travel at 33% due to restrictions imposed post-Covid 19. That has lowered value-added revenue generation opportunities for the company

A number of technological interventions were brought by competitors such as Uber and Lyft, thereby reducing the need for the public to purchase cars for transport.

Greater compliance to "Antitrust law" is required in order to look after the operations revolving around "Industrial goods and services" and their movements across the company's supply chain.

Automobile industry alone creates 67% of carbon footprint as estimated in 2020. This should be fixed with caution by Rolls Royce in order to provide its customers with high CSR integrated principles. It would allow for the company to include better creation of brand image.

Political powers and changes along with "lobbying and pressure from certain US/EU countries."

Interventions of government within changed policies of free-market trades owing to Brexit and increased rate of discretionary systems might be harmful to company's overall gains.

Severe competition in aerospace market as well as automotive segment with nearly 23% of their customers unaware of recent changes within the industry (Dwyer and Martin 2017)

Almost all competitors of Rolls Royce are adopting technological interventions, which lowers down the value and unique proposition of the company with respect to others.

Factors like "Copyright, patents / Intellectual property law" have created optimal implications for the company to be restrictive in terms of its operations.

 

Change in consumer perception has further focused on gaining greater stumble means rather than focusing on conventional purchasing methods. Thus Rolls Royce would have to focus on integration of sustainable measures taken by the company into its promotional mix to vary existing and new customers about its ventures (Golesorkhiet al.   2019).

Political interference from bureaucracy changes post-Brexit might cause interference of "industrial goods and service performances."

UK's rate of unemployment due to Covid-19, along with inflation rates, have accommodated for cessation of business cycle stages (Watson IV et al. 2018).

Decreased ability of the consumers to spend on luxury and premium price cars give the fact that competitors like Jaguar Land Rover sell almost similar quality cars at a much affordable rate. This has sabotaged the company's sustainable competitive goals (Saura, Palos-Sanchez and Rodríguez Herráez 2020).

Redefined "value chain structures' ' in enterprises such as Jaguar Land Rover and Mercedes has created greater dimensional implications for the company in terms of competition.

With greater use of "data protection laws' ' more focus needs to be optimised in terms of taking care of data management for consumers over cloud platforms this might require greater scope of investment for the company.

Adoption of CSR would also be required for the company to achieve sustainable features based on the TBL framework as well as CSR.

Changes within "intellectual property rights" could be aligned with "Antitrustlaws related to Industrial Goods & Services" (Velenturf and Jopson 2019). This could further create interference in a company's operational freedom along with increased "trade regulations & tariffs".

 

Despite the potential market for automobiles, and increased aisles margin, lack of economic viability and its price margin, the company is not able to focus on capturing the commercial segment of automobiles at a rapid rate.

Gradual changes in the customer perceptions across "segmented class structure, hierarchy and power structures" of society have witnessed that more customers are inclined towards viability and stability rather than purchasing high priced cars (Banerjee, 2017)

Rate of technological diffusion is seen consistently higher since 2019, which has made it impossible for the company to focus beyond digital transformation. This might impact cost efficiency and performance of the company with profitable standards.

 

A growing craze towards recycled products has also implied for the company to optimise for recycling its raw materials and use recycled aluminium products for renovating new product lines (Stahl et al. 2020).

Changes in employee benefits law might interfere with the company's strategy of reducing overhead costs.

 

Interest in leisure and luxury is significantly lowered due to the long-term social engagement restrictions. That has led to lower sales of premium cars.

 

 

 
Table 3: PESTLE of Rolls Royce
(Source: Researcher)
Microanalysis
Strengths

Weaknesses

       Introduction of "Nano Fleece filtration technology" for taking care of cleanest micro-environmental consequences

       Luxury variants to compose products to a wider variety of consumers (Fenwick and Vermeulen 2019)

       Premium models of high-quality engineer and chassis with recycled elements used

       Pan global presence and application of TBL framework

       Decentralised operations with lean principles of operations to reduce lesser political implications

       Existing status symbol to represent the brand as a high-quality and high-priced brand has not enabled it to transform into an all-inclusive brand

       Over-reliance on the process of "repeat purchase" has degraded its ability to generate revenues beyond conventional modes

       Lack digital infrastructure and investment policies to focus on online sales (Beugelsdijk, Ambos and Nell 2020)

       Conventional inventory and supply chain infrastructure

       Lack of investment in the field of network privacy issues 

Opportunities

Threats

       Optimised use of technology

       Increased focus on application of "IOT, machine learning algorithms, CAD and data connectivity."

       Accentuated popularity for EVM automated cars to produce less impact on environment (Dwyer and Martin 2017)

       Digital inventory management with reduced scope of legislative burdens

       Threat of decreased consumer spending potential

       Increased competition from much affordable and premium cars by "JLR, Audi and BMW"

       Growing export costs, material purchase costs and cost of raw materials

       Increased rate of data privacy issues
Table 4: SWOT of Rolls Royce
(Source: Researcher)
2.2 Assessment of benefits, opportunities and challenges
Based on the above analysis of both macro and microenvironment, it can be underlined that the benefits that can be obtained by Rolls Royce are in terms of greater technological implementation (Katmonet al. 2019). Apart from that, company's "high-performance solutions" aligned with formulation of "Applied Technology Group (ATG)" could be highly beneficial to focus on "material support technology, Computational engineering, electrical power and control systems and Advanced Remanufacturing & Technology" aligned with sustainability aims (Nambisan, Zahra and Luo 2019). IT further has the opportunity to integrate "Internet of Things (Iota) and Smart Manufacturing technology" to withstand inclusion of science, technology and cost-efficiency objectives (Cai, Peng and Wang 2018). However, the challenges remain in terms of managing data security architecture implantation while also focusing on the evaluation of external and internal regulatory compliance. Turbulence in the political and economic market might need for the company to thereby focus on reintegration of its target market and focus more on aligning common needs to receiver loss at the moment.
2.3 Comparison to contextual markets
The automotive market today has the potential to focus on implementing "MRO objectives" such as "Maintenance, Repair and Overhaul" based on integrated IoT measurement tools. Competitors like Jaguar Land Rover and BMW have focused on implementing "big data analytics" with more than 45% of revenues generated from block chain marketing as well as "human-machine interference mechanism" (Minaeeet al. 2019). More than 45% of automobile industries have optimised AI and cloud connectivity for handling consumer data generated through online media (Shahzadiet al., 2019). Focus on implications of "AEB systems" such as "radar, cameras and LIDAR technologies" have been incorporated into nearly 33% of commercial cars produced. Apart from technological interventions, nearly 88% of global automotive industries have dynamically transformed their operations from conventional to digital inventory management (Borchert and Yotov, 2017). In comparison to such companies, Rolls Royce has consequently lagged back. Thus, it would have to potentially increase its dimensions of operations while creating the viability of market changes.
Task 3
3.1 Implications for businesses of the cultural and regulatory diversity in international markets
With the expansion of Rolls Royce worldwide, the company has been required to optimise a "diverse knowledge base with insightful approaches" to cultural integrity. Nearly 53% of the sales are generated from South Asian countries like China, India and Pacific regions. Considering such statistics, it is necessary for the company to focus on maintaining cross-cultural integrity aimed at value-added performance measurement of sales with context to separate geographical borders. Achievement of regulatory diversity would be followed by all-inclusive dissemination of company objectives to its employees, irrespective of their social and cultural backgrounds (Zaidi et al. 2019). Apart from that, the regulatory policies would be based on integration of "Hofstede's cultural dimensions' ' that would help operational functions to retrospection of all cultural dignity. This is also aligned with the company's diversity inclusion principles with application of equality with equity.
3.2 Importance of corporate social responsibility and sustainability in supporting business success
The CSR policies of Rolls Royce are aligned with the composition of STEM subjects inherent to product development principles of the company. Thai further aligns with the factor of associating aims of creating Net Zero objectives of company along with sustainable sourcing process adhered to "Global Charitable Contributions and Social Sponsorships Policy and Procedure" (Senthilkumaret al. 2017). Apart from that, code of conduct principles of the company is well aligned within its core performance rationale wherein the company donates a notable amount of revenues to charitable contributions. It has allowed for the company to ensure that all its operations are based on diversity inclusion, measurement of equality inhibition as well as accumulation of employee health and safety responsibilities (Zafar, Saud and Hou, 2019). Such CSR activities thereby aim and accentuating professional standards and disseminate corporate values to market with greater brand reliability.
3.3 Evaluate the potential conflicts between corporate strategy and ethical social and sustainable responsibilities
The potential conflicts towards alignment of sustainability measures with CSR responsibilities and strategies are lack of resources and fluctuations within external legal and regulatory mechanisms (Jain 2019). This also allows for the establishment of troubles based on management control mechanisms that would help in defining possibilities of business's dynamic nature. Thus, such complexities should be intervened with proper application of external and internal analytical approaches that would variably help the company decide on its course of performance obligations (Saura, Palos-Sanchez and Rodríguez Herráez 2020). Lack of transparent vision into the company's supply chain objectives as well as shareholder's integrity would also limit the scope for the company to optimise ethical measurement tools. It would reduce reliability for the company along with employee conflicts in interest, values and loyalty.
References
Banerjee, S.B., 2017. Corporate environmentalism and the greening of strategic marketing: Implications for marketing theory and practice. In Greener Marketing (pp. 16-40). Routledge.
Beugelsdijk, S., Ambos, B. and Nell, P.C., 2020. Conceptualizing and measuring distance in international business research: Recurring questions and best practice guidelines. In Research methods in international business (pp. 449-498). Palgrave Macmillan, Cham.
Borchert, I. and Yotov, Y.V., 2017. Distance, globalization, and international trade. Economics letters, 153, pp.32-38. Cai, L., Peng, X. and Wang, L., 2018. The characteristics and influencing factors of entrepreneurial behaviour: The case of new state-owned firms in the new energy automobile industry in an emerging economy. Technological Forecasting and Social Change, 135, pp.112-120.
Dwyer, T. and Martin, F., 2017. Sharing news online: Social media news analytics and their implications for media pluralism policies. Digital journalism, 5(8), pp.1080-1100.
Fenwick, M. and Vermeulen, E.P., 2019. A sustainable platform economy & the future of corporate governance. Lex Research Topics in Corporate Law & Economics Working Paper, (2019-1).
Golesorkhi, S., Mersland, R., Randøy, T. and Shenkar, O., 2019. The performance impact of informal and formal institutional differences in cross-border alliances. International Business Review, 28(1), pp.104-118.
Jain, G., 2019. Marketing Strategies for E-commerce Business. AAYAM: AKGIM Journal of Management, 9(2), pp.30-33. Katmon, N., Mohamad, Z.Z., Norwani, N.M. and Al Farooque, O., 2019. Comprehensive board diversity and quality of corporate social responsibility disclosure: evidence from an emerging market. Journal of business ethics, 157(2), pp.447-481. Minaee, M., Elahi, S., Majidpour, M. and Manteghi, M., 2021. Lessons learned from an unsuccessful "catching-up" in the automobile industry of Iran. Technology in Society, 66, p.101595.
Nambisan, S., Zahra, S.A. and Luo, Y., 2019. Global platforms and ecosystems: Implications for international business theories. Journal of International Business Studies, 50(9), pp.1464-1486.
Saura, J.R., Palos-Sanchez, P. and Rodríguez Herráez, B., 2020. Digital marketing for sustainable growth: Business models and online campaigns using sustainable strategies.
Senthilkumar, J., Aravinth, S.S., Gokulraj, J. and Iyyanar, P., 2017, November. A Trend Setting Integrated Digital Marketing Strategies for Business Promotions.International business environment assignment In Proceedings of the International Conference on Intelligent Computing Systems (ICICS 2017–Dec 15th-16th 2017) organized by Sona College of Technology, Salem, Tamilnadu, India.
Shahzadi, P., Gilani, S.R., Rana, B.B., Ghaffar, A. and Munir, A., 2021. Transparent, self-cleaning, scratch resistance and environment friendly coatings for glass substrate and their potential applications in outdoor and automobile industry. Scientific Reports, 11(1), pp.1-14.
Stahl, G.K., Brewster, C.J., Collings, D.G. and Hajro, A., 2020. Enhancing the role of human resource management in corporate sustainability and social responsibility: A multi-stakeholder, multidimensional approach to HRM. Human Resource Management Review, 30(3), p.100708.
Velenturf, A.P. and Jopson, J.S., 2019. Making the business case for resource recovery. Science of the Total Environment, 648, pp.1031-1041.
Watson IV, G.F., Weaven, S., Perkins, H., Sardana, D. and Palmatier, R.W., 2018. International market entry strategies: Relational, digital, and hybrid approaches. Journal of International Marketing, 26(1), pp.30-60.
Zafar, M.W., Saud, S. and Hou, F., 2019. The impact of globalization and financial development on environmental quality: evidence from selected countries in the Organization for Economic Co-operation and Development (OECD). Environmental science and pollution research, 26(13), pp.13246-13262.
Zaidi, S.A.H., Wei, Z., Gedikli, A., Zafar, M.W., Hou, F. and Iftikhar, Y., 2019. The impact of globalization, natural resources abundance, and human capital on financial development: Evidence from thirty-one OECD countries. Resources policy, 64, p.101476.
Website
Rolls-royce.com, (2021). Annual Report, Rolls-Royce, Available at:https://www.rolls-royce.com/~/media/Files/R/Rolls-Royce/documents/annual-report/2020/2020-full-annual-report.pdf [Accessed on: 23rd October]