International Business Assignment: Trade-Map Data Trends Product Opportunity
Question
Task: The purpose of this case study report on international business assignment is to allow you to develop the required skills and knowledge to collect statistical data and identify opportunities for import and export of products and/or services to the selected international market (that is, from Australia to another country).
Answer
Introduction to the theme of international business assignment
As a result of low tariffs and duty-free commerce, Australia has an open economy. Some industries are indeed subject to trade restrictions such as non-tax barriers. There are bilateral cooperation arrangements with Australia in several industries, including machinery, automobiles, and precision equipment. However, these do not encompass all export activities and must be revised to consider changes in the regulatory frameworks in these sectors.
Part 1: Potential product opportunities exist between Australia and New Zealand
Imported Products
1. Imported live horses, mules, asses and hinnies between New Zealand and Australia

From the overall analysis of the above table, it could be found Australia imported Live horses from New Zealand(trademap.org, 2021). The number of Live horses, excluding purebred, are delivered from New Zealand in Australia every year. The import activities that occur are live horses and purebred horses.
2. Beverages, Spirits and vinegar

3. Preparations of flour, starch, cereals or milk

4. Machinery, mechanical, appliances, boilers and nuclear reactors

5. Tobacco and manufactured tobacco substitutes

Exported Goods
1. Pharmaceutical products

2. Paper and paperboard

3. Essential oils and resinoids

4. Articles of iron or steel

5. Cocoa and cocoa preparations

The economic and trade ties between Australia and New Zealand are widely acknowledged as among the strongest, widest, and most beneficial in the world. New Zealand-Australian investment totalled almost NZ$197 billion as of December 2019(trademap.org, 2021).
Australia is the second most popular location for U.S. investors to place money after the United States. Thirty percent of all foreign investment in New Zealand comes from Australia.
With an FDI of NZ$57 billion, Australia is New Zealand's top FDI partner. Australia and New Zealand have agreed to establish a smooth trans-Tasman economic climate, making it as simple for New Zealanders to conduct business in Australia and around New Zealand(Siriwardana&Nong, 2018).
Every citizen of New Zealand and Australia are free to travel, reside, and work in each other's countries. N.Z. and Australia have significant people-to-people ties, with each nation serving as a major provider of tourists for the other.
There are also significant ties between the Australian and New Zealand labour markets because of an inflow of NZers to the mining states of Western Australia and Queensland with a following reversal of trend more lately due to the slowing down of Australia's mining investment boom(Müller&Slominski, 2017). Processing foods and intricately altered meats account for a significant percentage of this trade's allegedly higher "value-added" components.
Part 2: Dollar value turnover between Australia and New Zealand


The most important commercial partner of New Zealand is Australia. As a result, the growth of the N.Z.N.Z. economy and the NZD are strongly tied to Australia's economy and the AUD. Compared to other currency pairings, the NZD/AUD exchange rate is one of the most stable because of the tight connection(Dominiak&Mapson, 2017). The two nations' interest rates mostly determine the current NZD/AUD exchange rate.
The AUD/NZD opened the week marginally down on Monday, mirroring oil and copper declines due to increased Covid-19 infections throughout the world, despite optimistic optimism in the broader Asian equity markets.
The machinery trading firms rocked currency markets in New Zealand And Australia because corona virus lockdowns weakened their industries and delayed policy strengthening, leading bond rates to plunge(Piconeet al.,2020).The Australian dollar was in shreds because it was gone down to $0.7238, after plunging by a whopping 3.25 percent this week alone, the worst drop in over a year(Cooper, 2019).
After the 200-week moving average was broken at $0.7223, the technical picture became extremely negative, and then the Australian government set the next target at $0.6990, which was low from November 2020(Steel, 2017). The kiwi dollar has fallen 3.21% this week to $0.6830, the most since September of last year. The 200-week averagewas at $0.6761, and then $0.6590 are the next two levels to aim for improving trading dilemmas present on machinery.
Both currencies have been upended by the spread of the Delta strain at home. Sydney extended a severe lockdown until the end of September, while New Zealand extended its nationwide lockdown until next week. The RBNZ is expected to defer raising interest rates this week, and markets currently have the only price in a one-in-three chance of a change at its October meeting(Tranet al., 2019). The RBA still intended to reduce its bond purchases in September, but the lockouts and a disappointingly low figure on wages support a dovish approach. The Economic Director of Australia said that measures to tackle Delta would cause GDP to fall by almost 3% q/q in Q3(Nong, 2019). The growth rate for December is now anticipated to be 1.4 per cent, down from our earlier projection of 3.8 percent.
The Australian dollar has weakened this year due to falling commodity prices and the possibility of further interest rate cuts, while the N.Z. dollar has strengthened due to rapid growth in the N.Z. economy and a 1.23 percentage point increase in interest rates to 3.65% by the central bank(Akbar&Hallak, 2019). The market is likely to end the year with an overly gloomy view of Australia is too optimistic view of the N.Z. Currency. As a result of the recent decline in dairy prices, N.Z.'s first and second quarters of next year are expected to experience less robust growth than usual.
Part 3: Discussion of growth of the chosen product line between Australia and New Zealand
a. For the product Machinery, mechanical appliances, boilers and nuclear reactors, it is seen that the total dollar value for Australian exports to New Zealand is 841,189 (USD thousand). The total value has been gained in the year 2020 for the Australian exports in this category. However, the Australian imports for the chosen category are equal to
b. The chosen product for both the import and export activities between Australia and New Zealand is machinery because it is highly demanding.The volume of machinery imports has remained strong, amounting to $47.2 billion in 2016 in imports to Australia. In 2018, it was seen that machines accounted for 14% of all Australian shipments making them the country's top import(Schmidtet al.,2020).
This is expected, considering the amount of money being spent on infrastructure and development projects throughout Australia. Everything, including computers and turbines to centrifugal pumps, is 'capital' items that enable Australians to produce other things, is imported by Australians(Schramet al.,2020).Investment in their Trans-Tasman neighbour is safer because of the Protocol's decreased compliance costs and more legal certainty for investors from both nations.
Part 4 : Competitors present under the present product category who trade between Australia and New Zealand
The two competitors names are Linda Material and TNA Solutions Pty. The TNA solution is one of the popular trading companies that trade machinery in different locations successfully.However, they generate large amounts of raw materials like medicine, wood etc.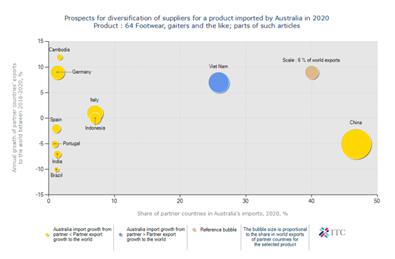 Australia imports a lot of knitting based clothing accessories(Chamberset al.,2018). This is even though electrical machinery imports are up significantly. Even though the cost of trade has decreased when contrasted to all other commodities, the value of imports has grown substantially.
With commodities price declines and low borrowing rates, it is predicted that the economies of New South Wales and Victoria would continue to be propelled during the following year. Substantial increases in public infrastructure spending Exports, particularly in the services industry(Haensch, Wheeler&Zuo, 2019).receiving currency benefits and helping to reduce the effect of falling commodity prices in several other economic sectors such as tourism, agriculture, and education stand to gain the most from an increased value of the dollar.
Visitors from Queensland and New South Wales make up a disproportionately large part of the Australian population in New Zealand(Wilkinsonet al.,2020). This is most likely because a large percentage of New Zealanders make up a smaller percentage of the population in Victoria than they do in the rest of Australia.
Part 5 Macro Environmental Factors present between New Zealand and Australia
New Zealand and the United States are embroiled in a trade war that threatens to devalue the Australian dollar, one of NZ's most valuable trading assets. The machinery imports from Australia resources exports from New Zealand to Australia make for a substantial portion of each country's economic share. Increasing trade between the two countries is expected to boost wool exports by the same proportion each year through 2020(Shooshtarian et al.,2019).
N.Z. top service was exporting market in Australia. State-level data is sparse and heavily weighted toward tourism. New Zealand's tourism industry contributes significantly to the country's overall export revenue.The export of knitted fabrics from Australia to New Zealand, including the import of furniture, clothing, and industrial machinery from New Zealand, make up a substantial portion of the shareholdings in both countries' economies.
A growing partnership between the two countries is expected to drive an increase in wool exports of roughly the same proportion in 2018 and 2020(Woods et al.,2019).
Even though Vietnam is involved in a trade war that affects the U.S. dollar and Australia as one of the country's top significant trading partners, many cultural distinctions stimulate a higher level of economic activity.
Part 6: Potential prediction of Trends gained from the trade exports and imports
Australia is a good example because it has a low population density and a wide range of resources, whereas New Zealand has a high population density and few resources that may be exploited.
Having Australia as a trading nation is ideal for New Zealand because it provides raw materials(Pearse, 2017).Australiagains from the collaboration as ready-to-use products become available. Because Australia is a capitalist economy, it has the opportunity to increase the productivity of its manufacturing and processing firms in the fashion sector, among many other things.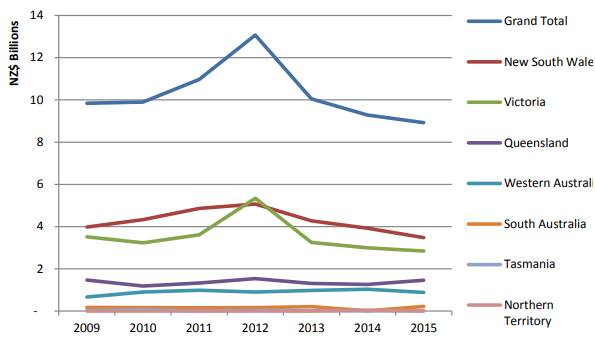 Australia engages in industries to reduce the country's reliance on imported ready materials, which is a potential liability. In addition, the trading team would focus on optimizing the use of locally accessible raw materials like leather in the manufacturing of ready-to-wear sportswear for the Australian and N.Z. markets(Klauss, 2020).
Part 6: Trends indicate product from fashion or sportswear category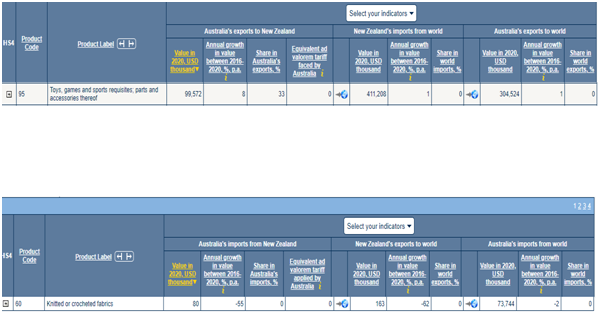 a. ANZCERTA forbids imposing tariffs or quantitative import or export restrictions on trade in products from the Free Trade Area. Contains methods to minimize goods trade market distortions gains domestic industry support and export incentives, including the subsidies(Dungey, Fry?Mckibbin&Volkov, 2020). The removal of technical trade restrictions and impediments to trained personnel mobility among jurisdictions is made possible by mutual recognition of products and vocations. This does not necessitate total standardization and professional certification.
b. The potential product opportunities that are present between Australia and New Zealand for the imports are:
Dairy produce, birds, eggs, natural honey, edible products of animal origin
Miscellaneous edible preparations
Beverages, spirits and vinegars
Mineral oils, mineral fuels, products of their distillation and other bituminous substances
Cultured or natural pearls, semi-precious or precious stones, metals clad including the precious metals.
The potential product opportunities that are present between Australia and New Zealand exports are as follows:
Machinery, nuclear reactors, mechanical appliances and boilers
Photographic, optical, cinematographic, checking, medical or surgical tool
Vehicles other than tramway or railway
Pharmaceutical products
Essential oils and resinoids, toilet preparations, cosmetic and perfumery
Part 7: Action taken to maximise opportunities
Australia'ssend the most people to New Zealand for creating a strong trading relationship. Visitors from New South Wales and Queensland make up a relatively large part of the Australian population in New Zealand(Lacka, Chan& Wang, 2020). The large number of New Zealanders residing in Queensland compared to the state's share of Australia's overall population is the driving force behind this change in Queensland.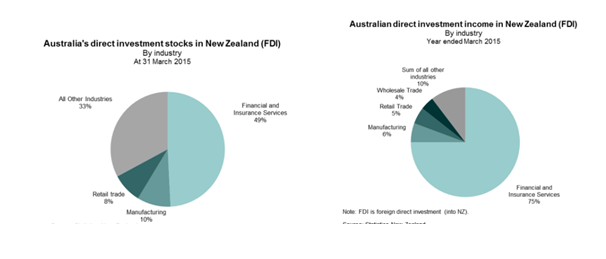 N.Z. imports products from Australia at a rate of over 12 percent of total imports, making it the country's third-largest supplier after E.U. and China. Oil imports have decreased significantly, causing this percentage to shrink from 18 percent to current.
At the endof June 2015, New Zealand imported services worth NZ$5.33 billion from Australia, most of which were travel-related tourist services(Meurisse et al.,2019). There is no comprehensive breakdown of New Zealand's service imports from Australia at the state level. Net migration between Western Australia, Australia and New Zealand grew by 37% in the year ending June 2012, as the number of New Zealanders moving to Western Australia have expanded.
Because of the wide range of cultural variations, there is more economic activity. While New Zealand strives to improve the number of its innovations, Australia is focused on reaping as many advantages as possible from technical advancements(O'Donnell & Macpherson, 2019). It is expected that electrical machine imports will expand by 20.55 % between 2018 and 2020 due to the proportionate linkage for high growth.
Changes in Australia's economic landscape will impact New Zealand, given the two nations' close economic ties. At first look, a decline in Exporters from New Zealand should be wary of the country's rapid expansion. The industrial states of Queensland and Western Australia are the worst hit by the downturn (Joyo &Lefen, 2019). Despite this, though, Queensland is still a reasonably significant state.
Australian state encourages international trade and people-to-people contacts with New Zealand.
Part 8: Sources used for identifying internal and external information on international markets
Compared to New Zealand, which is developing rapidly, Australia wants to make the most of technology advancements while maximizing its benefits. Because of the inverse connection among high growth for all machinery imports are anticipated to expand by a factor of 20 till the year 2020(Hulme, Hughes& Nielsen, 2019). The graph below provides a clearer picture of the expected growth trajectory.
One of the most significant items that Australia imports from New Zealand are medicinal products. Between 2016 and 2018, increasing demand in Australia led to a very successful import for Vietnam due to rising demand in the nation.
Aside from electrical devices, Australia has increased its imports of leather products, pharmaceutical products, oils and recreational goods. It has also boosted the number of athletic items imported. In 2016, Australian dollar exchange rates in New Zealand increased, but they have since varied between falling and growing in value throughout 2019, according to the statistics(Grafton& Wheeler, 2018). Even though the average variation is less than the dollar mark, the value had dropped considerably in 2019. As shown by their connection, business operations between the two countries are doing satisfactorily.
This means that the currency performance link shows the potential for both import and export trade to increase due to trade stability. Australia needs to illustrate its superiority. The Australian market provides a threefold boost in supply over its closest competitors(Hameed, 2020).
Due to Australia's essential role in New Zealand's trading profile, the country's economic health will always have a significant impact on N.Z.'sN.Z.'s health. But even though Australia is N.Z.'sN.Z.'s primary export market and the third-largest supplier of goods imports, its trade with Australia is not growing uniformly dispersed over their similar cultural share and economy.
Part 9: Recommendation for Australia to improve export and import business
Australia is aware that it should recognize and respond to India's goals of establishing a New India by participating in a reliable relationship. This may also protect the country's economy from becoming overly dependent on China and expanding into other markets. Australian-Indian two-way commerce in 2019 amounted to $30.55 billion, whereas two-way trade between Australia and China surpassed $200.56 billion in value (Duarte Alonso &Kok, 2019).
The strategy's goals include making India one of Australia's three top export markets and making India Australia's largest outward investment destination in Asia because it will bring India into Australia's strategic relationships.
As a result of AIB-X, Australian firms were able to leverage their strengths and capabilities, which will help to gain competitive advantage and excel in various other fields.
These included urban precinct planning, green building policy development, sustainable infrastructure and new construction standard implementation, waste management, intelligent transportation system implementation, traffic-oriented design, and street design. Mining experts are in limited supply in India. In India, the annual production per miner ranges from 151 to 2,660 tons. Increased economic and strategic relations with India would benefit Australia. Closer connections and more trade with India could reduce Australia's political and economic dependence on China. While Morrison had intended to fly to India in 2020 to restart economic talks between Australia and India, the bushfire disaster stopped that plan.
The Australian economy is largely reliant on China because they are the largest two-way trading nation for approximately a quarter of the global trade(Medcalf, 2019). While China's demand has benefited Australia, it has also put it in a difficult state.
As a result of the trade war, the Australian stock market has fallen despite Australia being not a party to the tariff war that has impacted their economy. It is important to remember that the continuous conflict has occasionally been beneficial for the Australian economy in specific sectors. However, this is simply a temporary respite from the more significant long-term repercussions that will follow. As a result, Australia is compelled to choose between economic growth and defence reliance, both of which have significant drawbacks on their own.
Conclusion
From the overall analysis of the report, it could be found that Expanding export prospects is one way Australia may become more competitive. To a small number of crucial trading partners, Australia now trades a small number of commodities.
India can assist Australia in diversifying its trading partners and increasing its exports. Australia is the largest trading partner, India, which offers a profitable opportunity for Australian exports to expand their markets.
Trade between Australia and India has gradually increased, and there is still significant room for growth in the export market for Australian products to India. Even yet, India's trade barriers are relatively high, and conducting business there is difficult, particularly in areas like contract enforcement and property registration.
A trade deal would make it easier for Australian exporters to do business overseas. The recent state visits by Prime Minister NarendraModi to the U.S.U.S. and President Donald Trump to India demonstrated India's strong ties with the U.SU.S. If India entered the picture, Australia wouldn't have to worry about picking aside. Instead, Australia may use this to its advantage by cooperating with both the U.S. and the U.K
Reference
Akbar, S., &Hallak, R. (2019). Identifying business practices promoting sustainability in aboriginal tourism enterprises in remote Australia. Sustainability, 11(17), 4589.
Chambers, I., Russell?Smith, J., Costanza, R., Cribb, J., Kerins, S., George, M., ...&Sangha, K. (2018). Australia's north, Australia's future: A vision and strategies for sustainable economic, ecological and social prosperity in northern Australia. Asia & the Pacific Policy Studies, 5(3), 615-640.
Cooper, B. J. (2019). Heritage stone in South Australia. Australian Journal of Earth Sciences, 66(6), 947-953.
Dominiak, B. C., &Mapson, R. (2017). Revised distribution of Bactroceratryoni in eastern Australia and effect on possible incursions of Mediterranean fruit fly: development of Australia's eastern trading block. Journal of Economic Entomology, 110(6), 2459-2465.
Duarte Alonso, A., &Kok, S. K. (2019). Entrepreneurial action in the context of firms and managers operating internationally: an empirical study. International business assignmentJournal for International Business and Entrepreneurship Development, 11(4).
Dungey, M., Fry?Mckibbin, R., &Volkov, V. (2020). Transmission of a resource boom: The case of Australia. Oxford Bulletin of Economics and Statistics, 82(3), 503-525.
Grafton, R. Q., & Wheeler, S. A. (2018).Economics of water recovery in the Murray-Darling Basin, Australia. Annual Review of Resource Economics, 10, 487-510.
Haensch, J., Wheeler, S. A., &Zuo, A. (2019). Do neighbors influence irrigators' permanent water selling decisions in Australia?. Journal of Hydrology, 572, 732-744.
Hameed, S. (2020).A comparative study of GCE and international curricula in Singapore and Australia.International Journal of Educational Development, 78, 102248.
Hulme, S., Hughes, C. E., & Nielsen, S. (2019). Drug sourcing and motivations among a sample of people involved in the supply of pharmaceutical drugs in Australia. International Journal of Drug Policy, 66, 38-47.
Joyo, A. S., &Lefen, L. (2019). Stock market integration of Pakistan with its trading partners: A multivariate DCC-GARCH model approach. Sustainability, 11(2), 303.
Klauss, K. (2020). Mediation mediums: the benefits and burdens of online alternative dispute resolution in Australia. Australian Alternative Dispute Resolution Law Bulletin, 10(10).
Lacka, E., Chan, H. K., & Wang, X. (2020). Technological advancements and B2B international trade: A bibliometric analysis and review of industrial marketing research. Industrial Marketing Management, 88, 1-11. Medcalf, R. (2019). Australia and China: understanding the reality check. Australian Journal of International Affairs, 73(2), 109-118.
Meurisse, N., Rassati, D., Hurley, B. P., Brockerhoff, E. G., &Haack, R. A. (2019).Common pathways by which non-native forest insects move internationally and domestically. Journal of Pest Science, 92(1), 13-27.
Müller, P., &Slominski, P. (2017). The politics of learning: developing an emissions trading scheme in Australia. Global Environmental Politics, 17(3), 51-68.
Nong, D. (2019). A general equilibrium impact study of the Emissions Reduction Fund in Australia by using a national environmental and economic model.Journal of cleaner production, 216, 422-434.
O'Donnell, E., & Macpherson, E. (2019). Voice, power and legitimacy: the role of the legal person in river management in New Zealand, Chile and Australia.
Australasian Journal of Water Resources, 23(1), 35-44.
Pearse, R. (2017). Pricing carbon in Australia: Contestation, the state and market failure. Routledge. Picone, D. S., Deshpande, R. A., Schultz, M. G., Fonseca, R., Campbell, N. R., Delles, C., ...& Sharman, J. E. (2020).
Nonvalidated home blood pressure devices dominate the online marketplace in Australia: major implications for cardiovascular risk management. Hypertension, 75(6), 1593-1599.
Schmidt, T. L., Chung, J., van Rooyen, A. R., Sly, A., Weeks, A. R., & Hoffmann, A. A. (2020).
Incursion pathways of the Asian tiger mosquito (Aedesalbopictus) into Australia contrast sharply with those of the yellow fever mosquito (Aedesaegypti). Pest Management Science, 76(12), 4202-4209.
Schram, A., Aisbett, E., Townsend, B., Labonté, R., Baum, F., &Friel, S. (2020). Toxic trade: the impact of preferential trade agreements on alcohol imports from Australia in partner countries. Addiction, 115(7), 1277-1284.
Shooshtarian, S., Maqsood, T., Wong, P. S., Khalfan, M., & Yang, R. J. (2019).Development of a domestic market for construction and demolition waste in Australia.43RD AUBEA, 8.
Siriwardana, M., &Nong, D. (2018). Economic implications for Australia and other major emitters of trading greenhouse gas emissions internationally. International Journal of Global Warming, 16(3), 261-280.
Steel, F. (2017). Oceania under steam: sea transport and the cultures of colonialism, c. 1870–1914. Manchester University Press.
Trade Map - Bilateral trade between Australia and New Zealand.Trademap.org. (2021).Retrieved 22 September 2021, from https://www.trademap.org/Bilateral_TS.aspx?nvpm=1%7c036%7c%7c554%7c%7cTOTAL%7c%7c%7c2%7c1%7c1%7c1%7c2%7c1%7c1%7c1%7c1%7c1.
Tran, T. M., Siriwardana, M., Meng, S., &Nong, D. (2019). Impact of an emissions trading scheme on Australian households: A computable general equilibrium analysis. Journal of Cleaner Production, 221, 439-456.
Wilkinson, S., Hojckova, K., Eon, C., Morrison, G. M., &Sandén, B. (2020). Is peer-to-peer electricity trading empowering users? Evidence on motivations and roles in a prosumer business model trial in Australia.Energy Research & Social Science, 66, 101500.
Woods, R., Reiss, A., Cox-Witton, K., Grillo, T., & Peters, A. (2019). The importance of wildlife disease monitoring as part of global surveillance for zoonotic diseases: the role of Australia. Tropical medicine and infectious disease, 4(1), 29.