Incident Management Assignment: System Implantation in Healthcare in New Zealand
Question
Task: Case Study
Peter is a coordinator for a big New Zealand retirement village. After 20 years of work he had a first experience of mental ill health in the form of anxiety, panic attacks and depression. Up until this point in his life he had been a happily married husband, father, and worker. Previously life was uncomplicated, and he had felt in charge of his existence. That was to change markedly. Peter awoke in the middle of the night with severe chest pains and thought he was going to die. In hospital he was told his heart was fine but that he might be experiencing stress. He was told to go home, rest and take it easy. He was not treated for any symptoms.
Peter's presentation of a heart complaint was not an unusual way for someone to be introduced to mental health issues. Whilst it is often tempting to leave colleagues and managers thinking that issues are physical, Peter chose to let his employer know that his complaint was actually related to his mental health. Because of this, his employers were more able to support his return to work.
Can you recall what reason you gave to your employer as to why you were not coming in?
My wife rang my manager and told him I was in hospital. He rang me later that day at home to reassure me I still had a job. Staff arrived at my home with flowers and a signed book from colleagues. In the end, what was wrong with you?
I had anxiety, panic attacks and depression, what I called in my journal "Hell".
Did you ask for stress leave?
No. Never used the word "stress leave" but it may have been implied. It was sick leave.
Did you get a positive/negative reaction from your supervisor? Super positive!
How long were you off work?
Approximately 11 weeks of paid sick leave.
Did anyone from your work contact you while you were off?
Yes, on the first day, colleagues rang around the hospitals to find out where and how I was, and I had calls and visits. Initially they all thought I had had a heart attack. I have told everyone now, that I was actually experiencing anxiety, panic attacks and depression.
What were your feelings about work while you were unwell? My choices were removed, I didn't know how I could return, my confidence and beliefs were eroded, I felt like a child needing to be with someone. Worries about my health were 80% of it; my other concern was how would I provide for my family?
Peter's anxiety increased. He sought assistance from his GP who placed him on antidepressants. He sought understanding from family and friends as to what was happening to his life.
In his diary, Peter described his experience as "Hell". He felt terrified, tearful, unsure, and alone. He felt physically "on edge". Nothing made sense any more. Many people have identified the same feelings. However, fortunately for Peter, his recovery was aided by two significant factors: a very supportive and understanding wife, and an accommodating and compassionate manager. As a result Peter made a successful return to work and has added value to himself, his workplace and the people around him.
Go through the above case study and prepare an incident management assignment addressing the following parts:
Part 1: Injury & Incident Management system and Worker Compensation process
In this section of the Portfolio;
a) Plan and design an Injury & Incident Management system flowchart template for the healthcare organisation in the case study, including a Worker Compensation process. The elements of the flow chart should be flexible enough for the organisation to adapt to individual workplace incidents.
b) Below the flowchart explain the Injury & Incident Management system and justify the Worker Compensation process.
Part 2: Implementation of the systems & processes
Referring to the flowchart in Part 1;
• explain how the systems and processes might be implemented in Peter's case.
Part 3: Evaluate the effectiveness of local and international systems & processes
Every healthcare organisation will have slightly different systems and processes which will suit their particular context. It is important, as a manager, to have a general overview of other systems and processes from both New Zealand and International (not based in NZ) organisations*.
* This information is easily available online (remember to reference your source)
a) Evaluate the systems and processes of the two organisations you have chosen (one local to New Zealand and one International)
b) Compare their effectiveness to your own design in Part 1
Answer
Introduction
According to the investigation on incident management assignment, the concept of incident management is considered as a technique through which organisations can minimise hazards by evaluating, documenting, as well as analysing safety and health issues in a work setting. In today's environment, ensuring workplace safety is a vital part of an organisation's obligations (Sorensen et al., 2018). A flowchart is to be defined in this study to examine injury and incident inside a healthcare organisation. There is also a comprehensive evaluation of the incident management process. Furthermore, the process of system implantation via Incident Management System in healthcare organisations throughout New Zealand is discussed, as well as a brief discussion has done between a local and an international healthcare organisation regarding the system implementation.
Part 1: Injury & Incident Management System and Worker Compensation Process ?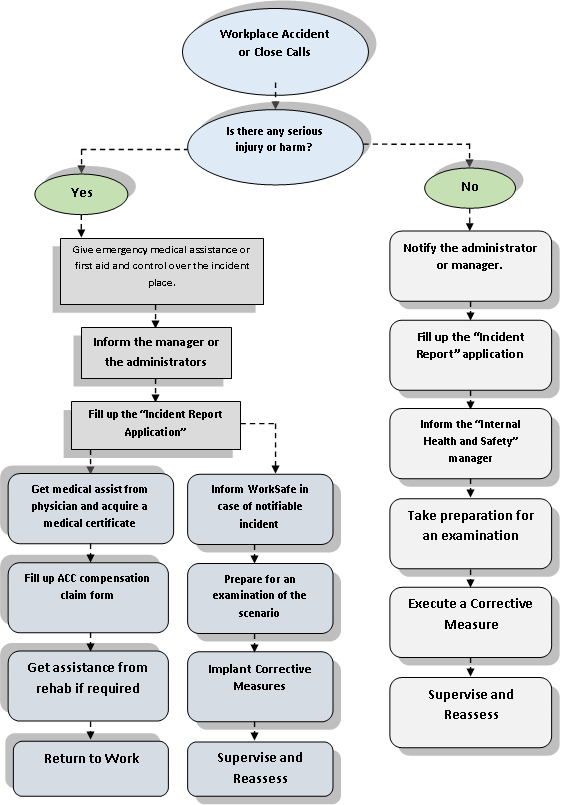 Figure: 1. Flow Chart of Injury & Incident Management System
(Source: As Created by Author)
Every PCBU or "Public Conducting
Business or Understanding" is equally accountable for assuring that they are conscious regarding the health and safety issues of the employees and looks after every aspect of the work setting to ensure that any sort of existing or possible issues is dealt with additional consciousness.
1. Incident and Injury Management
Some resolve problems effectively, every PCBU can use a Six-Step method. Recognition, reporting, appraisal, investigations, response, as well as evaluation, are these six phases. Whenever an accident happens the organisational administration must identify them efficiently. They must ensure that their workers are provided with immediate medical treatment or at least they can call for emergency assistance (Jorm& Ross, 2018). Therefore, to build a safe work setting for workers, all threats should be eliminated after proper recognition. The following phase is to provide information about the accident or near-calls to leaders or managers.
The leader or the manager is in charge of recording the occurrence by utilising the 'Incident Notification Application's and notifying any accidents or close-class to the appropriate administrative body. The next phase is the evaluation stage, during which WorkSafe examines all reportable illnesses and injuries (Gibson, Costa & Sampson, 2017). WorkSafe New Zealand must have access to the accident location. The further step, for instance, the investigation focuses on determining the causes of an occurrence, so that similar accidents can be prevented in the upcoming days. Managers take corrective measures depending on the outcomes of the investigation during the fifth phase. Corrective measures could include implementing control measures, building a reporting infrastructure, including delegating responsibilities (McInnes et al., 2017). In the last phase, the range of success is examined to identify whether the implemented measures are appropriate or not.
1. File for Compensation Claims from ACC
As a criterion for claiming injury-related compensations from ACC or Accident Compensation Corporation, the injured person or the wounded individual must obtain a valid and authentic medical certificate from a licensed practitioner, who will certify that the accident is within the range of ACC's coverage (Davie & Lilley, 2018). Around 12 months following the accident, the healthcare professional might file a compensation claim. The ACC requests pertinent information includes injury-related information, the reasons for the harm, the location of the incident, the timing of the event, and many more. Regarding this, adequate documentation such as an incident application form and investigations are essential. ACC assists injured people by offering those convenient devices, assistance at their home, transportation, training, childcare assistance, medical treatment, as well as rehab facilities (Good, 2018). ACC, in collaboration with the wounded individual's healthcare practitioner and owner, assesses the individual's present physical situation and ability and assigns professional tasks respectively, allowing the individual in returning to work securely.
Part 2: Implementation of the Systems and Process
In context to the given scenario, the procedure can be categorised into two different segments, such as compensation process and another is returning to work safely.
1. Compensation Process
It is one of the major roles of ACC to offer workplace compensation to the workers, who have declared unfit to work within in work setting due to getting injured by workplace accidents. When it comes to 80% of weekly wages, ACC is required to be compensated to the workers, who are unable to continue their works within the organisation due to workplace injury. ACC are now expected to support individuals throughout the rehabilitation process. Incident managers must assess apostrophes, which would be essential for continuous rehabilitation.
Peter initially faced a physical problem, which was a pain in his chest, but he decided to inform other individuals that his chest pain was due to mental health problems, such as hypertension, despondency, along panic attack. ACC only accepts mental health-related issues while these are related to some specific situations, such as sexual assault, stressful occurrences at the workplace, as well as physical illness or injuries due within the work setting (Buckley, 2020).
ACC does not compensate for mental diseases, induced by cumulative incidents or working pressure. As a result, being a manager, it is my responsibility to investigate any unpleasant occurrence which may have contributed to Peter's mental health-related issue.
Regarding this situation, managers must communicate with organisational workers and examine all aspects of their job roles which may lead to anxiety, for instance, heavy work pressure, poor job security, overtime in the workplace, workplace harassment, absence of social support, confrontations within the work setting, inadequate work-life balance, as well as many other causes (Harshana, 2018). Peter can claim compensation to ACC if a particularly traumatic incident is recognized. Furthermore, being a manager, I must take corrective measures, including the implantation of innovative policies and procedures to eliminate discrimination throughout the work setting, harassment, and discrimination.
1. Return to Work Process
Being a manager, I must confer with Peter, along with his physician to make changes in his job roles and duties following his present requirements and competencies. Further resources, including rehabilitation, flexible working schedule, salary raises, and other facilities could be provided to him to deal with his health-related issues. Rehabilitation would assist Peter in dealing with his job-oriented stress, despair, including panic attacks more effectively (Ravn et al., 2018). A wage increase and a more flexible working schedule will help Peter to deal with personal concerns and enhance his confidence. Lastly, as a manager, I must maintain frequent communication with Peter, encourage him regarding his job role, and monitor his development.
Part 3: Evaluate the Effectiveness of Local and International Systems and Processes
1. Evaluation of the Process in Two Different Healthcare Organisations
The discussion on incident management, a New Zealand-based healthcare organisation, named, Middlemore Hospital, and a Canada-based healthcare organisation, named, North York General Hospital have taken. According to the "Health and Safety at Work Act 2015", this is the initial responsibility of every PCBU throughout New Zealand to protect their employees from workplace-related hazards. Middlemore Hospital is managed by "Counties Manukau Health", which asserts to comply with the HSW Act (Martini et al., 2020). It is to be mentioned that healthcare organisations throughout New Zealand are obligated to implement the six-step process mentioned earlier, which implies that management recognises an event, as well as gives immediate medical assistance to everyone involved. Employees then report the incident to the appropriate authorities, such as the manager or WorkSafe. The situation will be thoroughly reviewed and examined based on the following two steps to identify the probable causes of the occurrence. In the next stages, managers implement corrective measures and continue to evaluate their activities.
Middlemore Hospital is obliged to implement these processes during the occurrence of an accident, so that they may provide appropriate medical treatment to their workers and help them in obtaining compensation from ACC. All of these processes are required because it is critical to demonstrate that the occurrence was interconnected to employment. North York General Hospital offers specialised medical assistance. "Workers Compensation Board (WCB)", similar to ACC, is in charge of offering medical assistance to organisational workers throughout Canada (Hudon, Hunt & Feldman, 2018). WCB also ensures that workers, who do not have further ability to work for any organisation obtain enough financial assistance or compensation, which is quite similar to ACC in New Zealand. This firm also assists workers in returning to work securely after having an accident.
1. Effectiveness of the System and the Process
Accidents, as well as injuries, are strictly prohibited at North York General Hospital. Every person connected with healthcare is required to participate in risk management and quality development programmes. Various sectors are responsible for conducting frequent risk assessments, and instructional workshops are held to promote the efficiency of the risk management system (Harshana, 2018).
While in the scenario of Middlemore Hospital, healthcare falls short in several areas. According to published reports in 2019, its employees feel uncomfortable because the healthcare's security procedures are inattentive. Nurses, along with other employees were repeatedly subjected to hostile and aggressive behaviour, along their vehicles were missing.
Conclusion
Each PCBU is responsible for protecting its organisational staff from all types of hazards and accidents. Peter's instance demonstrates the importance of having a supportive working atmosphere when recovering from any type of sickness or accident. In such circumstances, managers must take the appropriate steps, which is lacking throughout the context of Middlemore Hospital.
References
Buckley, T. (2020). The Link between Physical and Mental Injury: A Redundant Paradigm for Determining Compensation under the Accident Compensation Act. Victoria University of Wellington Legal Research Paper, (18).https://poseidon01.ssrn.com/delivery.php?ID=6220870090290701011110010640160010240220420100140330200880680740770911090910801080050111180300 0200711300808908101107110412408300100604307900411210202211608507912110401907600808100608600706411 2072113124029104096092121102099090077123113007024067116096020&EXT=pdf&INDEX=TRUE
Davie, G., & Lilley, R. (2018). Financial impact of injury in older workers: use of a national retrospective e-cohort to compare income patterns over 3 years in a universal injury compensation scheme. BMJ open, 8(4), e018995. https://bmjopen.bmj.com/content/bmjopen/8/4/e018995.full.pdf Gibson, K., Costa, B., & Sampson, A. (2017).Linking worker health and safety with patient outcomes.http://research.iscrr.com.au/__data/assets/pdf_file/0006/1321719/Evidence-Review_Linking-worker-health-and-safety-with-patient-outcomes.pdf
Good, K. (2018). The role of action research in service design–experience from the accident compensation corporation New Zealand. Canadian Journal of Pain, 2(1), A46-A70.https://www.tandfonline.com/doi/pdf/10.1080/24740527.2018.1476311?needAccess=true
Harshana, P. V. S. (2018). Work related stress: A literature review. Annals of Social Sciences & Management Studies, 2(3), 59-65. https://www.researchgate.net/profile/Sajith-Harshana/publication/333198895_Work_Related_Stress_A_Literature_Review/links/5ce109f5299bf14d95a6819b/Work-Related-Stress-A-Literature-Review.pdf
Hudon, A., Hunt, M., & Feldman, D. E. (2018). Physiotherapy for injured workers in Canada: are insurers' and clinics' policies threatening good quality and equity of care? Results of a qualitative study. BMC health services research, 18(1), 1-13. https://link.springer.com/article/10.1186/s12913-018-3491-1
Jorm, A. F., & Ross, A. M. (2018). Guidelines for the public on how to provide mental health first aid: narrative review. BJPsych open, 4(6), 427-440. https://www.cambridge.org/core/journals/bjpsych-open/article/guidelines-for-the-public-on-how-to-provide-mental-health-first-aid-narrative-review/A6903EA1F2388C95C72E01A64201BC4D
Martini, N. D., van der Werf, B., & Bassett-Clarke, D. (2020). Primary medication non-adherence at Counties Manukau Health Emergency Department (CMH-ED), New Zealand: an observational study. BMJ open, 10(7), e035775.
https://bmjopen.bmj.com/content/bmjopen/10/7/e035775.full.pdf
McInnes, J. A., Akram, M., MacFarlane, E. M., Keegel, T., Sim, M. R., & Smith, P. (2017). Association between high ambient temperature and acute work-related injury: a case-crossover analysis using workers' compensation claims data.Incident management assignment Scandinavian journal of work, environment & health, 86-94.https://www.jstor.org/stable/pdf/26386164.pdf?refreqid=excelsior%3A322ab372763f2698a74be167aa3938ab Ravn, S. L., Vaegter, H. B., Cardel, T., & Andersen, T. E. (2018).
The role of posttraumatic stress symptoms on chronic pain outcomes in chronic pain patients referred to rehabilitation. Journal of pain research, 11, 527. https://www.ncbi.nlm.nih.gov/pmc/articles/PMC5848846/
Sorensen, G., Sparer, E., Williams, J.
A., Gundersen, D., Boden, L. I., Dennerlein, J. T., & Wagner, G.
R. (2018). Measuring best practices for workplace safety, health and wellbeing: The Workplace Integrated Safety and Health Assessment. Journal of occupational and environmental medicine, 60(5), 430. https://www.ncbi.nlm.nih.gov/pmc/articles/PMC5943154/