Information Technology Assignment: Impact Of IT On Taxi Industry
Question
Task: Conduct a research and prepare a report on information technology assignment illustrating the impact of information technology on Taxi Industry using examples.
Answer
Introduction
As per the investigation on information technology assignment, it is stated that Taxis have quite a long history across the world and especially in Australia the taxi industry is operating since 1906. Numerous taxi companies have been operating in Australia with A2B covering almost 50% of the country's taxi network through its Silver Service and 13cabs fleet. However, with the technological advancements worldwide and increasing safety concerns and awareness among the people, the traditional taxi operators have now been taken over by certain efficient cab service providers to a great extent. In Australia, Uber was launched in 2012 to provide the convenient and safe cab services to the people and since then it has become the prime go-to transport choice for many people over there.
Use of information technology in taxi industry
In the recent times where the tech world is evolving at a high pace, countless solutions are coming up to provide ease and convenience to the people and their businesses by way of innovation. Implementing of new technologies could always serve the business from obsolescence and so is the case of taxi service providers. The "getting Uber-ed" illustrates the negligence of country's taxi industry towards innovations such as cloud computing, mobile computing and the real time data usage(Gaskell, 2017)Although, in the earlier times, when people used to book their taxis they had to look up for the taxi-operator phone number and call them to arrange a taxi at the given address which involved their time which could be saved while booking a cab through an app based cab service platform (Forbes, 2017). Many of the taxi operators in Australia did not chose to bring innovation to their business but Uber did the same and by the appropriate use of information system in the provision of taxi services, it managed to make the traditional taxi operators almost obsolete. Uber is the quintessential example of innovation being brought to business.
Recent trends of usage of Uber v/s Traditional Taxis
As per the recent report published by Roy Morgan, it has been found that nowadays 21.5% of Australian population commute using Uber services in average 3 months a rise of 14.9ppts in last 3 years and hence is on the verge of taking over the taxi services used by 21.7% of Australian population (Ref: Fig 1) (Roy Morgan 2019). Further, it has also been found that Uber has actually taken over silver taxis in Victoria, Queensland and the Western Australia majorly by the key-population segments referred as Technology Early Adopters (individuals who adopt technology due to higher income and education) Professional Technology Mainstream (those who intend to save cost and time) and Digital Life (youth and students) (Roy Morgan, 2019).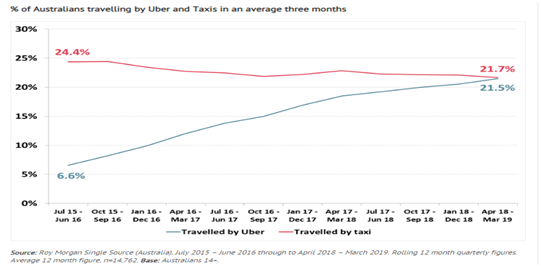 What differentiates Uber with traditional taxis in Australia
Ever since its evolution in the Australian market, Uber has certainly disrupted and at the same time revolutionized the taxi industry (McGuinness.,2019).The major cab service providers such as Uber, Ola Lyft and so on operates through their respective applications using the mobile technology and by way of these apps they link up their private drivers with their customers. Passengers may choose the car of their own choice while booking the cap through these apps. For instance Uber provides an option of Uber Black wherein they can get booked a big and premium car for their commute purpose (Smith, 2019).
Deployment of Various IT features by major cab operators
Apart, Ola and Uber also deploys the most unique information system feature called GPS to track the exact location of their customers so as to arrange them the driver who is nearest to them in real time (Stelzer, 2019). Further, it has become very convenient for the passengers to track the movements of their booked cab before and during their ride. Furthermore, these app-based cab service providers have also come up with an cashless payment systems wherein the passengers merely have to add their credit or debit cards or they can load their e-wallets with certain cash and payment would be done through such modes directly to the cab service provider. However, the traditional taxis could not provide such options of prompt payment. For instance, the commuters had to pay through card or cash at the time their ride is finished and if the payment is to be made through card, they would have to carry the card with them and incorporate the bank account details every time they had to travel. Also, the pricing models of taxis were structured in such a way that fare was calculated on the basis of distance travelled speed of the vehicle and the traffic whereas the Ola and Uber cabs estimates their fare well before and basis which it allows the users to choose and select their rides.Besides the convenience of booking and paying, the most important factor that contributed to the high success of Cab Services in Australian economy is safety (Sraders, 2019). It cannot be denied that the taxis had no security for their customers in their monopolistic times but it would be important to note that the safety and security features of cab service providers such as Uber, Ola, Taxify, Shebah and so on have surpassed the safety features of taxi industry. Since while travelling with Uber or Ola, passengers receives the complete information of the driver assigned to them with his past ratings, his photo and the vehicle details so that such details could be shared with their friends or relatives if required. Further, also Uber provides a facility called as Trusted Contacts to its customers to share the ride details with their concerned ones so that they can keep a close track of the ride and also in case of an emergency the passengers are also allowed to report their issue in real time so as to avoid any mis-happening. Furthermore, the said cab service providers also enable their customers to rate their drivers from 5 star to 1-star basis their professional attitude and ride performance. If a driver receives any lower ratings consistently they the driver's account could be deactivated. The cab drivers have to undergo various tests and background verification before getting on board. The same happens in case of taxis as well but the background checks of the drivers of taxis vary with different cities. For instance in Chicago the taxi drivers cannot be having convicted of any forcible felony in last 5 years but in New York drivers have to pass the health tests as well as defensive test driving (KollyMorgen, 2017).
Conclusion
On account of all the discussed aspects of making a choice between Uber, Ola it could be established that Uber and other cab service providers have been quite successful in Australia with their ride sharing apps through the use of advanced information technologies and are now on the verge of taking over taxi industry. With the deployment of advanced features of information system Uber and other app-based cab service providers have proved to be quite successful in the multiple countries and also have contributed to increased employment opportunities as there is a rise of 50% rise in the number of total self employed drivers.
References:
McGuinness., M. (2019)The Uber Paradigm: Importance of Early Disruption [Online].Available from: https://www.repsly.com/blog/field-team-management/the-uber-paradigm-importance-of-early-disruptions Accessed on: 13.03.2020 Forbes. (2017)Uber - A Paradigm Shifting Unicorn: Do The Rules Not Apply?[Online]. Availablefrom: https://www.forbes.com/sites/roomykhan/2017/05/11/uber-a-paradigm-shifting-unicorn-do-the-rules-not-apply/#300aea00197e Accessed on: 13.03.2020
KollyMorgen, A. (2017). UberXvs taxi – which is best? [Online]. Available from: https://www.choice.com.au/transport/cars/general/articles/uberx-vs-taxi-which-one-is-best Accessed on: 13.03.2020 Smith, P. (2019). New Uber boss aims big as cab industry strikes back.[Online]. Available from: https://www.afr.com/technology/new-uber-boss-aims-big-as-cab-industry-strikes-back-20191117-p53bet Accessed on: 13.03.2020
Gaskell, A. (2017). Study Explores The Impact Of Uber On The Taxi Industry[Online]. Available from: https://www.forbes.com/sites/adigaskell/2017/01/26/study-explores-the-impact-of-uber-on-the-taxi-industry/#21b7f10216b0 Accessed on: 13.03.2020
Sraders, A. (2019). Uber vs. Taxi: What's the Difference?[Online]. Information technology assignment Available from: https://www.thestreet.com/technology/uber-vs-taxi-14872678 Accessed on: 13.03.2020
Stelzer, T. (2019).Comparison of the week: Taxi vsUber[Online]. Available from: https://www.finder.com.au/comparison-of-the-week-taxi-vs-uber Accessed on: 13.03.2020
Roy Morgan (2019). Uber set to overtake taxis in Australia. [Online].Available from: http://www.roymorgan.com/findings/8048-ride-sharing-uber-taxis-march-2019-201907050645 Accessed on: 13.03.2020
Roy Morgan (2019). Ride-sharing app Uber overtakes taxis as preferred private transport service [Online]. Available from: http://www.roymorgan.com/findings/8098-uber-overtakes-taxis-june-2019-201908260239 Accessed on: 13.03.2020