Health promotion assignment: Impact of Type 2 Diabetes
Question
Task:
Prepare a health promotion assignment exploring the health promotion project planning for Type 2 diabetes.
Answer
Executive Summary
As per the research on health promotion assignment, it is stated that 'Health Promotion' projects are important among the graduate nurses in Australia to understand and engage themselves in empowering the individuals and communities to ensure a healthy behavior, implement changes to reduce risks and further development of 'chronic' diseases, and lower the 'morbidity' rate. The current assessment on 'health promotion' project planning in maintaining and mitigating the impact of 'Type 2 diabetes' will be discussed elaborately to reduce its medical risks.
1. Introduction
The primary motive of implementing 'health promotion' program planning discussed in the health promotion assignment is to address the prioritizing areas on a specific 'vSIM' focus area and identify activities to prevent the risk factor of that disease and provide a healthy lifestyle. There are five distinct approaches in providing 'health promotion' – medical perspective, behavioral change among the patients, educational value, 'patient-centered' approach, and providing a 'societal' change. The current planning will be focusing on the 'Type 2 Diabetes' care and cure factors.
2. Overview on Health Promotion Project on 'Type 2 Diabetes'
The medical standard has already identified that 'Type 2 Diabetes' cannot be cured completely. However, some maintenance can help the patients with this 'chronic' disease can be under control and encourage others to maintain a healthy lifestyle to not experiencing this disease. A study explained that almost 1.1 million people in Australia are suffering from diabetes and almost 85 percent of them are with 'Type 2 Diabetes' (T2D) (Speight, 2016). This particular type of diabetes is largely common in Australia and can be prevented by imposing a healthy and controlled lifestyle (AIHW, 2020). However, the 'Indigenous' Australian are more inclined towards having 'T2D' by four times higher than the non-indigenous citizens. The death rate from this 'chronic' disease is higher in remote areas y 2 times than the major cities (AIHW, 2020). The current assessment done in the health promotion assignment will discuss the prevention areas and risk-mitigating factors.
3. Scope of Community Nursing in Australia
3.1 Acute and Non-acute Care
Acute complications in 'T2D' come with the patient's risky condition, such as uncontrollable high 'blood sugar' or 'hyperglycemia', and low 'blood sugar' or 'hypoglycemia'. It can be arising with the insufficient implementation of 'insulin' or mismatched medication. The risks from 'T2D' can be minimized by 'Metformin' medication. Medicine expertise is recommending this medication because of its inexpensive nature, easy availability, effectiveness, and safe on patient's health. However, 'T2D' is preventable by taking some safety measures and healthy lifestyle changes. Studies have identified that implementation of cost-efficient 'telehealth' intervention can provide greater health benefits to the 'T2D' patients under their usual treatment process (Warren, Carlisle, Mihala, & Scuffham, 2018). The initial diagnosis with 'T2D' will be with measuring the 'blood sugar' level and control it within the normal level by imposing a changed lifecycle or other 'glucose' lowering medication (AIHW, 2018). Acute care can be taken by prescribing 'insulin' for the patient with a high level of 'blood sugar'. Non-acute care can be taken by recommending a healthy lifestyle, changing diet, and exercise.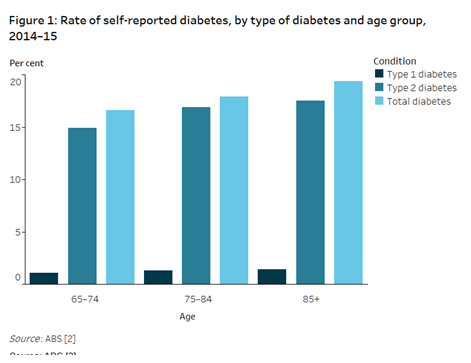 Fig: 'T2D' Intensity among Australian Elderly Citizen (AIHW, 2018)
3.2 Chronic and Palliative Care
The 'T2D' is a 'chronic' disease that does not have any specific cure. Nurses are needed to analyze the patients 'blood sugar' level, lifestyle, diet, and identify the risk areas. The "Australian Bureau of Statistics" (ABS) had explained in their 'National Health Survey' (NHS) of 2014-15 that 1 out of 6 elderly people in Australia is suffering from diabetes. The risks related to 'T2D' is increasing with age and time (AIHW, 2018). It can be stated herein health promotion assignment that the 'chronic' care can be taken by changing the lifestyle among the 'T2D' patients, it will help them in controlling their 'blood sugar' level. 'Palliative' can be taken by improving the 'quality of life' among diabetic patients. It is related to the identification of the risk areas to recommend suitable assessment, such as for high 'blood sugar', the patient might need 'insulin' therapy or high medication. the individual life expectancy and health risks among the older patients with 'hyperglycemia' can be painful can be controlled by proper 'palliative' care guidelines provided by the 'International Diabetes Federation' (IDF) (Dunning, 2016). The normal care can be taken by imposing proper diet, exercise, and weight control.
4. Can you discuss about some Inter professional practices in Australia within this health promotion assignment?
The interprofessional approach and practices among Australian nurses are a collaborative approach to the development of healthcare facilities. The 'interprofessional' practice model is necessary among the student nurse to enhance themselves in representing 'instructional' programs on mitigating health risks and improving the lifecycle of the 'T2D' patients, and providing a community-based approach to make the medication process efficient. The "Australian Diabetes Educators Association" (ADEA) promotes the specialization education to the graduate nurses to 'reinforce' the traditional professional stereotypes and enhance their access to a broad range of medication management (King, Nancarrow, Grace, & Borthwick, 2019). The 'interprofessional' practices derive the nurses to make implications on 'T2D' patients, such as providing healthy diet programs when the patient is 'over-weight', provide effective 'diabetic' teaching, provide exercise charts to control the weight and burn extra calories. 'Interprofessional' practices also enhance the nurses to conduct effective communication with the patient and their family members in an appropriate language that they can understand the situation well.
5. 'Appraise' Advances and Limitations in 'Primary Health Care' (PHC) in Australia and Worldwide
The appraisals in nursing consist of their best 'attributes', job duties, extra work, future career goals, and the progress they make gradually. The 'apprise' advances among the nurses make an effective assessment of their performance and provide plans for their future training and development programs to conduct transfers and promotions. The appropriate response to the 'dietetic' intervention among the rural areas of Australia is considered as 'financial' burden and thus makes some limitations in providing equal treatment facilities from the 'PHC' unit (Siopis, Jones, & Allman?Farinelli, 2020). The advanced 'practice nurses' in other parts of the world need extensive and 'highly' skilled knowledge-base, complex mindset for effective 'decision-making' process, and enhance their clinical 'competency' nature. These practices can provide a great impact on their 'appraise' advances and development process. The limitations in the diabetic care unit in Australian 'PHC' consists of 'change structure' within the continuous practice, limited 'blood sugar' testing among the clinics, poor 'consultant' referral in risk areas, and lack in educational support among the medical supervisors (Nikitara, Constantinou, Andreou, & Diomidous, 2019). The limitation picture is more or less similar in other parts of the world as well. The diabetic patients are mainly lacking in understanding the proper guidance in maintaining their 'blood sugar' level for a sustaining lifecycle. Most of them also seek their medical help to control the 'chronic' diabetes late.
6. Demonstration on Knowledge and Skills
6.1 Care Assessment
The care assessment facilities among diabetic patients are based on the skills acquired by graduate nurses in Australia. These skills are consisting of assessing the clients or patients, analyze their medical records, and prior diagnostic report. It helps the nurses to define an expected outcome. In the 'T2D' care process, the nurses are creating a treatment plan according to the patient's medical history and current 'blood sugar' level. It is specified in the health promotion assignment that the less risky patients get an appropriate diet chart and exercise module to control their 'blood sugar' level. The characteristics of different healthcare sectors provide different learning outcomes among graduate nurses. It is perceived as 'informal' learning because of the changing scenario at the 'healthcare' system (Kyndt, Vermeire, & Cabus, 2016). In some cases, the nurses are taking their decisions according to the current situation outside of the imposed regulations to control the situation from the patient's or community's perspective.
6.2 Implementation and Evaluation of Care among Patients and Communities within a specific setting
The graduate nurses who are willing to engage with the community services after completing their education needed to evaluate effectively their principles and concepts of 'nursing practices' among a specific community. RNs (registered nurses) provide critical care to the patients outside a structural center by promoting and implementing a healthy diet, habits, exercise, and schedule check-up (St. Thomas University, 2020). The acquired knowledge on different stages of 'T2D' is needed to be assessed effectively to provide proper care to patients with minor health issues and others with crucial health problems. The knowledge dissemination process among the patients and communities needed to be in a simple manner within a specific guideline. A 'registered' nurse cannot conduct anything outside the healthcare regulations of a country.
7. Issues
7.1 Issue in Health Outcome
The primary risk related to the 'T2D' outcome is having 'cardiovascular' disorder. It is including 'artery' disease, stroke or 'heart-attack', and 'peripheral vascular' disease. It increases the costs for treatment and medical help providing process. It has been identified that the 'T2D' patients with complications tend to increase their treatment cost almost three to four times greater than the one with less or lower complicated 'T2D' patient. The government of various countries is trying to implement 'anti-diabetes' drugs with the research process that is dedicated to understanding 'long-term' primary-level 'cardiovascular' disease outcome trials (Cefalu, et al., 2018). The lack of controlling and imposing a heathy lifecycle and dietary among the 'T2D' patients can enhance various issues related to the heart.
7.2 Disease Management in 'Chronic' and Compliance Care
The issues in managing 'chronic' disease like 'T2D' is critical and the nurses have a huge responsibility in making their patient understanding of their 'diabetic' health situation. The adoption of a changed lifestyle is the primary issue. On the other hand, most of the time patients with 'T2D' are suffering from facing non-compliance approaches. The main reasons behind this issue mentioned in the health promotion assignment are the nature of 'T2D' which can be 'asymptomatic' almost 60 percent of the time and others face increasing treatment cost with an enhancement of various complications. The risk factor in providing 'compliance' care is experiencing 'cardiovascular' disease by the patients having 'T2D'. It has been identified that almost 90 to 95 percent of 'diabetic' care can be resolved with 'self-care' and proper help from the 'multidisciplinary' team.
8. Integrated Management or Principles
8.1 Health and Safety
The "Comorbid non-communicable and infectious chronic diseases" (CNCICDs) such as 'T2D' enhance the requirement of an 'integrated management' system in the healthcare sector. The 'integrated' care unit in Australia provides a network between the 'local health district' with the 'primary health network' in establishing an appropriate 'governance' body to provide 'integrated' care to the patients with 'T2D' to avoid hospital services (Cheung, et al., 2019). It will generate and aware of the patients with 'self-care' and change lifestyle to control the risk factors of 'T2D' for a long-time. Nurses will help the 'T2D' patients with proper care and guidance to make the process more efficient.
8.2 Risk Assessment
The assessment of 'T2D' can be acquired by analyzing the patients' medical history, current lifestyle, and other relevant check-ups to assess the risk areas to generate proper treatment. The identified risk factors in the 'T2D' are being 'over-weight', having a similar family medical history, age, 'gestational' diabetes, inactive life or lack of exercise, and other similar areas. It can help in raising awareness to maintain these specific areas with self-care Nurses are tending to observe the patient with these areas to assess the risk effectively. Studies have also identified different environmental factors, such as pollution, lack of 'physical' activities, and inappropriate diet factors that are behind the increasing number of patients with 'T2D' (Dendup, Feng, Clingan, & Astell-Burt, 2018). The risk assessment practice or principles needs to implement 'integrated' management in assessing these areas.
8.3 Nursing Practice within 'Community' setting
The 're-specialization' care in implementing proper surveillance in controlling 'blood sugar' is a part of 'integrated' management practice among the nurses. The prevention of avoiding 'hypertension' or possibility of having 'heart-attack' can be mitigated by raising the awareness in controlling the diet and maintain weight. Medication is necessary in higher possibility-led patients. The practice also emphasizes managing the patient's record, care regulations, 'bureaucratic' culture for medication, and appropriate interaction with the community for greater help. The 'longitudinal' check-up process among the 'T2D' patient can be the most crucial safety policy for the people with 'T2D'.
9. Conclusion
The increasing possibilities of getting 'T2D' is higher among the Australians (both Indigenous and non-Indigenous citizens). Practicing a healthy lifestyle consists of regular medical 'check-up', healthy diet, weight control, and some exercise can help in mitigating the potential risk from this disease. In risky cases, 'insulin' therapy can be implied with safety precautions. The 'health promotion' program examined in the health promotion assignment will encourage both diabetic and non-diabetic patients to practice a healthy lifestyle to reduce health-related risks.
10. References
AIHW. (2018). Older Australia at a glance. Retrieved from Australian Government - Australian Institue of Health and Welfare: https://www.aihw.gov.au/reports/older-people/older-australia-at-a-glance/contents/health-functioning/diabetes
AIHW. (2020). Diabetes. Retrieved from Australian Government - Australian Institue of Health and Welfare: https://www.aihw.gov.au/reports-data/health-conditions-disability-deaths/diabetes/overview
Cefalu, W., Kaul, S., Gerstein, H., Holman, R., Zinman, B., Skyler, J., . . . Leiter, L. (2018). Cardiovascular outcomes trials in type 2 diabetes: where do we go from here? Reflections from a diabetes care editors' expert forum. Diabetes Care, 41(1), 14-31.
Cheung, N., Crampton, M., Nesire, V., Hng, T.-M., Chow, C., & Investigators, W. (2019). Corrigendum to: Model for integrated care for chronic disease in the Australian context: Western Sydney Integrated Care Program. Health promotion assignment Australian Health Review, 43(5), 600.
Dendup, T., Feng, X., Clingan, S., & Astell-Burt, T. (2018). Environmental risk factors for developing type 2 diabetes mellitus: a systematic review. International journal of environmental research and public health, 15(1), 78.
Dunning, T. (2016). Assessing older people with diabetes in Australia. Diabetes Prim Care Aust, 1(4), 1-6.
King, O., Nancarrow, S., Grace, S., & Borthwick, A. (2019). Interprofessional role boundaries in diabetes education in Australia. Health Sociology Review, 28(2), 162-176.
Kyndt, E., Vermeire, E., & Cabus, S. (2016). Informal workplace learning among nurses. Journal of Workplace Learning.
Nikitara, M., Constantinou, C., Andreou, E., & Diomidous, M. (2019). The role of nurses and the facilitators and barriers in diabetes care: A mixed methods systematic literature review. Behavioral Sciences, 9(6), 61.
Siopis, G., Jones, A., & Allman?Farinelli, M. (2020). The dietetic workforce distribution geographic atlas provides insight into the inequitable access for dietetic services for people with type 2 diabetes in Australia. Nutrition & Dietetics, 77(1), 121-130.
Speight, J. (2016). Behavioral innovation is key to improving the health of one million Australians living with type 2 diabetes. Health promotion assignment Medical Journal of Australia, 205(4), 149-151.
St. Thomas University. (2020). What's So Important About Community Health Nursing? Retrieved from St. Thomas University Online: https://online.stu.edu/articles/nursing/whats-important-community-health-nursing.aspx
Warren, R., Carlisle, K., Mihala, G., & Scuffham, P. (2018). Effects of telemonitoring on glycaemic control and healthcare costs in type 2 diabetes: a randomized controlled trial. Journal of telemedicine and telecare, 24(9), 586-595.