Global marketing assignment: Environmental Analysis of Beech worth Honey
Question
Task: You are required prepare a detailed global marketing assignmentand conduct an environmental analysis on US market to evaluate the potential opportunities and/or threats that may influence the entry ofBeechworth Honey into US market. Environmental factors to be analysed may include economic, financial, political, legal, social, cultural, technological and other contemporary factors. If an environmental factor does not have an impact on companies international marketing decisions, it is irrelevant and, therefore, should not be included in this report.
Answer
Introduction
Beechworth Honey is a very reputed and age-old established brand selected in the present context of global marketing assignment that deals in Honey.Its presence is widespread in Australia. The brand came into being in the year 1880. The brand has its roots in northeast Victoria. It is known to be Australia's best – loved brands. Steven and Jodie Goldsworthy bought bees in the year 1992 and coined the brand Beechworth Honey. Jodie's great grandfather, Benjamin Robinson and her great grandfather were all in this business.It has a legacy of 130 years and counting (Beechworth Honey, 2020).
The core value system is that it deals into 100% Australian grown honey products. They are very passionate people who are into this business since 4 generations and are very vocal and instrumental in spreading the importance of food production via pollination from honeybees. Their belief is to run the family business with integrity, honesty, sustainability, and longevity and with fairness. They believe in being mutually rewarding arrangement for the beekeeping families whose honey they market (Beechworth Honey, 2020).
Australian Bureau of Agricultural and Resource Economics and Sciences (ABARES) observed that from 2004-2014 there have been a decline in beehive numbers and beekeepers by 25% in last 10 years. Therefore, the agricultural produce largely lies in the hands of 1400 beekeeping families and these families must be preserved (Sedik, et. al., 2018).
The brand now aims to expand in bigger economies like the USA. For that purpose, it now assumes to undertake analysis covering all the factors such as – Political, Economic, Social, Technological, Environmental, Legal etc. ?
ENVIRONMENTAL FACTORS ANALYSIS
For Beechworth Honey to venture out into the new market of the USA, which is the main argument of this global marketing assignment, it has to undergo detailed analysis with respect to the following major factors that will decide the fate of the brand in the untouched virgin market of the USA for Beechworth Honey.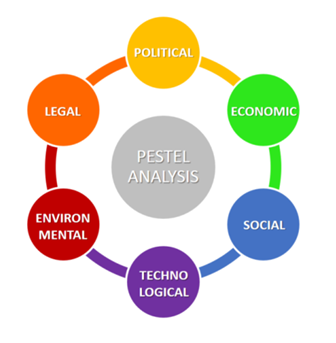 Pestle Analysis
Source: Businesstoyou (2020)
Political Factors:
Political factors undertaken in the global marketing assignment are very crucial and integral to any business. They form the core basis for strategic decision for Beechworth Honey. There are various political factors that affect international trade. Political factors that affectthe trade are government actions, policies and tax rates. Major factor that affects is the foreign trade regulations.It also calls for a need to examine the sustenance of F&B (Food and Beverage) sector and political stability ofthe economy. Need to figure out about product labelling and other requirements in honey business. Also includes industrial safety regulations as to, mandatory employee benefits, work week regulations, wage legislation and wages for workers doing overtime too. The prevailing Tax Rates and Incentives in the country are to be considered too. Pricing regulations need to be checked too if there are any pricing regulatory mechanisms in place for honey trade to flow smoothly between two countries. To also check for any antitrust laws or favoured trading partners that might operate in the country. Trade regulations and tariffs related to honey business for an Australian company to venture into US markets. To enforce contracts, need to scrutinize the legal framework and assess how to protect intellectual property rights. Beechworth Honey needs to find out about bureaucracy and government interference in the sector of Honey.Also, to inspect the level of corruption especially at the level of regulation of the business once they start operating. Last but not the least, need to assess the risk of military invasion if any in the future once the operations have begun in the country.The USA is the second largest democracy in the world. Hence, requires an extensive analysis of every detail (Amuna, Al Shobakiand Abu-Naser, 2017).
Economic Factors:
Economic factors refer to that part of the system which deals with aspects of economicsof the hosting country. Numerous economic factors are budget allocation, distribution of income among the population etc, these are the factors which impact business functioning.To forecast the growth trajectory of the business as well as the brand (Beechworth Honey), the aspects of economics are to be considered as well. The aspects are rate of unemployment, inflation, and interest in the country, stage of business cycle US is in,whether it is prosperity, recession, or recovery and economic growth rate. Labour costs and productivity in the economy are also to be found out. Then, the existing education level in the economy is also to be studied. Skill level of the workforce that they are going to hire in the future is something to be taken into account to. Need to pen down the comparative advantages of the host country in F&B sector. The quality of Infrastructure in F&B sector in the host country is to see. Another noteworthy factor outlined in this section of global marketing assignment is that of an efficient supply chain management. Providing human resources, raw materials, technology etc falls in the domain of the suppliers. There are not one but multiple suppliers for the said purposeof procurement in international business firms as they operate on a humongous large scale.That's exactly why business houses are known to have contacts of various suppliers in order to reduce their expenditures.What is the efficiency of the financial markets with regards to raising capital,if required in the hosting country of Beechworth Honey?From a long-term perspective, need to find out the exchange rates and the stability of Dollars in the US. The level of government intervention in the food markets is something to be detailed upon. Other important factor could be that of Purchasing Power of people or end consumer at large that determines the demand of various products or services (Kotabeand Helsen, 2020).
Social Factors:
Social factors have an important impact as the society's way of doing things largely affects their living patterns and lifestylechoices; it also decides their buying behaviour (De Mooij, 2018). The above set of beliefs form the culture of an organisation. Apart from this, various factorsaffect the consumer behaviour in purchases. They areeconomic status, level of ignorance or awareness, their beliefs, attitudes, education,trends of people at large assist Beechworth Honey in understanding the customers.It will help them in designing the marketing strategy and message for their industry consumers.The company needs to figure out Health and environmental consciousness and general attitudes and also the leisure interests of population of the US (Kasemsap,2018). Some societies boost entrepreneurship while some do not. Hence, studying the entrepreneurial spirit gives the broader nature of the society. Some aspects for careful inspection are structures of hierarchy, power and class.For Beechworth Honey it is also important to study the general culture of the society about gender roles and social conventions etc. As discussed, social environment and cultural factors like demographics, level of skill of population differ from one country to another thereby impacting international business. It is important to study the level of education in the country.Lifestyle, Customs, values and beliefs are points to be studied elaborately (Ratten, 2017).
Moreover, let us discuss about one more important aspect of Customers within this global marketing assignment. Customers are a crucial factor and an inseparable part of any business that has assumed significant importance in the 21st century. That impacts the smooth running of business operations. Business firms in current times can neither overlook nor neglect the preferences of their customers. No business can successfully run without fulfilment of needs and wants of customers or by simply neglecting the customers' needs and wants. Therefore, it's imperative to seriously look into what a customer's actual demands are. The secret is to gain the feedback of their customers to decipher about their opinions of goods and services (Greenand Keegan, 2019).
Technological Factors:
Technological changes have a far reaching and irreversible impact in the functioning of a business both positively as well as negatively.Technological advancement brings with it many advantages in the form of automated work processes that make functioning smooth. With the advent of technology, many existing industries are found disrupted and dishevelled.Moreover, technological advancements also are known to intimidate the existing patterns of demands of products and services.A firm like Beechworth Honey must invest into investigating the technology and also the repercussions it has over the industry. If the rate at which the technology is changing the face of industry is slow, then this gives the firm more time to cope and mitigate its effects. If sadly, the rate of technological changes is fast then the firm has very little time to address the situation. Hence, downfall becomes likely.Factors of Technology include understanding its impact on the value chain structure in Honey Sector and the rate at which the technology is diffusing in the industry. Need to study the impact of cost structure in honey industry of the US markets. It is also vital to study the technological impact on the product offering and its acceptance by the masses. Most importantly, Beechowrth Honey needs to study the technological advancements of their competitors in the host market (Sniderman, et. al, 2018).
Environmental Factors:
Different environmental factorsrelevant to the case scenario of global marketing assignment are Weather and climate change of the country, attitudes towards and support for renewable energy. Businesses are rampantly considering external environment factor of environment awareness that is rapidly increasing. The venturing company needs to explore the endangered species that might be affected once Beechworth Honey commences their operations in the US markets. In an industry like Honey, it is imperative that they study the laws and the general ways and means of handling honeybees that the host country has. Since their product (Honey) requires them to be dealing with honeybees and the ways around them, it's best if they know that they are not endangering them in any way.The company needs to know the attitudes of people towards "green" or ecological products. Another question is to know the waste management in the sector and recycling of by-products. Major question pops up is air and water pollution regulations in the hosting country since it are about honey and its dealing.The demand for goods and services are affected by the new move towards environment friendly products. Availability of substitute products is a threat to the business firm these days. Pricing that a company adopts for goods and services is determined by the presence of substitute goods. Also, need to know laws regulating environment pollution. A large portion of agricultural produce is fostered by pollination by Honeybees so the environmental guidelines should be conducive to this entire process of honey making (Khanand Khan, 2018). Consumers enjoy their bargaining power based on a number of factors. It includes cost of switching to other competitor, purchase amount, total number of buyers and business houses that are operating at a given time.The profitability of Beechworth Honey in the new market of the US has a chance to be impacted by different environmental standards or norms. For that matter, in the same country you can find different states that have different liability and environmental laws. Hence, the entering company has to be watchful and mindful of the prevailing regulations in the host country (Khosraviand Jha-Thakur, 2019).
Legal Factors:
Legal factors identified in the present segment of global marketing assignment are the factors that constitute the legal environment of the hosting country. International business houses are compelled to abide by the different laws that are prevailing in different countries. In a general scenario, there are a myriad number of legalities involved upon entering a new market. Even in another city, the legalities change, here Beechworth Honey is planning to expand to another country of the US altogether. Hence, it is bound to have countless new laws and rules that they need to be aware of and factor before taking the plunge. Some of the legal factors they can consider are of international lending agencies, employment, wages and environment laws and age and disability factors. Furthermore, it is also stated in the global marketing assignment that anti-trust law, law of discrimination, law of patents/ intellectual property, copyright affect the working of business. Various laws on cyber security, protection of data, health and safety, e-commerce, consumer protection, law of employment affect the food and beverage sector. Also, they affect the legal culture and working policies of business firm (Chenand Cheng, 2019).
What Are The Other Contemporary Factorsdiscussed In This Global Marketing Assignment?
Porter 5 Forces Analysis
This analysis is sought after tool for probing the competitive position of a company.There arecountless number of factors that have known to affect and influence the ratio of profitability of a business. They are enlisted as, presence and total count of available customers and suppliers, the number of substitute products, probability of new players entering the market and competitive edge among business rivals etc. The profitability of business organisation is affected by all these factors (Lüttgensand Diener, 2016). The strengths and weaknesses of a business are well determined and understood by Porter 5 force presented in the global marketing assignment. Also, these competitive forces assist in scrutinizing and coining corporate strategies for businesses (Pervan, Curakand PavicKramaric, 2018).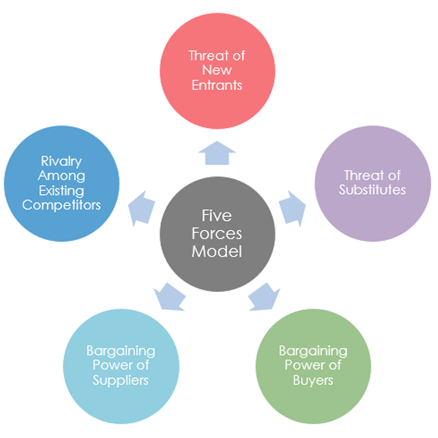 Porter's Five Forces Model
Source: Kumar (2019)
Competitors Affecting Business:
As per the concept of global marketing assignment, Beechworth Honey has to examine the aspect of competitors before stepping in another country. There are a number of competitive factors that pressurize the working of a company. With a huge number of competitors in the market come large number of initiativesalong with them that they undertake that directly influences the working of the company. Market share already in possession by the competition affects the profitability of business firm.Therefore, it becomes imperative for businesses to keep offering variegated product basket to make the distinguished and to gain larger market share.Either by reduction in prices or bringing variation in the products can aim to acquire a larger market share (Chenand Cheng, 2019).
Internal Factors Affecting:
Internal factors that are those factors that iswell within the control and periphery of the company. These internal factors can be classified into visible and invisible factors of organisation. Thesehappen to influence the strengths, weaknesses, opportunities and threats of the company. Those internal factors are provided in the following section of global marketing assignment:
Innovation Capabilities- are those capabilities that talk about the company's ability to keep introducing and bringing in new ideas into the business. It becomes all the more necessary when venturing into a whole new market / country (Zhu,Mouand Benyoucef, 2019).
Financial Resources- Financial resources relate to the aspect wherein there is an involvement of funds. Funds availability as well all knows is very pivotal for the company to carry out various business operations. The capital is required to boost the growth and helps in securing the top position in the competitive market.
Human Resources-It is very important for an organisation to have with it a team of hard working and efficient staff members that attach themselves with the ultimate goal of the company. They cooperate and work towards achieving competitive position in the industry. It's a tough job to identify such efficient and loyal workers who become one with the Company's Vision and Mission (Baenaand Cervino, 2012).
Conclusion
Since 1880, Beechworth Honey is a well-established brand based in Northeast Victoria. It has been handled by Benjamin Robinson and his forefathers. It is a household name as a Honey producer for 130 years. They are into this business since four generations and are very ethical in their practices. They are very passionate about their business and whole process of honey making. In fact, they are also keen on preserving not only honeybees but also beekeepers' families as well. They understand that major agricultural prosperity that comes to their country comes from the act of pollination done by Honeybees. Hence, is all the more important and crucial to safeguard the whole process and bee habitat for the larger good of the mankind?
From the above discussion on global marketing assignment, it can be concluded that apart from preserving bee habitat, they also now intend to expand into a whole new territory of a new country altogether. A country with the second largest democracy and the largest economy in the world is US. Therefore, it embarks on a new journey to explore their markets thoroughly and scrupulously. They explore the Environmental Factors such as Political, Economic, Social, Technological, Legal etc. They run the in - deep scans of their policies and rules and protocols to make their venture mistake- proof before they set foot in their markets. In crux, the well-established and a steady brand as Beechworth Honey is, they can easily derive a way out on how to navigate their sails in the US markets and can successfully take that plunge.
References
Abu Amuna, Y.M., Al Shobaki, M.J. and Abu-Naser, S.S., 2017. Strategic environmental scanning: an approach for crises management. International Journal of Information Technology and Electrical Engineering.6 (3). Baena, V. and Cervino, J., 2012. International franchise expansion of service chains: insights from the Spanish market. Global marketing assignmentThe Service Industries Journal, 32(7), pp.1121-1136.
Beechworth Honey. 2020. Our Story. Retrieved from https://www.beechworthhoney.com.au/our-story/
Businesstoyou. 2020. Pestle analysis. Retrieved from https://www.business-to-you.com/scanning-the-environment-pestel-analysis/
Chen, Y.G. and Cheng, J.N., 2019.A study investigating teachers'competitiveness-michael porter's five forces model as theoretical basis. Academy of Educational Leadership Journal, 23(2), pp.1-18.
De Mooij, M., 2018. Global marketing and advertising: Understanding cultural paradoxes. SAGE Publications Limited.
Green, M.C. and Keegan, W.J., 2019. Global Marketing. Pearson.
Kasemsap, K., 2018. The roles of social media marketing and brand management in global marketing. In Social media marketing: Breakthroughs in research and practice (pp. 425-453). IGI Global.
Khan, N. and Khan, W., 2018. Review of past literature of honey beekeeping and its production in rural area of the world. Food Science and Quality Management, 74, pp.18-23.
Khosravi, F. and Jha-Thakur, U., 2019.Managing uncertainties through scenario analysis in strategic environmental assessment. Journal of Environmental Planning and Management, 62(6), pp.979-1000.
Kotabe, M.M. and Helsen, K., 2020. Global marketing management.John Wiley & Sons. Kumar, S. 2019. Porter's Five forces analysis. Retrieved from https://medium.com/product-gyaan/porters-five-forces-analysis-868945aa5846
Lüttgens, D. and Diener, K., 2016. Business model patterns used as a tool for creating (new) innovative business models. Journal of Business Models, 4(3).
Pervan, M., Curak, M. and PavicKramaric, T., 2018.The influence of industry characteristics and dynamic capabilities on firms' profitability. Global marketing assignmentInternational Journal of Financial Studies, 6(1), p.4.
Ratten, V., 2017.Gender entrepreneurship and global marketing. Journal of global marketing, 30(3), pp.114-121.
Šedík, P., Zagula, G., Ivanišová, E., K?azovická, V., Horská, E. and Ka?ániová, M., 2018. Nutrition marketing of honey: chemical, microbiological, antioxidant and antimicrobial profile. Potravinarstvo, 12(1).
Sniderman, J.K., Matley, K.A., Haberle, S.G. and Cantrill, D.J., 2018. Pollen analysis of Australian honey. PloS one, 13(5), p.e0197545.
Zhu, W., Mou, J. and Benyoucef, M., 2019. Exploring purchase intention in cross-border E-commerce: A three stage model. Journal of Retailing and Consumer Services, 51, pp.320-330.