Food And Beverage Management Assignment: Critical Analysis And Evolution
Question
Task: Write a report (format guidance over page) which includes your discussion as above and includes recommendations of the procedures that require implementation to rectify the issues above. 3000 word count (+/- 10%) not including references and appendices.
Discuss the objectives of the food and beverage control system and relevant procedures. Utilising your knowledge of food and beverage control systems theory and hospitality legislation, the course textbook and supplied workbooks, other academic writings, legislation websites, reflect on observations in the case study below.
Deduce with reference to the observations, which control and total customer management procedures are lacking and discuss how these areas would be best controlled using best practice systems and procedures.
Utilise your knowledge of relevant food and beverage legislation and describe areas where the establishment may be working outside the law and discuss how they would right any areas of concern to meet compliance. Ensuring you discuss any operational issues that may arise from compliance.
Provide six (6) examples of relevant control documents and provide a template of each in the Appendices, and cross reference into your discussion as appropriate.
The objectives of food and beverage control are to:
Analyse income and expenditure.
Establish and maintain standards.
Establish appropriate pricing strategies.
Prevent waste and fraud.
Meet legislative requirements.
Provide accurate information to provide management with a clear picture of how the business is performing.
CASE STUDY:
Players on Madras Background information
Players is a restaurant/café bar located on Madras St. It is seeking to attract an affluent, upmarket clientele. The business was launched at the end of September last year.
The café is owned by a well-known New Zealand rugby player who has retired from professional sport following a long, successful career. He and his partner have travelled extensively and enjoyed dining in some of the world's top restaurants including El Celler de Can Roca (Girona, Spain), Dinner by Heston Blumenthal (London & Melbourne) and Eneko at One Aldwych (London). The couple love to socialise and whilst they have no experience of managing a hospitality business, think a restaurant will provide a great platform for their busy social life.
A 24 year-old restaurant manager has been employed to set up and implement the restaurant's systems and to "take care of the day-to-day stuff". The outgoings of the business have been exceeding income since opening by approximately $15 000 per month.
The décor is based around a rugby theme. Framed, autographed rugby memorabilia and two large screen TVs dominate the walls. The average price of entrées and desserts is $20.00, whilst mains range between $35.00 and $50.00 per portion. The average price of an alcoholic beverage is $15.00; a flat white coffee costs $5.50.
When the business first opened customers appeared eager to embrace the new business. A lavish champagne and celebrity launch was well attended. People also booked for dinner and pre- Christmas functions. Players was very quiet during January and business has not picked up since.
Observations
You are an experienced consultant contracted by the owners to investigate why the business is failing.
You spend two days observing the Players operation and notice the following:
The restaurant manager has put together an operations manual but it is incomplete. There are no Work Instructions for processes such as opening and closing the restaurant. Staff appear unaware that an operations manual exists.
The staff like their own Hip Hop, Electro and Rap music, which they play on the sound system for most of the day.
The quality and appearance of meals served has been variable and there have been numerous complaints. Meals have been supplied free of charge together with complementary beverages to rectify customer dissatisfaction.
Kitchen and restaurant staff lounge around in the restaurant during their breaks. They read the newspapers and magazines supplied for the customers and gossip. The restaurant manager allows staff to buy drinks and socialise in the bar area after hours and during their off shifts. When the owners drop in to check "how things are going", they also sit with the staff providing them with free drinks.
The owners dine with a group of friends – the restaurant manager says this happens "all the time and often override any attempts to cut alcohol service to their intoxicated friends". They also take stock from the bar to supply parties at home.
Food and beverage products run out during busy times so there are frequent, stressful trips to the supermarket to "top up". Wastage is high; food that has been bought and prepared for a range of unpopular menu items is frequently thrown away.
The owners insist their teenaged daughter is employed in the business because "she needs to learn that money doesn't grow on trees". She has little interest in hospitality. One of the wait staff comments, "She doesn't need money because her parents give her whatever she wants".
Wage costs are high in relation to sales. You notice staff at times standing around looking bored with nothing to do.
Mortgage repayments on the building amount to $5000.00 per week.
One of the waiters comes to work with their hair dyed purple. When the restaurant manager challenges him about it, he swears and says it's his hair and he can do what he likes with it. He also comments that the manager never mentioned hair colour when he started the job.
The restaurant manager does not hold team meetings because he says he can never get all the staff together. He believes in on-job training and delegates this responsibility to the more experienced waiters without checking up on how things are going.
Dirty mops and cloths are left behind the bar and around the espresso machine where they are clearly visible to customers.
Their dress standard is not enforced so staff wear whatever they want. You observed the owner's daughter wearing tight black trousers and a cropped, low-cut top that exposed her naval piercing, tattoo and fuchsia coloured underwear.
There is a pile of CVs sitting beside the cash register.
Food containers are unmarked and uncovered in fridges and some items stored in used chemical containers. On questioning the chef about this, he says the containers have been washed out thoroughly.
There are no signs displayed regarding health and safety, hygiene, non-smoking, liquor licence, certificate of registration, prohibited persons.
The café employs an experienced barista. Feedback on the quality of coffees is good while this barista is on duty; however, there are complaints about coffee quality when she is not there.
There have been no formal stocktakes undertaken since the café opened.
The restaurant manager and chef share a small office, which appears cluttered and untidy, personal information relating to staff is clearly visible for anyone to read.
Staff are allowed after work drinks and staff meals. They choose whatever they want from the menu.
Wine sold by the glass is portioned inconsistently.
Answer
Executive Summary
The prevailing study developed in this food and beverage management assignment aims to conduct critical analysis and evaluation on Food and Beverage management, control procedures and relevant procedures. It considers fulfilling objectives related with establishing proper standards, suitable pricing strategies, and prevention of food wastage while meeting the legislative requirements. By considering the overall case scenario of food and beverage management assignment, the Player restaurant outperformed in its initial phases, but after some time it faced a lot of issues such as incomplete operations, customer complaints over food quality, higher cost of wages in comparison to sales, higher food wastage, irresponsible staff, and no standards for health and safety, as well as quality. Therefore, the study shows that, it is the responsibility of restaurant to set up specific standards to maintain proper quality, and effectively control and manage their staff do that they does not take their work for granted. It is also the duty of manager and owner to comply with the related legislative requirements in order to run their operations seamlessly.
Introduction
The report on food and beverage management assignment sheds light on the various aspects of food and beverage management which is completely accountable for the routine operations of the restaurant. The main duties are inclusive of developing unique menu, addressing customer complaints effectively, creating and following proper company policies and having appropriate compliance towards food, health and safety regulations (Davis and et.al. 2018). In respect with the given case, it can be stated that Players Restaurant has been lately subjected to a variety of issues associated with management, controlling and operations. It has seen that company is not is a state to maintain proper standards; it is because it has not even set up guidelines that would help employees in following their duties responsibly. In this way, the present study is based on food and beverage management system, strategies and approaches which would offer precise and clear information to restaurant in performing their operations optimally. The study examined in the food and beverage management assignment will discuss about the objectives of food and beverage control system and relevant procedures, as well as assessing which control and total management process are lacking in the cited company. On the basis of observations, best practices and procedures would be provided to overcome with the deficit areas. The present food and beverage management assignment has the major purpose of helping Players in managing their food and beverage system and management in a strategic way, while supporting them to comply with the concerned areas. It follows an appropriate structure i.e. discussing objectives, defining control system that lacks in business, rectification of issues and compliance that the business is required to consider.
Discussion
Food and beverage control system objectives
The core objectives of the food as well as beverage control system outlined in the context of this food and beverage management assignment are provided as below:
Analyzing optimal income and expenditure:
It is significant to retain a clear picture of financial plan, income as well as expenditure; it is because it helps in knowing how much profits are made and realizing the areas where the business needs to stop spending (Ranalli, Adldinger, & Leder, 2018). 
Establishing and maintaining standards:
It is vital to adopt service standards that assist in establishing interaction between consumer and business. Customer prefers to retain a level of friendliness and unique services which matches their needs and expectations, so restaurant must act in the similar way by setting up expected standards (Weigelt, Forster, & Bosecke, 2015).
Setting suitable pricing strategies:
Establishing competitive pricing strategies helps in gaining best competitive advantage, while attracting and retaining customers to a highest extent. This strategy discussed in the segments of food and beverage management assignment helps in improvising overall profitability. Balancing menu is decisive so that the low and high cost food items operate altogether to assist reaching in target food cost.
Prevention of fraud and wastage:
For the restaurant it is essential for them to prevent wastage by keeping better track of stocks. The thriving strategy of restaurant revolves around two key aspects which are waste reduction and ordering tactics (Thaiand et.al. 2018).
Complying with legislative requirements:
It is very important to ensure compliance towards all corporate rules in applicable areas. In order to match the purpose of business compliance is necessary, and allowing them to prepare the food safely, with maintaining cleanliness and keeping the same in a good condition.
Providing correct information so that management gets a clear picture on the performance of business:
Proper information flow must be there so that employees are aware of their duties, it also helps in keeping the business activities synchronized while improvising communication and collaboration as a whole (Dopson, & Hayes, 2015). 
The lack of control and total customer management procedures in Players restaurant
In regards with the case explored in this food and beverage management assignment, it can be stated that there are various procedure related to control and customer management that are not effectively controlled. It has been seen that the restaurant manager has tied up an operation manual, however it is not complete in itself. In addition to this, there is non-existence of work instruction for procedures like when to open and close the restaurant. It has also been evidenced that staff is totally not aware of the presence of operations manual. Further, the company is in a state of sales and profitability reduction due to customer dissatisfaction, complaints and poor services. The main weak point is that restaurant has not responsible manager and staff members, and by considering the same, there is variability in meal quality. The staffs was not properly controlled, due to which they are enjoying full independence and with this they are not maintaining ideal standards, such as unhygienic, untidy restaurant areas and many more. There was increment in the wastage, plus the food and beverages were running out of stock, then after the staff members make stressful trips to the supermarket to stock the restaurant. Along with this, the food was wasted by preparing unpopular menu items, which was thereby unbalancing the overall tasks and activities. The restaurant was also undergoing from declining sales but increasing costs of wages. It was all ignored by the manager and the restaurant was suffering. Even the staffs were not maintaining a proper dress code; they were seen as dying their hair and wearing inappropriate clothes. Regardless of everything, the main responsibilities of maintaining, quality, health, safety and standards were not fulfilled by the restaurant team members. These issues combined up and are adversely impacting the customer base, sales, profits, proficiency and performance.
Control and total customer care management procedures that were not present in the Players restaurant are enumerated as below:
Irresponsible and unqualified workers: All through the case examined in the food and beverage management assignment, it has been seen that the main negative role is played by the staff members. Irresponsible employees can create a direct impact over the productivity as well as the bottom line (Guchait, Pa?amehmeto?lu, & Lanza-Abbott, 2015). Employees who shrink their duties and are dependent on other staff to do their work can deteriorate the workforce morale. The employees in the given case are not delegated with responsibilities which match their competencies, and they are not guided by the manager which is resulting into their misconduct and unacceptable behaviour. However, the readings used to prepare this food and beverage management assignment illustrates that it is not only the fault of employees, but also of the restaurant and managers of not providing them with needed information, guidelines, training, policies and procedures.
Health and safety: Company has no signs reflected in regards with health and safety, non-smoking, certificate of registration, hygiene, prohibited persons and liquor licence. It is a serious matter, and this can in future be troublesome for the restaurant and force it to shut down.
Reporting: In the restaurants, the chefs are making food from the most unpopular food item which thereby leads into wastage. Most of the chefs work from the memory in the absence of a understandable recipe and or have deficient recipes that they do not pursue (Canziani and et.al. 2016).
Guidelines and information flow: No information and guidelines are provided to staff on conducting their tasks and duties. They are taking advantage of the freedom provided by restaurant and are considering self-benefit rather than collective benefit.
Stock control and purchasing: The restaurant has not maintained a stock record, and by the same they face problems in terms of controlling it. As they run short when there are busy time, by overusing the stock for unpopular food which lastly end up wasted.
Control and total customer care management procedures to be implemented
A food and beverage control system is a mechanism of automating the most effective exercise in restaurant. Furthermore, it provides managers a clear picture of the food flow throughout the restaurant, allowing them to prepare cash flow as well as control stock on an effective basis. Most importantly, it offers chefs with highly structured means of planning menus, considering quality and financial aspects. The restaurant is required to follow the below provided control and customer care procedures:
Recipe management: It is essential to engage codification of recipe that will help restaurant in managing their ingredients optimally, while establishing standard assumptions meant for wastages. This will thus help in pricing their food on an accurate basis. If the restaurant is able to recognize exactly what a foot item cost, then they would be accurately able to price the same, and undercutting the competition, at the same time creating a quantifiable profit (Giboreau, 2017).
Reporting: It is considered as a core asset in any of the food controlling system. The restaurant must focus on offering pre-configured reports, and the ideal system will help them in customizing reports to match their specified requirements. Additionally, it is also noted in this report on food and beverage management assignment that reporting can be implemented to do analysis of the history of supplier, or to look out the volatility of the price of an ingredient has oven over the last few months. Further uses of reporting mechanisms are inclusive finding their best performance, considering best margin menu items, and making use of analysis to evaluate the impact of changes in cost to a concerned menu item (Noone & Maier, 2015).
Control inventory and purchasing: The control and management of inventory would be engaged with keeping best track of raw and processed items to plan entire purchasing process, while interpreting food costs and avoiding wastage as much as possible (Gordon, & Brezinski, 2016). F&B control system provides restaurant with the chance to inventory their food and form proper purchase order so that they can manage sound flows.
Information and guideline management: One of the most significant aspects for the restaurant mentioned in this segment of food and beverage management assignment is to provide information and guideline to all staff members. It is essential for the Player restaurant to engage a restaurant operation manual which is a list of tasks that are vital for the success of restaurant business. It is a guide to employee on doing their tasks, and all the responsibilities and function are listed in it (Noe and et.al. 2017). It will be a detailed collection of checklists, responsibilities and checklists and all information that each employee needs to know. Further, it will be a reference guide for employees, which will include their dress code,and some rules they need to adhere with (Hurst, Nettles, & Griffith, 2018).
Relevant food and beverage legislation
Food and Beverage Legislation pertains to the safety and distribution laws meant for the food and beverage industry. Therefore, the research on food and beverage management assignment signifies that Players restaurant is liable to make sure that their products are cautiously regulated, manufactured safely, and are labelled accurately. There are several legal requirements applicable to restaurants, as it is critical for the government authorities to assure that the customers are offered with safe food products that do not harm their health. Both internal and external food and beverage legislative requirements are required to be satisfied by the restaurants under any circumstances to ensure that are serving customer with quality and maintaining health and safety.
What are the internal food and beverage legislative requirements discussed in the case scenario of food and beverage management assignment?
It is necessary for the restaurant business to acquire a license of operations, with maintaining documents and certificates simultaneously. This is needed by the legislatives
Accounting and reporting standards: It is vital for the restaurant to maintain full and complete accounting standards, with preparing a statement for safety policies. It is also required by the business to keep track of regular sales and expenditures done through a log (Christ, & Burritt, 2017).
Preparing annual reports: New Zealand government keeps it mandatory for the restaurants to maintain annual reports, so that they can keep record of their activities and review whether they are conducting their activities in a sustainable manner or not. The restaurants are required to disclose information in their annual reports so that governments can know if they are not meeting regulatory requirements or not.
Auditing: A health and safety audit checklist must be implemented by the restaurant that assures that they are pursuing health department regulations. Further, this is inclusive of affixing documents requisite by law, for example corporate health and safety policies.
Emergency situations alert: It is the responsibility for a restaurant to have proper precautions at place, so that if any incident arises they can address or respond to them through proper planning and implementation (Schroeder, Clark, & Cathey, 2019). 
External food and beverage legislative requirement
The Ministry for Primary Industries (MPI) as well as Food Standards Australia New Zealand (FSANZ) are totally accountable for both food safety and standards in NZ.
Food safety legislation: The Food Act 2014 examined in the context of this food and beverage management assignment is the main legislation for governing food safety within NZ. It considers a reasonable approach towards food safety, if a restaurant make or sell food items, and then they are required to be registered. There are some mandatory acts to be complied by restaurants namely; The Agricultural Compounds and Veterinary Medicines Act 1997, the Animal Products Act 1999 and the Wine Act 2003 (New Zealand Food Safety, 2019). By considering the case of Players, it is not mentioned by the restaurant that they following any of these and through their operations it is evidenced that they have no sign of health and safety. Thus, it is noted in this food and beverage management assignment that if they would remain in such careless state, then they would be definitely ceased by the NZ government. So, it recommended to them to comply with the provided acts and laws to
Health and Safety Legislations: The operating restaurants are required to make proper compliance towards Health and Safety at Work Act 2015 and Health and Safety at Work Regulations 2016. This legislative requirement is necessary to be applied so that the sold food items are prepared under proper hygiene and safety, and are healthy to be consumed (New Zealand Food Safety, 2019). These are also necessary to be implemented to ensure that the workplace has safe working conditions, machinery and equipment, so as to eliminate the chances of incidents.
Fair Labour Standard Act: For the restaurants in New Zealand, governmental authorities have enforced labour law rules which requires business to pay federal minimum wages, pay according to hours, prevent child labour and engage safety at every stage (New Zealand Legislation, 2019).
Violation can be extremely dangerous and expensive, most of the regulations for the food restaurants carry considerable fines and penalties for non-compliance and failure towards following procedures in restaurant can even results into injuries. In the Player's restaurant case of food and beverage management assignment, managers and owner are not staying current with laws that are applicable to restaurants and are thereby placing themselves, their employees and end consumers at risk. If they will follow this irresponsible process, then this can lead to business termination, license revoke etc.
Conclusion
On the basis of above analysis done in this food and beverage management assignment, it can be concluded that Players restaurant was initially doing well at running its business. However, it overlooked the establishment of proper guidelines, information management, staff and stock controlling which resulted in a drastic fall in its sales and overall profitability. The customers were coming up with numerous complaints because of the quality provided. Therefore, restaurant customer service is one of the major aspects that decide the overall restaurant success. There are several reasons by which consumer are not willing to return and one of them is poor customer service, control and management. In this way, the restaurant is required to follow the above provided food control and customer care management system to rectify their issues. They must also follow the provided internal and external laws and legislations to run their operations in a hassle-free and smooth manner.
Recommendations
In order to rectify the issues obtained in this food and beverage management assignment, it is recommended to the Players restaurant to take immediate disciplinary actions and impose policy and procedure if the staffs conduct their responsibility in an ineffective manner. Failure of enforcing stabilized discipline can enable employee to believe that their irresponsible conduct is tolerated by the restaurant (Zanin and et.al. 2017). It is the waiters and servers who are in direct contact with the consumers. Therefore training them effectively would be the first step of manager or owner towards making sure that their restaurant customer services stays as the best. In addition to this, the manager is required to conduct their responsibility of opening and closing the restaurant, purchasing food and beverages, training and managing the staff, dealing with suppliers, opening the cash register, monitoring stock and addressing other miscellaneous obligations. Since, it is seen that there is no indication of health and safety, hygiene, so it makes a large call to involve proper standards for the same, so that customer's health is not compromised and they are assured with maximum amount of safety. This could be done through by safely handling food with cleanliness and hygiene, preventing contamination, preparing fresh and healthy food items with obeying with related food and safety standards and regulations (Cousins and et.al. 2019). The Players restaurant is further required to comply with all the internal and external legislations, and ensure that they meeting food standards, health and safety legislations. They must keep themselves updated with all applicable laws and regulations and should obtain permits and license to operate. The findings obtained from the study examined in the food and beverage management assignment mentions that it is significant for the restaurant to assure employee cleanliness and safety at utmost level, it is because they are highly lacking in the same. The business must also assess considerable workplace risks and make proper arrangements accordingly to control them, while conducting health surveillance whenever necessary (Manning, 2018).
Reference List
Book and Journals
Canziani, B. F., Almanza, B., Frash Jr, R. E., McKeig, M. J., & Sullivan-Reid, C. (2016). Food and beverage management assignment Classifying restaurants to improve usability of restaurant research. International Journal of Contemporary Hospitality Management, 28(7), 1467-1483.
Christ, K. L., & Burritt, R. (2017). Material flow cost accounting for food waste in the restaurant industry. British Food Journal, 119(3), 600-612.
Cousins, J., Foskett, D., Graham, D., & Hollier, A. (2019). Beverage provision.
Davis, B., Lockwood, A., Alcott, P., & Pantelidis, I. S. (2018). Food and beverage management. Routledge.
Dopson, L. R., & Hayes, D. K. (2015). Food and beverage cost control. John Wiley & Sons.
Giboreau, A. (2017). Sensory and consumer research in culinary approaches to food. Current Opinion in Food Science, 15, 87-92.
Gordon, R. T., & Brezinski, M. H. (2016). Food and beverage management assignment The complete restaurant management guide. Routledge.
Guchait, P., Pa?amehmeto?lu, A., & Lanza-Abbott, J. (2015). The importance of error management culture in organizations: the impact on employee helping behaviors during service failures and recoveries in restaurants. Journal of Human Resources in Hospitality & Tourism, 14(1), 45-67.
Hurst, B. E., Nettles, M. R., & Griffith, B. W. (2018). U.S. Patent Application No. 16/011,765.
Manning, L. (2018). The value of food safety culture to the hospitality industry. Worldwide Hospitality and Tourism Themes, 10(3), 284-296.
Noe, R. A., Hollenbeck, J. R., Gerhart, B., & Wright, P. M. (2017). Food and beverage management assignment Human resource management: Gaining a competitive advantage. New York, NY: McGraw-Hill Education.
Noone, B. M., & Maier, T. A. (2015). Food and beverage management assignment A decision framework for restaurant revenue management. Journal of Revenue and Pricing Management, 14(4), 231-244.
Ranalli, M., Adldinger, M., & Leder, J. (2018). U.S. Patent No. 10,160,365. Washington, DC: U.S. Patent and Trademark Office.
Schroeder, R. G., Clark, M. W., & Cathey, J. M. (2019). Financial accounting theory and analysis: text and cases. John Wiley & Sons.
Thai, K., Davenport, D., Siu, E., Grassia, R., Marsh-Croft, A., & Subasekara, L. (2018). U.S. Patent Application No. 15/525,137.
Weigelt, K., Forster, M., & Bosecke, F. (2015). U.S. Patent Application No. 14/654,616.
Zanin, L. M., da Cunha, D. T., de Rosso, V. V., Capriles, V. D., & Stedefeldt, E. (2017). Knowledge, attitudes and practices of food handlers in food safety: An integrative review. Food Research International, 100, 53-62.
Online
New Zealand Food Safety, 2019. Retrieved from
New Zealand Food Safety, 2019. Food and beverage management assignment Retrieved from .
New Zealand Legislation, 2019.Retrieved from .
Appendices
Roles and responsibilities of individuals
| | |
| --- | --- |
| Roles and Responsibilities | Name of individual |
|   |   |
|   |   |
This will provide individuals with the overview of their delegated jobs and responsibilities, so that they can conduct the same with their due diligence and professionalism.
Comparison of budget and actual expenses
| | | | | |
| --- | --- | --- | --- | --- |
| Budgeted expense | Actual expense | Variation | Significance | Reasons for Variations |
|   |   |   |   |   |
This budget and expenditure comparison will help in understanding where and why the variation is made and what reasonable steps can be taken to ensure proper capital expenditure.
Matrix for monitoring
The matrix provided in this section of food and beverage management assignment is mainly prepared for monitoring activities by compiling all the significant operations to ensure everything is done properly.

Observations
These observation procedures will help in getting aware of reporting of corrective actions, whether they are favourable or unfavourable.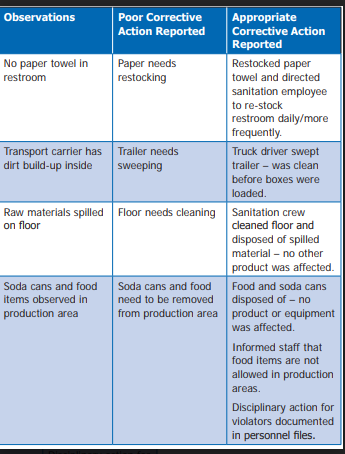 Checklists
| | | | |
| --- | --- | --- | --- |
| Activities planned | Starting time and date | Completed time and date | Signature of supervisor |
|   |   |   |   |
|   |   |   |   |
The checklists provided in this food and beverage management assignment include all the necessary activities along with the individual responsible for the same. This has been prepared to ensure all the tasks have been covered and the same has been allocated to the person.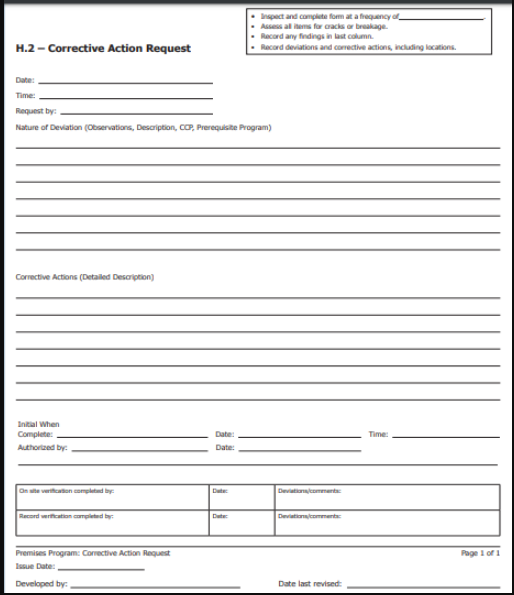 Quality reports and corrective action requests
By considering the disturbances identified within this food and beverage management assignment, corrective actions would be taken and the same will be recorded and approved by authorized person.