Financial Analysis Assignment: Case Analysis Of Nestle
Question
Task:
Write a report on financial analysis assignment evaluating the financial statement of Nestle Company. Make at least two pages ofFinancial Analysis and include ratios to tell the financial story of the company. Put all data and graphics into an Appendix. Be sure to not only compute ratios and report the numbers, but to also say what each ratio means for the company.
Answer
Introduction
The financial analysis assignment is based on the case analysis of Nestlé which is one of the leading Food processing company of the world which was established in the year 1866 by the Henry Nestlé in Switzerland. The company produces a large number of products. The organization is supplies its wide range of products all across the world. They mostly focus on the quality of the products and not on the quantity of the products. In this document, there is a brief description of the organization, its services, and products along with the various kinds of analysis that are risk analysis and investment analysis, and financial analysis. In the whole financial analysis assignment competitive position of Nestle is also described along with the valuation models used and the financial analysis.
Basic information
Nestle is referred to as the multinational conglomerate that is involved in health, nutrition, and wellness company. It is engaged in the manufacture, production, and supply of dairy products, medical food, ice cream, baby food, frozen food, confectionery, dairy products, snacks, etc. The headquarters of Nestle is located at Vevey in Switzerland. Paul Bulcke is the Chairman of the company and Ulf Mark Schneider is the CEO of Nestlé. The ticker symbol of Nestlé is NESN. The stocks are primarily traded on the SIX Swiss Exchange. The market capitalization of nestle is $343.783B and the current stock price is $109.76 and the analysts have forecasted a target stock price of $131.01. The recent consensus taken from the top investment analysts is buy the stocks in Nestlé SA. 29 brands of Nestlé fetches an annual turnover of more than US$ 1.1 billion. The company has 447 factories that have its operations in 189 countries all over the world and employs more than 339,000 people. It is having total revenue of CHF 91.43 billion. This organization has been ranked 64 in 2017 on fortune-global-500 & 33 in Forbes-global-2000 (Donze, 2020). This company is best known for its products because it is one of the largest suppliers of food products. The logo of this organization features a bird that is sitting on its nest. It was there to describe the family name in German that meant as "nest". At present, the organization owns approximately 2000 brands and is operated in 189 countries around the world. Nestle is also known for its strong development and research program and its market distribution of the products. This organization has faced various boycotts, criticism, and controversies, etc. it uses children as actors for the promotion of its food items and bottled water. The other business segment of Nestle is Nestle Skin Health, Nestle Health Scienceand Nespresso.
Business Description
Nestle's limited organization is a worldwide based company that operates in the food segment. The business of the company includes various product groups that involve confectionery, cooking aids, chocolates, beverages, prepared dishes, milk products, and nutrition, etc. its nutrition and milk products involve nestle neslac and nestle baby. Nestlé's beverages involve products of coffee like Nescafe Gold, Nescafe sunrise, Nescafe cappuccino, Nescafe, and Nescafe Classic. Organizations cooking aids and dishes products consist of Maggi sauce, Atta noodles, Maggie, Bhuna masala, oats noodles, Pasta, etc. it's confectionary and chocolate products involves KitKat, Munch, bar-one, Polo, eclairs, Arpino, etc. the organizational plants are located at Tahliwal, Bicholim, Pantnagar, Moga, nanjangud, Samalkha, Pondia, and Choladi, etc. Nestle company focuses on three main services. The first and main service they provide is food safety according to which safety and quality of food served should be good and every customer should be satisfied with it. Second is the Technical program services that include customer feedback, dispensing systems, customer care, etc. last is the quality of the beverages (Harris, 2020). The key drivers that have improved the growth and profitability of Nestle are the innovations cycles adopted by the company and the digital transformation that are gradually accepted. The sales produced by e-commerce gradually increased by +18% in FY 2018-19. Another major area that has helped in delivering efficiency is marketing and R&D. the company has initiated a lot of cost reduction techniques that have increased the operating profit margin from 16.0% in the year 2016 to almost 18.5% by the year 2020.
Industry Overview and Competitive Positioning
Nestle is having many consumer brands like nestling water, carnation, Stouffers, Nescafe, KitKat, etc. approximately thirty brands of nestle generates about one billion dollar revenue every year. 42% of the nestle sales are in America on the north side. This organization is one of the most diverse suppliers of beverage and foods and there are various competitors of it. Danone and Unilever are the two main important competitors of nestle. It is stated herein financial analysis assignment that according to the survey every year Unilever is having 26% of profit growth annually (Annual Report Nestle, 2019). Danone is having 32% of the profit growth every year. Nestle used to manage its place in the market via the adoption of the accounting method. The main work of nestle is to provide customer satisfaction and it focuses on many of its core competencies like nutrition and health. It always tries to make up on the tagline that is "Good-food-good-life". This organization aims to be one of the global suppliers of nutrition, wellness, and health. Nestle is having its Net R&D budget of approximately two billion dollars and this budget is to be invested in new food technologies for freeze-drying, chilling, and dehydrating.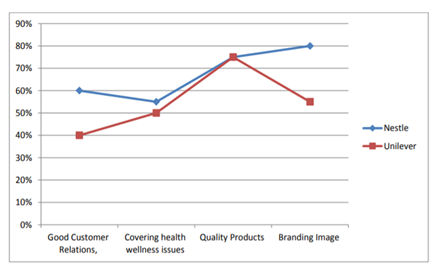 Figure 1: Competitive Strategies
(Source: S3.amazonaws, 2020)
The Porter 5 force model is a strategic tool that assists us to study the market in terms of the intensity of the competition by analyzing the five major competitive factors. These factors help to gauge the level of competition existing in the industry. The 5 forces are defined in the following segment of financial analysis assignment:
The threat of New Entrants – Nestle has been ruling in the food processing industry for more than a century now. New entrants require to capture a good portion of the market share of Nestle to survive. However, the brand name, history, product quality, and the customer satisfaction of Nestle has helped it to sustain in the market and has helped the company to capture a large portion of the global market share.
The threat of Substitute – Nestle has a high threat of substitute goods. A lot of the same range of products compete with Nestle continuously. Nestle is constantly focused on improving its products and provide sustainable products to its customers (Méndez, 2020).
Bargaining power of Suppliers – if the suppliers have high bargaining power, they can easily influence the price of the products. Nestle has a very good relationship with its suppliers. The company prefers to have a long term relationship with all its suppliers as a result of which they sell high-quality products at affordable prices.
Bargaining power of Buyers –Nestle is one of those companies that understand the requirements of its customers and society. It incorporates wellness and health in all its products as a result of which the customers are very happy with its products. Since buyers are price sensitive so Nestle has a pricing policy that helps to hold not only the existing customers but also creates a large number of new customers who are loyal to the brand.
Industry rivalry – Nestle is one of the leading names in the food processing industry. Although a lot of companies spend millions of dollars to compete with this brand, they fail to achieve the success and customer base that the company has already created through its years of service and quality of products (Chappelet, 2019). Nestle still focuses on the improvement of its products to stand strong amid this strong competition.
Nestle has invested CHF 1.7 billion in the year 2018 into R&D that has helped to strengthen the scientific foundation of the company. this has led to a breakthrough in science and technologies. The investments for the innovations in the products help to achieve high returns and helps to capture a greater part of the market.
Nestle has a large number of consumer brands out of which, 30 of the major brands which account for a revenue of more than $1 billion in a year. It is one of the diverse organizations in the global market that assists it in edging all its competitors. Most of its brands hold a large market share and are well established in developed countries like Europe and the US. Although companies Danone and Unilever are the biggest competitors of Nestle in the global market, yet Nestle through its competitive advantage manages to sustain in the market and win a large market share (Ahmed, 2018). the long-term strategies adopted by Nestle not only help it to achieve the organization's goals but also helps it to achieve success despite both external and internal threats in the global market.
Investment Summary
Nestle was founded in 1865 with its stock symbol of NESN. It supplies various food products, drinks, and confectionery products. With the experience of about 150 years, nestle organization has become one of the largest beverage and food manufacturers around the world with its generated annual revenue of CHF ninety billion. Its product portfolio consists of brands like Perrier, Purina, Nescafe, pure life, and Nestle (Eugénio, Rodrigues, & Gonçalves, 2020). They have done 81% of their investment in their food items and always try to meet the expectation of the people.

Figure 2: income statement
(Source: Annual Report Nestle, 2019)
Nestle organization has invested a total of equity capital of 96.42 crores every year (Annual Report Nestle, 2019). There is 81 field in which nestle is investing to make the quality of the food supplier up to mark. Sometimes the profits growth for this organization goes as positive but also sometimes it goes as negative.
Figure 3: revenue summary
(Source: Annual Report Nestle, 2019)
Therefore it can be said in this financial analysis assignment that nestle is investing a lot for its product consumers and making them satisfied with their supplies. Nestle is the largest company but its competitors are very strong but still nestle manages to be the best always with its supplies (Pražák, 2018).
Valuation
In this section of financial analysis assignment full valuation analysis for nestle,the organization will be done with the help of its conventional and metrics formulae. The valuation is done using some metrics and formulas.
Net worth is referred to as "net-asset-value", "book value", "and stockholders' equity" (Lee et. al, 2020). The formula used here is the total liabilities subtracted by the sum of assets. When someone is buying shares for any organization then those shares are used for the organization's future and organization net worth. When the organizational amount that is cash and net worth is growing then the organizational values also grow (Xu, 2019). The figure below shows the book value & share price. Due to some factors and recession, the price of book value is considered as low as compared to the share price.

Figure 4: Net Worth and Market Capitalization
(Source: Xu, 2019)
For valuation purposes, various valuation models are also used. Valuation simply means the estimation of something worth. Various valuation models are PE ration, discounted cash-flow, EPS growth, and Graham-number valuation.

Figure 5: Graham-number model for valuation
(Source: Xu, 2019)

Figure 6: PE ratio model for valuation
(Source: Xu, 2019)
A equity valuation model on the current price of September 25, is given below. However, implied EPS for 10 year forward rate is 17.74, risen drastically.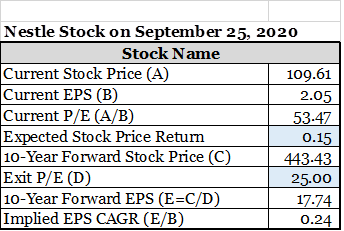 Figure 7: valuation model
(Kee et al., 2020)
Financial Analysis
It highlights the most important relation in financial statements. It focuses on evaluating nestle's past performance as profitability, liquidity, growth potentiality, and operational efficiency. Based on the survey nestle is having a very strong position interms of profitability and liquidity. It has good growth and having good management efficiency and is very reputed in the beverage and food industry (Kee et. al, 2020). Accordin to the research on financial analysis assignment, Nestle supplies about 6.9 billion dollar water bottles every year. It sells 16.7 billion dollars of ice-creams and milk products. 11.3 billion dollar confectionery product has been sold every year. In America, nestle sells 43% of its products, and in Asia, Africa, and Oceania. The current price of the market of nestle is 153 CHF billions dollar.However, tt sold 29% of its products. And 28% of its products are sold in Europe (Annual Report Nestle, 2019).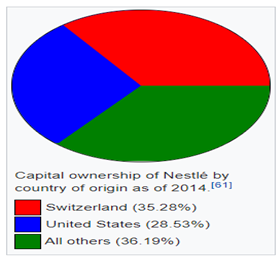 Figure 8: Capital Ownerships
(Source: amazonaws, 2020)

Figure 9: Financial Information in CHF-billions
(Source: amazonaws, 2020)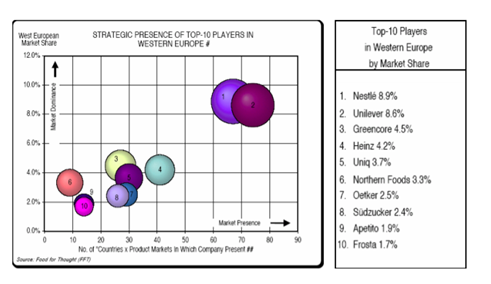 Figure 10: Market Share in Europe
(Source: s3Amazonaws, 2020)
Here market shares all over western Europe have been described and it is good to know that nestle is having 8.9% of its market shares in Europe.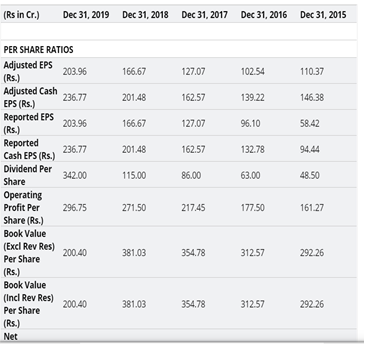 Figure 11: Per-share ratio
(Source: good returns, 2020)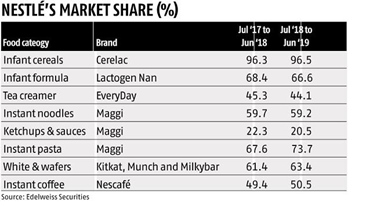 Figure 11: Market Share
(Source: Aute, 2020)
In the above figure provided herein financial analysis assignment, the author has described the per-share ratio of nestle organization (Galli, &Vousvouras, 2020).
Investment Risks
Investment risk describes the operational risk and development risk, etc. risk may be of any kind. It helps in assessing the stock attractiveness. The risk score of nestle is 9 out of 10 and here 0 gives the high risk and 10 gives the low-risk information. Therefore nestle is at low risk. The risk score of nestle organization is relatively much higher than its competitors which means this organization is less risky as compared to its peer groups (Donzé, 2020). Risk is due to changing consumer behavior that is they are not satisfied with their supplies and products. Sometimes climate factors also lead to risk because the sunny climate is needed for drying the raw materials and if they are used wet then sometimes sue to some factors it gets worse and becomes of no use (Lee et. al, 2020).
Environmental, Social, and Governance
Environmental
Nestle's principle of governance includes various areas like transparency and disclosure, responsibilities and rights of stakeholders, treatment given to their shareholders, responsibilities, and job roles assigned to their director of boards, etc.
Social
the organization uses various child actors for the promotion of their products and this organization takes cares of their consumers and make them happy and try to make their logo the successful and meet always the consumer's requirements (Annual Report Nestle, 2019).
Governance
Nestle is good ta maintaining its relationship with the consumers of its products like beverages, drinks, confectionery products, chocolates, etc. it believes is customer satisfaction and wants to establish long-term relations with their partners, stakeholders, consumers, and many more.
Recommendation
When it comes to recommendation then this is a very necessary part because it helps the organization to improve its ways and make good growth. It provides positive aspects to deal with. Some of the recommendations that will help the company to perform better in the future are discussed in the next section of financial analysis assignment:
The new food processing technologies accepted by the company will help it to grow in the near future.
The company should invest in Artificial Intelligence to understand the customer reactions, potential threats, new products and also to make new strategies to acquire more market share in future.
To deal with the competitors then nestle needs to work hard and make a good stand in the market. It is having its two competitors Danone and Unilever and both of them are giving it a tough completion. Therefore nestle needs to work hard and change its working strategies (Galli, &Vousvouras, 2020).
The decision to create a harmonized and simplified organizational structure will help the company to attain greater success.
Conclusion
It can be concluded from the above discussion on financial analysis assignment that Nestle is one of the largest leading multinational conglomerate in the world and is well known for its products and services. The tagline of Nestle is good-food-good-life and they always try to meet the words of their tagline by providing their consumers with good products. The new-age customers of Nestle are more inclined towards organic and natural food that is not only healthier but must also contain proteins and nutrients in proper quantities. The company has redefined their approached towards the new products and have started developing products that will not only be of high nutritious value but will also involve shorter innovation-cycle. the company has already introduced almost 1400 new products and also reformulated more than 4000 products worldwide to improve its nutritional value. Nestle wants its consumers to make corrective and informed decisions and they should be able to choose the products that are responsibly produced.
References
Ahmed, S. F. (2018). Fundamental Analysis of Securities: A Case Study of Some Listed Multinational Corporations. http://dspace.uiu.ac.bd/bitstream/handle/52243/432/Fundamental%20Analysis%20of%20Securities.docx?sequence=1
Annual Report Nestle, 2019. Retrieved 25 September 2020, from https://www.nestle.in/investors/stockandfinancials/annualreports
Aute, S. (2020). After Strong Gains The Past 4 Months, Some Headwinds For Nestle Stock. [online] Business-standard.com. financial analysis assignment Available at: [Accessed 25 September 2020].
Chappelet, J. L. (2019). The New Model of Swiss Public Management. In Swiss Public Administration (pp. 159-173). Palgrave Macmillan, Cham. http://library.oapen.org/bitstream/handle/20.500.12657/22969/1007189.pdf?sequence=1#page=180
Donzé, P. Y. (2020). The Advantage of Being Swiss: Nestlé and Political Risk in Asia during the Early Cold War, 1945–1970. Business History Review, 94(2), 373-397.
Eugénio, T., Rodrigues, S. C., & Gonçalves, M. J. (2020). Sustainability Report Evolution: The Nestlé Case Study Applicability. In Mapping, Managing, and Crafting Sustainable Business Strategies for the Circular Economy (pp. 180-202). IGI Global.
Galli, C. C., &Vousvouras, C. (2020). Nestlé caring for water. International Journal of Water Resources Development, 1-12.
Harris, L. (2020) Nestlé Creating Shared Value: Nestlé Waters Canada (A Canadian Perspective) By: Lily Harris.
Kirkuk University Journal-Scientific Studies (2020). https://kujss.iraqjournals.com/pdf_166170_8dd024058ce4abb6c364bec514cecef8.html. 15(2), pp.1-16.
Lee, S. P., Kee, D. M. H., Lee, P. S., San Chin, W., Gan, H. M., Alghanim, B., & Kumar, B. (2020). Improving the Interpersonal Relationship among Employees in Nestle. Journal of the community development in Asia, 3(1), 8-15.
Méndez O. A. (2020). QUALITATIVE AND QUANTITATIVE ANALYSIS OF NESTLÉ. NESTLÉ ACCOUNTING AND FINANCIAL ANALYSIS. http://diposit.ub.edu/dspace/bitstream/2445/46834/1/Qualitative%20and%20Quantitative%20Analysis %20of%20Nestl%C3%A9.pdf
Nestle. (2020). Retrieved 25 September 2020, from https://www.nestle.com/sites/default/files/asset-library/documents/creating%20shared%20value/performance/cdp-investor-2012.pdf
Pražák, T. (2018, July). The Potential Threat of Corporate Financial Distress in Switzerland. In International Conference on Applied Economics (pp. 365-376). financial analysis assignment Springer, Cham. https://link.springer.com/chapter/10.1007/978-3-030-02194-8_25
S3.amazonaws. (2020). Retrieved 25 September 2020, from https://s3.amazonaws.com/coursera-uploads/peer-review/a3f86i8hEeWv_w7cMMH1Uw/6b87a71fd27bc955f9b707ae6adfb79f/Nestl_-S.A.-Competitive-position-and-Analysis.pdf
Xu, R. (2019). Evaluation of Financial Position of Nestlé Company. https://dspace.vsb.cz/bitstream/handle/10084/135572/XUR0001_EKF_B6202_6202R010_2019.pdf?sequence=1