External Business Environment Assignment on Potential Opportunities and Challenges
Question
Task: You have just been recruited by UCB International Consulting Ltd, a business development and consulting company specialising in helping small and medium sized enterprises (SMEs) and multinational enterprises (MNEs) to expand into new markets. The company has received a number of enquiries from business organisations which are considering expanding their business activities into the emerging markets but they need to be aware of the opportunities and challenges presented by these dynamic markets.
Your manager has approached you to produce a report exploring the potential opportunities and challenges from the external business environment of an emerging market.
Answer
Introduction
This external business environment assignment will explore the potential opportunities and challenges from the external business environment of country India, an emerging market of Asia. As per India Brand Equity Foundation (2019), India has emerged as the fastest growing economies of the world and the GDP of it has increased 7 percent in 2018-19. The economy has proved itself by being the third largest start-ups base in the world with over 4500 technology start-ups. The population of India is over 130 crores and it is likely to surpass China's population in the coming years. The key sectors of India are Textile, Information technology, Financial Services and Banking and Retail. The interest rate trends are governed by Reserve Bank of India from time to time. The retail inflation rate is approx. 3% as of 2019. India is a federal Republic state based on parliamentary democracy where the people of India enjoys political rights.
What are the potential opportunities in this external business environment assignment?
According to Kaka and Madgavkar (2016), the country has created sustainable economic conditions for the businesses after liberalisation. The country is open for market forces and globalisation. The factors which has give rise to the potential opportunities for business are:
Reduced poverty and increase in purchasing power
The poverty rate of India was 45% in 1994 which is reduced to 22% after two decades. The country has raised the minimum living standards of people by providing facilities of water, sanitation, energy, education and housing. The average household income in India grew by a CAGR of approx. 4.80% between 2005 and 2014. Consumers have become more demanding and more informed. The country has created jobs for people and have developed innovative social programs. It has resulted in the growth in living standards of people which certainly means that people are now more capable of buying new producers, trying new offerings by organisations and affording new facilities which creates an opportunity for more business to set up their operations in India.
Economic transformation
According to the report of PWC (2014), The GDP CAGR of India is expected to rise at 9% over the next two decades. India is building a growth engine with more urbanisation, more consumption and more opportunities. The country has substantially increased its investment in R&D, technology and productive jobs. For pushing economic growth faster, the country has invested in its key sectors, increased significant investment in physical infrastructure and in making social difference. The country also has a young population which creates an opportunity to drive economic growth. Added by the report by Deloitte (2017), India has a potential for global expansion. New job roles are created, workforce is ready for working in new businesses which are planning to invest in India. The country creates an opportunity to invest in the country by allowing 100% FDI in the sectors like Food Processing, IT services, Transportation, Hotels and tourism, advertising and films, banking services and single brand retailing. There are many other sectors in which FDI is allowed at 100% which makes India an attractive market to invest.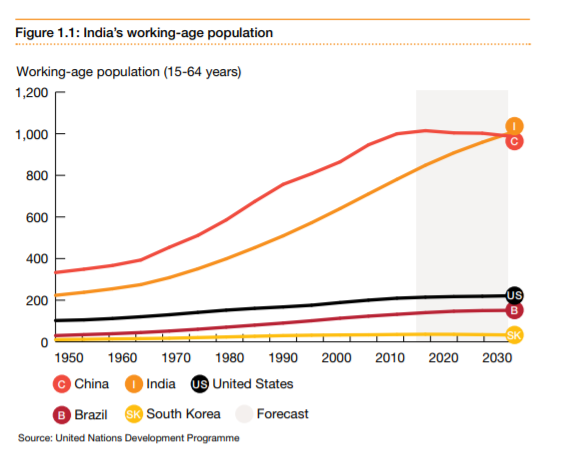 Figure 1: India's Working Age Population
Source: PWC (2014)
Challenges
As per the Ministry of Foreign Affairs (2018), Indian economy is growing at a steady speed and the market is growing for business but there are challenges which the companies have to face while starting their operations in the country.
Political Environment
The political environment is uncertain. An example can be taken of FDI in telecom sector which attracted many foreign investors and then many of them exited as the frameworks changed. The role of government is high in the functions of business. The oil and gas sectors, banking sectors and infrastructure sectors have agreed that it impacts the flexibility of the business. The country also ranks 78th in the Corruption Perceptions Index (CPI) in total 180 countries 2018. The beau acracy is still flying high which impacts in profits of business. This shows that doing business in such a corrupt environment is a challenge for the companies even after having high opportunities (Rodriguez, 2019).
Regulation and compliance
This is the most serious challenge perceived by the companies for doing business in India. The challenges are related to the sector specific regulatory pressures, new legislations, regulatory tightening, rapid changes in regulation, rising pressures of CSR and public pressures. There is plethora of laws which are required to be followed by the business like The industrial Disputes Act 1947, The contract labour Act 1970, The Factories Act 1948, The Companies Act 2013, The Banking regulation Act 1949, Th Goods and Services Tax Act 2017 and many more. Because of these regulations and complex systems, the business could take from 15-30 days to start business in India. The business has to pay more than 30 tax payments in a year which takes a lot of time and money. This time hinders the growth of start-ups or businesses setting up in India (Rodriguez, 2019).
Summary
After analysing this external business environment assignment, it can be understood that India can build prosperity for its population and it also creates a great opportunity for organisations to create value. The country is young and prospering. It has developed a development path on which businesses can flourish. Much can be understood from the data derived form the research. The economy is on the way to become a $10 trillion economy. The focus is on the key sectors like Healthcare, Education, manufacturing and Retail. The country has moved towards urbanisation and development of underdeveloped cities. This has created more opportunities for employment, education and more facilities. Still, there are many challenges in Ease of doing business in India. The country ranks 34 out of 189 economies in the terms of ease of doing business. The country has complex legal and political system which are the hard blocks for businesses to survive. As per the governor of Indian RBI, if India will start executing with planning, the country can have a growth rate and the winning leap will support the growth road ahead (PWC 2014).External business environment assignments are being prepared by our management assignment help experts from top universities which let us to provide you a reliable assignment help online service.
Reference List
Deloitte 2017, The India Opportunity, India, Viewed 24 July 2019, https://www2.deloitte.com/content/dam/Deloitte/in/Documents/industries/in-india-services-sector-ges-2017-noexp.pdf
India Brand Equity Foundation 2019, About Indian Economy Growth rate and Statistics, India, viewed 24 July 2019, https://www.ibef.org/economy/indian-economy-overview.
Kaka, N. and Madgavkar, A., 2016, India's ascent: Five opportunities for growth and transformation, McKinsey.
Ministry of Foreign Affairs 2018, Opportunities & Challenges in the Indian market. Netherlands Enterprise Agency.
PWC 2014, Future of India The Winning Leap, India, Viewed 24 July 2019, https://www.pwc.in/assets/pdfs/future-of-india/future-of-india-the-winning-leap.pdf
Rodriguez, K. 2019, Doing business in India: Risk for reward, Viewed 24 July 2019, external business environment assignment. https://execed.economist.com/career-advice/industry-trends/doing-business-india-risk-reward