Communication Management Assignment Examining Issues Faced By Dynamic
Question
Task: Jeff Tan is a Digital Strategic Director at Dynamic Inc. The company has recently taken over another company, MediaHype. He is having a drink with a friend of his, Nancy and discusses his problems at work. Jeff decides to ask you, an external consultant, to provide him with a report. You are required to assess the current state of communication in his organisation with specific recommendations to address any issues you might identify in your analysis.
In preparing your report, you are required to analyse the attached video along with the results of an employee survey (found on Wattle) that was conducted recently. You will also be required to use relevant literature on the key communication concepts identified in the video and surveys. The recommendations you give should be clearly justified and flow logically from the conclusions you draw from your analysis.
Answer
Executive summary
The role of communication illustrated in this communication management assignment is an integral process for any major organization as it binds the entire organization with a relative segment. This report explains the overall communication process and its presented conditions at Dynamic Inc. The analysis is based on a survey and video presentation which has been carried out across the employees as well as the managers and relate with communication based questions. A set of highly relevant issues based on lacking communication aspects are depicted across the system and a more suitable form of operational design is used to produce key concepts in communication and their understanding. In the later sections of the report, a set of highly relevant recommendations are provided which indicate aspects through which issues can be adjusted and a major conclusion is reached in terms of strengthening the entire process of communication management at Dynamic Inc.

1.0 Introduction
The role of communication discussed in this communication management assignment is defined as the ability of an organization to interact and associate with the available workforce and utilize the available resources accordingly. In the current phase of business management, communication plays a key role to strengthen the fragmented operational units across an organizational structure and correlate them with similar objectives and goals. In order to conduct effective communication process across organizations, there are several issues which arise and persist some negative implications across the operations. These communication issues are highly disturbing in both, direct as well as indirect manners.
Background
Dynamic Inc. is a payment service providing organization based in United States. The company explored in this communication management assignment has its headquarters at Broadway, Wichita. The company designs and develops interactive payment cards which are powered by batteries and are supported by existing payment infrastructure across the world. The services provided are based on computer in a chip technology and are liable to enhance the control, security, choices and convenience across payment operations. It was founded in 2007 and has been highly successful in the succeeding years (Dynamicsinc.com, 2019).
Aim
This report of communication management assignment aims to identify and analyses the issues which are related to communication in both direct and indirect manner. Different recommendations for their control are also explained in this report.
2.0 Analysis of Communication Issues
The current state of communication at Dynamic Inc. discussed in this communication management assignment has been largely affected by its growing size in terms of market value as well as employees. The company has been evident in facing a certain amount of communication related issues in the recent years. These include, lack of motivation, less informed workforce, decrement in the top management decision making, low managerial level of interaction and less informed decision making by the organizational managers. In order to assess these aspects, some of the major communication issues are discussed in the below mentioned sections (Chan and Lai, 2017). These factors are based on present complications which the whole system at Dynamic Inc. is facing currently in context of communication.
Lack of consistency and standard of communication across the organization: Decreasing consistency across an organizational communication process in majority of cases relate to decreased standards across this factor for an organization. At Dynamic Inc., the time and ways of communication are not standardized which leads to their absence from the basic routine information assessment process. The survey and video depicts that majority of the employees at this organization are not having any clear idea about their respective job role. This is the direct result of inconsistency and low standard of communication across the organization. Regular communication is the key source to drive information about job roles and changes in it.
Availability of major communication barriers: Communication barriers at this organization mentioned in this communication management assignment are based on experience and background based differences across the workforce. This difference initiates a more rigid form of communication barrier at the organization and initiates a less specific operational design all along the process of communication. According to the views of van Zoonen and Toni (2016), it is discussed in this communication management assignment that differences such as culture and language are the primary sources of developing communication barriers across the organizations. It initiates a less responsive nature among the employee. This issue can be justified by the survey results and video content signify a larger section of respondents considering themselves not at all comfortable while communicating their concerns to managers. This report is sufficient to identify the availability of major communication barriers which are available across the organizational structure. In spite of the fact that majority of the respondents consider themselves satisfied by their performance, they lack confidence to communicate their concerns to the managers this defines the acute impact of major communication barriers present. 
Increased role of assumptions and misinterpretation: Incorrect interpretation discussed in this communication management assignment is an important factor which limits the possibilities of effective communication across the selected organization. Self-assumed results and wrong interpretation of information are the related disadvantages which are associated with the process of misinterpretation. This might be a major reason for the less participation of employees in managerial decision making process. The overall impacts related to availability of assumptions and misinterpretation are based on less serious relationship between the managers and the employees. It provides a loophole in the operational dimension that is inclined across communicative development. Less effective communication is the overall resultant which is linked to large scale negative assumption and misinterpretation across an organizational structure (Pobegaylov et al. 2016).
Lost factual basis for communication: Facts are the determining factors for any effective communication process. The losing extent of factual basis upon which the organization operates leads to increased cases of ineffective communication. Communication of false information increases the chances of losing credibility for the individual employees, managers and in larger extent for the whole organizational structure. This is a major reason discussed in this communication management assignment for the insecurity across employees at this organization in terms of raising their concerns to higher authorities. There are no clear understanding of the fact that any of them would be able to idealize the process and effectively communicate their concerns. In addition to this, the information related to manager's reactions and response are also not sure which makes the process more critical.
Absence of dispersed communication factor: At Dynamic Inc., the entire workface lacks dispersed form of communication. This form of communication discussed in this communication management assignment is ideal for operating in a suitable environment to counter the increasing chances of losing communicative development. Dispersed communication initiates a process of information propagation which is largely based on strings in the form of employees which transfer the information from one to another (Lyndon et al. 2015). This factor is supported by the available responses for the managers at Dynamic Inc who consider inclusion of communication factors as an important requirement by the company at this point. In the current fast paced workplaces availability of dispersed communication factor is largely required to strengthen the overall process of communication across the defined sections of the organization.
Lack of an effective follow up process for information collection: The weaknesses in communication process are supported by the absence of an effective process to monitor and follow up the existing information collection process. The lack in effective follow up process for communication mentioned in this communication management assignment decreases the chances of success across the organizational structure. It provides the organizations with an additional ability to interact and control negative information propagation across the available channels (Barbour et al. 2018). The widespread knowledge base which is associated with an organizational system such as Dynamic Inc, requires constant monitoring and evaluation process to be kept in account.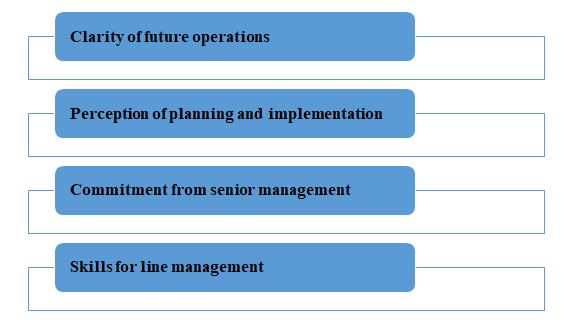 Figure 1: Factors for better communication
(Source: Chan and Lai, 2017, p. 221)
Key communication concepts
Communication concepts illustrated in this communication management assignment are the basic factors which hold highly important positions across the communication factor of an organizational structure. A supportive analysis of these concepts relate with better results in terms of operational and strategic implementation of interactive features across the organization.
Figure 2: Key concepts for communication management
(Source: Ihlen and Verhoeven, 2017, p. 7)
Following are some of the most important concepts related to communication:
Goal setting: Goals add significance and usability attitude to the communication processes. It provides a relevant set of objective which any one of the both parties agree to while introducing the communication. Communication explored in this communication management assignment is influential if it is assisted by the availability of certain and predefined goals. Increased effectiveness and increased understanding across the communicating regions are two most influential advantages that are included across the goal setting section of a communication process (Ihlen and Verhoeven, 2017).
Understanding first then speaking ideology: Understanding is a key factor in any communication process, availability of better understanding leads to enhanced productivity from a single communication. Especially at organizations like the Dynamic Inc, where the organization has been evident in suffering from a number of communication issues. The concerns such as lack of collective decision making at managerial positions mentioned in this communication management assignment can be resolved at once by the application of simple understanding before speaking
Selection of channels: Communication channels add value to the whole structure by applying a different perspective to its basic framework. Effective channel selection is always profitable for all the parties involved in a communication process. Ease of operation is the largely appreciated factor that is associated with the organization of it uses an efficient mode of communication (Dobson et al. 2019).
Loop closing: Regular monitoring and review of the communication process mentioned in this communication management assignment are eventually helpful in guiding the process of interaction in a much sustained manner. There are large scale operational accountabilities which can only be justified by the regulated supervision and reviewed communication processes. In addition to this, in majority of cases the factors related to deciding of communication channels are largely changing in different operational contexts (Kraatz et al. 2016). This is only identified during the review or monitoring process.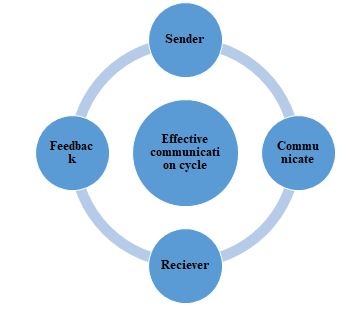 Figure 3: Effective communication cycle
(Source: Kraatz et al. 2016, p. 125)
3.0 Conclusions
Communication is the main aspect which is assessed across this report on business communication essay. The report provides information related to availability of major issues which are related to communication process at Dynamic Inc. The report also discusses key communication concepts which are largely relevant in case of managing a suitable and profitable communication process. The overall process of communication is linked to produce a significant impact on the productivity of the organization and thus needs to the assessed effectively. The issues are assessed in this communication management assignment based on video information and survey report which includes responses from the employees and managers and thus provide an inner perspective of the available communication system. The issues reflected in the above mentioned sections relate with responses from survey and issues from the video presentation and are reasonable for availing these recommendations provided within this communication management assignment.
4.0 Recommendations
In order to recommend, there are a number of important regions which shall be improved in order to facilitate better understanding across the defined perspectives. These recommendations can be considered as the direct solutions to identified issues in the earlier sections. Following these can eventually initiate a more operationally strong communication structure across the defined organization.
Following are some of the major recommendations provided in this communication management assignment which can be used to counter the available issues across communication aspects of the Dynamic Inc.:
Development of a common platform for anonymous feedback collection: Platforms for feedback collection and suggestions are crucial in any communication process. These increase the overall effectiveness which is associated with a structure of operational importance. The inline situation for uninterrupted flow of thoughts and feelings provide a familiar approach in the communication process and hence increases the overall operability index which is associated with the whole system of communicative progress.
Use of personalized communication: Personalized communication are more likely to attract the attention and cooperation from the listener or reader. Most influential factors which are associated with the system include visuals inclusion, room for imprecisions and improvements based on collective approaches across the system. These can be useful for both the managerial as well as employee based communication process in the selected organization. The overall operability index of the entire organizational communication can be enhanced to a specific levels through the inclusion of this recommendation.
Discussion on Development of a communication friendly environment at the organization within this communication management assignment: Setting a communication friendly atmosphere at the workspace will boost the entire structure with positive thought process and evident development in the operational framework. Initiatives such as increased instructiveness and procedure for supportive development can provide a more ideal form of design related to the organization. The managers as well as the employees can initiate setting examples and encouraging social interactions to boost the entire process of communication management. 
Increased authentication in communication: Authenticity is an important factor in communication. It helps in gaining support and trust of the employees and participants. Thus inclusion of authentic communication aspects are ideally linked to overall development of the entire communication process. The factual aspects for information propagation will also be strengthened by the availability of this factor. There are numerous other advantages which are based on better productivity for the organization with this particular recommendation mentioned in this communication management assignment.
5.0 List of References
Barbour, J.B., Gill, R. and Barge, J.K., 2018. Communication management assignment Organizational communication design logics: A theory of communicative intervention and collective communication design. Communication Theory, 28(3), pp.332-353.
Chan, S.H.J. and Lai, H.Y.I., 2017. Understanding the link between communication satisfaction, perceived justice and organizational citizenship behavior. Journal of business research, 70, pp.214-223.
Dobson, S., Hutchison, D., Mauthe, A., Schaeffer-Filho, A., Smith, P. and Sterbenz, J.P., 2019. Self-Organization and Resilience for Networked Systems: Design Principles and Open Research Issues. Proceedings of the IEEE, 107(4), pp.819-834.
Dynamicsinc.com (2019), about, Accessed on: 08 October 2019, Accessed from https://www.dynamicsinc.com/about-dynamics
 Ihlen, Ø. and Verhoeven, P., 2017. Organization–Society Relationship. The International Encyclopedia of Organizational Communication, pp.1-9.
Kraatz, C.L., Wingenbach, G.J. and Rutherford, T.A., 2016. Texas Organization Board Members' Communication Methods and the 2002 Farm Bill. Texas Journal of Agriculture and Natural Resources, 19, pp.119-128.
Lyndon, A., Johnson, M.C., Bingham, D., Napolitano, P.G., Joseph, G., Maxfield, D.G. and O'Keeffe, D.F., 2015. Communication management assignment Transforming communication and safety culture in intrapartum care: A multi?organization blueprint. Journal of Obstetric, Gynecologic & Neonatal Nursing, 44(3), pp.341-349.
Pobegaylov, O.A., Myasishchev, G.I. and Gaybarian, O.E., 2016. Organization and Management Efficiency Assessment in the Aspect of Linguistic Communication and Professional Text. Procedia Engineering, 150, pp.2173-2177.
van Zoonen, W. and Toni, G.L.A., 2016. Communication management assignment Social media research: The application of supervised machine learning in organizational communication research. Computers in Human Behavior, 63, pp.132-141.