Digital Transformation Assignment: Transforming & Rebranding The Children's Bookshop
Question
Task:
Case Study
Corona Virus Accelerating Digital Transformations in Organisations:
Covid-19 Pandemic and The Children's Bookshop
Jude and Esther Matthews have been operating a small enterprise called The Children's Bookshop (TCB) in a village in Sussex, for nearly two decades. TCB's core business is the selling of books and stationeries exclusively for children – from pre-school to primary school level. Its customer base also includes teachers and independent professionals in the education sector.
TCB has basic online presence, where information about its mission, products and services, opening and closing times, location, email address and contact numbers, among other details, can be found on its website. Functional information systems are implemented in the Human Resources and the Finance and Accounting departments and in the offices of Senior Management to support their respective operations. There is also a general computer system which is utilised and shared by other members of staff to support customer services, sales, marketing and procurement activities. Altogether, the computer systems are not integrated.
While TCB has a website and supporting technologies, the enterprise is largely based on a traditional business model, wherein all customer transactions are carried out face-to-face, in the physical store. Customers can enquire about the availability of a particular book/product via telephone or email, and can also place their orders via these methods. However, they must come into the physical store to pay for and collect their items or to return or exchange items already purchased.
This traditional business model is part of TCB's profit-making strategy to encourage customers to come in and leisurely browse through the store for items of interest. Greatly enforced and reinforced by TCB's friendly Customer Service team, the strategy is very successful as it drives customers to purchase other products, in addition to what they had initially set out to acquire.
There are 45 members of staff on TCB's payroll. With the exception of the Human Resources and the Finance and Accounting personnel who have clearly-defined roles, all the other roles within the enterprise are flexible, enabling employees to work in several capacities simultaneously. These staff members work as Customer Service (CS), Sales and Marketing (S&M) and Procurement staff. For example, in the role of Customer Service, team members serve as the first point of contact for TCB's customers, whether by telephone, email or in store. They swiftly attend to customers to ascertain the customers' needs. Particularly in dealing with customers face-to-face, CS staff help customers to locate their required items. They also use the opportunity to showcase a wide variety of other products in store – new stock, old stock, supplementary products (add-ons), substitute products and discounted items. At this point, the CS representatives have "morphed" into the role of Sales and Marketing (S&M) personnel, advertising other store products to the customers and using persuasive tactics to stimulate further sales. At other times, "flexible" staff members work in the capacity of Procurement personnel, taking turn in managing stock levels – counting, stacking, ordering and re-ordering stocks.
TCB has served the village and surrounding communities well for most of its business existence. However, over the last two years, there has been a surge in demand from customers for direct online shopping and for delivery service. While TCB was not digitally capable of offering online shopping, the enterprise had embarked upon a trial telephone delivery service, whereby orders greater than £20.00 are delivered to addresses that are within a three-mile radius. Customers could telephone or email the store to find out the availability of their required product. If the product was in stock, customers would then place an order with a staff member, pay over the telephone using their bank card and have the items delivered to their homes. Delivery was undertaken by some of the "flexible" workers, while other flexible staff members remained in store taking, preparing and packaging telephone orders. The trial service in and of itself had proven to be a fruitful venture. However, TCB could not cope with the surge in telephone and email orders. This resulted in vast delays in the preparation of customer orders and in customers not receiving their items in a timely manner. There were also instances in which orders were delivered to the wrong address, customers received incorrect orders and customers did not receive their orders at all. Consequently, TCB began to see a steady decline in telephone orders and demands for delivery service. The enterprise had started to lose its customers.
Jude and Esther are aware that TCB required major technological changes and that they will have to adapt to meet the changing needs of their customers. This reality was confirmed by the Covid-19 pandemic lockdown in March 2020, when the company witnessed a 250 per cent surge in telephone and email orders, as parents tried to home-school their children and keep them entertained. There was also renewed demand for direct online shopping. Unfortunately, however, the company was not digitally-ready and was therefore in no position to capitalise on the online sales. Furthermore, TCB was not even able to take full advantage of the surge in telephone and email orders as it did not have sufficient delivery drivers, given that most of the flexible staff had to remain in store to receive and package telephone orders, alongside other store duties.
The physical store has re-opened with a moderate but steady stream of customers. However, telephone orders continue to soar, providing a clear hint as to what TCB's online delivery – and profits – would have looked like had it been offering this service before and during the lockdown. In fact, TCB also experienced unprecedented telephone calls and emails from secondary and tertiary level students and professionals enquiring about the availability of books and products for those levels.
Jude and Esther now plan to digitise their business model, and hope to yield handsome returns from an accelerated move to direct online shopping. They see no sign of a decline in the demands for online shopping in the years to come. Jude and Esther would like to: (1) implement an ERP system to integrate all functions across the organization, (2) develop web-based customer interfaces to allow direct online shopping and (3) expand their telephone delivery capacity for customers who have no access to the Internet or for those who are not digitally literate. The couple also plans to expand TCB's core business to include the selling of secondary and tertiary level books and products. Jude and Esther immediately require the professional services of a Digital Specialist Consultant for this very ambitious project.
As a Digital Business expert, Jude and Esther have employed your services to guide them and to develop a digital strategy that will support their new business venture.
As a Digital Business expert, you are required to prepare a 3000-word report on digital transformation assignment, outlining TCB's current technological and societal (including the Covid-19 pandemic) challenges, and developing a digital strategy to support the rebranding and transformation of its business. This includes conducting a SWOT or PESTLE analysis, reviewing and recommending the most suitable ERP software solution for the business; and discussing the possible barriers/challenges to organisational digitisation that TCB might encounter along with recommendations for overcoming these challenges/barriers.
Answer
Abstract
This report on digital transformation assignment will highlight the perception of a Digital Business Expert by outlining The Children Bookshop's societal and technological challenges in the context of the Covid-19 pandemic. TCB is looking to implement relevant ERP software that can help the company's desire for digital and technological transformation. Therefore, this report will critically discuss the notions of digital and technological transformation along with performing a critical review of different ERP software, so that the best ERP software for CB can be recommended along with recommending solutions for challenges that come with ERP implementation. Overall, this report will generate a clear understanding of the ERP software implementation, which will be crucial under the context of the post-Covid-19 business environment.
Introduction and Organizational Context
SMEs (small and medium-sized enterprises) refer to independent and non0subsidiary firms that employ fewer numbers of employees (OECD, 2019). However, the number of total employees in SMEs varies from country to country. It has been observed that the firms employing less than 50 employees are considered as small firms, whereas, in terms of micro firms the number of employees is mostly between 5 to 10. Overall, SMEs comprise a significant portion of the global business and thus their contribution plays a vital role in the economy (Council OECD, 2017). This report will present the perception of a Digital Business Expert that will support TCB's transformation and rebranding by reviewing and recommending the most suitable ERP software solution.
Overview of The Children's Bookshop (TCB)
TCB is an SME that operates in a village in Sussex and the company has been operating for almost two decades. The core business of TCB is selling stationeries and books that are exclusively for children. In addition to that, the customer base of CB also comprises teachers and professionals from the educational sector.
Two Business Process Models depicting TCB's current "Flexible" workers
TCB uses a traditional business model based on which their flexible workers interact with the customers over the telephone as well as face-to-face interactions. The company has been primarily operating as brick-and-mortar stores where all the transactions are carried face-to-face in the physical stores (E-commerce Platforms, 2018). In addition to that, the traditional business model is also a part of the company's profit-making strategy
The next business model that depicts TCB's flexible workers is the customer service model that is used to drive customers in terms of purchasing various other products along with what the customers had initially set out to acquire.
Key technological and business challenges of TCB
The major technological challenges of TCB are based on the fact that the company's computer systems are not integrated. The company has a basic presence online where information related to the company is displayed on its website and the company faces a challenge in terms of fulfilling the demands of the customer online.
The business challenges of TCB are based on its traditional business model and based on this model the customers are required to physically visit the TCB outlet to purchase their desired books and stationeries. The company is facing a massive challenge in its business activities of switching to an e-commerce platform for its customers.
TCB's goals of digital transformation and the role of Covid-19 pandemic in the company's transformational plans
TCB's goals of digital transformation include implementing an ERP system that can integrate all organizational functions. In addition to that, the company also wants to develop customer interfaces based on the web that can allow direct online shopping along with expanding their capacity of telephone delivery to customers who are digitally less literate (Birch, 2020).
The Covid-19 pandemic has generated a massive desire among the owners Jude and Esther to digitize their business model as due to the massive surge in online orders, the company has not been able to cope up with the surge. Therefore, based on existing and future trends shaped by the Covid-19 pandemic, TCB has decided to emphasize digital transformation.
The benefit of a fully-integrated information system for TCB
TCB can tremendously benefit from a fully integrated information system along with customer online shopping and delivery services by gaining access to real-time data that will also ensure all the data remain updated (Latter, 2017). In addition to that, the company will also be able to fulfill the current needs of its customers that have largely shifted towards online services and deliveries (Deakins, 2018). Overall, the company will be able to increase its overall productivity by making its information system fully integrated.
Research and Feasibility study
The notions of digital and technological transformation
Digital and technological transformation refers to the process of using digital technologies for the creation of new or modifying the existing business process required for meeting the changing market and business requirements (Melao, Matos, and Amorim, 2018). The notions of digital and technological transformation transcend traditional business roles such as customer service, marketing, and sales. The main emphasis of digital transformation is related to the re-engineering of a business' system that can help in customer engagement. Digitization is an essential move from analog to digital and based on this concept, business enterprises can convert all their analog information into digital (Bloomberg, 2017). In addition that digital transformation successfully adds value to every customer interaction by changing the way of doing business as it generates insight into consumer preferences. One of the key elements of digital transformation is analyzing the potential or ability of the existing technology in a business (Nadkarni and Prügl, 2020). In the context of the modern-day business environment, this transformation has helped to reach a larger customer base that is crucial for continuous growth. Overall, the concept of technological and digital transformation has drastically changed customer service by retrieving records of customers quickly and easily.
A critical review of different ERP software
ERP (enterprise resource planning) software is a category of business management software that is typically a suite of integrated applications (McCue, 2015). Some of the best ERP software is:
Off-the-shelf ERP: This type of ERP software is already built-in and thus it is required to be fixed in a relevant manner as per the needs of organizational management (BDC, 2020). The main advantages of this ERP software are it is cheaper and can be implemented quickly. In addition to that, this ERP software allows access to the reviews along with advice from the existing users. The main disadvantage of off-the-shelf ERP software is related to the lack of control and it might not give support after prolonged usage.
In-house ERP: This ERP software allows business organizations to utilize their own laborers so that an IT framework can be created or actualized that is relevant to the explicit needs of an organization. One of the major advantages of in-house ERP is that the organization will have full ownership of the ERP. However, this ERP software tends to get expensive as it requires addressing the issues in the business (Waszkowski, 2019).
Open source ERP: This type of ERP software works on source codes that are publicly available. Open source ERP can be extremely attractive to SMEs who want to upgrade their ERP systems without paying massive amounts. The main advantages of open source ERP are its lower upfront cost and flexibility along with free community support (Cole, 2020). However, this type of ERP software tends to increase the risk of a business and provides less qualified support.
An appropriate theory to demonstrate the implementation of an ERP
The agency theory model that describes the shareholders as principles and managers as agents can be used to demonstrate the implementation of ERP software (Basu and Lederer, 2019). The cost, time, and performance associated with ERP implementation projects that are also referred to as the iron triangle are critical to ensure the delivery of the project within the time frame and budget. According to the agency theory model, the implementation of ERP needs to be done in such a manner so that it can solve the problems of the stakeholders and managers. The concept of ERP software implementation can bring about digital and technological transformation in an organization by aligning the business processes with the customer needs and demands. Overall, based on the agency theory model, organizations can efficiently implement relevant ERP software for the digitization of business operations.
SWOT analysis of TCB
Strengths: Strategy to encourage the customer to physically come to stores.

Clearly defined roles of finance, accounting, and human resource

 

Weaknesses: The computer systems are not integrated.

The traditional business model and not being digitally ready

Opportunities: Acceleration of approach towards direct online shopping.

Expand telephone delivery capacity along with selling secondary and tertiary level products and books.

Threats: Businesses shut down due to not being able to fulfill the orders of online customers.

Losing customers by not being able to fulfill the new trends and developments in shopping.
Recommendation and justification of the most suitable ERP software for TCB
After analyzing the present scenario of TCB, it can be recommended that the company based on its desire to implement ERP software can choose open source ERP. Since the company is an SME and based on this ERP software being cost-efficient, the company tremendously benefits (Ly, 2020). In addition to that, an open-source ERP system will put the control of security management, maintenance, and update on TCB. The open-source ERP software will enable TCB to integrate all of its business functions along with developing a web-based customer interface that can allow the customers to directly shop from the company's website (Nnochiri, 2017). Overall, the future of shopping will heavily rely upon online purchase and the covid-19 pandemic has proved that the inability to handle online orders can lead to a significant downfall of profits. Therefore, by implementing open source ERP software, TCB can successfully digitize its business model from being a traditional business model to becoming a more customer-centric business model. Esther and Jude are much aware of the necessity that is required to adapt to the changing needs of the customers but being an SME the factor of expenditure is always a major cause of concern. So, open-source ERP software based on its cost-efficiency and control can provide the right platform for TCB in terms of achieving a digital transformation of the business process.
Evaluation within the case
A step-by-step approach to ERP implementation for TCB
TCB can follow the followings steps as an approach to ERP implementation:
Defining the scope of ERP implementation based on the end objectives.
Selection of the ERP system.
Creation of the project planning.
Defining the implementation phases.
Making a quick and achievable schedule
Making a plan of communication
Arrangement of approvals
Plan the ERP testing
Migration of the data
Preparing for the change
Planning to go-live
Maintenance and support
A revised Business Process Model
TCB can form a Razor and Blades business model based on which the company can provide a book at a lower price so that the sale of other stationeries can be increased (Gordon, 2020). The company by implementing relevant ERP software can transform its traditional business model into a digitized business model as the changing needs of the customer are shifting towards online purchase and delivery.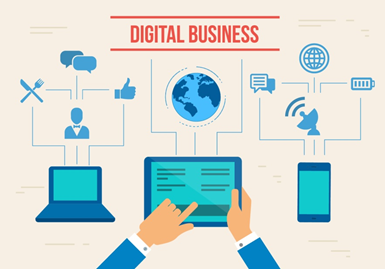 Figure 1: Digital business model
Source: (Digital Business, 2020)
A suggested name for TCB as a part of its rebranding
After rebranding its current business model along with including the selling of tertiary and secondary level books or products, the company can be renamed as "The Complete Bookstore", which will have the same abbreviation as TCB.
Ten major changes that have taken place in TCB
The following ten changes have occurred in TCB as a part of its rebranding strategy:
The transformation from analog to digital
Implementing online purchase and transaction
More traffic of customers
Online queries hike
Better interaction with customers over the telephone
Better customer service
On-time books and stationeries delivery
Efficient staff management
Able to showcase a wide variety of books and stationeries on the website.
As a result of the Covid-19 pandemic, the most significant changes have been a hike in online orders and a surge in telephone and email queries. The customers after the outbreak of the Covid-19 pandemic have started preferring online shopping experience and this has caused both the mentioned changes.
Opportunities and threats associated with a new business process to TCB and its stakeholders
| | |
| --- | --- |
| Opportunities | Threats |
| Enhance the reputation | High-level of expenditure as an SME |
| Maximum profit generation | Inexperienced engineering |
| Expansion into other markets | Unable to handle high orders and on-time delivery |
| More customer orders | Dissatisfied customer service |
Recommendations and Conclusions
After the implementation of ERP software, TCB can face a massive challenge in the form of inexperience among its staff regarding the use of ERP software. In addition to that, managing the expenditure associated with the implementation of ERP software will also be a major challenge. It will be important for TCB to overcome these challenges as there lays a tremendous threat in terms of the business suffering massive losses along with loss of reputation. Therefore, to overcome both these challenges the company will have to provide adequate training to its employees regarding the handling of ERP software along with choosing ERP software such as open-source, ERP, which is cost-efficient and provides the right control (Davies, 2018).
In the end, it can be concluded that the implementation of proper ERP software can do wonders for the business of TCB as with the passage of time, it is becoming increasingly important to digitize the business processes. The digital transformation of the company will enable better customer service and the ability to demonstrate a wide variety of books and stationeries through the website. In addition to that, the structure of the entire business industry is expected to change further after the covid-19 pandemic is over and experts have predicted the future will be all about digitization. Overall, as books and stationery company, TCB can deliver fruitful results for the stakeholders by implementing a relevant ERP software solution.
References
Basu, V. and Lederer, A.L. (2019). An Agency Theory Model of ERP Implementation. [online] citeseerx.ist.psu.edu. Available at: https://citeseerx.ist.psu.edu/viewdoc/download?doi=10.1.1.473.4016&rep=rep1&type=pdf [Accessed 1 Jul. 2021].
BDC (2020). Custom vs. off-the-shelf ERP systems. [online] BDC.ca. Available at: https://www.bdc.ca/en/articles-tools/technology/invest-technology/custom-vs-off-the-shelf-erp-systems [Accessed 1 Jul. 2021].
Birch, N. (2020). Best Examples of Web Application Interface Designs. [online] Designmodo. Available at: https://designmodo.com/web-application-interface/ [Accessed 1 Jul. 2021].
Bloomberg, J. (2017). Digitization, Digitalization, And Digital Transformation: Confuse Them At Your Peril. [online] Forbes. Available at: https://www.forbes.com/sites/jasonbloomberg/2018/04/29/digitization-digitalization-and-digital-transformation-confuse-them-at-your-peril/?sh=f738b3e2f2c7 [Accessed 1 Jul. 2021].
Cole, B. (2020). What is open source ERP? - Definition from WhatIs.com. [online] SearchERP. Available at: https://searcherp.techtarget.com/definition/open-source-ERP [Accessed 1 Jul. 2021].
Council OECD (2017). Meeting of the OECD Council at Ministerial Level ENHANCING THE CONTRIBUTIONS OF SMEs IN A GLOBAL AND DIGITALISED ECONOMY. [online] oecd.org. Available at: https://www.oecd.org/industry/C-MIN-2017-8-EN.pdf [Accessed 1 Jul. 2021].
Davies, J. (2018). Common ERP implementation challenges and how to overcome them. [online] www.winman.com. Available at: https://www.winman.com/blog/common-erp-project-management-challenges-and-how-to-overcome-them [Accessed 1 Jul. 2021].
Deakins, J. (2018). Ten Benefits To Adopting Fully Integrated Business Software. [online] www.lifescienceleader.com. Available at: https://www.lifescienceleader.com/doc/ten-benefits-to-adopting-fully-integrated-business-software-0001 [Accessed 1 Jul. 2021].
E-commerce Platforms (2018). What is a Brick and Mortar Store? [online] Ecommerce Platforms. Available at: https://ecommerce-platforms.com/glossary/brick-mortar-store [Accessed 1 Jul. 2021].
Gordon, J. (2020). Razor Blade Business Model - Definition. [online] thebusinessprofessor.com. Available at: https://thebusinessprofessor.com/business-management-amp-operations-strategy-entrepreneurship-amp-innovation/razor-blade-business-model-definition [Accessed 1 Jul. 2021].
Latter, T. (2017). The Benefits of System Integration. [online] The Happiness Index. Available at: https://thehappinessindex.com/tech/integrated-system-benefits/ [Accessed 1 Jul. 2021].
Ly, A. (2020). Open-Source ERP Software: Benefits, Challenges and Top Vendors. [online] betterbuys.com. Available at: https://www.betterbuys.com/erp/open-source-erp/ [Accessed 1 Jul. 2021].
McCue, I. (2015). Do you know what ERP is? Learn how ERP can help your business with this informative article. [online] NetSuite.com. Available at: https://www.netsuite.com/portal/resource/articles/erp/what-is-erp.shtml [Accessed 1 Jul. 2021].
Melao, N., Matos, P. and Amorim, M. (2018). (PDF) Digital Transformation: A Literature Review and Guidelines for Future Research. [online] ResearchGate. Available at: https://www.researchgate.net/publication/323994364_Digital_Transformation_A_Literature_Review_ and_Guidelines_for_Future_Research [Accessed 1 Jul. 2021].
Nadkarni, S. and Prügl, R. (2020). Digital transformation: a review, synthesis and opportunities for future research. Management Review Quarterly, [online] 1(1). Available at: https://link.springer.com/article/10.1007/s11301-020-00185-7 [Accessed 1 Jul. 2021].
Nnochiri, D. (2017). Top 5 Benefits of Open Source ERP Systems. [online] metasfresh ERP. Available at: https://metasfresh.com/en/2017/08/15/top-5-benefits-of-open-source-erp-systems/ [Accessed 1 Jul. 2021].
OECD (2019). OECD Glossary of Statistical Terms - Small and medium-sized enterprises (SMEs) Definition. [online] Oecd.org. Available at: https://stats.oecd.org/glossary/detail.asp?ID=3123 [Accessed 1 Jul. 2021].
Waszkowski, E. (2019). Pros and Cons of In-House and Outsourcing Software (Updated) • Future Mind. [online] Futuremind.com. Available at: https://www.futuremind.com/blog/pros-and-cons-of-outsourcing-software-development [Accessed 1 Jul. 2021].