The Deligram Case Study Explores Use Of Effective Business Models
Question
Task: The case study analysis allows you to analyse a case using theoretical marketing strategy principles to identify practical marketing strategy recommendations. At the conclusion of this assignment, you will be able to apply theory to practice in order to solve and defend your proposed recommendations to the case questions.
The purpose of this assignment is to help you gain a deeper understanding of the nature, impact and implications of marketing strategy for organisations. You are expected to draw on a minimum of six (6) peer reviewed journal articles and other sources (e.g., books; business press articles) as required to underpin your arguments presented in this essay.
Learning outcome
The case study analysis will enhance your ability to synthesise strategy theories to creatively formulate and implement marketing strategies that respond to market opportunities and communicate ideas to potential stakeholders to address marketing strategy challenges.
Output:
Students are expected to write a case analysis in the form of an extended written response. The case analysis is expected to provide an informed and robust answer to the discussion questions. Your response may follow a similar format to this:
(1). Executive summary–
This should be a brief, yet comprehensive summary of your response. This is not an introduction!
(2). Business problem/situational analysis–
Here you need to identify the central problem and the key issues associated with the case company and its business model that are highlighted in the case. Be sure to distinguish between symptoms and underlying causes. Your goal should be to focus on the underlying causes. Limit the issues to a manageable set.
(3). Issue Analysis–
Analysis requires examining the issues in detail. Analysis involves:
(a) using the case facts to develop a detailed understanding of the issues. The case facts will help you build logical arguments, develop findings, and draw educated inferences. That is, which concrete (environmental and firm-related) issues play a role in your case? For example, an issue with increased competition might be supported by the fact that new entrants have entered the market, new products have been introduced by competitors, or price reductions are being offered by competitors. These facts may be contained in a case's figures and exhibits.
(b) using theoretical concepts to analyse the issue. For example, you might have to apply the concepts of segmentation, targeting and positioning, or apply Porter's five forces framework. These will be different for every case but knowing what theory to rely upon is key to constructing a strong case analysis.
(c) conducting and integrating some limited outside research– for example, researching the industry and competitors to supplement the information provided in the case. To do the above you will need to outline important marketing strategy related factors and how they are concretely manifested in the case (e.g., positioning, customers, competitors, etc.) using appropriate frameworks.
(4). Marketing strategy alternatives–
having identified the situation, problem and the associated issues you need to:
(a) develop the marketing strategy alternatives available to resolve the problem raised in the case. Develop viable alternatives, attempting to develop creative solutions.
(b) evaluate the alternative solutions identifying their advantages and disadvantages. In your evaluation you may need to think about broader evaluation criteria like how the alternative may fit with the company's mission statement, the brands image, its existing customers, capitalises on company strengths etc
(c) use the case facts and strategy theories or concepts to evaluate the alternatives. For example, you could demonstrate how a proposed product is designed to meet the needs of a firm's current target market or how its short development time would allow the firm to begin selling the product before competitors do. This example illustrates how the evaluation of alternative solutions usually involves some additional analysis. The analysis of the issues and alternative solutions should fit together; the theories and concepts used to analyse the issues should be consistent with those used to evaluate the alternatives.
(5) Conclusion/Marketing strategy recommendations–
Here you identify the strategic marketing path you believe is most likely to deliver growth for the brand providing a strong justification for your recommendation.
Which situation did the industry face before Deligram entered the market?
Which factors allowed Deligram to succed?
Which value does Deligram offer?
Which strategy has Deligram been using to grow its business?
Which strategies do you propose for the organisation to continue to grow? 
Answer
Executive Summary
This Deligram case study shows how Deligram is currently using omni-channel method to run its operations. Deligram is a startup e-commerce platform of Bangladesh and Deligram was founded by Waiz Rahim after acquiring inspiration from Amazon, Alibaba and Go-Jek. However, the organization is facing some issues while running its operations or will definitely face some issues in the future due to its current business model. This report has identified all those problems by using different theories such as segmentation and models such as porter's five forces model. In the end, this report has recommended some marketing strategies through which it would be possible for Deligram to deal with its current or potential challenges.
1. Introduction
The purpose of this particular report on Deligram case study is to focus on Deligram that is a startup developed and guided by Waiz Rahim, in Bangladesh. In spite of having his own family business named as Rahimafrooz, that is one of the largest companies of Bangladesh, Waiz decided to follow the inspiration that he acquired from Amazon, Alibaba and Go-Jek to create Deligram (Russell, 2019). Now, the case study that this research report will follow not only provides information on how Waiz was motivated to leave his family business to start Deligram but also shows how Waiz has planned to run its business and what issues or challenges it can face in the future while acquiring growth and profitability (Russell, 2019).
Now, this report will only focus on the business problems or challenges that Deligram is facing while running its operations in Bangladesh. Not only that, this research report will also analyze those issues using different models and theories such as segmentation, targeting and Porter's five forces. This report will end by providing a summary of the findings and recommendation for Deligram through which it will be able to improve its business model and operations in the near future.
2. Business Problem
One of the major business problems that Deligram can face is the lack of popularity of e-commerce in Bangladesh. Still in Bangladesh, offline retail is the first priority of the customers; mainly in urban areas where offline stores are considered as gathering points of neighbors, friends and families for the purpose of socializing (Russell, 2019). Therefore, it could be tough for Deligram to make its online platform famous in Bangladesh.
Deligram is following a new approach and that is allowing its customers to order their products through Deligram app and have it delivered to only their homes and offices but also to local mom and pop stores called as "Mudir Dokan" (Russell, 2019). It will make Deligram to depend on the owners of those Mudir Dokan on an excessive level which can bring challenges to the business. Besides, Deligram has also decided to provide its Mudir Dokan partners with tablets and physical catalogs so that customers with no smartphone can order from Deligram using the tablets of the owners of partnered Mudir Dokans which again shows dependency of Deligram on the owners of Mudir Dokans (Russell, 2019).
From the Deligram case study it was also found that most of the start-up companies struggle with their logistic operations as start-ups has rely on third party logistic companies to fulfill the orders of the customers (Russell, 2019). Deligram has decided that it will have its own logistic branch to deal with this particular issue to maintain quality for longer terms. However, it will increase the initial cost Deligram and its operations in a situation where acquiring fund is troublesome.
Branding is going to be another major problem for Deligram as a very little numbers of investors have any idea about Bangladesh as a nation. Investors who are familiar with Bangladesh only know that Bangladesh is a nation that is always hit by floods (Russell, 2019). Therefore, branding and acquiring funding would be a problem for Deligram. Right now, Deligram has started its business from rural areas where competition is low. However, in spite of the fact that Bangladesh's GDP growth is all set to hit record 8.13% in 2018-19 fiscal years, income rate in rural areas in Bangladesh is still low when compared with income rate of urban citizens (Asadullah & Chakravorty, 2019). Therefore, the advantage of lack of competition will be nullified due to the low income rate of the people of Bangladesh living in rural areas.
Another business problem for Deligram would be, e-commerce accounts for below 1% in retail sector of Bangladesh and any growth in this sector will take 5-8 years (Russell 2019). Until then, Deligram will have to reply on its partnership with Mudir Dokan owners and the question is, what is the shift does not take place after 5-8 years?
3. Issue Analysis
Lack of popularity of e-commerce: As of 2019, total population of Bangladesh is nearly 164 million. According to BRTC, mobile internet users in 2018 were almost 81 million which was half of the population of Bangladesh (Kader, 2019). Broadband users in Bangladesh are over 560,000 (Kader, 2019). E-commerce in a nation can flourish only when citizens of that nation frequently use internet on their smartphones or on their desktops. From the above data it is clear that ample amount of Bangladeshi people are using internet on their smartphones. Therefore, it can be assumed that the concept of e-commerce is still not famous in Bangladesh due to the reason that retail companies of Bangladesh are not focusing on it. Deligram will have to change this view by investing heavily in its marketing and promotional tactics.
Partnershipwith Mudir Dokan: Partnership of Deligram with local Mudir Dokans can be considered as a market entry strategy of Deligram in the retail industry of Bangladesh. Market entry strategy of Deligram case study is defined as a planned distribution and delivery of products or services to new target market (Murphy, 2018). From the partnership of Deligram and local Mudir Dokans, it can be stated that Deligram is going to develop a strategic alliance with the Mudir Dokans. Now, according to Upson et al., (2017) along with several benefits, strategic alliance also has some major disadvantages. For example, communicating with the owners of Mudir Dokans will be problematic for Deligram management which would affect resource allocation and inventory management of Deligram. On the other hand, product quality can also be hampered as sometimes Deligram will deliver ordered products on Mudir Dokans and from there customer will pick up those products. Deligram will never know in what condition the delivered products are stored. If product quality gets hampered then it would also affect the brand image of Deligram. On the other hand, when Deligram will try to open their own stores to penetrate the offline retail market, troubles will be seen from partnered Mudir Dokans as they will not tolerate direct competition from Deligram.
This partnership with Mudir Dokans within the Deligram case study can also be analyzed using Porter's five forces model (figure 1).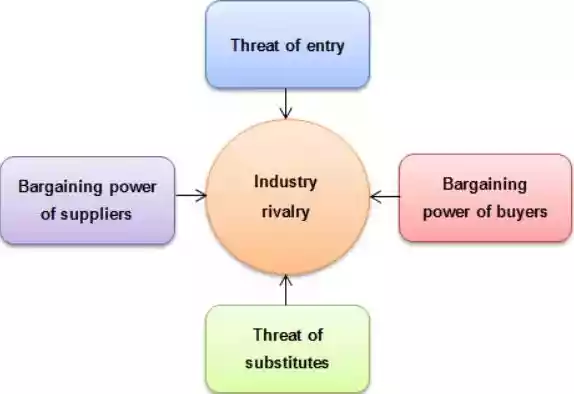 Figure 1: Porter's Five Forces Model
(Source: Mathooko and Ogutu, 2015)
Threat of entry (high): Bangladesh is still lagging behind in terms of e-commerce but that does not mean that setting up an e-commerce store in Bangladesh is not possible. These Mudir Dokans with whom Deligram is developing partnership can take their time to understand how Deligram is operation and then they can open their own e-commerce stores as it does not consume much of financial resources. Foreign e-commerce companies can also expand in Bangladesh in the future when demand of e-commerce will increase in the country.
Bargaining power of buyers (high): Deligram will acquire new customers only when it will provide products and services at a lower cost than the regular Mudir Dokans. If prices are high then customers will buy from the Mudir Dokans just like they are buying right now. Therefore, Deligram will have to take care of the needs and expectations of its new and existing customers all the time. It makes bargaining power of customers high on Deligram.
Threat of substitutes (high): The given Deligram case study shows that Bangladeshi customers are still relying on Mudir Dokans, not only for buying products but also for socialization. If Deligram fails to provide unique and superior services and products, Mudir Dokans can always become its substitutes. Due to the presence of several Mudir Dokans in even rural areas of Bangladesh, threat of substitute is high for Deligram.
Bargaining power of suppliers (high): As the Mudir Dokans will supply the delivered products to the customers of Deligram who ordered them, they can also be considered as a type of supplier of the organization. Now, Deligram management will always have to take care of all the Mudir Dokans with whom it will establish partnership. For example, if they ask Deligram to increase their commission then Deligram is bound to do that otherwise they will not serve Deligram which would affect Deligram and its profitability. Even, Deligram will have to think about its market penetration strategy and pricing strategy by keeping in mind its partner Mudir Dokans. It shows that bargaining power of Mudir Dokans would be high on Deligram.
Branding: According to the theory of branding, it is a type of marketing practice through which an organization develops a name, symbol or design that can be easily identified by its existing and potential customers (Dalman & Puranam, (2017). Branding also helps an organization to distinguish its products and services from the products and services of competitor companies (Marland et al., 2017). From the Deligram case study, it is found that branding is another major problem for Deligram. First of all, Bangladesh due to its small size and lack of political connection with most of the nations around the world has a very poor brand image in the global business industry. As a result, founder and CEO of Deligram is having some major issues while acquiring investment from foreign investors. On the other hand, Deligram has planned to run its business by collaborating with local Mudir Dokans; without using marketing and promotional techniques to improve its brand image in Bangladesh. It would hamper the growth of Deligram in the future when the organization will try to open its own offline stores or will try to penetrate using its e-commerce app.
Customer segment: Customer segmenting is defined as the method of segmenting or dividing customers into different groups based on several common characteristics (Kolarovszki et al., 2016). These characteristics help companies to market its products effectively as per need and expectation of those different groups (Sarvari et al., 2016). Deligram has decided to mostly focus on rural areas of Bangladesh as competition is low in those areas. It means, Deligram is going to target low-income Bangladeshi people. In rural areas average income per capita per annum of Bangladeshi people is USD580 where the same is USD2110 in Dhaka and USD769 in other urban areas. In terms monthly household income, Bangladeshi people in rural areas earn a little over 18,000taka where the same is 55,000taka in Dhaka and 24,000taka in other urban areas. Individuals living in rural areas with that much low income definitely do not have access to smartphones or they are definitely not accustomed to technologies such as online ordering. The chances are high that selecting this market segment will not work for Deligram in the future.
4. Marketing Strategy Alternatives of Deligram case study
From the case study, it was not clear whether Deligram is involved in any type of marketing strategy for its branding or not. One thing that is found is Deligram is collaborating with local Mudir Dokans to communicate and promote its brand to the customers. It can be considered as a marketing strategy in the form of word-of-mouth however, it entirely depends on how Deligram continues its relationship with the Mudir Dokans in the future. If their relationship gets hampered due to reasons such as providing lower sales commission or opening Deligram offline stores that will create direct competition with the Mudir Dokans then the relationship between Deligram and local Mudir Dokans will be hampered. In that condition, Deligram can forget about word-of-mouth through the Mudir Dokans. In that condition, Deligram will have to undertake alternative marketing tactics. Some of those marketing tactics are hereby mentioned below.
Social Media Marketing: Deligram will have to focus on social media marketing. In Bangladesh there are over 30 million active social media users which are 18% of the nation's total population. If Deligram can reach to these people through social media channels such as Facebook and Twitter and can promote the benefits of using online retail channels then not only its brand image will improve but also it will have to depend less on the Mudir Dokans for communicating with its customers and to acquire new customers.
SMS Marketing: Deligram case study illustrates that the organization can also use SMS marketing that is a method that uses permission-based text messaging to share promotional messages about product, companies or special discounts. Currently in Bangladesh there are 83% people who are using mobile phones. Therefore, through SMS marketing it would be easier for Deligram to reach to a huge portion of people of Bangladesh
Promotion to make e-commerce popular: Deligram, along with promoting its brand and the products that it offers also will have to promote the concept of e-commerce in Bangladesh. Due to the fact that Bangladeshi people love to socialize at Mudir Dokans, the concept of e-commerce is still at its infant level. Through marketing, Deligram will have to inform its customers about how beneficial can online shopping become. Only then, it would be possible for Deligram to attract more Bangladeshi people towards the concept of e-commerce and only then Deligram will be able to increase the traffic towards its website.
Owning its offline stores: Deligram must not only depend on Mudir Dokans for selling its products and for communicating with its customers. It must also open its own offline stores all across the country to ensure customers can directly communicate with the employees of Deligram and can learn more about the organization and its goals. It will also work as a word-of-mouth marketing tactics of the organization. If employees of Deligram provide better services to the customers than the Mudir Dokans then the customers will automatically develop a positive brand image about the organization.
5. Conclusion and Recommendation
In the end, it can be concluded that in a nation where e-commerce in retail only accounts for 1% sales, the decision of opening Deligram, following the footmarks of Amazon and Alibaba was a bold move by Waiz Rahim. On the other hand, the decision of operation through an omni-channel approach is also a great decision made by Waiz Rahim. However, while operating through offline stores, right now Deligram strongly depends on the Mudir Dokans located at every corner of Bangladesh; especially in rural areas. The Deligram case study, has presented several issues that the organization will face in the future if not rectified as soon as possible. All those issues are hereby analyzed in this report by using different theories, models and concepts such as the theory of market entry, customer segment, porter's five forces model and branding. Then in this report, alternative solutions are provided for Deligram in terms of their marketing tactics that will help Deligram to improve its brand image and presence in Bangladesh. In this condition, it is recommended that Deligram and its team immediately launch a market survey, mainly in the urban areas of Bangladesh; especially in Dhaka. Dhaka is the place in Bangladesh with highest per capita income. As per the collected information, Deligram should shift its view in terms of target market from the people of Bangladesh living in rural areas to the people of Bangladesh living in urban areas. In Urban areas, Deligram can focus on both offline stores and online stores and can use the recommended marketing tactics to attract more customers; in spite of the fact that they will face some competition. Deligram case study is being prepared by our marketing assignment help experts from top universities which let us to provide you a reliable assignment help online service.
Reference List
Asadullah, M. N., & Chakravorty, N. T. (2019). Growth, governance and corruption in Bangladesh: a re-assessment. Deligram case study Third World Quarterly, 1-23.
Dalman, M. D., & Puranam, K. (2017). Consumer evaluation of ingredient branding strategy. Management Research Review, 40(7), 768-782.
Kader, R. (2019). The Mobile And Internet Penetration Growth Continues, Internet's Deployment Phase - Future Startup. Retrieved 29 August 2019, from https://futurestartup.com/2019/01/31/mobile-and-internet-penetration-updates-internets-deployment-phase/
Kolarovszki, P., Tengler, J., & Majer?áková, M. (2016). The new model of customer segmentation in postal enterprises. Procedia-Social and Behavioral Sciences, 230, 121-127.
Marland, A., Lewis, J. P., & Flanagan, T. (2017). Governance in the age of digital media and branding. Governance, 30(1), 125-141.
Mathooko, F. M., & Ogutu, M. (2015). Porter's five competitive forces framework and other factors that influence the choice of response strategies adopted by public universities in Kenya. Deligram case study International Journal of Educational Management, 29(3), 334-354.
Murphy, M. J. (2018, July). Competing for Emerging Markets: A Resource Dependence Model of Foreign Market Entry Mode. In Academy of Management Proceedings (Vol. 2018, No. 1, p. 18681). Briarcliff Manor, NY 10510: Academy of Management.
Russell, J. (2019). A young entrepreneur is building the Amazon of Bangladesh – TechCrunch. Retrieved 29 August 2019, from https://techcrunch.com/2019/05/21/deligram/
Sarvari, P. A., Ustundag, A., & Takci, H. (2016). Performance evaluation of different customer segmentation approaches based on RFM and demographics analysis. Kybernetes, 45(7), 1129-1157.
Upson, J. W., Sanchez, M. S., & Smith, W. J. (2017). Competitive Dynamics of Market Entry: Scale and Survival Abstract: Market entry is the essence of strategy and is largely viewed as a dichotomous event: entry or no entry. What has not been acknowledged is the uniqueness of each market entry. Our study highlights the scale of market entry in the context of multipoint competition. We assert that entry scale varies based on the risk of market incumbent retaliation. Theory suggests that when risk associated with retaliation are low, firms enter with large .... Management and Economics Review, 2(1), 118-132.