Customer Relationship Management Assignment: CRM System Implementation Plan In Savills Plc
Question
Task: Task:
Submit a completed Customer Relationship Management System Implementation Plan.
Situation to be analysed in the customer relationship management assignment:
In your future role, you have been given the task of managing the replacement of the CRM System within your organization. Being responsible for this new implementation you will have to work within the organizational business process framework and collaborate with various stakeholders to see a successful transition.
For this final assignment, you must complete this CRM implementation plan so that it corresponds to all the requirements, including the matching of the management´s focus that must be in line with the strategic direction of the company, as well as the action plan that you propose since you must sell your CRM implementation plan to the company's board of directors.
Approach:
1. First select an organization. This can be a real organization that you have worked for, or an organization that you are familiar with for any other reason. Describe it, including business name, sector, and company size as a minimum and justify your selection. The product or service you select must be realistic, and the company you select must have English-language websites or documentation. This means, your chosen company must already exist. You must also be able to find what this company stands for, what its vision/mission is or what its stated purpose is (in English).
2. Next, describe your (hypothetical) role in the selected company (your business unit, which level as a manager or individual contributor).
3. Then, argue why a new CRM system will be beneficial for the business, given the current business environment.
4. Explain how and where the company can use the new CRM system. Then analyze (take apart and examine in depth) at least one CRM business process that will be impacted, and how the process will be improved.
5. Describe the impact of the new CRM Technology on the Organization and Management dimensions of the IS.
6. Recommend which stakeholders should be included in the implementation process.
7. Explore possible reasons for failure that could threaten the potential success of the new CRM system.
Answer
1.0 Introduction
In this report, a complete Salesforce Einstein Framework Implementation plan is provided in context of Savills plc. The plan includes Customer Relationship Management(CRM) objectives, importance of AI-based CRM adoption and its influence over the organization. Moreover, stakeholder involvement recommendation is provided along with plan evaluation for Savills.
1.1 Company Background
Company Information

Company Name

Savills plc

Industry

Real Estate

Company Size

39,000 (2022)

Headquarters

33 Margaret Street, London, W1G 0JD

Group Structure

Savills North America, Savills UK, Savills Europe & Middle East, Savills Asia Pacific, and Savills Investment Management

Operations

More than 70 countries including Australia, Indonesia, United States, Malaysia, Middle East, Vietnam, Monaco and others

Specialities

Real Estate Valuation, Project Management, Engineering & Sustainability Consultancy, Building Consultancy, and environmental consultancy, and Investment Management
Table 1: Details about the Chosen Company
(Source: Savills UK | Vision & Strategy 2022)
1.2 Purpose of the Project
I was assigned in Savills as a Project Manager and my work was to investigate existing CRM in Savills and provide a plan for a new and improved CRM framework. The purpose of the new CRM framework would be to improve customer satisfaction, increase sales, and reduce time and costs for Savills.
1.3 Scope of the Project
The Project would be beneficial for measuring sales, handling massive or big data and utilizing it for CRM decision-making.
1.4 Investigation Method
The research includes qualitative approach to interview Savills executive board and marketing department. Their responses would be applied for identifying CRM requirements, room for improvements in Savills, and impact areas of CRM. Strategic decision-making would be easier with this qualitative approach.
2.0 Goals and Objectives
Vision of Savills is "to be the real estate adviser of choice in the markets we serve. We do not wish to be the biggest, just the best (as judged by our clients)". Savills values capture their primary commitment towards responsible, professional, and ethical conduct for real estate success.
2.1 AI-powered CRM Objectives
Increase sales: AI-powered CRM provides valuable and reliable customer insights with understanding the sales process. Therefore, understanding customers with significant insights, Savills can develop better strategies to increase their sales. Reduce time and costs:AI-powered CRM can reduce manual activities of several employees and eliminate major manual errors. Hence, lengthy analytical activities can be completed with AI tools without mistakes and hence, time and cost would be significantly reduced.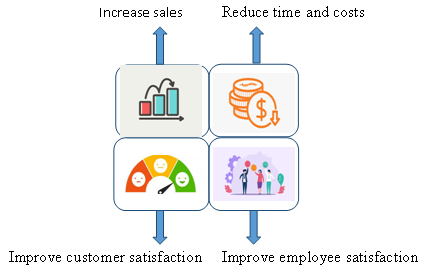 Figure 2: AI-powered CRM Objectives
(Source: Li and Xu 2022, pp. 1024)
Improve customer satisfaction:AI tools can understand customer with analysing patterns in customer data and Savills can take proper actions based on AI tools.
Improve employee satisfaction: AI can automate manual tasks therefore; employees would not have to carry out manual tasks leading into their satisfaction over performance.
2.2 Business Goals and Objectives with New CRM
Implementation of AI-powered CRM would pinpoint some new business goals and objectives that are mentioned as follows;
1. Customer sentiment analysis through calls
2. Significant reports, insights, news articles, and social media content production
3. Recommender system incorporation
4. Sales forecasting
5. Virtual assistant incorporation
3.0 Techniques and Strategies used with Salesforce Einstein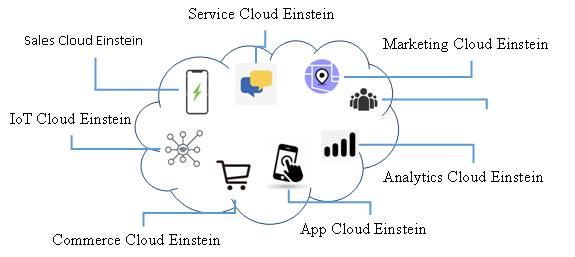 Figure 3: Features of Salesforce Einstein CRM
(Source: Chen and Zhou 2021, pp. 5)
Salesforce Einstein CRM is recommended for Savills and this framework has several features included with some additional cost. The CRM framework Savills should incorporate are Einstein for sales, marketing and analytics. Savills can establish AI-driven sales culture with Einstein for Sales where customer data can be collected and synchronised with email and calendar easily.
4.0 Current Performance, Competitive Review, Service Review and SWOT Analysis on Savills plc
Current Performance: As per Trends Overview, Savills plc has real estate as target market with competitors under real estate Engineering & Sustainability Consultancy, Building Consultancy, and environmental consultancy services (Dai and Chiu 2022).Salesforce Einstein Analytics can provide useful insights from dashboards and reports. Savills can increase forecasting accuracy with these two modules and previous sales history can be used for scoring opportunities and leads with Einstein Lead Scoring and Opportunity Scoring options.
Competitive Review: Under competitive review, Savills falls under 4th ranking as per user reviews competing with CBRE, JLL, Cushman & Wakefield, Foxtons, Knight Frank, and Colliers. To stay within the competition, Email marketing is a good choice to gain more customers' attention. Einstein Engagement Scoring can be used for email marketing. Personalized email would be sent automatically with targeted customer segments. Einstein for Marketing helps with analysing campaign performance and identifying influential factors in campaigns. Einstein Account-Based Marketing (ABM) strategy can be used for increasing revenues for Savills. Service Review: Savills plc should consider Salesforce Einstein as they have several different services to be reviewed and analysed. Investment Management and research activities for commercial, agricultural, and residential properties; these services require machine learning approach to analysis with real-world situations. Salesforce Einstein uses Machine Learning approach for three specific tools that are Einstein discovery, Einstein prediction builder and Einstein new best action. These tools are considered as primary decision-making components for any CRM framework. Einstein Discovery can use CRM data for helping with website, email marketing, social media analytics and campaign result analytics.
SWOT Analysis on Savills plc: According to SWOT Analysis (Figure 4) conducted on Savills plc, Einstein for sales, marketing and analytics are recommended for use.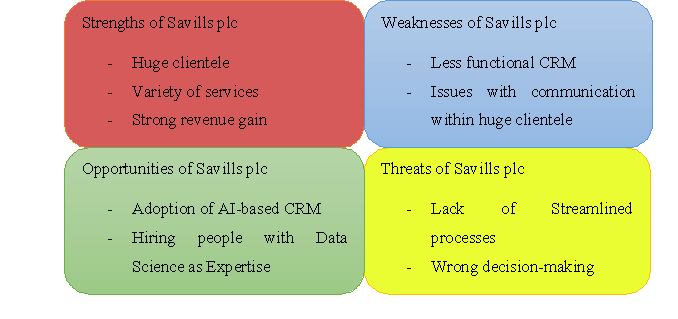 Figure 4: SWOT Analysis of Savills plc
(Source: Tien et al. 2021, pp. 4907)
5.0 Steps of Evaluation, Recommended Stakeholders in Implementation Phase, and Possible Reasons for Failure with Salesforce Einstein
Steps of Evaluation: The steps for evaluation are considered as follows;
Step 1:Savills plc should consider five CRM vendors along with Salesforce Einstein to evaluate their benefits comparatively. Five CRM vendors are mentioned as:
| | |
| --- | --- |
| CRM Vendors | Features |
| Salesforce (Einstein Analytics) | Suitable and best choice for detailed analytics on sales and services |
| Zendesk (Explore) | Best suitable for budget-based business goals |
| Microsoft Dynamics 365 (Sales Insights) | There are several different smart and customizable features |
| SugarCRM (Sugar Discover) | Best suitable for getting visualization and analytics reports |
| Zoho (Analytics) | Best choice for simplicity and better interface usability |
Table 5: List of CRM Vendors and their Features
(Source: Dai and Chiu 2022, pp. 279)
Step 2:Savills plc should list out an evaluation and selection criteria as per their business requirements. According to best performance and state-of-the-art analytics support, Savills plc should choose Salesforce Einstein as their CRM vendor.
Step 3:The evaluation and selection criteria should be chosen as; performance, pricing, integration, analytics, mobility, scalability, automation, data access, and customer support. These criteria should help Savills plc to decide their CRM vendor. However, as per the features and support comparison, Salesforce Einstein is recommended in this report.
Step 4:Savills plc should consider filling out score card to assess the CRM vendors. The scoring should be collected based on mentioned criteria earlier.
Step 5:Based on scoring and highest score value, the CRM vendor should be selected.
Recommended Stakeholders in Implementation Phase:Savills should consider hiring expertise who can understand the analytical insights and who can tell the entire insights as a story. Savills would require physical data analysts who can assist with Salesforce Einstein as general employees could face certain issues to understand analytical outcomes derived from raw data. Moreover, Savills should employ a team for handling implementation and integration of Salesforce Einstein CRM framework. The team should have expertise of learning patterns in data or understanding trends in data. Therefore, they would be able to understand issues in the reports and check the data cleaning process as well.
Possible Reasons for Failure with Salesforce Einstein:Apart from all the advantages in Salesforce Einstein, there are some downsides to the analytical reports of Salesforce Einstein. Essentially, entire report creation and dashboard building and analytical visualization are more dependent on customer data and customer reviews as well. Sometimes, customers can provide negative comments to the service or provide fake reviews to mislead other customers. This false information can change certain trends in business; hence, some of the expertise should develop ad-hoc programs to detect false reviews or negative feedbacks posted to mislead customers.
6.0 Conclusion
From this CRM replacement plan, it can be concluded that Salesforce Einstein CRM is smartest in all departments of sales, marketing and commerce. However, Savills should incorporate Sales, Marketing and Analytics Einstein for their benefits. The management should contact Salesforce Einstein vendors for discussing about the modules available for integration with data. The idea of incorporating AI into CRM would provide a competitive advantage in the business.
7.0 Bibliography
Antão, J., Pereira, R. and Ribeiro, R., 2021. Mobile CRM development for real estate agents. Property Management. Chen, J. and Zhou, W., 2021. Drivers of salespeople's AI acceptance: what do managers think. Journal of Personal Selling & Sales Management, pp.1-14.
Conway, J.J.E., 2018. Artificial intelligence and machine learning: Current applications in real estate (Doctoral dissertation, Massachusetts Institute of Technology).
Dai, Z. and Chiu, W., 2022. The success of salesforce. com: From the perspective of social capital. In Economic and Business Management (pp. 275-280). CRC Press.
Li, F. and Xu, G., 2022. AI-driven customer relationship management for sustainable enterprise performance. Customer relationship management assignmentSustainable Energy Technologies and Assessments, 52, p.102103. Mobile, M.C., 2022. How AI Technologies Are Changing The Face Of CRM.
Savills.co.uk. 2022. Savills UK | Vision & Strategy. [online] Available at: [Accessed 10 March 2022].
Tien, N.H., Jose, R.J.S., RafalKuc, B. and Dana, L.P., 2021. Customer care and customer relationship maintenance at Gamuda Land Celadon City real estate project in Vietnam. Turkish Journal of Computer and Mathematics Education (TURCOMAT), 12(14), pp.4905-4915.
Vinh, T., 2021. Customer Care and Customer Relationship Maintenance in Novaland Aqua City Real Estate Project in Eastern Ho Chi Minh City. Turkish Journal of Computer and Mathematics Education (TURCOMAT), 12(14), pp.5238-5248. Yu, J., 2019. Applying Security in Einstein Analytics. In Getting Started with Salesforce Einstein Analytics (pp. 139-150). Apress, Berkeley, CA.